Kuching-Born Hawkers Sell 'QQ' Red & White Kolo Mee, Sarawak Laksa At Geylang Kopitiam
The hawkers behind Meow Mee used to work as a Sarawak food importer and SBS bus captain.
Run by Kuching-born first-time hawkers Eric Kon
(right in pic)
, 45, and Lee Chun Hao (left), 33, Meow Mee is a one-month-old stall that serves traditional Sarawak noodle dishes, namely kolo mee and laksa. Apart from its cute branding (Meow Mee's signboard features an adorable cat mascot, a nod to Kuching's nickname as 'the city of cats'
in Malay), the joint also stands out as the only non-vegetarian stall in its Geylang East kopitiam – there are several Chinese temples in the area, which could explain the concentration of vegetarian food options here.
No part of this story or photos can be reproduced without permission from 
8days.sg
.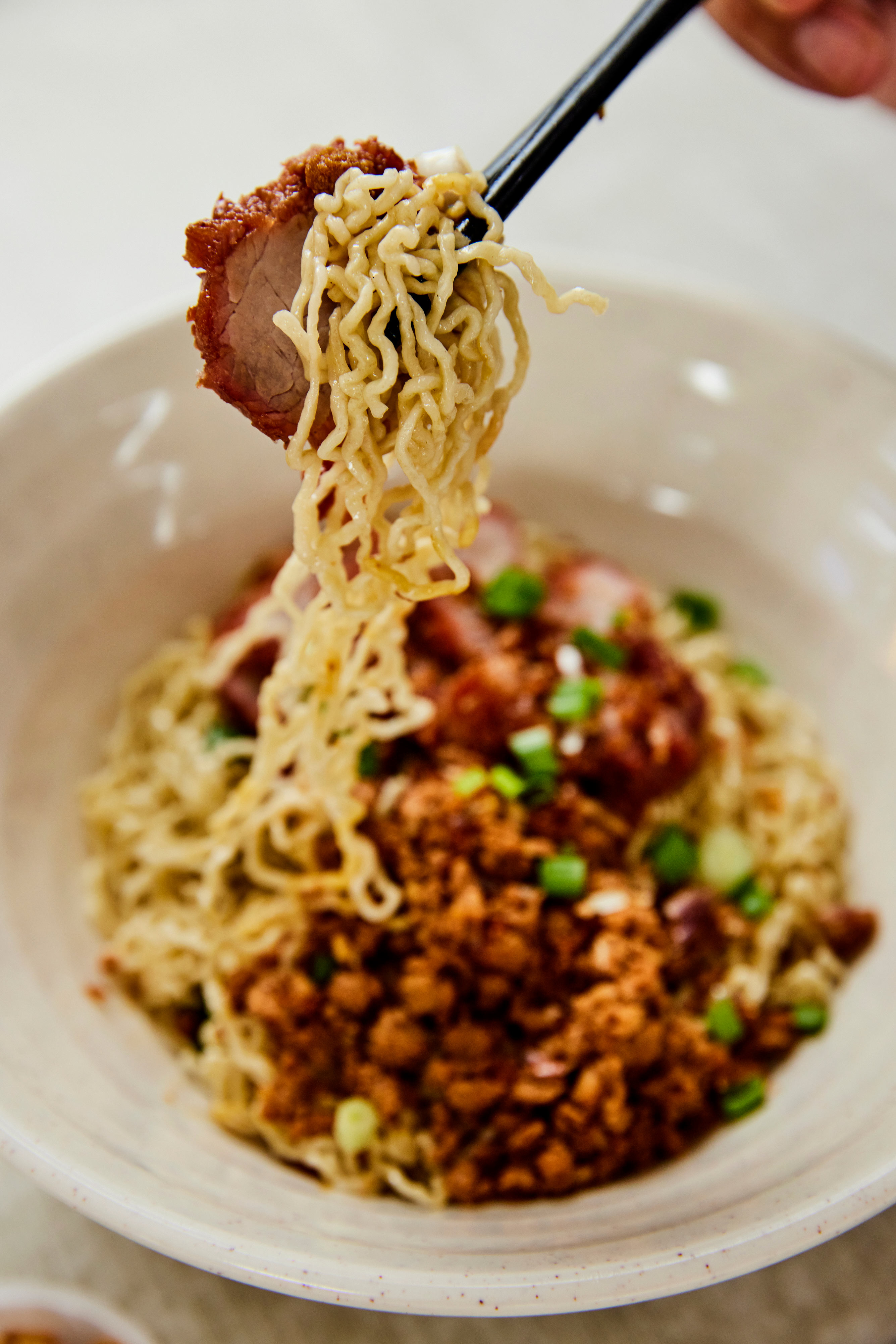 One of them used to be a Sarawak food importer 
Even though Eric is a Singaporean PR who has been living here for over two decades, he remains passionate about Sarawak food. In 2017, he started a wholesale company that supplied Sarawak food products like Lee Fah Mee Sarawak laksa instant noodles to local supermarkets like Sheng Shiong and Mustafa. Earlier this year, he decided to wind down the biz as "the [profit] margin was too thin" partly due to significant marketing expenses.

Through his connections with the Sarawak Trade and Tourism Office Singapore (STATOS) from running his food import biz, Eric saw the potential in opening a Sarawak hawker stall instead, where he could "introduce Sarawak food directly to local customers". "STATOS has been actively promoting Sarawak food in Singapore and the Sarawak government is working towards establishing global recognition for dishes like kolo mee and Sarawak laksa," he shares. "It felt like there was a good momentum for us to launch our own concept." 

Preferring to focus on the marketing and branding aspect of the biz, Eric knew he needed a partner who could be the "culinary brain" behind the venture. "I thought of Chun Hao immediately. I was schoolmates with his older brother and used to hang out at their home [in Kuching] frequently. He has always been a great cook – his family will get him to whip up dishes for big occasions like Chinese New Year. I knew he was already working in Singapore and reached out to see if he'd be interested in the partnership."
The cook here worked at SBS as a bus captain
Before opening Meow Mee, Chun Hao worked at SBS Transit as a bus captain for the past five years. Despite his love for cooking, the jovial hawker confesses that he's never thought of joining the F&B industry until Eric approached him. "I know how tough it is. I'd never consider becoming a stall assistant, for example. But as a co-owner [of a hawker stall], I see it as a chance to create something of my own and have more autonomy than just being an employee," he explains in mandarin.

In June, Chun Hao returned to Kuching for a week to refine his recipes. "I have relatives who own food stalls in Kuching, so I could pick up tips from them. In the past, I've also worked for them during school holidays, which was how I first learned how to make kolo mee and laksa." Both partners are at the stall daily – Chun Hao helms the kitchen on his own, while Eric helps with orders.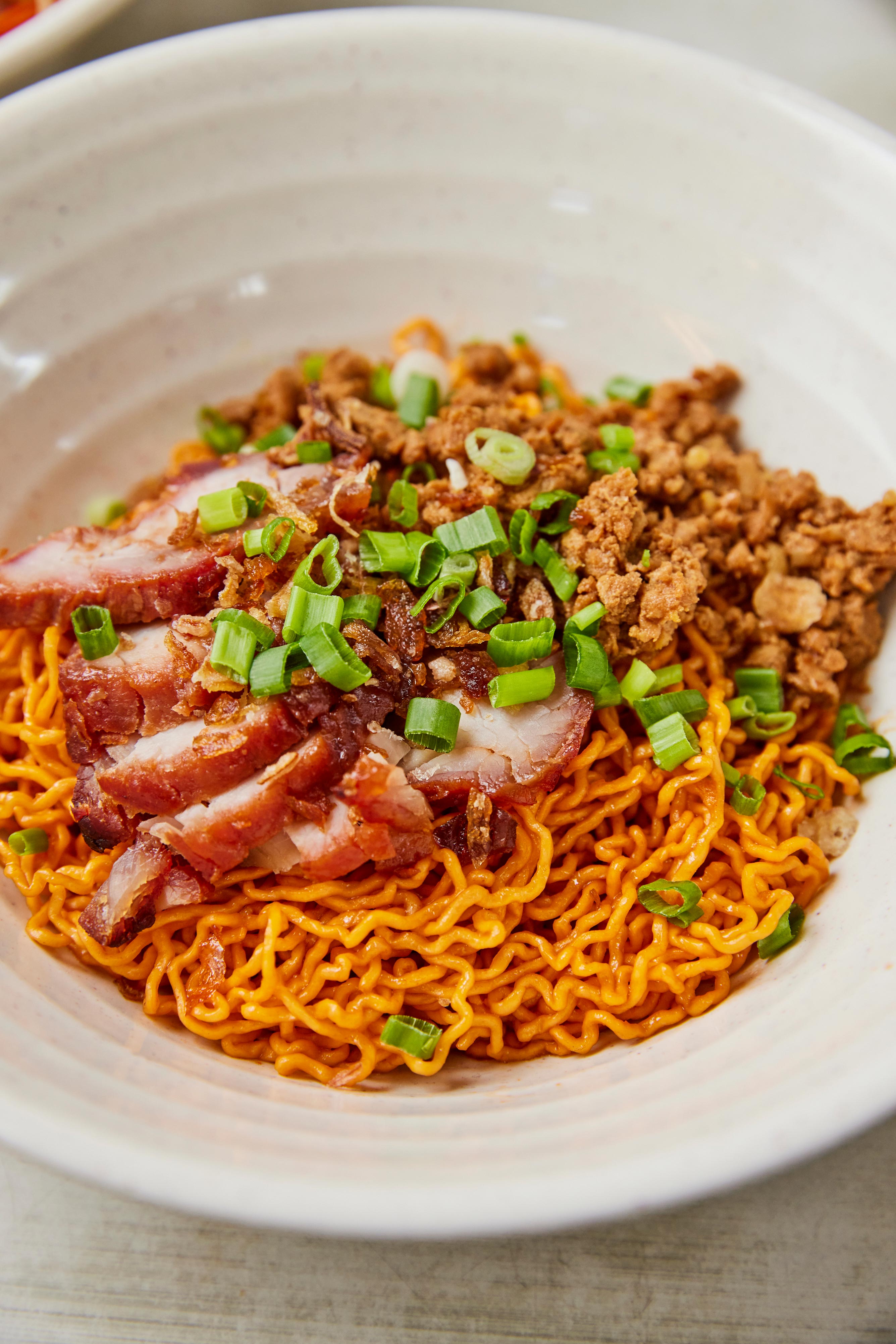 Approved by Sarawakians 
Thanks to their social media efforts, Eric tells us the stall has been attracting its fair share of Malaysian-born customers. "Business was not good in the first two weeks, but it's been improving after we started posting more on social media. We've had some Malaysian customers who came down especially to try our food after reading our posts," he says. "We're also happy that Sarawakians have said our food tasted authentic."

Currently, the stall sells about 100 orders of kolo mee and 40 orders of laksa daily. "We planned for this to be a franchise concept and we want to open at least three stalls on our own first. We're looking at opening another outlet later this year," shares Eric.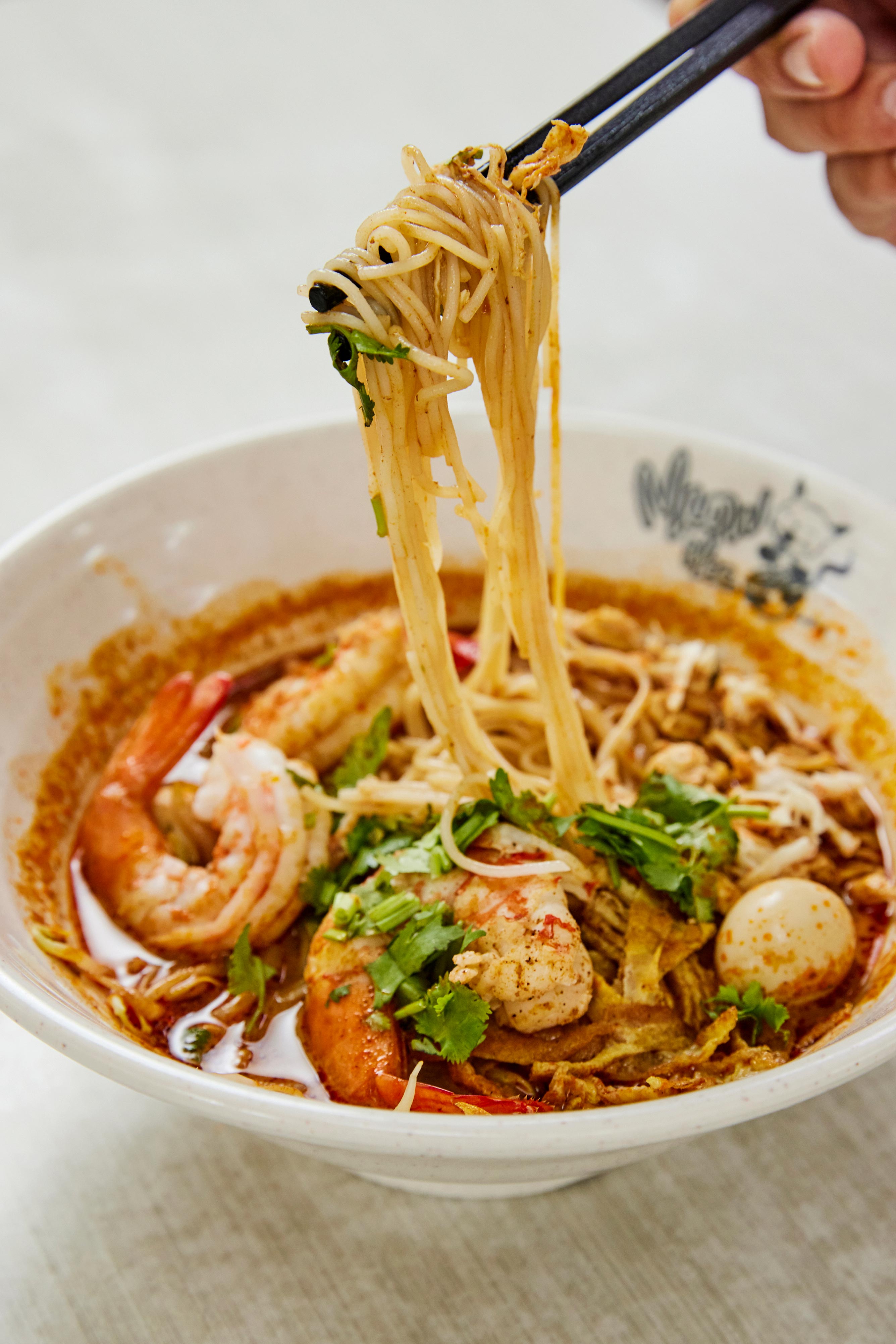 What is Sarawak laksa?
Apart from its name, Sarawak laksa shares little in common with other laksa dishes popular in Singapore and Malaysia  – specifically, its savoury, shrimp-forward soup makes it unique from other variants. For a start, only a small amount of coconut milk is added to the soup, so its texture is way less creamy than local Nyonya laksa and curry laksa (Malaysian-style coconut-based curry noodles). 

The base typically features sambal belacan, tamarind, lemongrass, galangal and garlic. Despite also containing tamarind, the sour notes are not prevalent here, so it does not resemble the tangy and slightly sweet Penang laksa (also known as assam laksa).

Toppings for Sarawak laksa, which is usually served with thin vermicelli, include shredded chicken, prawns, omelette strips, bean sprouts and fresh coriander. The dish is often served with a sambal belacan dip and calamansi lime.
The menu
Meow Mee serves two versions of Sarawak kolo mee – a dry noodle dish featuring delicate, curly egg noodles served with minced pork and char siew. The name "kolo" comes from the mandarin term for "dry-tossed". Kolo mee was believed to be introduced by mainland Chinese immigrants who relocated to Sarawak in the 1800s.

In the original 'white' version, the noodles are tossed in shallot oil, rendered lard, soy sauce, pepper, MSG and white vinegar. The 'red' version gets its vibrant hue from the addition of char siew drippings (the hawkers also add artificial red colouring to the sauce to enhance its saturation). Both versions start at $5.50. You can also swap the kolo mee for kway teow or thin bee hoon. A standard bowl of Sarawak laksa with thin vermicelli is priced at $7.
Kolo mee (white), $5.50 (8 DAYS Pick!)
Liberally slicked with shallot oil and rendered lard, the tasty, 'QQ' (slang for springy) noodles are cooked perfectly with an al dente bite and pair well with simple toppings of house-made minced pork and char siew from a supplier.​ The shallot oil, in particular, added a lovely homespun fragrance to the dish – which is further enhanced by the spring onion and fried shallot garnish. Deep-fried pork lard, tangy vinegared red chilli and sambal dip are available at the self-service counter next to the stall – both chilli condiments were tasty, but the pork lard bits, from a supplier, were a little stale.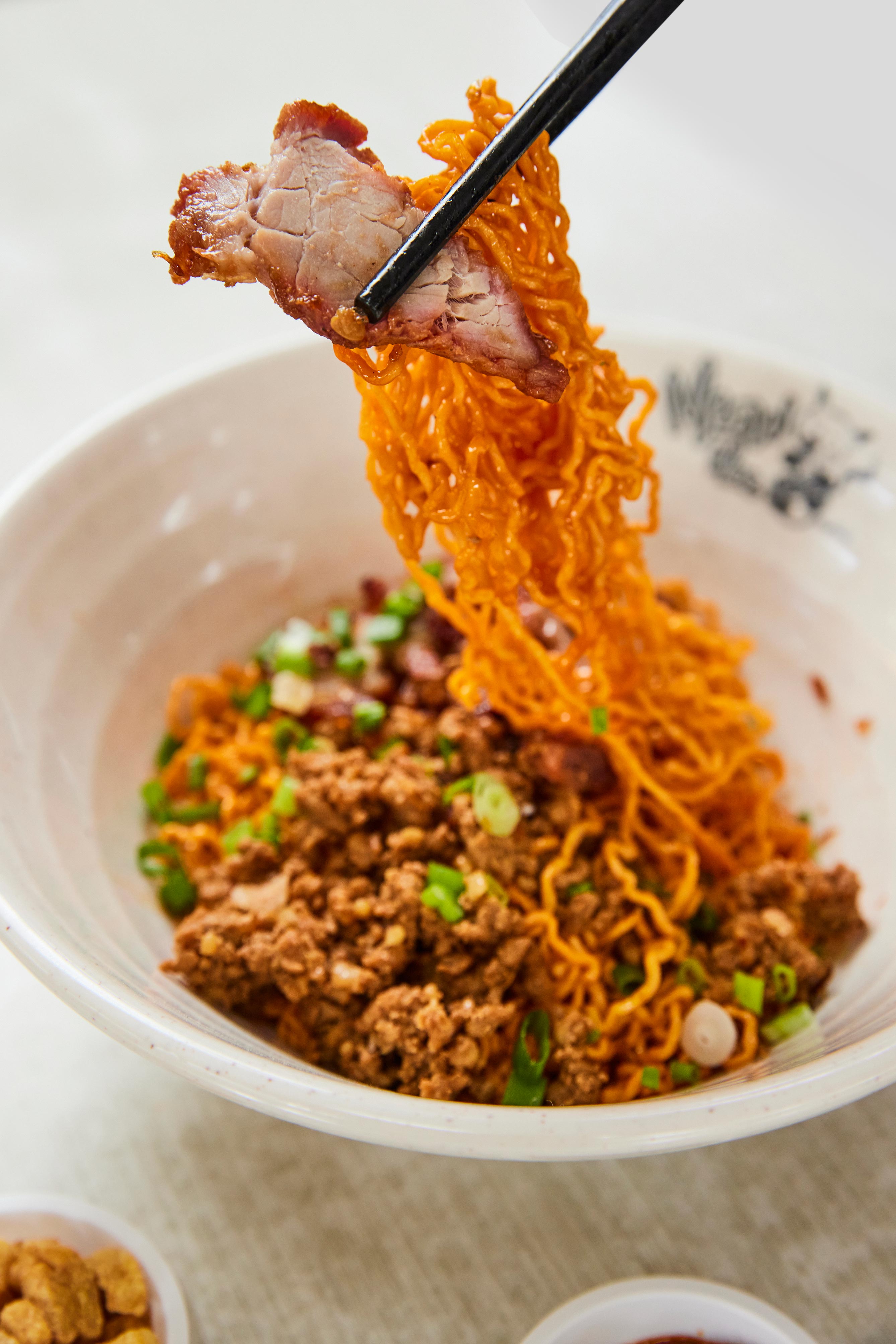 Kolo mee (red), $5.50 (8 DAYS Pick!)
Though this vibrant version is less commonly found in stalls here, red kolo mee is considered a staple in Sarawak. With the addition of char siew sauce, the slightly sweeter gravy provides a pleasant contrast to the savoury minced pork, which is marinated with soybean paste and soy sauce, and barbecued pork. Order this version if you enjoy a stickier, sweeter gravy.
Kolo kway teow (red), $5.50
We like that the kway teow here is thicker and broader than usual, which adds a lovely bite to the dish. It's simple and satisfying, though we still prefer the springier, QQ kolo mee.
Sarawak laksa bee hoon, $7
Meow Mee's rempah comes from a supplier, which Chun Hao then tweaks by frying it with prawn heads, coriander seed, candlenut, dried chilli, garlic and shallot to "spice up the paste" before combining it with chicken broth and a touch of coconut milk to make the soup. "We've stuck to the traditional taste here, so the soup may be more savoury and less sambal-heavy and coconutty than what most Singaporeans are used to," says Chun Hao. 

Indeed, the full-bodied, shrimp-forward broth is distinctly more savoury than what we're used to. The chewy bee hoon and generous pile of crunchy bean sprouts helped to balance the saltiness, while a few squirts of calamansi lime added a welcome zing to the dish too. We also liked the homely mix of ingredients like shredded chicken, prawns, omelette strips and quail eggs – the latter being a unique offering at Meow Mee.

Despite its intimidating dark red hue, the soup is only mildly fiery, so you can savour the heady, aromatic spices from the rempah. For a stronger kick, you can mix the house-made sambal belacan into the soup.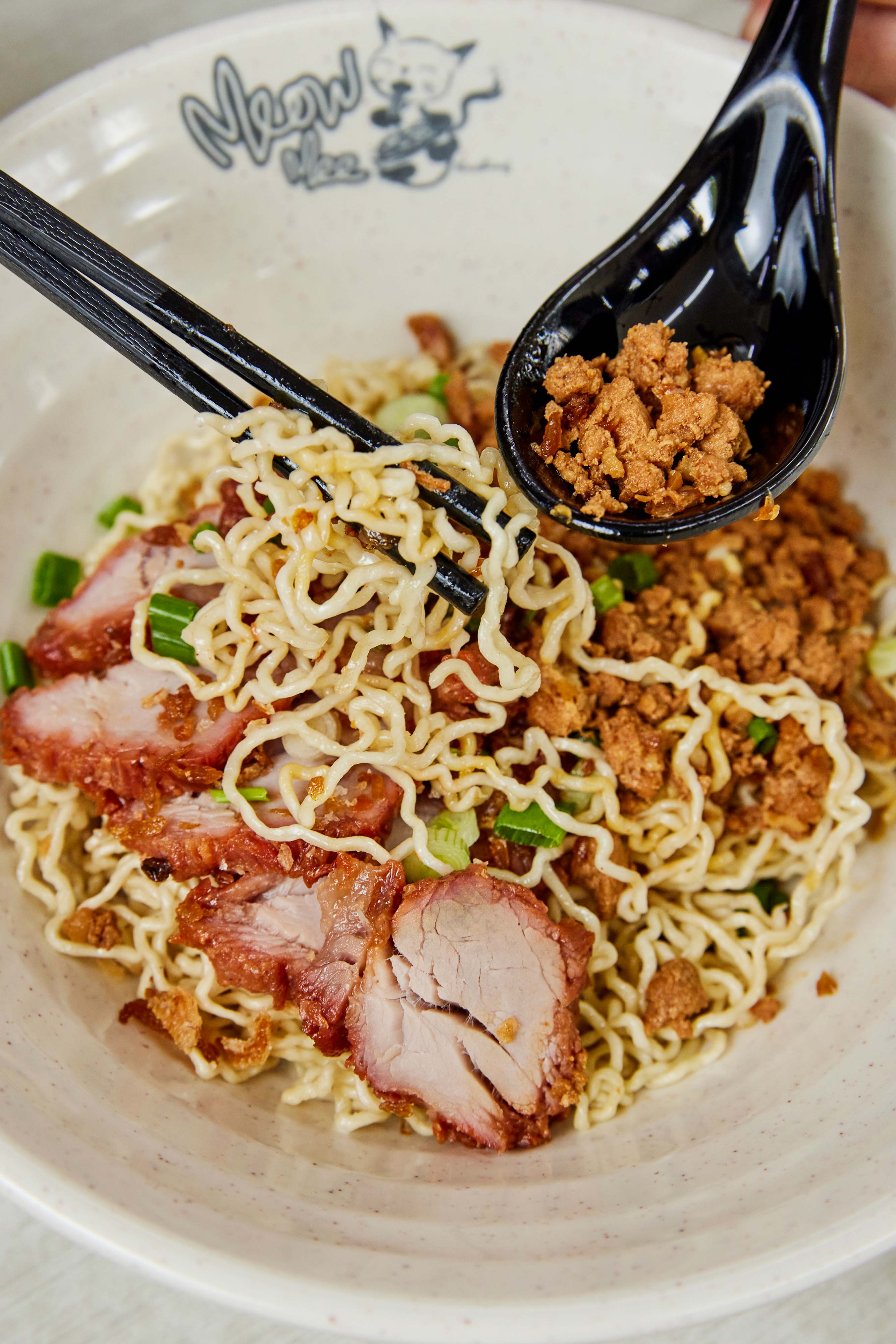 Bottom line
Both versions of kolo mee are tasty, with the noodles cooked perfectly and accompanied with well-balanced sauces. If we had to pick, we'd go for the simpler flavours of the original white kolo mee. Our only gripe: the quality of the crispy pork lard, available on the side, was not as fresh as we'd like. We also hope the hawkers can introduce house-made char siew soon – a crucial element of the simple dish – instead of settling for average-tasting pork from a supplier. While the Sarawak laksa here is more savoury than what we're used to, the robust flavours of its unique spice blend make this lesser-known laksa in Singapore worth a try – especially if you like a punchier laksa base.
The details
Meow Mee is at #01-229 Kim San Leng Coffeeshop, 134 Geylang East Ave 1, S380134. Open daily except Tue 8am-8pm. More info via Facebook & Instagram.
Photos: Aik Chen

No part of this story or photos can be reproduced without permission from 8days.sg.