La Bottega chef creates cheaper version of his famous pizza for home delivery
You can soon savour a made-for-home rendition of the restaurant's excellent Neapolitan-inspired pizzas at friendlier prices.
Since he launched Casa Nostra at his condo in 2019, Antonio Miscellaneo's irresistibly feathery, puffy and tender Neapolitan-inspired pizzas have been a roaring success. The now-closed private diner (whose name means "our home" in Italian) was notorious for having a year-long wait list. In 2021, the 50-year-old chef opened La Bottega, a rustic Italian restaurant in Joo Chiat, where his famous pies are served today, alongside artisanal pastas and more. You can only order his signature pizzas a la carte during lunch (dinner is a degustation affair).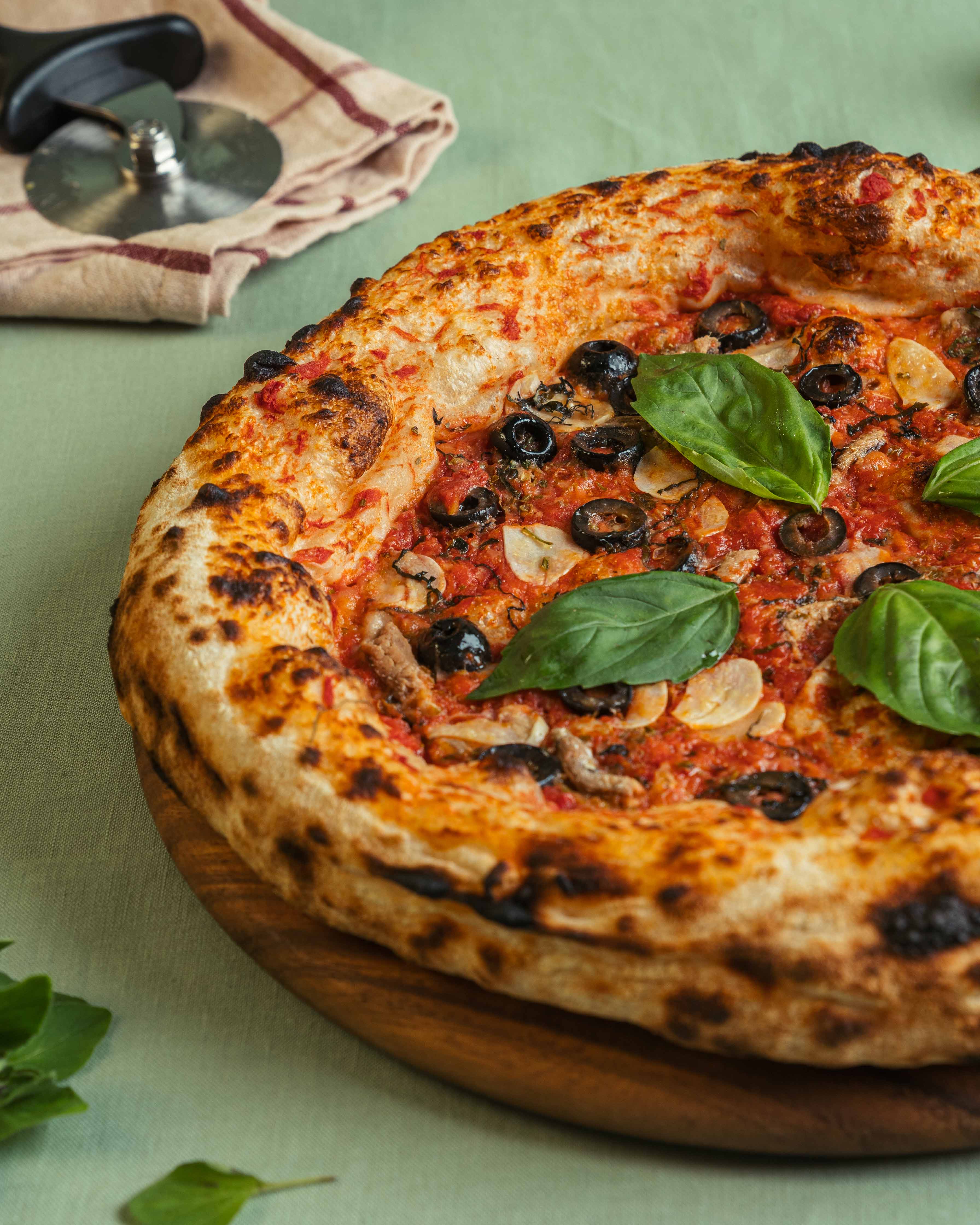 From April 1, you can also enjoy these lauded slices in the form of ready-to-heat pizzas delivered to your home. Named Casa Vostra (which means "your home" – a cute callback to Antonio's first venture), the new delivery-only concept is a collaboration between the Italian chef and F&B company Ebb & Flow Group, which also manages modern patisserie Tigerlily and contemporary Asian fine-diner Willow.
No part of this story or photos can be reproduced without permission from 8days.sg.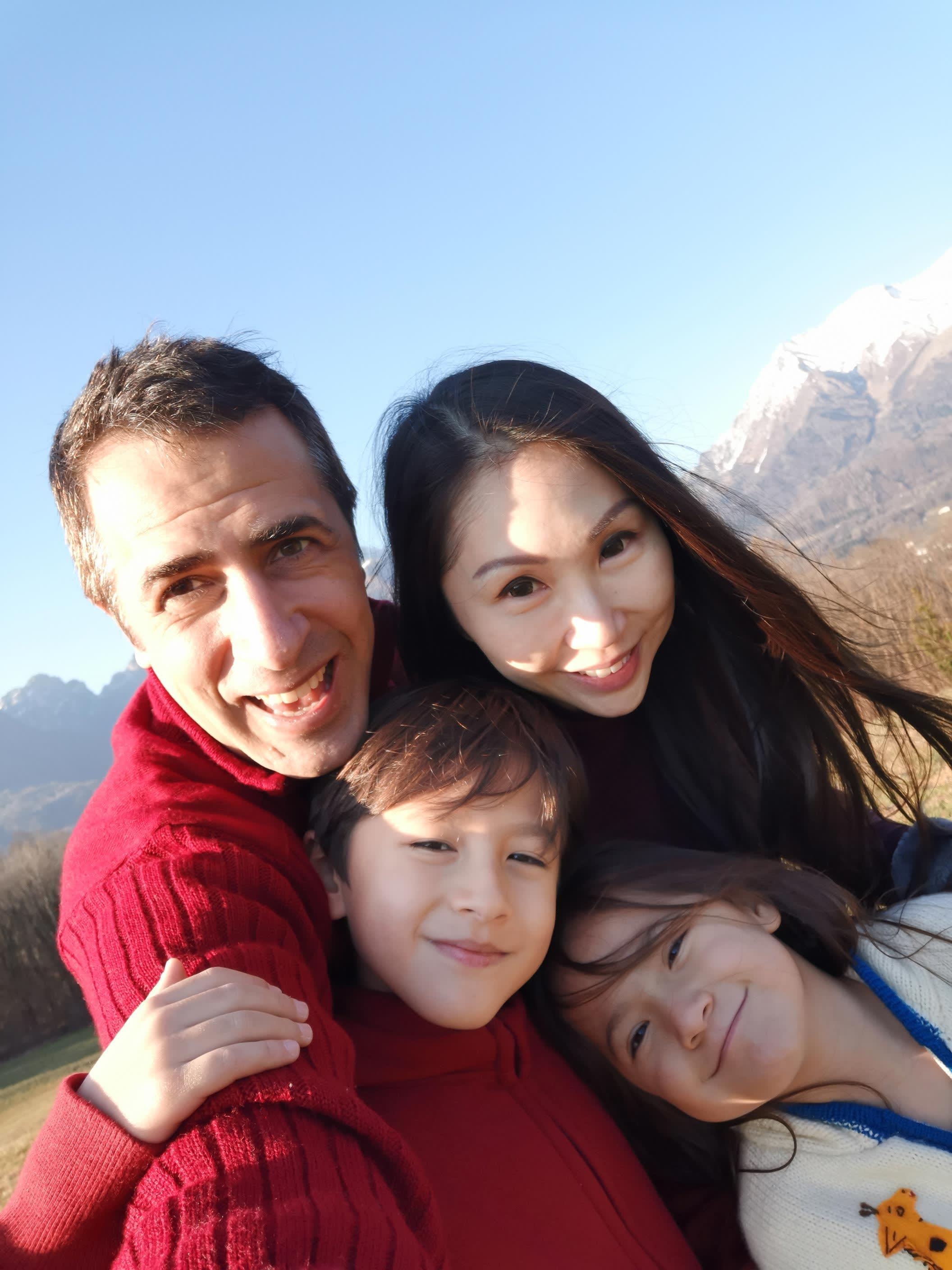 His kids were the inspiration for this new venture
"After opening La Bottega, I stopped cooking at home, and I no longer had leftover dough sitting in my fridge, which I used to make pizzas for my kids. As my kids said that they missed my pizzas, I started to bring some pre-baked pizzas from La Bottega after dinner service, and I would finish them at home the next day for their lunch. This is how the idea for Casa Vostra came about," shares Antonio. He adds that the partnership with Ebb & Flow "came naturally", as he was acquainted with the company's CEO, Lim Kian Chun.
Restaurant-quality pizzas in just five minutes
Casa Vostra (casavostra.sg) delivers Antonio's famous Neapolitan-inspired pizzas, or as they call it at La Bottega, "Newpolitan" pizzas, to your home. The
chilled
12-inch
fully-cooked
pizza base and toppings are packed separately in a thermal bag – all you need to do is to reheat the crust in the oven for five minutes before assembling the toppings.
They are best eaten within two days.
We're huge fans of the original Newpolitan 
8days.sg declared Antonio's pizza the best in town when we reviewed his restaurant in 2021. We love the pie's superbly fluffy texture, puffy-edged charred crust, and the chef's stellar combinations of fresh, quality toppings. As reservation slots for La Bottega are only open for booking a month in advance at a time, Casa Vostra could provide a good alternative for gourmet pizza lovers to indulge in their cravings at home.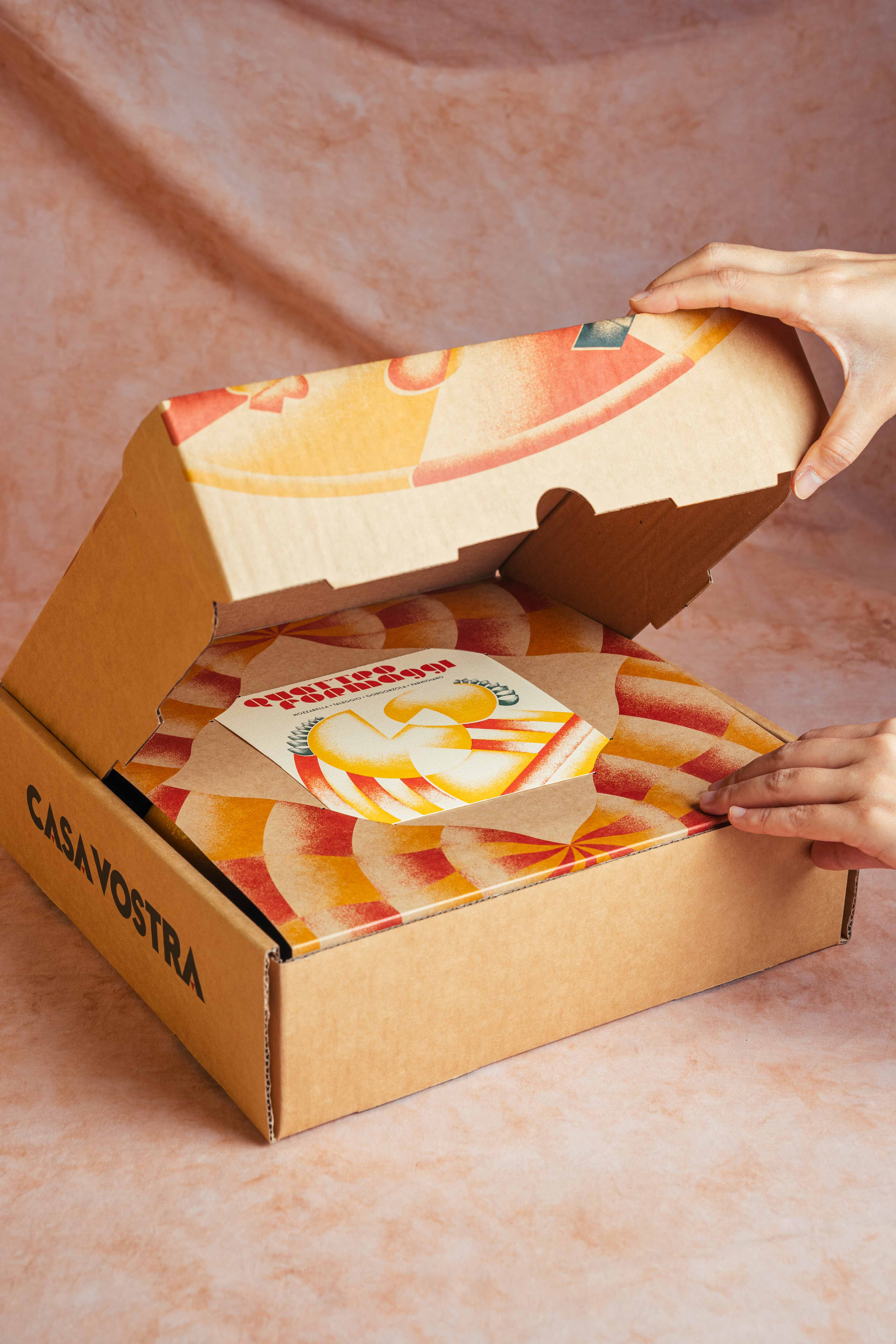 The pies are baked a day before delivery 
The pizzas are prepared at a central kitchen in Tai Seng a day before delivery. The same blend of Italian flours are used, but in different percentages. "I wanted these two different concepts to be slightly different versions of my Newpolitan pizza," he explains. "No preservatives are used for the dough, and neither are they added to the toppings. The pizzas are 100 percent handmade, topped and baked just as I used to do at Casa Nostra and what we currently do at La Bottega."
Similar to La Bottega's pies, the dough undergoes over 48 hours of fermentation and is then baked in a wood-fired oven at
500℃ to create the Newpolitan's signature charred, ballooned rim.
Casa Vostra's pizzas are prepared by new chefs trained by Antonio. They also assisted in fine-tuning the dough – a process that took only a week.
Six flavour options available
Besides classic flavours like
Margherita ($29)
and
Prosciutto e Rucola ($43)
, which are similar to what's offered at La Bottega, Casa Vostra offers new combos like
Mortadella ($35)
, a white pizza with parmesan base topped with the eponymous Italian sausage, pistachio, lemon zest and fresh basil, as well as
Acciughe ($31)
, which features anchovies, olives, ricotta and basil on a house-made tomato base.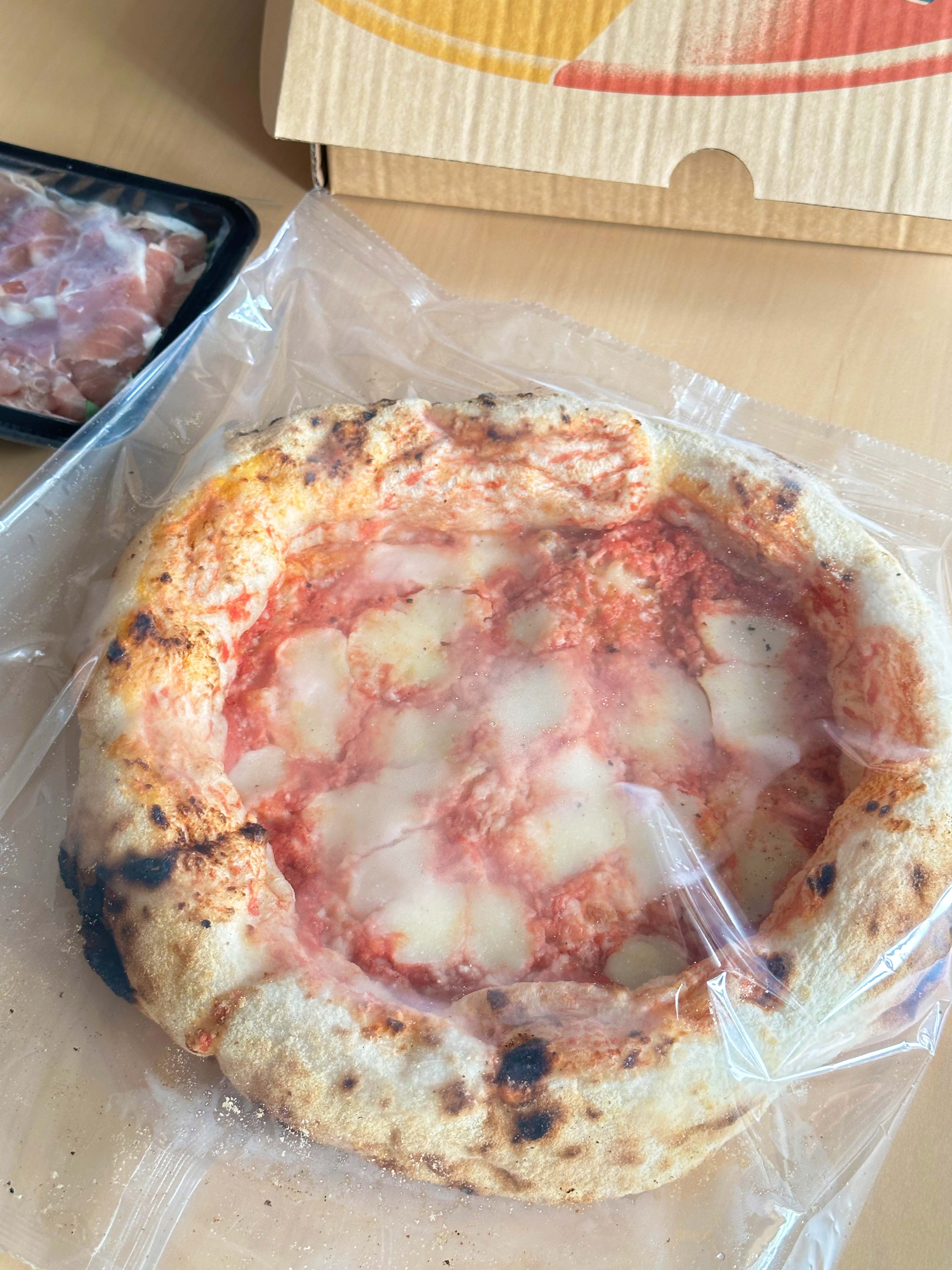 Friendlier pizza pricing from 

$29 (vs $40 at La Bottega)
La Bottega only offers a la carte Newpolitan pizzas on their lunch menu, which are served in half sizes and each person is only allowed to order a half-pizza. Casa Vostra's prices are much more affordable than the restaurant's. A plain 12-inch Margherita is $29, compared to $20 for half a pizza at the latter (or $40 for a whole pizza, if you dine in a pair). Its priciest item, Prosciutto E Rucola is $43 (vs $60 for a whole pizza at La Bottega) and features a more premium prosciutto from San Daniele in place of parma ham used at the restaurant.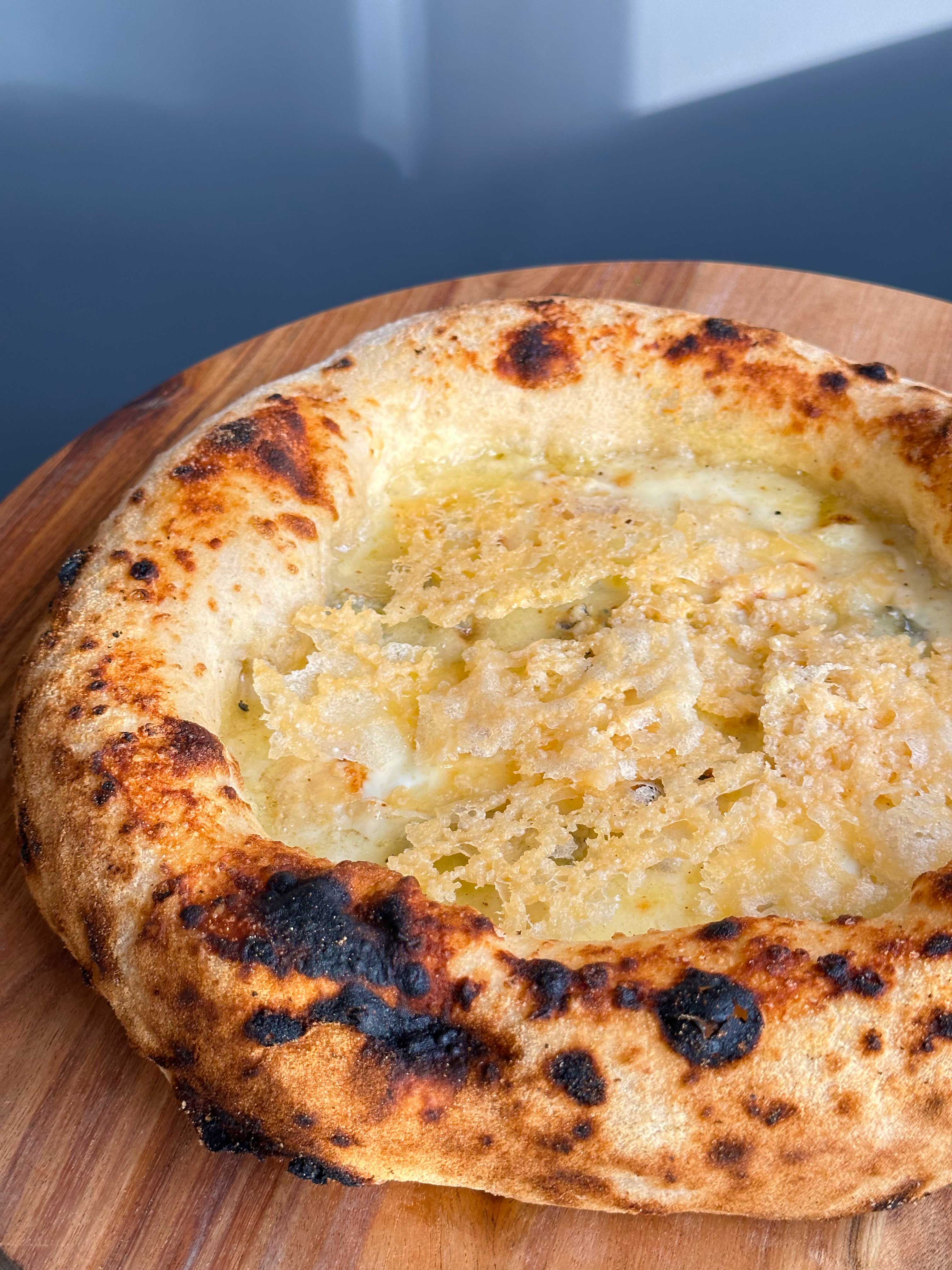 Taste test: Quattro Formaggi, $33 (8 Days Pick!)
We got a preview sample of Casa Vostra's pies. They arrived in chic, neatly packed boxes. The fully-baked crust wrapped in plastic is impressively puffy and pocked with char marks as per La Bottega's pizzas. We're instructed to give it a five-minute reheat in an 180℃ oven, before sprinkling it with parmesan crisps. After some quick snaps for Instagram, we're tearing into the pie large enough to feed two modestly.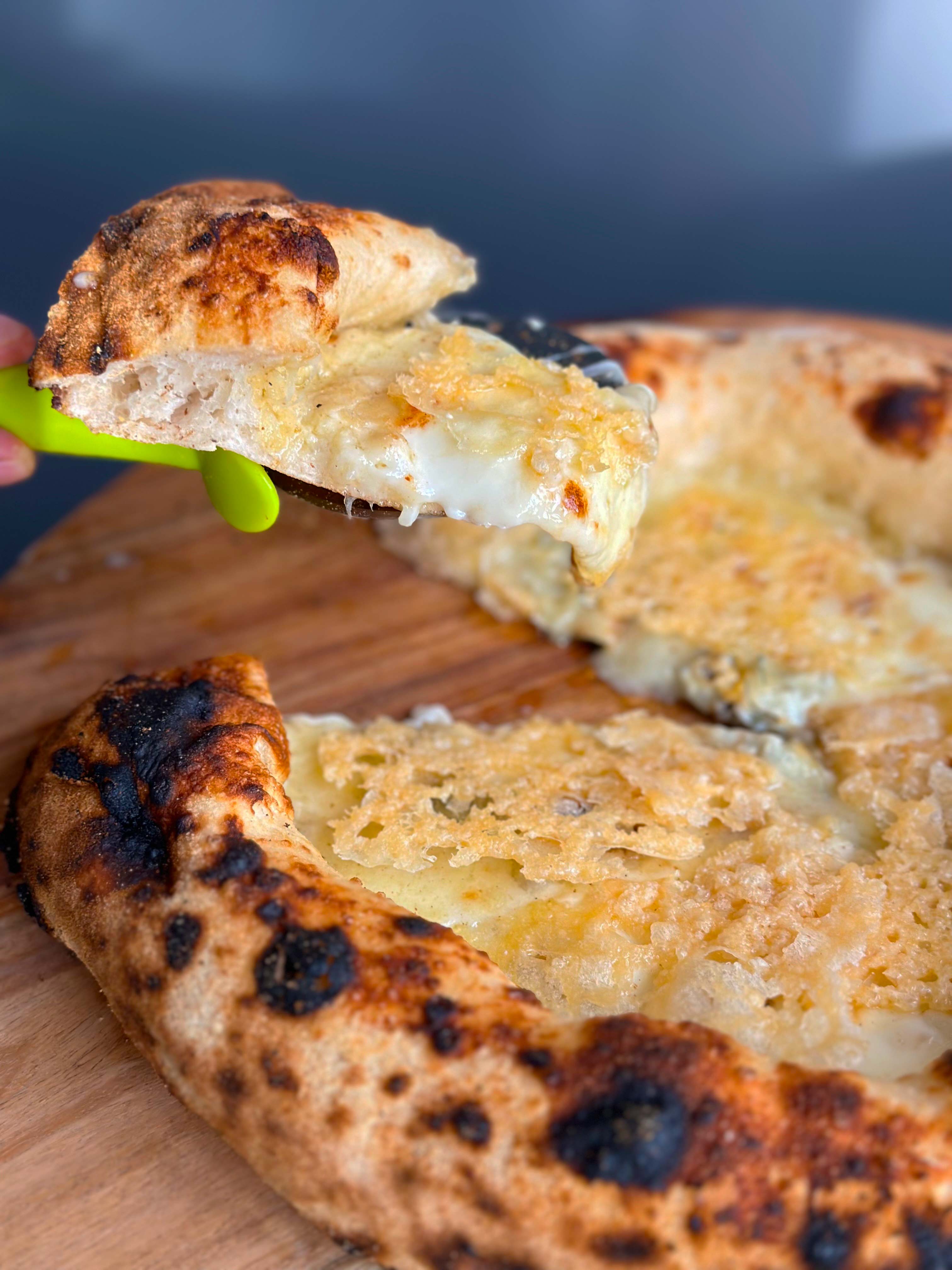 The mix of mozzarella, taleggio and gratifyingly stinky gorgonzola makes an ooey-gooey bed on which intensely umami, crackly parmesan chips are littered. It's cheesy heaven, a fab foil to the dough which replicates up to 80 percent of the deliciousness of La Bottega's freshly-made pies. The lightly earthy, fragrant nuttiness of the flour is present, so too much of its tender lightness. The discernible difference is that the assertive crunch of the restaurant's oven-baked crust is missing, something that's tricky to replicate by reheating a precooked crust at home since every oven is unique. Still, it's a damn good pizza. Tip: Don't dawdle, eat this as soon as it's warmed up as the delicate crust sags quickly. 
Taste test: Prosciutto e Rucola, $43
Though pretty yummy, this tomato-based number might be more polarising than the four-cheese pizza because of the slightly strong-tasting San Daniele ham topping. The arugula leaves and shaved parmesan bring a peppery freshness and salty zing to the party. We'd probably spring for the anchovy ($31) or classic margherita ($29) next time, along with the decadent q
uattro formaggi
.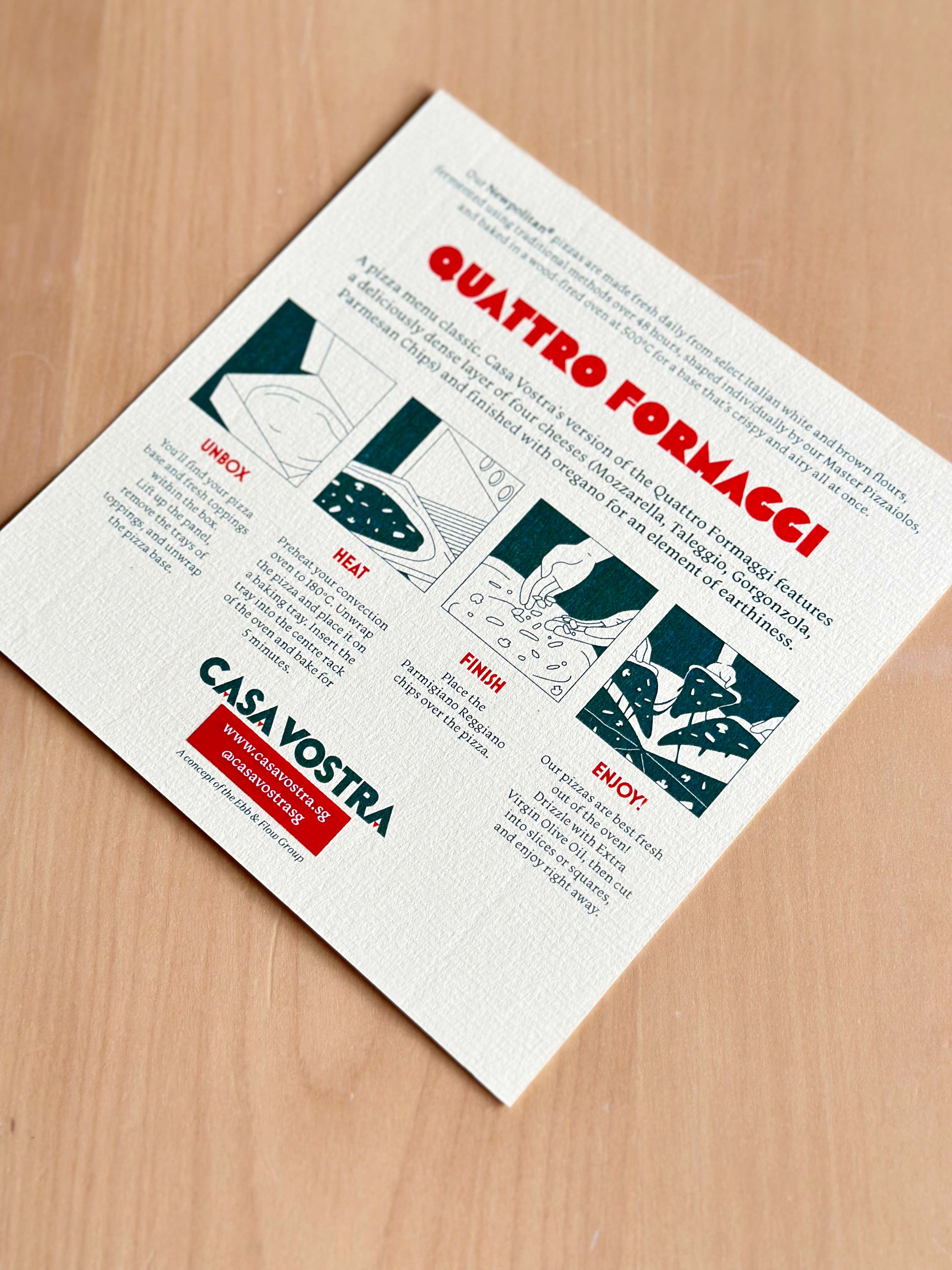 Bottom line
With talented pizzaiolo Antonio Miscellaneo behind this project, Casa Vostra's offerings are indubitably superior to your typical delivery pizzas. The flavours are refined and lush, the puffed up crust quite impressive for something baked a day before delivery. Although you shouldn't expect an exact replica — especially texture-wise — of La Bottega's version, it's a close approximation of the premium pies and easier on the pocket book. Order this for a gourmet, fuss-free pizza experience on your couch. 
Casa Vostra delivers Tue to Sat. Free delivery for orders above $100 or $15 per location. Order here (website goes live on 1 April 2023). More info via Facebook & Instagram.
Photos: Casa Vostra, Kelvin Chia & Florence Fong
No part of this story or photos can be reproduced without permission from 8days.sg.
8days.sg is now on #tiktok! Follow us on www.tiktok.com/@8dayseat.