Liu Genghong Apologises After Livestreamer Called Him Out For Selling Fake Bird's Nest
Netizens were quick to dig up proof. 
It's no secret that Liu Genghong's live stream business has been flourishing ever since the 49-year-old Taiwanese singer-actor decided to further his career in China, garnering millions of followers for his fitness live streams. 
But recently, Genghong was exposed by a fellow live streamer for selling fake bird's nest on a live stream some time back.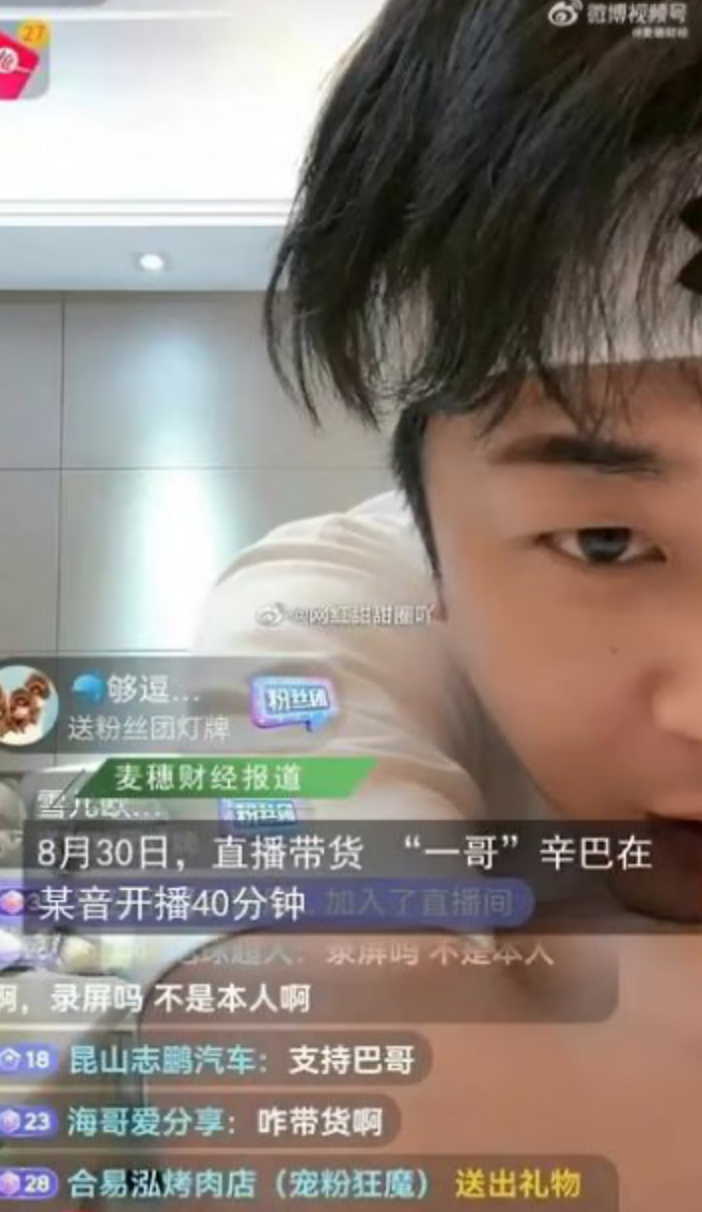 Livestreamer Simba said that many others were involved in the fake bird's nest businesses too
All this came to light when popular Chinese livestreamer Simba took to his Douyin on Aug 30 to directly call Genghong out for fake bird's nest distribution two years ago.
According to reports, Simba had also been caught for selling said fake bird's nest, and was made to compensate 79.71 mil yuan (S$16.2 mil) to his customers at that time. 
In his live broadcast, Simba revealed that he wasn't the only person who was guilty of selling the fake products, yet was the only one who was punished for it.
"Initially, many Internet celebrities and stars (including Liu Genghong) sold the same bird's nest," he said, claiming that the promotional content "was resolutely false and exaggerated."
He even specifically mentioned that Genghong and his wife, Vivi Wang, were selling the bird's nest at 100 yuan (S$20) more than he did, but the platform chose to cover up for them.
On the other hand, Simba's broadcast was immediately banned for 24 hours, based on the reason that it was "degrading or damaging the image of the platform."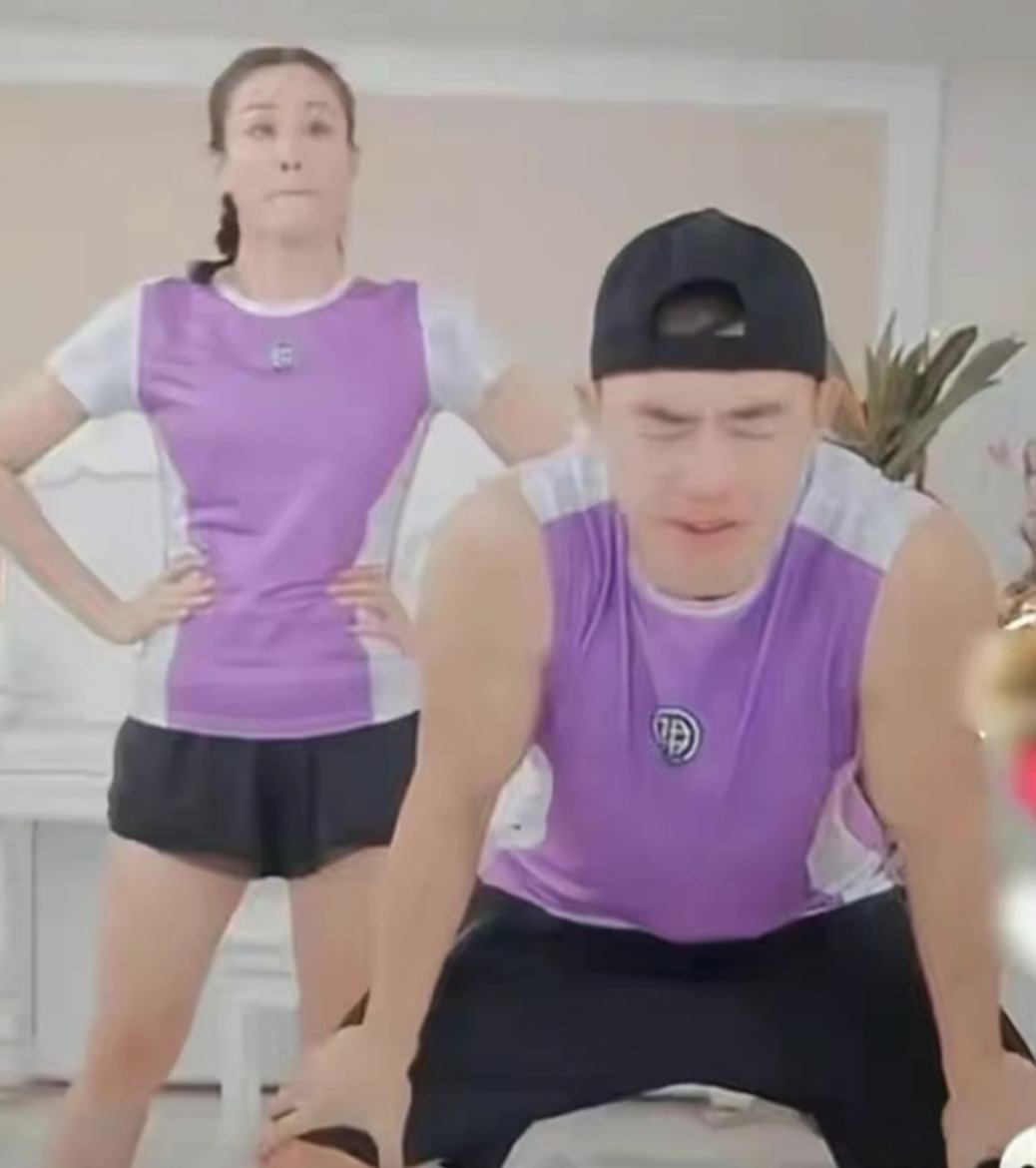 There he is, sobbing, but not for selling fake bird's nest
The same night, Genghong and Vivi went on their usual fitness live stream seshs but did not respond to the allegations at all.
Instead, he talked about how his live streams had inspired many to care about fitness, and was even moved to tears at one point.
"Many people need your help to become better, to enable them to flourish in the fitness industry too," he said. 
While Genghong chose to ignore Simba's accusations at that time, netizens were obviously not intending to sweep them under the rug. 
They then swiftly went to dig out Genghong's past videos to find that he had indeed promoted said bird's nest products, confirming that Simba was telling the truth.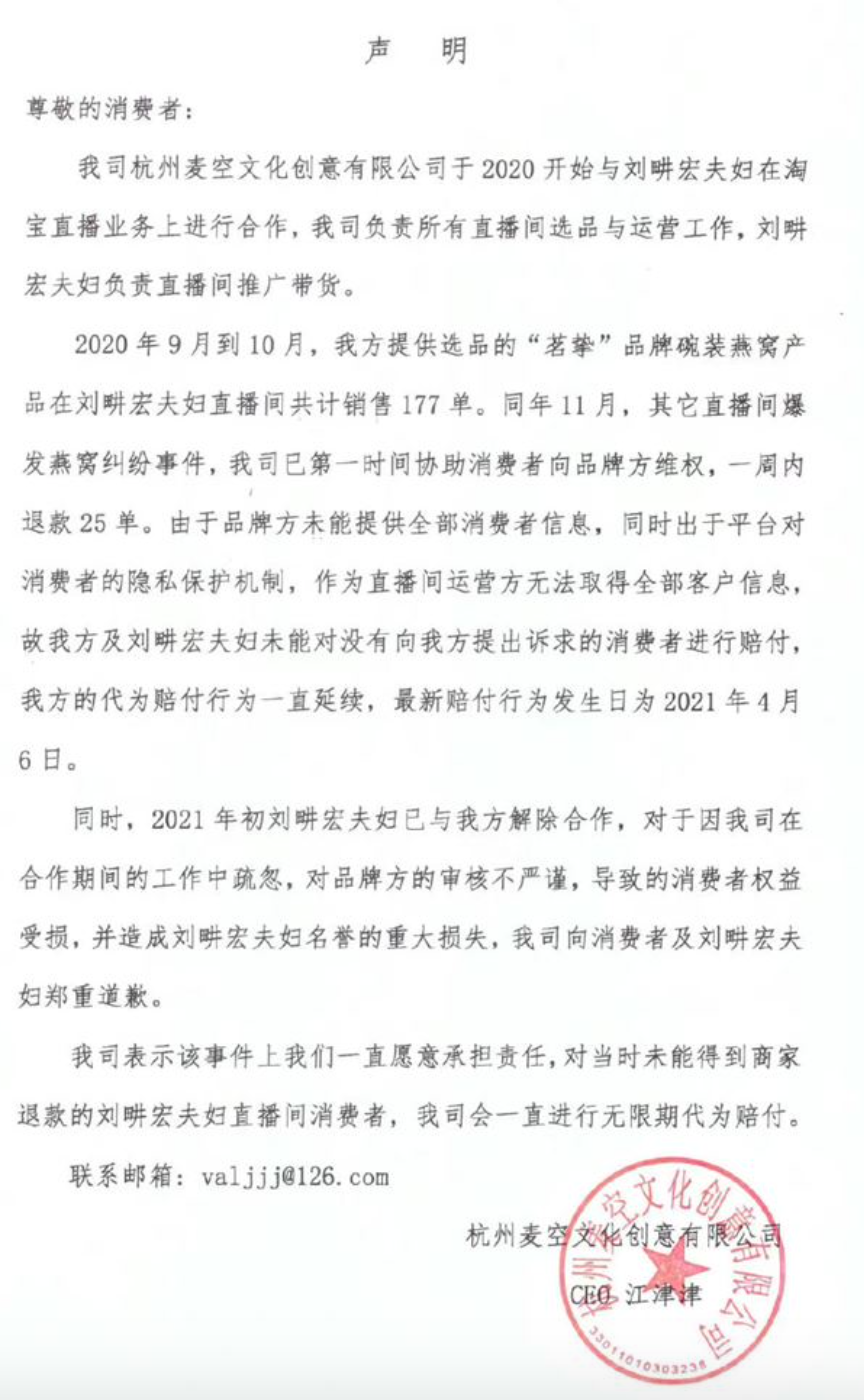 Liu Genghong's company's public apology
Yesterday (Aug 31), Genghong finally made an official response on his Weibo to address the matter.
Apologising to his followers, he said: "Because I wasn't cautious with the companies I chose to work with previously, [I] caused the consumers who trusted me to suffer a loss. For that, I'm very sorry." 
Genghong also shared the official statement posted by a company called Hangzhou Maikong Creative Culture Co., Ltd, which stated that the couple had collaborated with them for a Taobao e-commerce live broadcast in 2020.
However, in the same year, the products were found to be problematic and Hangzhou Maikong had assisted consumers in defending their rights almost immediately, and refunded 25 orders within a week.
The statement explained that due to the platform's privacy protection mechanism for consumers, the company was unable to obtain all customer information and were therefore unable to reach out to all affected customers.
Hangzhou Maikong subsequently promised refund all customers who had purchased their products.
Photos: sinchew.com.my