Suddenly Working From Home? Here Are 5 Tips For A Great Temporary Home Office
How to make the best of a work from home situation, whether it's temporary 'cos of the coronavirus outbreak or if you're planning to set up a more permanent home office.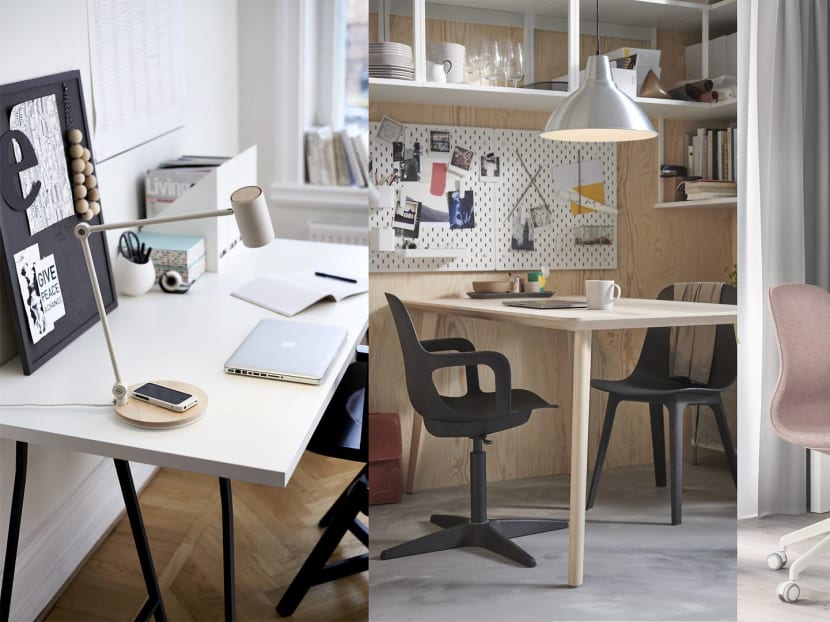 As I write this, I'm sitting in my bedroom. I'm not wearing my usual work clothes like if I were in the office, but that's another story. This article is about a home office set-up. I'm sitting at a proper work table with sufficient electrical sockets and chargers, a comfortable ergonomic work chair and there's natural sunlight streaming in from the window on my left. I'm feeling productive, and typingveryfast. When the 8days.sg team was put on a work from home situation due to the developing coronavirus outbreak, it spurred me to something I had been thinking of — set up a proper home office. Before that, when I had to work from home, I'd do so from my dining table or sit on the floor in my bedroom and use a low table. Now, I've bought a new desk which also doubles up as a vanity table on the side, since I've had to remove my old vanity due to a lack of space. A not-cheap work chair from Ikea proved to be a worthy investment, since I'm spending a lot of time in it. A proper desk set-up upped my productivity. And now that so many of us are working from home, whether temporarily due to the Covid-19 outbreak or more permanently due to shifting work cultures and an uptick in self-employment, here are some timely tips on how to set up a good home office, courtesy of April Kwan, Activity Leader from Communication & Interior Design at IKEA Southeast Asia.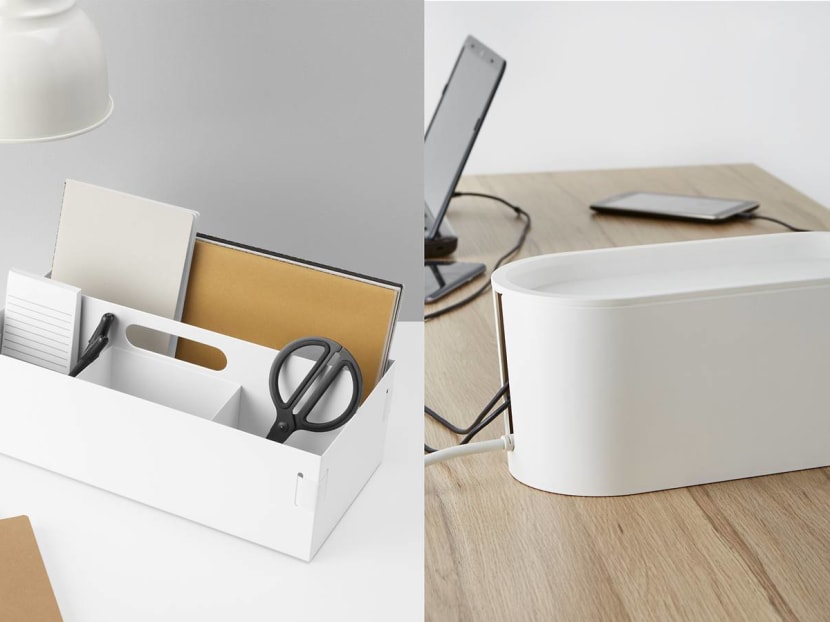 Whether you have a proper desk set-up or you're working on a table that doubles up for another purpose when you're not working on it, make sure the space is uncluttered when you're working. IKEA's April Kwan tells us, "We know that the modern workspace promotes productivity, and a smartly organised workspace promotes a great work life at home." She suggests IKEA's KVISSLE Desk organiser ($19.90, above left) to help keep everything from pens and stationery to USB sticks and chargers organised on your workspace. It has a handle so you can move it away or stow it when you're done with work. Another great home office buy is the ROMMA Cable management box with lid ($12.90, above right) which hides cables, sockets and extension leads in a storage space box.

"Light inspires, transforms and illuminates," says April. "The right light affects your moods, emotions and how you go about your daily activities. People generally feel more engaged when they work in natural light." If that's not available or when the sun goes down, make sure your working space is well-lit. "It is important to note that good lighting does not necessarily mean bright lights," April tells us. "Good lighting creates a comfortable atmosphere; it also reproduces the right colours, prevents glare and makes it possible to carry out many different tasks. When space is limited, choose hard-working essentials with hidden extras. Task lighting is best for focused desk work." The HEKTAR Work lamp with wireless phone charging ($99, above left) or the adjustable RIGGAD LED work lamp with wireless phone charging and USB port ($99, above right) are good options that do double duty.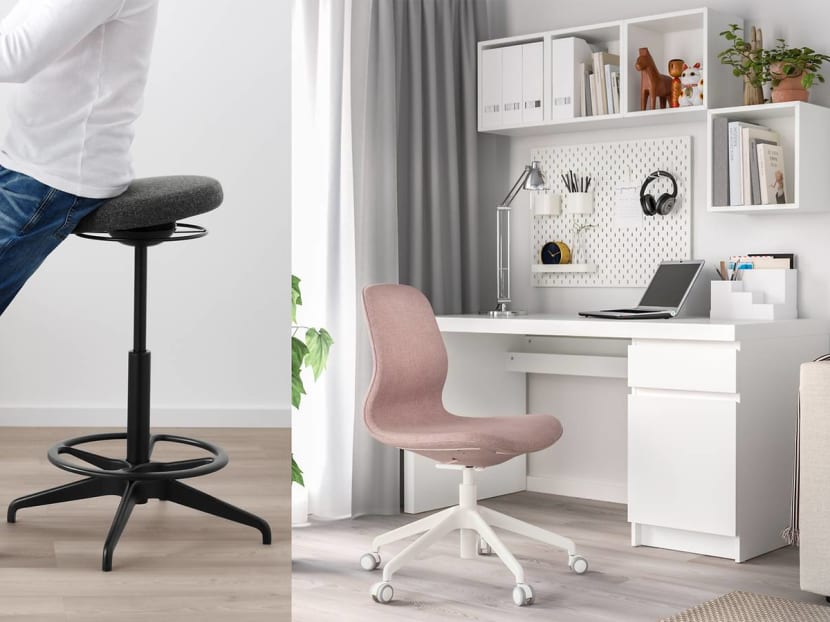 I used to work sitting on my hard metal kitchen bar stool, cos I had no other options, but now, I realise the power and comfort of a good work chair. "The right support can prevent back pain when you are working longer hours at home," says April. "Do yourself a favour and change position now and then instead of sitting or standing all day. A sit/stand support doesn't have any back-support or armrests. It allows for a flexible work position at both desks and high tables. You get a more open posture — good for your circulation and core muscles, and is awesome for both body and mind. The LIDKULLEN Active sit/stand support ($99, above left) is height-adjustable and makes it easy for you to change positions between sitting and standing. An ergonomic option such as the LÅNGFJÄLL Office chair ($199, above right) means you can easily find a comfortable seating posture throughout your work day. Your back gets support and extra relief from the built-in lumbar support.

Want to work on the sofa as a temporary short-term solution? April says that's fine as long you ensure that you support your back well with cushions. The BYLLAN Laptop support ($29.90, above left) is a great low-investment option if you think your work-from-home situation is very temporary. It's stable on your lap or an uneven surface thanks to the formable base. Alternatively, you can choose to use a table that is multi-functional such as the VITTSJÖ Laptop stand ($29.90, above right). This affordable piece of furniture can go back to being a coffee table beside your sofa once you are done with work.


Home work spaces should be inspiring and warm, like the tech startup offices that give us all office envy. Says April, "A home office can still feel inviting, warm, and interesting, like the rest of your house. Don't be afraid to use textiles like curtains, rugs or cushions to make the space cosy. But if you use the the wrong colour-coordination or too many colours in a small home office space, it may work negatively. If space is a constraint and you do not have a spare room to convert into your home office, choose workspace furniture colours that can blend seamlessly with the rest of your home to create an uncluttered and stylish atmosphere."