This Week's Best-Dressed Local Stars: Jun 12-19
The most stylish celeb OOTDs of the week.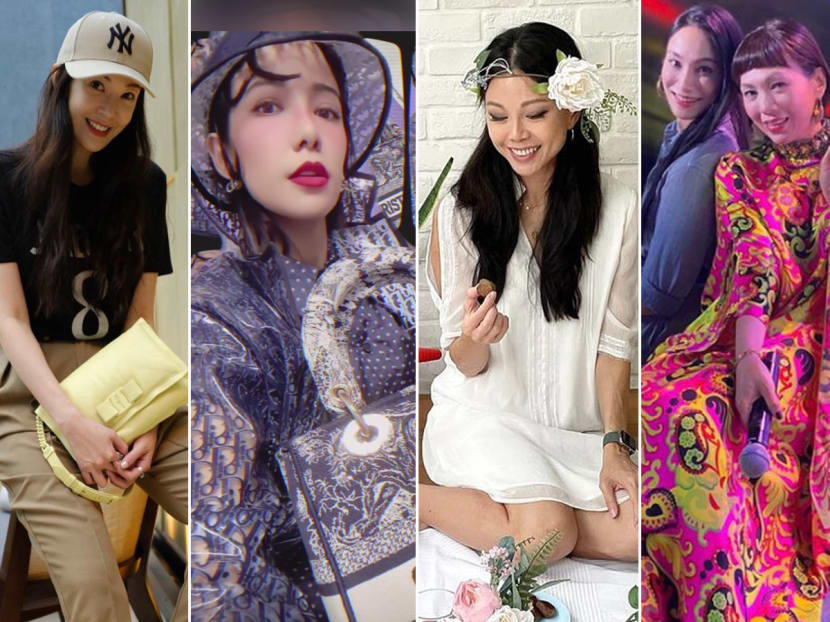 While Fiona Xie and Kit Chan took bold fashion steps, nailing striking getups with aplomb, Jesseca Liu, Carrie Wong and Jamie Yeo went for fuss-free and stylish looks that are every minimalist dresser's dream come true. Read on to see our favourite celeb looks this week.

While most of us would play it safe by matching logomania pieces with plain colours, Fiona upped her fashion game by styling her Dior logomania hat and rain jacket, with a polka dot top and leopard print purse. The print-on-print effect is sure to make her outfit a conversation-starting one.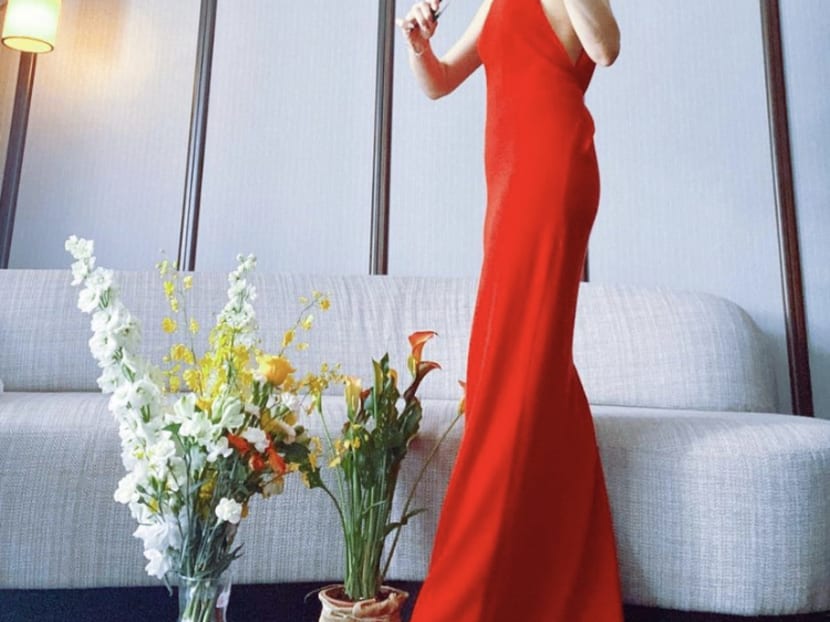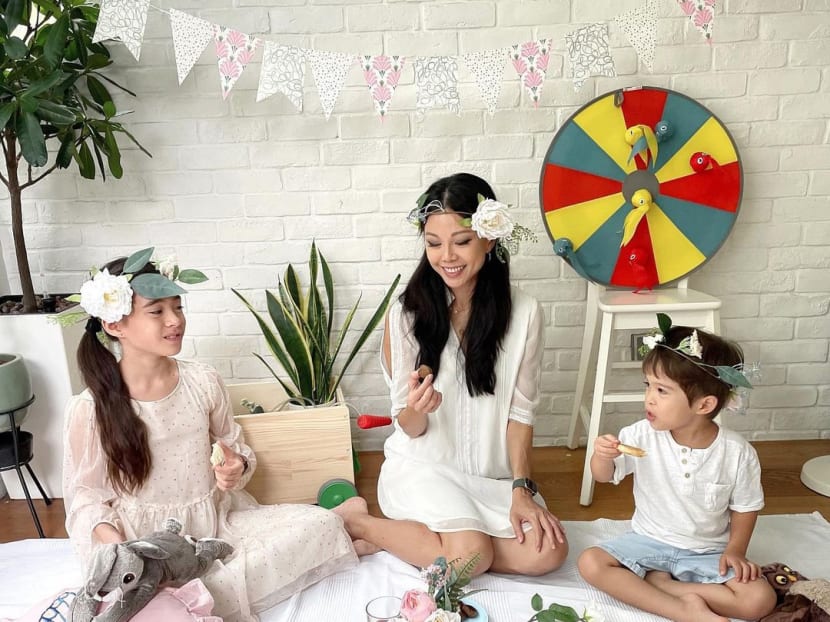 Staying home can be lots of fun if you get creative. Jamie recreated the Midsummer Carnival in Sweden (a yearly affair that ushers in summer solstice) by throwing an intimate indoor picnic with her kids Alysia, 10, and Luke, 3, and even donned matching flower child get-ups too! We love how Jamie looked especially angelic and youthful in her breezy frock and floral headband.

Blazers are great for boardroom meetings but a long coat can be a more stylish alternative. Go tone on tone like Ah Jie, opting for a tan lightweight coat and pairing it with matching culottes and shirt. Feeling bold? Swap those black boots with a pair of leopard print pumps to make a lasting impression.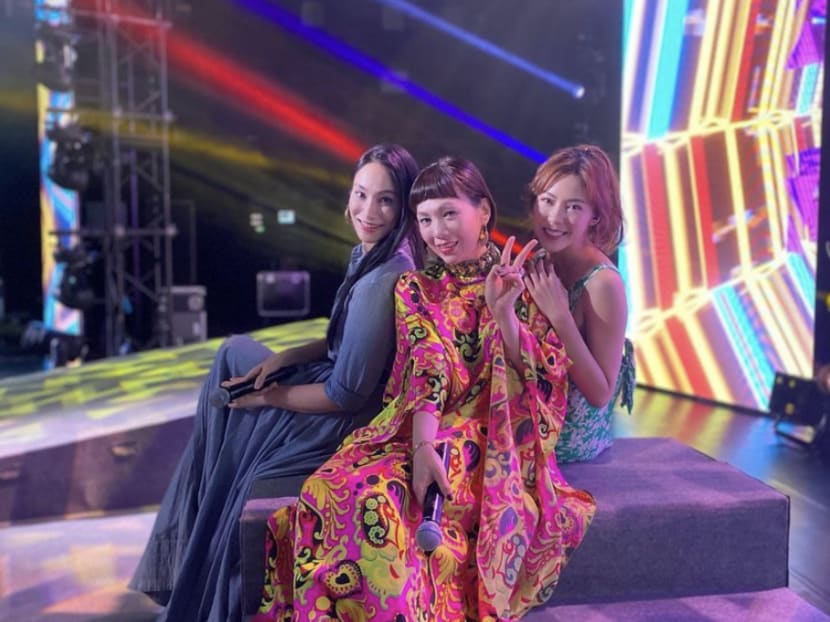 Looking groovy was Kit who was decked in a bright paisley kaftan for the Sing Lang 2021 online concert this week. Her eye-catching number was elevated by the contrasting colours, and we like that she styled it with a pair of sky-high hot red heels for even more drama.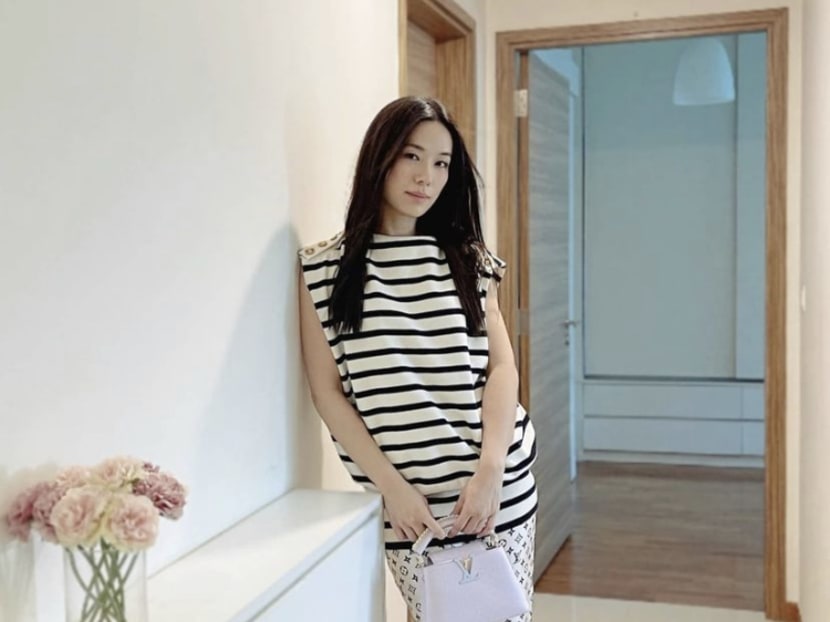 Pairing two different prints requires some effort and confidence to pull off, and we think Becks made it work with stripes and the iconic Louis Vuitton logo prints, though we're still on the fence with the tunic-over-pants look. We'd rather this fashion trend stay put in the early noughties.

Jesseca, who is basically blessed with the ability to pull off any style, showed us how to match work- and weekend-ready pieces like a pro. Style a logo tee with high waisted work pants and top it off with a baseball cap and pillow bag to look casual chic.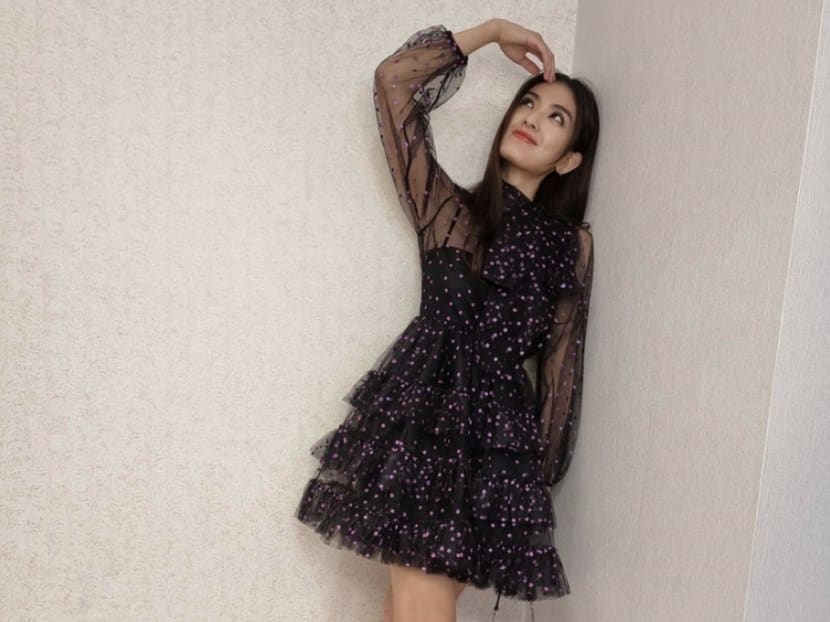 Can't remember when was the last time you dressed up properly for a night out? Then you might wish to take the style cue from Hong Ling who decided to slip on a pretty dress just cause. We love how this sheer, polka dot number is feminine yet flirty.

Phyllis' pink two-piece above makes for a perfect mix of loungewear with activewear. Whether it's for staying in bed the whole day or spending an hour on the yoga mat, this eye-catching pair does the job stylishly.
Also looking great in pink is Germaine, who rocked a hip-hop dancer-inspired getup this week. The tie dye effect and cutesy prints added a youthful vibe to her outfit, and those heart shaped sunnies made her look even more streetstyle worthy.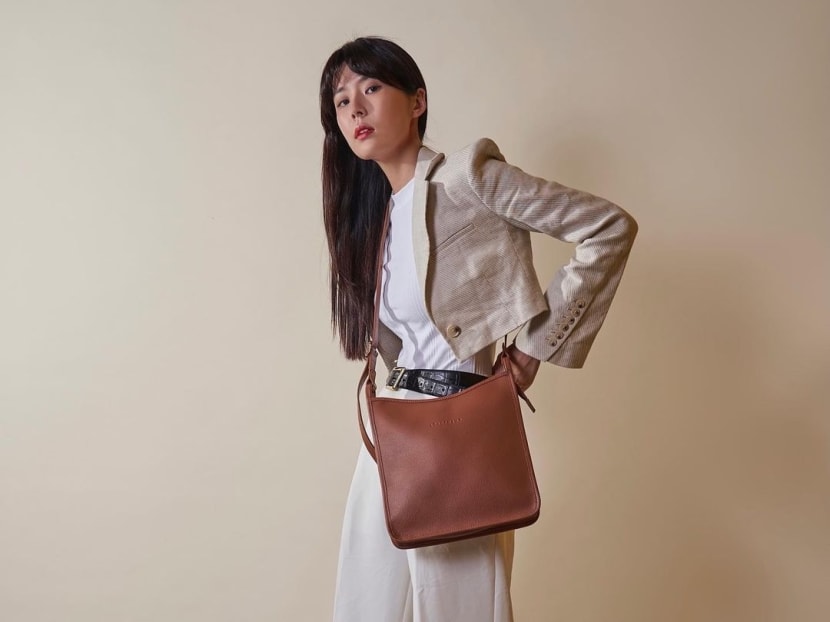 How to make office wear less boring and more stylish? Take a leaf out of Carrie's style book; experiment with failsafe colours (think earthy tones) and mix varying silhouettes. Pairing high waisted pants and a cropped blazer, like Carrie, will make you look taller.
If Kimberly's outfit could talk, it'd probably say: "I'm in the mood for a vacay!" Hey, us too. But for now, we'd gladly slip into Kimberly's beach-ready floral dress and top it off with a straw hat even if it's just for a trip to Sentosa, or anywhere in our sunny island.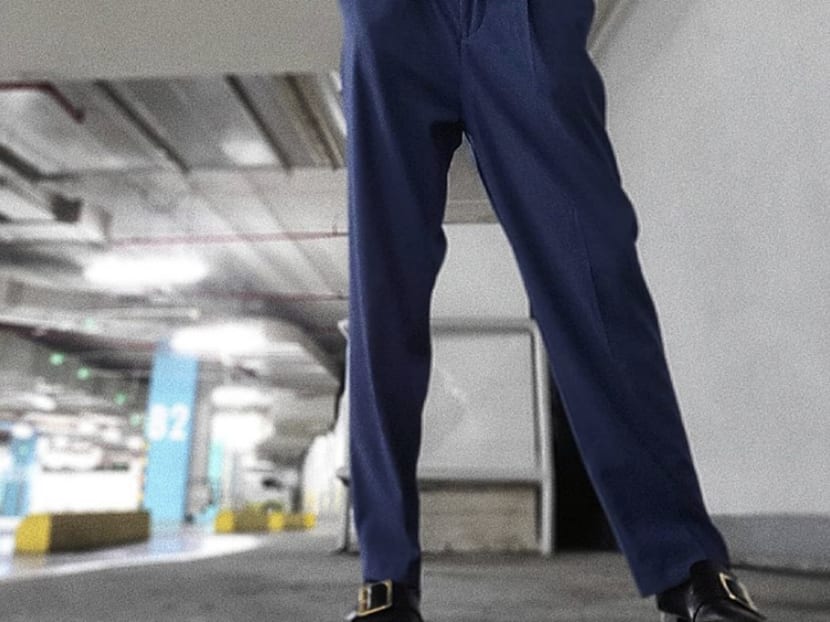 We love our white tees because of how versatile they are. Sheila's sleeveless version comes with padded shoulders (major '80s redux!) for a pinch of drama, while her belted trousers help define her modelesque figure better.

Pin stripe shirts aren't just for the office. By styling his fitted shirt with wide leg pants, Jeremy perfected the balance between laidback and pulled together.

We like how Bonnie's #stayhome outfit of bralet and lavender track pants looks both comfy and cosy. Heading out? Throw on a pair of colourful kicks for a bold statement.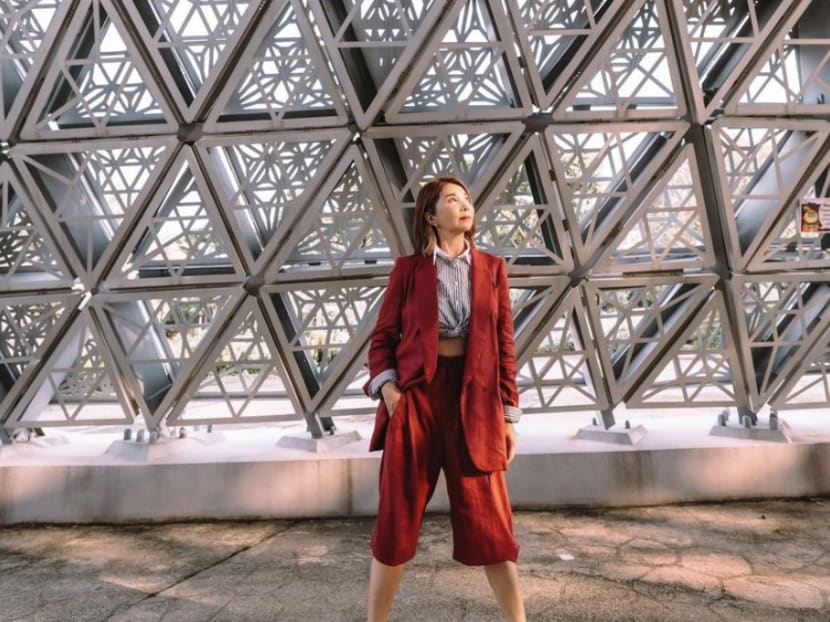 What do you wear when you feel like you can do anything? For Xiuhuan, she turns to red colour to project confidence. We love that she opted for shorts instead of pants to give the suit a more offbeat appeal.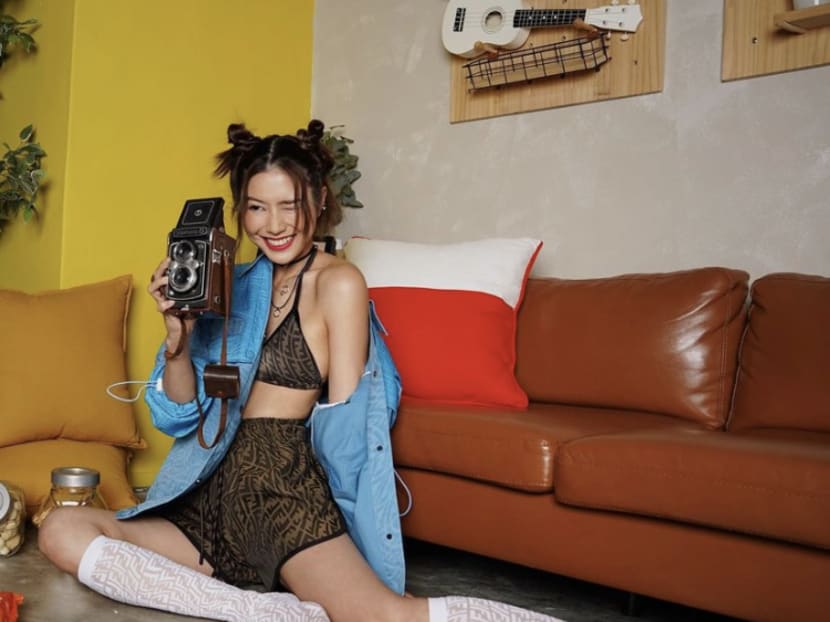 Arguably one of our favourite patterns this season, the trippy logo prints on Fendi's Summer Vertigo capsule collection offer a spirited take on Fendi's signature logo. Here, Ferlyn looks especially comfy for a stay-home day or even a quick dip in the pool when she steps out of her jacket and boots.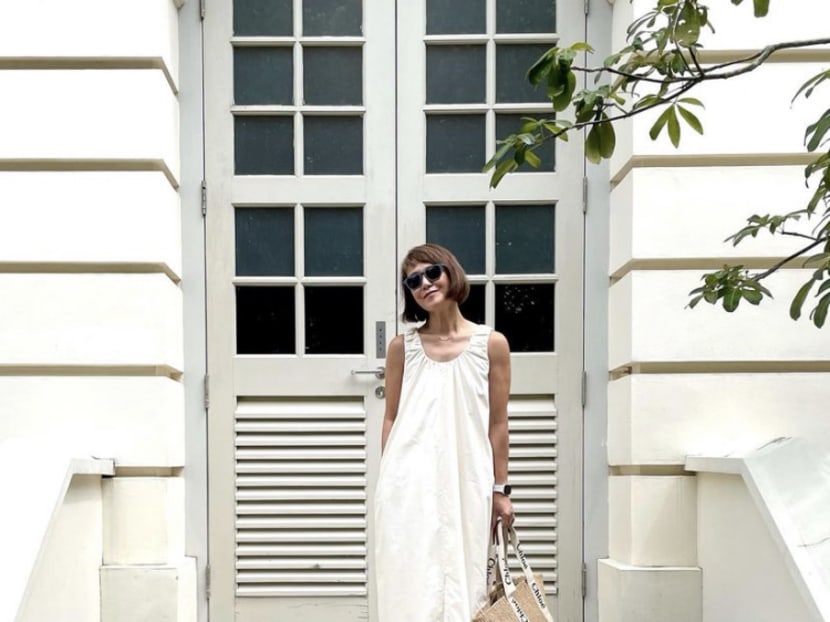 Some days we love getting creative with our outfits; on others, we prefer simplicity, like Janice's look above. Keeping her colour combination to just white, nude and black, as well as opting seasonless designs, Janice proves that we don't always have to go bold or go home.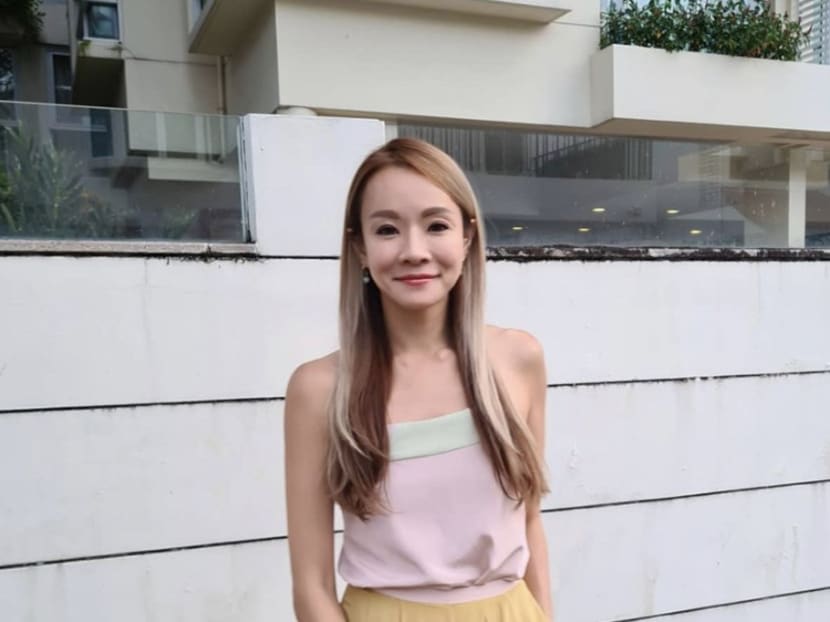 The mint green, soft lavender and light tan colours on Jade's outfit above aren't just easy on the eyes but also have a calming effect. We love that it's so simple to jazz up the look; add a brooch, necklace or even a hairband — the choice is yours.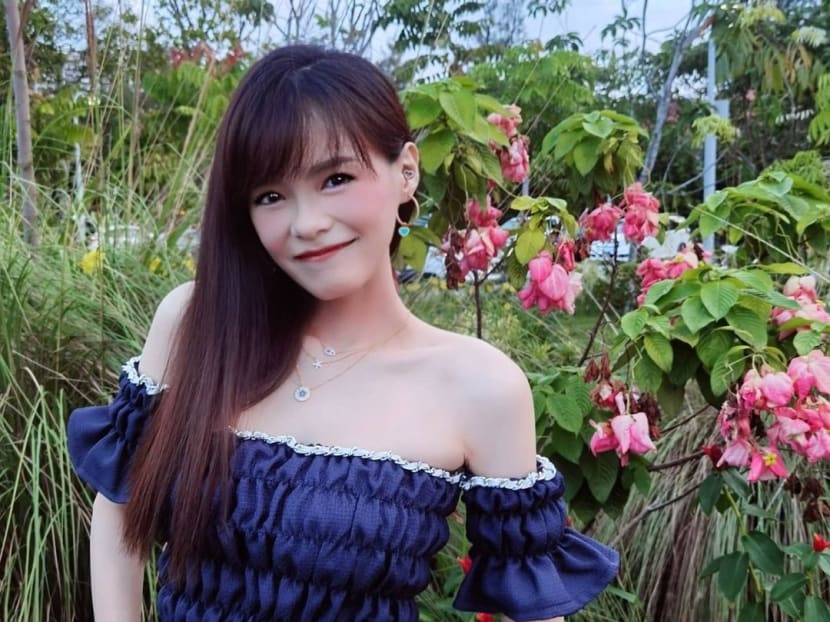 Hayley's off-shoulder cropped top is our best friend when it comes to weekend dressing in Singapore's hot weather. Its ladylike design can be toughened up a notch by pairing it with ripped jeans and sneakers.