What I Wish I'd Known About Mexico City Before I Went There For The First Time
Planning to head to Mexico City for the first time? It just got easier with Emirates' new flights from Dubai to Mexico's capital. But first, plan that epic itinerary with these essential travel tips.
There is a lot to take in in Mexico City, and you feel it the moment you touch down at the airport. Home to almost 9mil people, Mexico's capital is the world's most populous metropolitan area in North America. But more than impressive stats, it is the city's relentless, pulsating, exciting energy, its heady mix of the historical and the modern, the never-ending sensory overload of the city that's so vibrant and so colourful that will make you fall in love with it.
Thing is, this fabulous city has so much to offer, so where do you start with the vacay planning? Here's what you should know before you go.

The glistening beaches of Cabo and Tulum get lots of love from travellers, thanks to influencers and celebs and their Insta-perfect snaps. Often overlooked as just a mere stopover, Mexico City is underrated as a tourist destination, and let's just say, it was totally worth the journey to get here. With over 200 museums, five UNESCO World Heritage Sites, and countless street food stands and restaurants to try, by the end of my first day there, I was already wondering if four days here is too little time to soak it all in (spoiler alert: it is).

There's always something to see, do, and thrill you in this buzzy city to the point it may be overwhelming for a first-time visitor. But may we suggest getting right into the action and zero in on Zocalo. The massive urban square, a designated UNESCO World Heritage Site, is the heart of Mexico City. This is the perfect starting point for your Mexican adventure, where you get a snapshot (literally and figuratively) of the city. The historical plaza (it used to be ceremonial grounds way back during the Aztec times) is bordered by CDMX's biggest and grandest monuments, including the National Palace and the Mexico City Metropolitan Cathedral.
Where to go in Zocalo
The National Palace

Also known as the current president of Mexico's home. "He actually stays up there? With tourists strolling in and out of his house all day?" I ask our guide, as we're standing next to a fountain at the main courtyard of the grandiose compound. "Yes," he quips. "Weird, right?" The massive government building also houses the office of the finance minister and the president, a museum, an impressive botanical garden where there are cedars, mangoes and tamarind and other rare plants in Mexico.

Mexico City Metropolitan Cathedral
Dating all the way back to the 16th century, the Catholic cathedral took 250 years to build, with architecture that will leave you awestruck.

Street markets border the sprawling square of Zocalo, where you'll find locals hawking trinkets and souvenirs. Bargaining is welcome.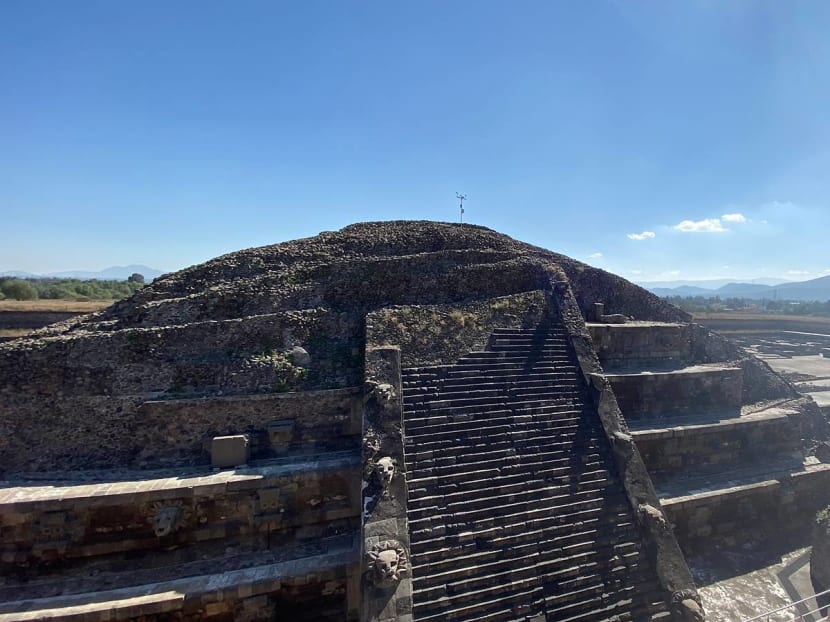 The pyramids at Teotihuacan are mind-blowingly astounding, and this will easily be the highlight of any Mexican jaunt. These remarkable ancient ruins are a one-hour drive from Mexico City, but the journey is well worth your time (make life easier and book a tour from one of the operators at the Zocalo or online). The UNESCO World Heritage Site dates all the way back to 300 BC, and is one of the key ancient civilisations in Mesoamerica where it was a thriving city and home to some 220,000 people. Today's archaeological site comprises the Palace of Quetzalcoatl, Pyramid of the Moon and the Sun (the latter is the largest here, and the third largest in the world) with the Avenue of the Dead linking them all.
Some practical things to note. Firstly, you'll want to set aside about four hours here. The pyramids are farther from each other than they look, sometimes up to 4km in between, so be prepared for a walk. There is some intense glut workout involved in climbing up and down the towering structures and exploring the artefacts, but you'll be rewarded with fantastic panoramic views at the top. It's imperative to have sunscreen and a hat (there is practically no shaded areas from the searing sun rays, and tourist shops in the area sell hats at tourist prices). Oh, and stretch after you descend from the pyramids. Your gams will thank you the next day.

There's a whopping 217 museums, over 100 galleries, nine archaeological sites and five UNESCO World Heritage sites in CDMX alone. Strapped for time? Here are two that you shouldn't miss.
Chapultepec Castle
Meander through Chapultepec Park, one of the biggest city parks in the world (it's twice the size of New York's Central Park), to get to this castle on the hill.
The historically significant site was once an army school and a presidential house. Today, it serves as the National Museum of History, charting everything from the Spanish Empire era to the Revolution of 1910.

The view from the top of Chapultepec Castle
Don't leave without schlepping through a beautiful corridor adorned with stain glass murals, or exploring the lovely rooftop garden, replete with perfectly manicured flora and fauna and fab views of the sprawling city.

Frida Kahlo Museum, aka The Blue House

These vibrant cobalt walls belong to what's probably the most Insta-famous museum in CDMX. The birthplace of Frida Kahlo (she lived here from 1929 to 1954) has been turned into a museum dedicated to the Mexican icon, her life and her poignant works.
Walking through the 10 rooms of the former residence of Frida Kahlo, you get to delve deep into life of the famed artist, perhaps even imagine what it felt like to be her as you walk through her work room where masterpieces were created, or traipse through her bedroom and kitchen for a glimpse at her daily life.
Queues start forming even before it opens at 10am, so book tickets online before you go.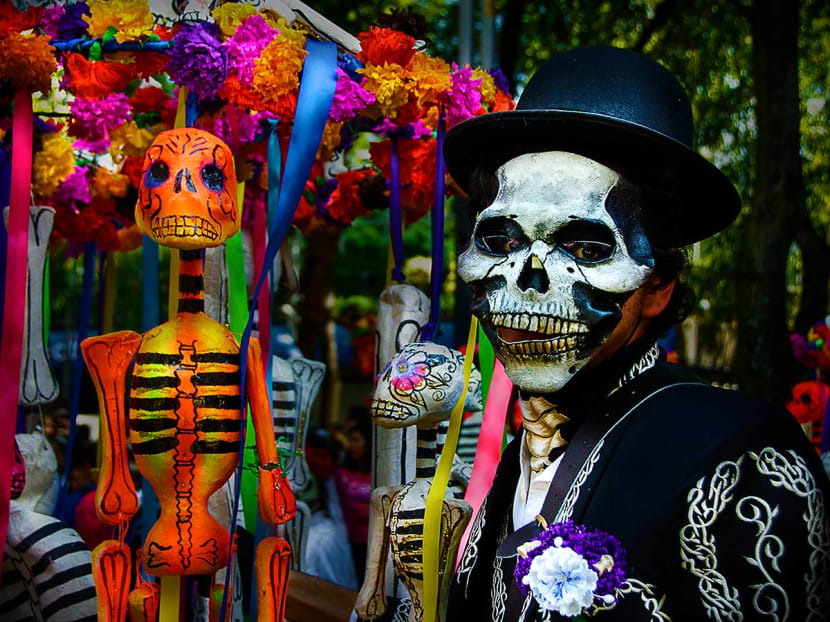 For all the photos you'll be taking, of course. Everything is brighter, bolder and bigger in Mexico City, as if someone cranked up the saturation on the colours of the city. From the kaleidoscopic restaurants to the lovely hues of the markets, you'll be whipping out your camera all the way.

Mercado de Artesanías La Ciudadela
Tucked away in Centro Historico, this artisans craft market is your one-stop souvenir shopping destination, where you'll find everything from straw bags and homeware to embroidered shawls and traditional ponchos at prices that even the locals agree are reasonable.

San Juan Market
Just one block, or a five-minute walk away from the Artisans Market, this is a local market of another sort. Here you'll find everything you'll need to whip up a good Mexican meal, from sauces and taco shells to sweets and fried grasshoppers — even a slew of colourful pinatas if you feel like working for your dessert.
Fried grasshoppers, anyone?


Or if you prefer someone else to do the cooking, enjoy some casual nosh and a glass of wine at casual kiosks in this labyrinthine marketplace.
Meson Antigua Santa Catarina
You didn't think a guide to Mexico would be complete without mention of the glorious food, right? This traditional Mexican restaurant, family-owned with a 52-year-history, is nestled in Coyaocan, a charming hipster and artist enclave that boasts an easy cool vibe, cute cafes and plenty of local restaurants.
Perch yourself at the colourful rooftop terrace which overlooks a small park, and chow down some cactus tacos, zucchini flower soup and wash it down with delicious mezcal cocktails.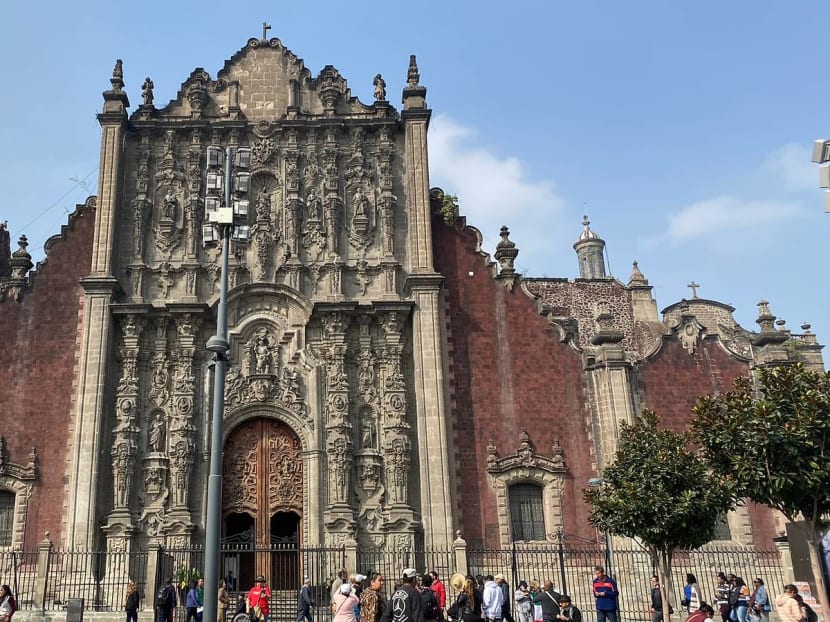 "Are you sure it's safe?" That was among the questions that people asked when they found out that I was heading to Mexico City. The short answer: yes. The long answer: It's not the crime-ridden cowboy town that Hollywood paints it to be. But just because you're on vacay doesn't mean you can let your guard down. Locals say that travellers do need to be wary of petty crime such as theft, just like you would if you were visiting, say, Paris or Barcelona. Tourist populated neighbourhoods such as Centro Historico, Roma and Condesa are generally safe, but it's better to err on the side of caution. Don't brandish your phone as you walk along the streets, and avoid deserted alleys where no one else is walking. Sound advice you'd get, regardless of which metropolis in the world you're heading to.

Emirates flies from Dubai to Mexico City daily, and four times a day from Singapore to Dubai. More info at www.emirates.com. Special thanks to Emirates and Mexico City Tourism Board for making this trip possible.
Photos: Jasmine Teo
Additional photos: Courtesy of Mexico City Tourism Board