Malaysians celebrate Michelle Yeoh's historic Oscar win in style
From massive billboards to a viewing party hosted by the newly-minted Oscar winner's family back in Kuala Lumpur.
Malaysian actress Michelle Yeoh has made history by becoming the first Asian (and Malaysian) to win Best Actress at the Oscars. 
The 60-year-old delivered a touching speech, at one point addressing "all the little boys and girls" who look like her and who were watching her on stage, calling her win "a beacon of hope and possibilities" for them.

She then went on to declare: "And ladies, don't let anybody tell you, you are ever past your prime. Never give up."

Hear, hear.
Michelle also dedicated her award to her mum, Datin Janet Yeoh, 84, who previously made headlines for her youthful appearance and go-getter spirit.
Michelle's mum Janet (in white) surrounded by loved ones at the KL viewing party.
"I have to dedicate this to my mom, all the moms in the world, because they are really the superheroes and without them, none of us would be here tonight. She's 84 and I'm taking this home to her. She's watching right now in Malaysia, [Kuala Lumpur], with my family and friends. I love you guys, I'm bringing this home to you," said Michelle, who was born in Ipoh, Perak.
Michelle's plus-one at the awards ceremony was her fiancé, former Ferrari CEO Jean Todt, 77.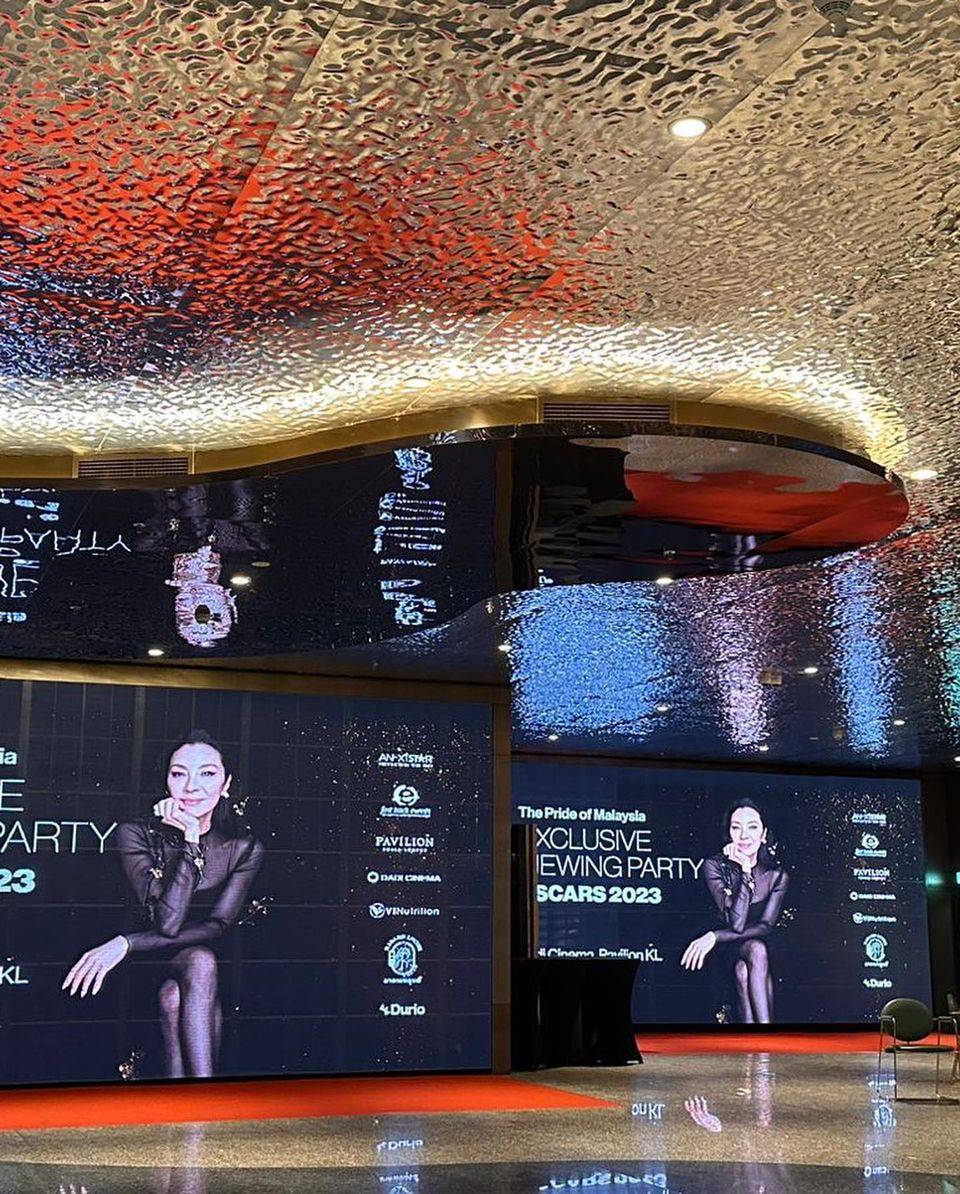 Now that's a fancy viewing party.
Michelle's family and loved ones in KL organised an exclusive viewing party at the Dadi Cinema in Pavilion Kuala Lumpur.

The glitzy event was also attended by celebs such as Malaysian actresses Nasha Aziz, 51, and Sangeeta Krishnasamy, 37.
Malaysian media outlet The Star spoke to Michelle's mum after her daughter's win.
"I am very happy with Michelle's success. She won the award because she is hardworking. You can see that in the way she fights in movies, the way she performs. She is very beautiful, talented and smart also," she said. 
The Star also shared that Michelle video-called Janet shortly after the win to celebrate.
She's indeed the pride of Malaysia.
A number of larger-than-life billboards were also erected around Malaysia to honour Michelle.

One billboard hailed Michelle as "the pride of Malaysia", addressing her by her full title, Tan Sri Michelle Yeoh. She was awarded the Tan Sri title in 2013.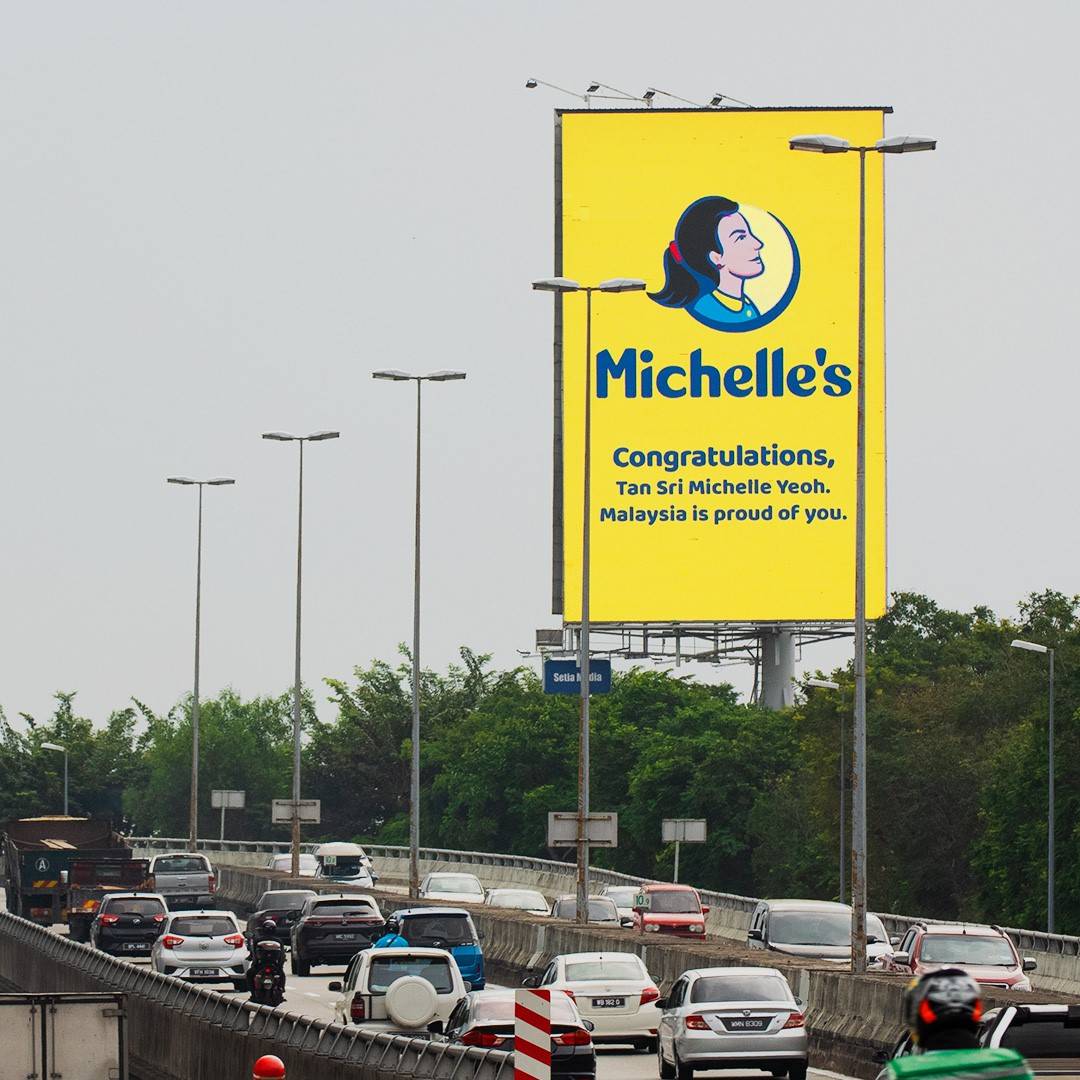 What a fitting tribute.
Malaysian biscuit brand Julie's also paid homage to the actress. An 8days.sg reader sent in a picture of a billboard on the Damansara-Puchong Expressway near Taman Megah, with the Julie's mascot replaced by a drawing of Michelle in the brand's style.
"Congratulations Tan Sri Michelle Yeoh. Malaysia is proud of you," the billboard declared.
Michelle got her start in showbiz in 1983, after winning the Miss Malaysia World Pageant at the age of 20. She previously shared that she was not interested in the pageant, and only entered to pacify her mum. Janet had secured her a spot at the auditions by forging Michelle's signature on the application form. Michelle's dad is Yeoh Kian Teik, a lawyer and politician. He passed on in 2014.
The actress moved to Hong Kong in the '90s, where she made her name as an action star, before turning the focus of her career to Hollywood in the early noughties.
Photos: Michelle Yeoh/Facebook, Michelle Yeoh/Instagram, Davinder Singh/Facebook, Raymond Chan