Man showed up at 4am to queue for free duck bag from braised duck hawker stall
It is for a heartwarming reason, though.
Last week, 8days.sg reported that hawker stall Ah Xiao Teochew Braised Duck was giving away plushie duck bags on Apr 30 to customers who spend at least $21.90.
Freebies usually mean long queues, but second-gen hawker Bai Ruihai, 35, told 8days.sg that the crowd situation was under control when he opened his stall at 10am. "NEA came by in the morning and told me to do a number tag system so there wouldn't be a long queue blocking the accessway," he said.
First customer showed up at 4am
Ruihai borrowed number tags from his stall neighbours and handed them to the customers who were already waiting to snap up the 30 bags available. "All the tags were taken within 20 minutes," he said. "I gave them the tags and told them to sit down and wait." 
As most of the customers had large orders, Ruihai estimated that the last person who got the free duck bag waited around two hours for their food. "There were also customers who came by just to eat," he shared. 
His first customer for the day showed up at 4am, a good six hours before Ruihai's stall was open for business. He was hoping to get a free bag. "He was probably in his mid-50s. I didn't get to speak to him much as I was busy, but he did mention that his grandkids had requested for him to come by," Ruihai recalled.
Concerned, Ruihai reminded the man that he did not have to queue. "I even told him that the bag can be bought online easily," he said. Undeterred, the elderly customer waited for his turn. "He sat there and la kopi and played with his phone," laughed Ruihai.
One customer donated $45 worth of food 
He also had another customer who transferred $45 to him via Google Pay to redeem a duck bag, but did not want any food in return. "He wanted to give it to his girlfriend, but she was Muslim and couldn't eat [my food]," said Ruihai.
After transferring the money, the customer told Ruihai: "How many packets of duck rice you want to give out up to you bro [sic]."
The hawker also reminded his customer that he could just buy the bag online. "He just said, 'Never mind, for charity'," Ruihai shared. "So he paid it forward for the needy."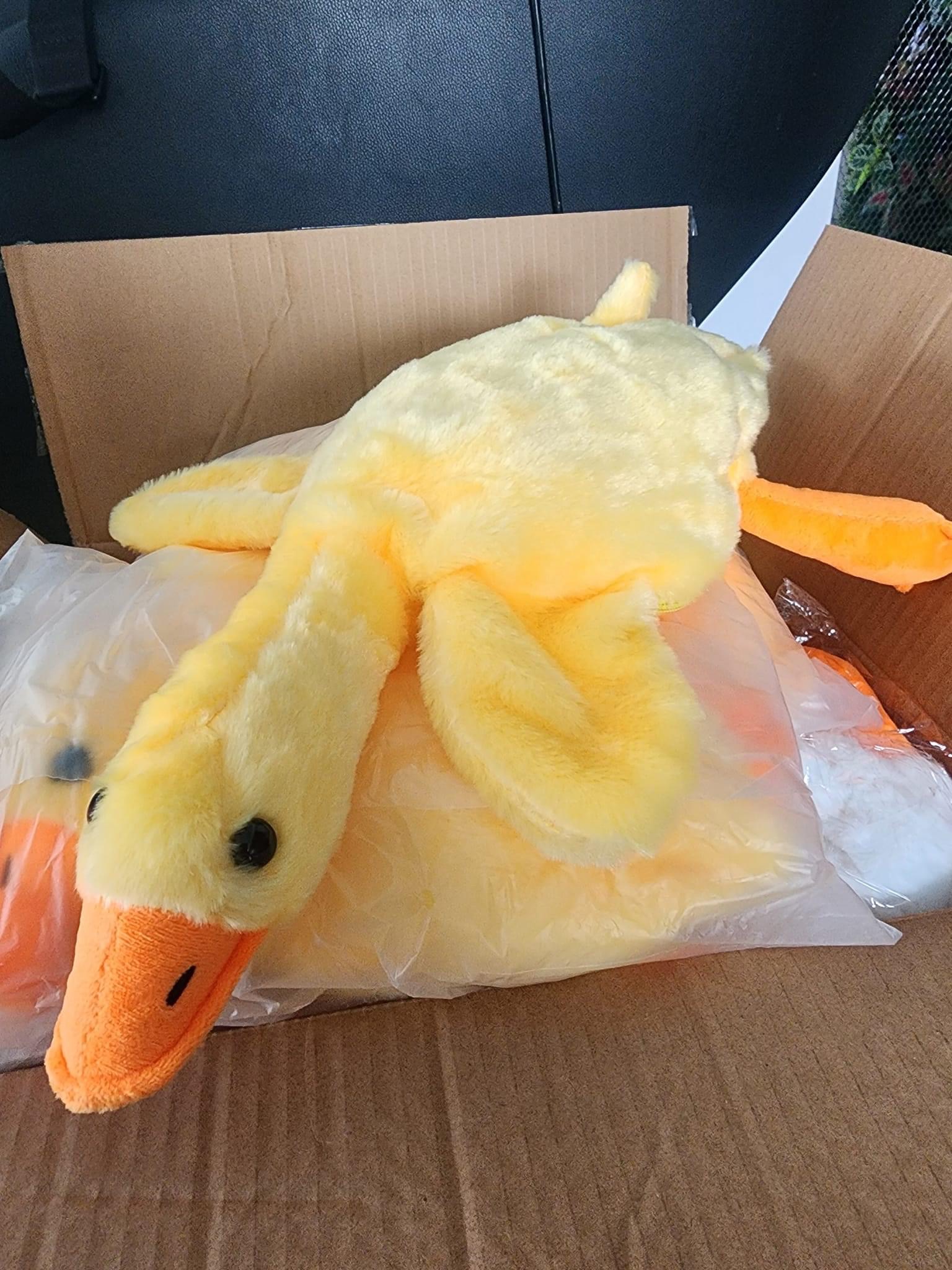 Free yellow duck bags 
On May 7, 10am, Ruihai is holding another giveaway with duck bags. This time, the duckie is yellow instead of white. He wrote on Facebook: "Say no more! Your request has been fulfilled! Stocks are limited to the first 30 people with minimum spending of $21.90, first come first served while stocks last! #maytheduckbewithyou"
Ah Xiao Teochew Braised Duck, #B1-43 Golden Mile Food Centre, 505 Beach Rd, S199583. Open daily except Mon & Thur. Tues, Wed & Fri 10am-2pm, Sat & Sun 10am-1pm. Updates on Facebook.
Photos: Ah Xiao Teochew Braised Duck