Mark Lee Leaves Audiences In Stitches At Golden Horse Awards, Netizens Want Him To Host Next Year's Ceremony
The Singapore funnyman stole the spotlight with his wit when he presented the Best Leading Actor award.
If there was an award for best comedian at the Golden Horse Awards, Mark Lee would probably win it.

The Singapore funnyman left audiences in stitches when he presented the Best Leading Actor award with Malaysian actress Angelica Lee at the awards ceremony last Saturday (Nov 27).

Mark, 53, was nominated in the same category for his role in Singaporean comedy Number 1 last year, but lost to Taiwanese actor Morning Mo. Coincidentally, the award was also presented by Angelica.
Because he failed to take home the trophy last year, he joked that organisers paired him with Angelica this time round so "Li Xinjie (Angelica's Chinese name) can untie [his] xin jie (knot in his heart) . Hur hur.
The comedian also did not hold back when poking fun at all the Best Actor nominees.

For example, Mark joked that the production company had no budget for Hongkong actor Francis Ng's wardrobe and make-up in Drifting (he plays a homeless junkie in the film) and that Taiwanese actor Chang Chen losing 12kg for his role as a cancer patient in mystery film The Soul was nothing compared to what he went through when he wore "12-inch high heels and fell 12 times" when he played a retrenched man who finds a job as a drag queen in Number 1.

Chang Chen eventually won the Best Actor award, by the way.

When it came to Kai Ko, Angelica said to Mark, He is younger and more handsome than you, to which he replied, Is that useful? He then changed his tune and said, I mean it is useful! In that case, use it slowly. It will be good to use after using it for a long time!
Netizens could not get enough of Mark's witty remarks, calling his three-minute appearance the funniest part of this year's Golden Horse Awards . Some even called for him to host next year's ceremony.
There were comments like Mark Lee is great, I laughed like crazy , "His response is very quick, I could not stop laughing", and Please let him host [the awards ceremony] with Bai Ling next year , referring to the controversial Chinese-American actress who is known for her outrageous red carpet style.
Local celebs also left comments on Mark's Instagram.
"The Golden Horse media loves you," wrote Sharon Au, while Christopher Lee, Lee Teng and Ben Yeo each left comments with three fire emojis.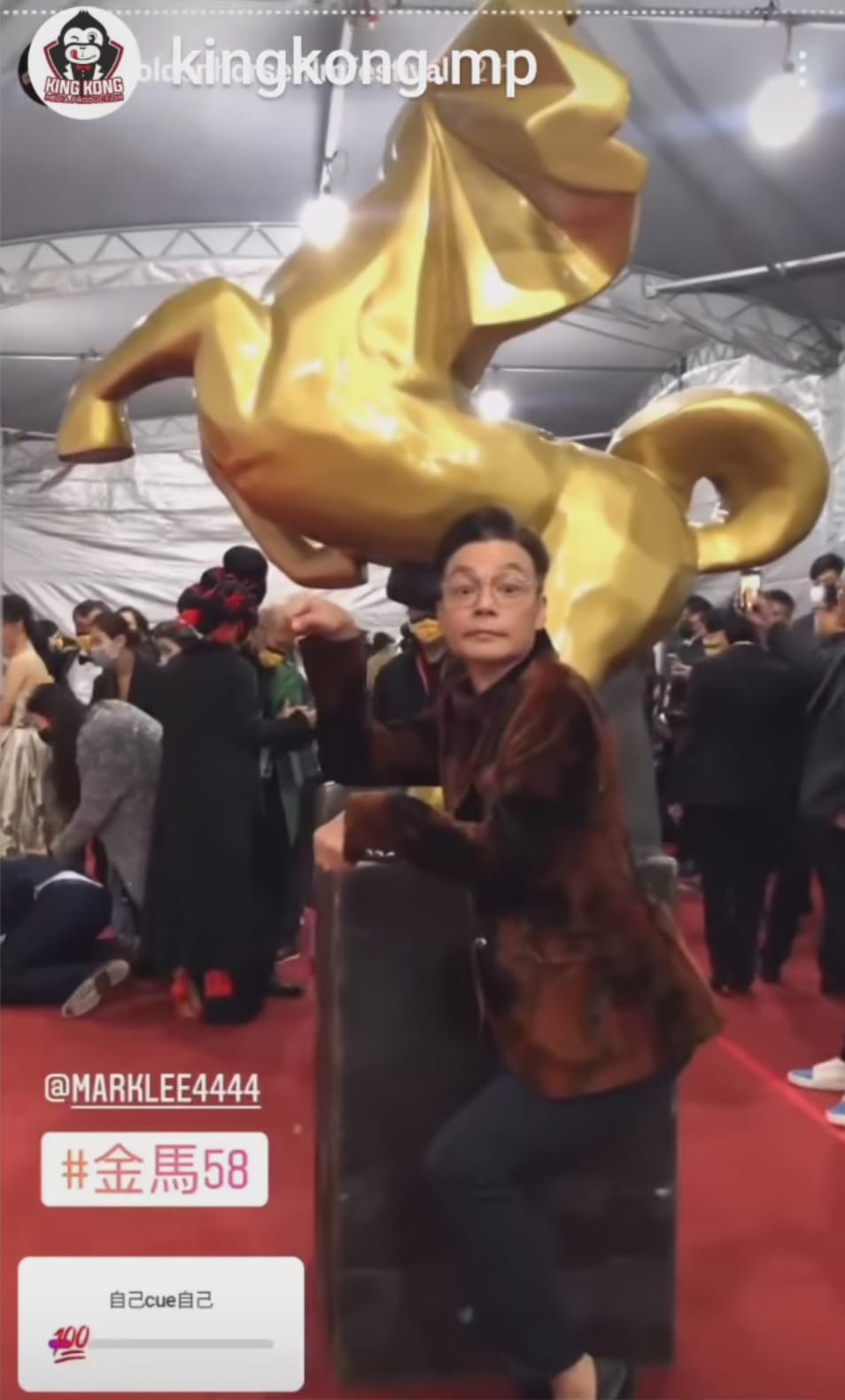 Photos: Mark Lee/Instagram