Maroon 5's Adam Levine Denies Cheating With Instagram Model But Says He "Crossed The Line"
The Maroon 5 singer Adam Levine has taken to social media to deny cheating on his wife
Adam Levine "crossed the line" with his flirtatious behaviour — but has denied cheating on his wife.

The  Maroon 5 singer has rubbished claims made by Instagram model Sumner Stroh that he cheated on Victoria's Secret model Behati Prinsloo — although he's confessed to showing "poor judgement".

In a statement on Instagram, the Voice star — who has been married to Prinsloo since 2014 — said: "A lot is being said about me right now and I want to clear the air.

"I used poor judgment in speaking with anyone other than my wife in ANY kind of flirtatious manner. I did not have an affair, nevertheless, I crossed the line during a regrettable period in my life. (sic)"

Levine and Prinsloo share daughters Dusty, five, and Gio, four, and are expecting their third child.
And although Levin has confessed to "inappropriate" behaviour", he's promised he won't repeat his mistake.

He said: "In certain instances it became inappropriate; I have addressed that and taken proactive steps to remedy this with my family.

"My wife and my family is all I care about in this world. To be this naive and stupid enough to risk the only thing that truly matters to me was the greatest mistake I could ever make. I will never make it again. I take full responsibility. We will get through it. And we will get through it together."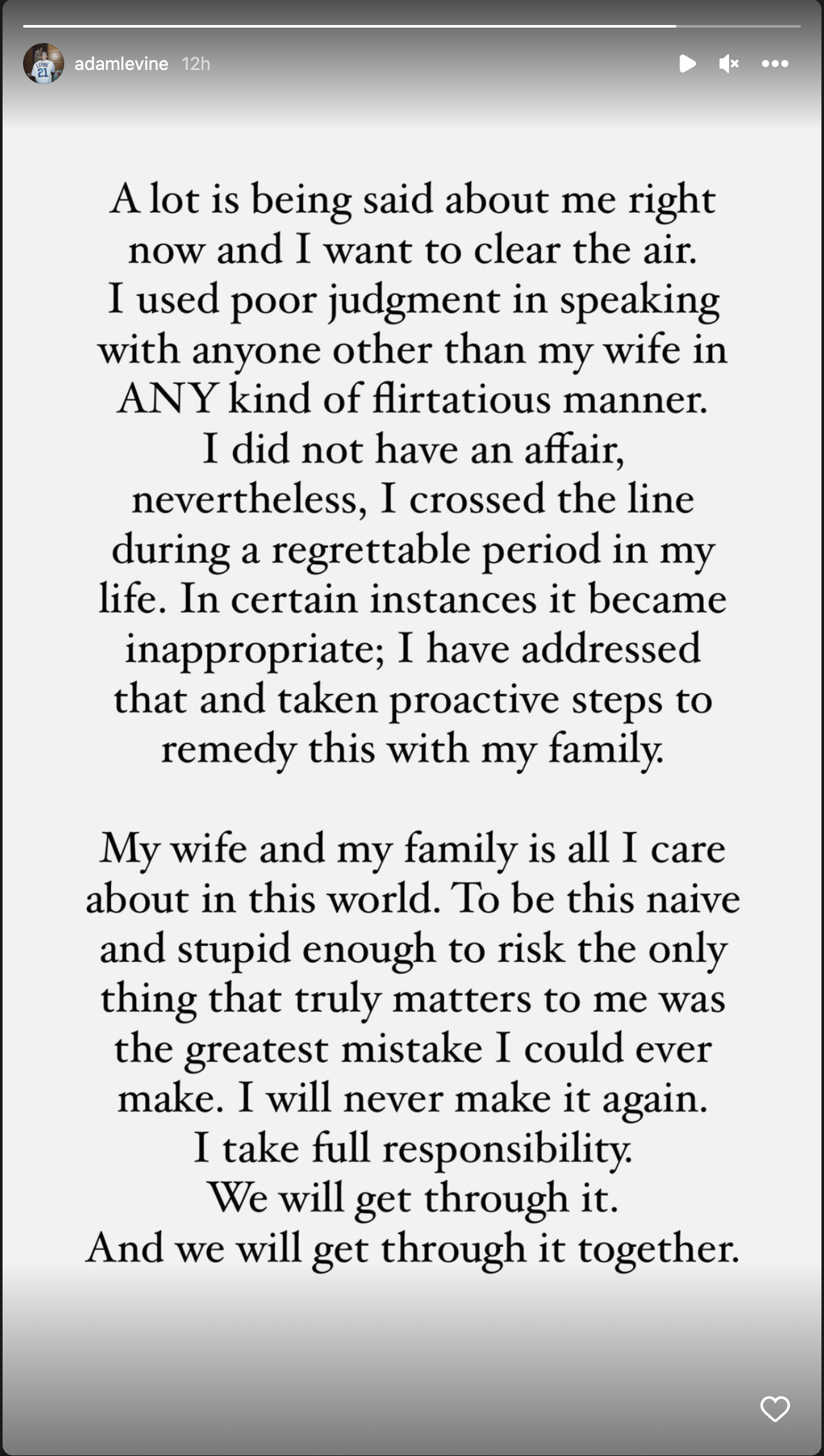 Levine made the statement after Stroh claimed she dated the singer for about a year. She also shared Instagram messages that she claimed were from Levin.

Stroh said in a TikTok video: "At the time, I was young, I was naive and, quite frankly, I feel exploited."
The Instagram model even suggested that Adam wanted to name his third child with Behati after her.

She explained: "He said, 'OK, serious question. I'm having another baby and if it's [a] boy I really wanna name it Sumner. You OK with that? DEAD serious.'"
Following Stroh's affair claims, two more models have stepped forward with stories of Levine sending them flirtatious Instagram messages
Maroon 5 will be performing at the National Stadium on Nov 28. Click here for details.  — BANG SHOWBIZ
Photo: TPG News/Click Photos