MasterChef S'pore S3 Winner Johnathan Chew Creates Rojak-Flavoured Grilled Bun With Popular Online Bakery
The Thai-style grilled milk buns with a mod Sin twist are available for a limited period only. 
Fans of MasterChef Singapore season 3 winner Johnathan Chew (right in pic) can soon try his creations. The 23-year-old has teamed up with online bakery The Bun Club to create three limited-edition flavours of their Thai-style grilled buns for sale: Mango, Chestnut and Rojak.
Made using The Bun Club's house-made Japanese milk bread (shokupan) rolls and piped with French pastry cream filling infused with various flavours, the bakes are inspired by the famed breads from street food stall Yaowarat Toasted Buns in Bangkok's Chinatown (Yaowarat).
The buns will be available via The Bun Club from September 22 to October 31.
Johnathan and The Bun Club towkay Wong Wee Man (left in first pic), 24, have known each other for years. Johnathan is a fan of the latter's buns and has always been keen to work with the online bakery. The opportunity came when they were both invited to run food stalls at a recent charity event.
"I felt that if we want to do a collaboration, we could use the event to test the new flavours and see what the public response was, so we decided to work together," Johnathan, a third-year NUS dental student, tells 8days.sg.
This is his first collaboration after his MasterChef Singapore win in July. He is also an "on demand private chef" and runs his own home-based business The Battered Boy selling bakes like pound cakes and fruit tarts, both of which are "pretty ad hoc" at the moment.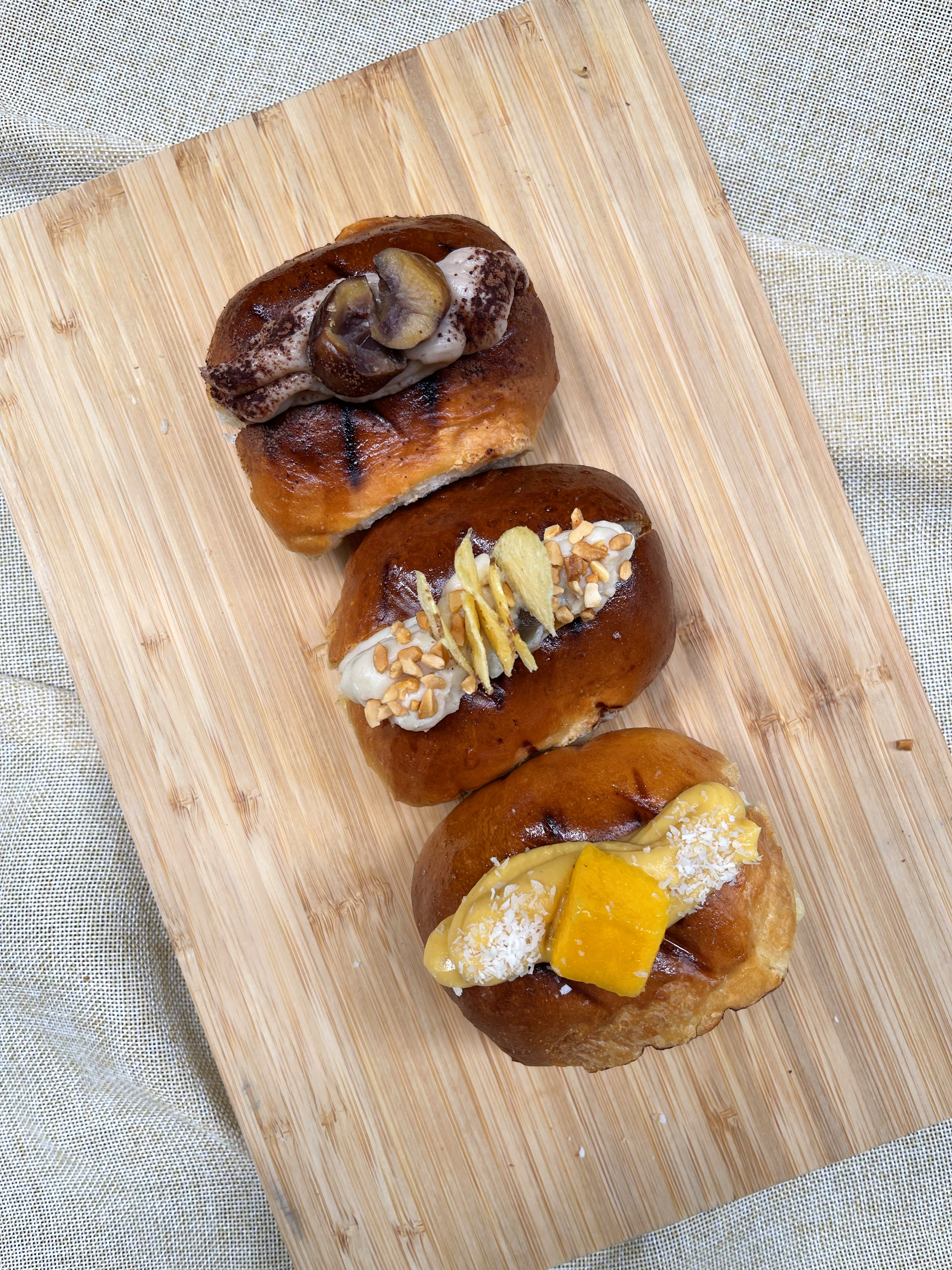 From top: Chestnut, Rojak and Mango buns
The flavours feature a mix of Johnathan's two passions: desserts and modern Singaporean cuisine. The unusual Rojak bun is a variation of his rojak cream puff, which he serves at his private dining sessions. Instead of simply adding rojak into the bun, it is filled with pastry cream mixed with fermented shrimp paste, century egg bits, and topped with roasted peanuts. 
"When I suggested doing a Rojak bun, Wee Man was very skeptical. He was like 'Are you trying to ruin my business?'," laughs Johnathan.
"He was very biased against it, but I really wanted to fight for it."
And he's glad he did. Response to the flavours was "very good" during the charity event, so they decided to offer them at The Bun Club. "A lot of people bought the Rojak bun 'cos they were curious," shares Wee Man.
The buns will be prepared by The Bun Club team and Johnathan will help out when his schedule permits.
"I am still studying so I don't have the capacity to do it daily," he reasons. While Johnathan plans to become a dentist full-time, he also hopes to open an ice cream shop after he graduates.
"It's 2022, you get to pursue different passions you have and I am very grateful for the opportunity. It hasn't been done before, at least not to my knowledge, but my eventual goal is to start a business integrating the two fields together," he says. Possibly an ice cream parlour within a dentist's clinic? Now that would certainly be a first.
The buns are available at $6.50 each or as a set of three ($19) or six ($36). You can also build your own box by mixing them with The Bun Club's existing seven flavours such as Thai Milk Tea, Pandan Kaya, and Biscoff, which are priced at $4.50 each.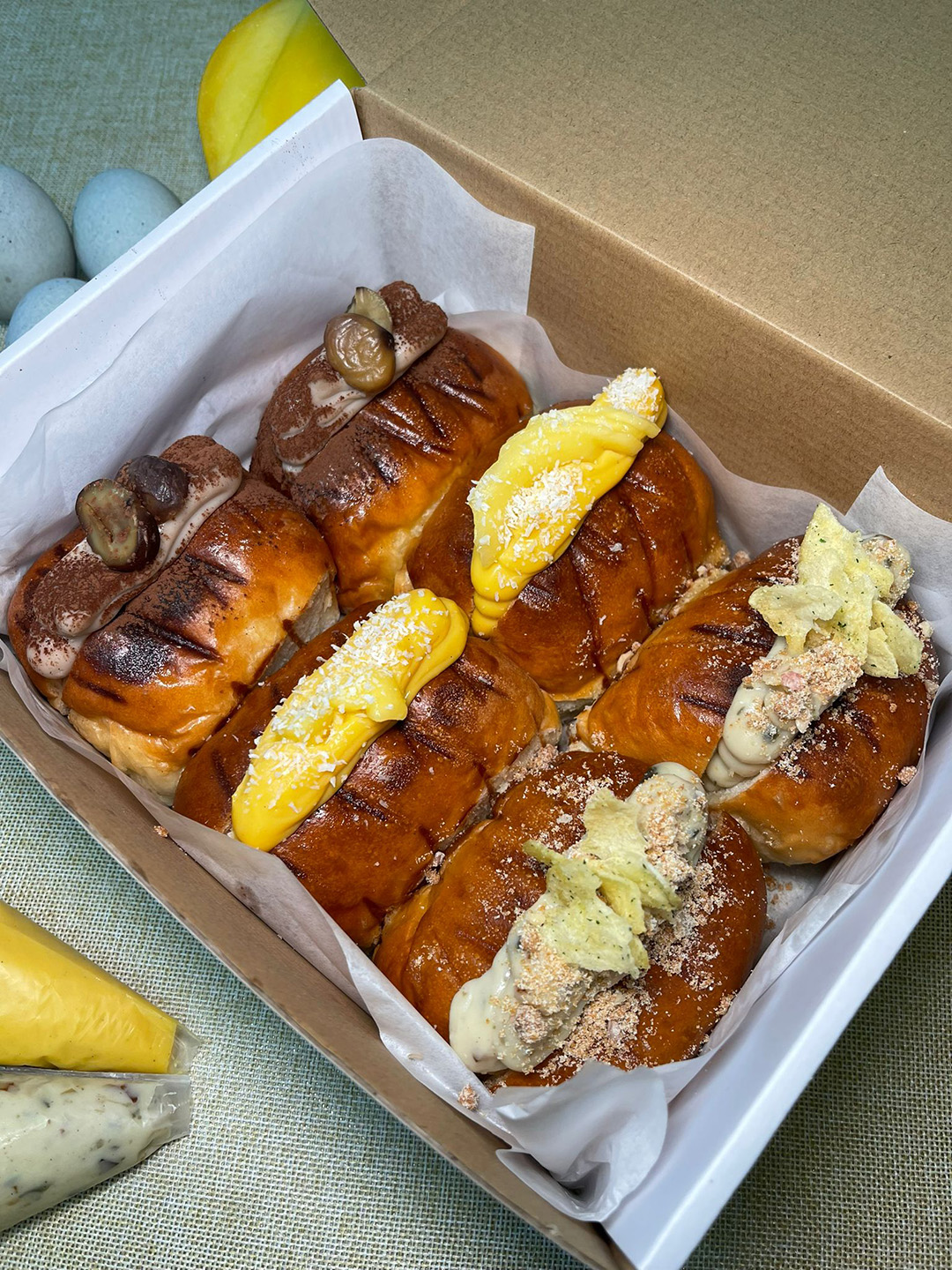 Taste test
Mango
The Yaowarat grilled bun, a sweet and messy street snack, usually comes loaded with runny sauce or spread. But instead of square white dinner rolls, The Bun Club uses Japanese milk bread (shokupan), which is made from scratch.  
The soft, chewy buns are buttered and grilled till crisp with a slight char, then piped with a generous amount of pastry cream mixed with mango puree and sprinkled with desiccated coconut flakes. It's like a mango cream puff but in bun form and our favourite of the lot. We like that the silky filling is zippy and not too sweet. Simple and hits the spot.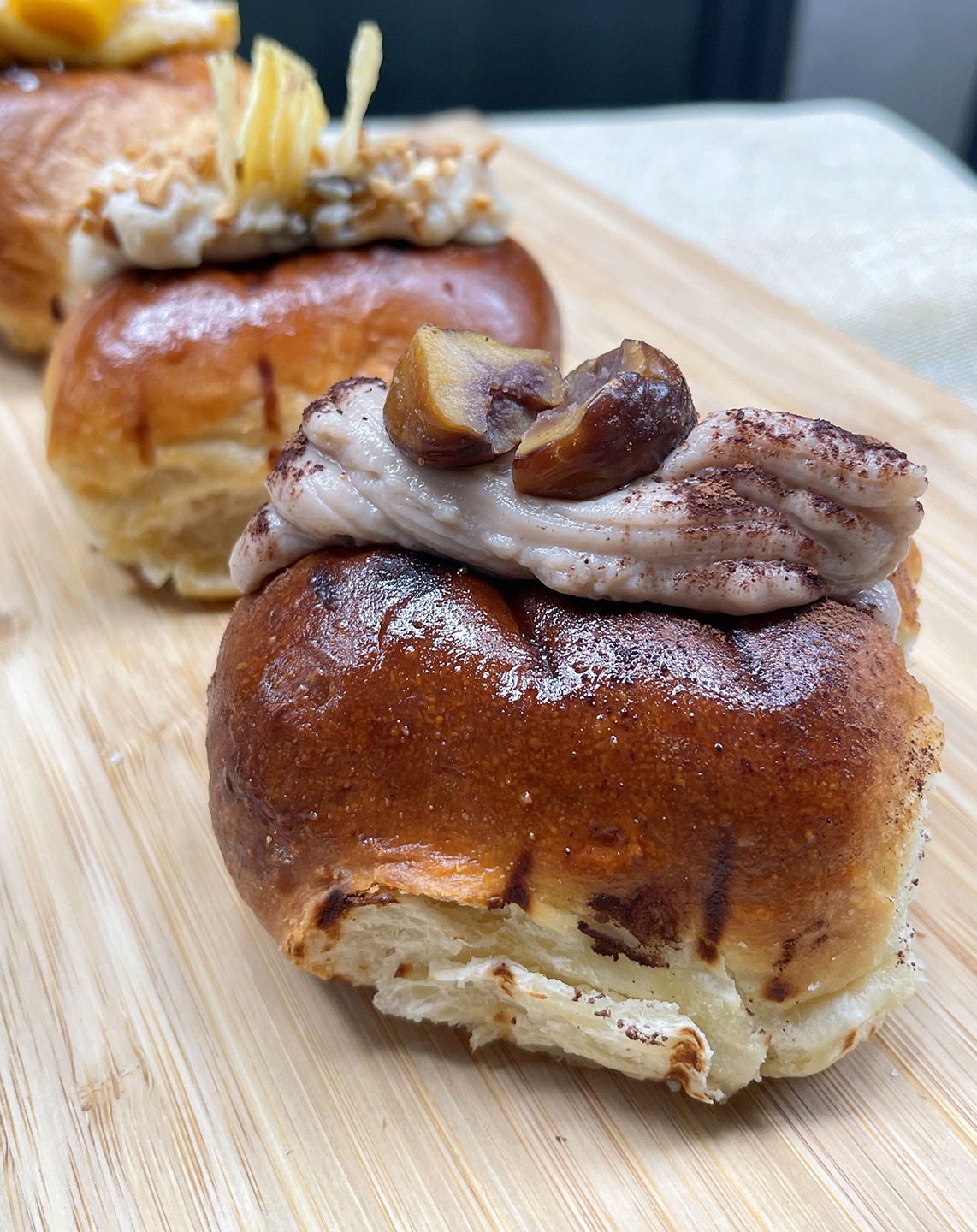 Chestnut
This flavour is inspired by the Paris Brest, a classic French pastry sandwiched with hazelnut cream, or sometimes chestnut puree.
Though the filling — chestnut paste folded into pastry cream — here is a little light, the roasted chestnut chunks on top help perk things up. Not bad, but those with a stronger palate might be disappointed.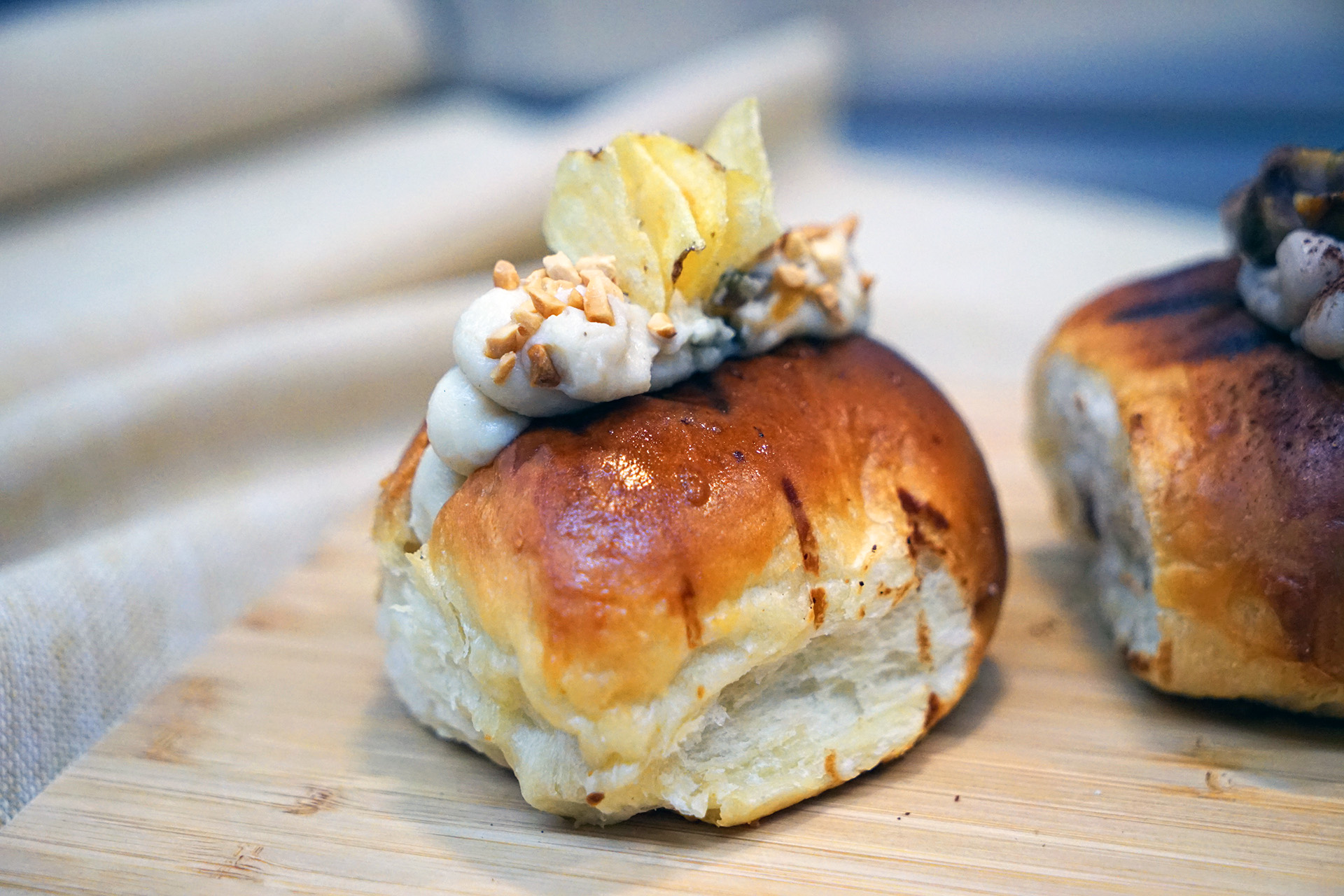 Rojak

   
This sweet-savoury bun is rojak in every sense of the word. Fermented shrimp paste and century egg bits are mixed into the cream filling, and the bun is topped with roasted peanuts and salted potato chips (they experimented with you tiao but they turned soggy too quickly).
The combination might seem odd, but is not as funky as it sounds. While we could taste a hint of the pungent century egg, the shrimp paste, which is the essence of rojak, was sorely missing. Wee Man explains that they had toned it down after feedback that the cream was too spicy. Nonetheless, the mix of flavours is quite interesting. We especially like the crunch and saltiness the chips add to the snack.
You can watch the first episode of MasterChef Singapore Season 3 below:
The three limited-edition flavours will be available at www.thebunclubbakes.com from Sept 22 till Oct 31. Self-collection available from 11am to 3pm at #B2-04 The Promenade@Pelikat, 183 Jln Pelikat, S537643. More info on Instagram.
Photos: 8days.sg, The Bun Club