Maxi Lim Spent $75K Transforming His Retro-Style 4-Room HDB Flat, Complete With Money Heist-Inspired 'Vault'
The actor had balloted No. 1 under the Sale of Balance Flat scheme to snag his high-floor corner unit.
Anyone who has tried balloting for an HDB flat will know how difficult it is to even get a queue number, let alone secure the unit you've been eyeing. But that's exactly what happened to Ah Boys To Men star Maxi Lim — on his first try, no less.
Maxi, 35, and his wife, influencer Lizy Teo, 27, were looking to buy their first home in November 2020 when a close friend told him that a four-room unit at the block where he lives was available under HDB's Sale of Balance Flat (SBF) scheme.
The high-floor corner unit affords river views and is located near Maxi's parents' home in the northeastern part of Singapore. And because it is a few floors down from his friend's flat, Maxi already knew — and liked — the layout of the space.
"It was just very apparent that I should buy the flat. Initially my ballot number was 2, but HDB told me that I didn't fill my form correctly and that I am actually number 1, so I [got first dibs] to this unit," Maxi tells 8days.sg excitedly.
While the actor declined to reveal how much he paid for the brand new five-year-old flat, only saying it was a "good deal", a check on HDB's website shows that prices of four-room SBF units in the area were from $261,000 during the exercise. The asking price for resale flats at the block now ranges "between $500,000 to $600,000".
All photos cannot be reproduced without permission from 8days.sg.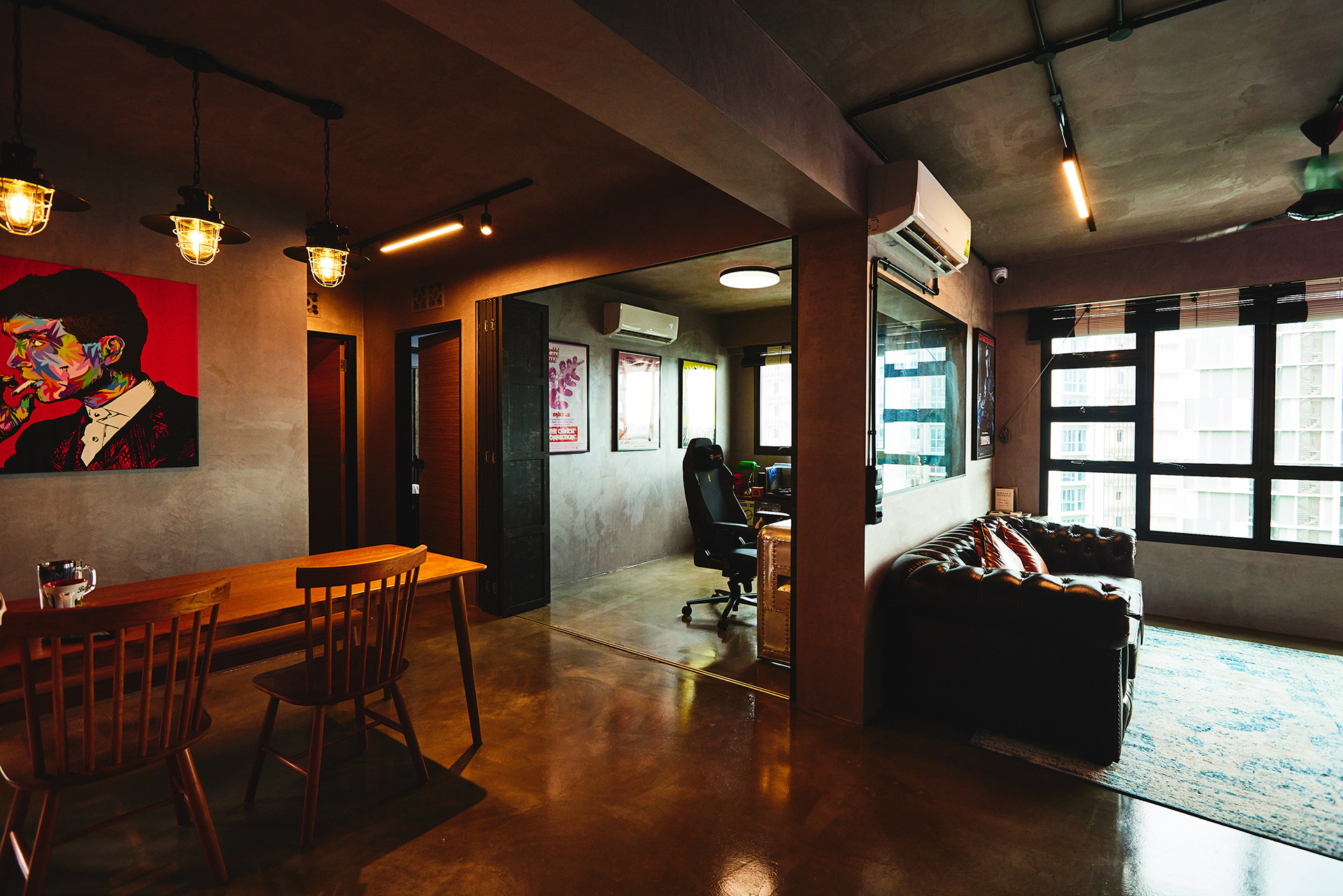 It took six months and $75,000 to transform the 1,011 sq ft space, which Maxi shares with his wife, 21-month-old son Reign, mother-in-law, and domestic helper, into his dream home.
Inspired by old HDB flats and speakeasy bars that he and Lizy used to visit when they were dating, Maxi wanted lots of raw finishes, woody tones, and vintage-style pieces to give the home a "retro industrial feel".  
"I did a mood board for my interior designer, and everything was carefully curated 'cos I didn't want to over furnish the space," shares Maxi.
Cement screed flooring and matching faux concrete walls and ceilings (it's actually paint) can be seen through much of the interior living spaces, with retro nods like sliding scissor gate, black-and-white roller blinds, movie posters, and collectibles adding charm and character to the home. The result is a masculine, eclectic space brightened with artsy touches and pops of colour.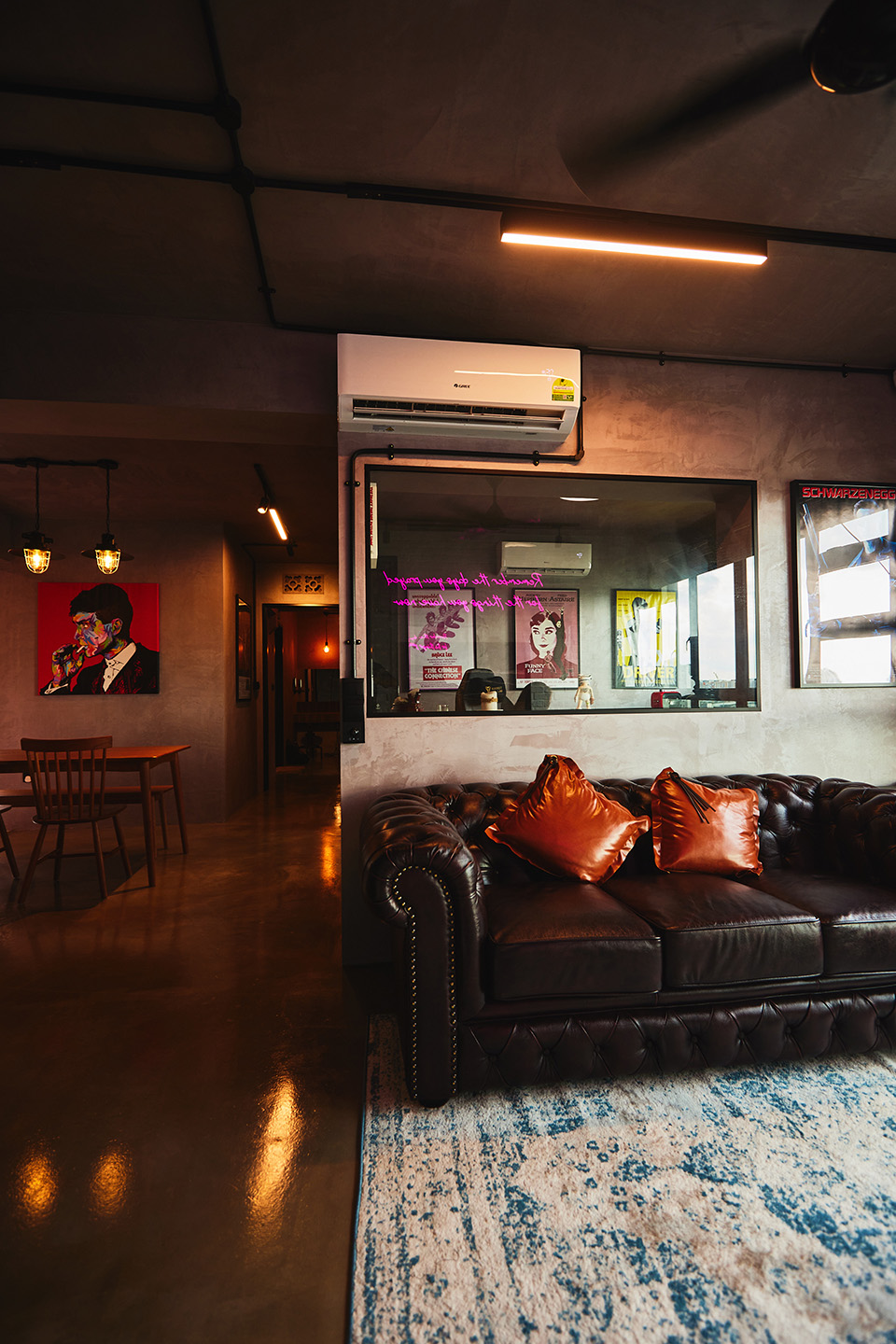 When we point out that we don't see reflections of Lizy in the interior design, Maxi says: "Yes, it's all me. Please add in that I am super grateful that she is so understanding and supportive. And she loves how the home turned out 'cos I managed to capture the vibe of the places we used to visit and put it all in one place."
"I don't know what I would do if I had a spouse who wants a Hello Kitty or pink-coloured room. That one bo bian have to divorce already," he chuckles.
Maxi's own speakeasy bar
To create the underground ambiance of a speakeasy, the living room is decorated with rustic and industrial touches like a white brick feature wall, neon sign, exposed electrical trunking, and subdued amber lighting. Even the wood-framed TV looks like a piece of art.
Adding a sense of grandeur is the Chesterfield sofa, the star of the cosy space. "This sofa is something that I have always wanted. When guests see the statement sofa, they will be like 'wow'. When paired with the carpet, it has a grunge feel," shares Maxi.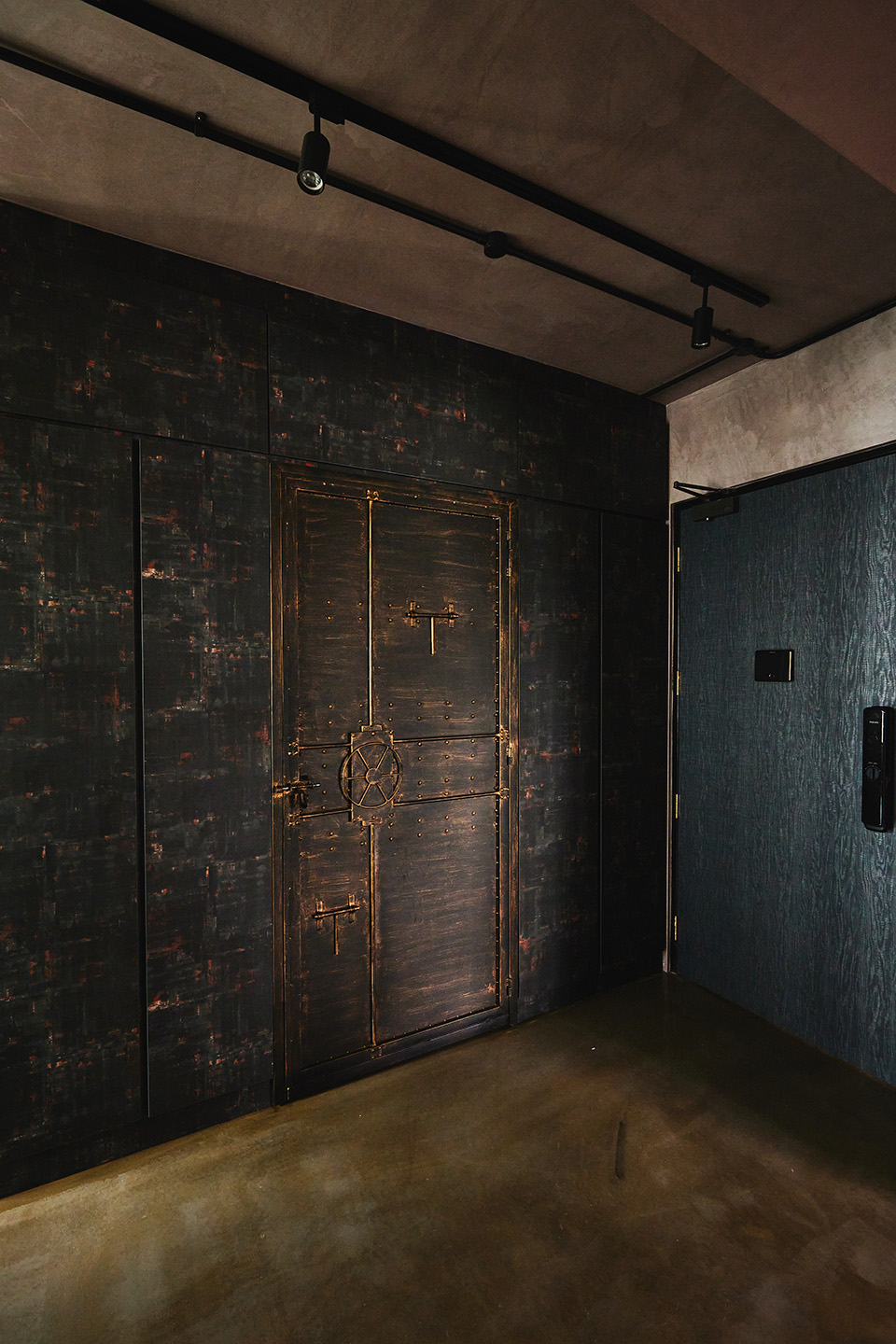 Making a grand entrance
Also very eye-catching is the distressed "vault" which cleverly hides the bomb shelter door at the entryway. A wall of cabinets were built around it for storage and covered with matching rusted metal-look laminate for the hidden door effect.
"A lot of the bars we used to go to have hidden entrances, so we wanted one in our home. We wanted to get a vending machine door, but later we found this vault door which suits the theme better. We were also watching a lot of Money Heist, so it made sense," laughs Maxi.
Despite the speakeasy theme, you won't find Maxi's prized bottles in the vault. Instead, it's something else that is close to his heart: an "army label" pasted over his bomb shelter door as a tribute to his hit movies Ah Boys To Men.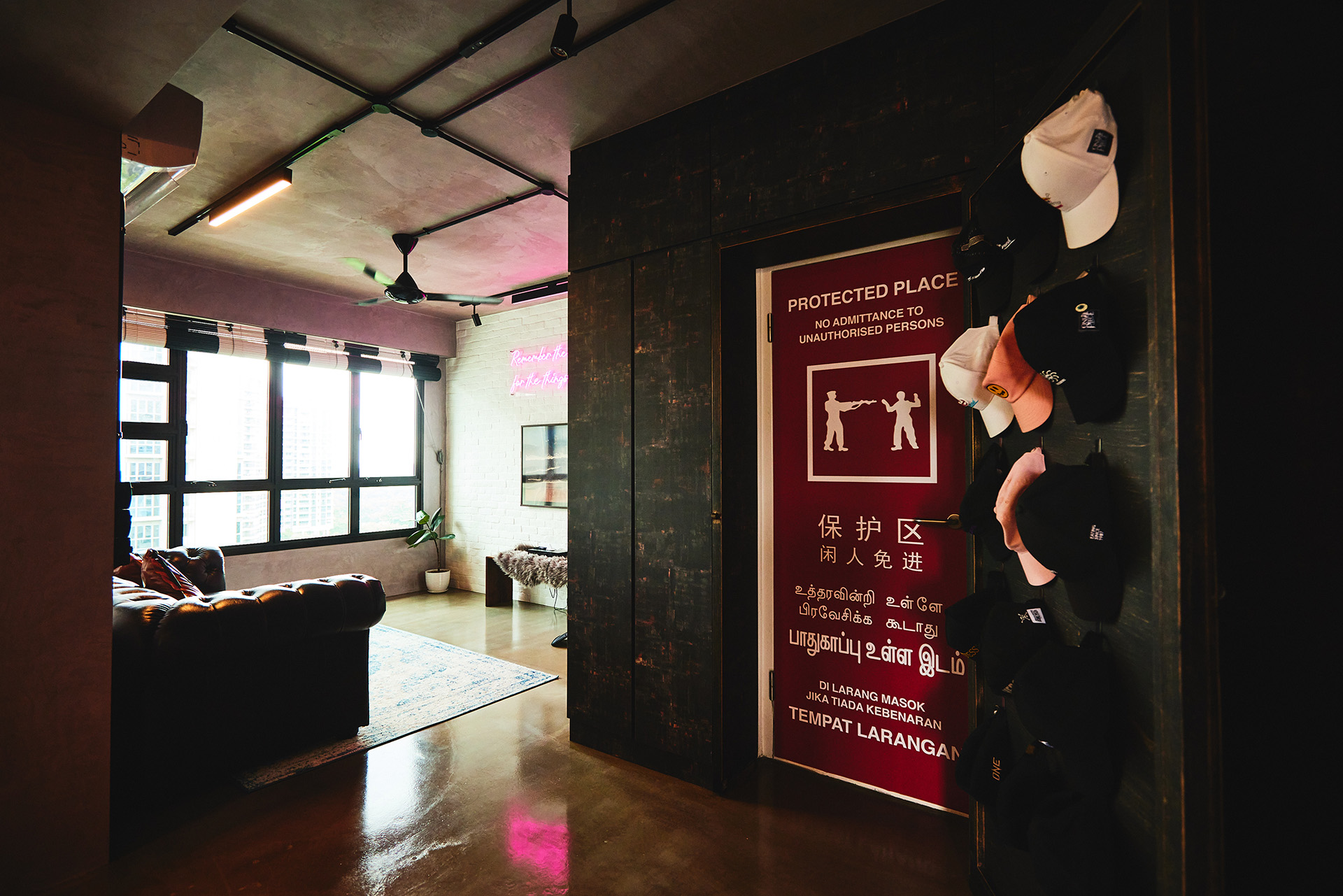 "I wanted something subtle, not so in-your-face like a movie poster where you see my face. It can be quite a turn off. My guests come to see me mah, not to see my poster, so I got this label specially made for the bomb shelter. Such warning labels can only be found in army camps," he says.
The bomb shelter also doubles up as a storeroom and Maxi's wardrobe for his "lesser-worn clothes".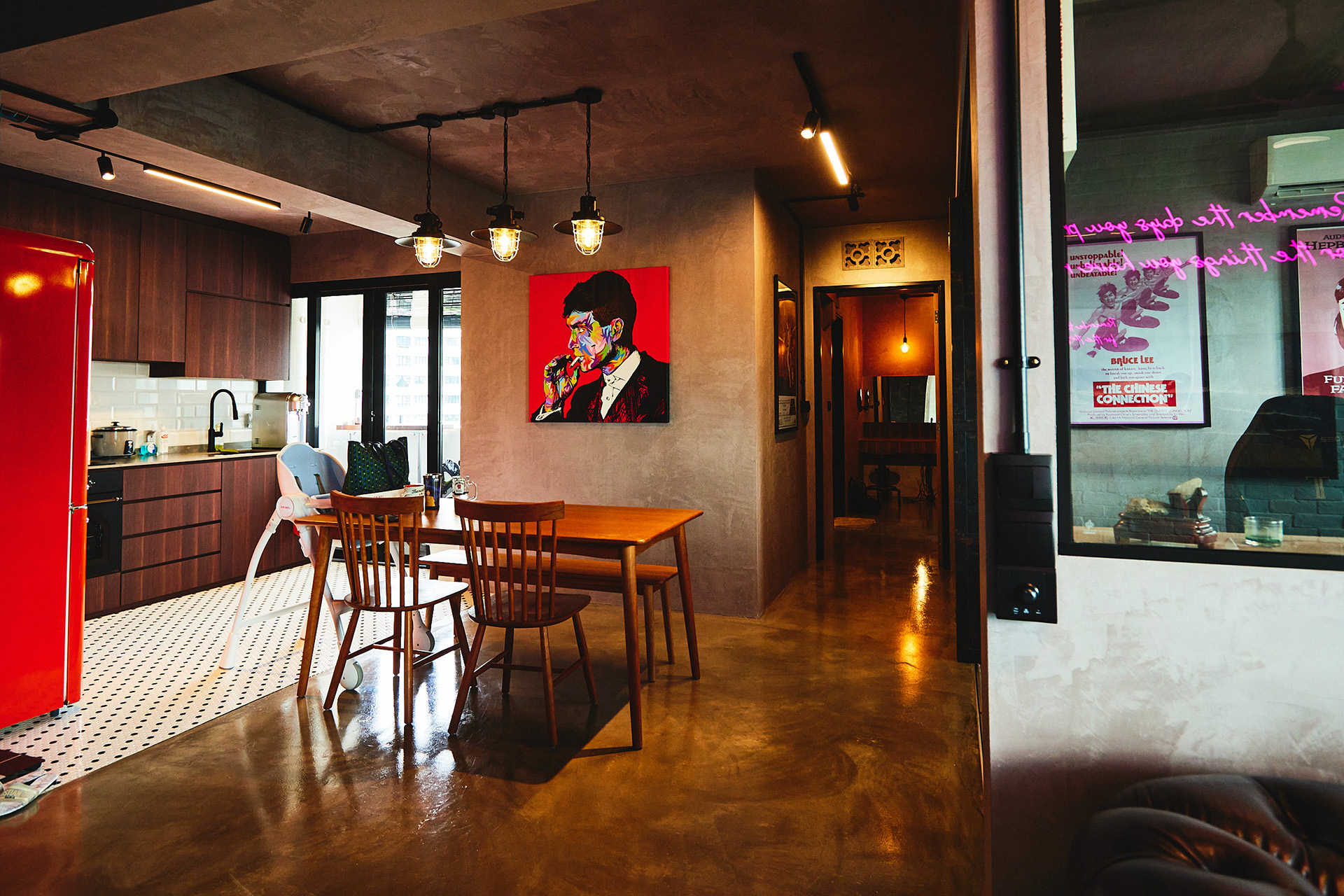 Dining area
Just by the entrance is the dining area, which was kept simply furnished, with an oak wood dining table, low-hanging pendant lights and funky Peaky Blinders artwork.
The walls on both sides were hacked to create an open-plan space that seamlessly connects the kitchen, dining area and home office.
Maxi's man cave
Maxi's home office is like a quirky museum, showcasing his old-school collectibles, toys, and posters of his favourite actors and movies.
A window was added so he can peer out into the living room and a laminate folding door reminiscent of the metal doors of old shophouses gives privacy and visual interest to the space.  
Though Maxi is a retro buff, you will not find antiques in the apartment, just "modern renditions of retro stuff". "I don't like antiques 'cos objects contain energy, and I don't want to get other people's stuff where I don't know the history," he reasons. "I'm not being pantang (superstitious), but this is true."
All that vintage style doesn't come cheap, though. The ceiling fan costs around $400 (there are three in the house) and the airplane steel desk, $1,000.
"I got a bit of a scolding from my wife for spending $1,000 on this table. But it's very nice don't you think? When I put my typewriter keyboard on it, I just feel like replying e-mails immediately," he quips.  
It's hard to believe but Maxi only started collecting vintage wares and posters when he bought the flat.
"My parents were shocked when they first saw the house 'cos they didn't know that their son is so into retro. One of the ideas for this room is wherever I turn, I can see something of art, which is why I have the Peaky Blinders artwork and moose head hook on the pillar (look closely and you will see it near the orange fridge in the pic below) in the dining area. This thing is functional okay. I can hang an umbrella or jacket on it," he adds.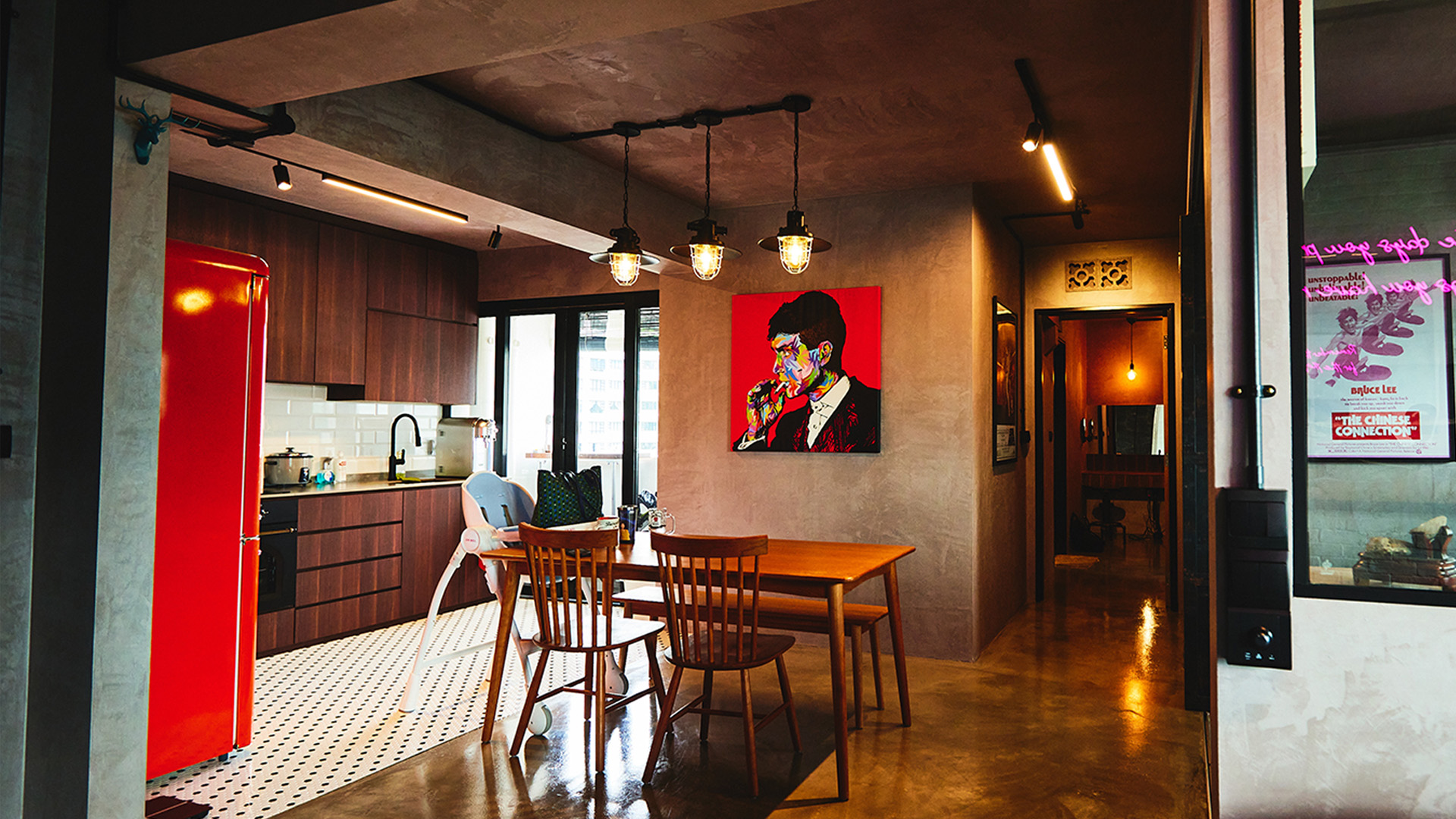 No wall is left empty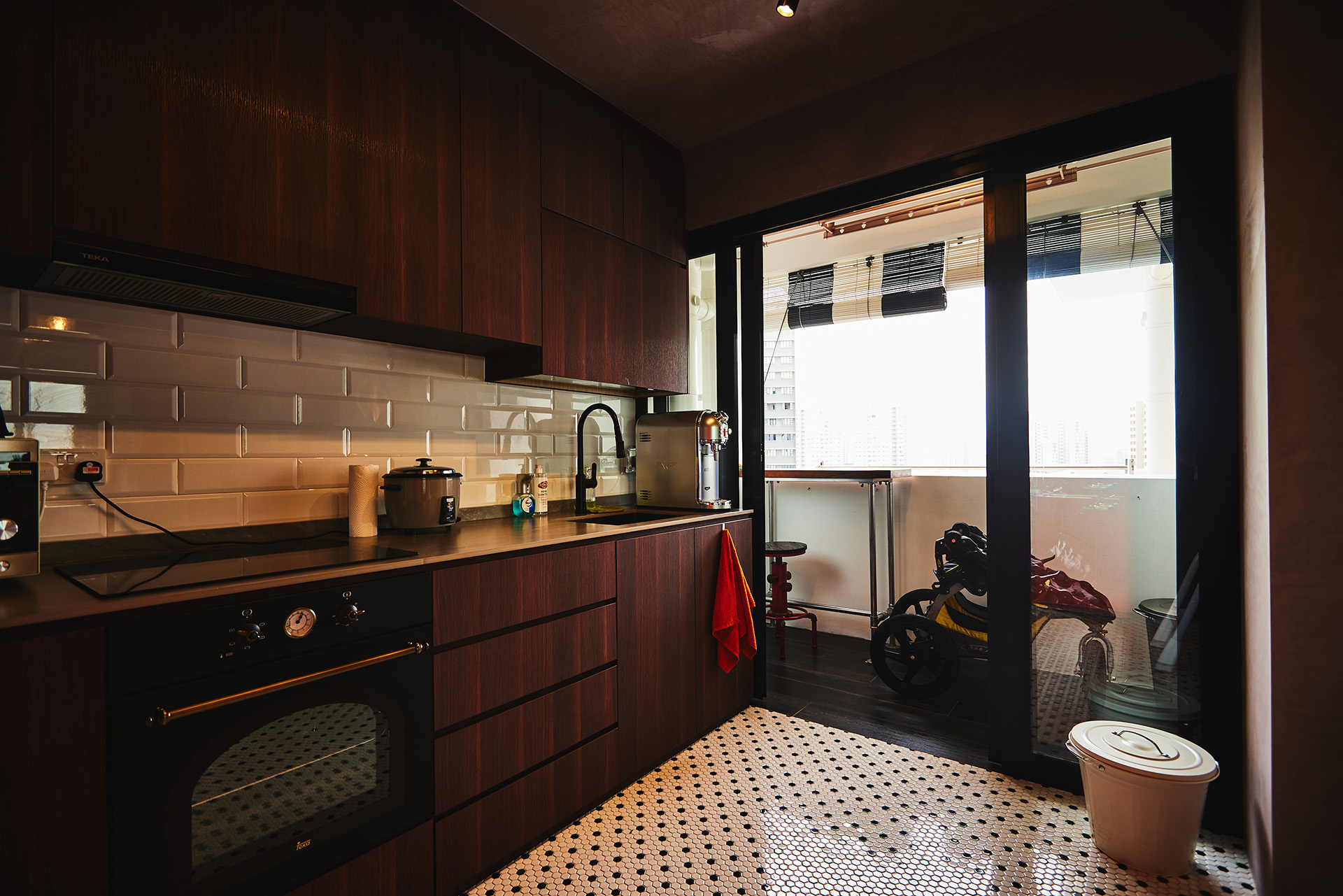 Kitchen
Across from study is the kitchen. Although mostly dressed in dark wood, the kitchen provides similar throwbacks to the past, with honeycomb tiles and quirky retro-looking appliances.
"I was so happy when I found this oven that has brass fittings and an analogue watch thing-y. My water dispenser has a '60s James Bond feel, and even my rice cooker looks old-school. A lot of people laughed when they saw it," says Maxi.
The retro-style fridge brightens up the kitchen
And if you're wondering why there isn't a bar or shelves of booze on display like most speakeasies, Maxi didn't want the home to look too cluttered, so he hid them.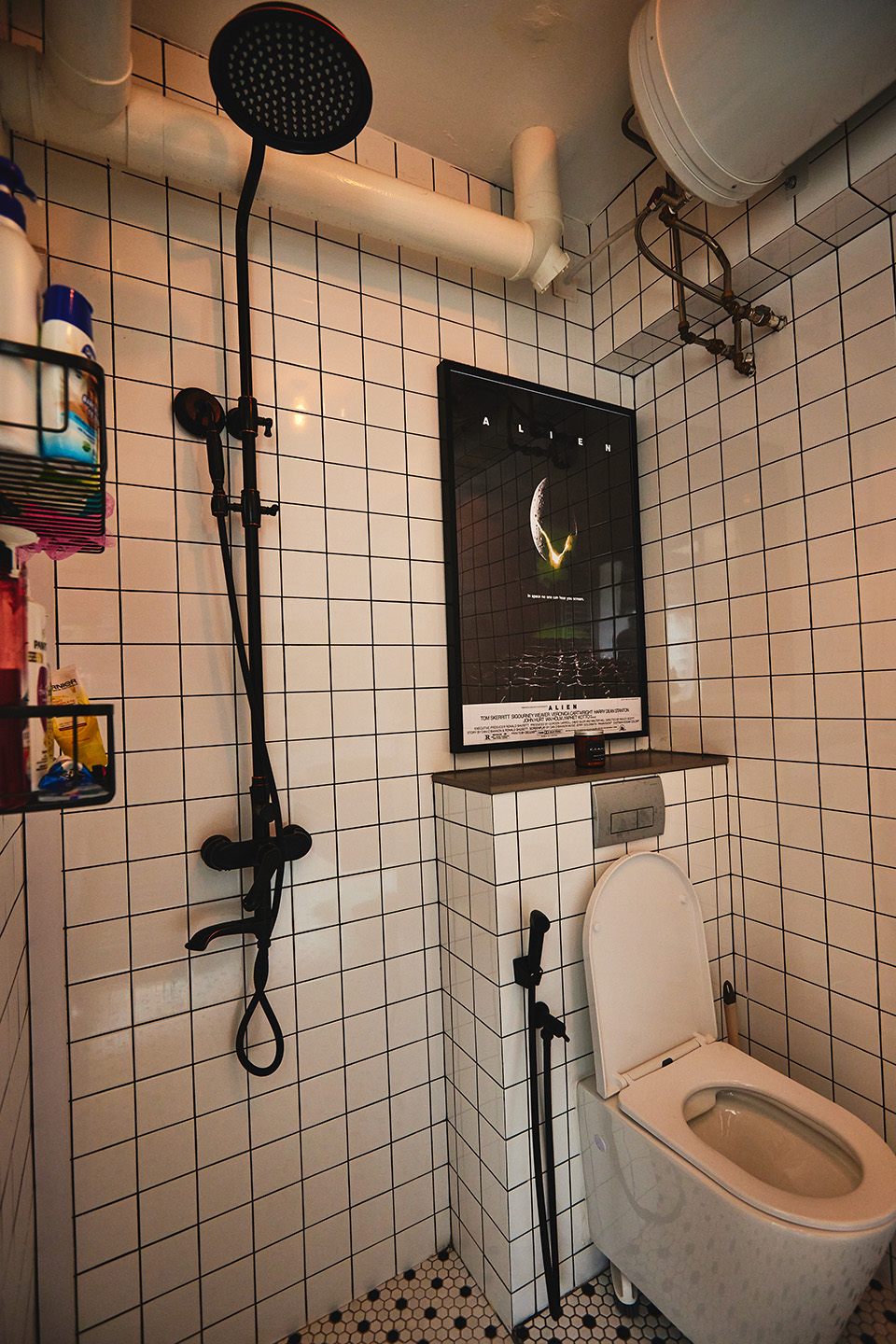 Common bathroom
A sliding door leads from the kitchen to a yard area-cum-balcony and common toilet. Featuring a black and white colour scheme and brass fittings, the space was inspired by the toilet at one of Maxi's favourite haunts, Coastal Settlement.
The entrance to the restroom was previously by the dining area facing his mother-in-law's bedroom, however, Maxi had it moved into the yard, so it is less "intrusive".
"I find it very gross that you see the toilet the moment you wake up or if someone does their business, everyone can smell it, so I moved the entrance into the yard. I also wanted to replicate the older HDB flats where you access the toilet from the kitchen," says Maxi.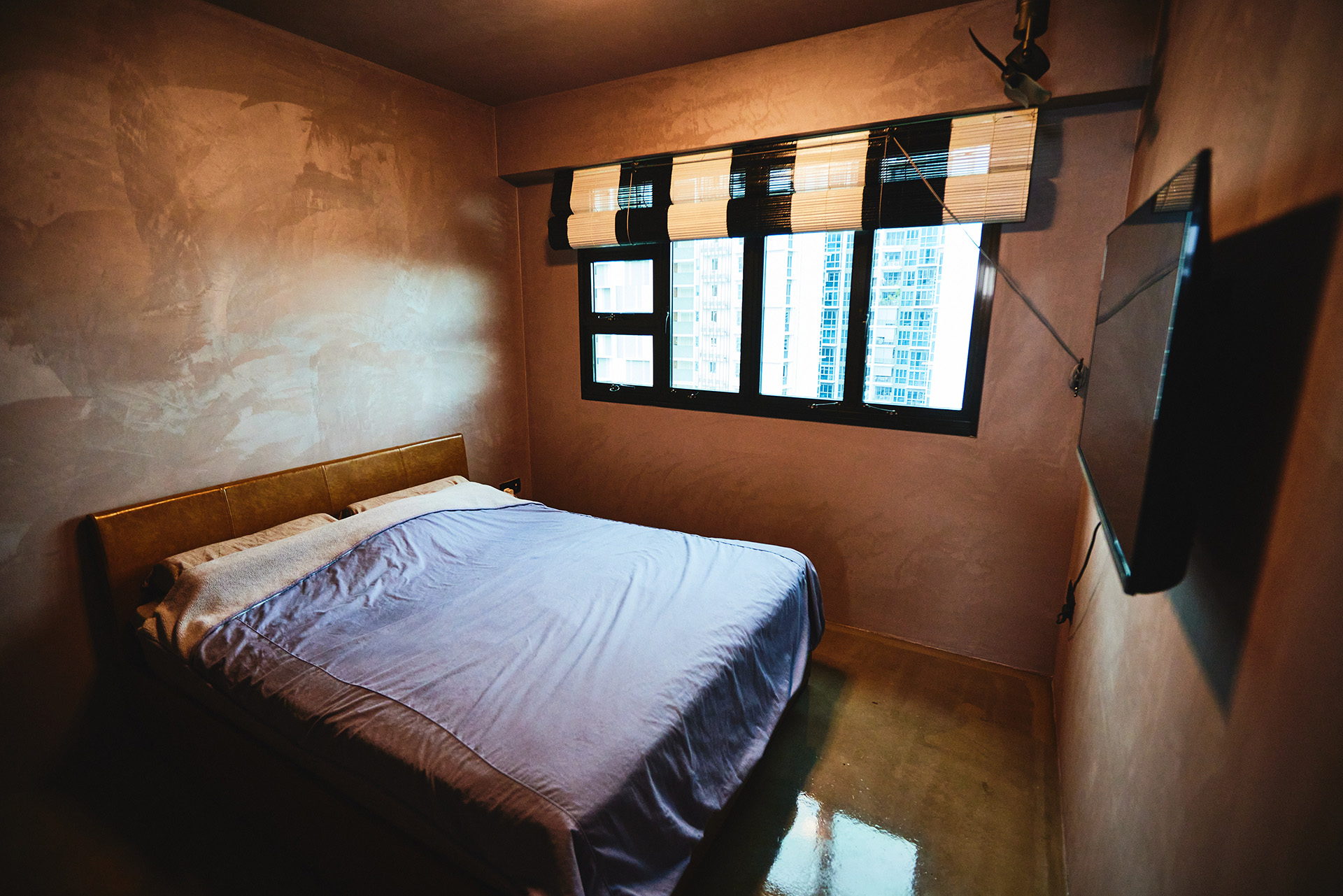 Master bedroom
The bedroom is kept simple with wooden accents to add warmth and texture to the space. Having the wardrobe perpendicular to the wall not only separates the dressing and sleeping areas, but also offers more privacy for the bed.
"As an actor, I start and end work at weird times so by designing the wardrobe this way, I don't disturb my wife when she's sleeping," explains Maxi.
The wardrobe may seem a little small for two people, but Maxi says this prevents them from buying and accumulating stuff.
"I told my wife that in this home, we have to practise mindfulness. We only buy things that we will use, and things that we don't use, we either donate or give away," he adds.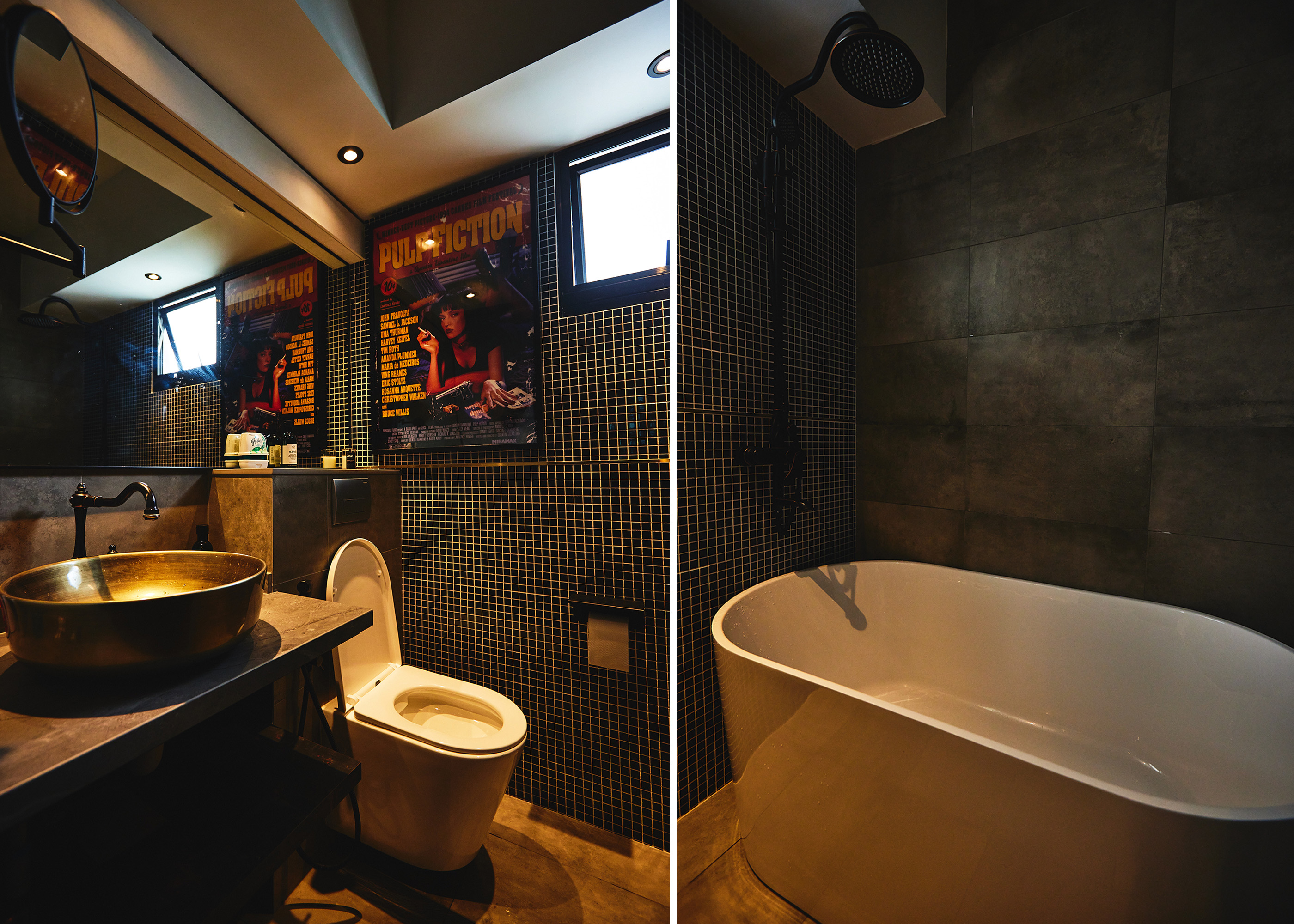 Ensuite bathroom
The master bedroom bathroom is decked in black to evoke a more masculine vibe as well as to contrast to the predominantly white common bathroom. Though Maxi admits that he was "quite against bathtubs", he's beginning to change his mind now that he has one.
"I find that bathtubs waste water, but Lizy really wanted it, so we got one. I am so glad we managed to find one that fits perfectly in the space. Now I think it's quite a good idea 'cos one day when I need to get a good soak, I can use it," he laughs.
8 DAYS: Renovations began last August but you only moved in in March. What took you so long?
MAXI LIM: There was a shortage of workers and it took us a while to plan and execute some of the designs I wanted. For example, concrete-effect paint that we used for the walls and ceiling was something we discovered later. I wanted the raw look not only to match the cement screed floor, but also one day should my son decide to scribble on the wall, it looks like it's part of the home. If you have a white wall, it will stick out like a sore thumb. The home has a grunge-y, industrial feel, so having a bit of vandalism is okay. It's like there's a story behind it.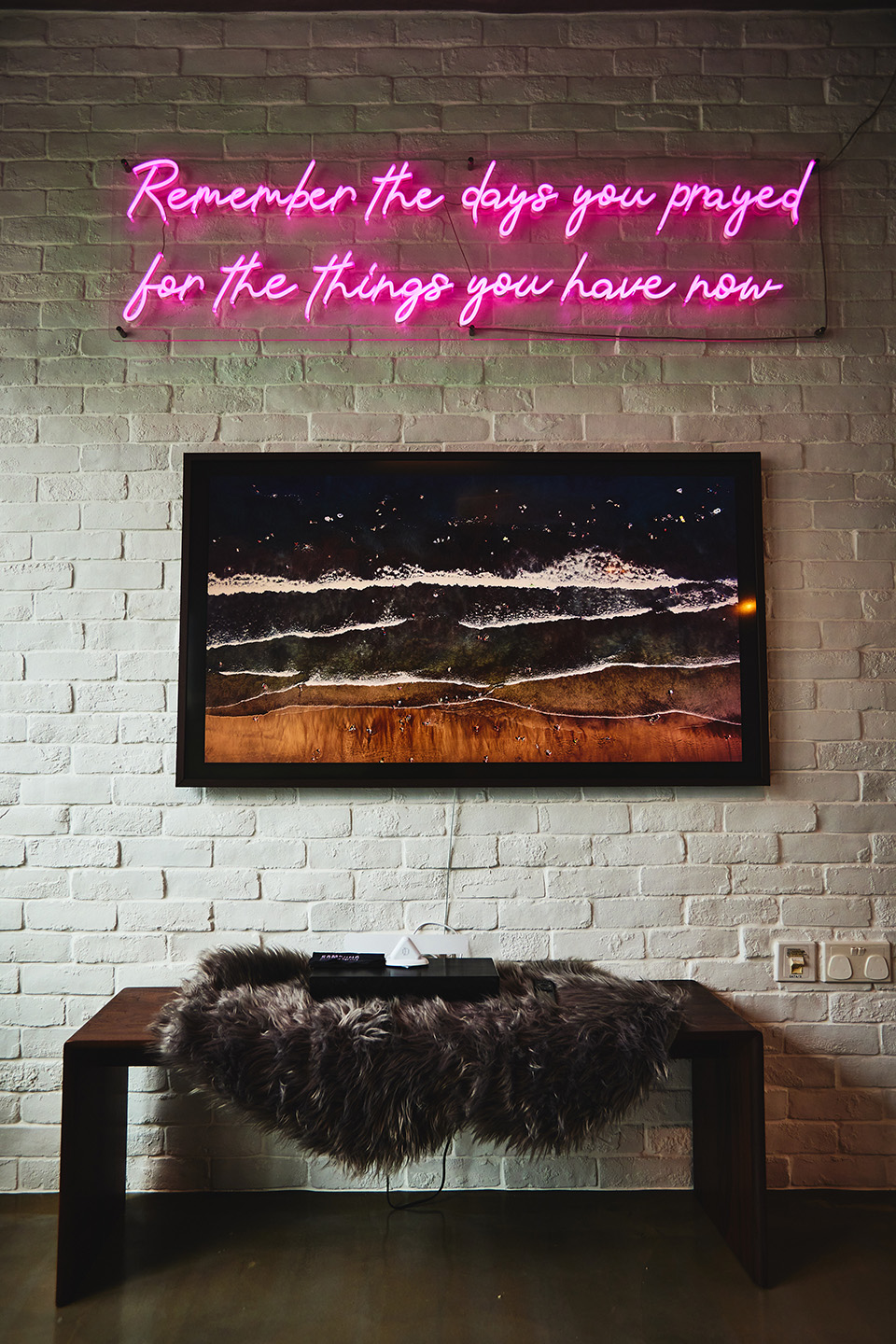 Is there a story behind the phrase on the neon sign?
A lot of the things I have today are what I prayed for and I am super grateful and happy that everything manifested. I didn't think I'd be a father or be married. I was thinking I will just buy my own flat when I turn 35, but apparently somebody had better plans and decided that I should be a dad. I also prayed that I would become an actor and have a nice place for my family and all that came true.
Did you consider doing an "Eat Bro" sign since you are so obsessed with the phrase?
(Laughs) That's too much already. I only have my Eat Bro suit in the wardrobe. I am proud of [the phrase] but to emblazon it in the home is a bit crazy.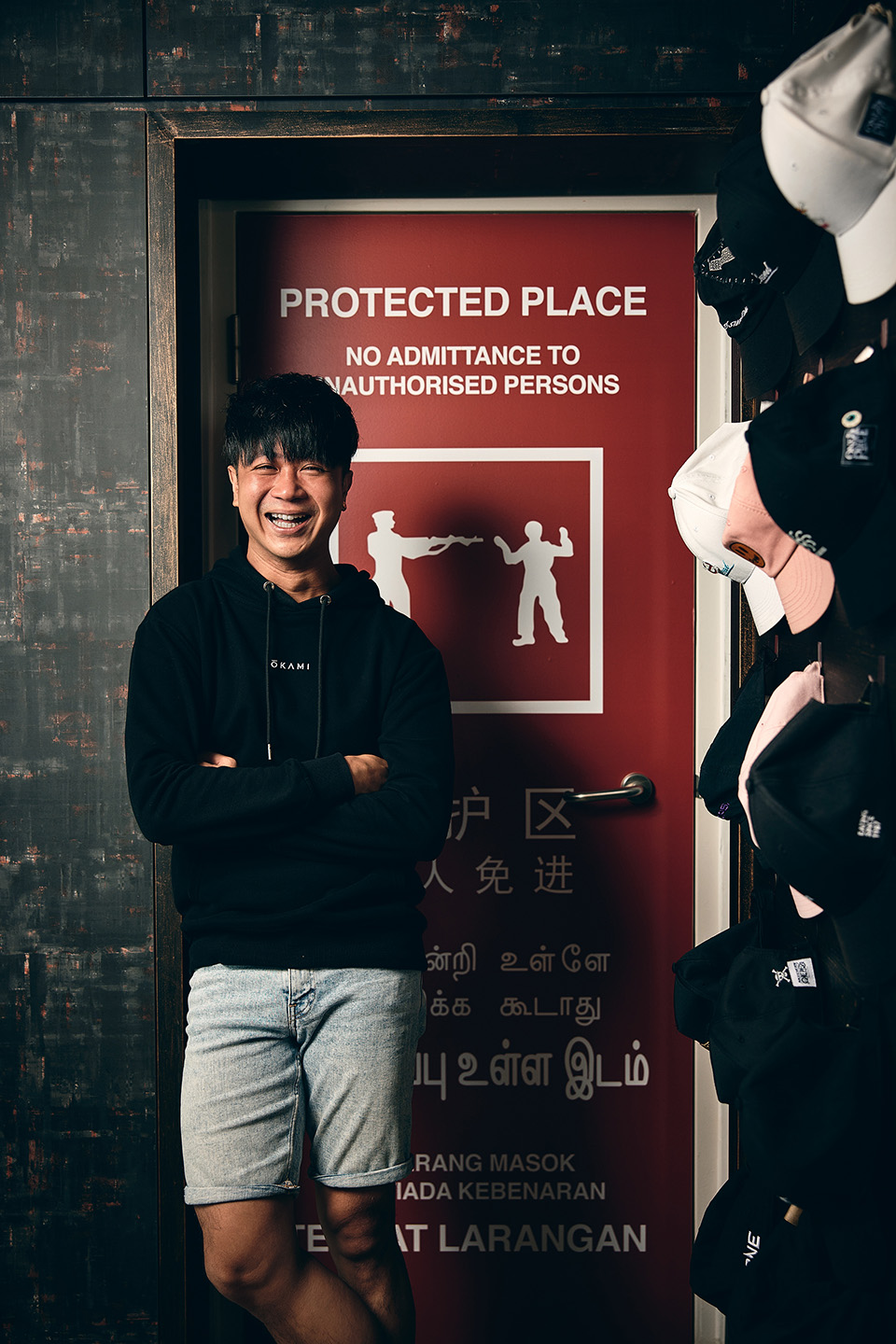 Did you and Lizy have any disagreements over how the house should look?
No, she was super supportive of my decisions. The only thing she wanted was the bathtub. She said I could do anything I wanted but please get her a bathtub.
You have a lot of unique furniture and fittings in your home. Did you encounter any challenges trying to source for the perfect pieces for your home?
I had a hard time getting a scissor gate 'cos I couldn't find anyone to do it here. My ID suggested I find an old shophouse that might want to sell it, but I wasn't keen 'cos I don't know if it would fit my door, so I had to get it fabricated overseas for around $2,000. I think a regular gate costs around $700.
You didn't want a faux one that swings open?
The scissor gate is a bit inconvenient, but I like the feeling of sliding it. I like things that are more tactile, so similarly, I prefer to roll my blinds or flip switches instead of touch screen. I was very against having a smart home. The smart door lock is the only smart feature in the house.
Speaking of door, why do you have a, um, medieval letterbox outside your flat?
There are a lot of people going around distributing brochures and they shove them all over the place, so I added a nice letterbox for them to slot them in.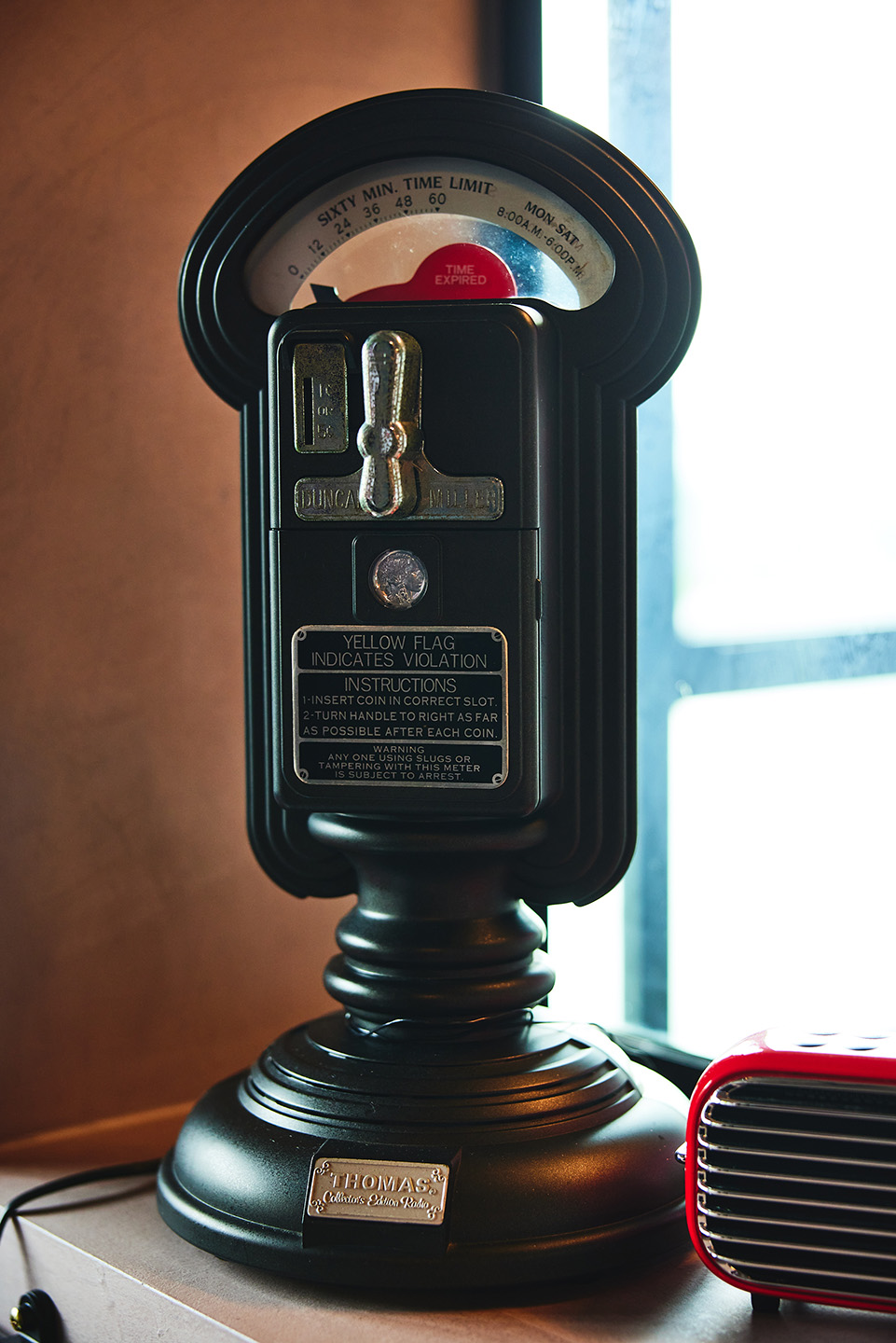 Radio Ga Ga
There are bits and pieces of your childhood in this home. Any item that is particularly sentimental to you?
This radio is something I had when I was super young. My mum bought it for me and I would put it at the window sill and look into it, pretending it was those binoculars at [tourist attractions]. My sister and I used to play with that all time when we were young. 20 years later, I went to source for the radio and managed to find buy one that looked exactly the same and it works. It even has the crackling sound.
Don't let kids cramp your style
You seem to have more toys than your son. Apart from the highchair and play gym, we can't tell that a kid lives here.
His toys are kept in a box and he is free to wander around the house. Toddlers don't like to play with toys. They like to play with the things that we use like a spoon, so we tell people not to buy him toys.
You don't have a play mat for him?
I find that very gross and unaesthetic. In place of the mat, he's got the carpet. If I have a play mat, then this shoot wouldn't happen already.
Watch #JustSwipeLah and meWATCH for a tour of Maxi's home.
All photos cannot be reproduced without permission from 8days.sg.
Photos: Alvin Teo/8days