Mediacorp Actor Tyler Ten Took Muay Thai Lessons As A Teenager So That People Would Stop Bullying Him
The buff Star Search 2019 finalist now towers over most folks at 1.9m and is taking on his first lead role in Chinese drama, In Safe Hands.
When the Star Search 2019 Top 12 was unveiled, 8days.sg predicted that 1.9m-tall Tyler Ten has what it takes to be a leading man, and now, we will finally get to see that come to pass in Mediacorp drama In Safe Hands.
Well, he's one of the main leads alongside Romeo Tan, a prominent role and Tyler's meatiest one to date. He only had smaller parts previously in All Around You, Key Witness, Super Dad, Watch Out! Alexius, and Mister Flower, but that's also 'cos he was juggling work and studies at SIM at the time.
Now that he has officially graduated, Tyler, who turns 26 this Saturday (Mar 19), is able to focus on his showbiz career.
"I used to think of acting as something that I liked to do for fun, but right now it's my career, so I have to pay very close attention to it," he told us in a recent interview, adding that he developed a heightened interest in acting after working on In Safe Hands.
Tyler Ten as Sergeant Jayden Chee in In Safe Hands
As it so happens, Tyler, who plays a firefighter, had a similar role in real life during his National Service days as an SCDF personnel, which is why he says this show is special to him.
When we asked him for some "heroic" stories, he recalled his first firefighting incident, which took place halfway through his reservist.
"We were activated to a big oil tank fire, which was pretty scary 'cos the fire was inside the oil tank and we couldn't really see it," he shared. "We fought the fire for six hours and had to stay overnight to monitor it in case it reignited. That's definitely the most dramatic case I was involved in."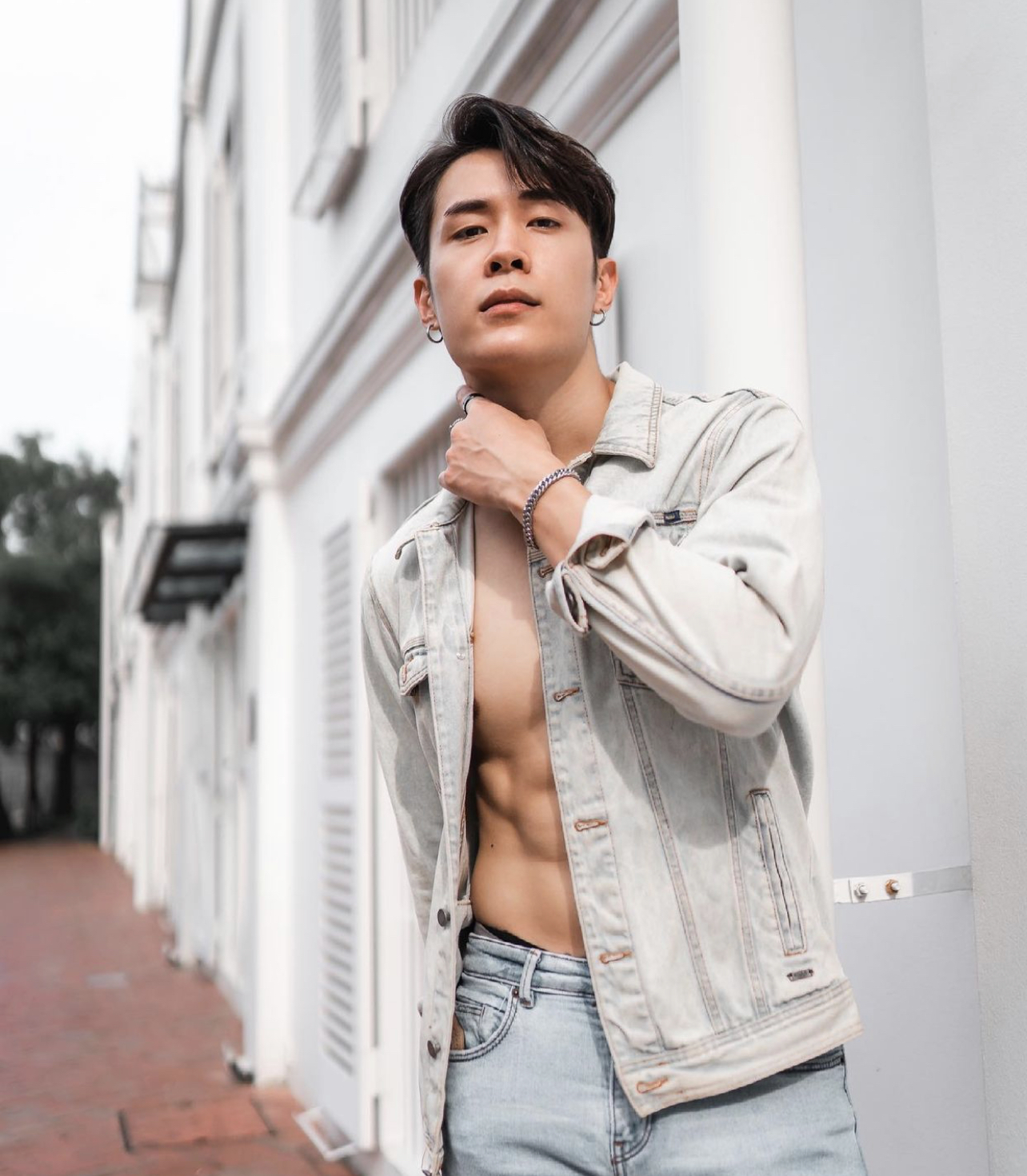 Those abs are a Ten out of Ten
Before growing into the 'Buff Tyler' — who has no qualms showing off his ripped bod on IG — we see today, he was, in his own words, a "nerdy"-looking and lanky boy who got teased by his classmates.
"I was already 178cm in Primary 6, but I was also very skinny so I looked like Slenderman," he laughed, referring to a fictional Internet monster who is unnaturally tall and very thin. "People would make fun of me and do things like spit water at me, but it stopped after I entered secondary school."
He has his Muay Thai lessons, which he began at the age of 14 and gave him a more muscular physique, to thank for that. Tyler was inspired to take up the martial art after watching "one person beating up a lot of people" in the film Ong Bak.
"At that time I was very skinny and vulnerable and got bullied a lot, so I wanted to protect myself and make others respect me," he said.
He also got into bodybuilding but said he lacks the right "genes" to get as big as most professional bodybuilders, although we still wouldn't wanna mess with him after watching this compilation of his Muay Thai training videos:
After the swole-up came the glow-up, which happened in polytechnic.
"During the period between my O-Levels and poly, I grew my hair really long 'cos at that time, I was watching Taiwanese dramas, and that hairstyle was very popular back then. It looked like I was wearing a helmet. (Guffaws) I looked better after I cut it off and started wearing contact lenses instead of glasses."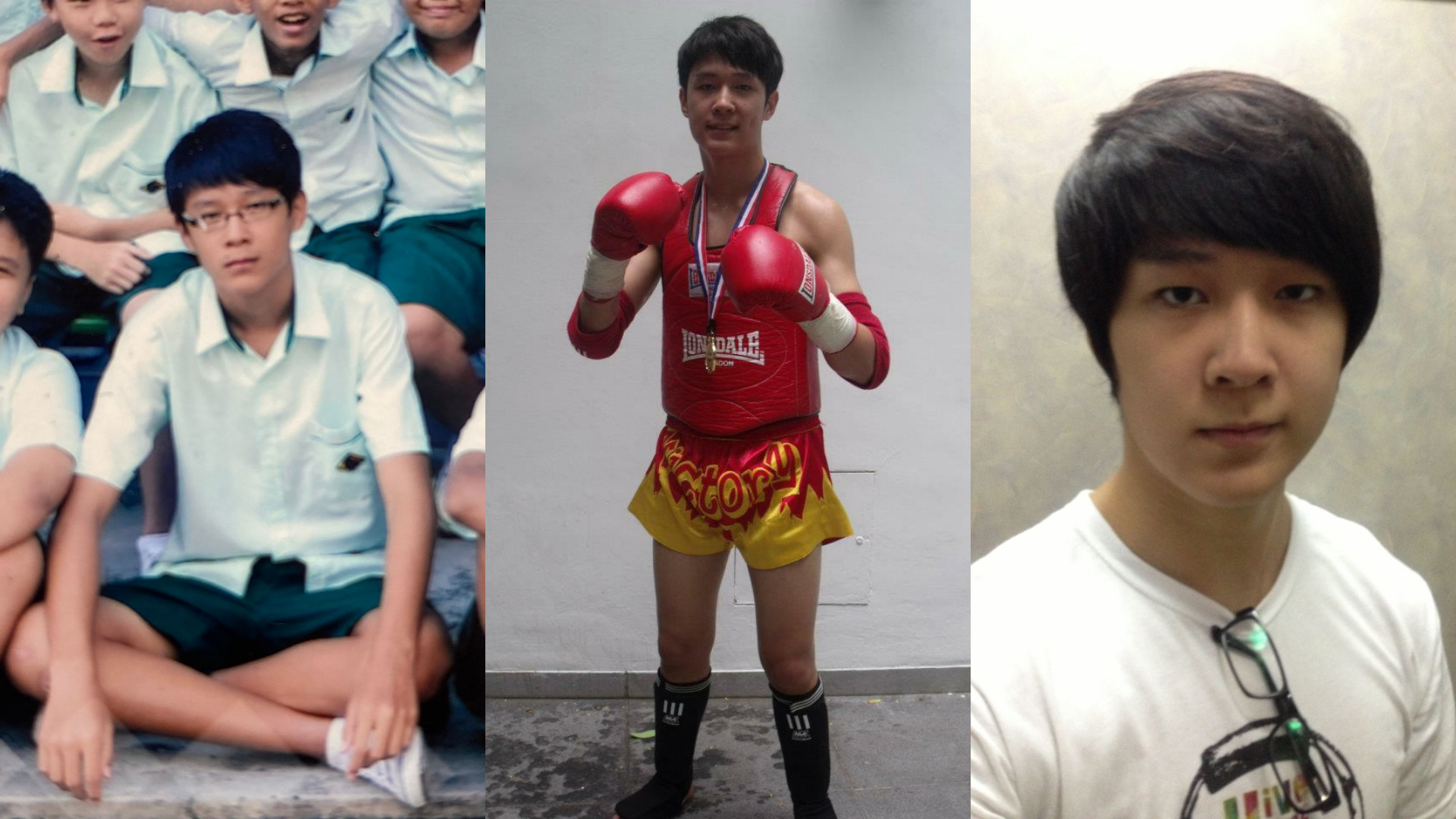 L-R: Tyler in Sec 1, at age 14, and after his O-Levels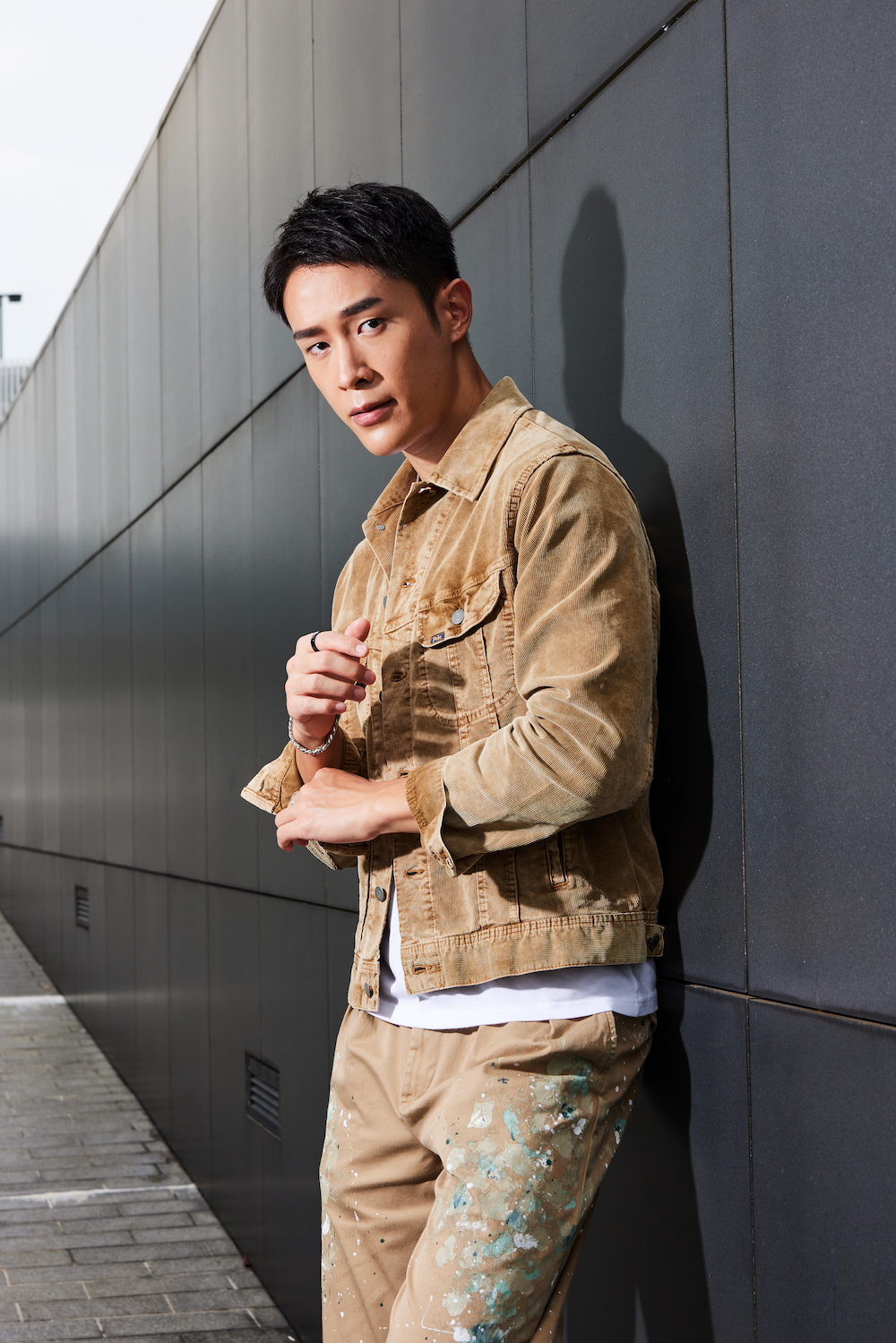 Thank goodness for glow-ups
Tyler's friends noticed his potential to be a model and suggested he send his photos to various agencies. He took their advice and, sure enough, signed up with one.
It was at the modelling agency that he became acquainted with fellow Star Search finalists Zhai Siming, Herman Keh, and Zane Lim, although he was only friends with Siming and didn't get to know the others until the competition.
And it was thanks to Siming that Tyler decided to try out for Star Search, despite the latter's initial apprehensions as he thought that he, as he modestly put it, "doesn't really have any talents" (the Chinese name for Star Search has the word "talent" in it).
Tyler, Herman Keh, and Zhai Siming are now part of a trio called HST
While he made it into the Top 12, Tyler admitted to struggling as the Star Search period coincided with his final exam schedule at SIM.
"Most of the time, we would have rehearsals for Star Search until midnight, and there was one night where I didn't sleep at all as I had to stay up and finish my school project," he recalled.
At least he had the full support of his parents, who were thrilled when they found out he got into Star Search.
"Maybe it's 'cos it was also their dream to be in the media industry," mused Tyler, whose father is an engineer and mother helps out at a drinks stall. He also has an older brother who works in the automotive industry.
If it weren't for Star Search and his new showbiz career, Tyler reckons he would have a job in marketing since that was his university major (he also did Interior Design in Singapore Polytechnic), or he would continue being a Muay Thai instructor.
Like another Star Search finalist, Sheryl Ang, Tyler has taken on all kinds of part-time gigs. In addition to teaching Muay Thai on the side, which he did since he was 14 before stopping recently, he was also a waiter and mascot.
"Ever since I was young, I've wanted to be independent and didn't want to keep asking my parents for money, so I went out to earn it on my own," he explained.
Mister Independent
This go-getter mindset is what Tyler thinks will help him stand out as an artiste. "When I set my sights on something, I will make sure to try and achieve it no matter what it takes, and I'm open to trying a lot of new things."
We certainly got a glimpse of his willing-to-do-anything side at the Star Search finals.
To refresh your memory, Tyler got really handsy with Juin Teh during the acting challenge, pushing the envelope of what most newbies are willing to do so early in their careers (in fact, you could argue his career hadn't even officially kicked off yet).
Does that mean Tyler is willing to tackle even steamier things for the camera in the future, such as say, a nude scene or on-screen romp?
"I think bedroom scenes are fine but I'd have to see the script first," he mused. "I don't think I'd do [a full-frontal nude scene], but showing my butt is okay."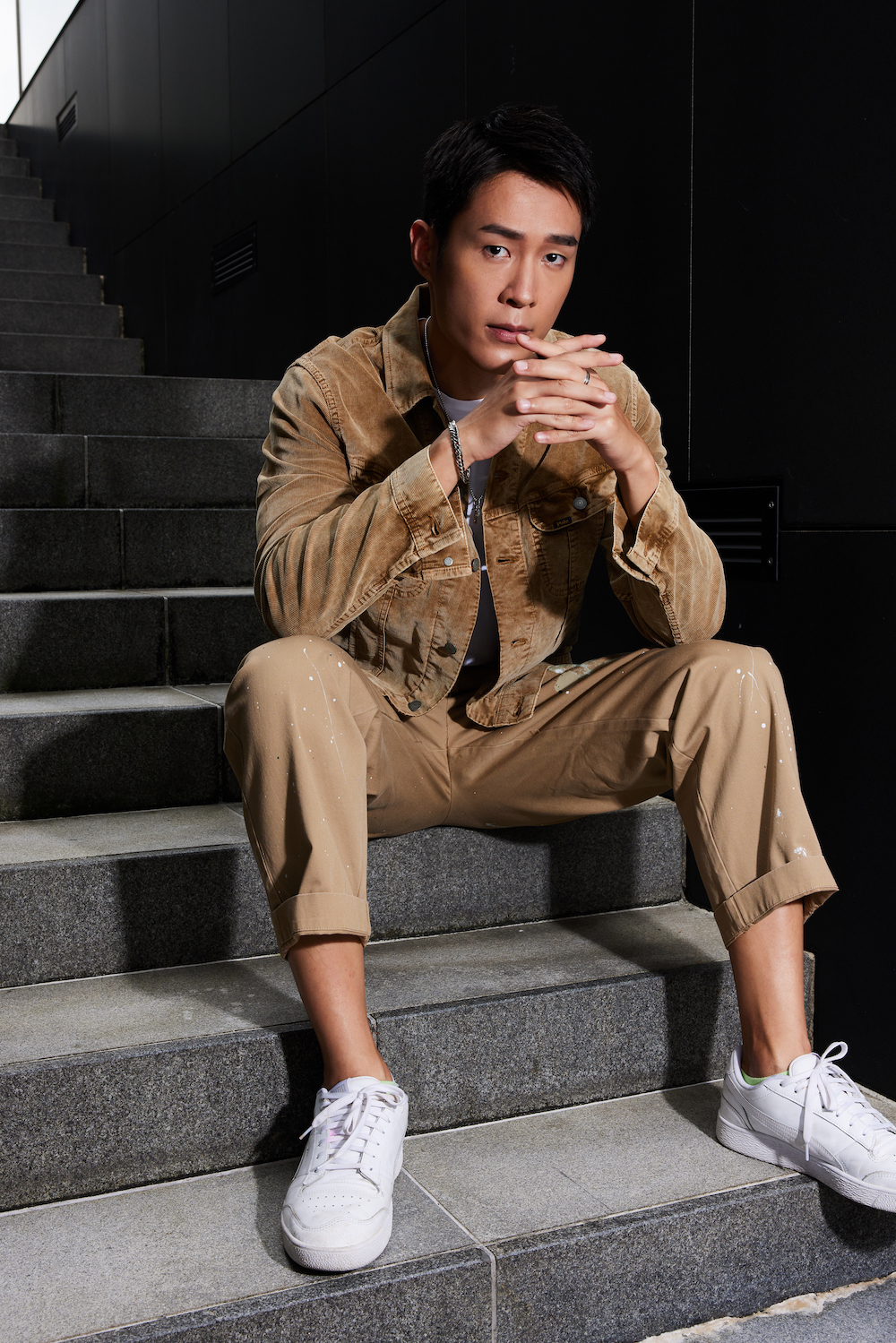 Good to know, Tyler, good to know
In Safe Hands airs weekdays, 7.30pm on Ch 8.
It is also available on demand for free on meWATCH.
Photos: Aik Chen/Mediacorp
All photos cannot be reproduced without permission from 8days.sg.
Additional pics from The Celebrity Agency, Tyler Ten/Instagram
Make-up: Lydia Thong (Makeup Entourage, using Armani Beauty)
Hair: Rino (Shunji Matsuo Ngee Ann City)
Stylist: Ivan Goh (using Polo Ralph Lauren)