Mentai-Ya Hawker Chain Boss Became Grab Driver To Clear $120K Debt, Now Owns Five Stalls & Two Cafes
The millennial started the Mentai-Ya chain during the pandemic, after clearing part of his debt. He recently opened a chirashi & gelato cafe.
Khoo Keat Hwee, 35, is a busy man. When he's not running Mentai-Ya Japanese Cuisine – a popular modern rice bowl hawker chain with five outlets across Singapore – he's searching for new locations and untapped markets to explore. Enter two-month-old Coffee & Chirashi, a 28-seater cafe tucked away in Sunshine Place shopping mall at Choa Chu Kang.
He explains: "Choa Chu Kang is a place that lacks great cafe food. And especially in this case, since Sunshine Place's food court has been closed for more than a year." Which is why the Japanese-themed brunch and dessert eatery serves a wide-ranging menu, including coffee and chirashi, along with Japanese-accented sandos, breakfast plates and gelato.
All photos cannot be reproduced without permission from 8days.sg
No part of this story can be reproduced without permission from 8days.sg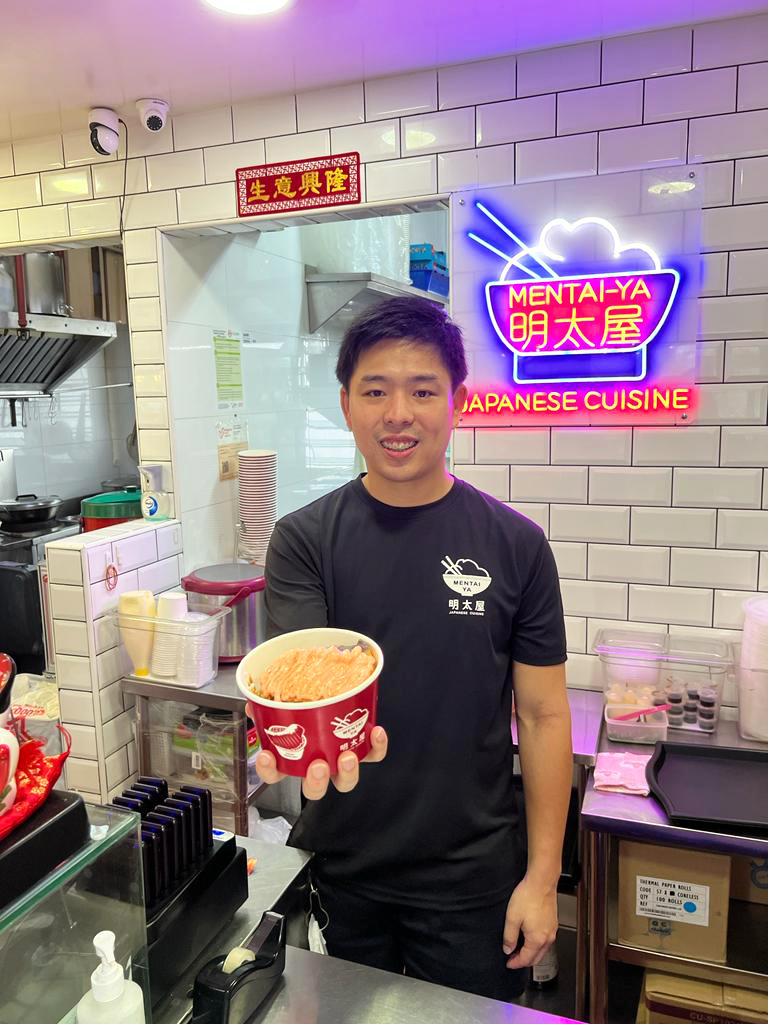 Previous F&B venture a failure
Not bad, considering the ex-sales engineer says his first F&B business, a restaurant named Tenryu Japanese Dining and Teahouse that operated from 2015 to 2018, "failed badly". "[My partners and I] closed shop when we were told [by our landlord] to remove our outdoor seats [after a flash flood in 2017], which made up 60 percent of our seating capacity ," he adds. "We tried for a while after but soon closed down. We lost quite a bit of money and failed miserably."
In order to pay off his debts of around "$120K", he decided to work as a Grab driver instead of returning to his previous engineering gig which would've required him to relocate to Jakarta. "I was driving 12 hours every day just to make repayments. Those two years were dark days for me, and I was kind of hiding away from the world," Keat Hwee shares.
Wanted to sell "affordable Japanese food that you can eat every day"
Then the pandemic struck, and demand for cab rides plummeted. He saw an opportunity to resume his dream of running a Japanese F&B biz (he had cleared part of his debts by then). "I love Japanese food a lot, but it was always luxury food for me as I came from a low-income household. My family just couldn't afford it," he shares.
So he decided to scale down popular dishes from his now-defunct Japanese restaurant and make them more affordable in a hawker setting. This included donburi drizzled with mentaiko (spicy cod roe) mayonnaise. "It was do or die and a leap of faith," he shares. Keat Hwee opened Mentai-Ya Japanese Cuisine's first outlet mid-2020 at a Bukit Panjang kopitiam "which was lacking in Japanese food around the area". He invested around $30K back then with another partner, who has since parted with the biz on good terms.
It turned out to be the right decision — despite the pandemic, Mentai-Ya's first outlet broke even "in four months". The hawker reinvested his earnings and went on to open four more stalls over the course of two years, even weathering an alleged negative review smear campaign by a competitor (more on that later). Despite expanding rapidly, he isn't afraid of being burned again, as he says he'd "made the correct move in identifying the gap in the market" – with business good enough to draw crowds even at "ulu kopitiams". The towkay shares that Mentai-Ya is making a profit, but declines to go into detail.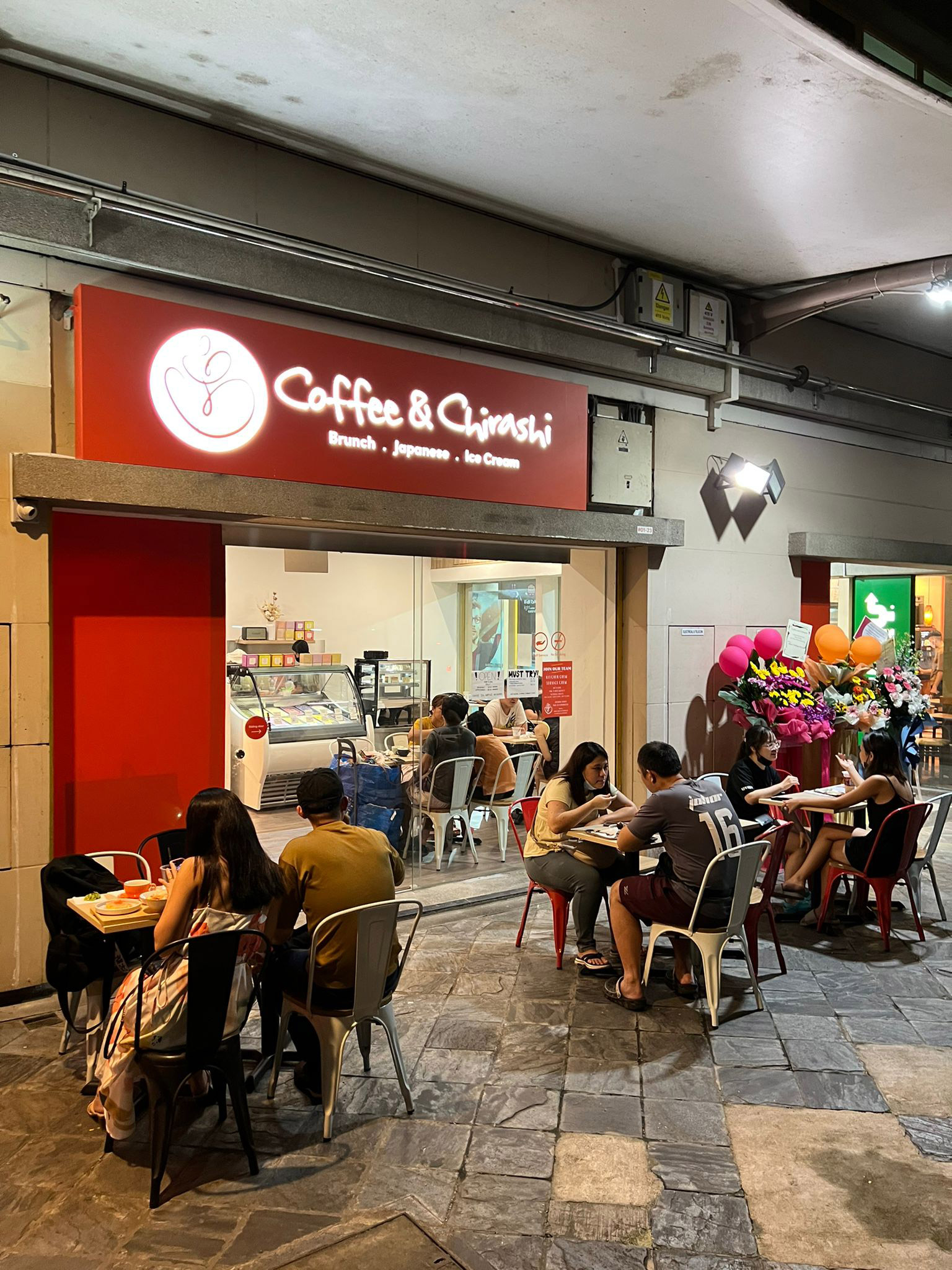 Expanding into the cafe market
The success of Mentai-Ya also gave Keat Hwee the confidence to explore another market. In 2021, he opened a cafe called Chirashi-Ai in Beauty World Centre, figuring that he could "bring affordable Japanese sushi rice bowls where cafe food is limited". That's also why he ended up opening Coffee & Chirashi in Choa Chu Kang.
Both have similarly extensive menus aimed at capturing not only the breakfast and brunch crowd, but those looking for "lunch, dinner, supper and dessert" too. Confused or ambitious? You decide. Keat Hwee estimates that he has invested about "$200K" into his Japanese hawker and cafe biz so far.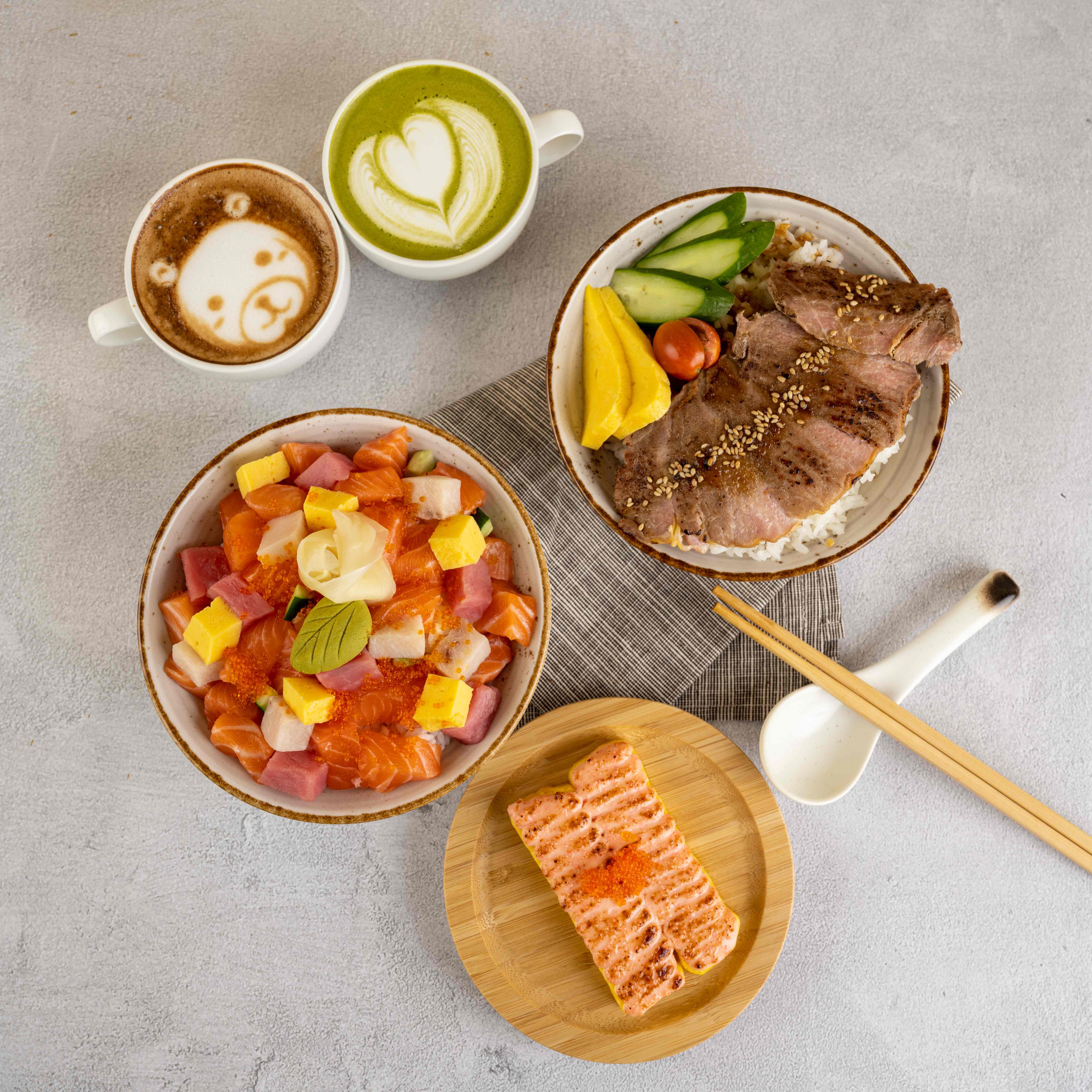 His new cafe serves brekkie till 2pm
Coffee & Chirashi's brekkie menu – available from opening time till 2pm – includes Japanese-influenced sandwiches ($8.80 for egg mayo or teriyaki chicken) and classic cafe fare like Eggs Benedict ($12.80).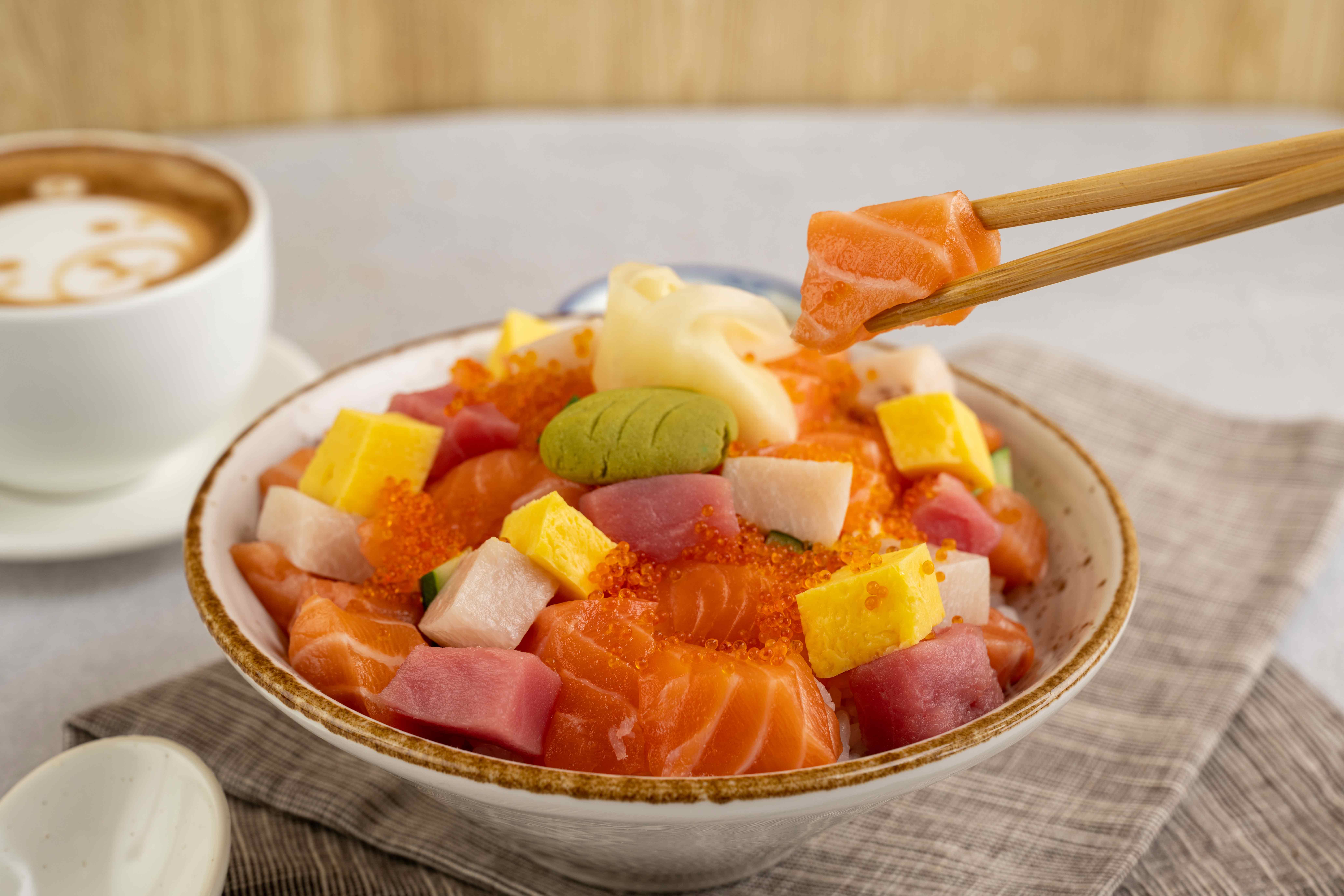 Donburi on the menu
More Japanese grub is available from noon, like the Teriyaki Chicken Don ($11.80), Mentaiko Salmon Don ($15.80) and Chirashi Don ($15.80) – yes, despite the cafe's name, there's only one raw fish rice bowl option, aside from side dishes like Salmon Sashimi ($7.80 for four slices).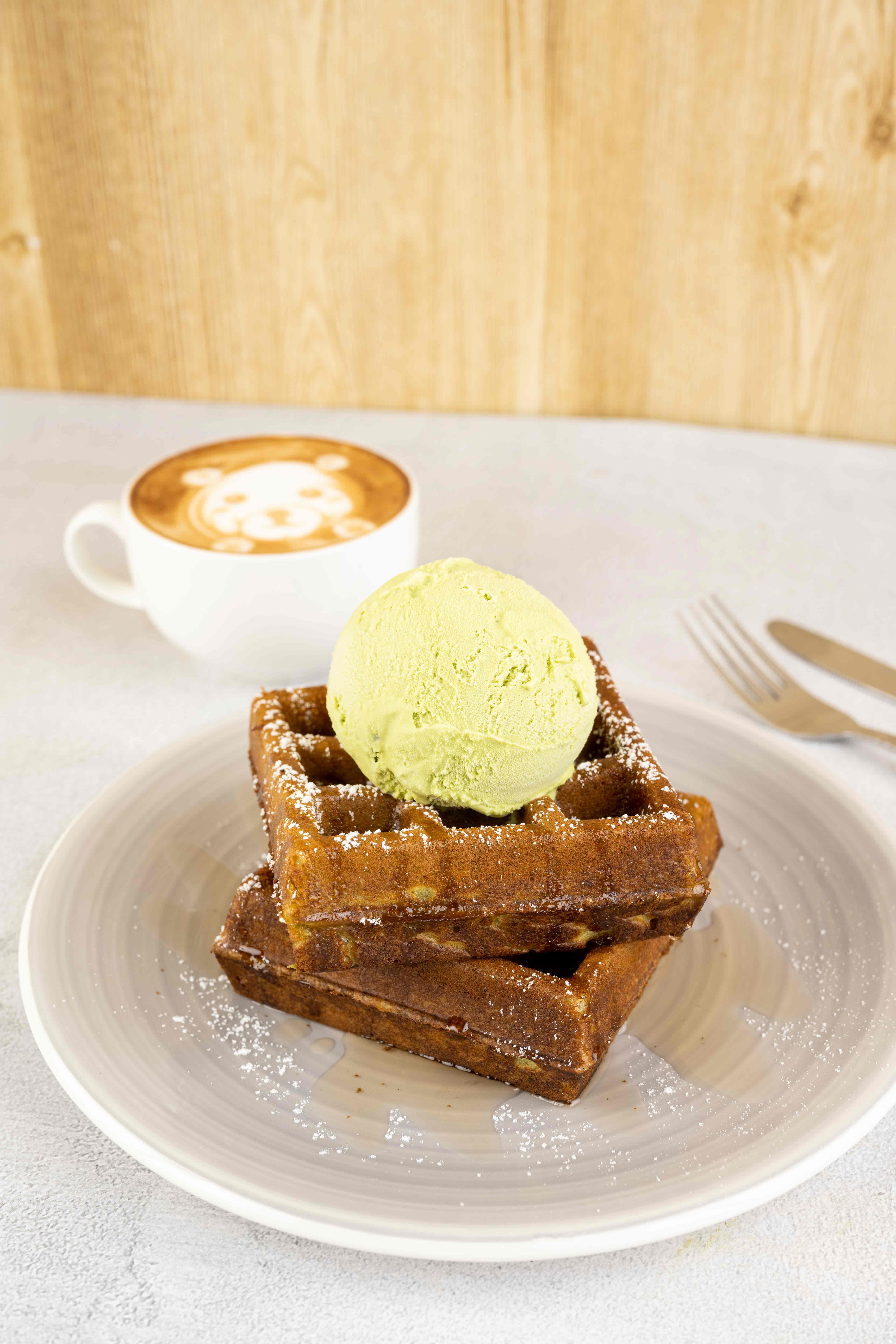 Gelato and waffles available too
Coffee & Chirashi stocks around 12 flavours of gelato (from a supplier). Bestsellers include Kyushu Grape, Dark Chocolate and Uji Hojicha (from $4). Pair your gelato with freshly made waffles (from $8.50 for a single scoop) or on a Chocolate Lava Cake ($9.50). But don't expect artisanal coffee beans here a la Common Man Coffee Roaster. Instead, there's a value-for-money cuppa starting from $3 for an Espresso.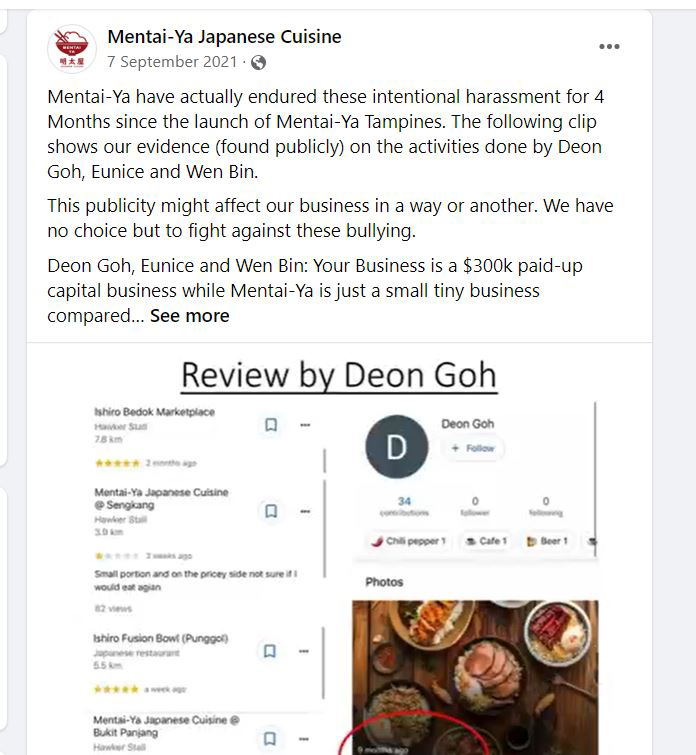 Wants to move on from Mentai-Ya/Ishiro incident
Last September, Mentai-Ya Japanese Cuisine made headlines when it, along with woodfire-focused restaurant The Social Outcast, sent letters of demand to fusion donburi hawker chain Ishiro, seeking $70,000 and $50,000 respectively in damages, reported Yahoo News Singapore.
This came after Keat Hwee claimed to have found evidence – which he published on a Facebook post (above) – implicating Ishiro as the alleged perpetrator of a fake negative review campaign against both eateries. Allegations in these reviews include poor service, small portions, and customers falling ill after eating at Mentai-Ya's outlets. Keat Hwee also made two police reports related to the matter.
He adds: "We're still in the midst of settling the Ishiro incident – so we aren't able to comment on it." He later adds: "I used a lot of my time and resources to investigate this matter. We all make mistakes, and everyone was trying to survive the pandemic. We just want to put it behind us and move forward."
The details
Coffee & Chirashi is at #01-23 Sunshine Place, 475 Choa Chu Kang Ave 3, 680475. Tel: 8188-8910. Open daily 10am – 11pm. More info via Instagram. Mentai-Ya has five outlets, more info via Facebook and Instagram.
Photos: Mentai-Ya Japanese Cuisine, Coffee & Chirashi
All photos cannot be reproduced without permission from 8days.sg 
No part of this story can be reproduced without permission from 8days.sg