Michelin Guide S'pore 2022 Winners: 9 New 1-Star & 2-Star Restaurants Awarded This Year
The coveted 3-Michelin-starred list remains the same, with Odette, Les Amis and Zén holding their position.
The Michelin Guide Singapore unveiled the star winners for its 2022 edition today (Jul 12). The awards were given out at a gala dinner held at the Sands Expo & Convention Centre. The in-person ceremony resumed this year after being cancelled in 2020 due to Covid-19, and was held virtually last year.
Last week, the Guide also announced its list of Bib Gourmand winners, which includes eateries that "offer diners very good value for money, with a complete and high-quality menu priced at a maximum of S$45".
No part of this story or photos can be reproduced without permission from 8days.sg.
Seven new one-star winners
In the one-star category, there were a total of 42 winners with seven new entrants: Burnt Ends, Restaurant Euphoria, Hamamoto, La Dame de Pic, Marguerite and Reve.

One Michelin star is awarded to eateries with "High quality cooking [that are] worth a stop". All Michelin-approved eateries are assessed by a team of anonymous Michelin inspectors.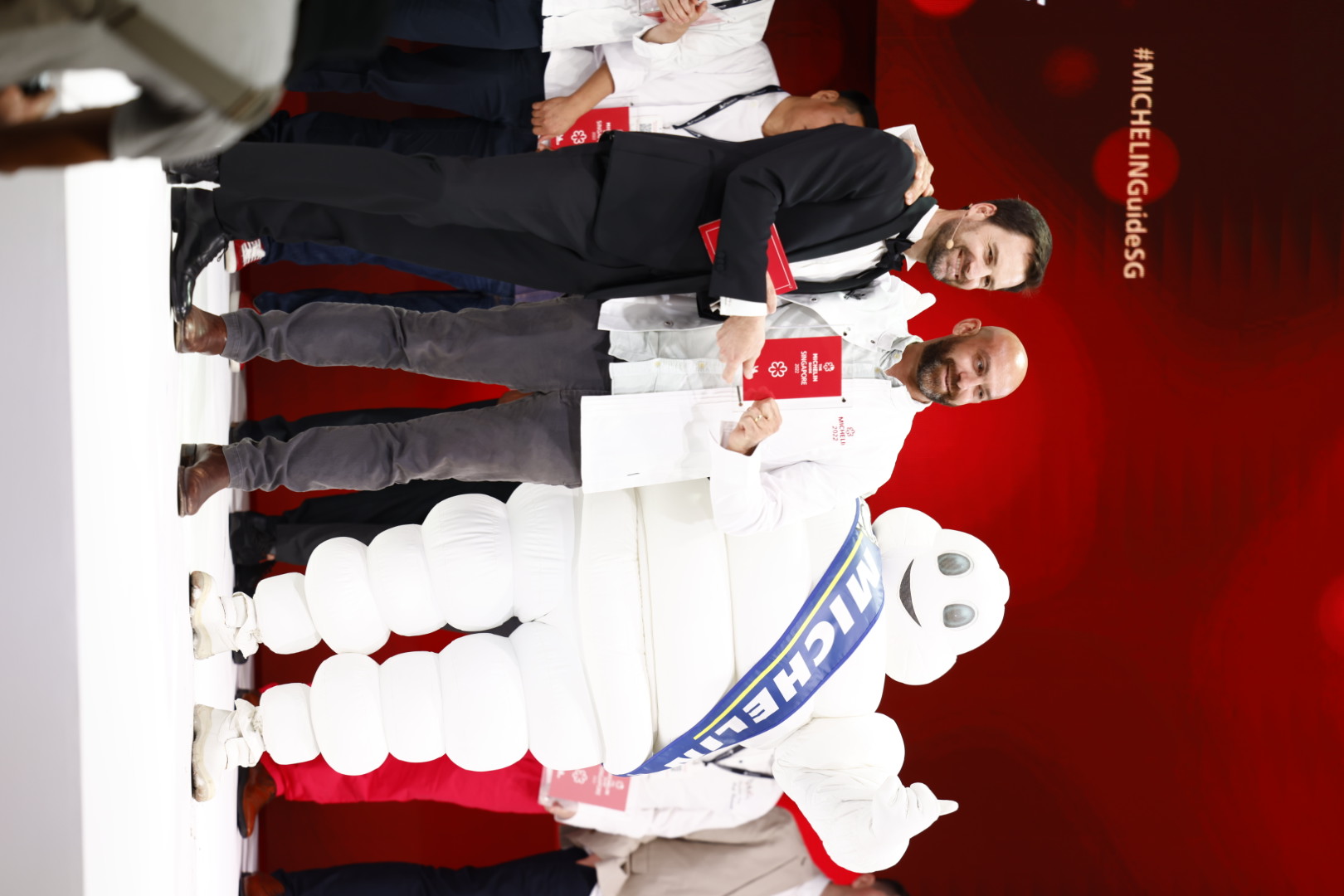 Dave Pynt (pictured above), the chef-owner of mod Aussie barbecue restaurant Burnt Ends, on keeping its star after moving from Keong Saik to bigger digs in Dempsey last Dec: "We're feeling pretty good. [It wasn't something we] expected, but there was definitely hope that we can retain [the star] after moving to a new place since we still had to get everything right. I'm definitely happy."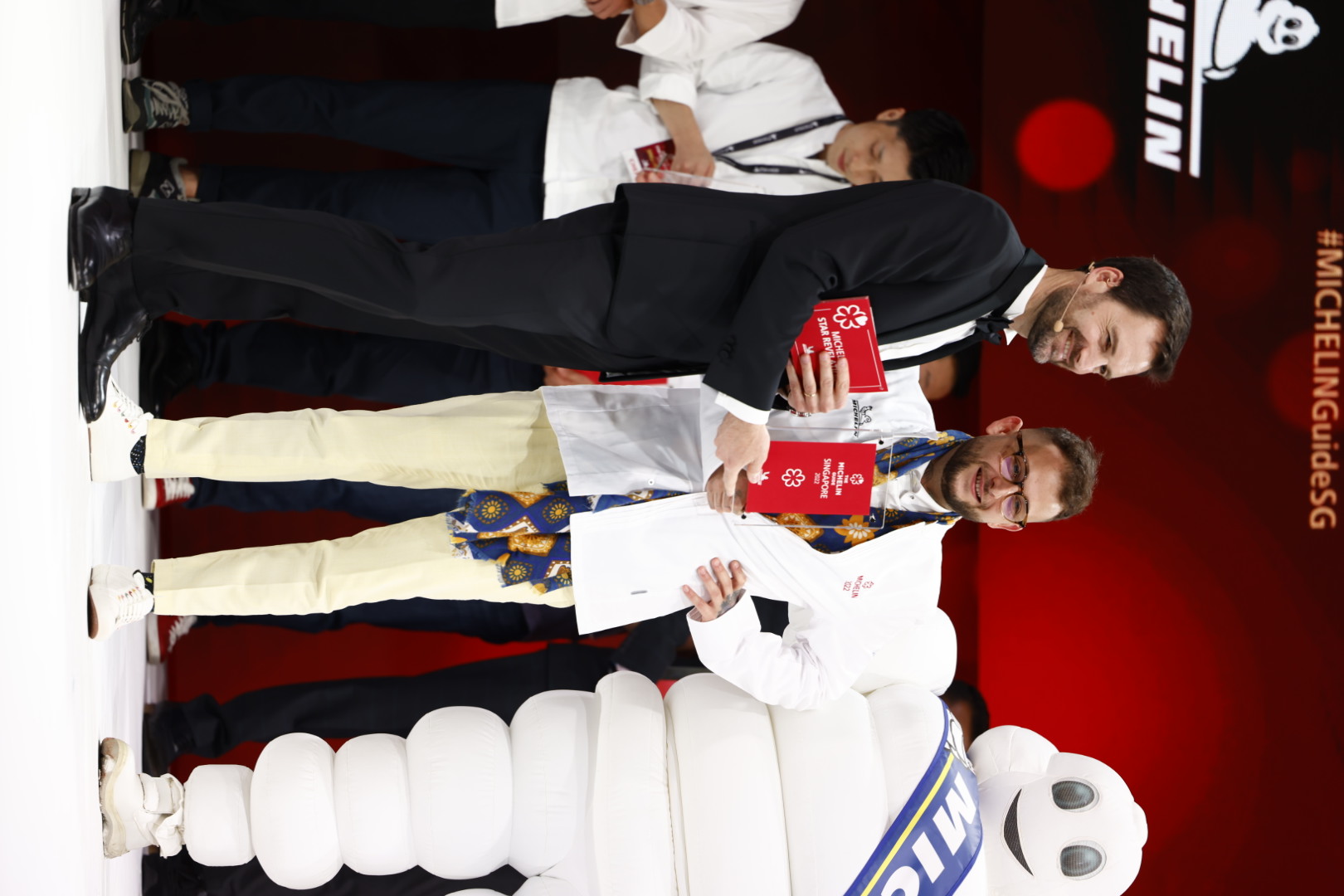 Fellow new entrant La Dame de Pic is the first Asian outpost of decorated French chef Anne-Sophie Pic's growing restaurant empire. It's helmed by her Italian-born protégé Francesco Di Marzio (above), who says of his win: "It's amazing, and it's something that we've wanted for a long time. It's an important achievement and today is especially special as it's Anne-Sophie's birthday, so to give her a birthday present of a Michelin star – it's kind of amazing."  

Here's the full list of one-star winners:
● 28 Wilkie
● Alma
● Art
● Basque Kitchen by Aitor
● Beni
● Braci
● Buona Terra
● Burnt Ends NEW
● Candlenut
● Chef Kang's
● Cure
● Cut
● Esora
● Hamamoto NEW
● Hill Street Tai Hwa Pork Noodle
● Iggy's
● Imperial Treasure Fine Teochew Cuisine
● Jag
● Labyrinth
● La Dame de Pic NEW
● Lei Garden
● Lerouy
● Marguerite NEW
● Ma Cuisine
● Meta
● NAE:UM NEW
● Nouri
● Oshino
● Putien (Kitchener Rd)
● Restaurant Euphoria NEW
● Reve NEW
● Rhubarb
● Shang Palace
● Shinji (Bras Basah Rd)
● Sommer
● Summer Palace
● Summer Pavilion
● Sushi Ichi
● Sushi Kimura
● Table65
● Terra
● Whitegrass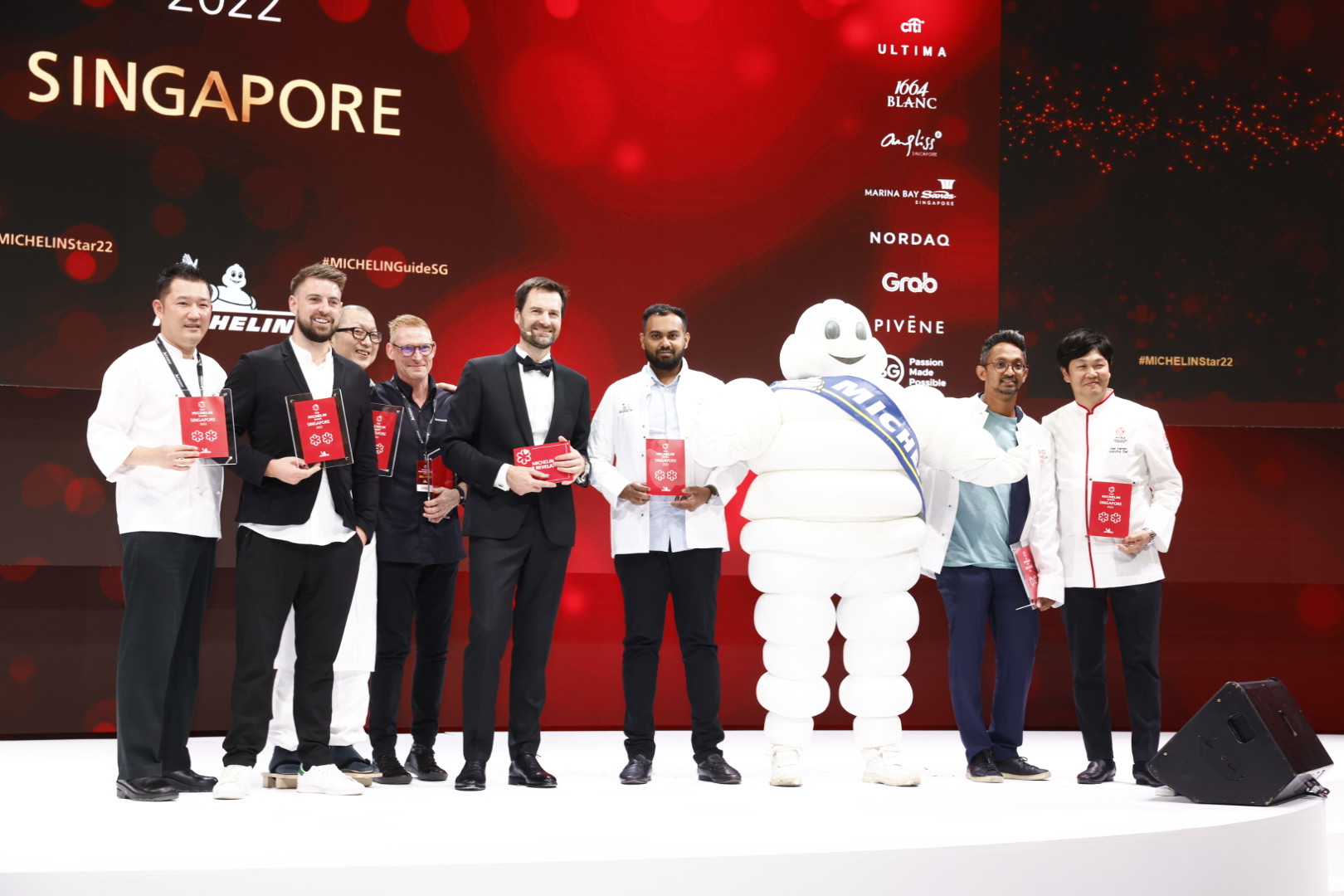 The two-star winners
It's the year for South Asian cuisine as both Cloudstreet, which draws from Sri Lankan-born chef-owner Rishi Naleendra's (pictured above) heritage and time in Australia, and Thevar, Mano Thevar's eponymous mod-Indian grill restaurant, gained an additional star this year, moving up from the one-star category to join the two-Michelin-starred winners.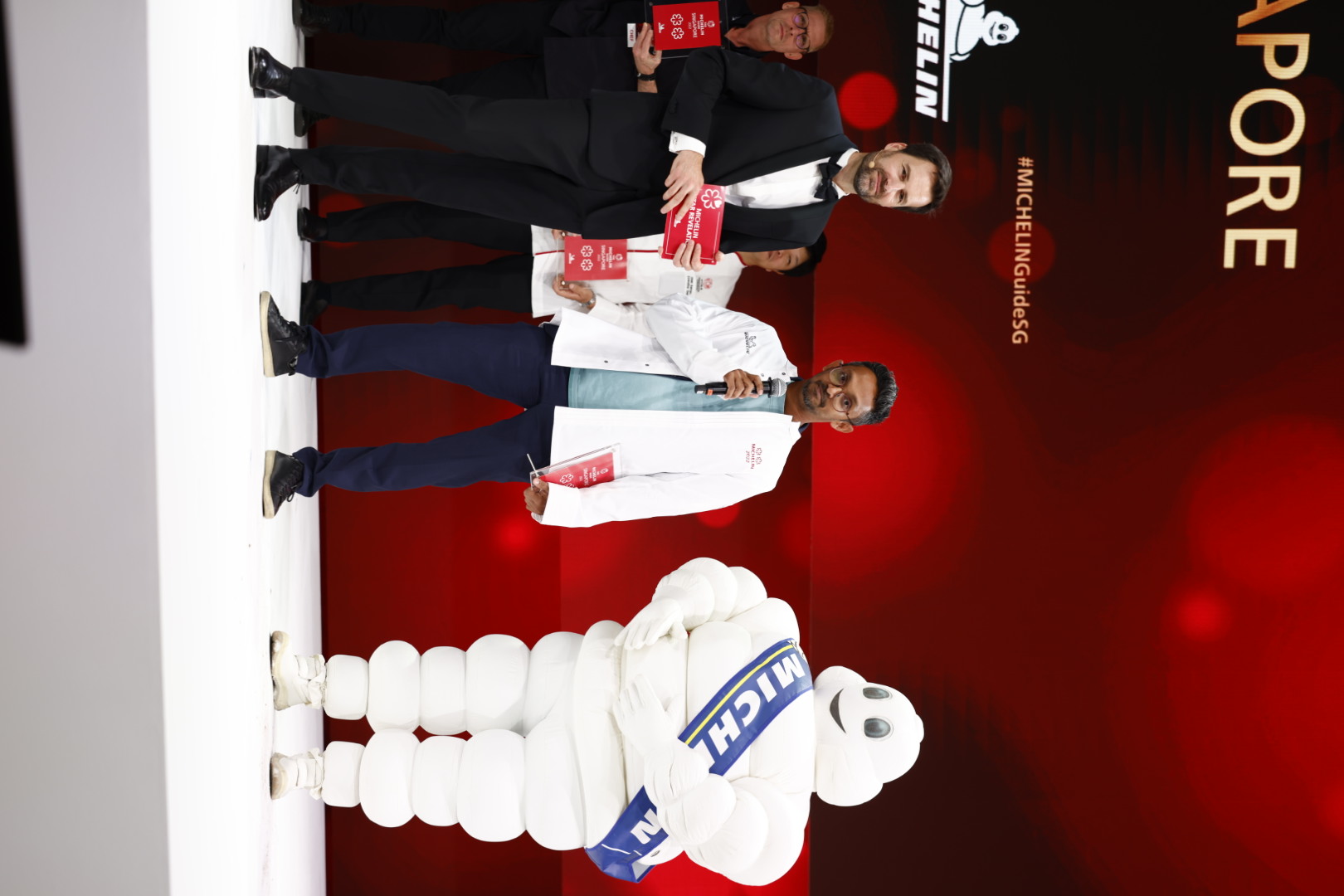 Chef Naleendra (above) tells us that the recognition for South Asian cuisine was "definitely a long time coming". He avers: "It's a cuisine that's always been underappreciated and overlooked. To get this recognition for our culture and produce in this space, it's a dream come true."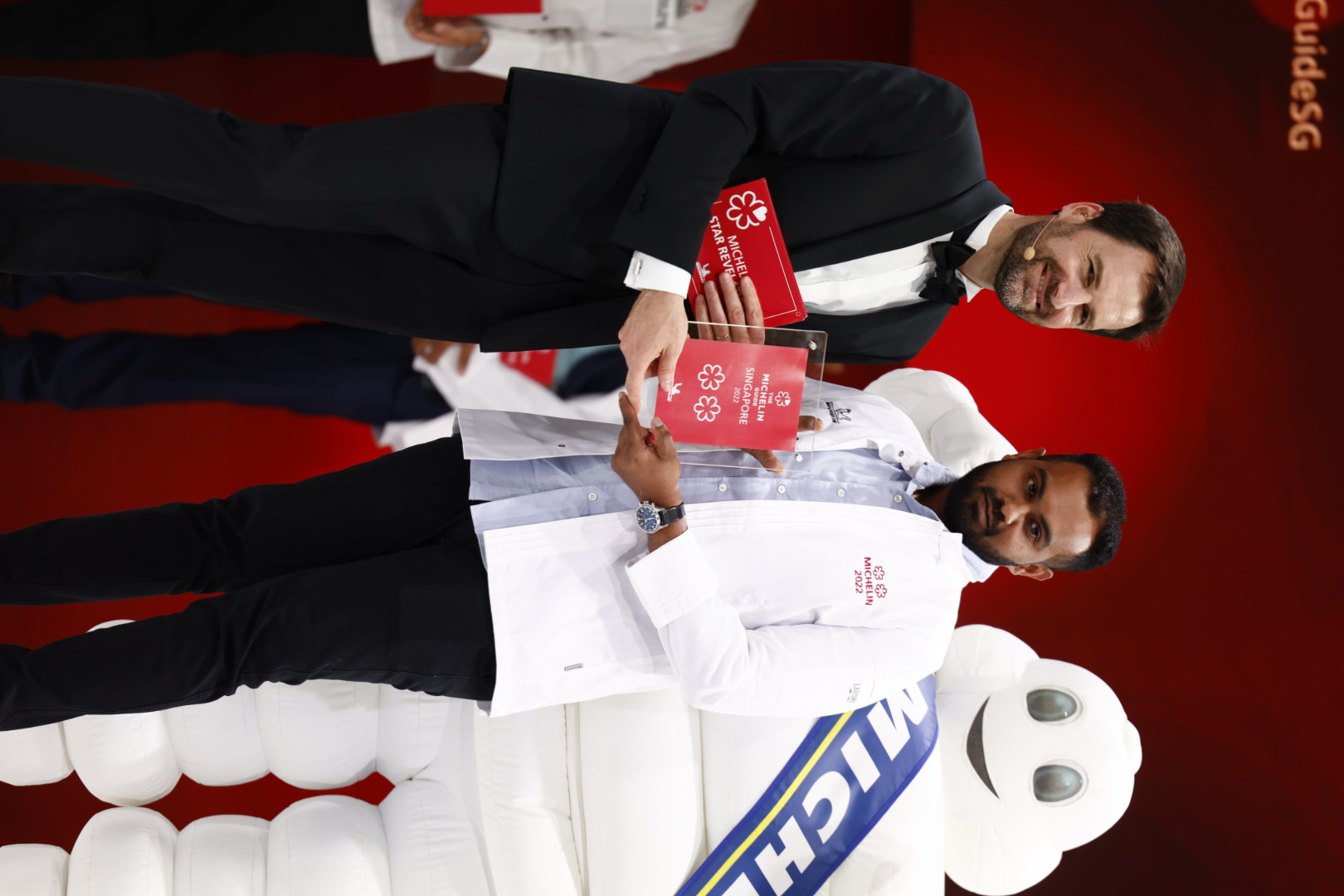 Penang-born Mano Thevar (above) concurs, saying: "Asian food has been on the rise, even before Covid-19. I've always tried to bring Malaysian-Indian flavours to the table as there's so much [for the cuisine] to offer – let's see where it goes from here."
Two Michelin stars are awarded to eateries with "excellent cooking [that are] worth a detour)".

The rest of the two-star winners, which retained their stars from the previous edition, are as follows:
● Cloudstreet PROMOTED
● Jaan by Kirk Westaway
● Saint Pierre
● Shisen Hanten
● Shoukouwa
● Thevar PROMOTED
● Waku Ghin
The three-star winners
No surprises or upsets for the list of three-star winners this year – Singapore's count of three-Michelin-starred joints remains at three, namely: mod French restaurant Odette, French fine-diner Les Amis and Restaurant Zén, the local offshoot of Swedish three-Michelin-starred restaurant Frantzén.

Three Michelin stars are awarded to restaurants that offer "exceptional cuisine worth a special journey".
Photos: Alvin Teo
No part of this story or photos can be reproduced without permission from 8days.sg.