Millennial Hawker Sells Great Authentic Claypot Herbal Bak Kut Teh In Toa Payoh
The former financial planner has been a hawker for five years, and started out as a stall assistant at a seafood zi char joint.
When Jenere Tan ORD-ed from National Service in 2013, he did not know which career field he wanted to go into. A business management graduate from the University of Manchester via SIM, he eventually settled on becoming a financial planner.
He stayed in that job for four years. "But I was lazy and not disciplined. It's a job where you only earn money if you work hard," the 31-year-old tells
8days.sg
with a laugh. In 2017, Jenere started sending out his resume to companies hoping to move to "other finance jobs", until his friend mentioned that he was looking for manpower for his own business.
Chew Zhi Jie, the young owner of
Jiao Cai Seafood
, had set up a zi char stall at Yishun Park Hawker Centre and needed help. "He asked me to help him," recalls Jenere, who agreed to become a hawker stall assistant despite never expecting to work in F&B.
From hawker assistant to becoming his own boss
For the next four years, Jenere learned how to whip up dishes like barbecued stingray by observing Jiao Cai's cooks. Last November, he left to set up his own stall called Tea Inn Bak Kut Teh at a Toa Payoh Lor 4 hawker centre, specialising in claypot herbal bak kut teh "similar" to the kind served in Malaysia.

According to Jenere, it was "very important" for him to "come out and work on my own". But he parted ways with his friend's stall on a good note. "We are happy for each other that we have our own stuff going on — he sent flowers on my opening day," Jenere adds.

Through working as a hawker, he also discovered that he thrives in the line as "a hands-on guy". When we ask if he plans on hawkering long-term, he replies thoughtfully: "I found my passion in cooking after I started working as a hawker, so I don't see myself going anywhere else."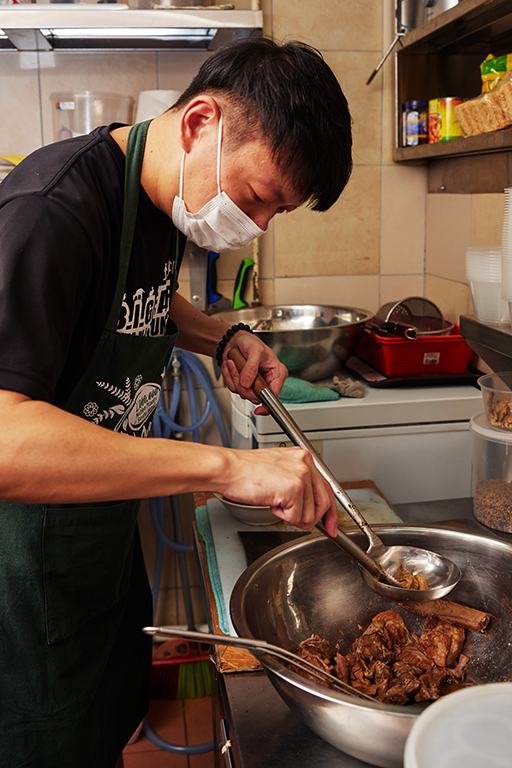 On surviving as a millennial hawker
He zeroed in on selling bak kut teh as it was one of his favourite childhood dishes. "My mum was born in Malaysia, so I was in Malaysia when I was very young and love the herbal kind of bak kut teh there," says Jenere. He now runs his stall solo, with occasional help from his mother who drops by whenever she has time off her admin job at a community centre.

Jenere points out that serving herbal bak kut teh, instead of the peppery version that's more common in Singapore, makes his stall stand out. "There are a lot - and I mean a lot - of restaurants and stalls serving peppery bak kut teh here, so I'm not going to contest them," he laughs (incidentally, Tea Inn Bak Kut Teh is located right next to Melody Curry Chicken Noodle, a stall opened by a Myanmar-born F&B entrepreneur).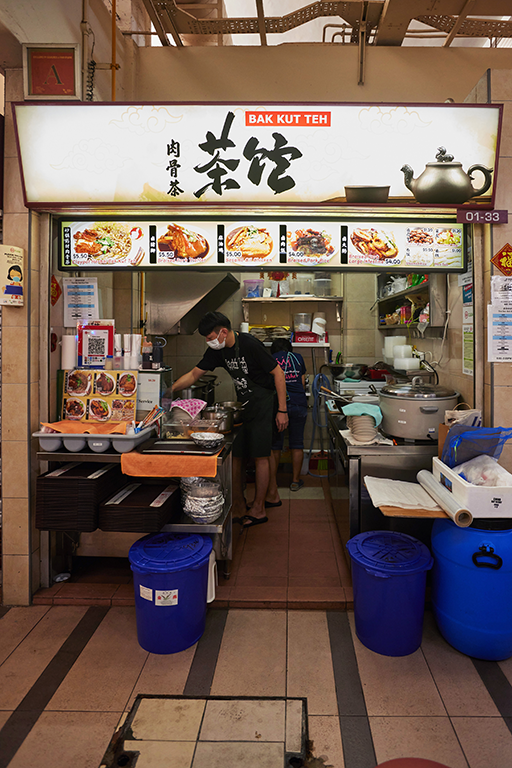 He's in the right market though, as his neighbourhood has a lot of elderly customers who favour his old-school claypot BKT. "I'm the only one selling bak kut teh here," Jenere notes. But being a modern-day hawker, he also faces modern problems like his main concern: The "hefty rent" for the stall he bidded for.
He elaborates that at $2,000 a month, he's paying "the highest rent in the hawker centre" after surveying his stall neighbours. "Adding everything like [the fee] for collecting bowls, town council charges and the utilities bill, I'm paying around $3,100," he reveals.
Despite his costs, Jenere charges a very reasonable $5.50 for his Claypot Herbal Bak Kut Teh. A bowl of Braised Pork Trotter goes for $5.50, and there's also Braised Pork Large Intestine ($4) and Sesame Oil Chicken ($5). You can get your BKT with a la carte sides like Steamed Rice ($0.50), Mee Sua ($1), Braised Peanuts ($1.20) and Preserved Vegetables ($1.20).

"I can't price my food higher due to the area I'm in, so for now I'm just going to stick to more affordable prices for the folks around the area," says Jenere. Income-wise, he quips that he "still got earn lah, but not that much". He explains: "I want to create awareness [for my stall] first before thinking about earning more."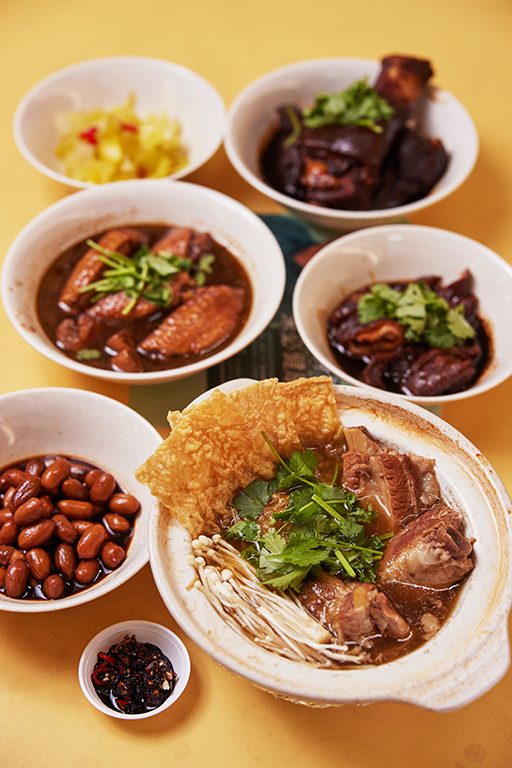 The herbal bak kut teh recipe
To come up with his herbal bak kut teh recipe, Jenere researched online and experimented extensively at home for a month. "I wouldn't say I modified [the traditional] recipe, I just made it my own," he says. His BKT is pretty similar to the one from famed Restoran Kota Zheng Zong in Johor Bahru, served in a claypot with pork ribs, sheets of fried beancurd skin and enoki mushrooms.

For his herbal broth, Jenere uses a total of "12 herbs" like dang gui, dang shen and gan cao (Chinese liquorice). "The hard part is figuring out which herbs to use more of. I used to put orange peel too, but I took it out 'cos customers said my soup was too sweet," he says.
Claypot Herbal Bak Kut Teh, $5.50 (8 Days Pick!) 
It's a sight to behold when this claypot bak kut teh, fresh from the stove with billowing steam, is set in front of us. The robust dark broth, redolent with the scent of Chinese herbs and a hint of garlic, is comforting, though a tad oilier than the average herbal BKT.  "I already tried to skim off the fats as much as possible," says Jenere apologetically. He explains that he uses fattier pork ribs as they are tastier than the tougher lean ribs, which adds better flavour but greases up his soup. 
Still, we feel nourished slurping up the piping hot soup along with the succulent pork ribs, plus beancurd sheets and enoki mushrooms that soak up the broth. Fluffy white rice and a flavourful medley of condiments provided (cut red chillies with raw minced garlic and dark soy sauce) round up our solidly satisfying meal. The bak kut teh is good enough on its own, but if you feel like ordering some trimmings, the braised peanuts and delicately crunchy preserved vegetables make decent sides.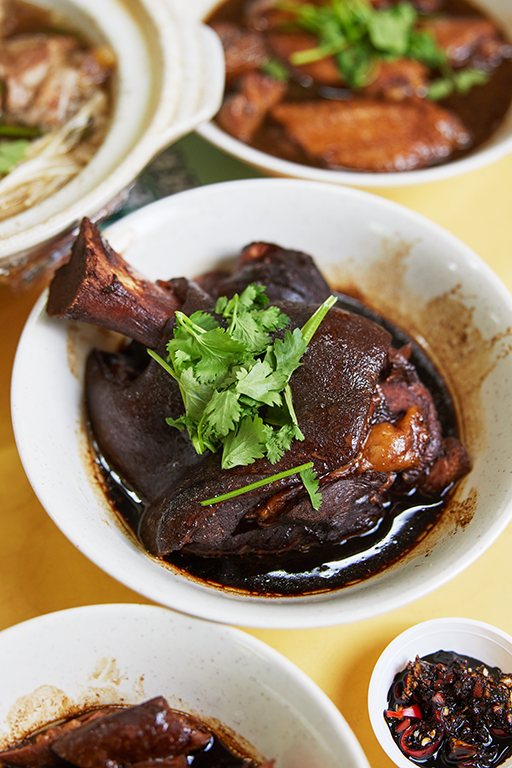 Braised Pork Trotter (8 Days Pick!)
What's unusual about Jenere's food is that it has the homely, old-school flavour of a veteran hawker's cooking despite being prepared by a young chap. Our pork trotter is tender, the meat yielding to a light poke with our chopsticks.
It luxuriates in a fragrant, herby dark soy sauce that was used to braise the trotter. Delicious with rice in between spoonfuls of herbal BKT soup.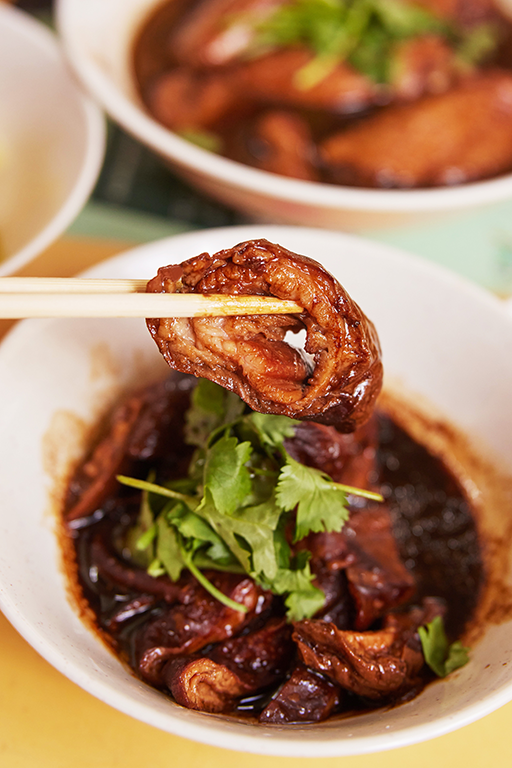 Braised Pork Large Intestine, $4 (8 Days Pick!)
The same braise sauce is used for this innard dish, well-cleaned pig's large intestine that's cooked just long enough to be soft with a slight chewiness. 
The innards soak up a lot of the savoury full-bodied sauce, which tempers the subtle porkiness of intestines. Moreish even for people who are usually turned off by innards.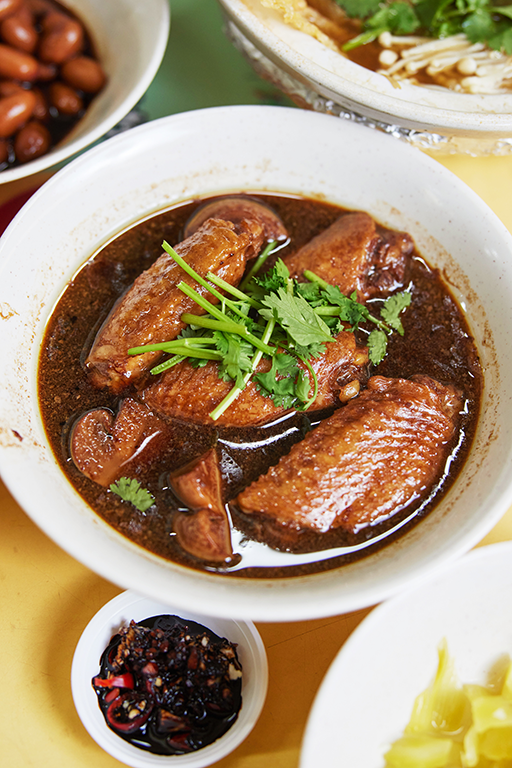 Sesame Oil Chicken, $5
Jenere, who says he cherishes the "precious" master stock that he painstakingly made to braise his dishes, utilises it again for his sesame oil chicken with canned champignons. While they are still very yummy, the chicken wings unfortunately lack the feisty aroma of sesame oil and ginger that is - in our opinion - the best part of the dish. Unless you really hate pork, go for the classic bak kut teh and its sides like braised pork trotter and intestines here. The menu also features Braised Pork Rice ($4), though that is temporarily unavailable as Jenere is still working on it.
Address and opening hours
Address: Blk 93 Lor 4 Toa Payoh, #01-33, S310093.

Opening hours: Open daily except Mon, 8am-2pm.

Facebook

Photos: Kelvin Chia