Monica Chan Slammed For Calling Miss Hong Kong Pageant The "Miss China Hong Kong Pageant"
Was she trying to be politically correct?
On Wed (Sep 21), Hong Kong actress Monica Chan, 55, was spotted at the press conference for the Miss Hong Kong 2022 Competition.
The next day (Sep 22), the Miss Hong Kong 1989 winner took to her socials to share that it's "the third time [she's been] invited to be a guest judge for the "Miss Photogenic" title at the Miss China Hong Kong Pageant."
But wait, what is "Miss China Hong Kong Pageant"?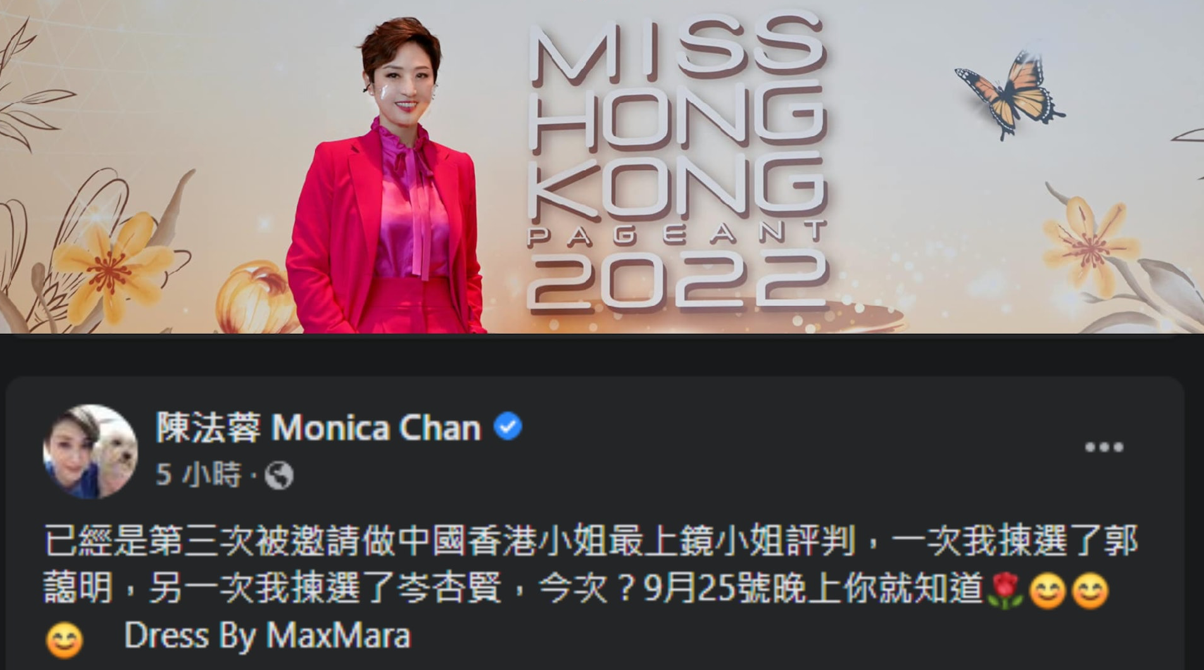 Does the annual TVB beauty pageant have a new name?
Apparently, the actress took the liberty to add the word "China" to the esteemed pageant's name. 
Now netizens are saying that she did that because she was worried about getting slammed for not specifying Hong Kong is a part of China considering how politically sensitive people are these days. (Remember how Timmy Hung came under fire when he said he's from Kowloon, Hong Kong?)
But what Monica wrote is not sitting well with some Hong Kong netizens. 
"Why did you change the [competition's] name for TVB? Have you asked TVB yet?" scoffed one netizen. TVB has organised the competition since 1973. 
On top of that, in her post, Monica also said that she "chose Amy Kwok [to receive the Miss Photogenic award]" the first time she was appointed as judge, but that turned out to be incorrect too.
Why? Because Amy didn't even win the Miss Photogenic title when she participated in the 1991 Miss Hong Kong pageant.
And surprise, surprise, Monica was not the judge that year either.
Turns out, Monica was invited as a judge for the pageant in 1999, which means the person that was "chosen" by her was in fact Sonija Kwok, who clinched the Miss Photogenic title that year.
Photos: hk01