Months After Heart Surgery, 78-Year-Old Hawker Back Selling $3 Mee Siam With No Plans To Retire
The towkay of 96 Kwai Luck Cooked Food wakes up at 12.30am five days a week to prepare his popular mee siam.
While some of our favourite old-time hawkers are laying down their woks for a well-deserved retirement, others just want to continue cooking well into their golden years.
Lawrence Chua (left in pic), 78, belongs in the latter camp. "Wait until cannot do anymore, then retire lah," he shares with a laugh when we ask what his plans are for 96 Kwai Luck Cooked Food, a stall that's been selling mee siam – and only mee siam – since 1979 at Chong Boon Market & Food Centre in Ang Mo Kio.
All photos cannot be reproduced without permission from 8days.sg
The popular stall went on hiatus
The towkay recently returned to helming the stall – getting out of bed at 12.30am daily in order to prep for the stall's super early 4am opening time – along with his wife (Madam Ong, 70, pictured with her hubby) after taking a five-month break. Lawrence tells 8days.sg that he went for a heart bypass surgery last June after having a minor heart attack, and had to close 96 Kwai Luck Cooked Food while recuperating. 
Some netizens who were longtime fans of the stall took to Facebook foodie groups to express their dismay. In November, the mee siam stall reopened, temporarily manned by the hawker's wife and her sister, while Lawrence supervised. He took over cooking duties again last month.
Note that the stall will no longer be closing intermittently, like in the months after reopening since Lawrence's surgery (sometimes operating only on weekends). It will be operating on a more regular schedule now that Lawrence has recovered from his surgery – "unless I have an appointment with the doctor lah," he says.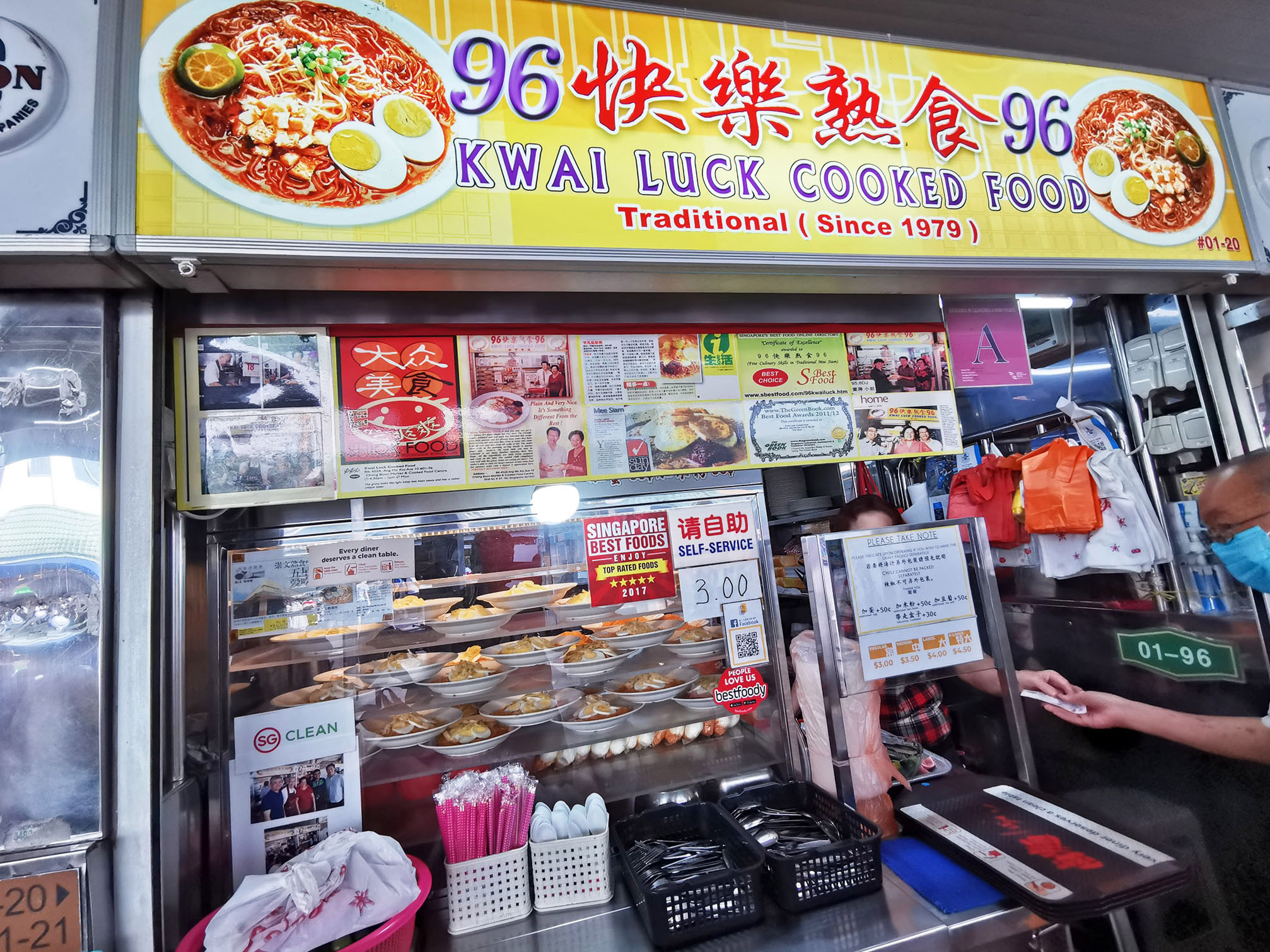 Opened by dad in 1979
96 Kwai Luck Cooked Food was set up in 1979 by Lawrence's dad, who got the mee siam recipe from an Indian hawker. Lawrence, then 35, also worked at the stall, eventually taking over in 1993 after his father passed on.
FYI: there are Peranakan, Malay and some Indian and Chinese variants of mee siam in Singapore. Most versions feature bee hoon, boiled egg and fried tau pok doused in an orange gravy heavy with sweet, sour and savoury flavours from tamarind, belacan and tau cheo (fermented soy bean). Lawrence shares that his mee siam is "actually Indian-style, but now that we Chinese are making it, we call it Chinese-style (laughs)".
What's in it? "This one cannot reveal lah," he replies quickly, only deigning to reveal that his Indian-style mee siam gravy is thickened with coconut milk. "It's a secret. I can only say that my customers tell me this is a flavour that you cannot find easily. If [my stall is] no more, that means no more already."
No succession plans yet 
While the hawker has one child, there are no plans for succession. "My son is still studying in NTU (Nanyang Technological University) because I married late. He still has another two years [before graduating] – maybe I pass [the business over] to him lah, see whether he wants or not," he says nonchalantly. The younger Chua, 26-year-old Eddy, used to help out at the stall occasionally, but has since stopped now that school has gotten busier (he's pursuing a degree in Sports Science & Management). 
Eddy tells us : "He did not tell me [outright] that he hoped I would take over the biz, but sometimes I feel like he's trying to hint to me by telling me about customers asking whether I am taking over, and also how being a hawker can be financially sustainable in the long run if done correctly." For now, the undergrad is unsure if he wants to take over the family's stall.
That said, it's not his son's university fees that are keeping Lawrence working. "Once you're old, you cannot always stay at home lah. You have to do some work. I think it's better [for our well-being]," he avers. "I'm still fine to run my business, and old people must have something to do – so I'll continue." 
Eddy shares that his father has no plans to retire and travel as "he can't really walk [long distances]", though "in [his father's] own words, he feels 'more energised than ever and motivated to sell more' even after his surgery. He's a simple person, he just wants to stay active by working rather than staying at home. Of course, my mum and myself would tell him to rest if he doesn't feel well."
Lawrence also feels a sense of responsibility to continue serving his loyal customers. "We have customers from all around lah. A lot of them have been coming since they were young, until they've become fathers and grandfathers," he shares.
$2.50 mee siam now $3 due to escalating food costs
Though we haven't tasted 96 Kwai Luck Cooked Food's mee siam for ourselves, here's what to expect: no-frills mee siam with typical fixings like boiled egg and diced tau pok. Prices range from $3 to $4.50 depending on portion size, up from last year's entry-level price of $2.50 (a price he's been offering for the last two decades, says Eddy).
Like many other hawkers, he tells us that he had no choice but to bump up prices in the face of rising ingredient costs. "Everything is going up. When I buy a batch of ingredients, it's a few hundred dollars more expensive. What to do? I can [continue to] sell it cheaper, but the taste won't be good [as I'd have to skimp on ingredients]," he says. "I'll [still try to] sell it as affordably as I can lah. Just [earn enough to] survive can already."
The details
96 Kwai Luck Cooked Food is at #01-20, Chong Boon Market & Food Centre, 453A Ang Mo Kio Ave 10, S561453. Tel: 9619-0196. Open Wed – Sun, 4am – 1pm. More info via Facebook.
Photos: Aaron Ong, 96 Kwai Luck Cooked Food
All photos cannot be reproduced without permission from 8days.sg