Nan Hwa Chong Fish Head Steamboat Retained "All 30 Of Its Staff" Throughout Pandemic Despite Losses
The long-standing eatery popular for its charcoal fish steamboat has weathered the worst of the storm. 8days.sg speaks to its second-generation towkay.
Singapore may be a hot, humid country where a rare dip in temperature to 24°C sends some of us dramatically reaching for our winter coats — yet, we're crazy about gathering over a steaming hotpot come rain or shine. This is evident from the constant crowds at the more popular establishments. One stalwart is Nan Hwa Chong Fish Head Steamboat Corner, a family-owned restaurant that's been serving up the communal dish since 2005 at the junction of North Bridge Road and Jalan Sultan. Previously, it operated under the same brand name out of a kopitiam on Crawford Lane for three years.
The eatery, which only has one outlet, is run by second-generation towkay Michael Lee (middle in pic), 38, who has largely taken over the running of the sprawling 300-seat eatery from its founders, his parents Lee Hong Chuan and Toh Yew Mui, both 62. Michael has two younger sisters who help out occasionally, but aren't as involved in the biz.
No part of this story or photos can be reproduced without permission from
8days.sg
.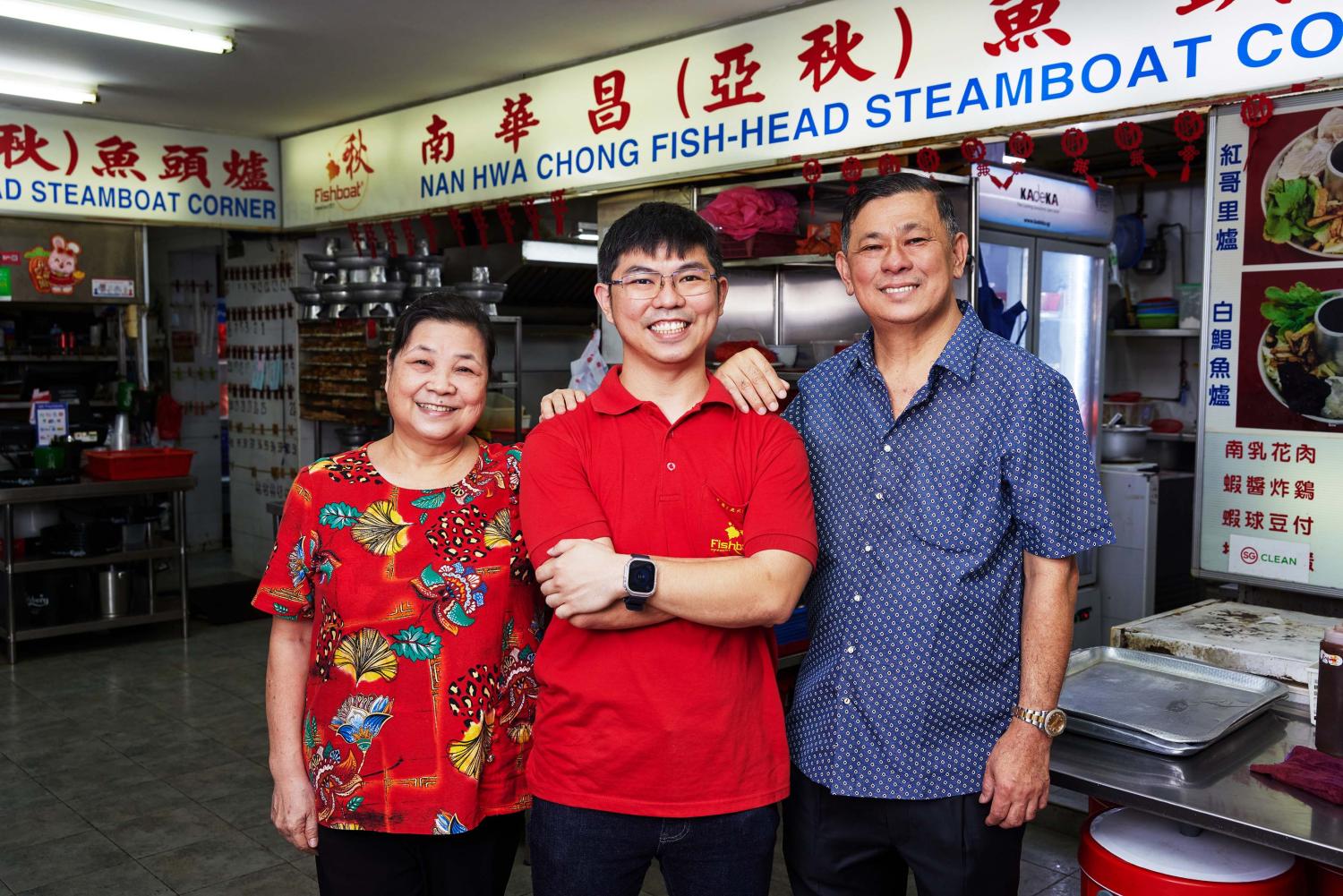 Involved in biz since 2005
The former engineer in the semiconductor industry tells 8days.sg that he'd been involved in the business since 2005, helping his parents out when he wasn't busy with his day job back then. "They were facing difficulties in growing the business. The crowd was getting bigger, and there was a lot of admin and paperwork to do because of changing licensing laws," he says.
In 2012, he resigned from his job to focus his efforts on Nan Hwa Chong, figuring that his father – who managed a number of coffeeshops before owning this restaurant – could use an extra pair of hands.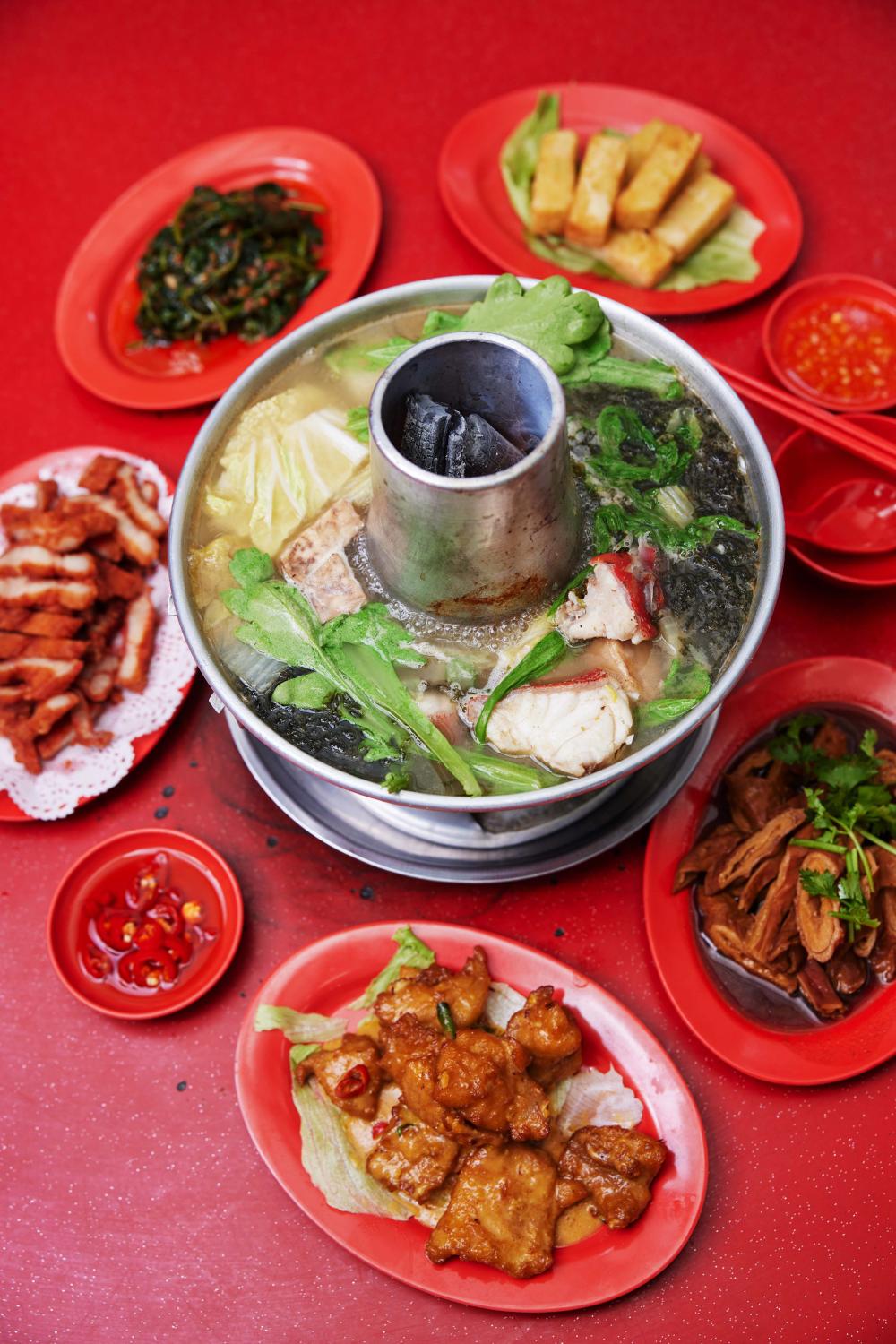 Weathered the pandemic without retrenching staff
Michael's involvement came in handy in the early days of the pandemic, when he personally set up a simple delivery website for the restaurant, getting it up and running a month before the first Circuit Breaker in April 2020.
Although business during the CB "wasn't as fantastic as what we had at the shop" – earlier attempts by Michael to replicate the charcoal pot experience at home didn't pan out, so they were forced to deliver the steamboat's contents "in the usual plastic container" – the towkay muses that it was "better to have some income rather than none". With that, they "were able to keep all 30 of [our] staff, both locals and foreigners" throughout the worst days of the pandemic.
"We still made a loss," he adds candidly. "But at least we could pull through those two years."
Business now at "70 percent" of pre-pandemic levels
Nowadays, business has climbed back to about "70 percent" of what it was before the pandemic, with an expected waiting time of around "five to 10 minutes" for a table on weekday nights and "double" that on weekends
(down from about "30 minutes" in the past).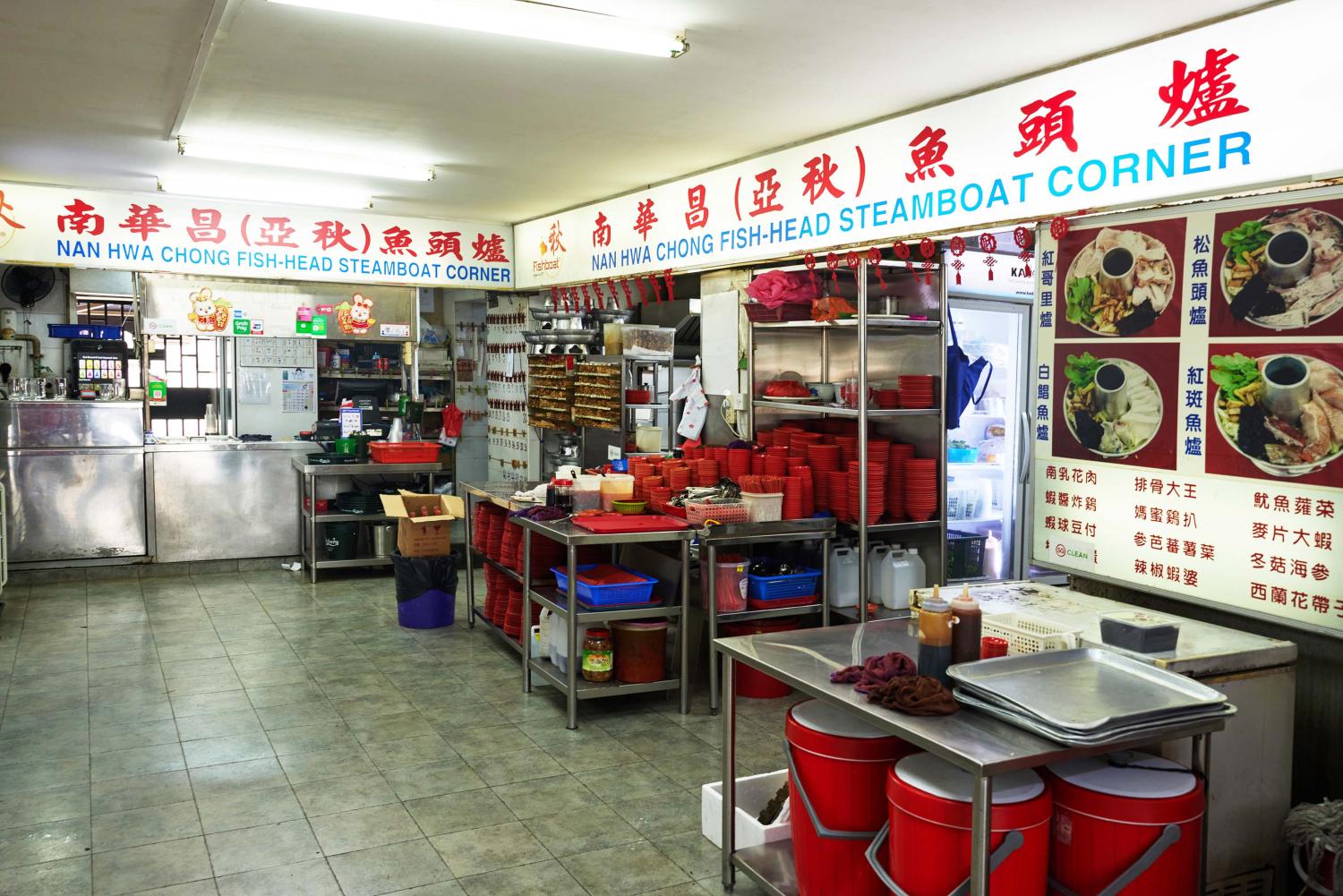 Michael, who now runs things with his mum (dad is semi-retired), has no immediate plans to expand their restaurant or open another outlet. "It's hard to get manpower now – and it's not as straightforward as it seems [to expand]," says the towkay, highlighting "quality control" as another potential issue. "We are still doing everything ourselves here, not [outsourcing the cooking to] a central kitchen". 
For now, he is focusing on optimising operations by investing in a custom-made dishwasher to scrub their steamboat pots, as well as a QR code ordering system to make things easier for his wait staff.
Misses spending time with his family
But Michael notes that managing a long-standing restaurant that operates daily comes with its sacrifices. The father of three shares: "You lose a lot of your youth – when people are out partying, you don't have time lah (laughs). And you lose a lot of family time. My daughter asked me, 'How come my friends can go out and have dinner together [with their fathers] and we can't?' And I have to explain to her that this is the nature of our business."
Not that he has any regrets taking over the restaurant: "My dad and mum put their hearts and souls into this, so it would be a waste [not to continue their legacy]."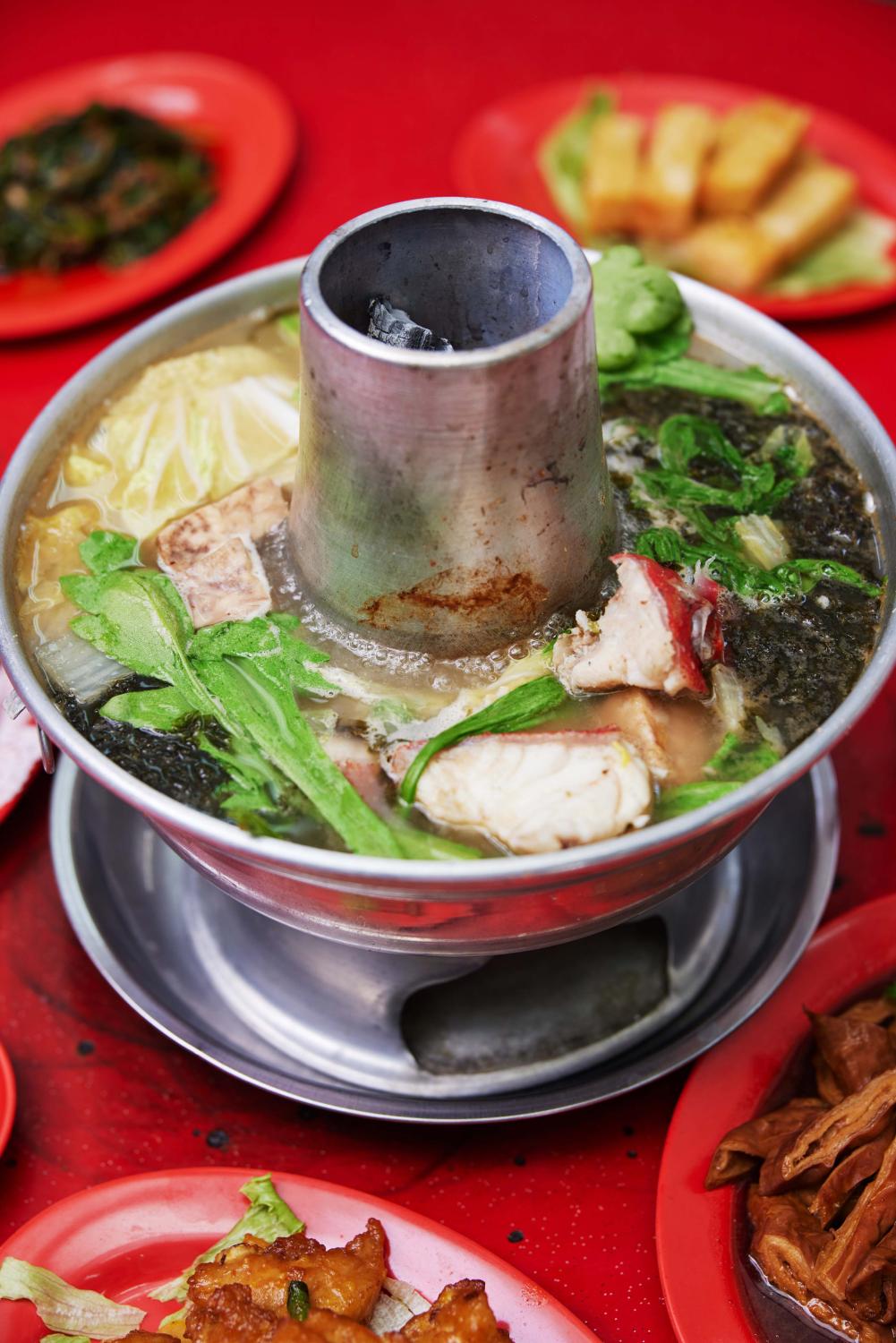 Updated fish soup recipe
According to Michael, the recipe for Nan Hwa Chong Fish Head Steamboat Corner's broth originally came from a hawker who plied his trade along Wayang Street (now known as Merchant Road) back in 1927. Back then, the broth featured pig bones to mask the "muddier taste" of Asian bighead carp (aka song fish), the fish of choice.
They have since switched to using a new recipe, created by his mum Yew Mui (an avid home cook) back in 2006, that uses only red snapper and grouper bones. "The market now doesn't accept the taste [of song fish]," explains Michael. "So we switched to using ang go li (red snapper) and grouper with a sweeter fish bone broth."
The steamboat is served with your choice of four types of fish: pomfret, red snapper, red grouper or song fish. Prices range from $39 to $72, depending on the pot size you're getting. Add-ons like cabbage and sliced yam are also available for $4.
Here's what to order: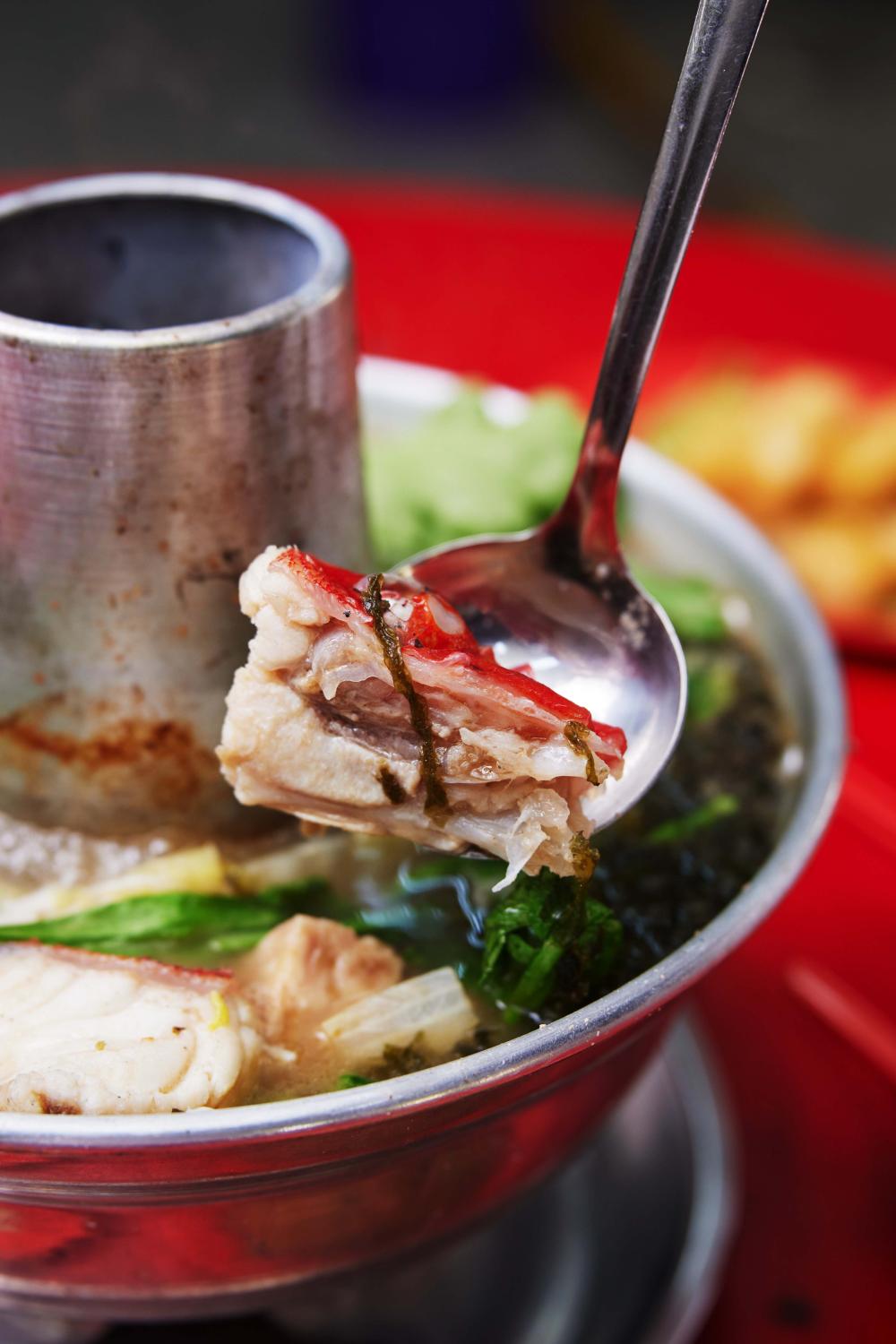 Grouper Fish Head Steamboat, from $39  
This grouper pot brims with large chunks of the fish alongside tang oh, Chinese cabbage, seaweed and yam sticks. It's quite the spectacle – the fish bone broth bubbles merrily at the table, heated by smoldering mangrove wood charcoal briquettes (chosen 'cos it burns at the right temperature, says the towkay).
The grouper is firm and fresh, with a delicate bouncy mouthfeel from both the skin and flesh, while the broth is robust. Ingredients-wise, we reckon there's enough in the smallest pot for two to three diners, if you're having it with other zi char dishes.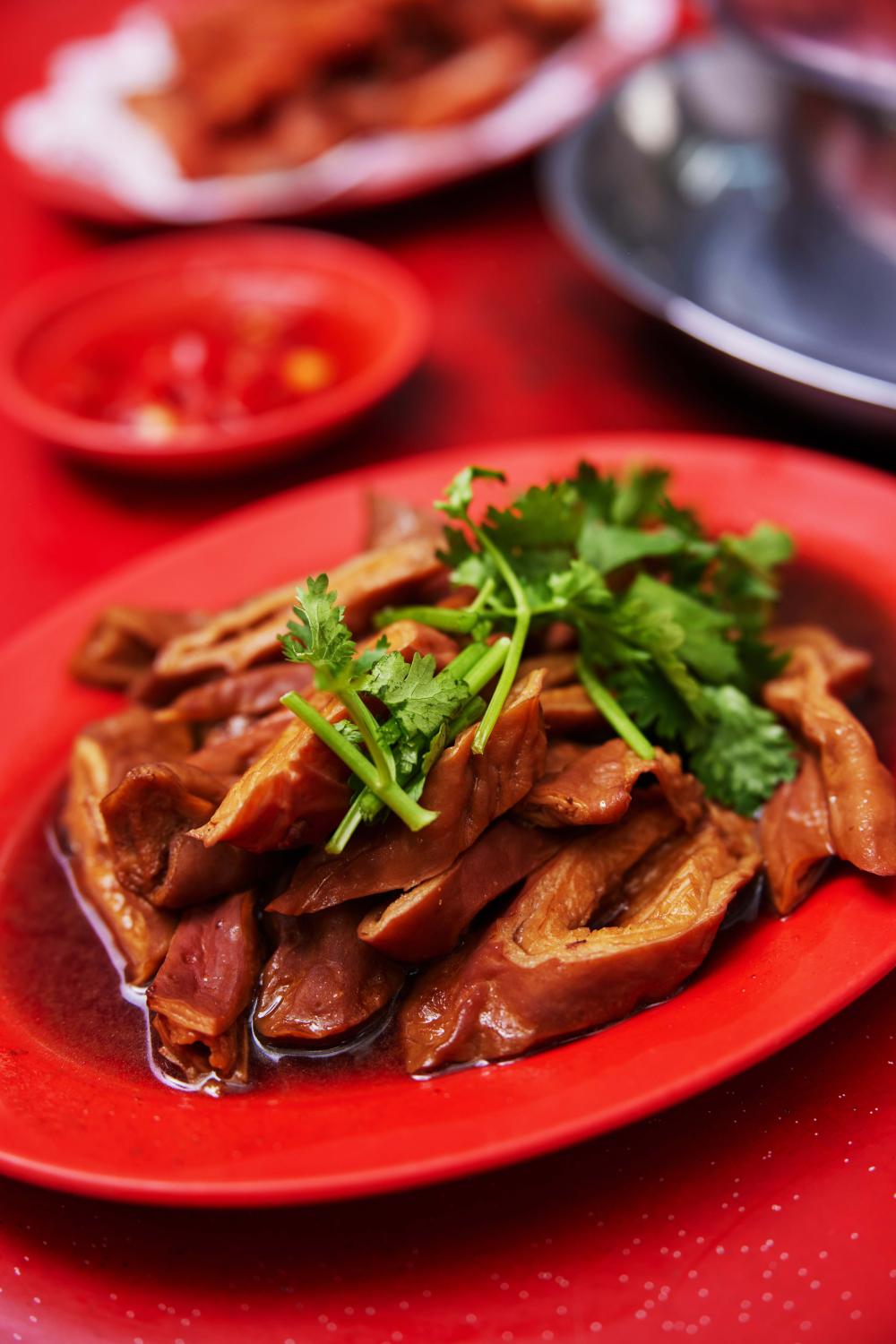 Braised Pig Intestine, $10
The restaurant's supporting cast of zi char items were also designed by Michael's mum, this hearty braised dish included.
Expect immaculately clean large pig's intestines stewed for "five hours" in a soy-based sauce until aromatic and permeated with flavour. And the offal retains a springy, succulent bite.
Signature Pork Belly, $12 
Pork belly, marinated in nam yu (fermented red bean curd paste) overnight and deep-fried until umami and crispy outside, but juicy within.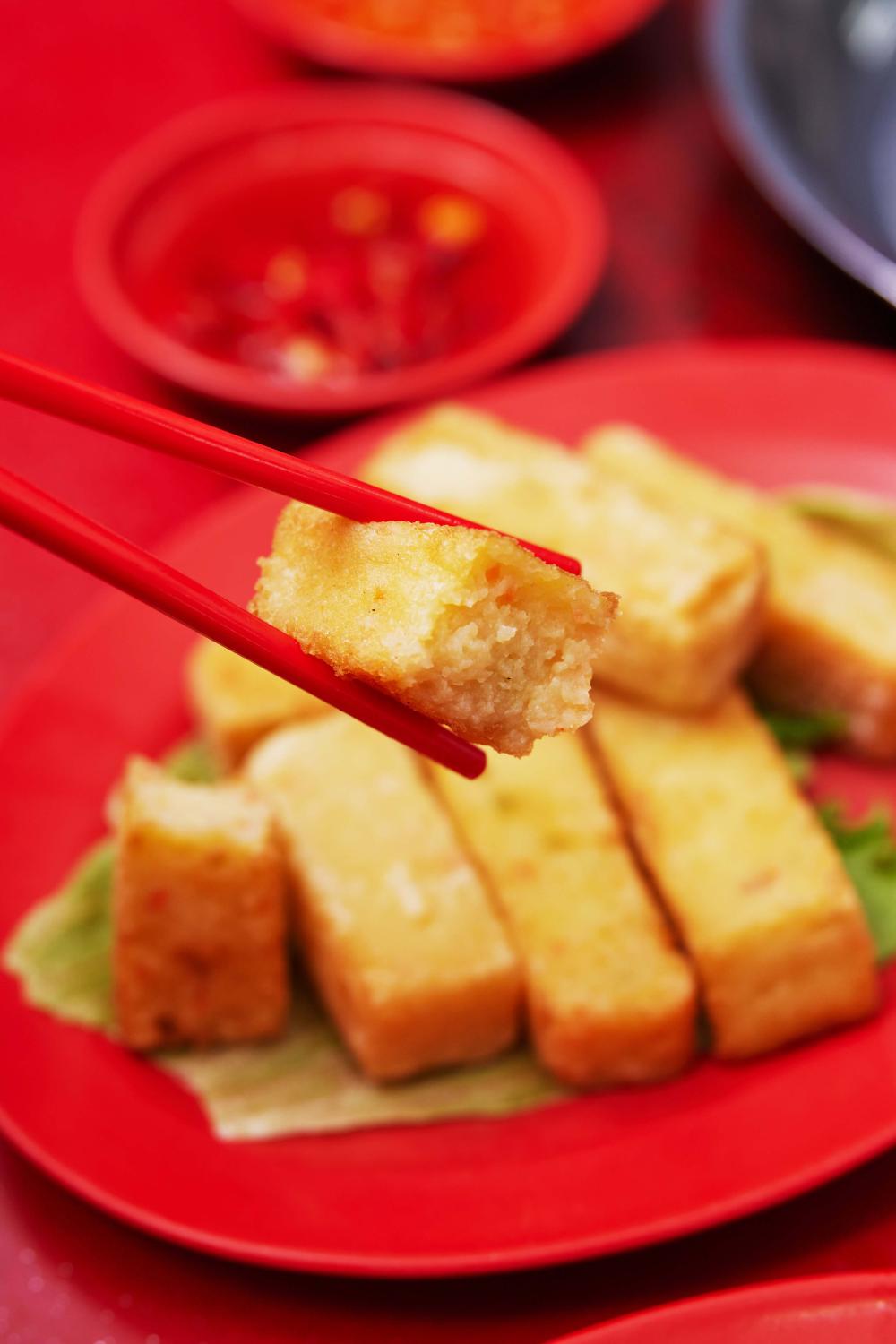 Signature Homemade Tofu, $10
Minced egg tofu, shredded carrots, spring onions, diced squid and prawns are folded together and steamed, before being sliced into strips, coated in cornstarch and deep-fried. The resulting batons pack a satisfying, crunchy coat that gives way to velvety tofu and an occasional jolt of texture from the other goodies within. Yummy, especially when dipped into the accompanying sweet-sour Thai chilli sauce.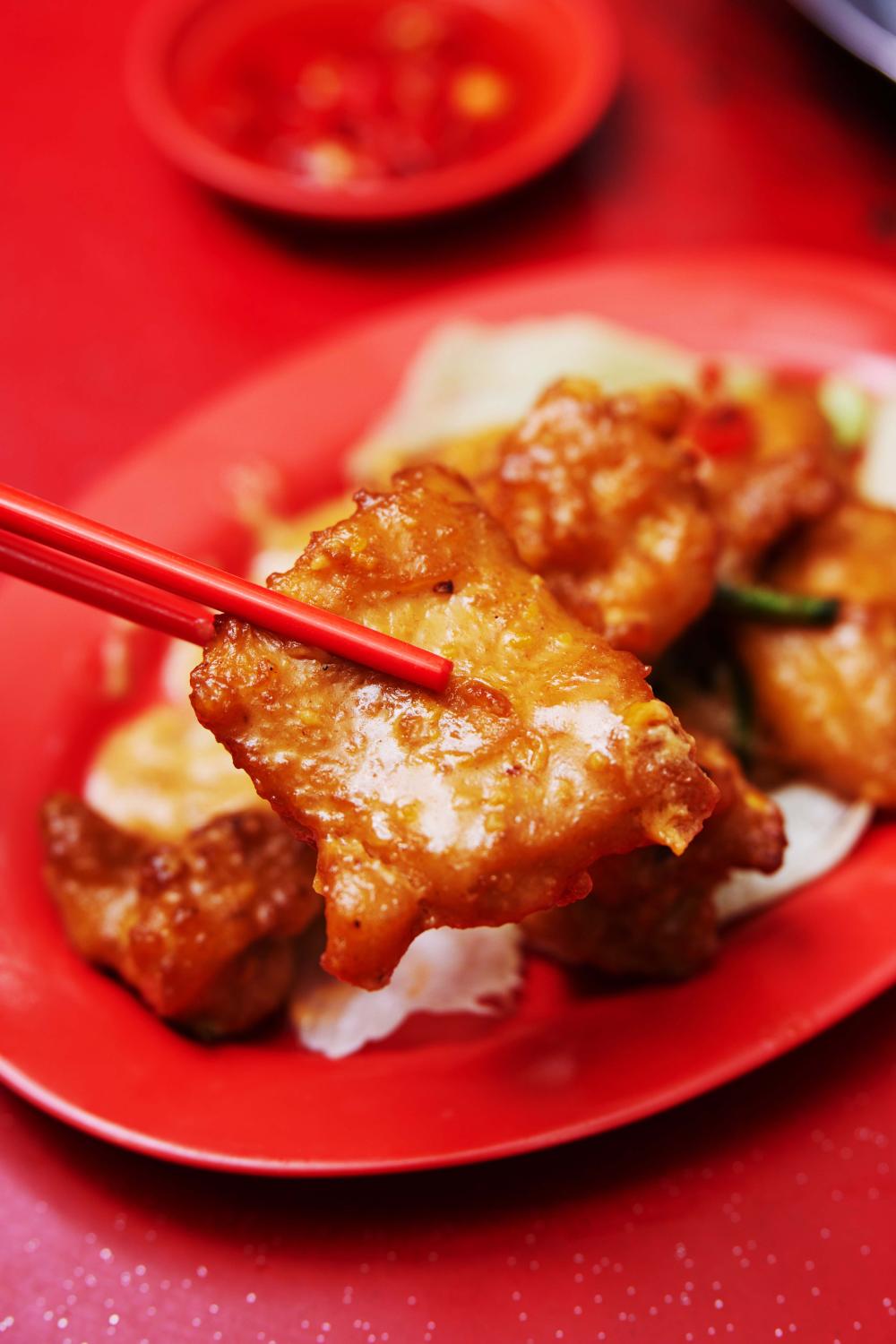 Salted Egg Pork Ribs, $12
Deep-fried pork ribs draped in a creamy, addictive sauce rich with salted egg yolk and curry leaves. 
Sambal Sweet Potato Leaves, $9 
A classic zi char stir-fry that ticks all the boxes – young sweet potato leaves, chosen for their tenderness despite "significantly higher costs" compared to older, tougher shoots, are tossed in a wok with made-from-scratch sambal belacan till fragrant.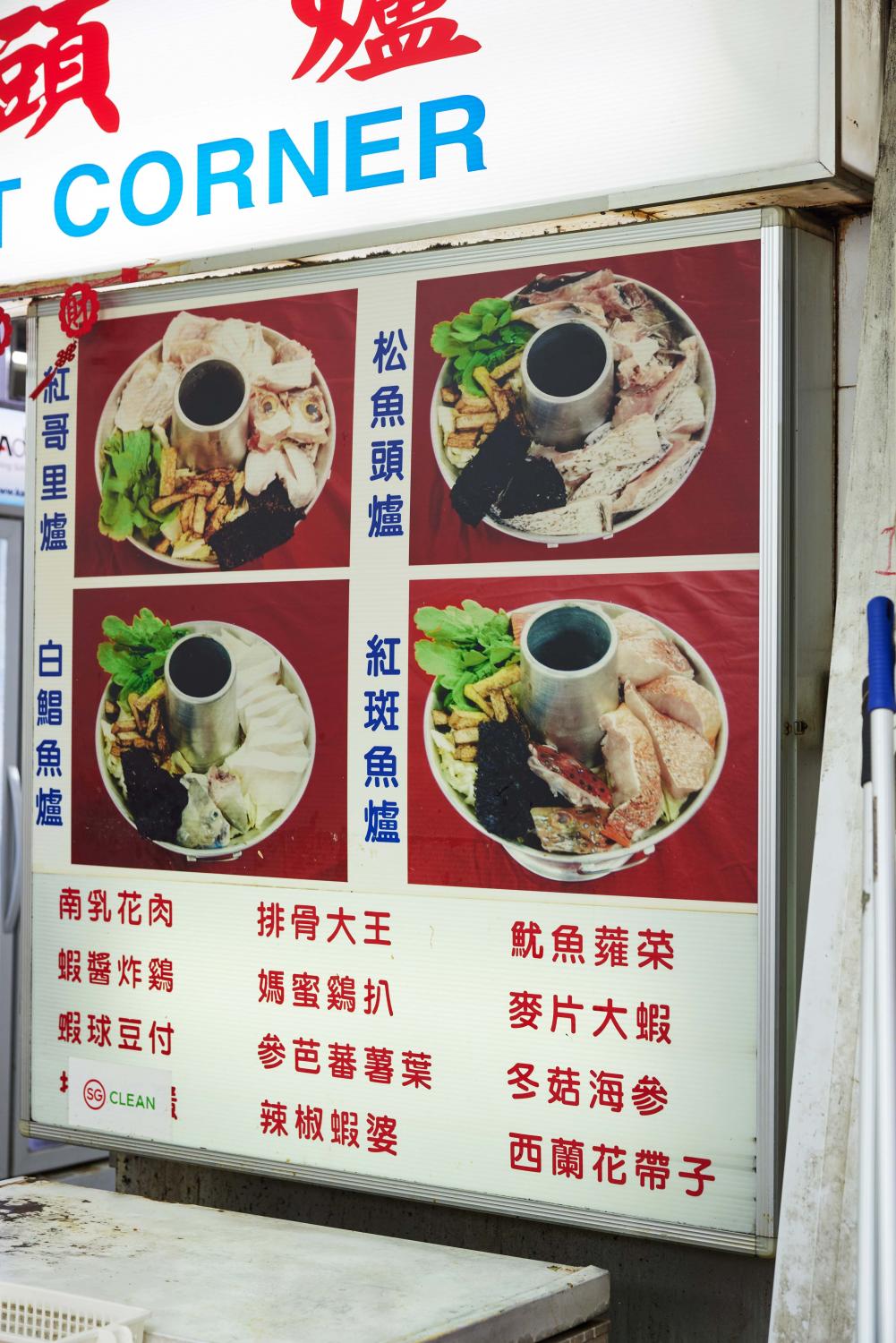 The details
Nan Hwa Chong Fish Head Steamboat Corner is at 812 – 816 North Bridge Rd, S198779. Tel: 6297-9319. Open daily 11am – midnight. More info via website, Facebook & Instagram. Delivery via Oddle.
Photos: Kelvin Chia
8days is now on #tiktok! Follow us on www.tiktok.com/@8dayseat
No part of this story or photos can be reproduced without permission from
8days.sg
.