Netizen Accuses Day Day Up Host Qian Feng Of Drugging And Raping Her, Says He Tried To Buy Her Silence With S$3200
She also has CCTV footage of a man she claims is the host allegedly dragging her back to his apartment while she was semi-conscious.
A female netizen has accused popular Chinese host Qian Feng of drugging and raping her two years ago. Along with a detailed account of what had happened, she also included screenshots of her conversations with the 37-year-old Day Day Up host, along with CCTV footage that allegedly shows him dragging her to his apartment while she was semi-conscious.
The netizen, who is born in the '90s and goes by the moniker Xiao Yi, says that she was invited for a Day Day Up recording in 2018. She was resting at the hotel when she suddenly received a message from the crew.
"They said that the host wanted to add me on WeChat to get know me better. As a small-town girl who grew up watching Hunan TV shows, I felt honoured to have the chance to learn from the host of [Day Day Up]," she wrote.
With that in mind, she agreed to the request and started chatting with Qian Feng on WeChat. He allegedly tried asking her out multiple times during their conversations but it was only months later, in February 2019, when she met up with him and some of his friends for dinner in Shanghai.
Xiao Yi said, "That night, he kept urging me to drink fruit wines. I've eaten at this restaurant before and I knew that the fruit wines have very little alcohol in them. Strangely, I felt very giddy after dinner and wasn't fully conscious. I have the strong suspicion that the drinks were drugged."
When she woke up the next day, she found herself lying naked in a bed. Next to her was Qian Feng, who was also naked.

"He tried to console me, saying that I had too much to drink and insisted on going home with him," she said. "He said that he had to bring me to his home because he likes me, and that he couldn't help himself and had sex with me. He told me not to be afraid and pointed to the used condom on the bedside."
At this point, Xiao Yi said she got dressed and bolted from Qian Feng's apartment. When she got home, she realised that there were bruises all over her body. She then called the driver whose car she was in the night before.

"He said that Qian Feng's hands were all over me in the car even though I told him not to touch me, that I was angry, and even when I shouted and told him I wanted to go home," recounted Xiao Yi.
She then went back to the building where Qian Feng lives and asked the security to show her the CCTV footage from the night before on the pretext that she had lost something.

This was when she realised that Qian Feng had dragged her into the lift and into his apartment while she was semi-conscious.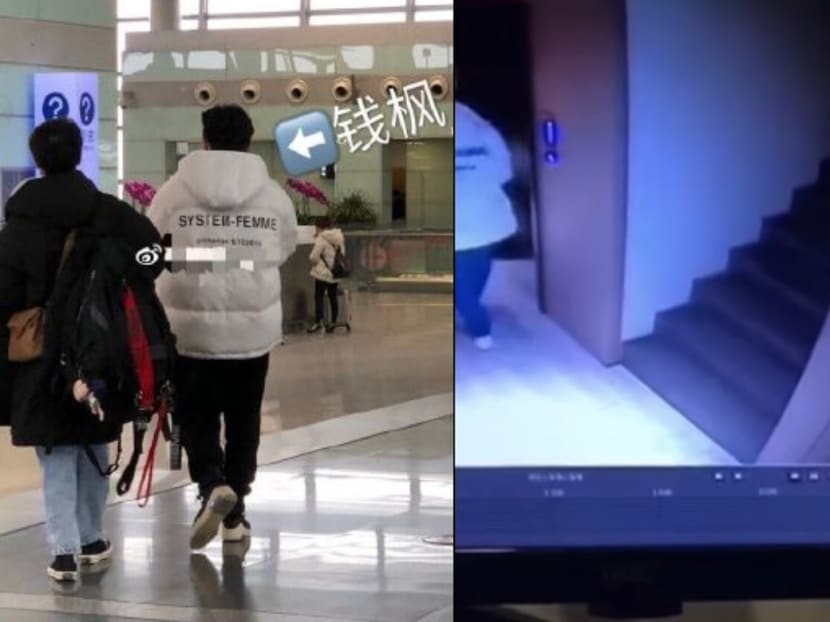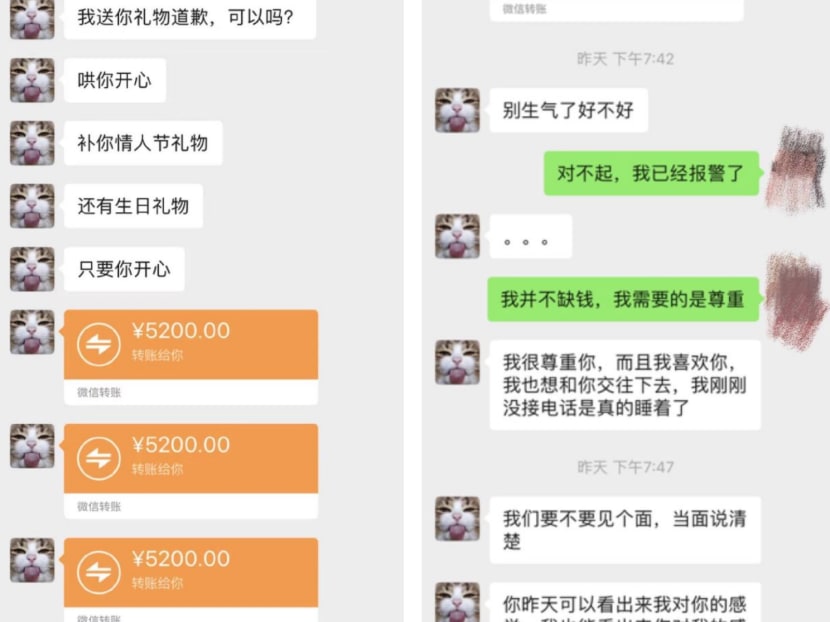 When she confronted Qian Feng about what happened, he allegedly started sending her money to appease her. Screenshots showed that he transferred her a total of 15,600 yuan (S$3,200), and had asked her to meet up to clear the air and also to be his girlfriend .
After Xiao Yi lodged a police report, she claimed that the host knelt and begged for her to let go of what had happened.

However, months went by and she didn't receive any updates from the police. She said she slipped into depression and attempted suicide multiple times over the next two years.
It was only recently when Xiao Yi spoke about what happened to a lawyer friend, who advised her to go public. At the end of her post, Xiao Yi wrote: "I have audio, video and text evidence. I will take responsibility for my words, and I will actively cooperate with all investigations."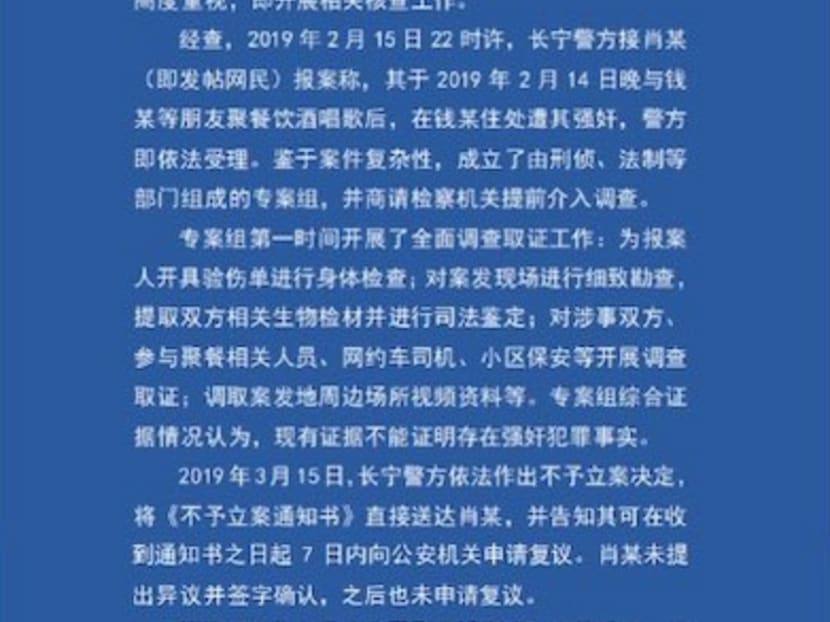 However, the Shanghai Changning Police has issued a statement to say that their investigations of the case in 2019 had come to the conclusion that the evidence provided by Xiao Yi "could not prove that rape had happened". They also added that she is "welcome to provide new evidence".
Hunan TV has since suspended Qian Feng pending investigations.
Photos: PBE Media