New Parents Open Shop For Onigiri-Sando Made With Machine That "Costs As Much As A Car"
"Of course, there's pressure. What if my business fails? I have a wife and baby to take care of. But I don't want to regret not trying when I'm older," says engineer Marvin Fam, who was inspired by popular Okinawan chain Pork Tamago Onigiri to sell rice 'onigiri-sandwiches'.
The long stretch of shophouses along Upper Thomson Road is home to a few popular eateries like Japanese-inspired sando joint Hello Arigato and supper spot The Roti Prata House. The new kid on the block is Mr Onigiri, a tiny month-old takeaway joint that specialises in the Japanese rice snack.

But instead of a round or triangular shape that's typical for onigiri, Mr Onigiri's "Okinawa-inspired" version resembles musubi, the seaweed-wrapped rice sandwich that's popular in Okinawa and Hawaii. Each 'onigiri' here comes with a meaty filling such as Spam, chicken katsu or pan-seared Muar otah, all wrapped in a thin layer of rice and crispy Japanese seaweed.
No part of this story or photos can be reproduced without permission from 8days.sg.
Cute hole-in-the-wall concept
The hole-in-the-wall eatery is opened by husband-and-wife Marvin Fam, 30, and Lee Jia Xin, 29. Their shop shares its ground-floor shophouse space with a pet grooming salon that's partitioned by a wall. The couple chose the location for its reasonable rent (of around "$4,000 a month" for the "tiny space" with no exhaust hood for heavy-duty cooking) and decent foot traffic. There aren't any dedicated dine-in seats, save for a single bench along the walkway. A large window functions as a collection point, through which the couple pass customers their packed onigiris.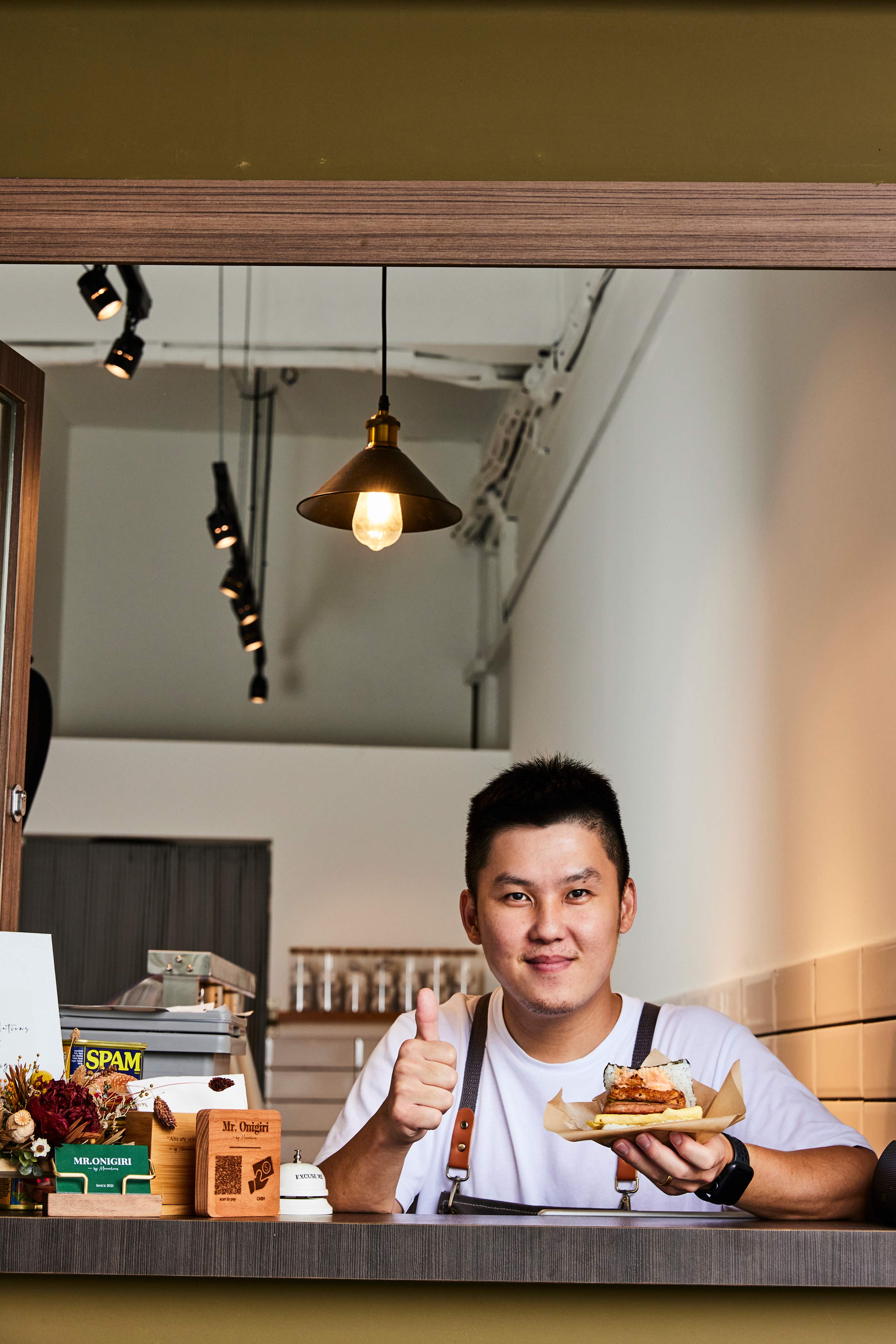 Before starting her own business, Jia Xin was a manicurist who left her job to focus on her new eatery. She holds the fort during the day while Marvin, who still works full-time as an engineer in the heavy machinery industry, takes over in the evenings.
Inspired by Okinawan onigiri-sandwich
The couple – who are Malaysia-born but now Singapore PRs – had the idea to sell onigiris after an impromptu holiday in Okinawa in 2019. Jia Xin chirps: "I saw a discount for flights to Okinawa one day and it was super cheap, so I just decided to go ahead and book it [for us]. I didn't even know where it was then, but it was so cheap that I decided to book first and research later (laughs)."
Jia Xin and Marvin's trip introduced them to Okinawa's hybrid "onigiri-sando" chain Pork Tamago Onigiri (which also has outlets in Tokyo and Hawaii). Despite being more like a sandwich, it has 'onigiri' in its name as it still includes the requisite ingredients of rice and seaweed. "It was the first thing we ate when we landed at the airport in Okinawa. We loved it so much that we ended up eating it every day until we went home. I even remember tapow-ing it for home before we left."

On why they love the onigiri-sandwich so much, Marvin explains: "Actually, it's a very simple dish. But that's the kind of thing that tastes the nicest, especially when it's freshly made."
Started home-based business for "extra pocket money"
When the couple wanted to start a weekend home-based business last November for "extra pocket money", selling onigiri-sando came to mind. "My wife was expecting our son then, so we wanted to do something to earn a bit more on the weekends," Marvin says.
Neither of them had any professional culinary experience prior to starting the biz, and their recipes are a result of online research and home experimentation. Still, the reception to their food was "surprisingly promising". They hit peak sales over the Christmas period, selling "60 to 70 onigiris every weekend."

The response gave Marvin the push to set up a brick-and-mortar shop. "It gave me the encouragement that, hey, maybe this can become a proper business," he says.
Going "all in" to start a business
After the birth of their child, the couple decided to "go all in", with Marvin forking out $50,000 – of which $35,000 came from a bank loan – into their cosy grab-and-go joint in Upper Thomson. "Of course, there's pressure. There's that thought at the back of my mind: 'What if my business fails? I have a wife and a baby to take care of. But I don't want to regret not trying when I'm older. I must try now when I'm still young," he shares.
Jia Xin is optimistic: "Japanese cuisine is quite popular here, but you usually see sushi. Onigiri that's freshly made, at a reasonable price, is harder to find and not as common." The couple hope to eventually grow their brand with more similar takeaway concepts.
Automated onigiri maker that "costs as much as a Perodua Myvi"
A significant portion of their investment, "around $15K", went to the purchase of an automated onigiri maker from a supplier in Singapore. "It looks simple, but it costs as much as a Perodua Myvi!" laughs Marvin, referring to a Malaysian compact car.
But it's worth its cost as it saves Marvin a lot of time and work. "The machine is a very important tool to have," he reckons, as he shows us a square plastic mould. "I used to shape the onigiri with this. It would take me up to two minutes to prepare it this way, and now it takes just two seconds."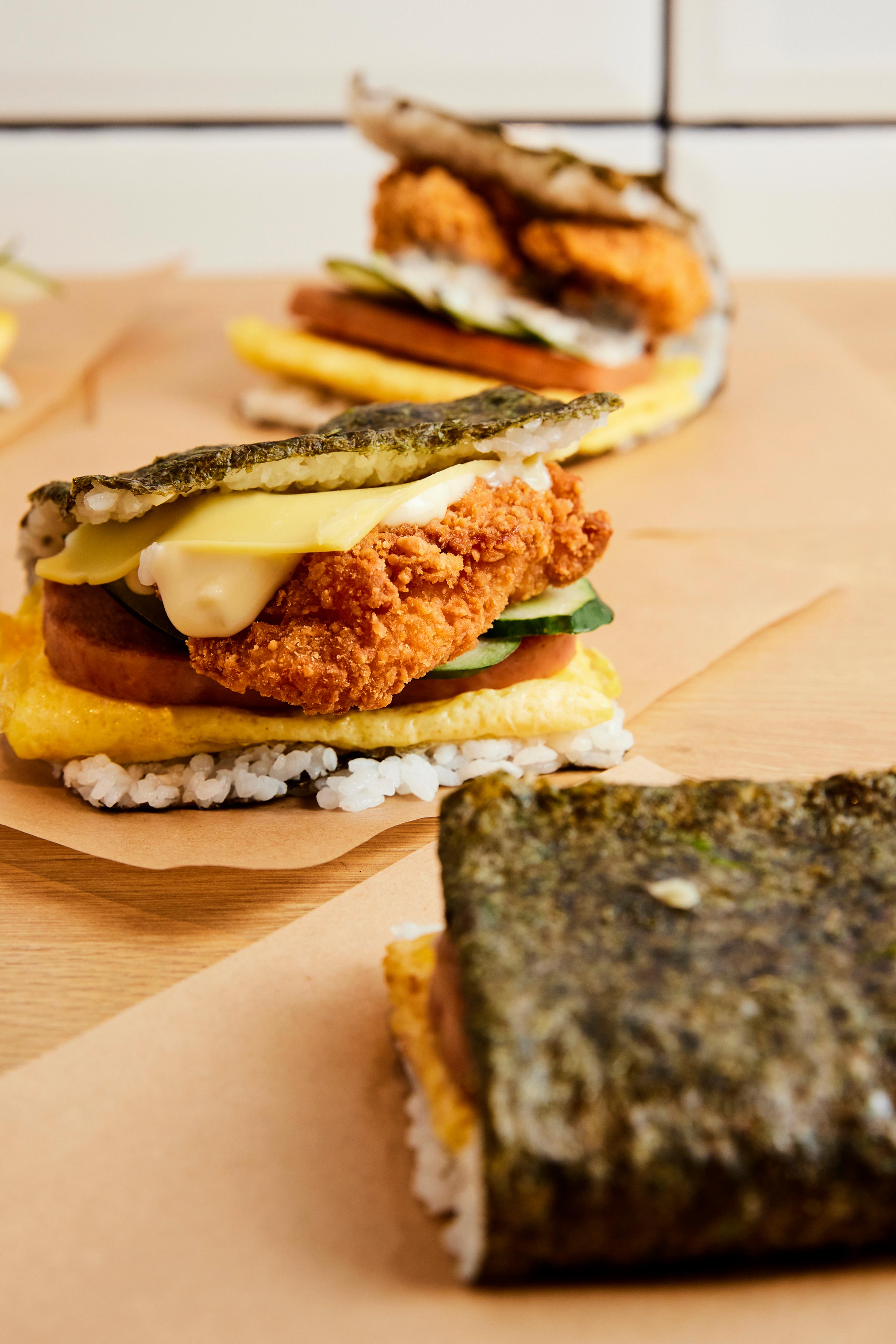 The menu
There are seven different onigiri-sandwiches on offer, all below $7 each. The outfit sells some finger food too, including mentaiko-covered Cheese Fingers ($4.90) and Chicken Karaage ($5.90).
You can complete your meal with a canned drink ($1.90) or various Flower Teas curated by Jia Xin ($3.90; top up $1 for ice). "There are too many coffee joints in the area. I thought it would be better to pair our onigiris with something lighter," she says.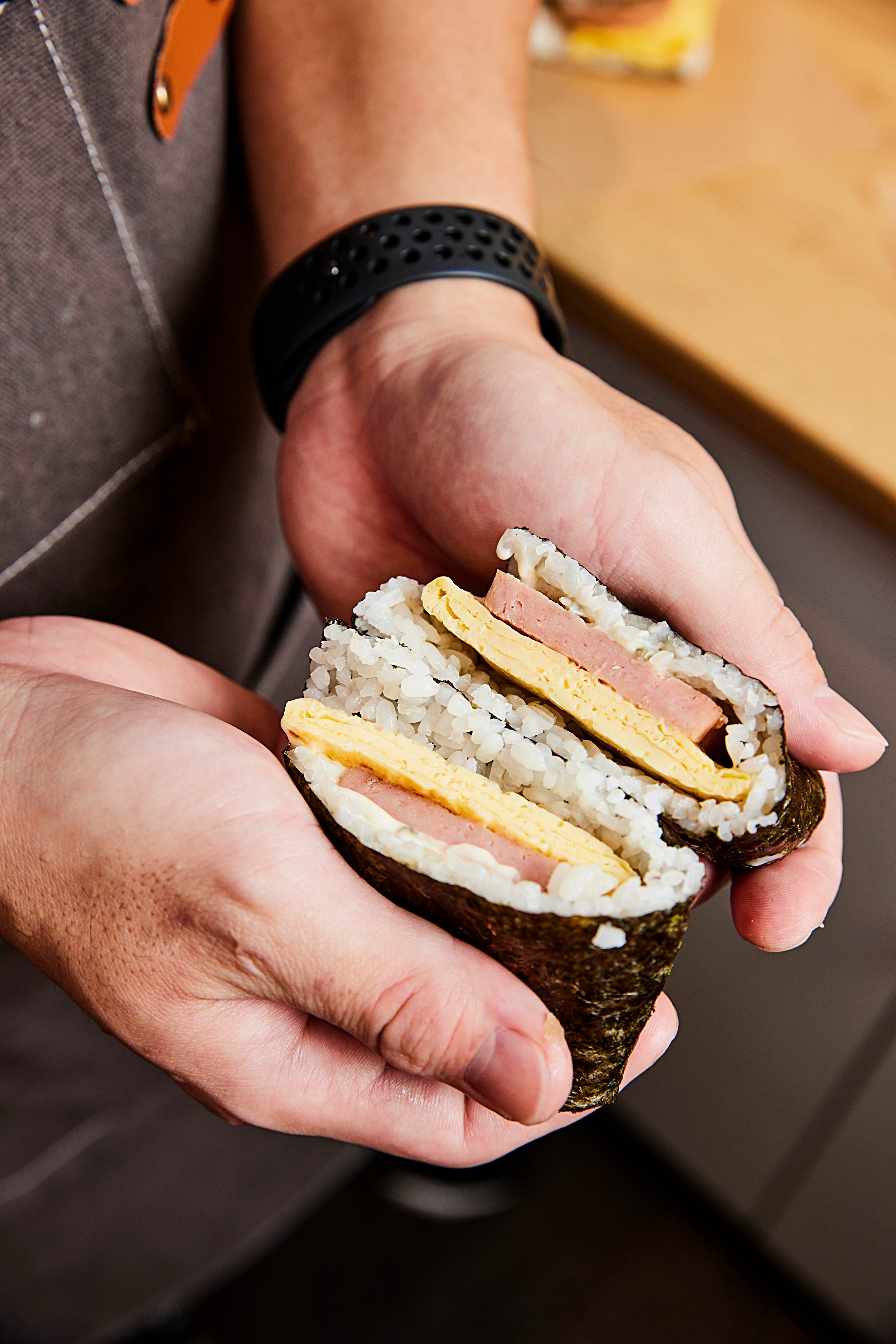 Spam with Onigiri, $3.90
Okinawans, like South Koreans, developed a taste for luncheon meat after the US military introduced it to them during WWII. The canned meat made its way into many of the island's staple dishes, including onigiri.
Mr Onigiri's most basic option features nori cradling lightly-vinegared Vietnamese short grain rice and a slab of pan-fried Spam, a simple fried omelette (which they have listed as tamagoyaki in the menu, though their version doesn't contain any bonito stock) and a dab of tangy tartar sauce.
We dig the salty, crispy-edged luncheon meat set against the sharpness of the tartar sauce, even though the omelette lacks the sweet-savoury flavour of traditional tamagoyaki. The nondescript slice of omelette here simply fades into the background. Still, we find this a pleasant no-frills snack, though we reckon bigger eaters might need at least two of these to fill up.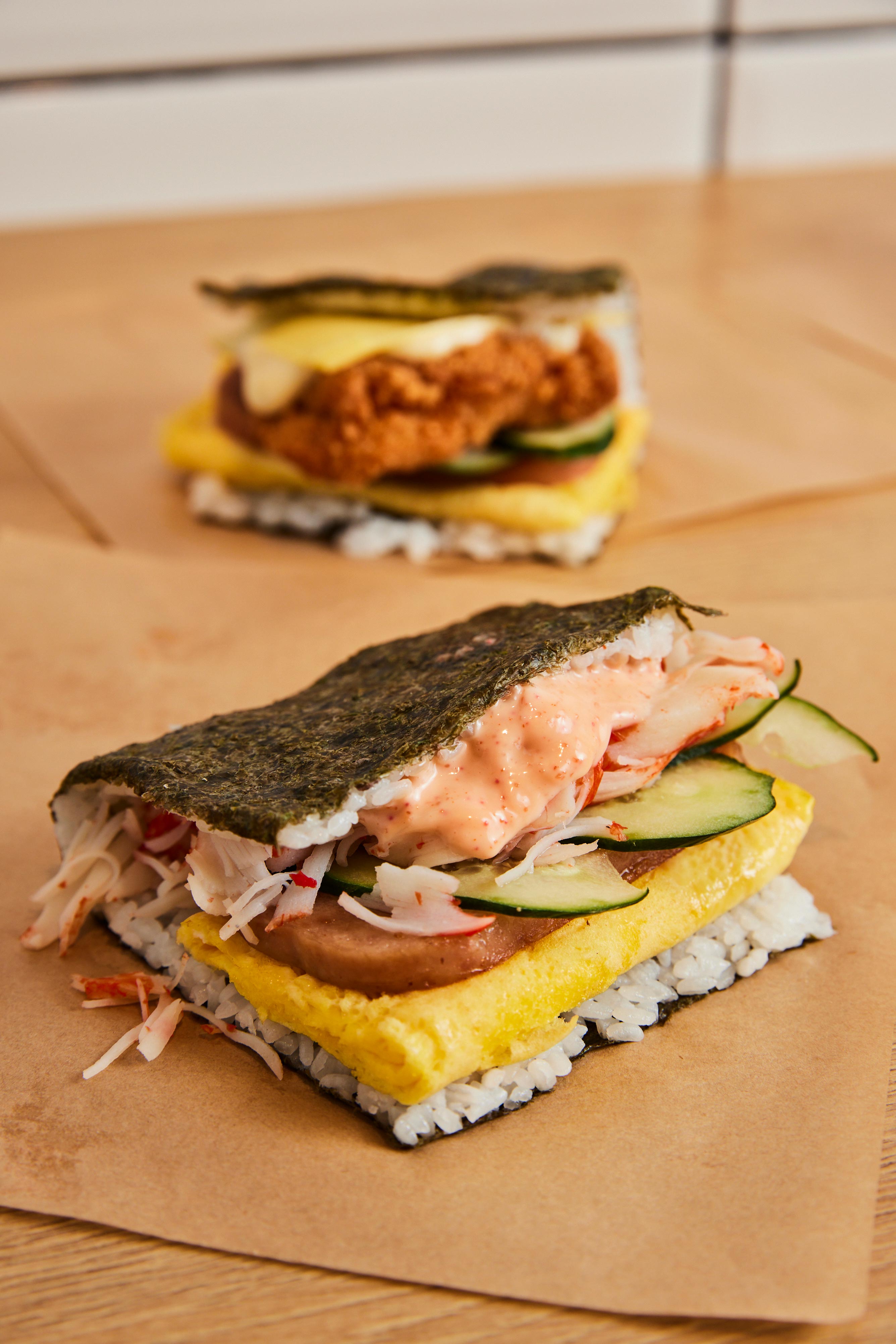 Mentaiko Kani Kama Onigiri, $4.90 (8 DAYS Pick!)
We recommend shelling out an extra dollar for some shredded (frozen) snow crab meat and slices of Japanese cucumber alongside the Spam and omelette, which lends the rice sando some delicate sweetness and fresh vegetal crunch. The tartar sauce is swapped out for creamy mentaiko mayo, which goes well with the savoury Spam.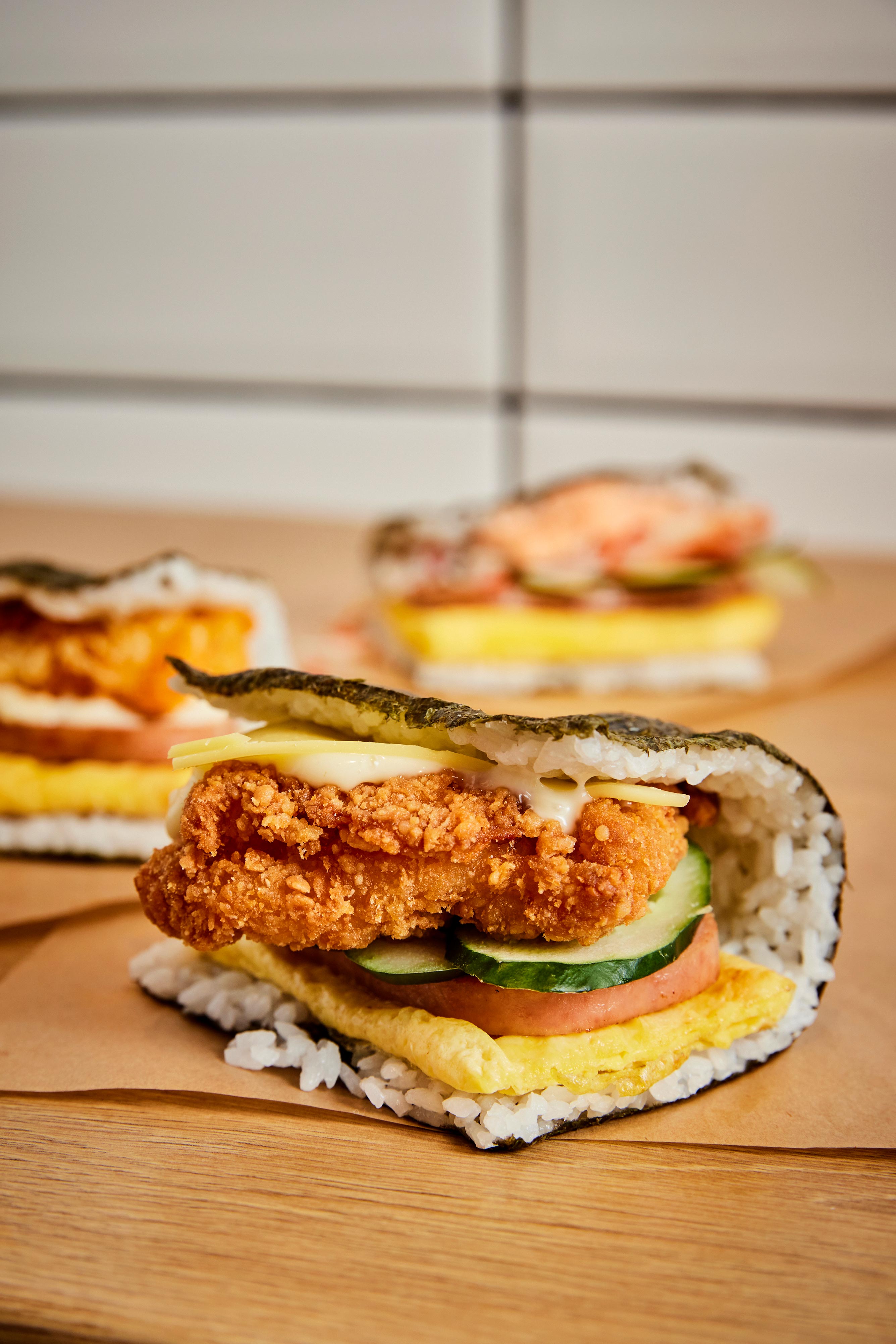 Signature Melted Cheesy Crispy Chicken, $5.90
An unfussy combination of a crispy deep-fried chicken katsu patty, slightly gooey processed cheddar, cucumber slices and tartar sauce on top of the standard Spam and egg. A straightforward, comforting number that's easy to wolf down.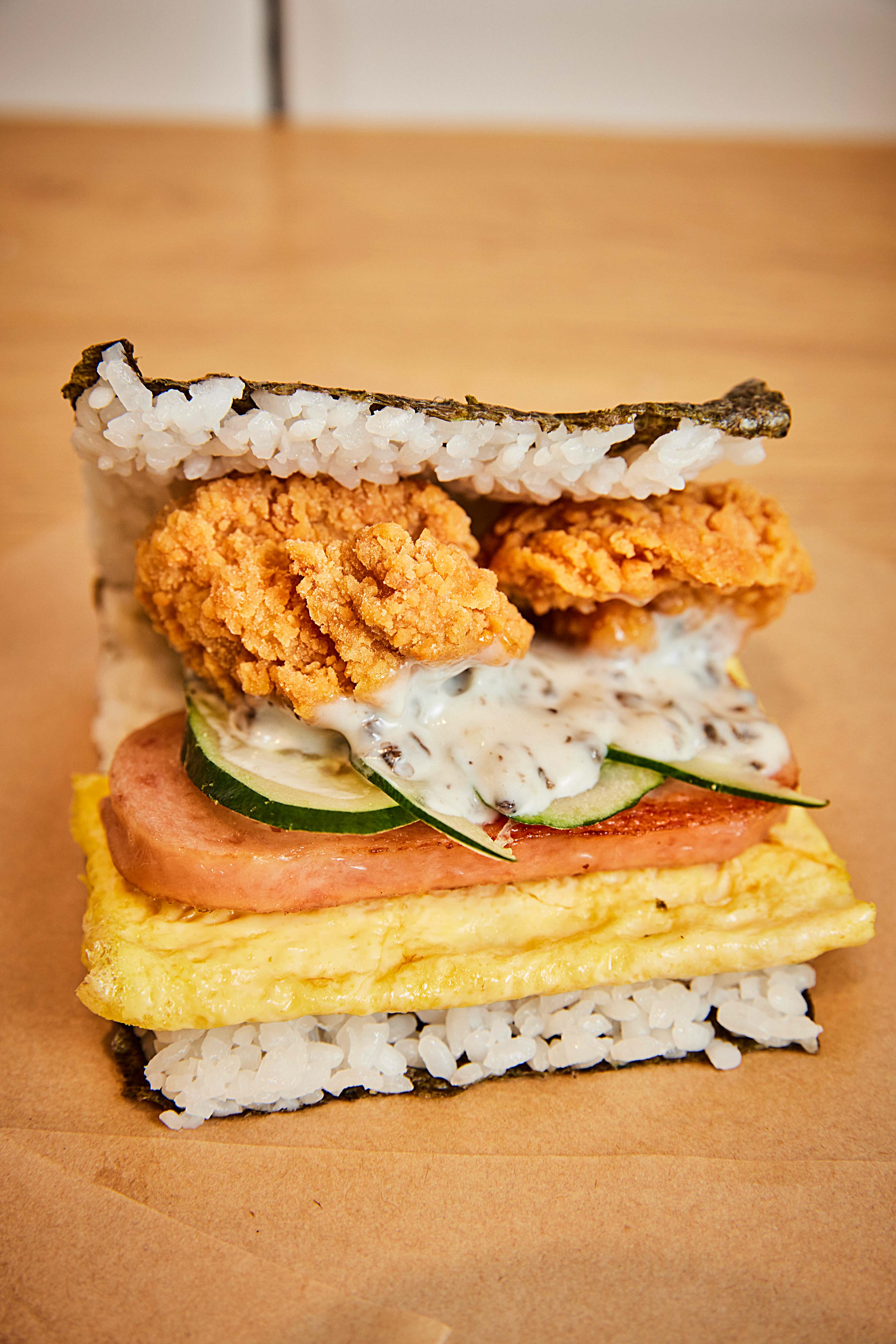 Truffle Aioli Chicken Karaage Onigiri, $6.90
The ever crowd-pleasing truffle is added to aioli dressing here, which is drizzled over chicken karaage and cucumber slices. We didn't enjoy this fusion onigiri as much as the others: The truffle flavour dominates the other ingredients, and we didn't particularly enjoy the earthy taste of truffle with salty luncheon meat. The loose karaage also keeps falling out of our onigiri-sandwich, which makes eating it sans table a hassle.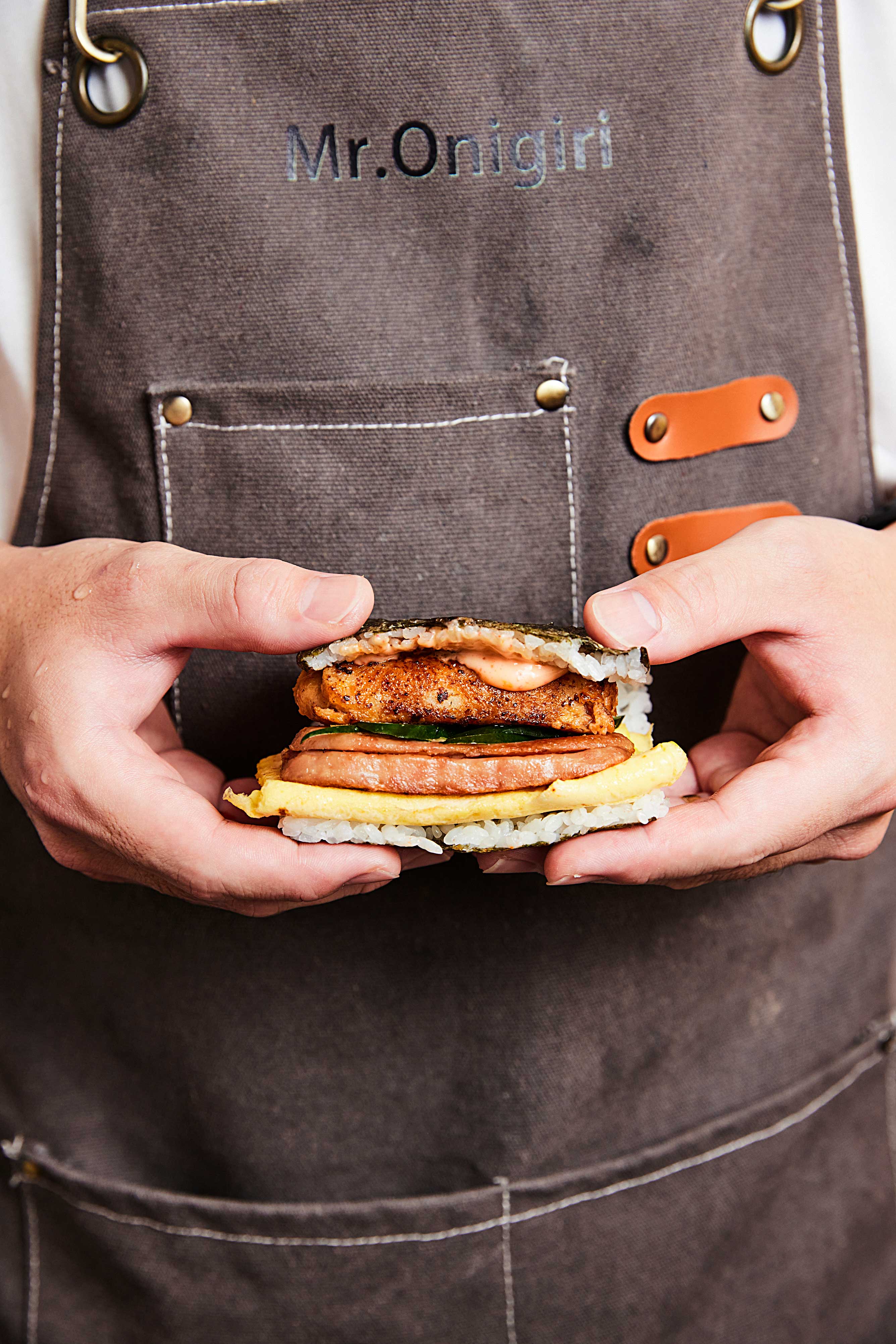 Otakotak Onigiri, $6.90 (8 DAYS Pick!)
The Otakotak Onigiri is a winner in our book. A slab of pan-seared Muar otah, smeared with more of that yummy mentaiko mayo, comes together with the luncheon meat and cucumber to form a sandwich that's gently spicy, hearty and ultimately quite comforting. The otah, like the Spam, has a slightly crispy crust while still tender within. An outstanding pick that we'll be back for.
Assorted Flower Teas, $3.90
There are also assorted flower and fruit teas to go with your onigiri here. The Baby Owl blend (with jasmine, lavender, jujube and goji berries) is an assertively floral brew with a slight tannic aftertaste. Refreshing on its own, and nice with an onigiri.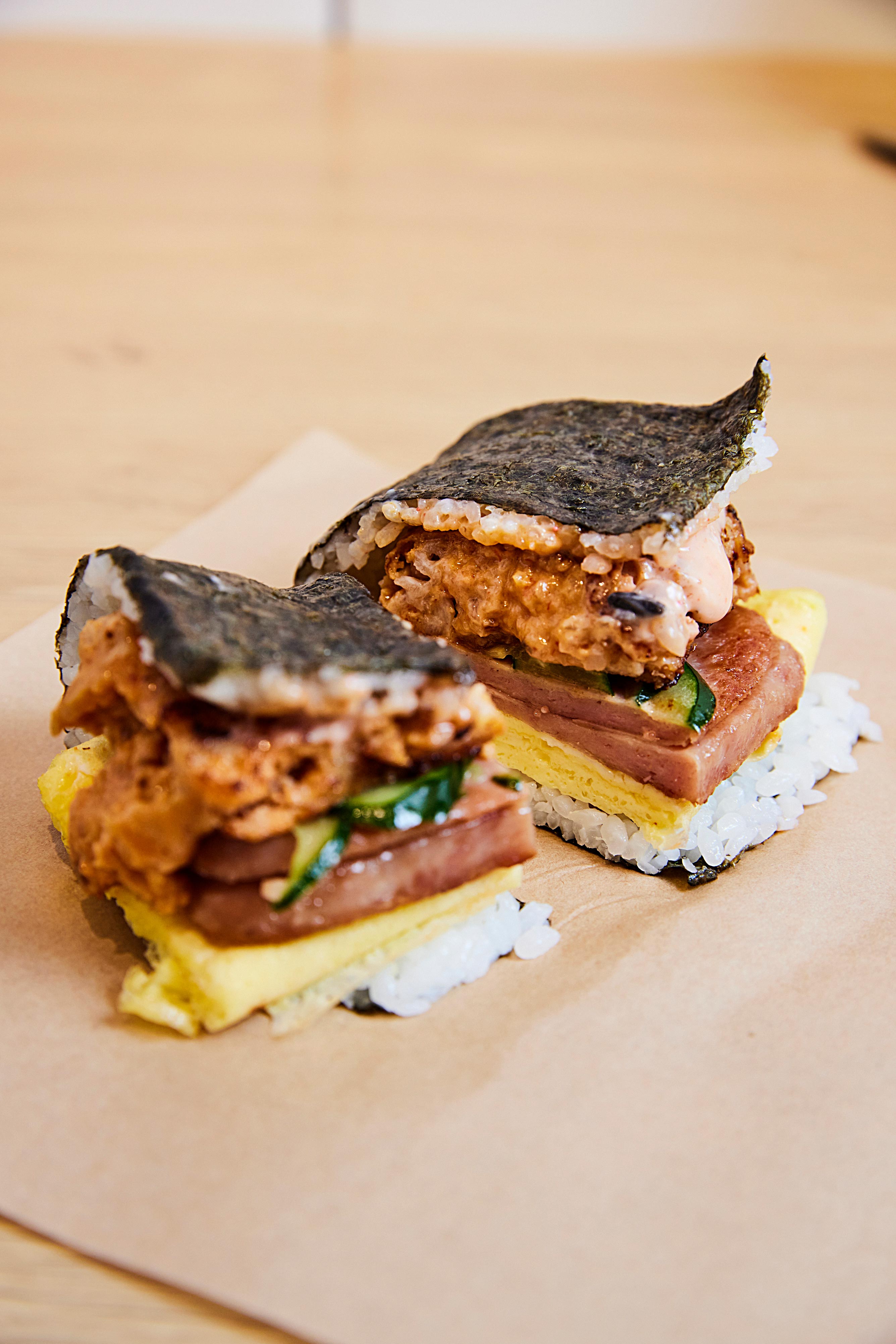 Bottom line
Homely onigiri-sandwiches with a fusion twist from a cute, hole-in-the-wall joint. The nori-wrapped sandos are priced pretty reasonably despite the shop's bougie location, though we think the most basic, lowest-priced option might leave bigger eaters hungry. Grab the mentaiko and snow crab-laden rice sandwich along with the feisty Muar otah onigiri.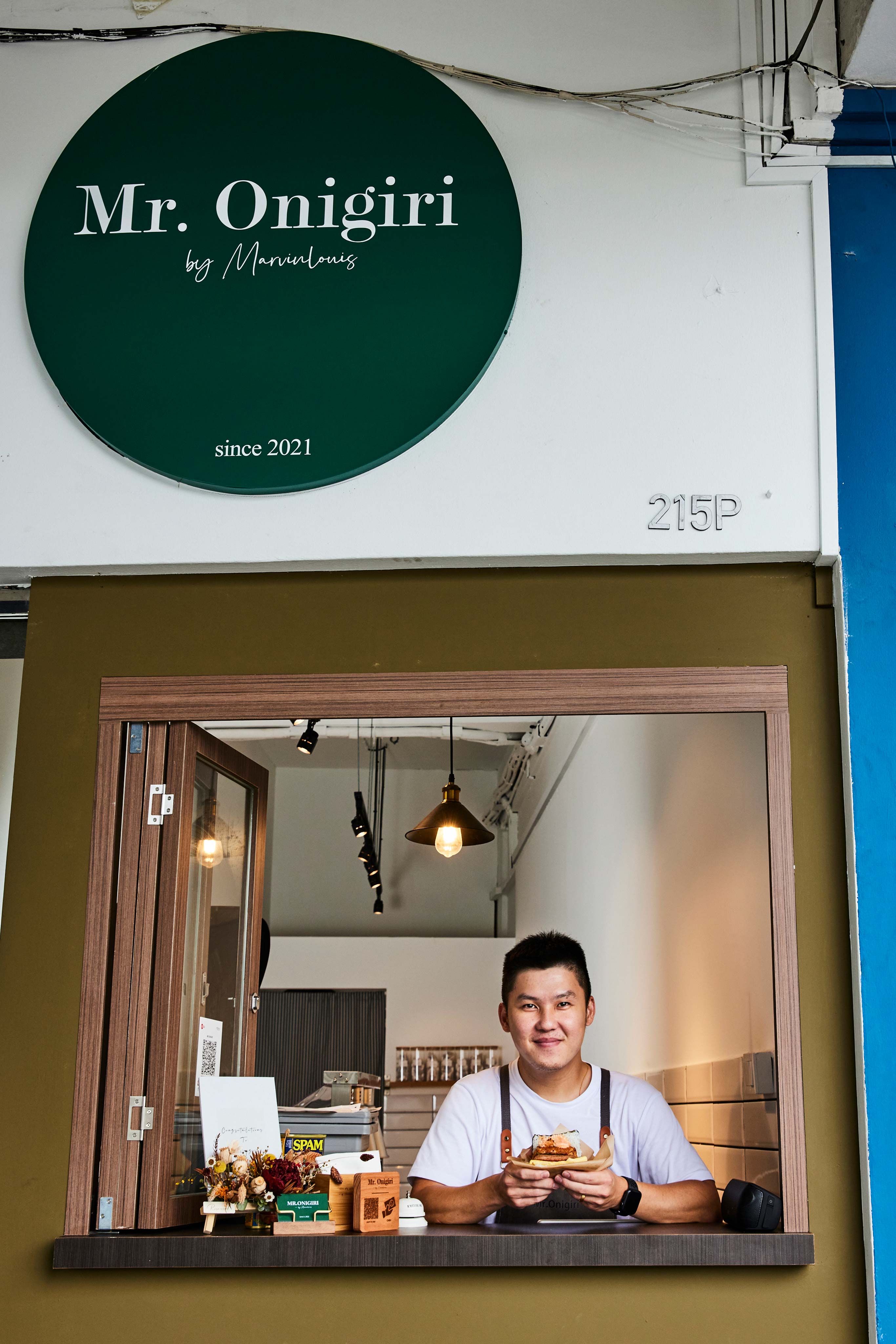 The details
Mr Onigiri is at 215P Upp Thomson Rd, S574349. Open daily 10am – 8pm. More info via Facebook & Instagram.
Photos: Aik Chen
No part of this story or photos can be reproduced without permission from 8days.sg.