Nick Teo On Why He Plans To Marry Hong Ling In 2 Years & How Sales For Their Bird's Nest Biz Grew 25% Since The Pandemic
Nick, who stars in Mediacorp drama In Safe Hands, also thinks it would be weird to play a couple onscreen with his girlfriend.
Mediacorp stars Nick Teo and Hong Ling have been dating for a good seven years, and if everything goes according to plan, will get married when Nick turns 35.
But even with the impending deadline — Nick turns 33 in June — the actor doesn't seem to be in a rush to get down on bended knee.
In a recent interview with 8days.sg, Nick, who stars in Mediacorp firefighter drama In Safe Hands, says he he hasn't figured out how he would actually propose.
Before we delve into that, here's a little more about Nick's role in the drama: he plays a "by the book" engineer-turned-fireman who decided on the career change after witnessing his colleagues getting caught in a chemical plant fire.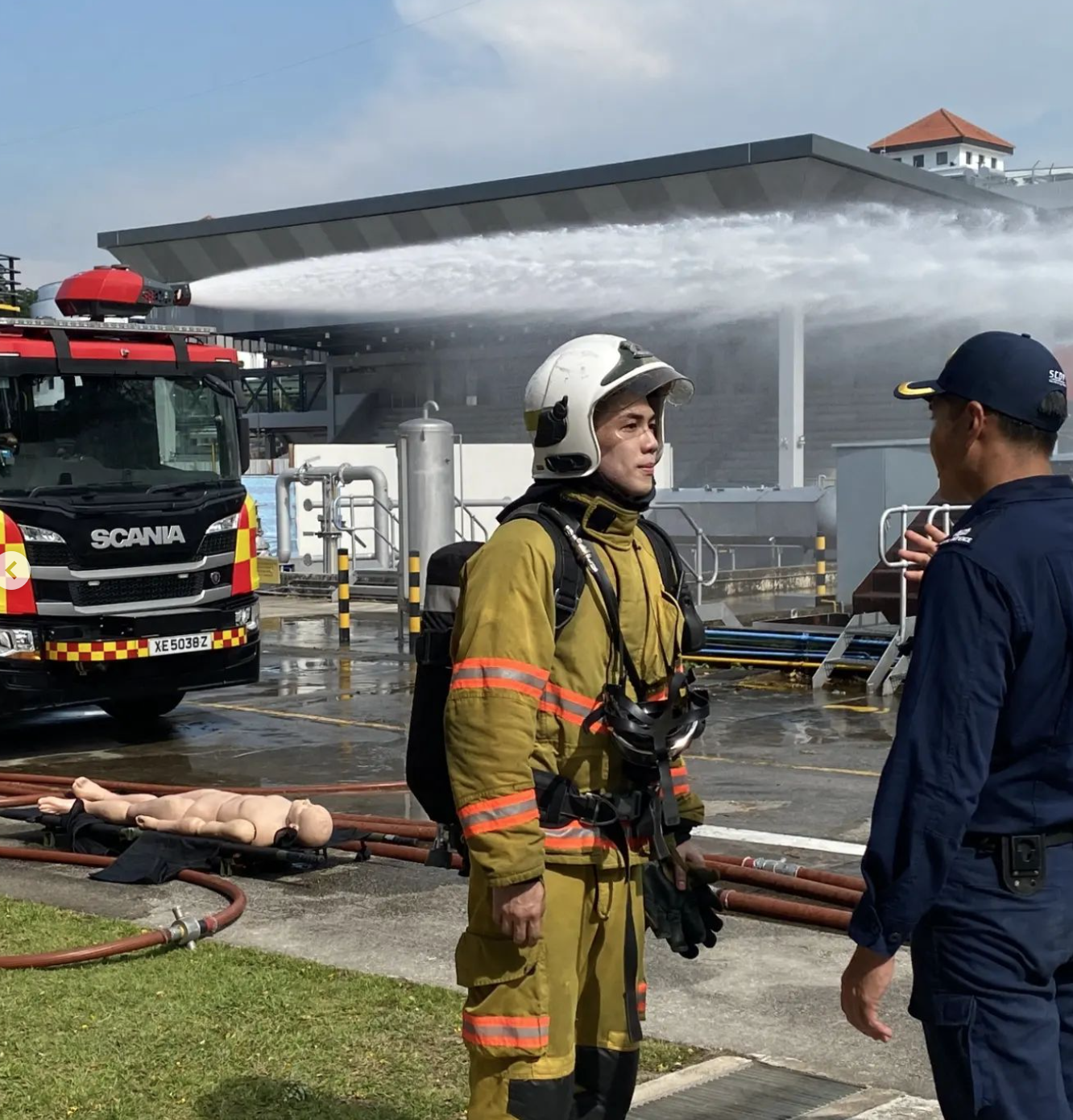 Nick on the set of In Safe Hands
8 DAYS: Playing a fireman sounds really interesting. Which scenes were the most memorable for you during the shoot?
NICK TEO: My character first starts off as a civilian with zero fire knowledge and my first scene was the chemical plant fire. I was supposed to put out the fire on my colleague, but I was so nervous that the bag I was holding caught fire. I threw the bag away and tried to put the fire out with my bare hands, which I think kind of fits with my role 'cos I have no fire knowledge, right? (chuckles)
When he becomes a Rota commander, we shot a scene where some chemical was used to start a fire. Somehow, the chemical got onto my uniform and my gear caught on fire as well. Honestly, it felt okay and I just calmly put it out with my glove after the director said cut. I thought these two incidents tied in quite closely with my character's progression.
In a recent interview with 8world, you said that you plan to marry Hong Ling when you turn 35.
I've always thought that 35 is the ideal age for me to get married. I've had this idea from even before I got together with Hong Ling, but we've never really talked about it after we started dating. It was only in recent years that she told me she would only want to get married when she's about 30. I realised that it was just nice 'cos she'd be that age when I hit 35.
Don't they make a cute couple?
Are you not one for formalities?
Actually, I'm very particular about stuff like dating formalities but it's Hong Ling who says it doesn't matter, so I get the impression that she's not really into it. But, for example, if we don't celebrate Valentine's Day then she would mind. So I don't know what she means (laughs)
Considering that you only have about two years till you're supposed to get married, have you thought about how you would propose?
I've thought about it but I haven't decided on how I would do it. (Laughs) I mean… I'd want something grand but not like super large-scale? Maybe I would involve her family? And her friends? That's about it. And yes, we would definitely announce [the good news]!
Have the two of you always been this chill? Did you even officially ask her to be your girlfriend?
You know what I said about her caring for formalities only from time to time? We didn't really have the 'Will you be my girlfriend?' talk but I thought we were together because we had been going out for dates and all. We only had the conversation like a week after we started dating, because to her, it was like, 'But you didn't ask me [if I wanted to be your girlfriend]'. So I thought we were together but I only officially asked her out a week after. So our anniversary is the date that I asked her out.
You kept your relationship a secret for three years before going public. Was doing that very stressful?
Whenever we went out together, we were quite afraid that people would take pics, and we couldn't be like a normal couple and hold hands. We were worried that people would know and they would spread rumours.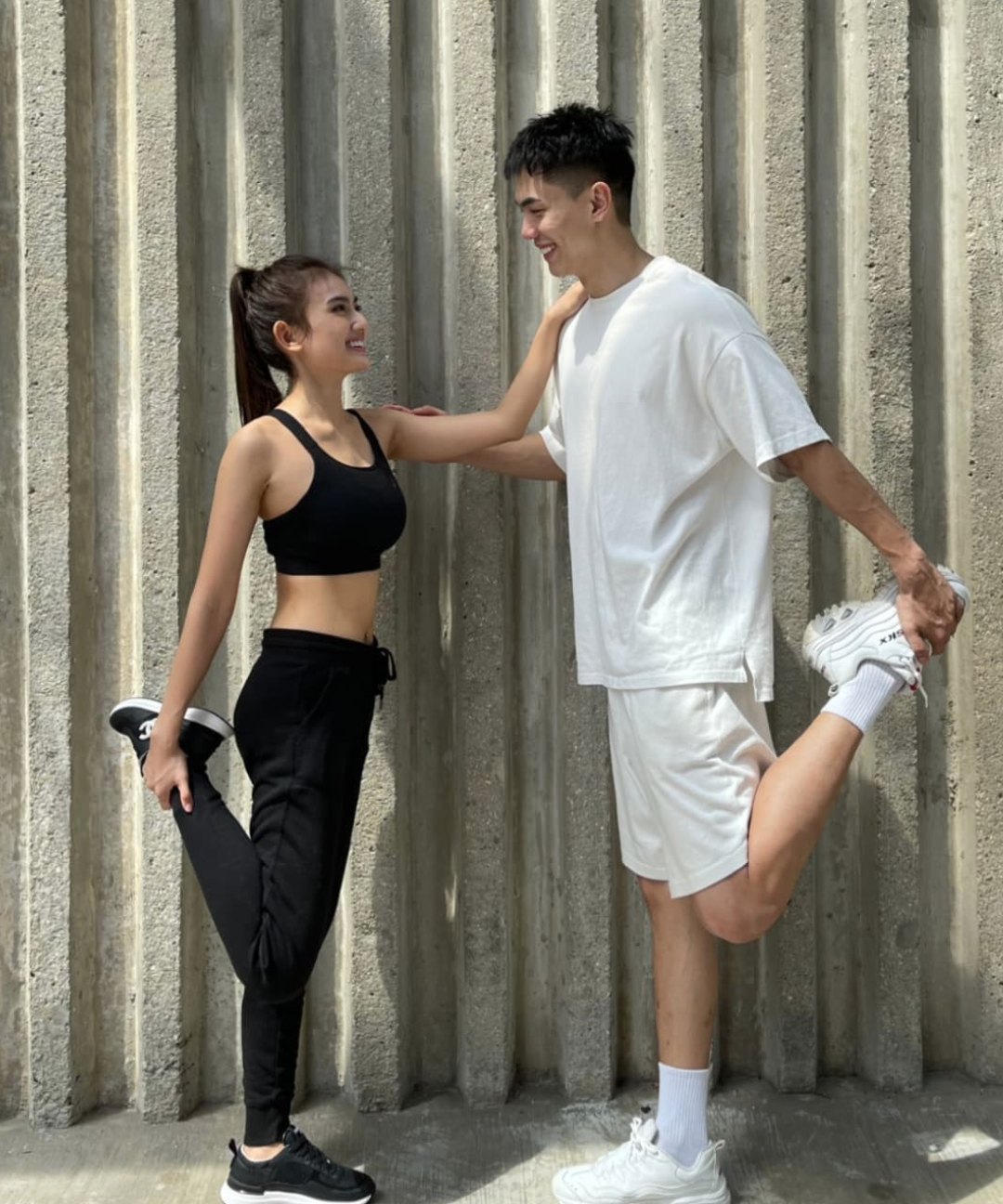 They've been posting lovey dovey pics like this since going public
And how did it feel after announcing it?
It was a relief for both of us after we told everyone. But it was also funny because we never held hands when we went out together, so we found it weird to hold hands in public even after the announcement. It's like, 'Eh, is it alright for us to do this?' We were just so used to hiding it. It just felt so weird.
The two of you haven't really acted opposite each other much after going public. Is that by choice?
You should direct this question to the producers. (Laughs) I think people just find it uninteresting if we play an on-screen couple.
I feel like if we were to play a couple, we would be very comfortable with communicating our needs and ideas with each other, which isn't the case with all of our on-screen partners as we can sometimes worry about offending them. But with [Hong Ling], we don't have that problem. Honestly though, I think it's weird to act as a couple with her onscreen because people would tease us and that makes things a bit awkward. (Laughs)
You and Hong Ling also have a business together, bird's nest brand House of Swiftlet, which you all started in 2018. How are things going?
House Of Swiftlet has been around for about for four years and we're doing okay. The business has stabilised now and we have our own pool of customers. When we first started, we considered getting a physical store but decided against it. Soon after, COVID-19 happened, so we would have been affected if we had made a different decision.
In fact, after the pandemic started, our sales grew about 25 per cent because people are putting more focus on their immunity and health. We've been planning to launch more products and we're just looking for suitable suppliers.
Catch Nick in Mediacorp drama In Safe Hands, which is now available on demand for free on meWATCH. Watch Ep 1 of In Safe Hands here:
Photos: Nick Teo/Instagram