"Not Everyone Wants A Record Like This Because It's Not Something To Be Proud Of," Says Wang Yuqing Of His 3 Divorces
The 61-year-old veteran actor was the guest on the latest episode of Hear U Out, where he was very forthcoming about his past failed marriages. 
"Nicolas Cage has been married five times, his [record] is more eye-opening than mine," was the first thing Wang Yuqing said when asked by host Quan Yifeng about his past marriages on the latest episode of Hear U Out.
The 61-year-old veteran actor was married three times. The first two were with former actresses Chen Bifeng, whom he split up with in 1990 after three years, and Tracer Wong, whom Yuqing was married to for two years in the early '90s.

His last marriage was to non-celeb Liang Liling, with whom he has two sons and a stepson, actor Xavier Ong. Yuqing's marriage to Liling reportedly ended in 2011.
Those weren't the actor's only high-profile relationships. 

When filming [Sunny Side Up] was it awkward to meet [Chen] Xiuhuan again?" asked host Yifeng. 

For those not in the know, Yuqing and Xiuhuan dated many years ago, after meeting on the set of Star Maiden in 1988.

"No, what's there to be awkward about. Only people with things to hide will feel awkward. We are good friends," replied the savvy Yuqing, who quickly caught on to Yifeng's line of questioning.

"I know what you're asking about, you're looking for trouble right?" he teased with a twinkle in his eye.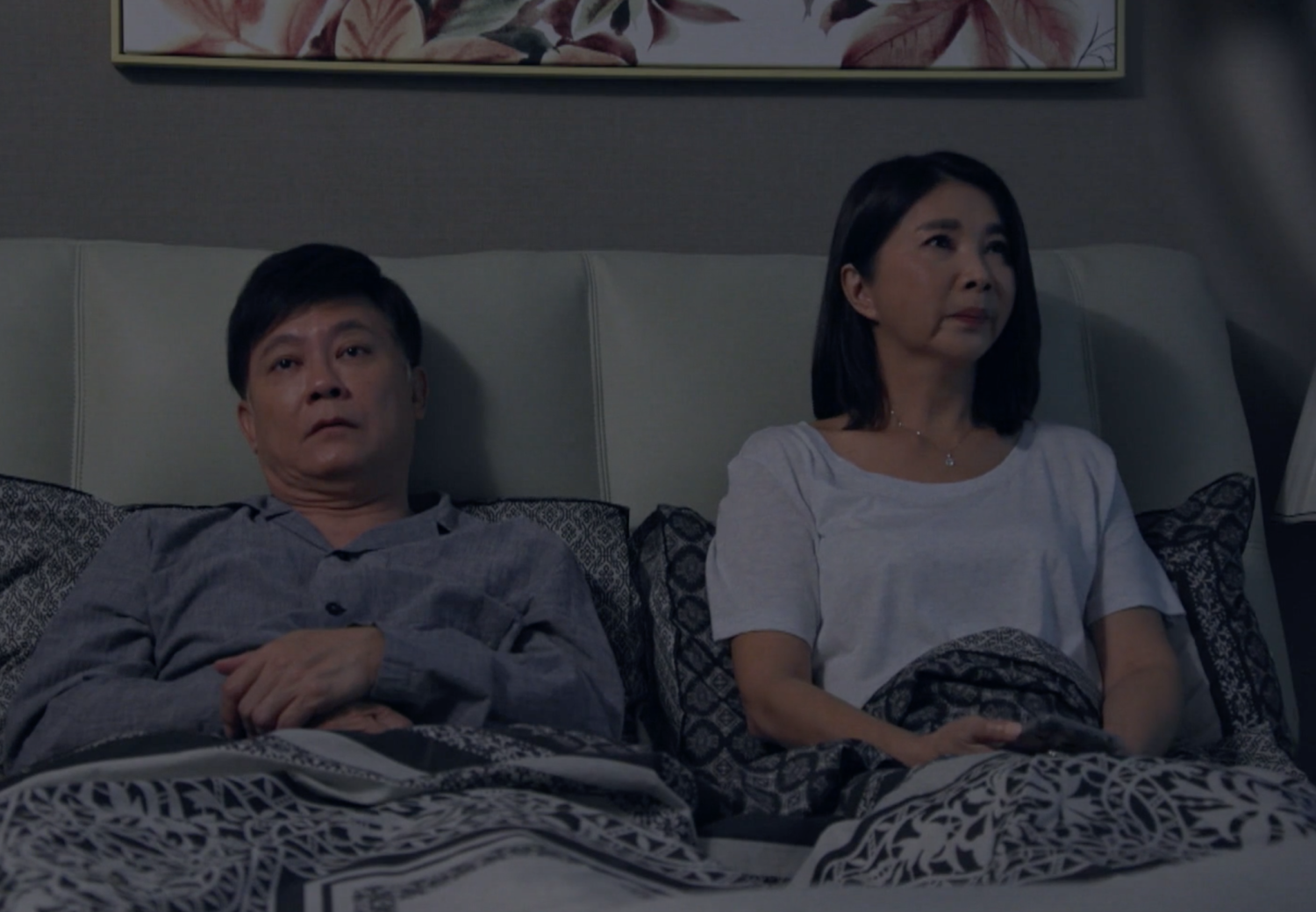 Yuqing and Xiuhuan play a married couple in Mediacorp drama
Sunny Side Up
Yuqing, who saw the relationship questions coming from a mile away, was game to talk about his 'marriage record'.
"I am a very real person when it comes to relationships. I won't cheat on my partner or have a mistress. Not everyone wants a record like this, including myself, because it's not something to be proud of. For it to end up in [divorce], I actually didn't really have a choice. We'll keep the exact details of what happened to ourselves," said the actor with a chuckle.
Yuqing revealed that he is not a romantic person
"Could it be that you don't know women well enough?" probed Yifeng.
Yuqing agreed, saying that it might be possible that he was lacking in that area.
"I won't give [my partner] flowers, I'm not romantic. Back then I was also busy with work, both acting and insurance, so I had less time to accompany my ex-wife. After that, when I realised how important my company was, I set aside more time to be with [my current partner]," he explained.
Yuqing then talked about finding a balance between spending time with his other half, and not being sticky. However, he admitted he still doesn't know what is the right balance.
He is perfectly happy with his girlfriend — a younger woman whom he said he met on a commercial shoot more than 10 years ago, when he was still married to his third wife.

They started dating "four to five years ago", and from the sound of it, Yuqing has finally met "The One". Though they are not married yet, he refers to her as his "wife".
"She is great. She doesn't need me to spend a lot of time with her. We would spend our working hours diligently, and when we return home, we would sit at the balcony at night and chat," he said.
The actor often takes to his IG page to post cute pics with his partner
"All these years, the relationships that I've been in happened very naturally. We got together after talking to each other," said Yuqing, who added that he believes he is a "good lover" as his relationships would typically last at least "seven to eight years".
Yifeng was then curious to know if Yuqing was ever bothered by people passing judgement about his failed marriages.
"Yes, to some extent. After one of my marriages ended, I was a little depressed. Because [I] felt that others were judging me, like they were thinking 'not again?'," said Yuqing.
He then signed up for motivational classes, which he said really helped him sort out his thoughts.
"I started to see it as a process in life. I never thought I would get married, then get divorced. Then get married again after the divorce. Who wants that? [Does it not] require money? Effort? Time? No one wants [to go through] that," he said.
"So I told myself that it was but a small challenge that could be overcome easily. And I did," he continued.
"Were there any colleagues who misjudged you too?" asked Yifeng.
"Yes, you know my ex-wife was also an actress. So her friends changed their opinions of me [after the divorce]," revealed Yuqing, who then said that he has since cleared the air with said colleagues.

He, however, did not specify which ex-wife he was talking about.
Yuqing told Yifeng about his experience with being misjudged by the public
During Yuqing's divorce with Chen Bifeng, he only found out that the news had gone public after reading about it in the newspaper.
"I remember filming with Xiang Yun that day. I immediately opened the newspaper to the centrefold —  us actors had the habit of reading the entertainment section first. But that day I wasn't in the entertainment section. I was on the first page of the news section," recalled Yuqing.
He got a shock when Xiang Yun, who was sitting opposite him, told him to flip to the front page. He still has no idea how news of his first divorce was leaked to the press.
He found out that the news of his first divorce had gone public through reading the newspaper
Yuqing also revealed that he is still on good terms with his exes, and that all divorce proceedings were done "happily".

"Even the lawyer couldn't believe that we were going through a divorce," he said.
"We all split up on okay terms. We still keep in contact once in a while. It's not like what people think [that we have bad blood]. We would still call each others' parents to ask how they are doing," he added.
Photos: meWATCH, Wang Yuqing/ Instagram
Catch the full interview with Yuqing on meWATCH or watch the episode below.