NTU Dropout Opens Chee Cheong Fun Hawker Stall; Ex-Chef Dad Helps Daily After Initial "Disappointment"
Dad should be proud that the 31-year-old, who worked briefly as an engineer, hopes to expand his biz into a chain of CCF stalls.
New kid on the block Grandpa Homemade Cheong Fun is yet another artisanal chee cheong fun joint. But the three-month-old stall differentiates its rice rolls with a twist plucked straight out of a millennial's 'camera eats first' playbook: aside from pearly white cheong fun, you can also get it naturally coloured in an attention-grabbing fuchsia or green, using purple dragon fruit and spinach puree. They're drizzled in the usual soy sauce and stuffed with fillings like char siew and prawn.
After all, the engineer-turned-hawker behind the stall in Toa Payoh West Market & Food Centre is a millennial. Shenzhen-born Zhang Yu Da (above, left), 31, named his business Grandpa Homemade Cheong Fun partly because it "connects better with older folks" and also as a tribute to his retired restaurant chef dad, Zhang Hong Yuan (right), who is grandad to Yu Da's two kids. The 58-year-old helps out his son, who's now a Singaporean citizen, at the stall almost daily.
No part of this story can be reproduced without permission from 8days.sg
All photos cannot be reproduced without permission from 8days.sg
Dropped out of university to start a bubble tea chain
This stall isn't Yu Da's first F&B biz. He opened a bubble tea shop called Unice at Northpoint City back in 2017 together with his sister and her then-boyfriend, while juggling a full-time job as an engineer in a clean energy firm and pursuing a part-time degree at Nanyang Technological University.
When the chain eventually grew to three outlets, it became too much for Yu Da to handle, so he dropped out of uni and left his engineering job. At its peak, Unice had four outlets – but business in the bubble tea market wasn't smooth sailing. "There was too much competition. We were struggling to survive – do you know that in Northpoint City alone, there are about ten bubble tea shops? It was crazy," says Yu Da. Things got even worse once the pandemic hit and malls became deserted overnight. "I lost a lot of money, of course. I had to close the Northpoint City outlet [end-2020] – the rental was too expensive, over $10k a month," he adds, declining to go into detail.
He decided to step back from the bubble tea business, retaining just one outlet in West Mall that his mum manages, while leaving the other two outlets to franchisees. Though his lone bubble tea stall makes a loss every month, he keeps it running as there's "sentimental attachment" to his first business; he also "wants the brand to persist" and turn a profit one day.
Why become a hawker instead of an engineer?
Why not return to the safety of a cushy corporate job? "Honestly, I wanted to go [back to being an engineer] lah, but my ambition is always to have my own business, my own brand. I never wanted to work for others – having a boss, and a fixed system, I don't like it," shares Yu Da. "I want more freedom, but I know there will be happy days and sad days when you're running a business. What's important is to not give up and think of alternative ways to solve problems."
He veered away from engineering into F&B as he has a keen interest in the field, even a knack for discerning good food which he says he inherited from his chef dad. It also helps that dad – whose three decades of culinary experience  included a six-year stint at Imperial Treasure Super Peking Duck Restaurant (though not in the dim sum kitchen) – is on hand to give loads of advice, "making things easier at the start of the business". 
Figuring that every type of food "goes through its own cycle of popularity", he decided to pivot from selling bubble tea to chee cheong fun, partially inspired by the success of the Chef Wei HK Cheong Fun chain. The switch to being hawker was an easy decision for him, as the "startup costs are very manageable", he explains.
Learnt cheong fun

basics

from

Guangzhou street hawker
Moreover, Yu Da had the basics of cheong fun-making in his pocket, which he learned serendipitously while visiting Guangzhou in 2019 for a one-week baking course ("always good to keep learning different skills," he explains). 
During a lunch break, he stumbled upon a cheong fun street stall and managed to convince the hawker there to teach him the basics of cooking the dish for free. "I kept asking him to teach me or at least show me how to cook it. He relented and taught me basic skills like how to make cheong fun, what machines to use and how to keep them clean," explains Yu Da, who shares that he only asked the hawker to teach him out of pure curiosity, not knowing it'd come in handy one day. The actual recipe that he uses now though is a result of lots of experiments between his dad and him.
Rice flour milled in-house
While Yu Da describes his cheong fun as Guangzhou-style, to us, it's reminiscent of savoury Hong Kong-style rice rolls. Guangzhou, after all, is often referred to as the birthplace of modern Cantonese dim sum.
The CCF here is scraped off a metal tray into wavy ribbons rather than cooked on a cloth and rolled. The hawker even mills his own rice flour daily, using pearl rice – which he says gives his rolls "better texture and fragrance" – and a machine proudly displayed at the front of their stall.
Initially wanted five cheong fun colours
The main difference at Grandpa CCF stall, of course, is its multi-coloured batter which Yu Da added simply as a way to "stand out from the rest of the market." He adds: "I originally wanted to have two more colours – black, using charcoal, and yellow, with corn – for a total of five. But it was impossible to do, 'cos I have to keep cleaning the steaming tray between batches."
He cut the colours down to his current roster of two, which makes it easier for the hawker to handle in the kitchen solo while his dad serves customers – they move around 80 plates a day on average.
Dad "disappointed at first" by son's decision to become hawker
The cheery Hong Yuan, who leverages on his culinary experience to prepare several items at the stall including the char siew and hae bee-infused chilli, shares in mandarin: "Honestly, I never wanted him to work in a kitchen. It's very hot, the work is grueling and the hours are long. But he insisted. So I try to help him wherever I can (laughs)."
Admits Yu Da: "My dad was disappointed at first. You know traditional parents lah – he told me it's better to finish my degree and go work in an air-conditioned office (laughs). But he'll support me in any career, as I'm his son. I hope that I can expand to a big cheong fun chain with many stalls – of course I want to make my dad proud."
The entrepreneurial young hawker opened two cheong fun stalls in quick succession – the first outlet at Toa Payoh in March, followed by another in Changi Village Hawker Centre two months later. Start-up costs weren't an issue, he shares, as it cost him under $10k to open both stalls as he bought over some of the previous tenants' equipment. But he closed the second outlet after less than a month, explaining: "The breakfast crowd there was very bad, so I decided to close it straightaway before wasting more money."
The menu
A plate of cheong fun at Grandpa Homemade Cheong Fun starts off pricier than at most hawker stalls we've visited: from $3.90 for the entry-level Original Cheong Fun (without fillings), up to $5.80 for accompaniments like prawn and egg.
It costs an additional $0.20 to get your cheong fun dyed pink or green, but the customisable colour option isn't always available as the crowd sometimes gets too "unmanageable", says Yu Da.
Spinach Cheong Fun with Prawn, $5.40
Yu Da paints a layer of oil onto his metal tray before pouring in the rice slurry – which, if you order it green or pink, gets a splash of blended spinach or dragon fruit for colour. He then adds the fillings, before shoving it into the steamer for around a minute.
The resulting rice rolls, scraped off and cut into petite chunks, don't actually taste like spinach or dragon fruit. In fact, they're indiscernible from a plain old rice roll – so you're really paying $0.20 for a pretty IG pic. 
Texture-wise, the cheong fun is slightly thicker and not as delicate as the translucent sheets at some chee cheong fun joints manned by veteran ex-restaurant chefs. The accompanying blend of light soya sauce, spring onion, onion and sesame oil, while punchy and aromatic, doesn't quite reach the centre of the chunkier rolls. Still very decent overall, since the plump shrimp that comes with this is crunchy and sweet. We also enjoy the intensely umami chilli crisp packed with hae bee.
Dragon Fruit Cheong Fun with Egg + Veg + Pork, $5
This cheong fun, unlike the subtler green number we had earlier, is dyed a lurid fuchsia. It's a little off-putting to be honest, even if you can't taste any actual sweetness from the dragon fruit. That said, the egg, lettuce and minced pork combo here is quite pleasant – the bite from the springy minced pork bits is yummy too.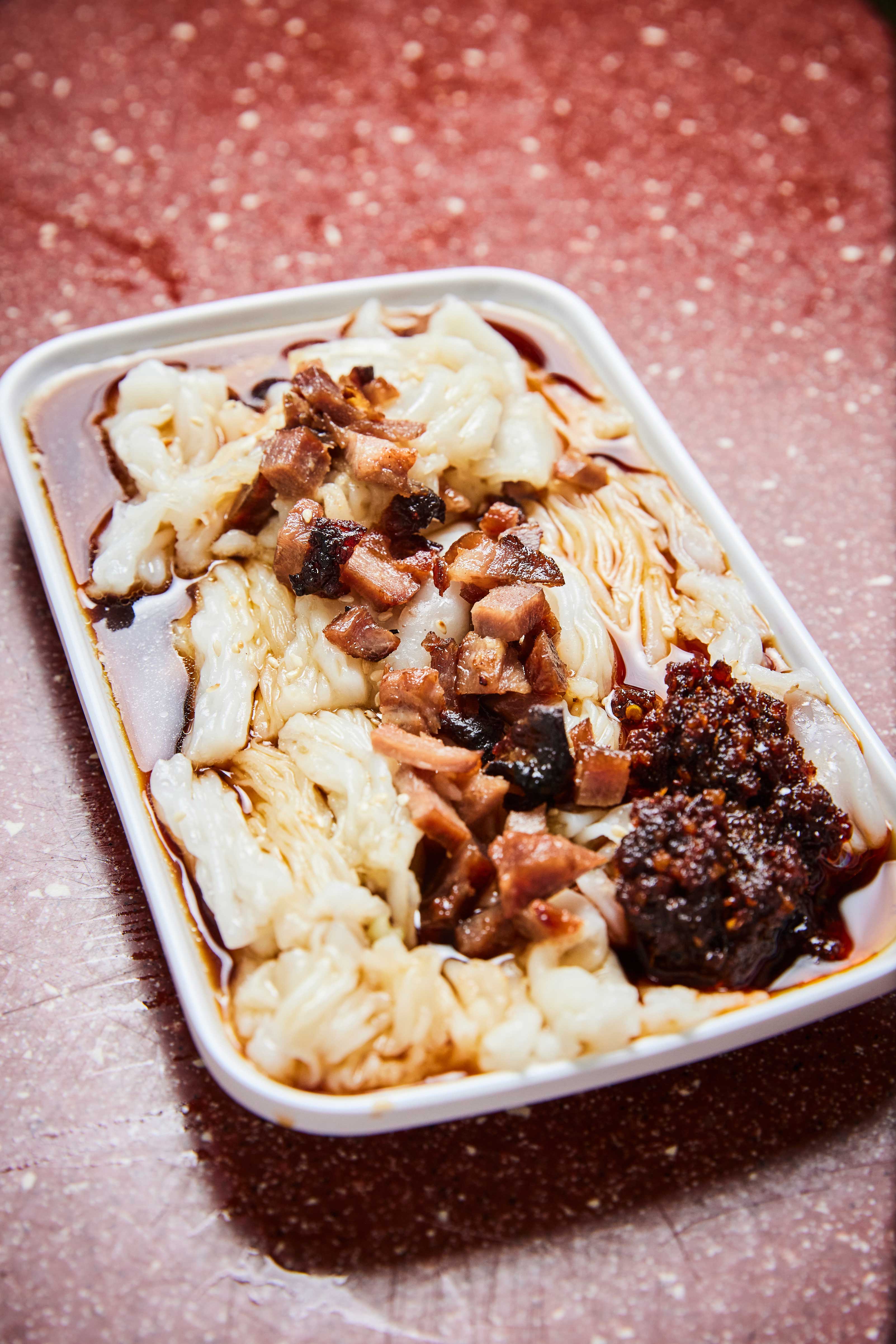 Plain Cheong Fun with Char Siew, $5.20 (8 DAYS Pick!)
Our favourite filling of the lot is the house-made char siew, starring Hong Yuan's recipe of pork shoulder glazed in soya sauce, garlic and "other secret ingredients". Though it's cooked in an air-fryer instead of an oven, the char siew bits in our cheong fun are juicy, crisp-edged and sweet-savoury throughout – perhaps it's 'cos the experienced chef is the one prepping the char siew. It's only missing the smoky char you'd get at char siew specialists, though this is one of the better char siew fillings we've had at a cheong fun stall.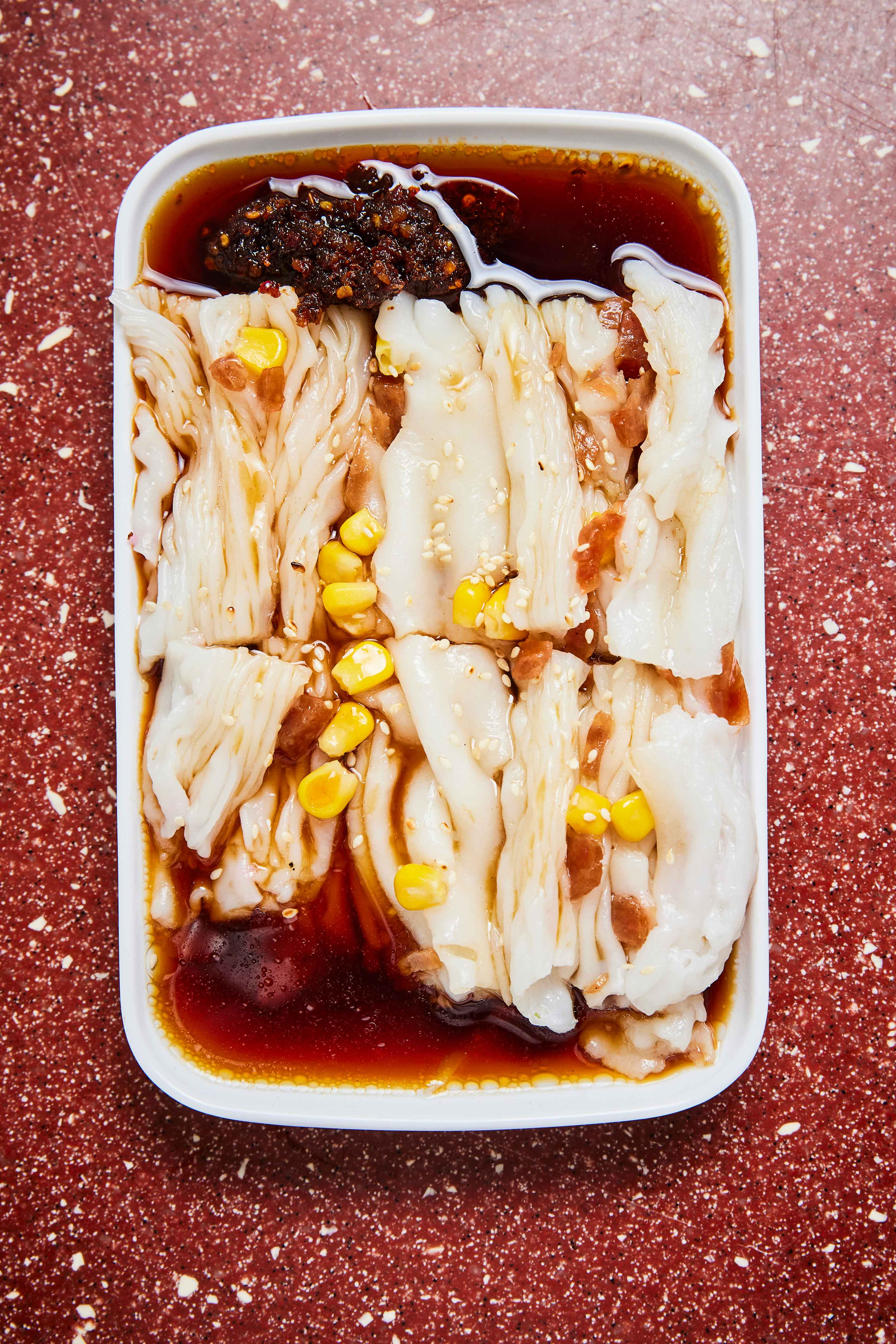 Plain Cheong Fun with Corn + Sausage, $5.80
An odd combination of sweet corn and equally sweet lup cheong. Not our favourite.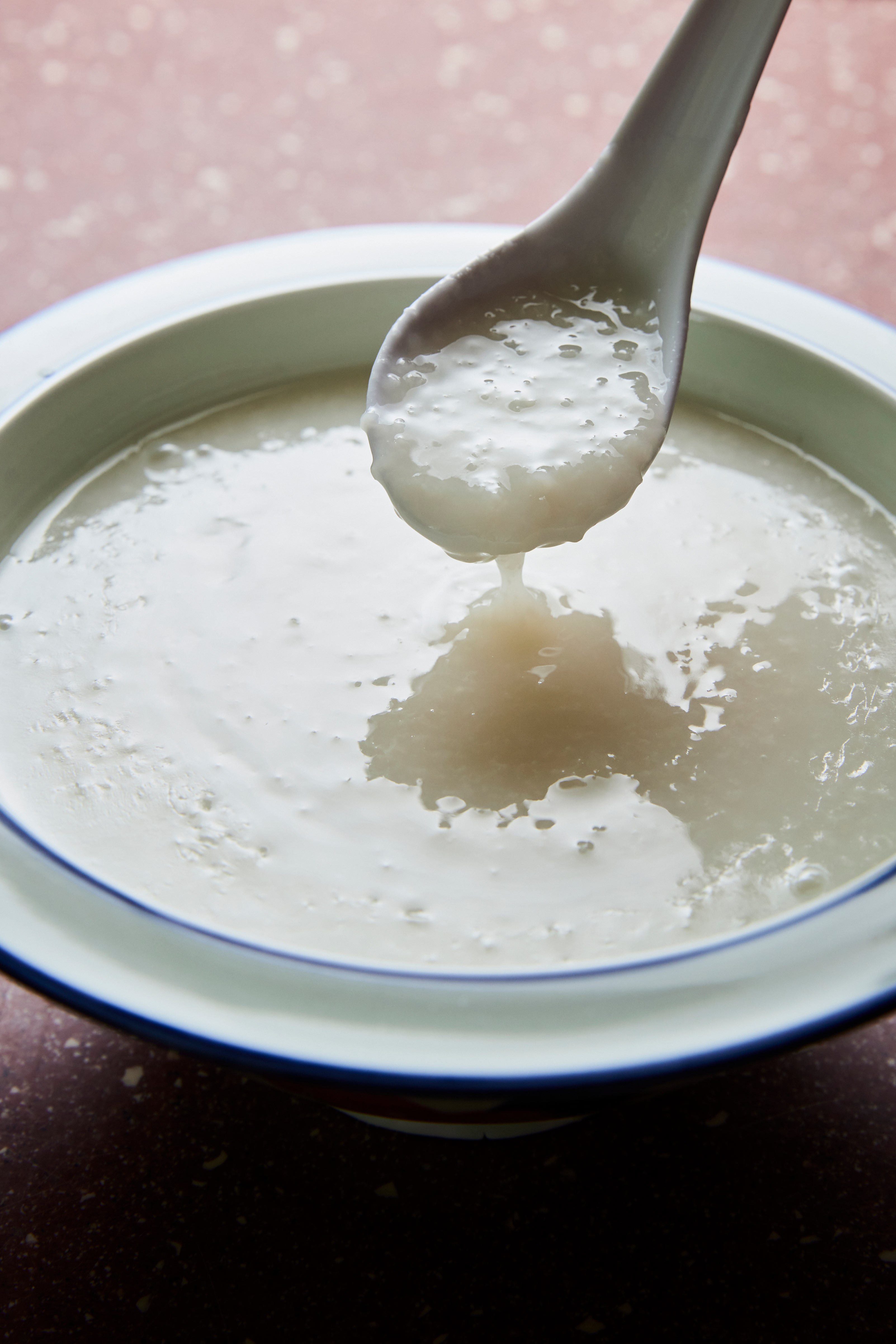 Plain Congee, $3.50
A decently silky Cantonese-style chok, made rich and gooey with the addition of tofu skin. Still, it's quite plain on its own. Luckily Yu Da shares that he now serves it with add-ons like diced century egg and mince meat ($4.50) or shrimp ($4.90) too.
Bottom line
Grandpa Homemade Cheong Fun's colourful offerings are great for the 'gram, even if there's no discernible difference in flavour. Eye-popping hues aside, the cheong fun is tasty enough, with slippery — albeit slightly thick — rice rolls doused in a fragrant, savoury sauce. The standouts are the delish house-made char siew filling and umami hae bee-spiked chilli, both items prepped by "grandpa", whose experience cooking in atas restaurants is clearly demonstrated in these elements.
The details
Grandpa Homemade Cheong Fun is at #02-22 Toa Payoh West Market & Food Centre, 127 Lor 1 Toa Payoh, S310127. Open daily 6.30am – 2pm. More info via Facebook and Instagram.
Photos: Aik Chen
No part of this story can be reproduced without permission from 8days.sg
All photos cannot be reproduced without permission from 8days.sg