Old-School Diner Steeple's Deli To Move Out Of Tanglin Shopping Centre After 40 Years
The family-run deli has long been a favourite haunt of famous people like Sharon Au and former chief minister David Marshall's wife Jean Marshall.
Tucked away in a corner of sleepy Tanglin Shopping Centre is old-school Western diner Steeple's Deli. Step into this place and it feels like time has stopped; the charming wood-clad counters, vintage chalkboard menus and homely comfort food all hark back to a nostalgic old-school era.

Steeple's is well-known for its hearty sandwiches — the Reuben and Cuban sarnies are particularly popular — and retro milkshakes in flavours like chocolate peanut butter. But come the end of this year, the deli is moving out as Tanglin Shopping Centre has been sold en bloc to an Indonesian-owned property development company.  

"They have not given us a firm date to move, but they told us it's roughly by the end of this year. It's stated in black and white that we have to move out," says Johnny Tan, 27, the third-generation owner of the family-run deli.
Looking for a new location
But Steeple's Deli will live on, as Johnny is currently sourcing for a new location to reopen. "We have not found a place, but hopefully it's a central location like this one," he shares. To replicate his eatery's distinctive decor, he also tried reaching out to the interior designer who outfitted the deli decades ago. "But we couldn't find her. We're not sure if she's still working, because it has been 40 years," he laughs. "We want the [new place] to be as close to the original as possible."

He adds that his family has been busy preparing for the big move. "We have exciting plans coming up," he says. This includes "an event" that will be revealed on the deli's social media platforms at a later date.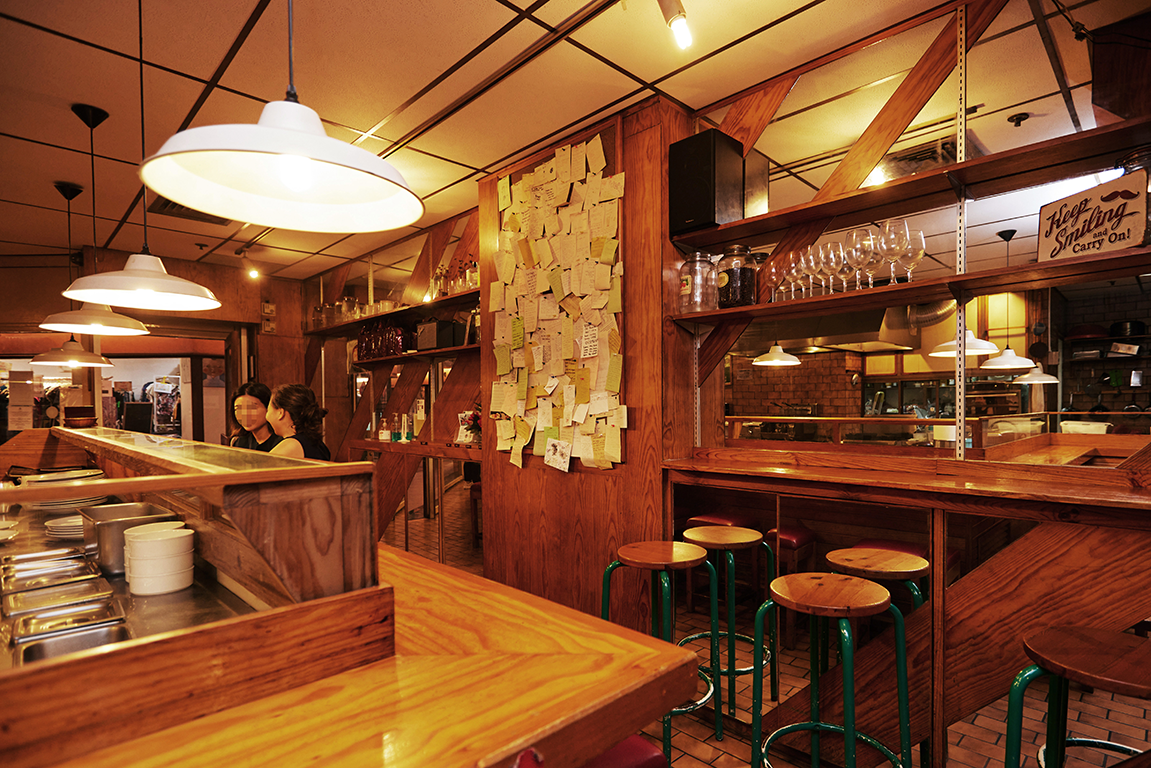 Unique ambience
The deli, which can fit about 30 people, is also well-known for its unique open concept counter seating. You can watch your food being made as lively '80s pop songs like Bananarama's 'I Heard A Rumour' play in the background. "We have an open concept kitchen so we can see how our customers enjoy our food. If there's something wrong, we ask them [for feedback] and we will do R&D to make it better," Johnny explains.

Once, a customer had told him that the deli's Cuban sandwich "wasn't really interesting". Johnny recounts: "He said the first bite was boring — it was just meat, sauce and didn't have other flavours to make it more exciting." Johnny then tweaked the recipe by "changing the sauce and the type of cheese".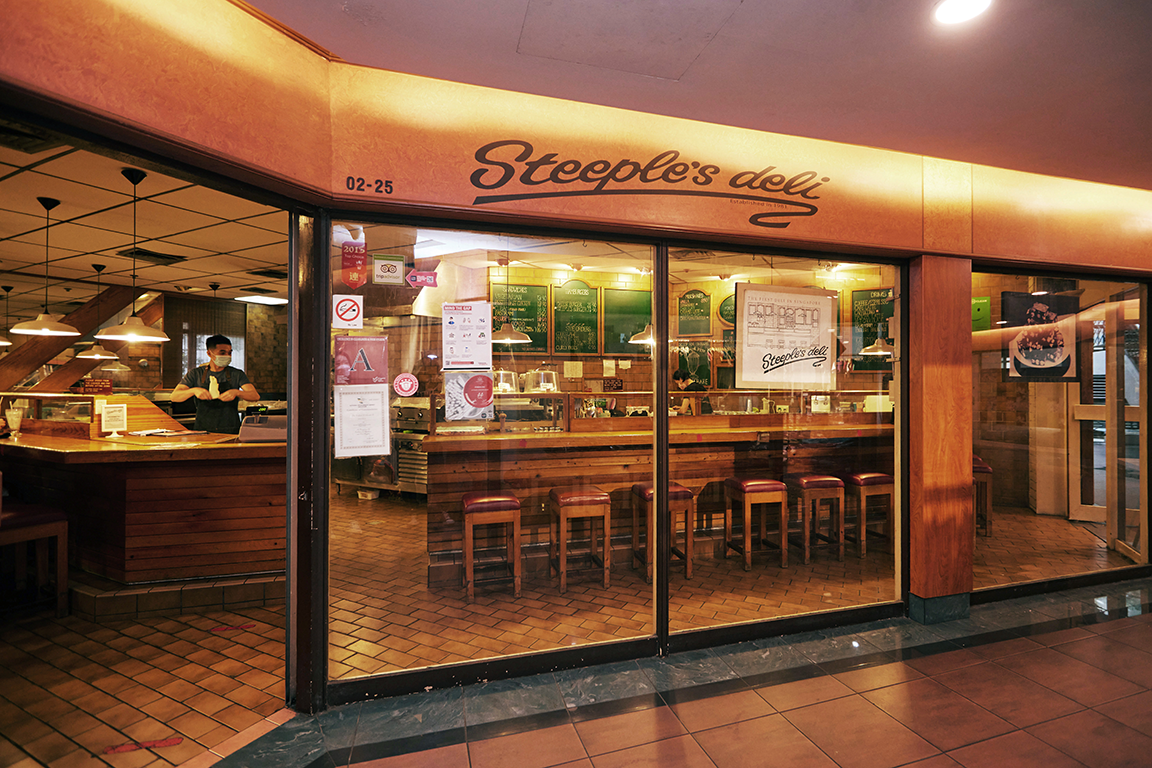 Introduced Western-style sandwiches to Singaporeans
According to Johnny, his grandfather, David Mun, had opened Steeple's Deli some 40 years ago and named it after his British founding business partner (who has since left the biz). The duo introduced Western-style sandwiches to Singaporeans and popularised the American Reuben sandwich — which has corned beef, sauerkraut, cheese and Thousand Island dressing between rye bread — here.

"Back then they saw that Singapore didn't really have a dedicated place for sandwiches, so they thought why not try opening a shop selling Western food and sandwiches?" Johnny explains. "My grandfather got the recipes from [Steeple], and the both of them kept trying to perfect their corned beef recipe. In the '80s and '90s, not a lot of Asians knew about corned beef."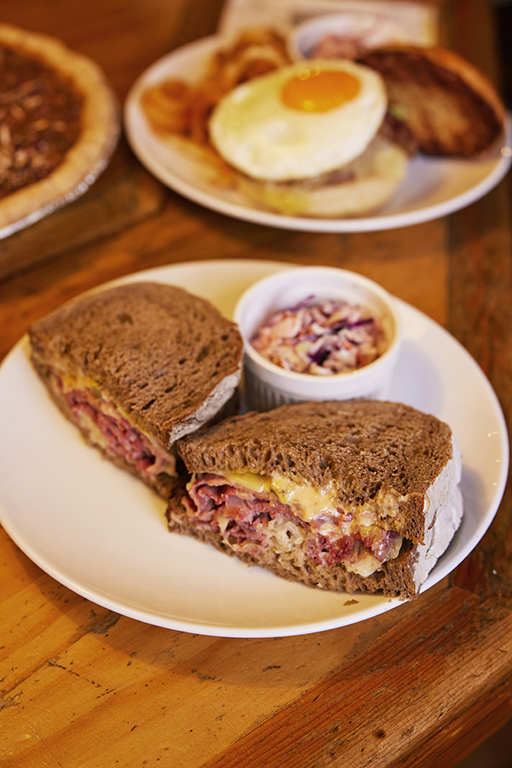 Corned beef, a kind of brined beef brisket that's similar to pastrami, has no corn in it. It was named as such by the British as the large salt crystals used for the brine were the size of corn kernels. To court Asian customers, Steeple's corned beef was given an Asian twist. "The original recipe doesn't have Asian spices, but we put Sichuan pepper and chilli flakes in ours," says Johnny.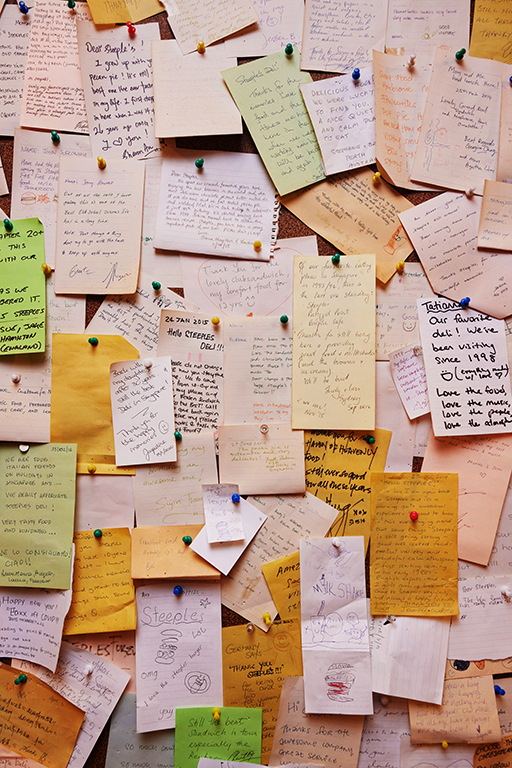 Sharon Au and Mrs Jean Marshall were regulars
A section of a wall in the deli overflows with pinned handwritten thank you notes left by customers over the years. "Sharon Au would drop by here every time she's back in Singapore," says Johnny's 83-year-old grandmother Susan, who now runs the eatery full-time with him. She recalls that former chief minister David Marshall's wife Jean Marshall, who passed away last year at 94, also frequented the deli.
Deli run by grandmother and grandson
Johnny and his grandmother are at their shop six days a week, from Monday to Saturday. While he handles the hot food, Susan prepares orders for milkshakes and other beverages like coffee.

They close at 5.30pm to give Susan enough time to rest. "When I started working here in 2020, we still had enough manpower and my grandma didn't have to come down," Johnny says. A professional chef by training, he was previously working as an in-house chef at a programming company for almost five years.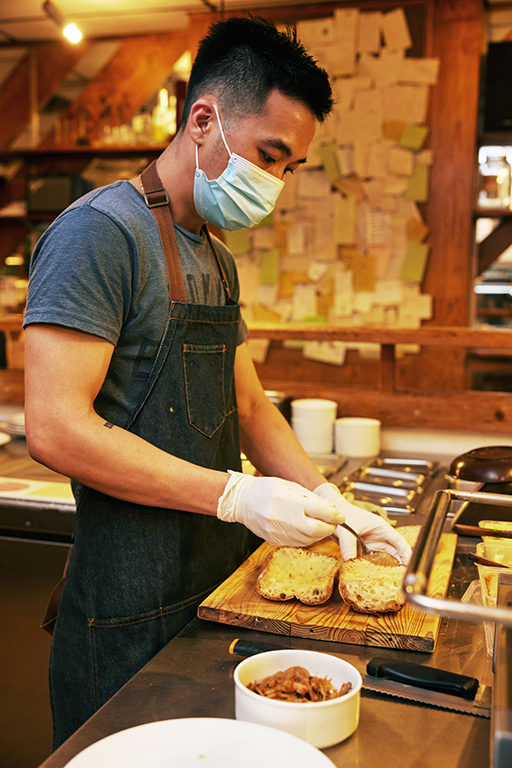 While helping out ad-hoc at his family's deli, he realised that it was facing a serious manpower crunch. "We interviewed people, but they found the pay too low and said we were just a small business," says Johnny. In 2020, Steeple's last remaining longtime chef, who was originally from the Philippines, left his job to return home.
It was then that Johnny decided to join his family's business full time "so they wouldn't be stressed about hiring manpower". His wife and uncle, who both have their own day jobs, now help out whenever they can.
The menu
To circumvent the lack of manpower, Johnny whittled down Steeple's menu. "Our menu boards used to be fully filled — we had big breakfast sets, steaks, pasta and salads. I decided to cut down on the items and focus on our bestsellers and the quality of the food," he shares. 
He kept Steeple's crowd-pleasing sandwiches like the pulled pork Cuban ($18.90), Reuben ($18.90) and tall decker Club Sandwich ($16.90), which are all assembled upon order and served with a side of house-made coleslaw. There's also the classic brioche Steeple's Burger ($22.90) with a beef patty and fried egg, and old-school Omelette ($11) with add-on toppings like ham and mushrooms.

The desserts here are popular too, like the Classic Fudge ($0.90 a piece) and old-fashioned Pecan Pie ($7.80 a slice) with an optional scoop of vanilla ice cream. "Some of our customers would call and order a whole tray of fudge with 40 pieces, or a whole pecan pie for their birthdays," shares Johnny.

While prices have been increasing by "about $1 every year", there's no GST and service charge at Steeple's Deli. "We write the prices on the board and that's our final price. We don't want people to think our menu is too expensive so they can come here to enjoy our food," Johnny says. 
Reuben Sandwich, $18.90 (8 Days Pick!)
Steeple's Deli calls itself "the home of the Reuben sandwich", and it's not hard to see why. The version they serve is excellent, rivalling even Montreal's famous Schwartz's smoked meat deli — savoury, tender slices of corned beef, tangy sauerkraut, oozy Swiss cheese and a dash of Thousand Island relish wedged between thick, toasty pieces of buttered rye bread.

Johnny packs everything securely enough so nothing falls out when we sink our teeth into the sarnie. One sandwich is filling enough even for a hungry eater; we like to munch on the crunchy coleslaw side as an intermission after the first half of the sandwich.
Cuban Sandwich, $18.90 (8 Days Pick!)
The Cuban was said to have originated from Florida, where it was the go-to for factory workers. Steeple's Deli's sandwich consists of a crisped up Cuban loaf cradling very juicy pulled pork, sharp dill pickles, Swiss cheese and mustard pressed flat on a grill. We have tapow-ed it home on a few occasions and found it still good for lunch the next day.
Steeple's Burger, $22.90
Like the sandwiches, the burger here is also unpretentiously good. It's thankfully not stacked to the skies; we could manoeuvre the succulent grilled beef patty, some fresh lettuce and tomatoes, cheese and an oozy sunny side up egg held together with warm, soft buttery brioche buns.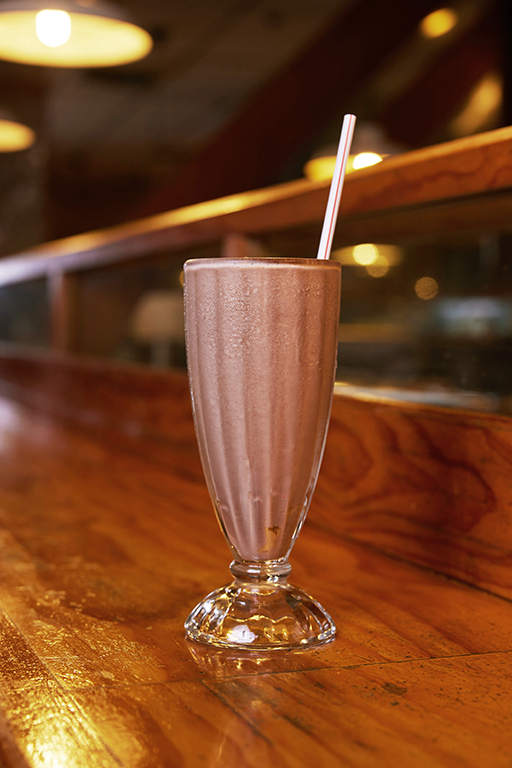 Chocolate Peanut Butter Milkshake (8 Days Pick!)
It's worth chasing down your sandwich with a chilled glass of milkshake here. There are six flavours on Steeple's menu, with asterisks next to Strawberry, Caramel Latte and Choc Peanut Butter to subtly help customers make a choice. Even though we don't usually fancy peanut butter, it's very satisfying when added to the thick, smooth chocolate ice cream milkshake (the Strawberry is a tad too cloying, while the regular Chocolate flavour isn't as shiok compared to the peanut butter-loaded version). There are also healthier fruity yogurt milkshakes, though we urge you to splurge your calorie count on the wholesome OG.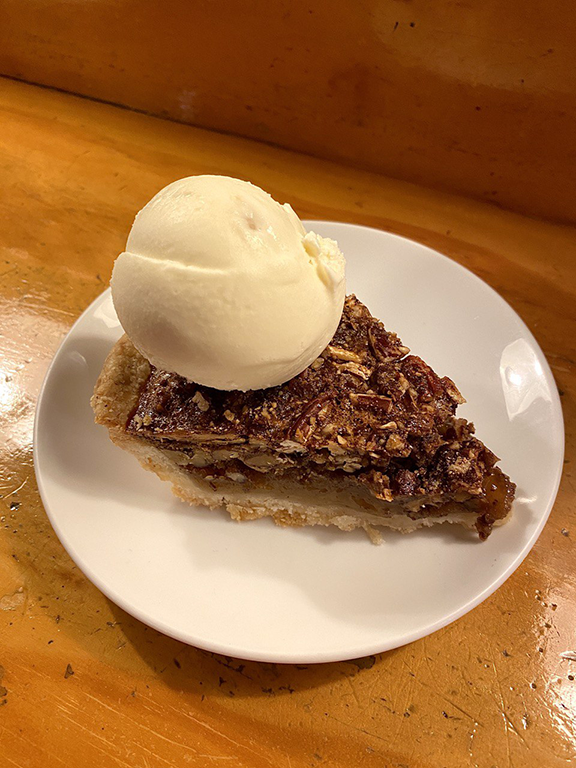 Pecan Pie with Ice Cream, $8.80
The desserts are just as wonderfully old-school, like this rich slice of caramelly pecan pie. The crumbly, buttery pie base holds a gooey filling topped with crunchy pecans that go well with mouthfuls of cold, sweet vanilla ice cream.
Fudge, $0.90 a piece
The fudge pieces - stuffed with pillowy marshmallows - come in three flavours: Classic Chocolate, Peppermint Cookie Crunch and Cookie Dough. All three are dangerously addictive. Each square has the softly chewy, faintly gritty consistency of cookie dough and can be finished in two bites. We are particularly fond of the peppermint one. Its refreshing mintiness is great for rounding off a rib-sticking meal. 

#02-25 Tanglin Shopping Centre, S247909. Open Mon-Sat, 10am-5.30pm. www.facebook.com/steeplesdelisg.

Photos: Kelvin Chia
No part of this story or photos can be reproduced without permission from 8days.sg.