Once Shunned By Sceptics, Indian Fishball Noodle Hawkers Expand Biz With 2nd Stall In Tampines & Central Kitchen
When Lina Fishball Noodle first opened shop in 2019, the couple had to put up with condescending questions like, "Do you [even] know what this [dish] is?"
Lina Fishball Noodle made waves when it opened in a Toa Payoh coffee shop back in August 2019. Its photogenic young towkays Jeevan Ananthan, 31, and his wife, May Leena Krishnan, 32 stood out for being an Indian and Indian-Chinese couple slinging bowls of fishball noodles and bak chor mee, complete with house-made herh keow (fish dumplings) and fishballs.
It's been three years since then. They have weathered the pandemic, relocated to a bigger stall in another Toa Payoh kopitiam and even set up a central kitchen. Recently, they opened a second outlet in a Tampines North kopitiam on August 8. 
The couple also has a ten-month-old daughter now.
No part of this story or photos can be reproduced without permission from
8days.sg
.
Quit corporate jobs
Jeevan and May, both degree holders, quit their corporate jobs as an investment banker and digital marketer respectively to start a business together as "we were very caught up in our different careers, and the main thing we wanted to do was [start something that would let us] spend more time together doing something that we both loved."
On why they decided to become hawkers, Jeevan says: "We thought about it, and food was something that we liked to talk about and share with each other every single day – we'd cook, or go out and eat all our favourite hawker foods. We also thought of opening a restaurant or café, but in our hearts, we didn't really love it as much as hawker food."
Of course, becoming hawkers meant that they "had to take a pay cut" (he declines to go into specifics). "We knew we had to leave our comfort zones to pursue this, but our eventual goal is to match our current pay, and [earn] hopefully even more," he adds. That said, having "very supportive parents" definitely helped them to make their decision.
They narrowed down their options of hawker grub to just chicken rice and fishball noodles, ultimately deciding on the latter "as it was my favourite dish to eat", says Jeevan with a laugh. Lina Fishball Noodle – named after May's mandarin moniker, li na – was born.
As neither had any professional experience, the couple hired an experienced noodle hawker for a month to teach them the basics, but had to rely on their own taste buds and customer feedback to finetune their recipes. "You know this industry lah – people don't really share much. He only taught us the basics, and the rest, we had to fend for ourselves," Jeevan adds.
No customers in the beginning 
Jeevan admits that business was "very bad" at the start, mainly due to sceptical customers gawking at them but not buying anything. "People found it odd that this odd-looking couple were cooking fishball noodles. Many did not want to give [our food] a go. We really had to shout for business, those first few months," he says. "They didn't trust us to cook fishball mee well because you don't really see different ethnic groups cooking Chinese dishes – it's usually Chinese people cooking Chinese dishes. But to us, we really didn't think about it. If you go to a coffeeshop and eat Japanese food, do you see a Japanese person cooking it? It's usually a Chinese guy cooking the ramen (laughs)," he adds. 
Some early incidents he recalls include "people hiding behind the pillar and trying to peek at what we were doing". One bold customer even "walked up [to Jeevan], pointed at the bak chor and asked: 'Do you [even] know what this [dish] is?'" recounts the hawker. "[Our landlord] later told us that maybe we should put up a sign that reads, 'Yes, we are Indian and cooking bak chor mee and fishball noodles' (laughs)."
After a quiet first few months, the hawkers heeded their landlord's advice – sort of. May posted an Instagram video of Jeevan cooking noodles hashtagged #TheIndianFishballMeeExperience and it went viral, leading to a slew of media coverage (and celeb customers like Michelle Chia and Kumar). These helped people get over the "odd sight" of an Indian hawker whipping up bowls off mee pok. Explains Jeevan: "People understood our brand and what we were trying to do; that even though [the food] isn't cooked by a Chinese person, it's just as good. So they continued coming to us for our noodles, and not our race." In turn, Jeevan picked up some basic Hokkien and Mandarin to converse with customers. "Not enough to have a deep conversation, but definitely enough to understand their orders," he says with a laugh.
Expanded biz after weathering pandemic
But then the pandemic struck. Says Jeevan: "Of course business was a lot slower during the [early days] of the pandemic. But no choice lah, we just earned less and took a pay cut – we had to grit our teeth like everyone else in the F&B industry and just push through." 
After weathering the worst days of 2020, they relocated to a bigger coffeeshop stall, also in Toa Payoh, towards the end of the year. They then expanded operations into a central kitchen a couple of months later, where they shifted production for ingredients like herh keow, fishcake and fishballs for online sales and in anticipation of future expansion. On why he continued to expand amid the pandemic, he says, "We continued pushing towards the goal we had in our minds, and that goal is essentially to be able to bring our brand to every neighbourhood in Singapore, to make our fishball and bak chor mee accessible to everyone. We had to pump in extra capital to make the dream happen," declining to go into further detail.
But the Tampines outlet didn't materialise until a year and a half later. The towkay explains: "We had to lay a lot of foundations before expanding – we didn't want to open another outlet and just crash after that. So we took our time to build it up brick by brick before we had the confidence to expand." These included hiring and training staff to man the new outlet and central kitchen in order to ramp up production. Both he and his wife remain sole owners of the business.
Prices higher at new Tampines stall; prawn mee in the works
Business at the hawkers' month-old outlet in Tampines is "pretty alright", with "manageable queues" during peak periods – a far cry from his quiet debut in Toa Payoh. "People don't come to us as sceptics anymore. The usual questions are not there anymore. They're just happy that we're here – it's a completely different reaction to when we first started," he says. "That's what I feel most accomplished about." Jeevan and May flit between both outlets and the central kitchen to make sure everything is running smoothly. There are hired cooks – some of whom are Indian (not to stay 'on brand', those just happen to be people Jeevan knew earlier) – to man both stalls.
As costs like rent are "way higher" at their new Tampines outlet, the price of their food has been adjusted upwards too. Expect to pay an average of $0.50 more a bowl at Tampines compared to the Toa Payoh outlet – here, a starter bowl of Fishball Noodles and Mushroom Minced Meat Noodles costs $4.50. The signature bowl with a little bit of everything plus herh keow costs $5.50.
Jeevan teases that a totally new dish – prawn mee (spot it on the signboard?) – is also in the works. The dish, which he and May are developing through "repeated experiments" after researching the recipe themselves, will be sold at both outlets. "It's something that we've always been doing – updating our menu with new offerings that everyone can enjoy," the hawker says on selling prawn mee alongside fishball noodles. "We're still in the midst of R&D for that, but it will definitely be available within a month or less."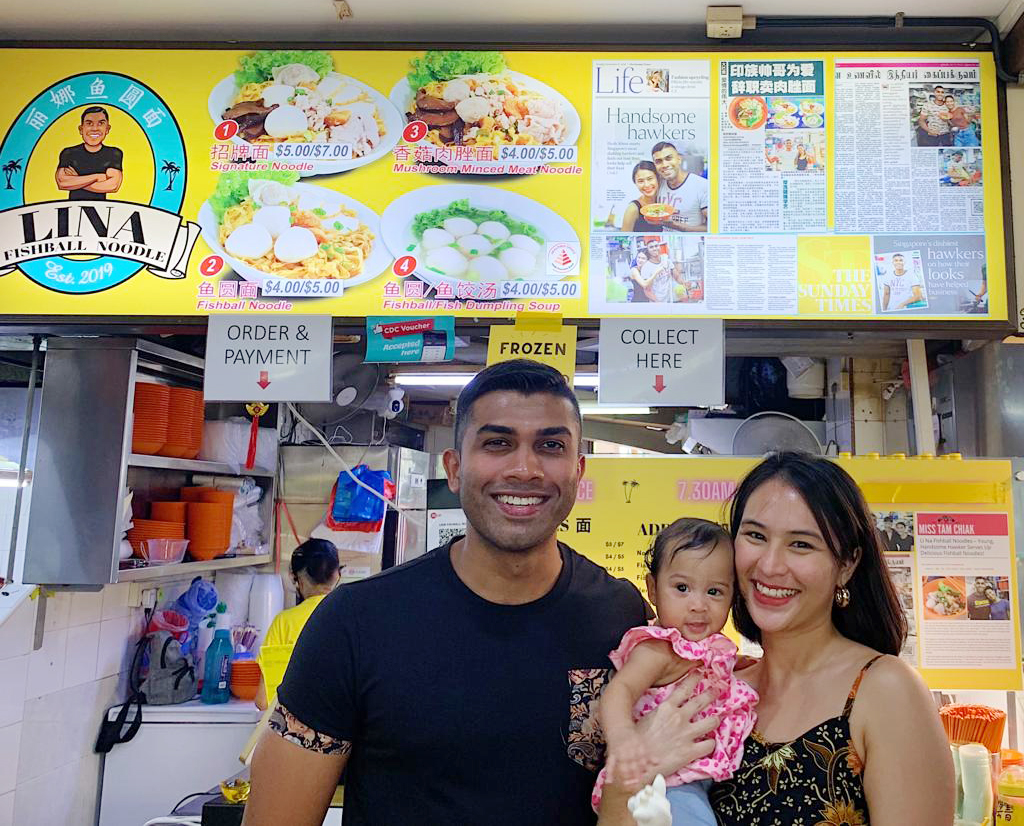 No regrets becoming hawkers
The towkay insists that it's "too early" to go into his ultimate goal for Lina Fishball, though he tells us he is committed to his goal of "bringing the brand to more parts of Singapore".
But one thing is certain: Jeevan (pictured with his daughter) tells us that he has "no regrets" leaving his cushy corporate job for the hawker life, even when things get tough. "When you work your butt off, you get really exhausted, and then you sit down and ask yourself: 'Are you doing the right thing? Is this what you really want to do?' Of course that happens to every entrepreneur in their business journey. But then you sleep on it, wake up the next day and realise that it's part of the process — that this is why I chose this route. When you see the results after all that hard work, you're quite happy," he shares.
Lina Fishball Noodle's new outlet is at #01-02, 610 Tampines North Dr 1, S520610. Open daily 7.30am – 7.30pm. More info via Facebook and Instagram.
Lina Fishball Noodle's HQ is at #01-523, 125 Lor 1 Toa Payoh, S310125. Open daily 7.30am – 7.30pm. Delivery via Deliveroo, Grabfood and Foodpanda.
Photos: Lina Fishball Noodle
No part of this story or photos can be reproduced without permission from 8days.sg.