One Of S'pore's Rare Female "Pit Masters", She Sleeps Overnight In Kitchen Smoking American BBQ Brisket
Delish Texan-style BBQ beef brisket and pulled pork by SGBrisketKitchen's lady boss, who spends the night in a commercial kitchen the size of "three parking lots".
Some people have one side hustle — bubbly Jayce Ho, who's in her 30s, has several. Besides being a business development manager for an oil and gas company, she has a small business selling diatomaceous earth (a natural insecticide), runs a blog on raising Polish chickens, and is a self-proclaimed "pit master", who smokes and sells American-style barbecue meats through her Instagram handle, SGBrisketKitchen.
Jayce has always been a fan of barbecuing and the outdoors. "I think American-style barbecue is a fun way of cooking because it combines survival skills like chopping wood. I used to be a Girl Guide and I really enjoy and miss all that outdoor stuff," she says. She started experimenting with Texan-style barbecue more than two years ago, learning about the craft mostly from YouTube videos and online forums.
All photos cannot be reproduced without permission from 8days.sg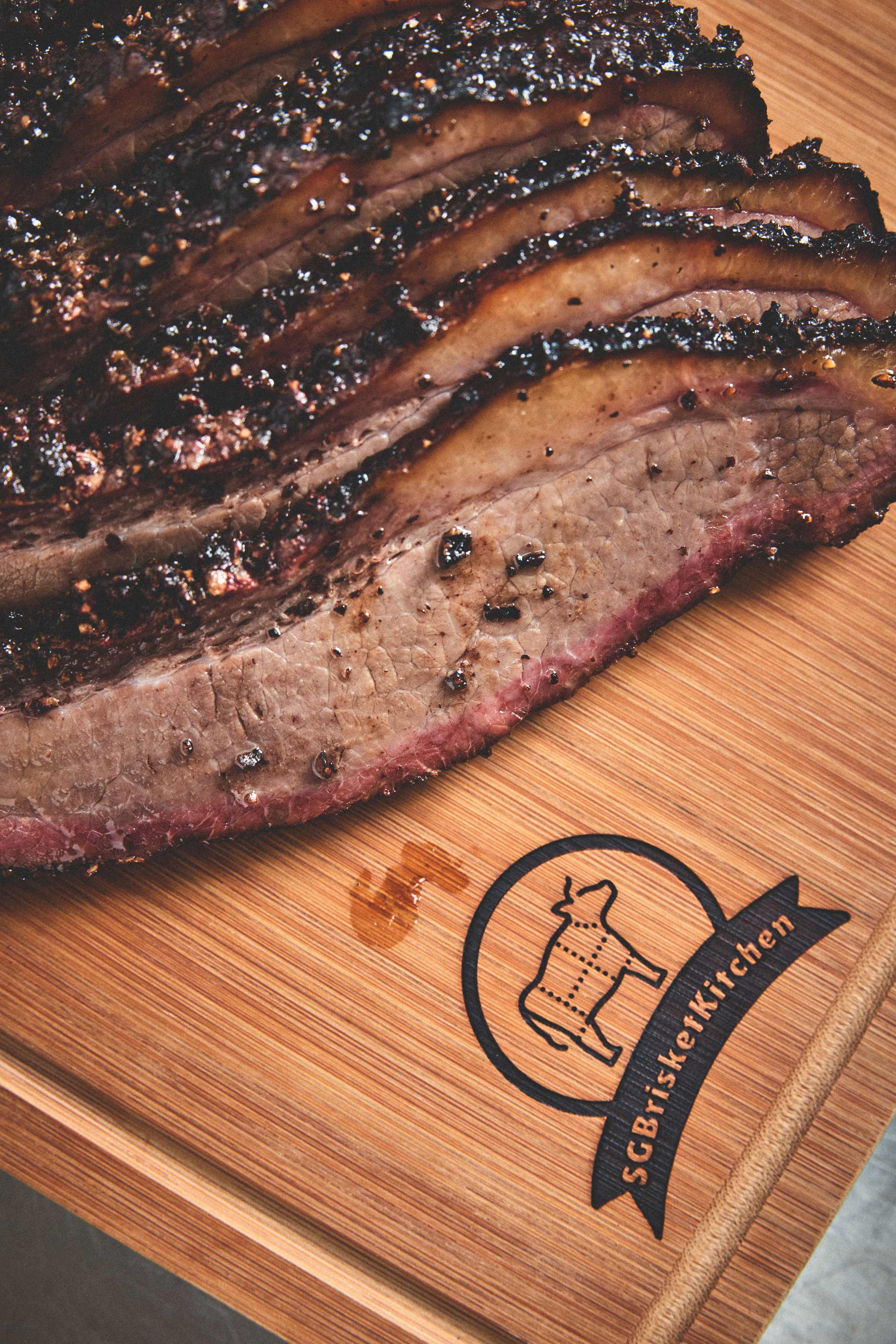 The rise of American 'cue in Singapore
American-style barbecue, a time-intensive, laborious cuisine which involves smoking meat over long periods over low heat, has become increasingly popular since the pandemic started in 2020. Since then, new pundits — both home-based and commercial — have joined the handful of smokehouse restaurants such as MeatSmith, RedEye Smokehouse and Decker Barbecue. These newer entrants include S'mao Barbeque by the Les Amis Group, home-based biz Cuts & Slices, and the latest, online-based Smokehse by Esseplore. Jayce is only one of a few — if not the only — female pit masters in Singapore.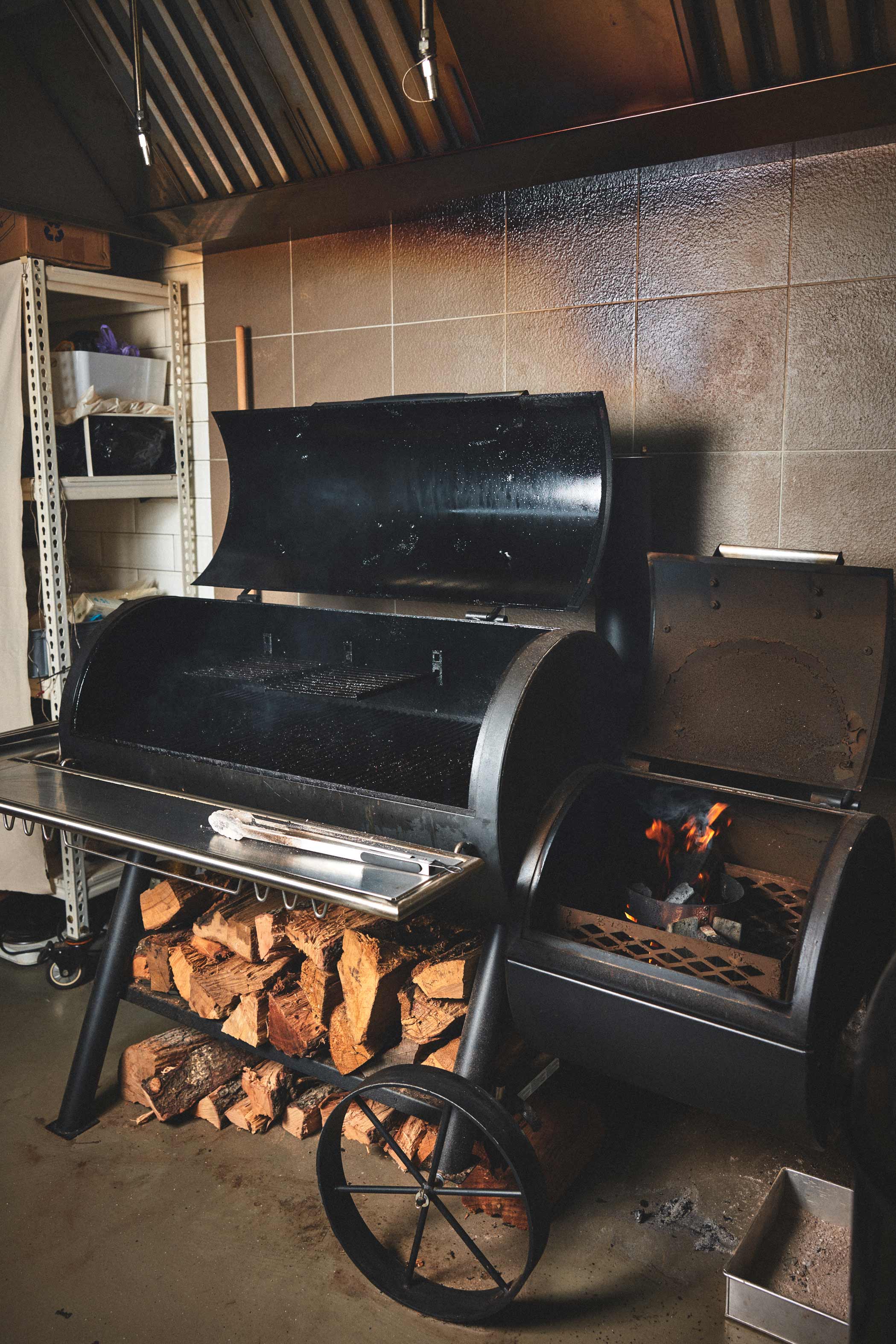 Used a $40 smoker initially
At first, she used a cheap second-hand Weber kettle grill that she bought on Carousell for $40 before working her way up to a $90 smoker she found on Taobao. "It was super flimsy!" she remarks. "But I wanted to test myself. If I can smoke meats in something this flimsy, then I can do it in anything better!"
Naturally, Jayce made plans to visit Texas to taste the real thing. "I had booked my ticket and everything, but then Covid hit," she said. Back to YouTube she went, where she learnt from the likes of pit masters Malcolm Reed of HowToBBQRight and James Brown of James Brown Famous Flames BBQ. She even paid for a Masterclass by Central Texan barbecue legend Aaron Franklin.
Her friends and family became her guinea pigs. "My first few tries weren't very successful," said Jayce. "Then when I got it right, I wanted to do it again and again." Before long, her testers grew tired of the meat coming out of her smoker. "They were like, 'smoked meat again?'," she laughed.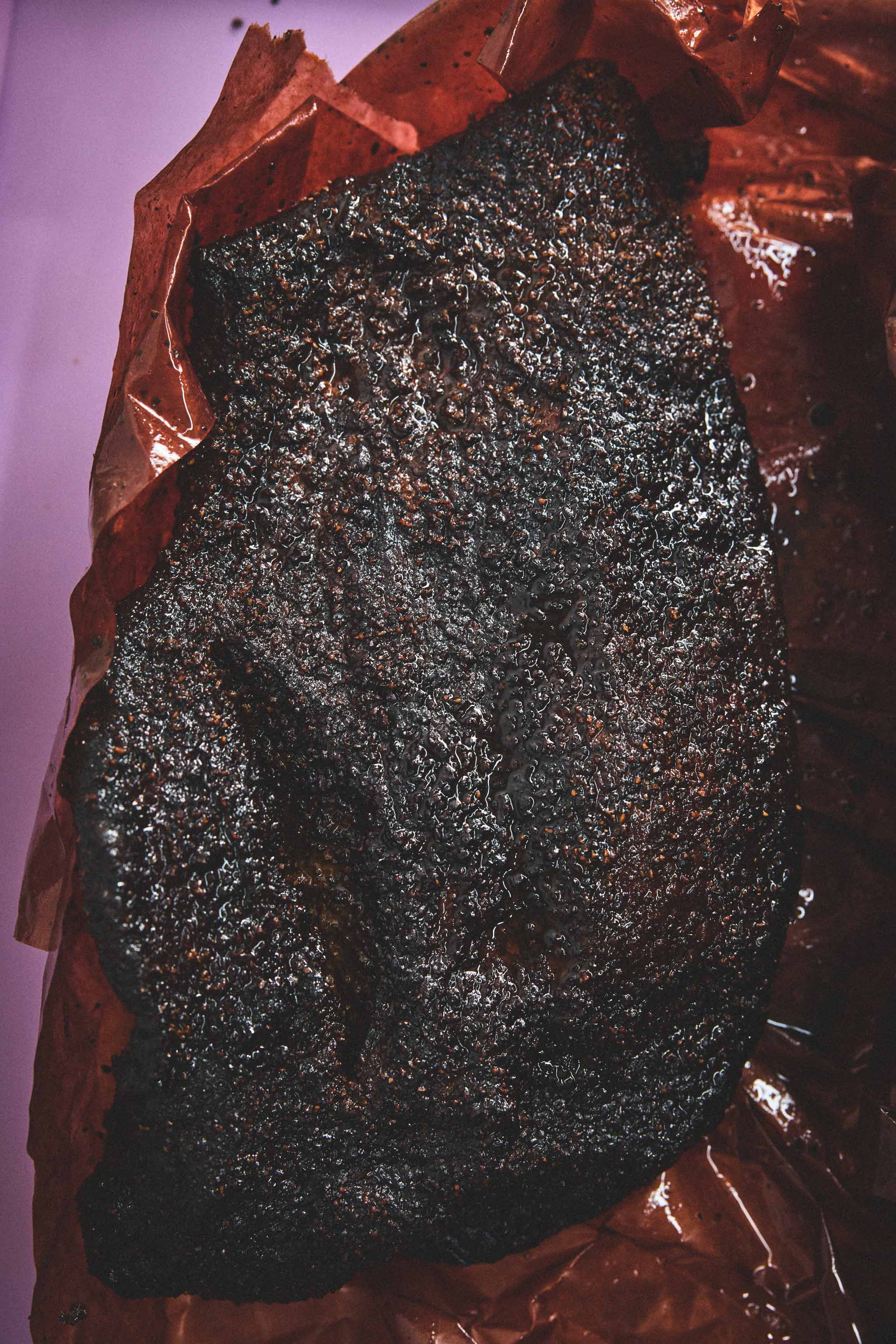 High demand for smoked meats
That's when they suggested she try selling her wares on Instagram. In half a day, she had an Instagram account going, and when she released her first 10kg batch of meats in April last year, they sold out in a minute.
"My website crashed!" she said in her girlish tone. "I thought these things only happened to like, the Sephora online sale. I learnt that people actually put reminders on their calendar to queue for my meat. And I feel their disappointment when they fail to secure a batch. That's why I decided to get a commercial kitchen."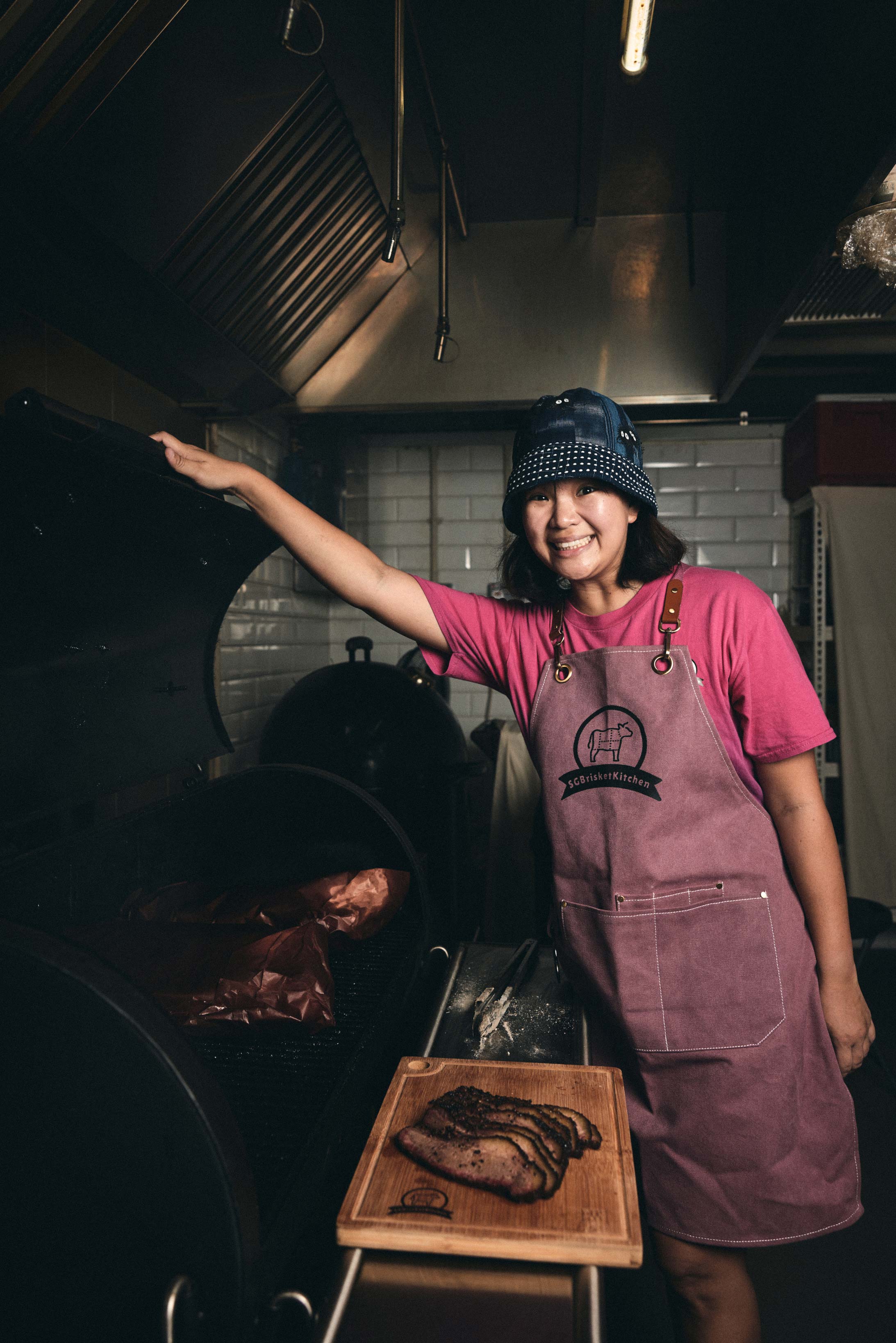 Rented a smallish commercial space for her biz
In October last year, Jayce moved her operations from the backyard of her family's landed home in Upper Thomson to a 200 sq ft commercial space in Pandan Loop. The space is just big enough to fit her heavy-duty $1,300 wood-fuelled Oklahoma Joe offset smoker (pictured) that she bought through Lazada and a foldable bed for her to sleep on (more on that later).
Jayce's menu is compact, comprising mainly smoked briskets and pulled pork, as well as her version of mashed potatoes and an almond tart. She used to smoke beef short ribs, but has taken them off the menu for now as the prices of premium short ribs have risen exponentially in the last six months.
Orders are released on her website every Tuesday for delivery on Sunday. Each week, she prepares about 50kg of brisket and 20kg of pulled pork. On Friday evenings, when the rest of us prep for a weekend of fun, Jayce heads to her commercial kitchen to begin barbecuing.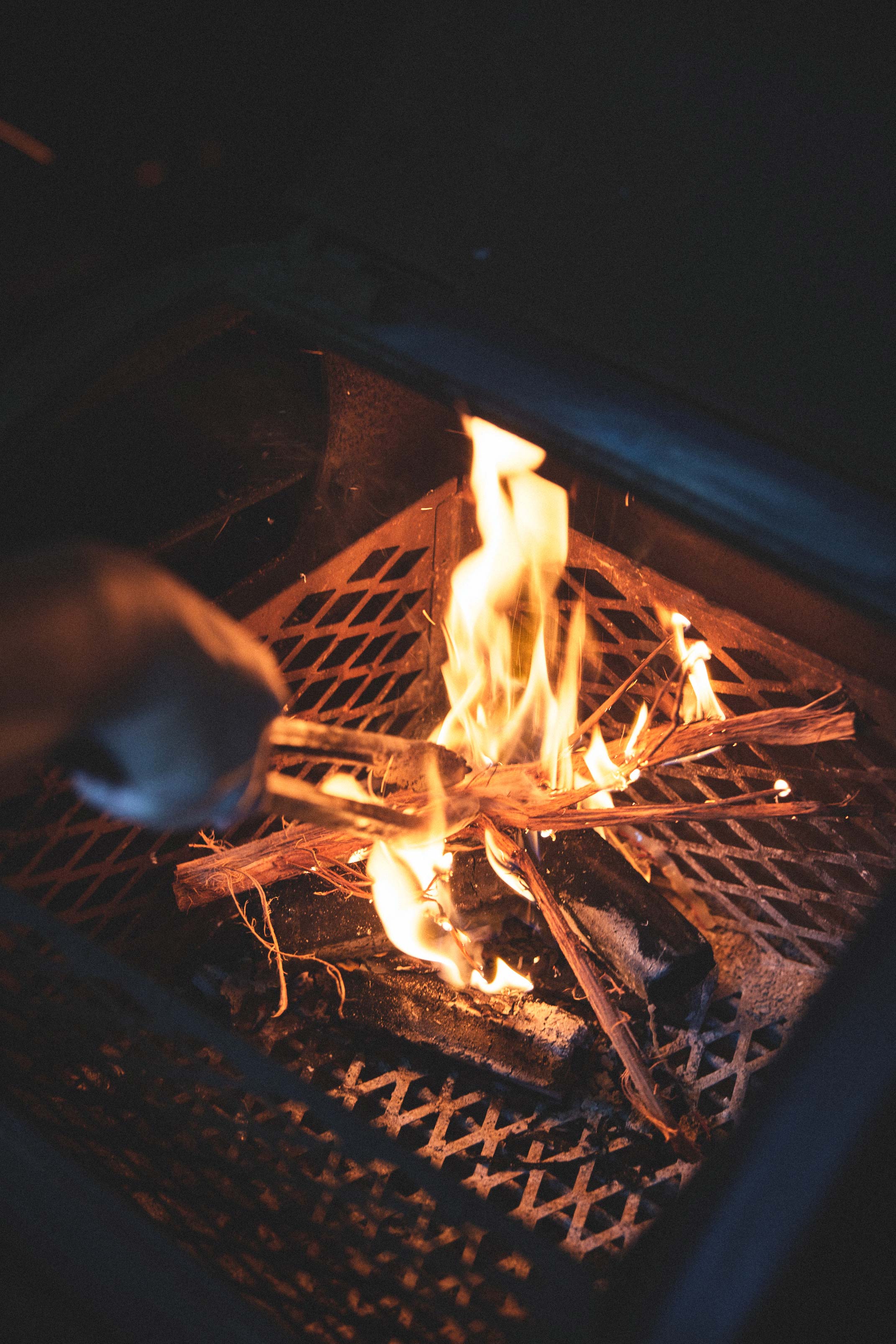 Sleeps in cramped commercial kitchen while smoking meats
She spends her night in this warm space, "about the size of three parking lots", tending to the fire, adding wood to the smoker when needed to maintain the correct heat. While she has her foldable bed, she doesn't sleep much in this kitchen because of the heat. "Usually, I just end up working on my computer, cleaning or skateboarding in the carpark," she said. "Honestly, I also don't know why I do this. But I enjoy it, lah."
When asked if she has plans to quit her day job and do this full-time, she said, "Not at the moment, but in the future, who knows?"
When the meats are finally done on Saturday evening (that's almost 24 hours spent in this small, smoky kitchen), she packs them in vacuum-sealed bags for delivery on Sunday morning. "There's no way I can leave the meat unattended while they are cooking," she said when asked if she leaves the premises to meet her friends for a meal in between. She is currently training a newly employed staff member who she will split the work with when he is ready.
We receive our meats one early Sunday afternoon, with instructions to warm them by steaming them in their bags for 15 minutes. Alternatively, the bags can be immersed in boiling water for warming.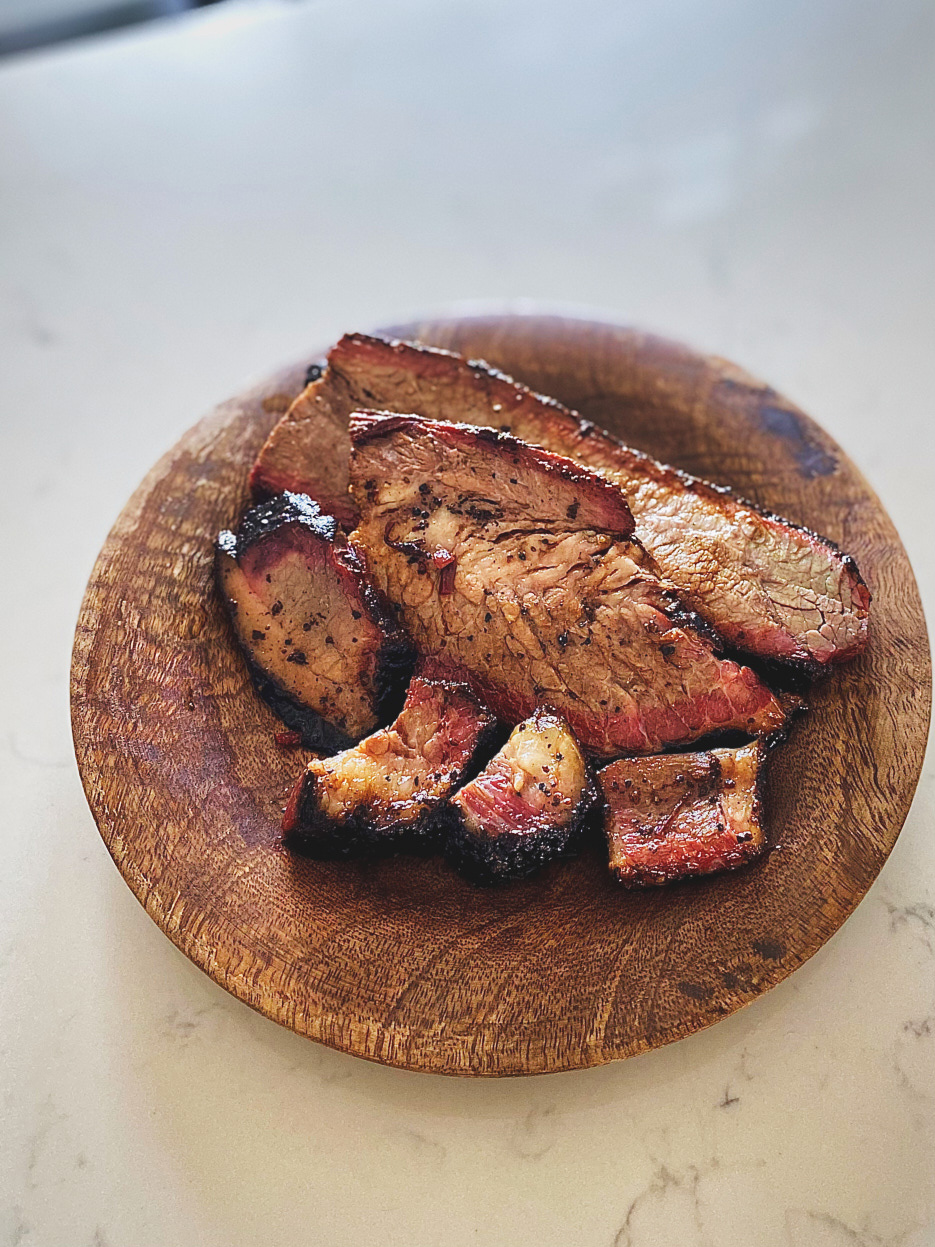 Smoked Brisket with Post-Oak & Hickory Wood, $80/500g (8 DAYS Pick!)
She may have never been to Texas, but Jayce makes a mean 18-hour-smoked brisket with all the right flavours. The whisper of sweet smoke from the post-oak and hickory is pronounced and stays in the mouth long after we devour the tender, succulent brisket. The meat is seasoned simply, but boldly, with salt and pepper (similar to Texan BBQ god, Aaron Franklin's brisket). It is edged with a red ring, indicative of deftly smoked meat. This is a beautifully balanced brisket, complete with a well-charred surface. Consider us impressed. (In case you were wondering, post-oak is another species of oak that Jayce says has a stronger, woodsier flavour, which she prefers for smoking beef.)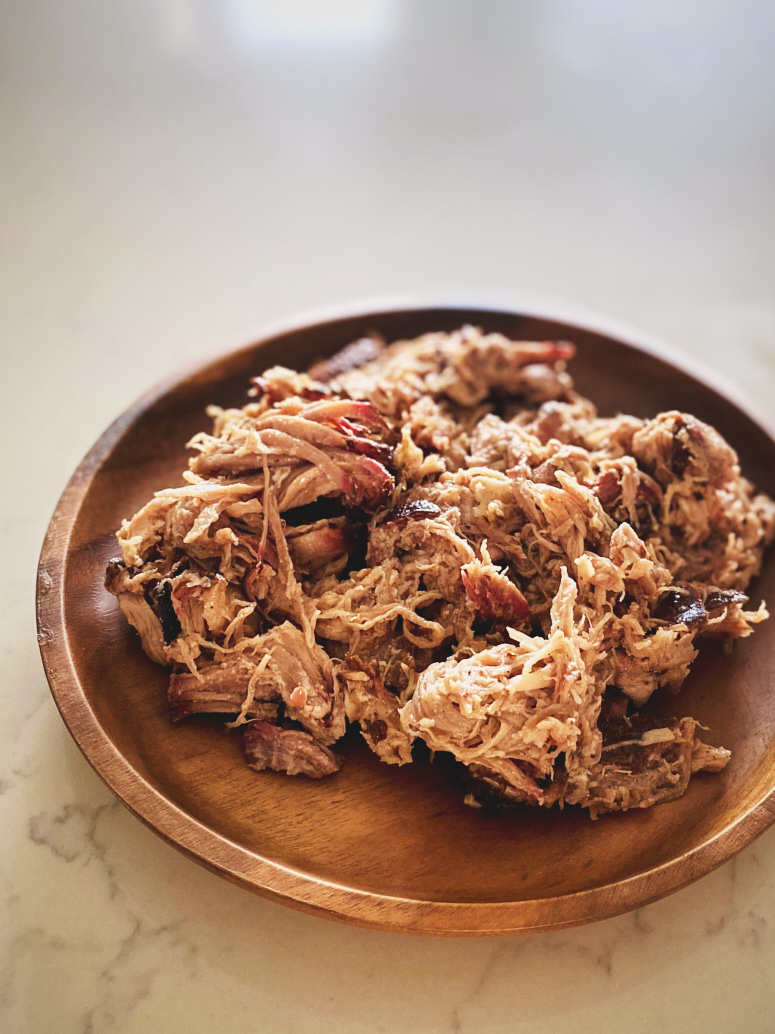 Pulled Pork with Cherry & Maple Wood, $38/300g (8 Days Pick!)
When we think of pulled pork, the image of melting strands of pork pooled in barbecue sauce comes to mind. So we are delighted to find that Jayce's version comprises thick strands of smoky, tender Canadian pork shoulder, which had been smoked for up to 18 hours. The structure of the meat is still intact yet the thick strands melt in the mouth with a deep flavour and smokiness tinged by the sweet flavour of cherry and maple wood. There is no barbecue sauce in the mix. She merely seasons the meat with salt, pepper and a touch of cayenne pepper, a simple style she coins "Jayce's SG style".
There's a nice amount of fat which keeps the boldly seasoned pulled meat succulent. Great on its own or between soft slices of bread.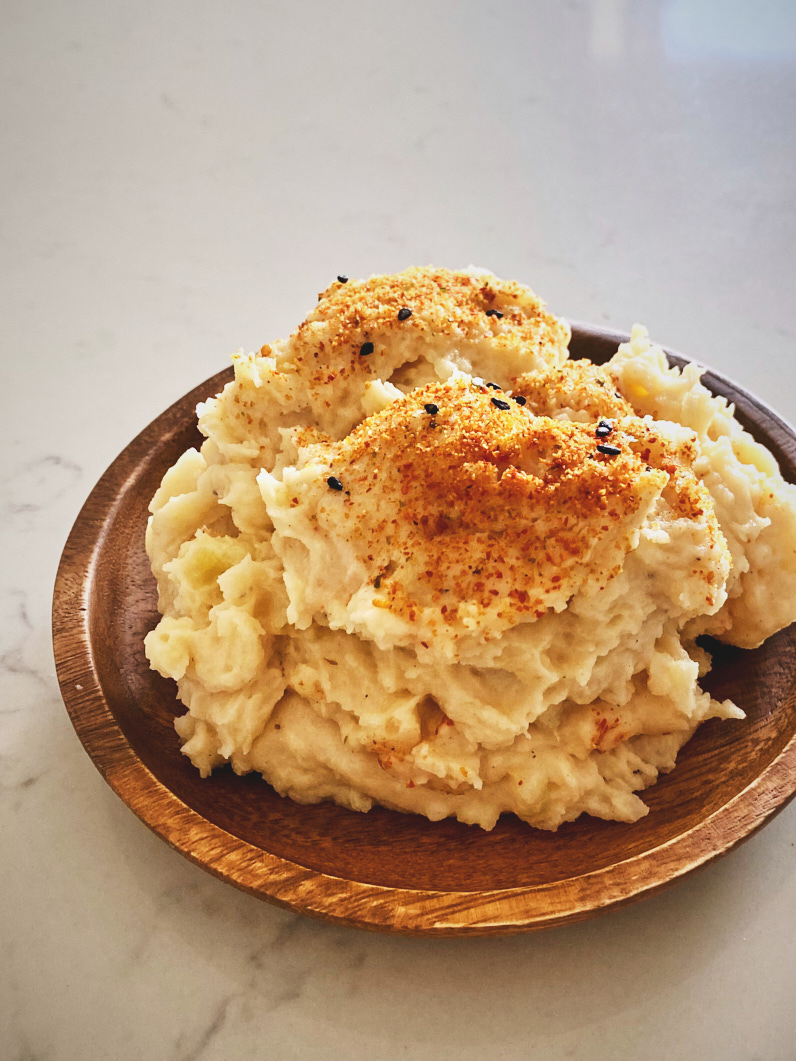 Umami Mashed Potato, $14/500g
As its name suggests, this mash is rich with umami thanks to a sprinkling of shichimi powder (a Japanese seasoning known as seven-flavour chilli powder). Made from fluffy USA Russet potatoes, it's also dairy-free (Jayce prefers not to say what she uses in place of milk, cream or butter), which is probably why it doesn't leave us feeling heavy after enjoying a large dollop of it with our meat.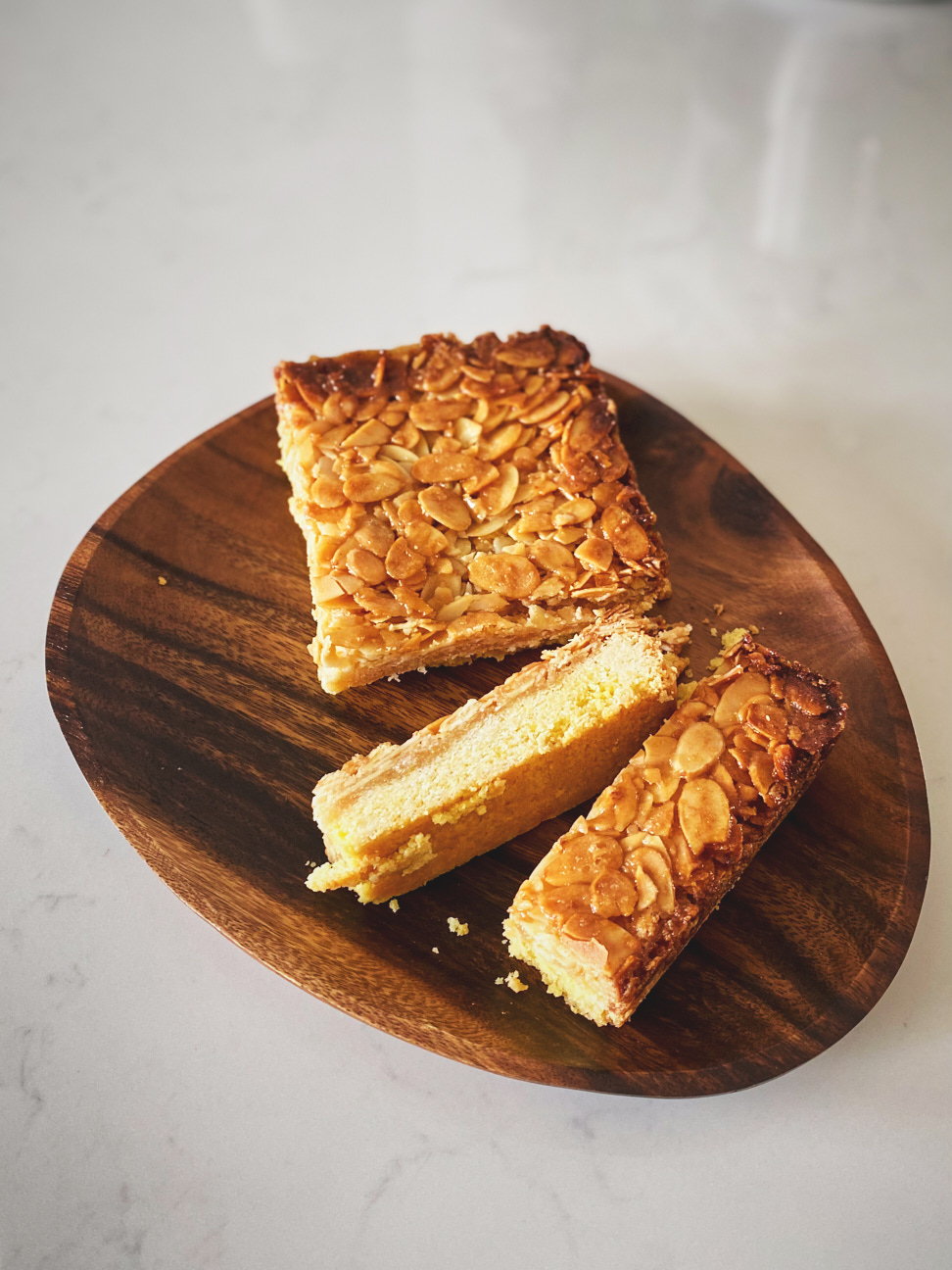 Almond Tart with Raw Organic Honey, $14 (20cm x 10cm)
A thick slab of sweet, buttery pastry is slathered with a layer of raw organic honey and another of slivered almonds. It's a simple dessert that would go well with a scoop of vanilla ice cream, but it's too sweet for our taste.
Bottom line
While Jayce's brisket prices are slightly steep — comparable to Texan BBQ stall Smao's at Botanic Gardens and slightly higher than fellow HBB, Cuts N Slices, we find her smoked meats (especially her pulled pork) impressive and worth the effort it takes to procure them. We can't wait to see what Jayce comes up with when she finally gets a chance to visit Texas.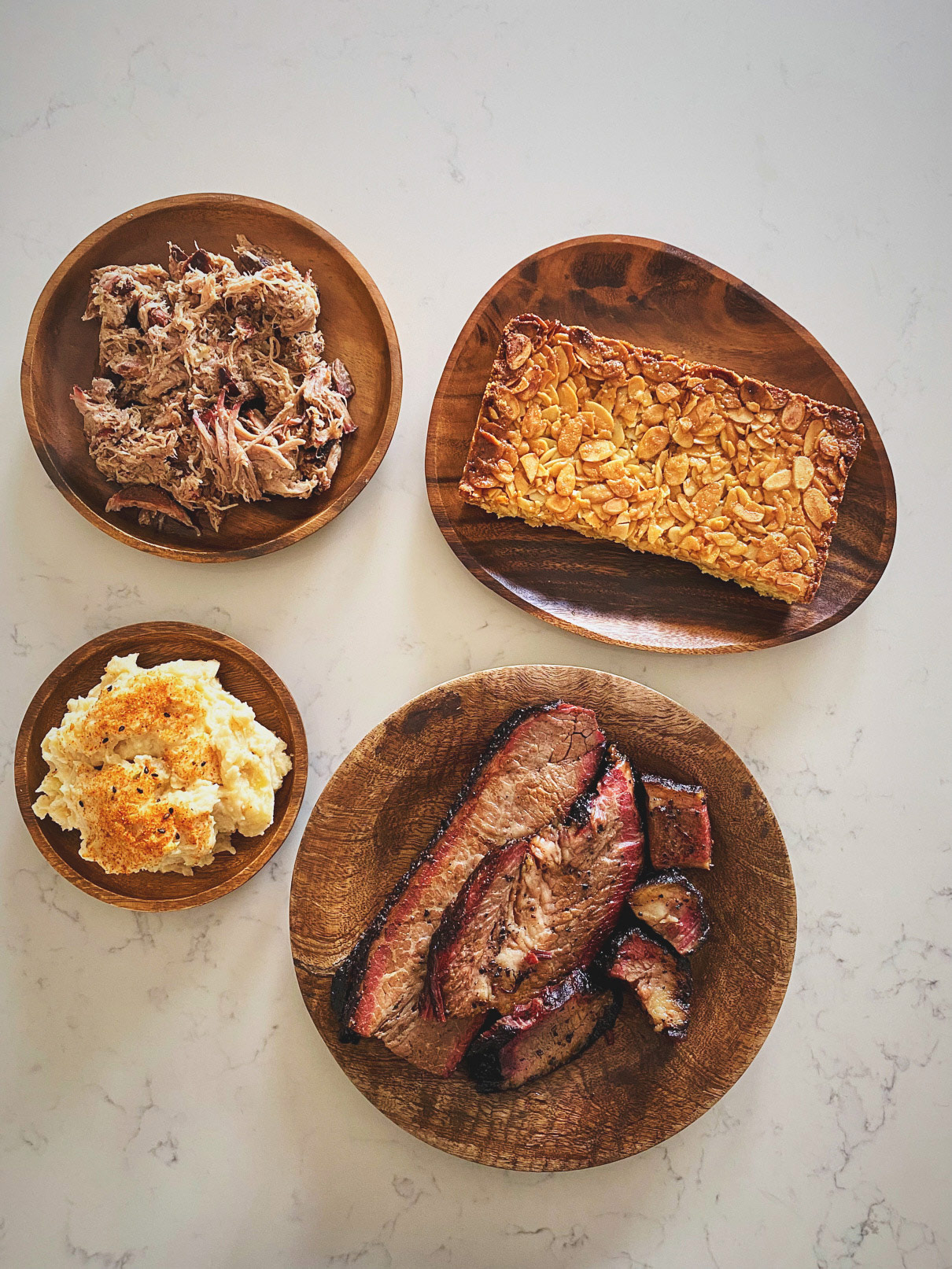 The details
Orders are released on her website ( https://sgbrisketkitchen.com/) every Tue evening for delivery on Sun (between 10am and 2pm). Follow her IG (https://www.instagram.com/sgbrisketkitchen/) or Facebook page (https://www.facebook.com/SGBrisketKitchen/) for updates.
All photos cannot be reproduced without permission from 8days.sg
Photos: Alvin Teo, Annette Tan