One Year After Being A Hawker, Ex-SIA Steward Expands Lor Bak Stall & Sells Bak Kut Teh
The millennial behind BBraise has "no regrets" leaving his flying career. He has relocated his biz to a larger space and hints at opening a new outlet.
While many airline cabin crew members turned to making a living in the F&B industry amid pandemic-driven border closures, ex-Singapore Airlines flight steward Alvan Chew's hawker story began differently. The 30-year-old left his job in 2019, before Covid-19 hit, plunging headfirst into a gig at his friend's braised meat hawker stall despite having no culinary skills to speak of back then.
He used his experience as a hawker's assistant and cook to open his own home-based modern lor bak rice bowl biz in 2019, and eventually hawker stall BBraise at Amoy Street Food Centre last February. 
The millennial towkay recently relocated to a "substantially bigger stall" in Maxwell Food Centre on January 1, expanding his menu to include deep-fried chicken cutlet rice bowls with mentaiko (spicy cod roe) sauce and bak kut teh.
No part of this story or photos can be reproduced without permission from 8days.sg.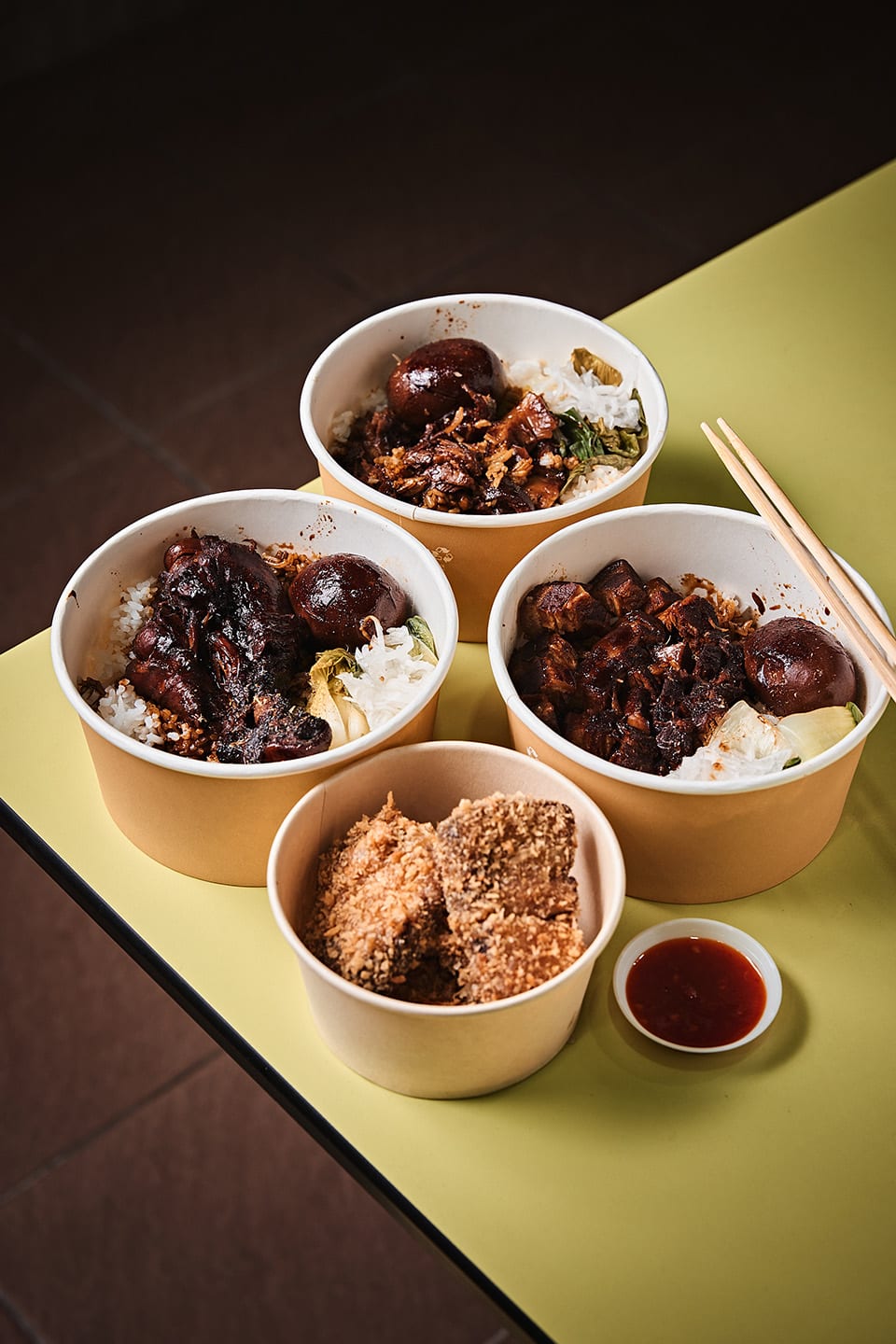 BBraise relocates to Maxwell Food Centre
Alvan tells 8days.sg that the move to Maxwell Food Centre was a "strategic" one. "We were doing pretty well in Amoy – I was making enough to draw a proper salary," he says, adding that he had a "pretty constant" lunch queue. "But we were limited by a number of factors."
"The first is the crowd," he continues. "Amoy really only caters to the office lunch crowd. Maxwell [despite also being located in the CBD], is a lot better." Alvan explains: "Unlike Amoy, more stalls here stay open for dinner and on weekends, which means customers will come at those timings – so we can stay open for longer hours and cater to a larger audience."
Moreover, the unit he snagged at Maxwell is "almost double" in size compared to his previous stall, with only a "slight increase in rent" (he declines to go into specifics). "I can do a lot more things now, because of the space," he adds.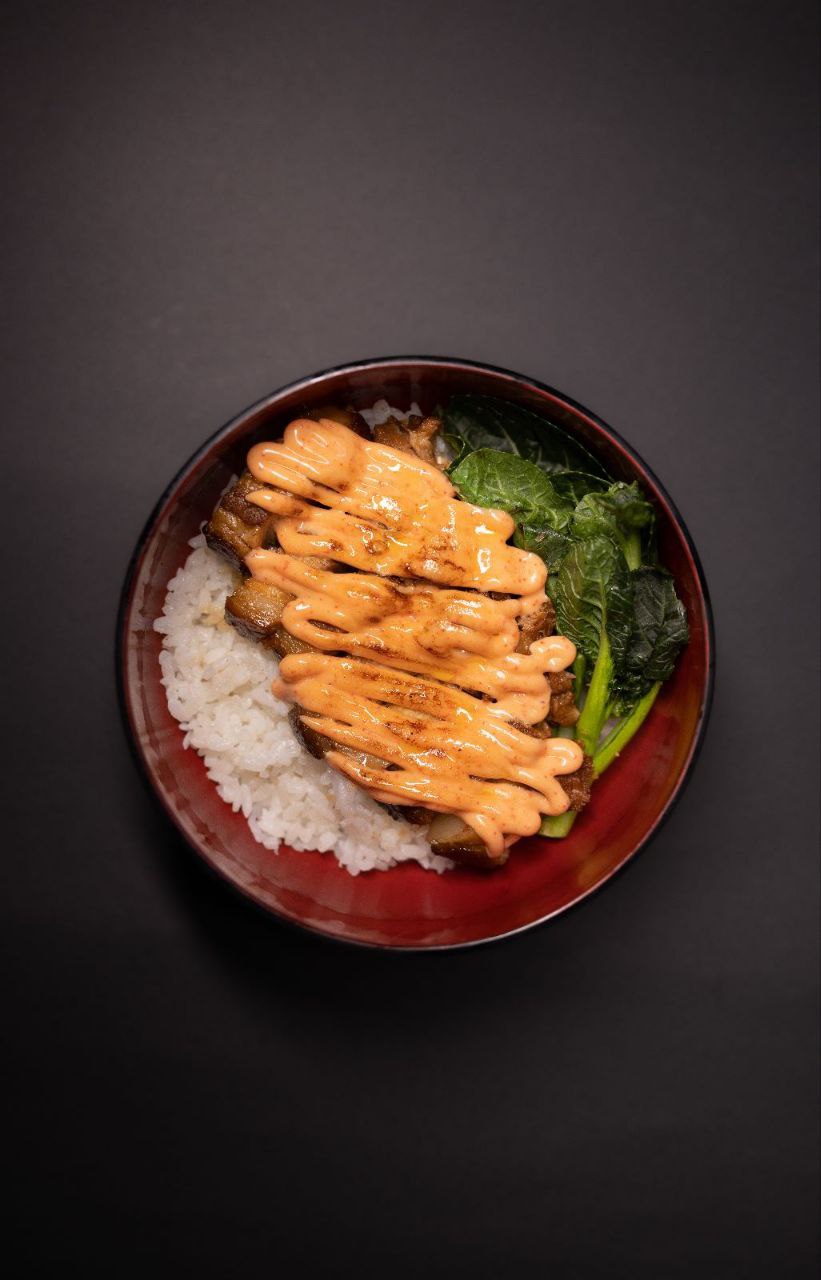 New year, new me-nu
BBraise reopened on New Year's Day with more items on its menu and slightly adjusted prices. Previously, the hawker's rice bowls – with your choice of pork belly, pig's trotter or chicken cooked in a thick, rich soy braise with "nearly 20 herbs and spices", paired with Japanese-inspired greens, pickles and hard-boiled egg on rice – went for $5.90 a pop. "But I got a lot of feedback that the 10 cents' change was very annoying," confesses the hawker with a laugh.
So he adjusted the price to $5 for the same similarly portioned meat-and-veg bowl, sans the braised egg (top up $1 if you want an egg). He also sells a larger $7 set with tau kwa, tau pok and a soft-yolked ramen egg (an upgrade from the standard hard-boiled egg). He has also switched from using Thai jasmine rice to Taiwanese pearl rice.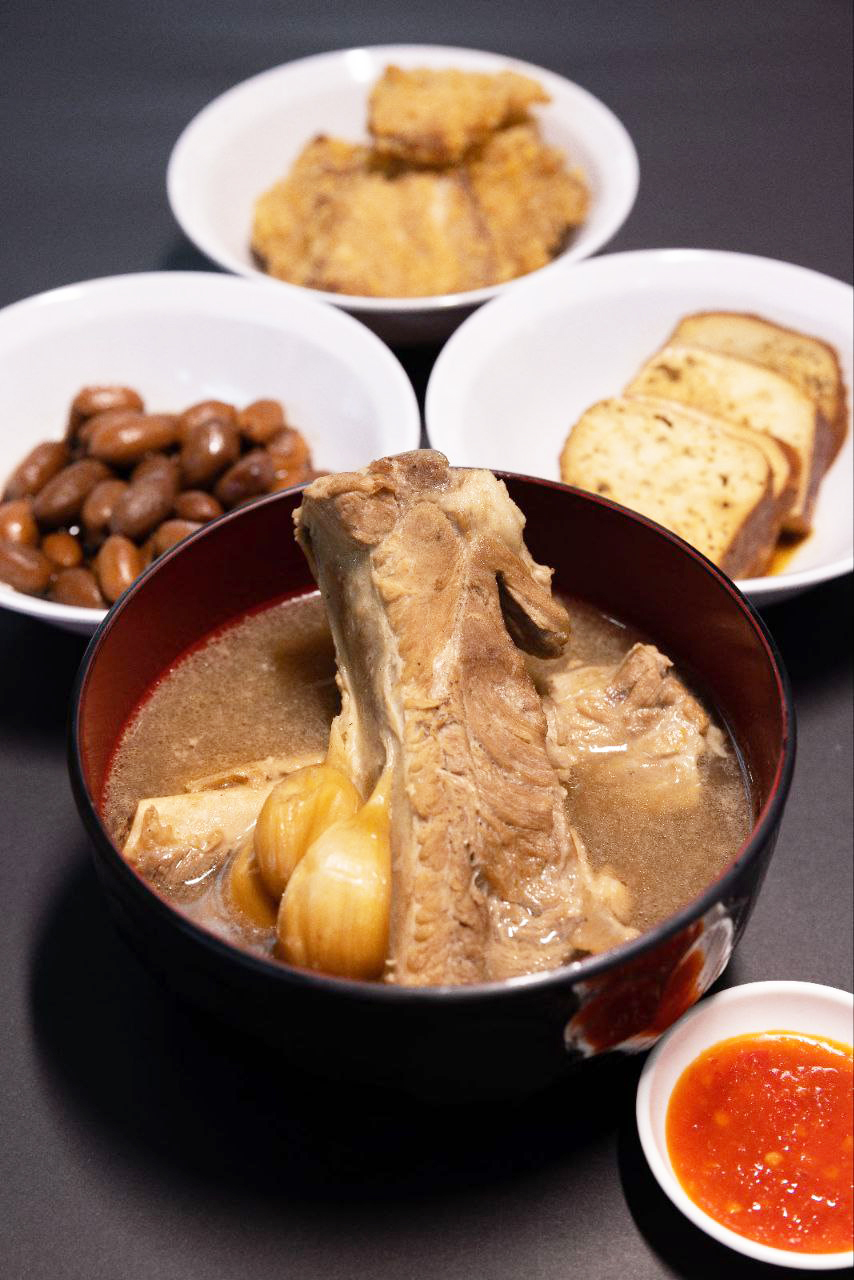 Why bak kut teh?
Fresh menu additions include rice bowls with breaded chicken thigh or braised pork belly – the hawker torches the latter just before serving for "extra smokiness" – and topped with mentaiko mayonnaise for $6. 
He also plans to add peppery Singapore-style bak kut teh very soon. Why bak kut teh at a mod braised meat rice bowl stall? "Personally, I love bak kut teh and it was really something I wanted to offer since day one," explains Alvan.
No plans to return to flying
Does the hawker miss his former life as a cabin crew member with Singapore Airlines? "I'll skip it for now (laughs). It's true that I'll probably earn a lot more [flying], but I will also spend a lot more. For example, a meal in the US costs roughly $20. In Canada, it can even go up to $40," says Alvan. "And when we go to a city like Paris, we'll naturally visit a branded goods store. There's a bit of peer pressure lah [for the cabin crew] to all buy something together, you know? (laughs). I don't like to spend that kind of money. It gets stale doing the same thing over and over again."
He continues: "That's why I went into F&B. Every day is a great challenge, because you never know what's going to happen. There's a community too – you get to know the neighbouring stallholders, we'll give each other free food and encourage each other. It's a very nice feeling, especially when you have customers that keep coming back. I had one customer who came back to eat four days in a row. I was like 'Wah, eat four days not sian one ah?' But of course, I felt a great sense of accomplishment." He concludes: "I have no regrets at all. I feel like this is something that I can stick with for the long run."
The hawker is coy about his future plans but hints at a new outlet: "I can't say anything for now, so you'll have to wait and see."
The details
BBraise is now at #01-43, Maxwell Food Centre, 1 Kadayanallur St, S069184. Tel: 8884-2796. Open daily except Fri 11am – 8pm. More info via Facebook and Instagram.
Photos: Alvin Teo
8days is now on #tiktok! Follow us on www.tiktok.com/@8dayseat
No part of this story or photos can be reproduced without permission from 8days.sg.