Order mee goreng & prata from your car at 24-hour kopitiam's 'drive-through'
A no-frills local version of McDonald's drive-through. Well, sort of.
When we think of drive-throughs, the places that come to mind are fast food joints like McDonald's and KFC. So when
8days.sg
stumbled upon a TikTok video of an unusual drive-through at Indian Muslim coffee shop Akbar 24 Hours Restaurant in the CBD, we had to check it out.
True to its name, the eatery is open round the clock daily, and has garnered fairly good reviews on Google for being a convenient 24-hour eatery. It's located at Lim Teck Kim Road in Tanjong Pagar, and has quite an extensive halal menu comprising dishes like roti prata, mee goreng and chicken biryani. Drinks include the usual suspects like teh tarik and Milo dinosaur. When we drove by relatively early at 11am on a Saturday, there was already one car (a cab, we wonder if the customer was the driver or passenger?) ahead of us in the queue. 
No part of this story or photos can be reproduced without permission from
8days.sg
.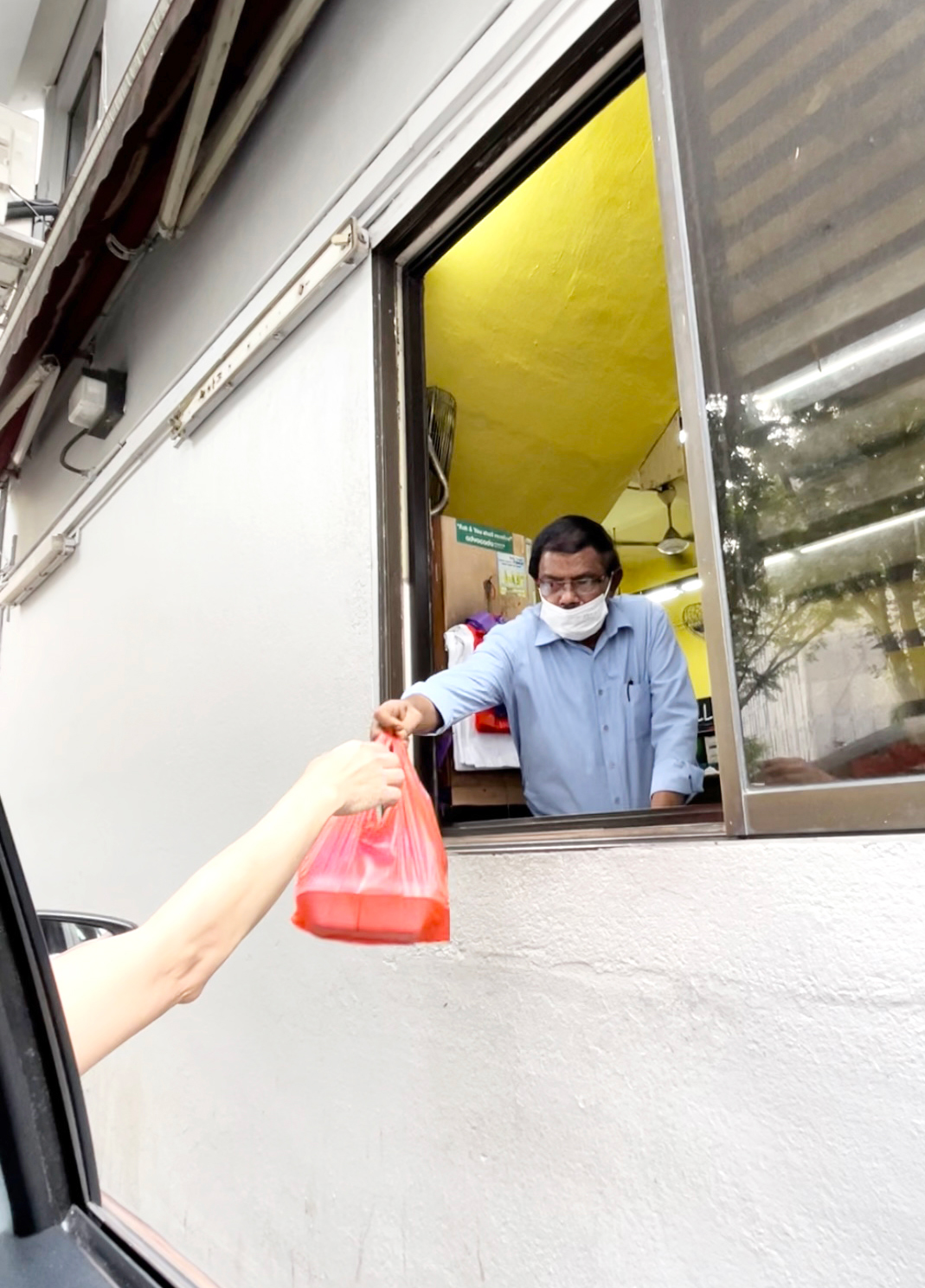 24-hour drive-through service
Don't expect sleek service a la McDonald's intercom and its separate ordering and pick-up station at Akbar. It's pretty low-tech here, but it works. The "drive-through" is simply a short alleyway behind the eatery for vehicles to filter through to a small window from their kitchen at the back of the coffee shop. Here, a cashier takes and serves your orders. The no-frills setup kinda reminds us of a parking attendant's kiosk in an old building. 
According to the guy manning the cashier, the drive-through has been operating for some 15 to 20 years now. Apparently, we're late to the party.
Order at the window or call ahead for speedier pick-up 
8days.sg found the entire process fairly straightforward. Customers can choose to call the eatery beforehand or place their orders directly from their car/bike, at the window. If you're dropping by during peak hours or in the wee hours of the night, we suggest calling ahead to minimise waiting time.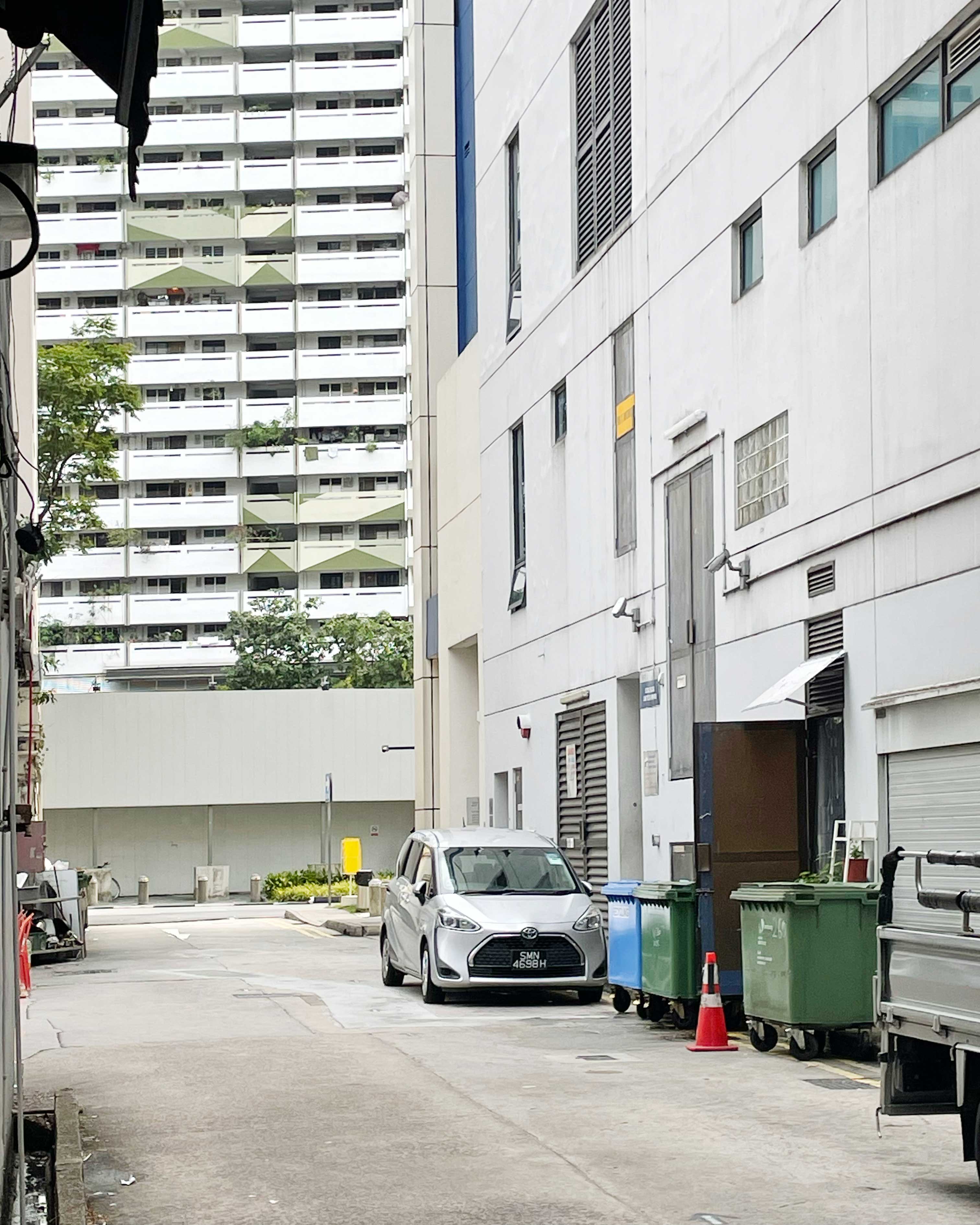 Waited 5 minutes for our food
For the full drive-through experience, we decided to place our order on the spot. Typically, customers can park at the side of the alley while waiting for their grub. The space accommodates around four cars, but since they were occupied during our visit, the uncle instructed us to circle around the building once more. In the five-minute detour we took, our meal was prepped and ready to go when we returned. Colour us impressed.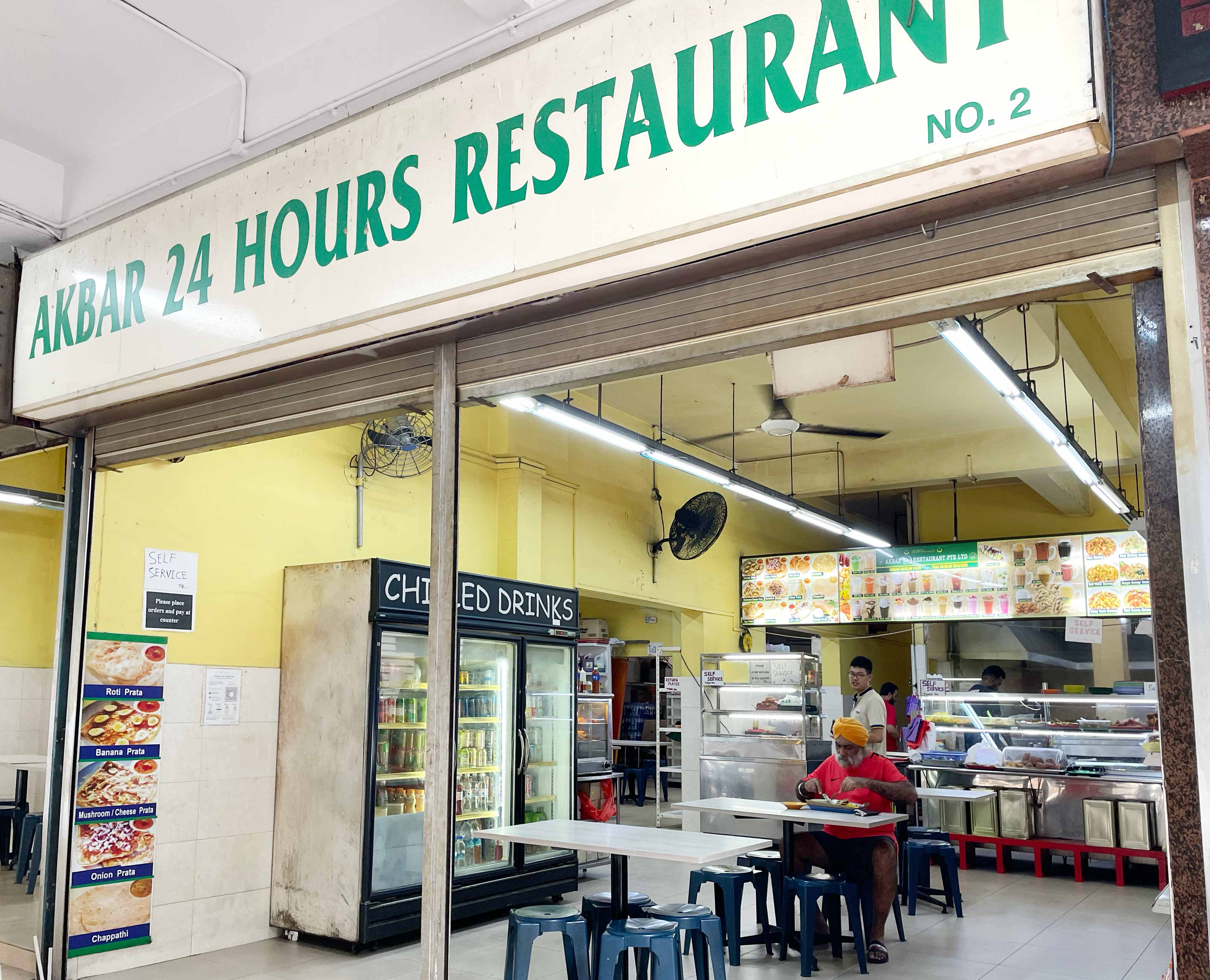 No-frills kopitiam
The drive-through makes it easy to tapow food on the go, but those with more time to spare can chomp down their meal within the eatery. While it's nothing fancy, Akbar has an airy and spacious dining area lined with rows of canteen-style tables both indoors and outdoors.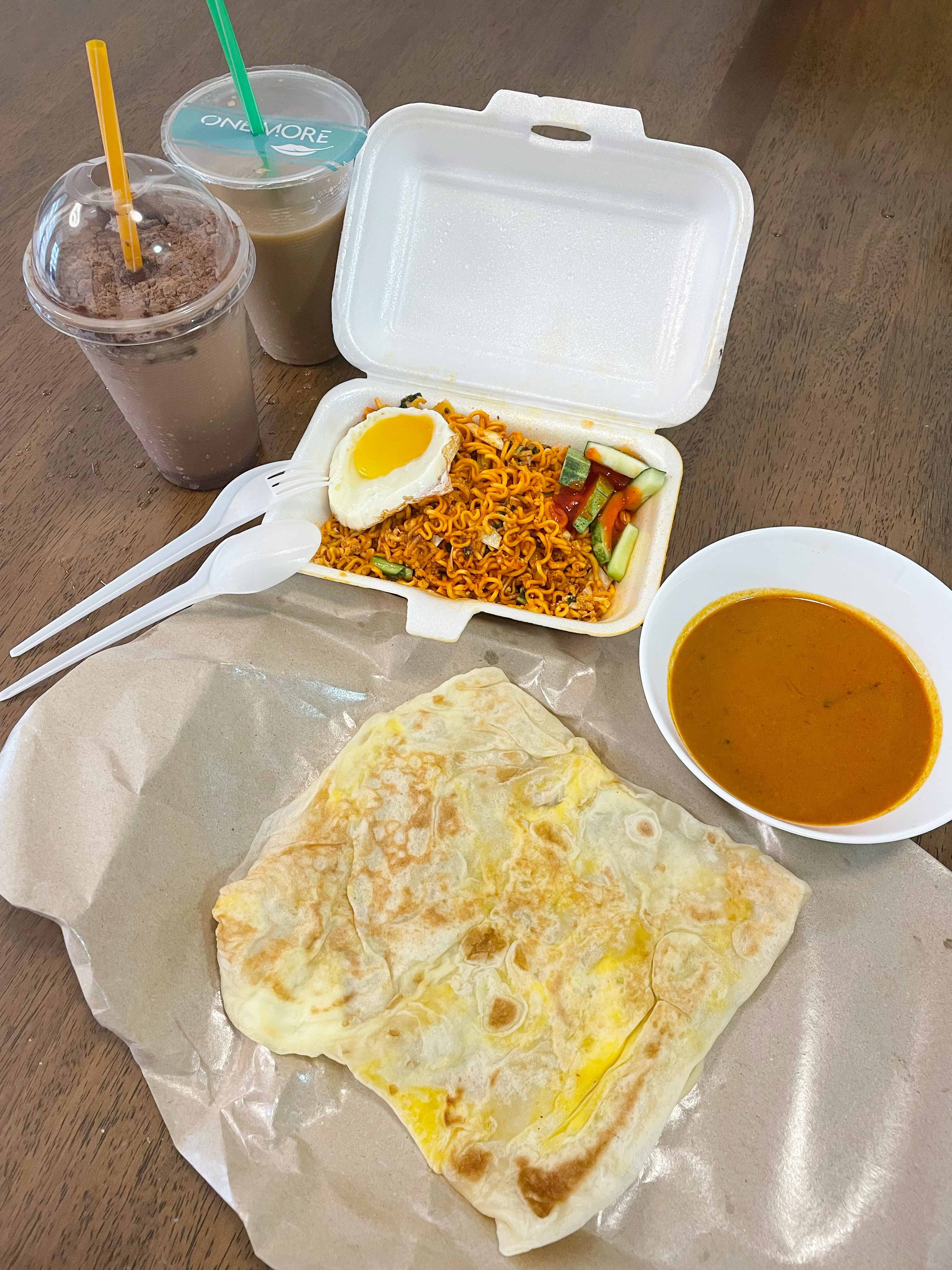 The shop uncle told us that roti prata and maggi goreng were signature dishes, so we ordered those.
Egg prata, $1.80
A standard egg prata served with tangy fish curry. Nothing to shout about, but satisfying enough to curb our cravings.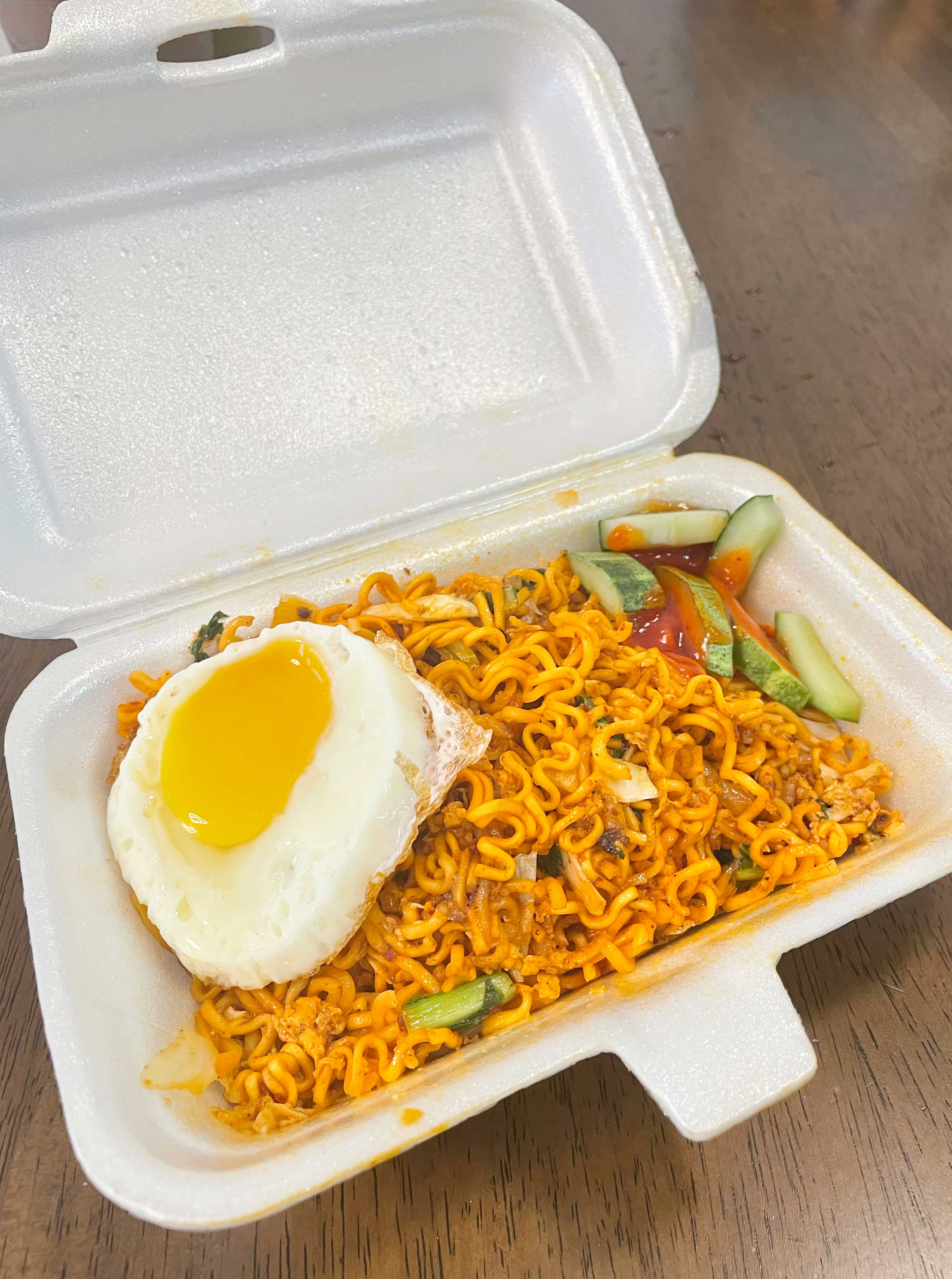 Maggi

goreng, $4
This is fried with cabbage, sliced chillies and topped with a runny sunny side up egg plus cucumbers. The noodles were flavourful enough with a slightly spicy kick and the veggies added a nice crunch. A decent plate of Maggi goreng.
Milo Dinosaur, $2.90; Iced Kopiccino, $2.40
This tasted like the Milo from our childhood, sweet and sprinkled with a thick layer of Milo powder. Meanwhile, the iced kopiccino was quite light and could've done with a stronger dose of coffee.
Akbar 24 Hours Restaurant is at 2 Lim Teck Kim Rd, S088933. Tel: 6324 2559. Open 24 hours daily. More info via their website and Facebook. 
Photos: Gwyn Lim
No part of this story or photos can be reproduced without permission from 8days.sg.
8days.sg
is now on
#tiktok
! Follow us on
www.tiktok.com/@
8dayseat
.