Pamelyn Chee Plays Tiger Mum In Hollywood Movie Boogie, Is Proud She Snuck Hokkien Swear Words Into The Script
Now out on HBO, 'Boogie' is the directorial debut of celeb chef and 'Fresh off the Boat' author Eddie Huang.
Now out on HBO, 'Boogie' is the directorial debut of celeb chef and 'Fresh off the Boat' author Eddie Huang.
Arnie turns up butt naked as the time-travelling cyborg assassin in Terminator. The acid-blooded xenomorph bursts out of John Hurt's chest in Alien. Johnny Depp as Jack Sparrow sails into port by stepping off his sinking vessel in Pirates of the Caribbean: The Curse of the Black Pearl. These are, just to name a few, unforgettable character entrances in movies. Now, you might want to consider adding one more to that list: Hollywood-based Singaporean actress Pamelyn Chee in Boogie.
Directed by chef and Fresh off the Boat author Eddie Huang, Boogie tells the coming-of-age story of Alfred 'Boogie' Chin (Japanese-American newcomer Taylor Takahashi), a basketball prodigy who dreams of playing in the NBA. Boogie wants to focus on getting a scholarship, but his immigrant parents (Warrior's Perry Yung and Pamelyn Chee) disagree with his approach.
Boogie — think a basketball version of King Richard — opened in the US last March to mixed reviews; it premiered on HBO early last month.
Chee's first appearance as Mrs Chin — whom the Point of Entry actress describes as "a provocative foul mouth gangster of a tiger mum"— in the movie sees her uttering a very familiar swear phase as she's going through a stack of overdue pills. We can't repeat what she said except it's a crude Hokkien word for the female genitalia. (Just cue to the 10:33 mark.)
In an e-mail interview with 8days.sg, Chee, 37 says that line was borne out of sheer improvisation during audition. "I translated the sides [excerpts from the script] from English to Chinese overnight and then threw in a bunch of swear words over a cigarette and put myself on tape," she adds. "I love translating my own lines. It allows me to craft the tempo of the character — never miss out on a chance to own your character! We ended up keeping my audition translation as the final shooting script." (Turns out she also threw in another cuss word — fast forward to 32:01.Naughty, naughty.)
The last time we chatted was in April 2020, the beginning of the COVID-19 pandemic and the start of the global lockdowns, with Chee hunkering down at home, doing Bikram yoga, cooking, and practicing her Shakuhachi flute. With things back to (the new) normal ("we have moved back to mostly Zoom auditions"), what's she busy with?  "I'm actively working on finding out the meaning of life," she says. "They tell me it's 42. I'm not that convinced." Very cryptic.
8 DAYS: What did your Boogie audition entail?
I translated the sides from English to Chinese overnight and then threw in a bunch of swear words over a cigarette and put myself on tape. I had a vision of this character as a provocative foul mouth gangster of a tiger mum. The smoking eventually got dropped when we got to set. I love translating my own lines. It allows me to craft the tempo of the character — never miss out on a chance to own your character! We ended up keeping my audition translation as the final shooting script. 
Mrs Chin makes one helluva entrance. We can't reproduce what she said but, boy, it is — what's that word? — memorable. Is that scripted or ad-libbed?  
That's one of my many additions (laughs). I have to thank Eddie [Huang] for his faith. I truly think he is visionary — he knew what he wanted and what he didn't and he trusted his actors to bring the characters to life within the sandbox of his vision. I also had a secret ploy to bring "[expletive]", which I say in another scene, to Hollywood. YASSSSS!!SUCCESS!! Silly games that actors play with themselves (laughs). I really think appropriate swear words are the foundation of authentic characters. If you know how the character swears and what the swear vocab is, you pretty much know who she is as a person, what the socio-economical background is, how she relates to the world, yaddah yaddah yaddah.
How did you prepare to play the mother of a teenager?
This character is an amalgam of my 16 crazy aunties from both sides of the family. I was inspired by the unique way they each interacted with their kids. I truly believe you can play anything — you just need to figure out the relationship. For a start, how does this particular mother speak to the child — or how does my mother speak to me — and build it from there. Who is she? What is the mythology of this story/scene? You have to kinda find her as you go along —which is really the best part of acting — creating characters.
A friend tells me that you're kinda young to be playing a teenager's mother. You're 37 and Taylor is 30. 
Yes, some people have commented that I look too young to play the mum. But I think the question really is, did you believe the relationship by the end of the movie? If you believe me by the end, then I have done my job.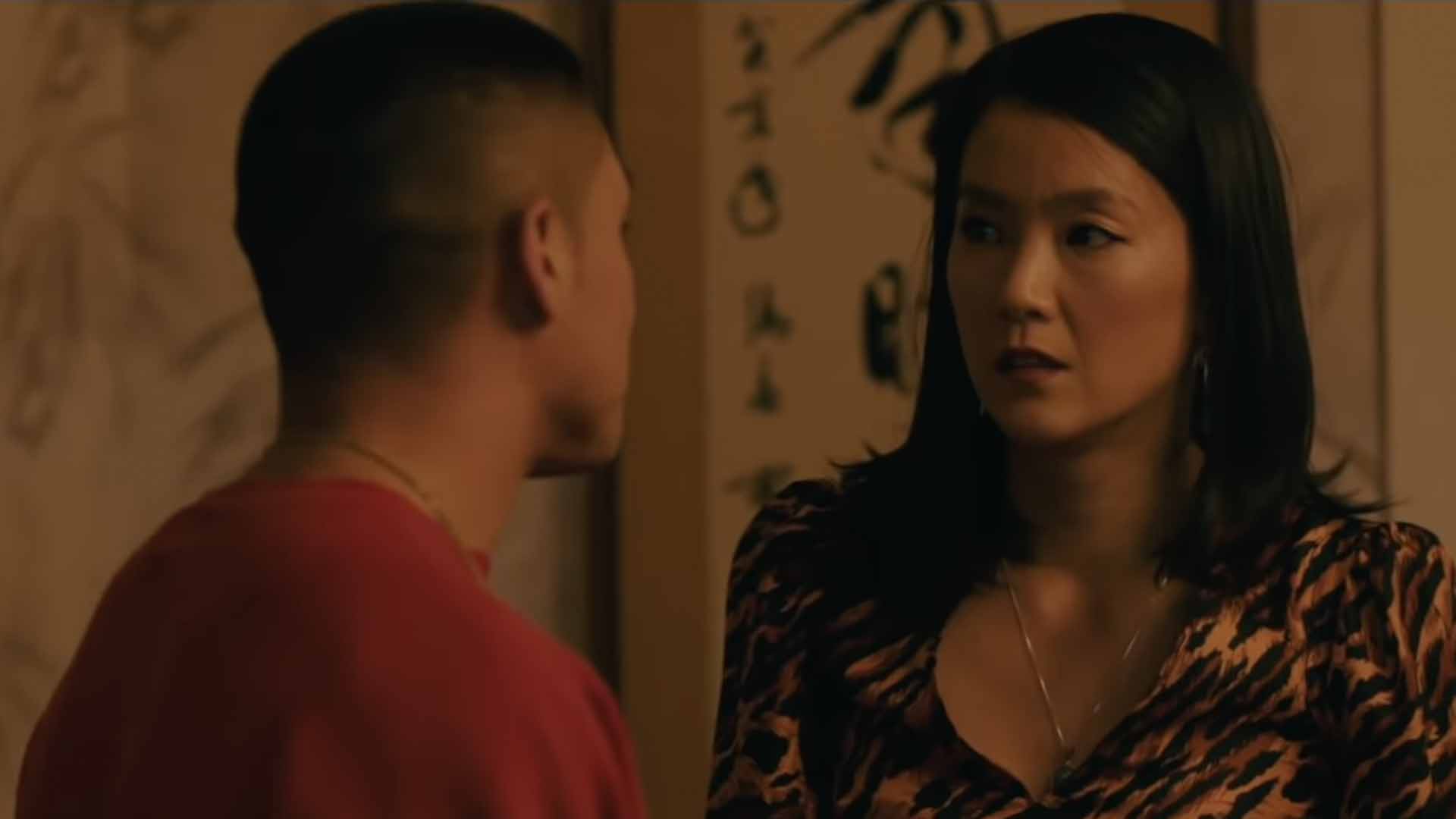 Mother and son: Pamelyn Chee with Taylor Takahashi. Did Chee teach his onscreen Mandarin? "No, because we had a great Mandarin coach on set," says Chee. "It's not easy to act in a language you don't know. Taylor put in a lot of work for this, in addition to being injured and being on set every day for almost every scene. Hats off to him."
What was the most challenging part of playing Mrs Chin?
The most challenging part was the five consecutive overnight shoots by the water in NYC. It was freezing and we were way underdressed trying to look uncold — as usual. I always go into a shoot thinking, Oh I think this is gonna be mostly indoors and warm and day time, and then I am always shocked when they roll out these freezing brutal overnights outside. 
There's a scene where Boogie gets in a heated argument with his parents over the future of his career. Does that confrontation remind you of your own story of wanting to pursue acting?
Absolutely not. I was always gonna do what I wanted to do and I would accept all consequences of my decision. We never discussed this. And when they found out what I was doing they knew better than to stop me. Although my dad used to give me this "a bird in the hand is worth two in the bush" BS — it's such garbage. This is what builds a generation of people with regrets on their deathbed. Always go for the bush. Trade everything you have for what you want. And never give up until you die. "What if" is the kinda eternal hell you put upon yourself. I reject that.
What's your favourite memory of making Boogie?
Eddie gave a speech before we shot the dining room scene to the entire cast and crew about what this movie meant to him. He teared up talking about the importance of this film and his childhood. I understood then that to get this made in exactly the way he wanted — without compromise — to portray the characters as they are, not whitewashed, not FOB-bish, not somebody's idea of how an Asian family should be. It took balls of steel and incredible persistence. I was honoured to be part of something bigger his quest for authentic representation. And he did it. Eddie taught me to always be proud of who you are — the good the bad and the ugly. This is an important lesson.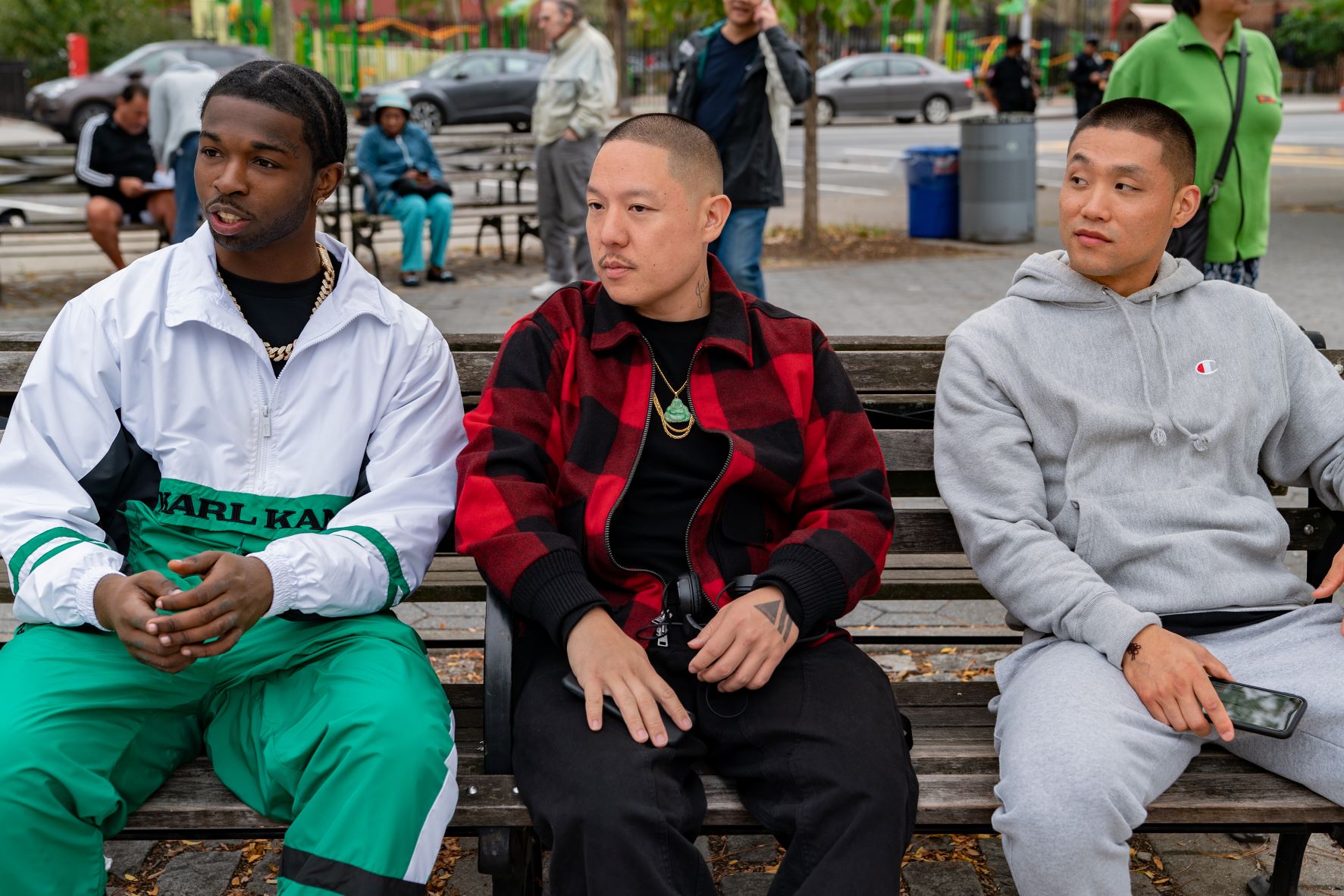 On the sidelines: Director Eddie Huang (centre) with rapper Pop Smoke and Takahashi. Pop Smoke, whose real name is Bashar Jackson, was killed in a home invasion robbery in Feb 2020, before the movie's release. He was 21.
I've previously asked about the catering on the Boogie set. What other food-related stories can you share?
You wanna know what everybody was really fawning over, out of all the food we had on set? The instant noodles with egg — it was Nongshim. All these Asian MSG addicts were like "Damn that looks so good" (laughs). Instant noodles done well is an art form. Also, when we were shooting the cafe scene — it was day 1 scene 1 of the entire shoot — Mike Moh [who plays a sports agent] ate so much toast in the scene they had to give him a spit bucket which he hid under the table. It was hilarious. I think he swore off breakfast for a week after. Way to start the shoot off! 
Speaking of Mike Moh, he got himself in a bit of controversy in Quentin Tarantino's Once Upon a Time in Hollywood over how his portrayal of Bruce Lee. Did you ever ask Mike about his experience working on that film? Did he feel bad about playing Bruce Lee in a bad light?
No, we never talked about it. Nobody could have played a better Bruce Lee than Mike. Mike is dedicated to excellence in everything that he does and his form is impeccable. We are actors, we are only responsible for making a moment in a story come to life. We are not responsible for anything else.
Have you seen Shang-Chi and the Legend of the Ten Rings? We would love to see you in the sequel, even though you might not be able to curse in a Marvel movie.
It's a really fun movie! The opening fight sequence between Tony Leung and his wife was so beautiful to watch — it was flirtatious and poetic, a dance of the 'gang' (刚) and the 'rou' (柔 ) in perfect harmony. They also managed to find an organic way to merge the English universe with the Chinese one. It's really hard to do a Chinese-English film for an international audience without sacrificing the authenticity of that world. I would love to play a villain in a Marvel movie. In fact, I will love to focus on playing villains for the rest of my career. Triad boss/ evil queen/wicked witch of the east…Woohoo! I'm finally at the age where I can play characters that match the tyranny of my soul! Send the scripts my way, please!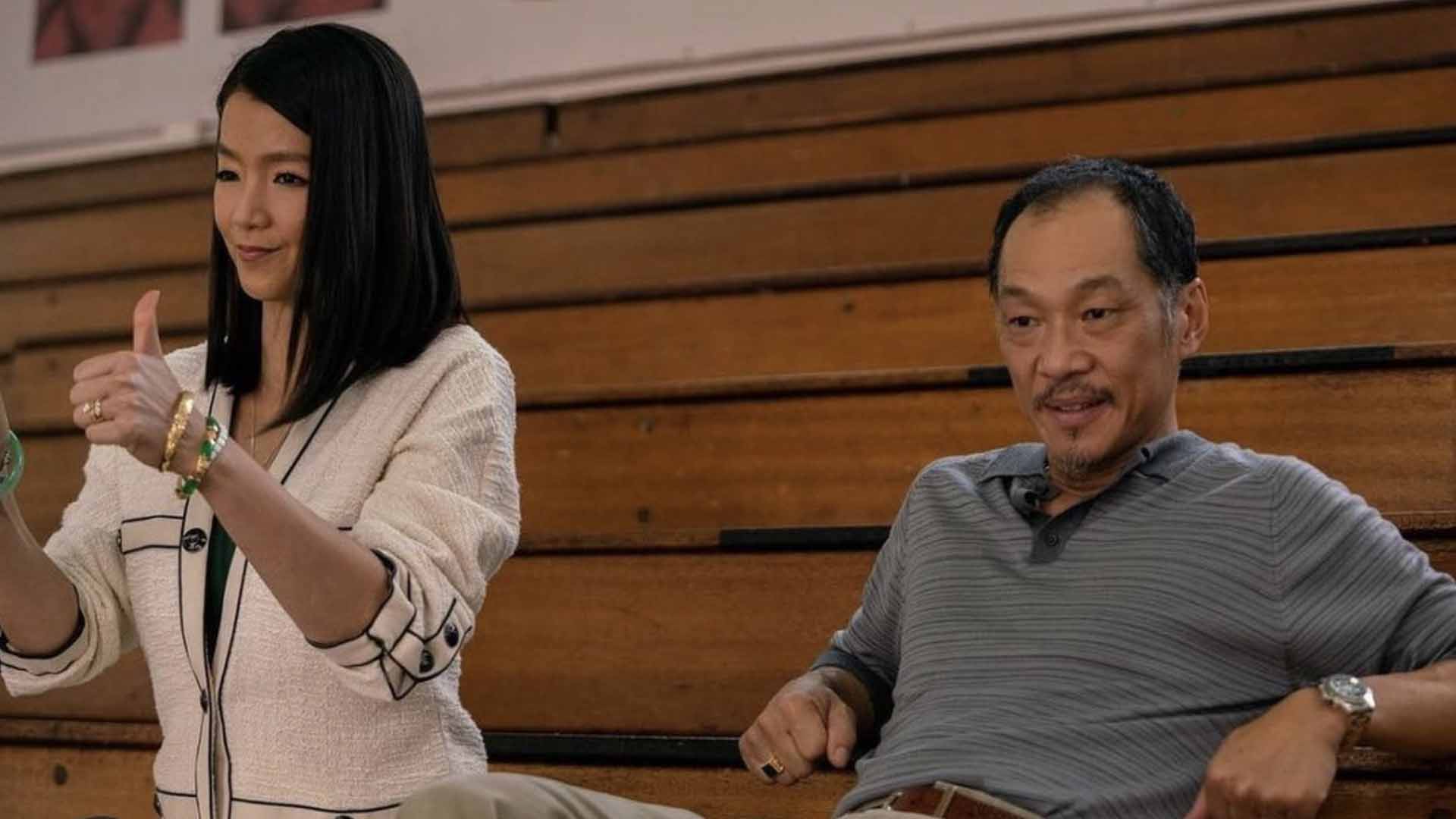 Play ball: Chee with Perry Yung (of 'Warrior' fame) as her husband. Chee isn't into basketball. "I do watch games on and off but I'm not a fanatic," she says. I'm a volleyball player — I much prefer to play than be a spectator — in anything."
The last time we spoke, it was at the start of the pandemic and lockdown. We're now into the third year of the pandemic. How much of your life has changed since the outbreak?
I have decided that it's time to start taking the final cut back. Life is too short — we are not slaves to the machine. It is important to tell stories that can inspire humanity in bleak times. We are not only human beings we are humans being — we have to exist with meaning. So I'm finally ready to pick up my camera and shoot again — a dystopian photo story of a man and his pet robot on a quest for meaning. Know any sponsors?
How do you usually celebrate Chinese New Year in the US?
I don't. I actually do not like celebrations of any kind — Christmas, CNY, birthdays, weddings, etc. I will show up and have a good time if I get an invite, I cannot refuse but I'm really a recluse. Peace is way underrated. But I love bak kwa — my mum is trying to send me some. Hope it clears customs.
Boogie is now streaming on HBO Go. Point of Entry and The Little Nyonya are available on meWATCH. Follow Pamelyn on Instagram @pamelynchee.
Photos: Pamelyn Chee – Rob Echanique; Focus Features