Pastry Chef Quits Michelin-Starred Restaurant To Open Japanese HDB Bakery Selling Takoyaki Buns, Durian Puffs
Tasty takoyaki buns, garlic bread & Mao Shan Wang puffs from $7 at Morimori Yogashi.
Mentaiko baguettes, durian-filled charcoal puffs and burnt cheesecake – these are a few of the trendy delights found at Morimori Yogashi, a takeaway bakery at an Everton Park HDB void deck.
From the exterior, the shop looks like a forgettable heartland bakery. It's so nondescript it blends in with a no-frills fruit stall and sundry shop next door – a far cry from the too-cool-for-school vibes of granola shop Dearborn and other hipster cafes just a block away.
You'd never guess that its owner, Terrian Lim, used to be a fancy pastry chef. In April 2020, the 31-year-old left an enviable job at one-Michelin-starred Japanese-Italian restaurant Terra Tokyo Italian to sell affordable buns, puffs and cakes at his HDB bakery.
All photos cannot be reproduced without permission from 8days.sg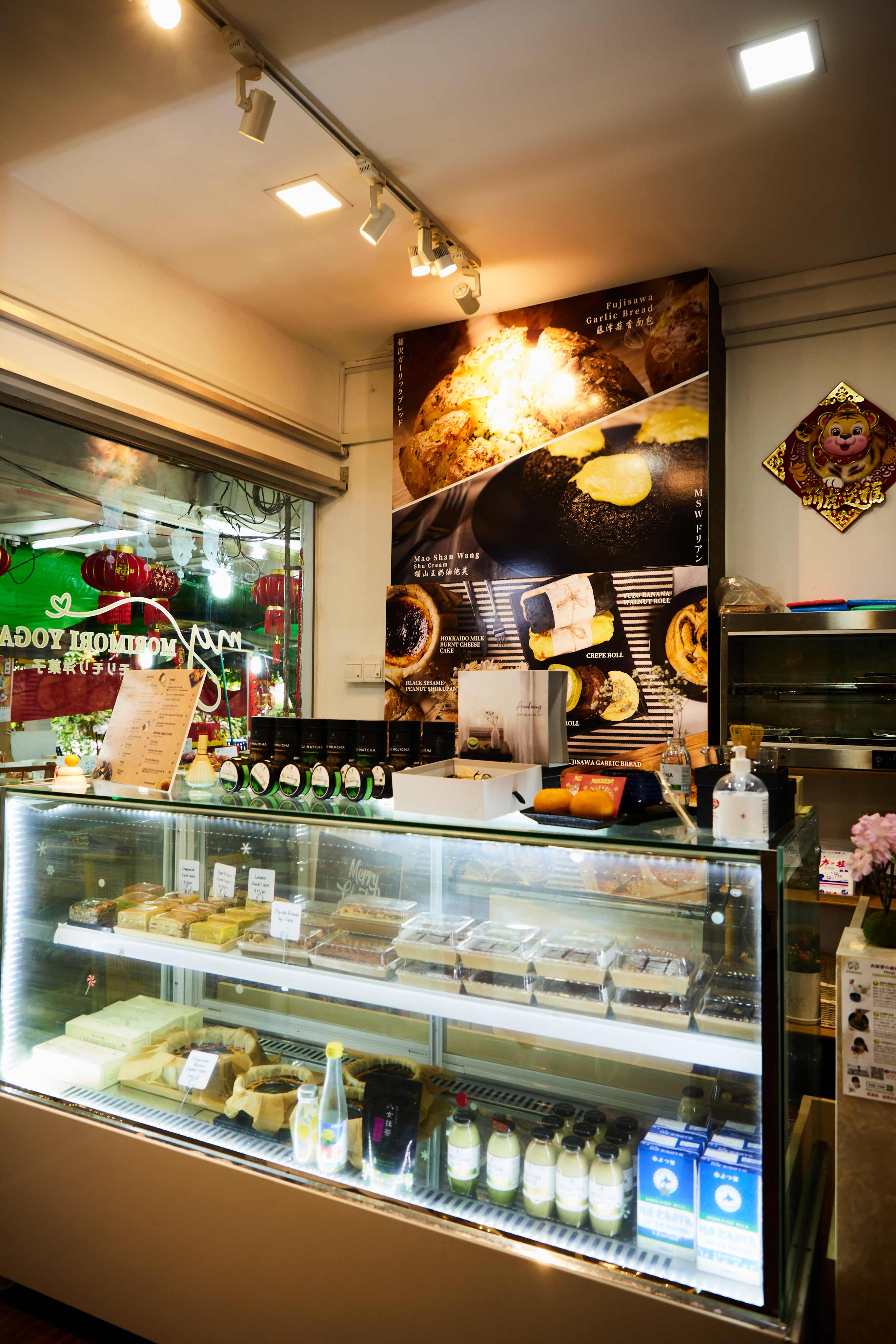 From fine-dining to HDB dining
Before opening Morimori Yogashi ("morimori" means "full of energy" and "yogashi'' refers to "Western-style confectioneries" in Japanese), Malaysian-born Terrian spent four years as the head pastry chef at Terra. "Out of all the places I've worked at, I learned the most at Terra. But it was also very intense and stressful. We had a lean team in the later years so I had to be hands-on for everything, including washing the dishes," the Singapore PR says in mandarin.
Being an omakase-only establishment, Terrain also faced constant pressure of creating new desserts for Terra's guests. "Many were regulars, so of course the expectations were higher. They wanted to try something different every time they visited."
He resigned in 2020. "I left partly because I was feeling so tired and stressed out all the time. I also thought it was time to try something new – I wanted to see if I could succeed at starting my own business."

But why did he choose the "uncool" side of Everton to set up shop? Simply because of a large difference in rental prices — Terrian says the units in the opposite block were much pricier.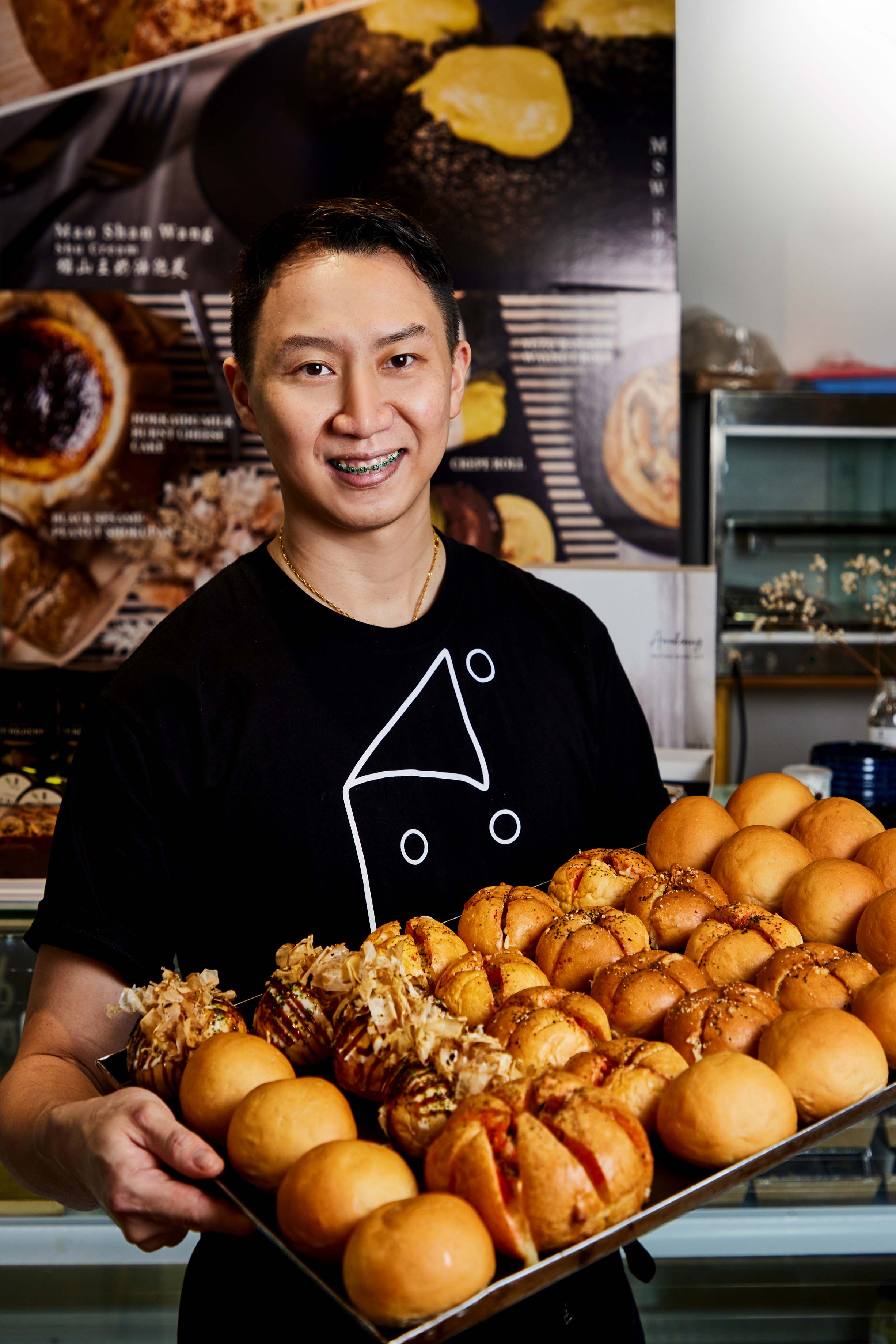 Started pastry career at 18
"My dad's friend was a pastry sous chef at Marina Bay Sands and he took me under his wing. Before that, I had no formal pastry training. During my four years there [his last post was chef de partie] , I picked up a lot from working at the different pastry kitchens and even a short stint at Wolfgang Puck," he says. "My favourite has to be learning how to bake bread. I've always liked bread and I made it my goal to master it during my trainee days."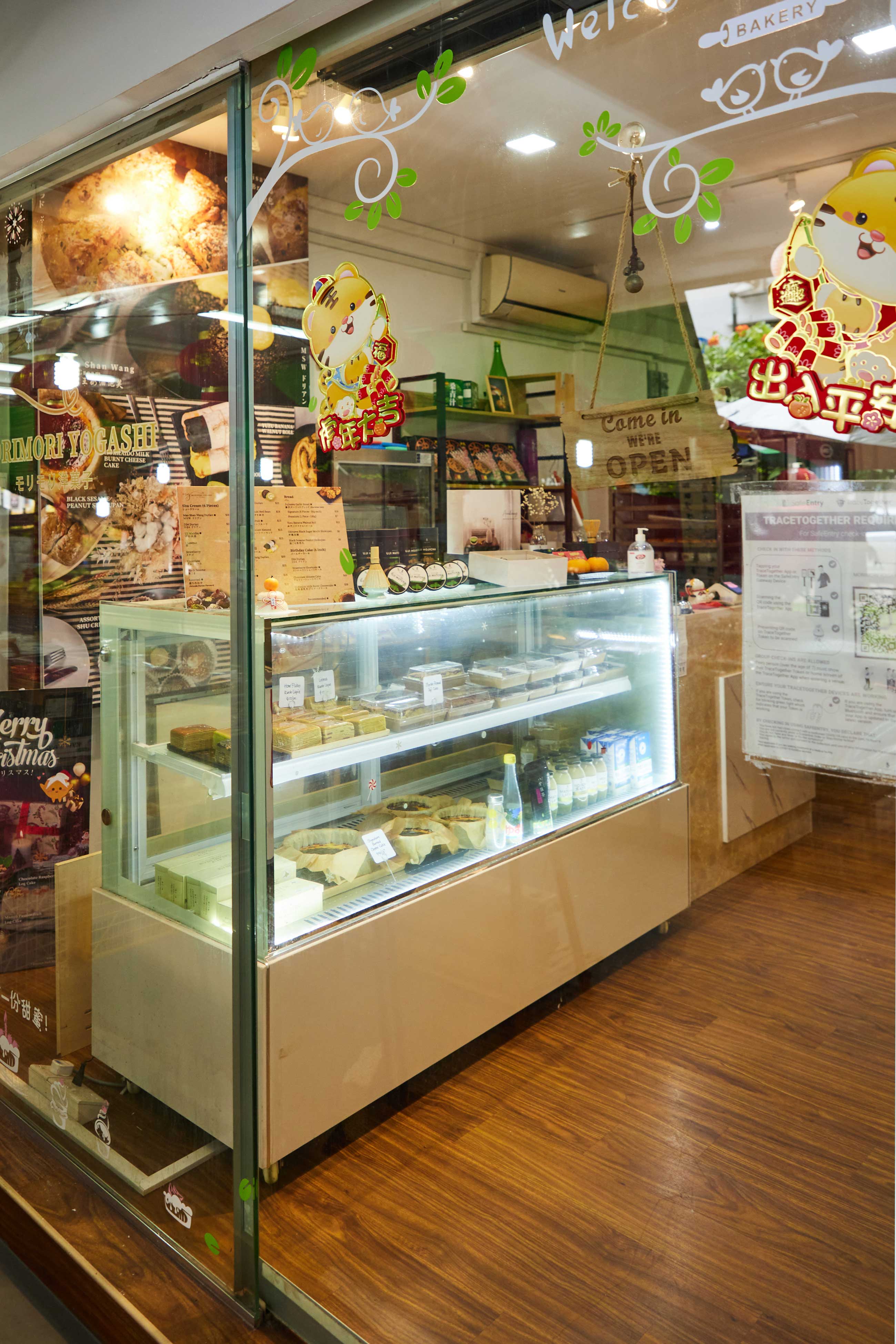 Customers complained that his bakes were "too ex"
Currently, most of his customers are residents in the area, staff from the nearby Singapore General Hospital as well as Facebook group buys. When he first opened the bakery, Terrian tells us that walk-in customers would baulk at the prices. "We had fancier items like daifuku (Japanese stuffed mochi) that were over $20. Customers would say 'wah so expensive!' and leave without buying anything."
"Working at fine-dining restaurants meant we were used to using the best ingredients and to be honest, I didn't think twice about how much they cost back then." Business improved after he introduced bakes that were more affordable. Now, items range from $7 for a large garlic bread (150g) to $38 for a six-inch Hokkaido milk burnt cheesecake. Most of the items are only available via pre-orders.
Terrian expresses no regret for leaving the fine-dining scene, though he admits that being a HDB baker is just as challenging. "The hours are similar – sometimes even longer during peak periods, but I embrace the challenge as this is my own biz." Currently, he employs a full-time assistant who helps out with the daily bakes and hires part-timers to cope with festive orders.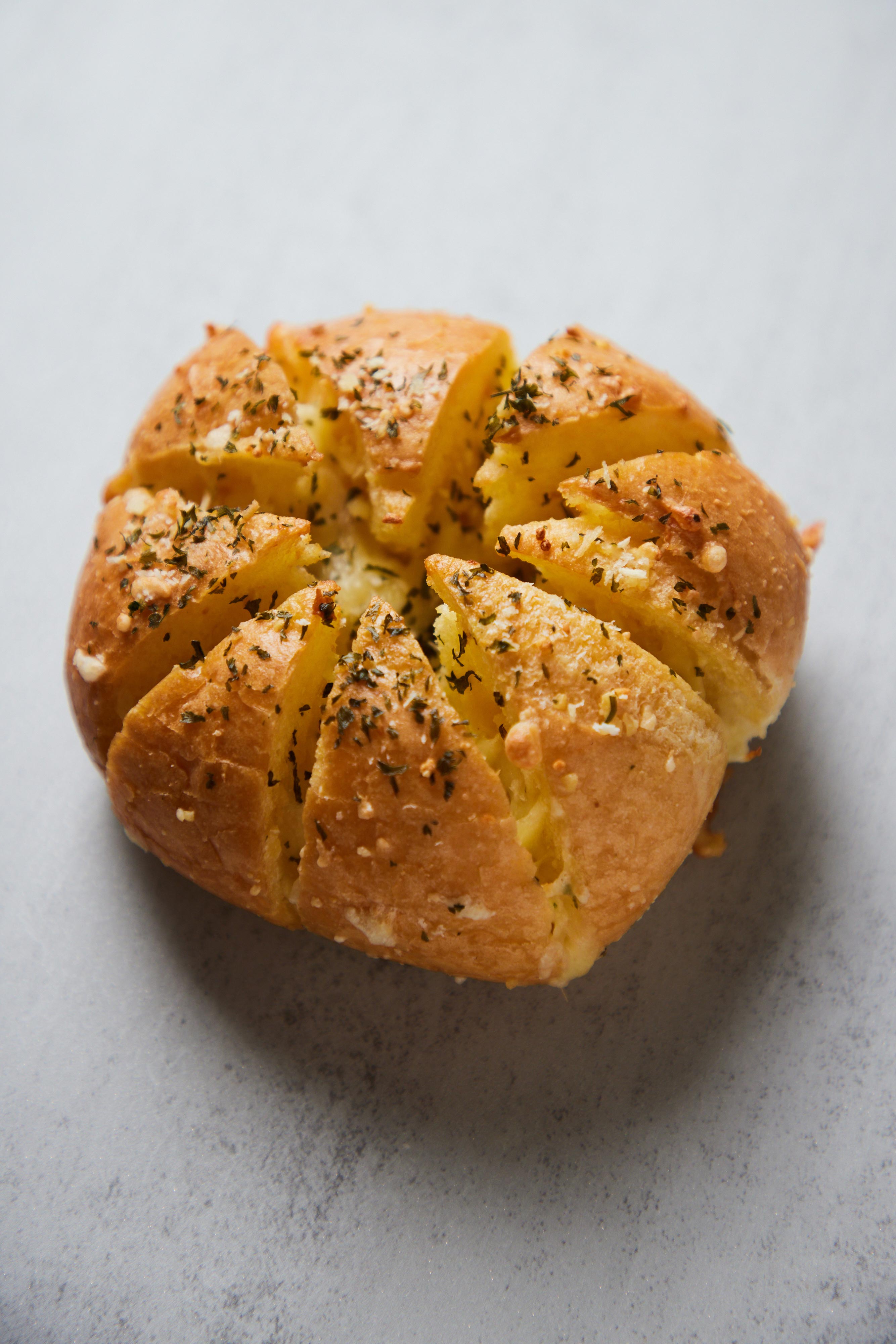 Fujisawa Garlic Bread (150g), $7 (8 DAYS Pick!)
Beneath the rustic French bread crust lies a tender, chewy dough with a slight tang. The petal-style shape is reminiscent of the famous Korean garlic buns. Terrian uses garlic crumbs from Fujisawa in Kanagawa Prefecture to deliver an intense but not overpowering flavour, coddled with creamy butter, mozzarella and Japanese mayo – we love how the mixture oozes out as you tear the bread apart.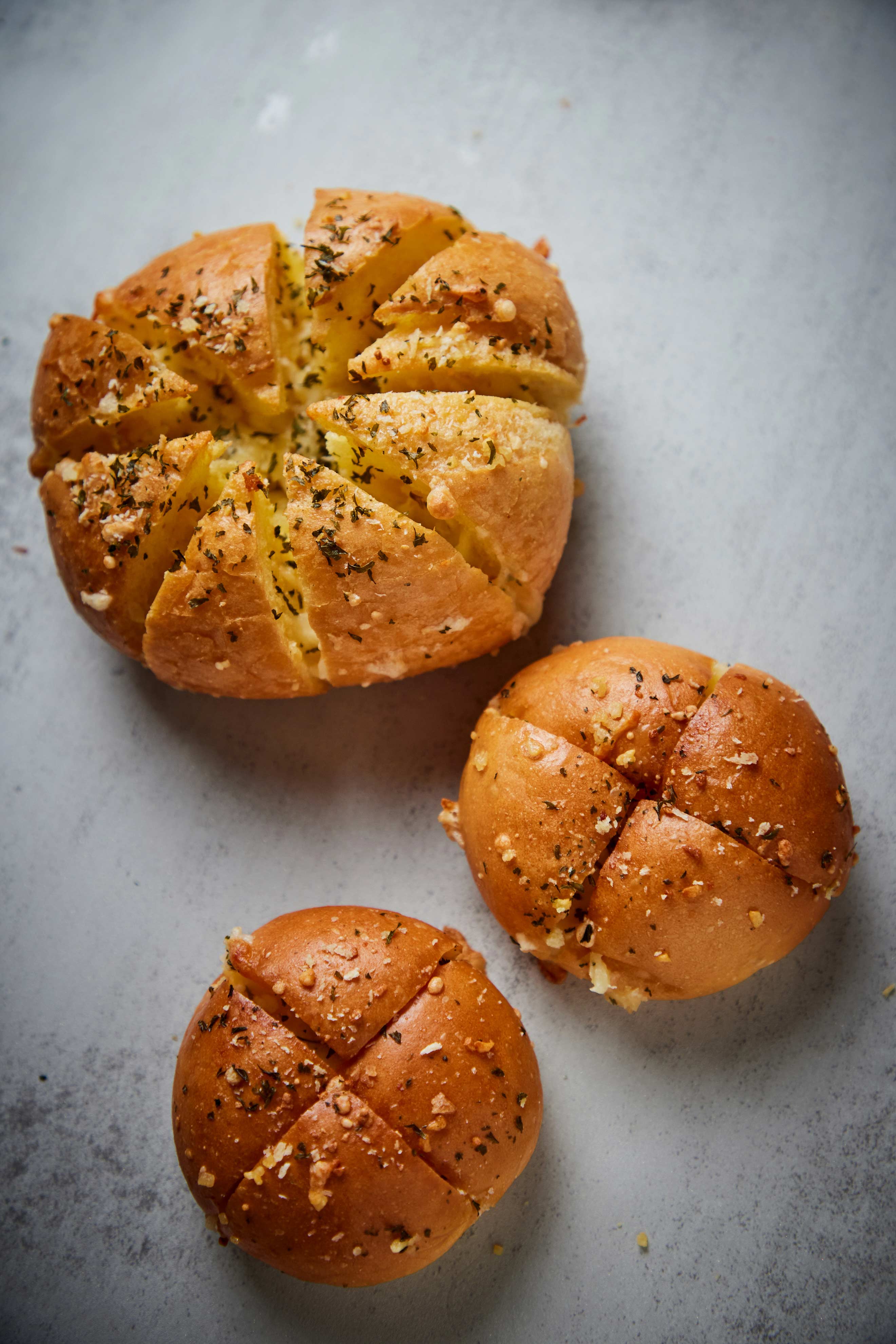 Fujisawa Garlic Buns, $18 for eight (50g each)
These use a different dough from the larger version featured above – the smaller buns, sold in a box of eight, are made from a "sweet bun" dough that's similar to what you get at most local bakeries. We prefer the heartier texture of the bigger French-style bread, which is a better match for the punchy garlicky flavour.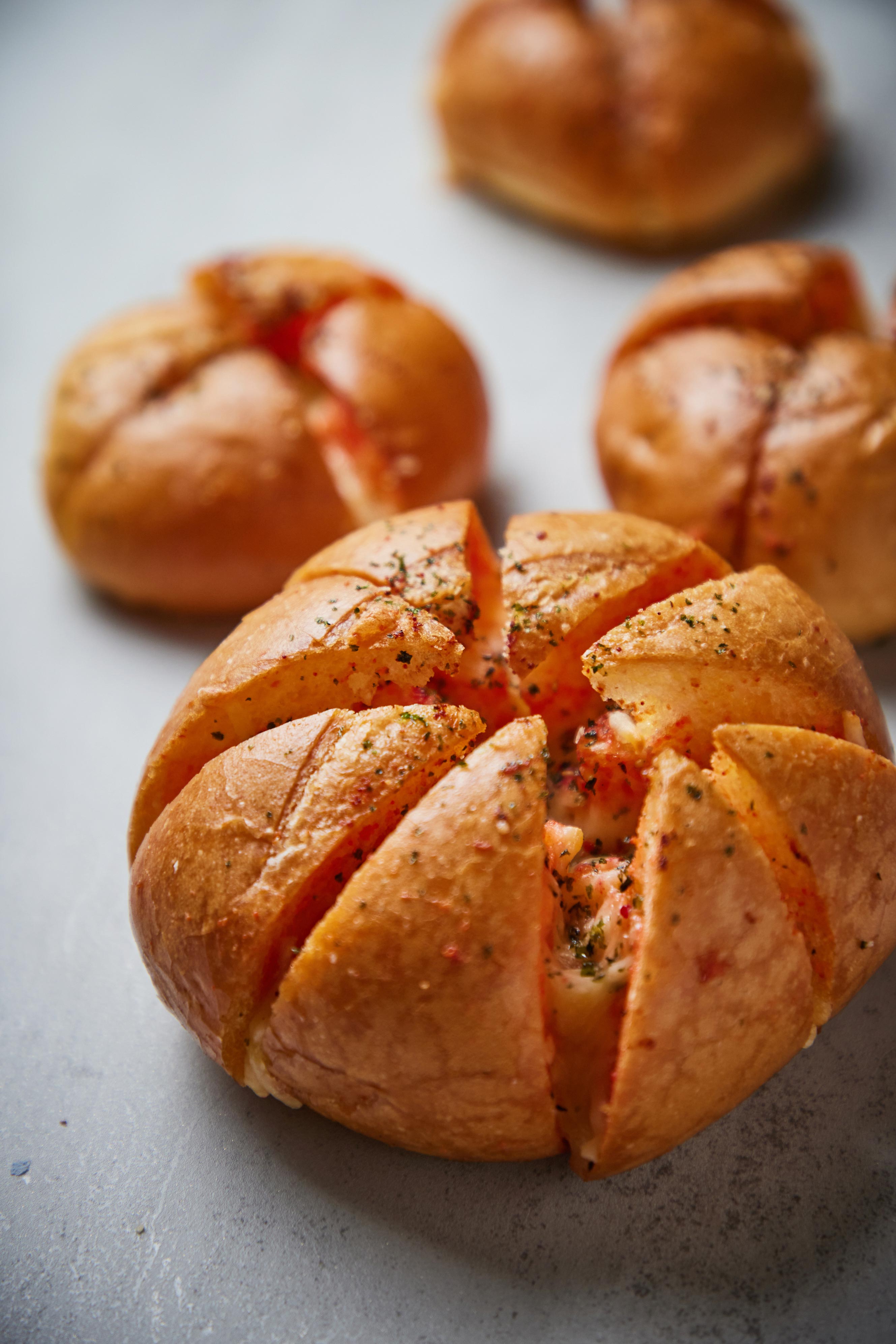 Japanese Mentaiko Seaweed Cheese Bread (150g), $8
The same crusty bread gets an added dimension of savouriness from creamy mentaiko mayo, mozzarella and seaweed flakes. Give it a quick toast before eating – the bread is extra delicious when the cheese is warm and gooey.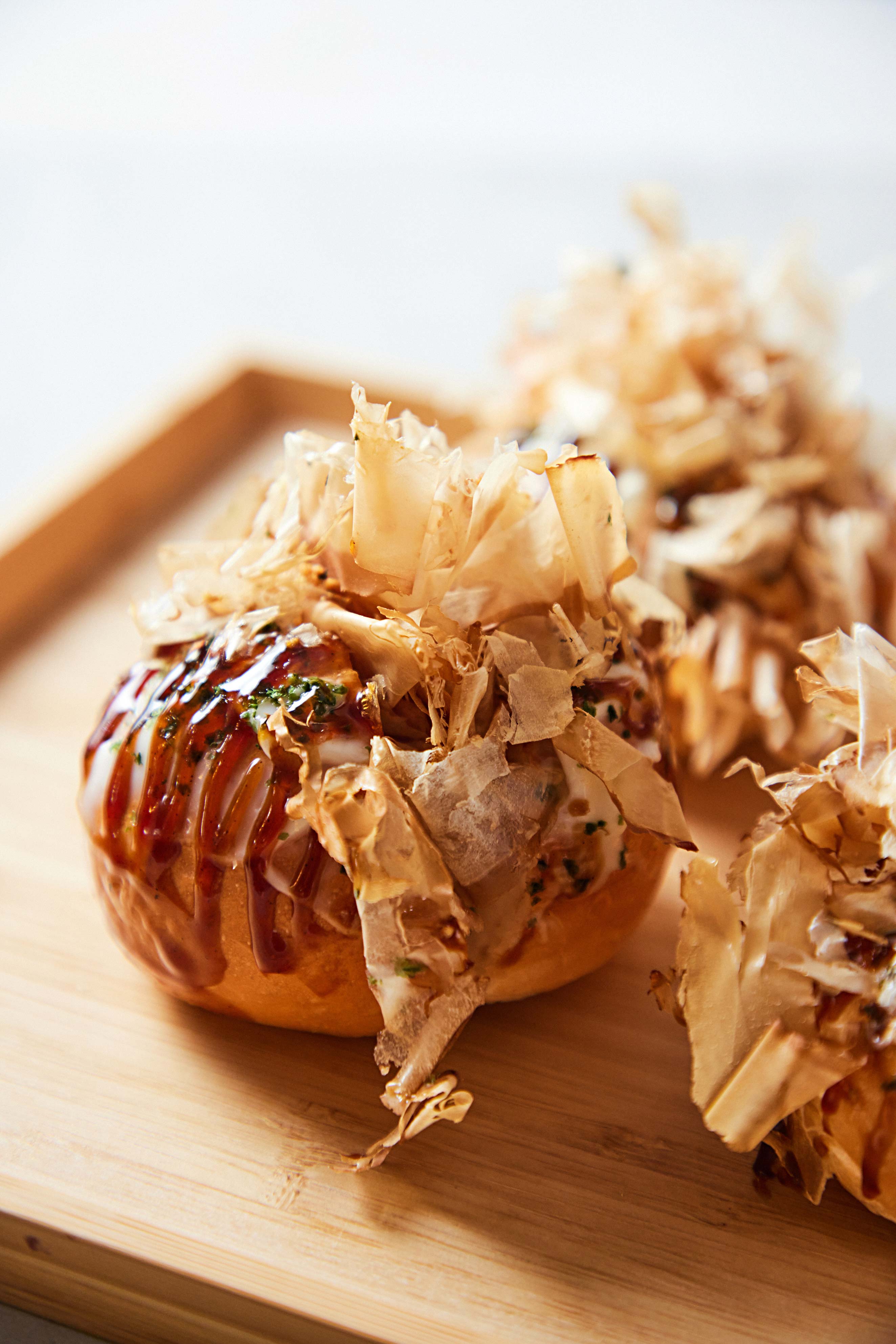 CNY Takoyaki Buns, $12 for four (8 DAYS Pick!)
Think takoyaki, minus the tako (Japanese for octopus). To make up for the absence of the chewy sea creature, these petite buns boast most of the other elements found in octopus balls. They're huge in flavour, thanks to a generous stuffing of smoky bonito flakes, luscious mayo and tangy brown takoyaki sauce, finished with a sprinkle of seaweed flakes and furikake. Yum.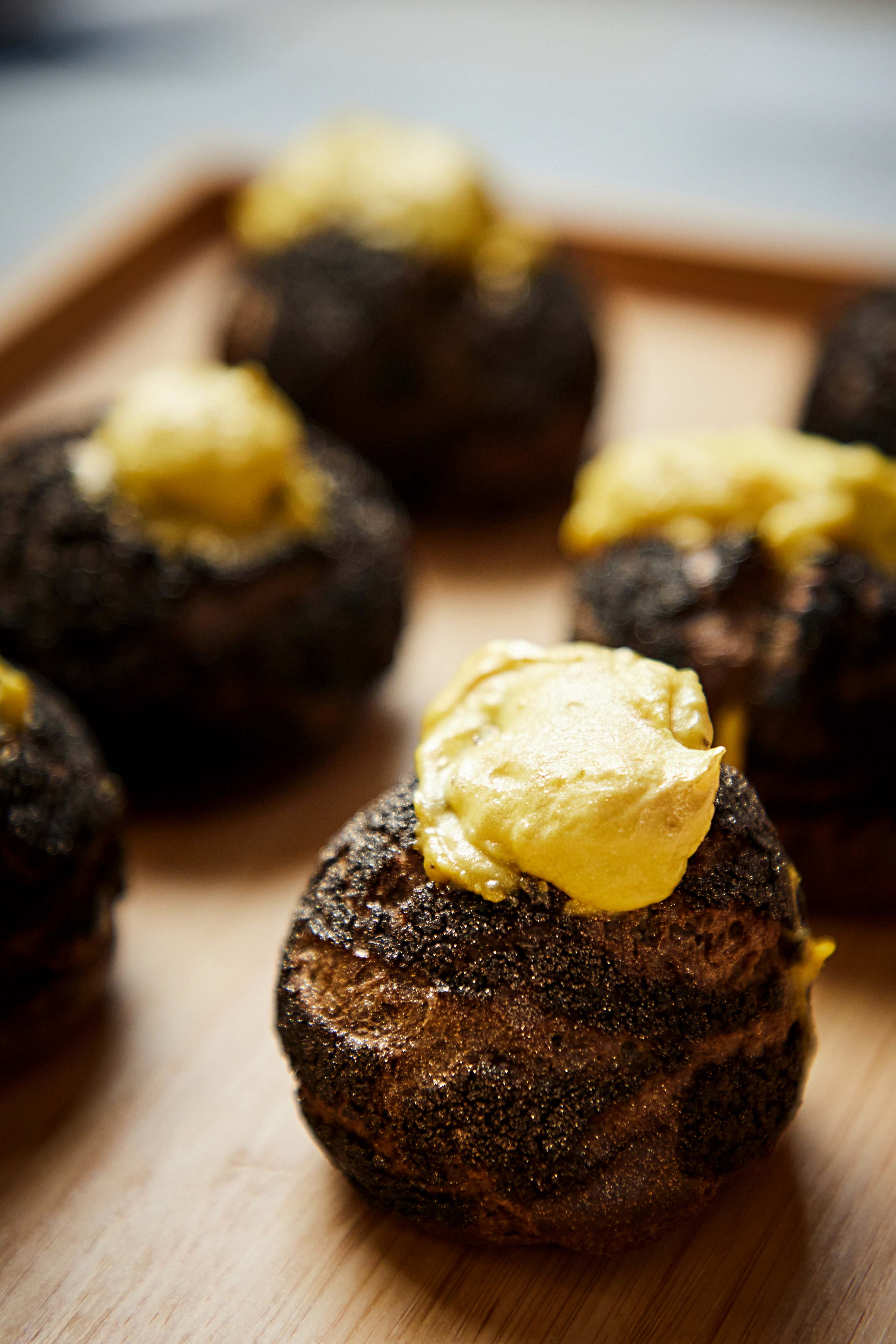 Premium Mao Shan Wang Durian Puff, $30 for six (8 DAYS Pick!)
An extremely satisfying filling-to-pastry ratio. These decadent gems are stuffed to the brim with heady Mao Shan Wang purée and encased in a light and airy charcoal choux shell with shimmery gold dust and – get this – topped with more MSW flesh.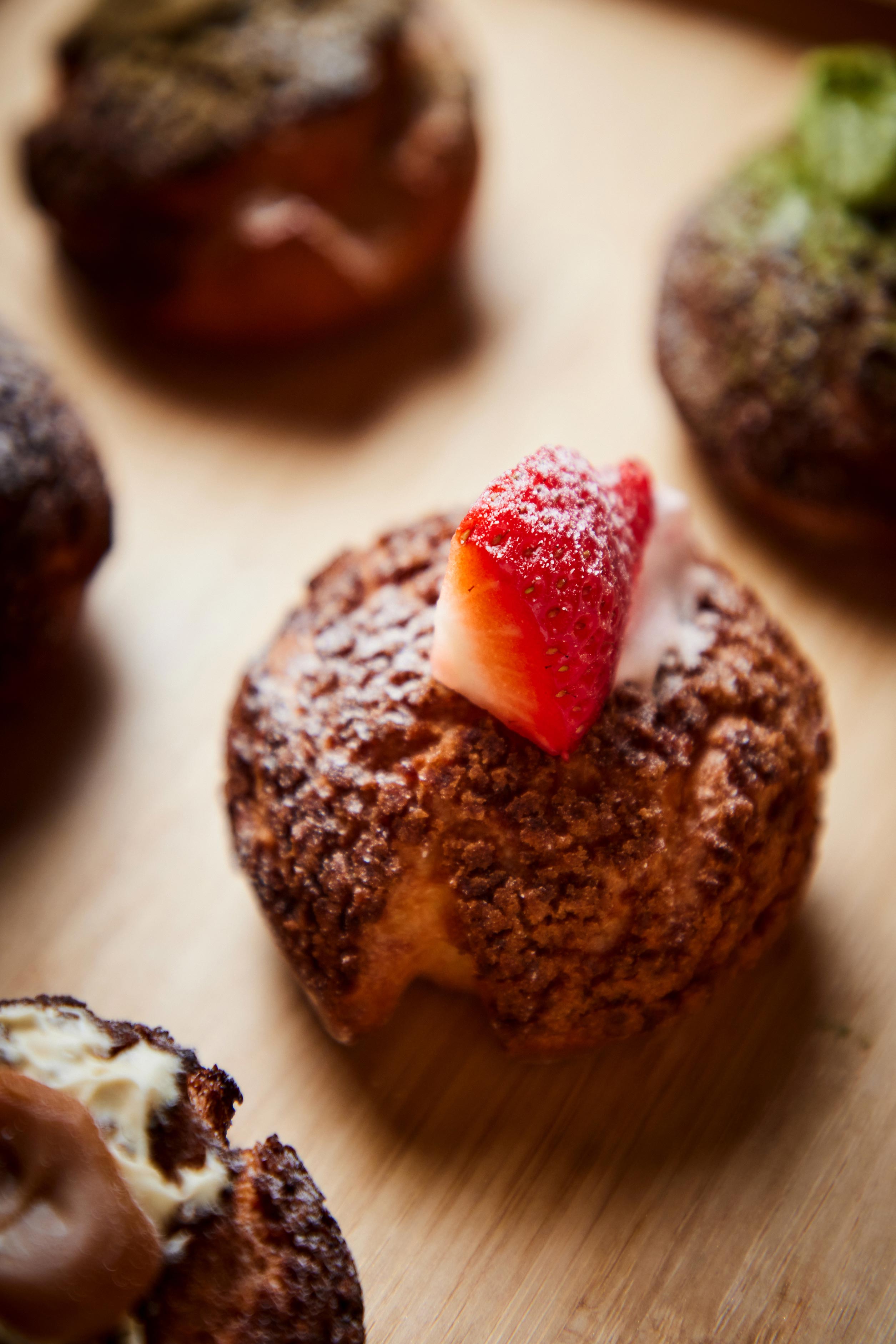 Assorted Puffs, $20 for six
A crowd-pleasing range of flavours like vanilla caramel, matcha, hojicha, strawberry, mango and chocolate. Our favourite is the mango – the filling features sweet and juicy diced mango in mango custard, which is also used to garnish the pastry shell.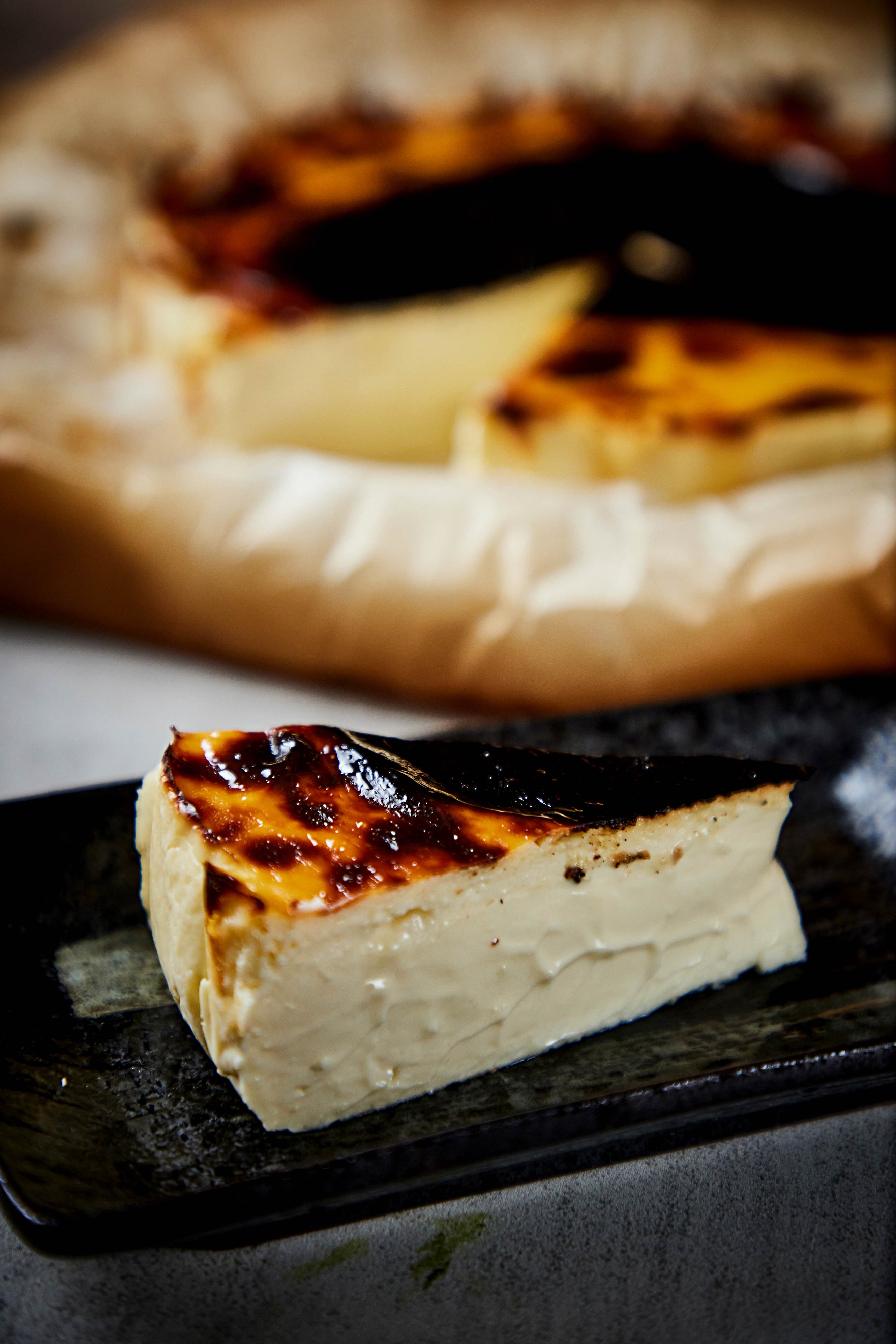 Hokkaido Basque Cheesecake (six-inch), $38
Very satiny and creamy. Terrian uses Hokkaido cream cheese in his rendition of the Basque burnt cheesecake, which gives a milder profile compared to versions that use full-bodied cheese. It's also not too sweet, which helps to temper the jelak-ness of this rich dessert.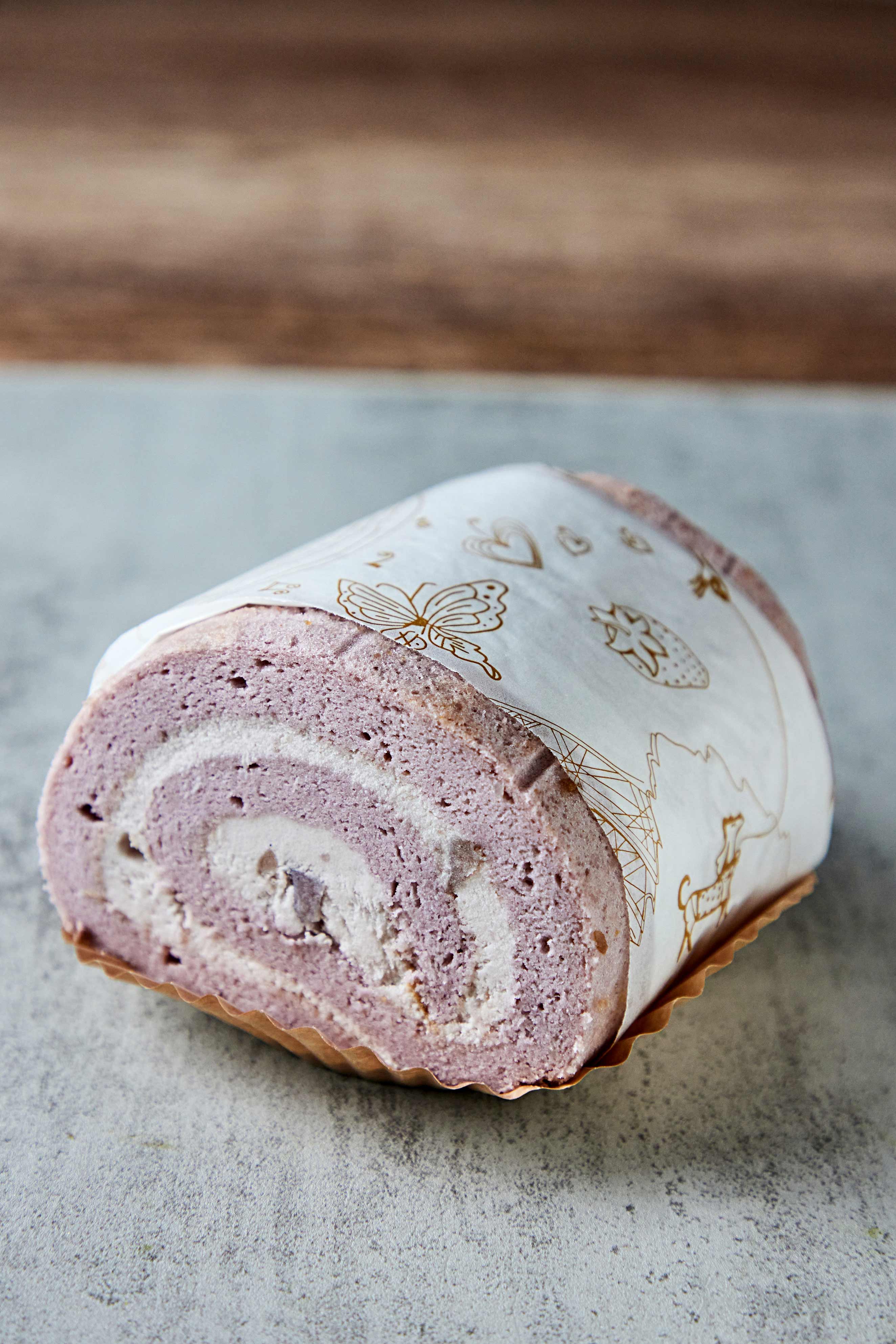 Taro Milk Roll, $15
Our roll tastes like it has been sitting in the chiller for some time, as the chiffon cake was rather stale. A pity, as we enjoyed the house-made taro cream filling, which is studded with chunky pieces of yam.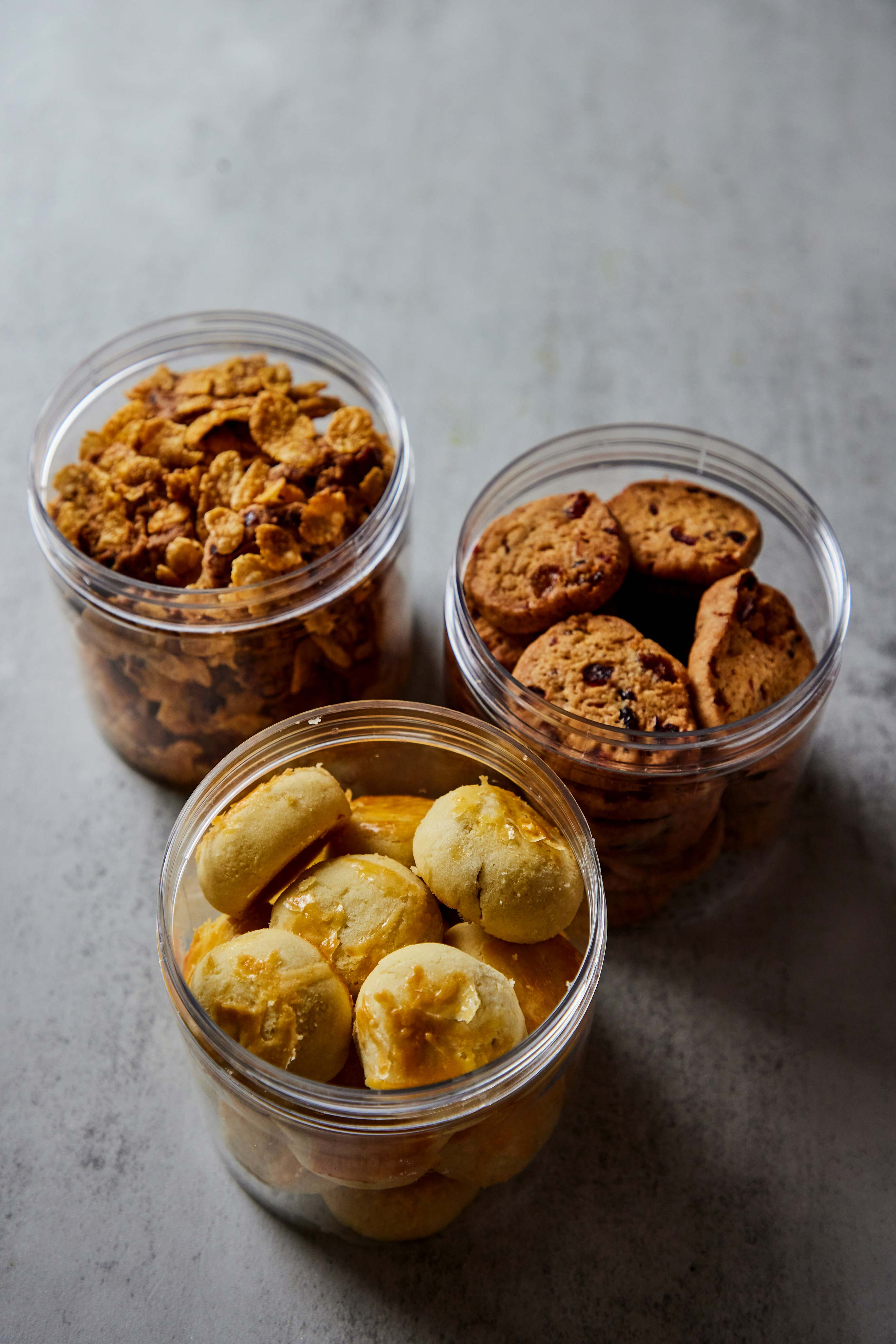 Assorted CNY snacks, from $18
Overall, the Morimori Pineapple Tart ($22) lacked a little finesse. Though baked to a golden finish, some of the bite-sized spheres had broken caps. We like the house-made jam, which has a decent tanginess, but the pastry could do with more butter and be baked slightly crispier.
The Cornflake Bakkwa Cookie ($22) fared much better. There is a good balance of sweet and savoury, with chunks of bak kwa studded within crumbly cookie and crunchy cornflakes – this was delightful to munch on.
We enjoyed the play of textures in the Cranberry Raisin Cookie ($18) – the crisp butter cookie provides a satisfying snap, while the cranberry and raisin bits add a good chew to each bite.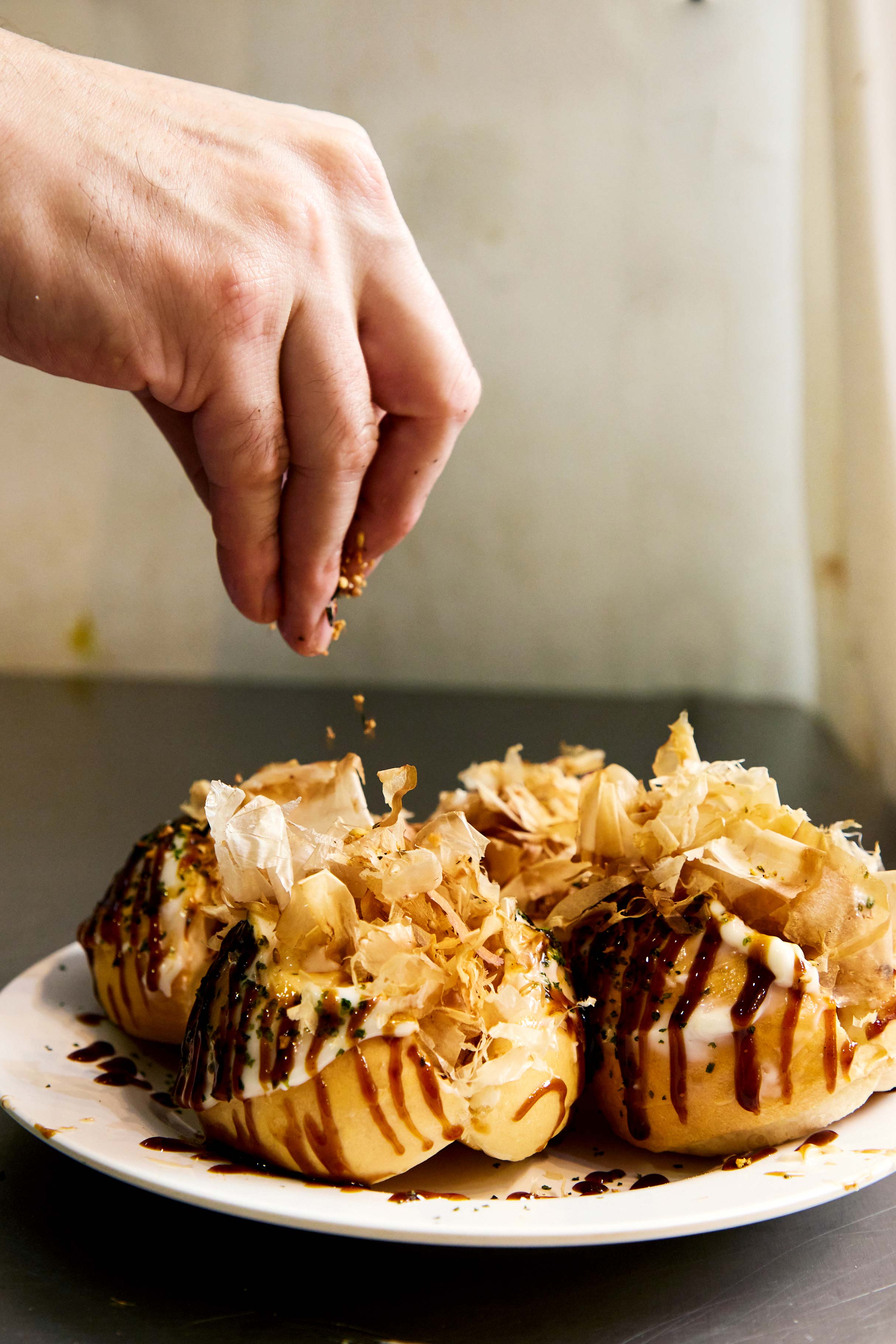 Bottom line
Despite its name, the bakery is not strictly Japanese as it has both Japanese and Singapore-inspired items. Terrian adopts a free-style method when it comes to his creations, but we see glimpses of his fine-dining capabilities in items with punchier flavours, like the garlic bread and takoyaki bun, as well as the elegant MSW puffs. Given the quality ingredients and generous portions, some of the signature bakes here offer good value for money and are worth a trip down to the less "cool" side of Everton Park. Let's hope the baker continues to play on his strengths by introducing more confectioneries with bolder flavours and flair.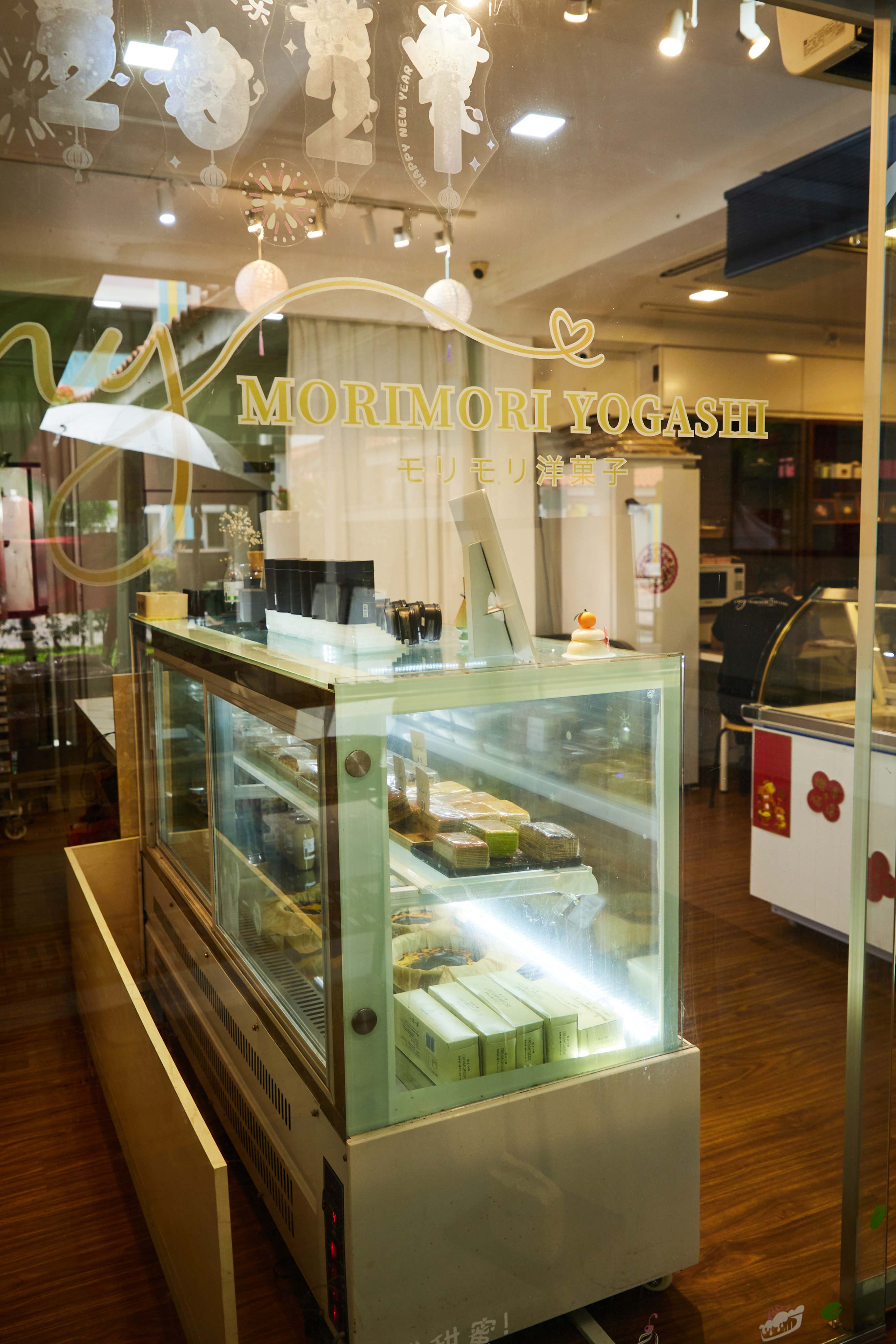 The details
Morimori Yogashi is at #01-11, 7 Everton Park, S080007. Open daily except Sun 10am to 7pm. Order here. Facebook Instagram
All photos cannot be reproduced without permission from 8days.sg
Photos: Aik Chen