Penang Sisters Set Up Char Kway Teow Stall In S'pore, Add Dark Soy Sauce To Noodles To Suit Local Palates
"The char kway teow in Penang is whiter as we don't use any dark soy sauce, but Singaporeans prefer it darker". Does this "darker" version of Penang char kway teow taste authentic, though?
Penang-based hawker Celine Choo (above, right), 51, operated a char kway teow stall in her hometown for a decade before uprooting and moving to Singapore to open food court stall Penang Taste at Sultan Plaza shopping mall near Beach Road a month ago.
The relocation is largely for her 18-year-old daughter's sake: the single mum hopes to accompany her daughter here if she snags a spot at a university in Singapore in two years' time, after completing her diploma in Penang. "Of course, a mum wants the best for her daughter. The education system here is better, the career options are better, and the standard of living is better. I'm hoping she can get married here too (laughs)," chirps the hawker. Her daughter is currently living in Penang with Celine's older son, who works in real estate.
Celine's younger sister, Cindy (left), 46, came along with her to Singapore to become a hawker too. They now peddle Penang street food classics like char kway teow, prawn noodles and assam laksa. Their niece Vera Choo, 27, a Singaporean citizen, is co-owner of the stall. She has a full-time sales job in a manufacturing firm and helps with the stall's backend work. 
All photos cannot be reproduced without permission from 8days.sg
Not related to Sister's Char Kway Teow in Penang
Aside from paving the way for her daughter's education in Singapore, Celine thought setting up an authentic Penang food stall here would cater to the large number of Malaysians living here. Her sis Cindy who's married with one daughter was keen on the idea too, as her retail handbag business, which operated out of several malls in Penang, folded following the pandemic. 
Although the stall's mandarin name translates to Sisters' Penang Taste, there's no connection to the now-defunct Sister's Char Kway Teow in Penang. "You're asking if we copied them right? No lah, we are sisters mah, so we just called it that," chuckles Cindy.
"People like to 'test' our Hokkien to see if we're really from Penang"
Business hasn't been too bad, especially since they aren't tucked away in the dingy depths of the ageing mall – the (slightly stuffy) food court they're in is right next to the road, so they get plenty of foot traffic from  office workers during the lunch rush.
"But there are a lot of customers who come from further away, especially on weekends," shares Cindy. "[Penangites] like to 'test' our Hokkien to see if we're really from Penang before trying our food (laughs)." Chinese folks from Penang belong mostly to the Hokkien dialect group, but the Hokkien that they use differ slightly in tone and vocabulary compared to Singaporean Hokkien.
The menu
Three classic items headline Penang Taste's menu: char kway teow, prawn mee (known as Hokkien mee there) and assam laksa. There's also an 'XL' version of the prawn noodles for $12. Celine, the more experienced hawker, handles all the cooking while Cindy assists.
Penang Char Kway Teow, $5.50
Celine shares that her food in Singapore isn't 100 percent authentic – she makes slight tweaks to cater to Singaporean palates (which might put off die-hard Penang-born foodies like this writer's parents) — such as a small splash of dark soy sauce to add colour to her noodles. "The char kway teow in Penang is whiter as we don't use any dark soy sauce, but Singaporeans prefer it darker," she explains. Thankfully, the taste of her kway teow remains obviously Penang in soul – it's a far cry from the wetter, sweeter Singaporean-style plates. The thin rice noodles here generally pack good wok hei, though there are a couple of clumps which are less well-seasoned.
While we found the spice level from a homemade chilli paste just right, our colleague thought the heat rather overwhelming. So ask for less chilli in your kway teow if you can't handle much spice. Overall, the dish boasts a nice lardy fragrance, sprinkled with sinful and delish lard crisps, though not as much as those you might find in versions up north. Slivers of lup cheong, shrimp, bean sprouts and chives complete the noodles. There are no cockles though, as the hawkers tell us it's difficult to get them fresh and cheap these days. Decently tasty CKT, though the portion is rather modest for its price.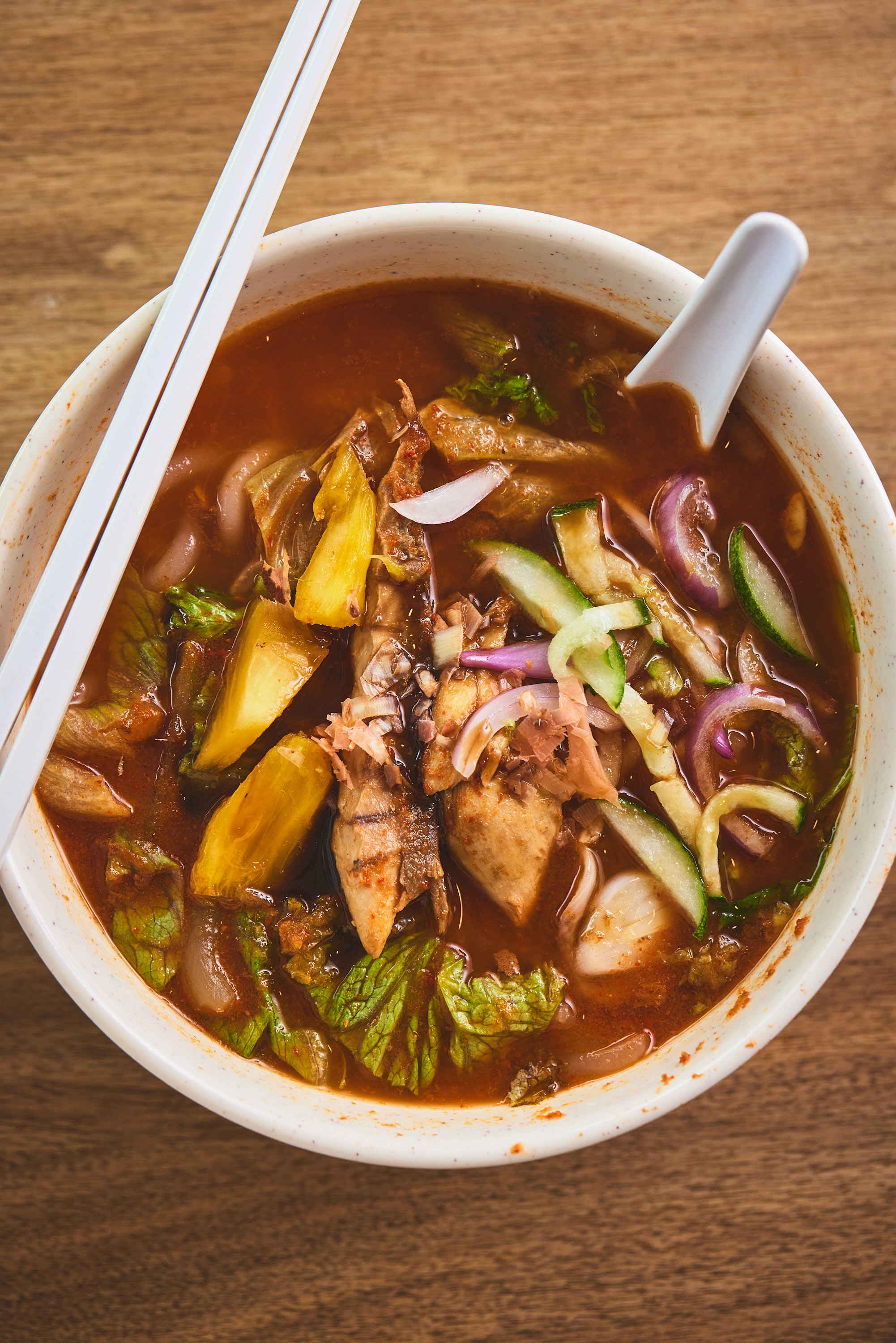 Penang Laksa, $5
Purists use only fresh kembong (Indian mackerel) to anchor the soup base of their Penang-style assam laksa, though hawkers often supplement their stock with canned sardines these days. 
But Celine opts for the Japanese mackerel (commonly known as saba fish) as it yields more flesh than the petite kembong after being deboned. It's paired with bouncy rice noodles and julienned veg like cucumbers, onions and pineapples. The resulting soup is part spicy, part tangy thanks to a good hit of assam, but not as robust as a typical bowl from Penang. Still, the hot and sour notes balance out quite nicely with the pungent hae ko (fermented shrimp paste), even if it could do with more than just a few chunks of fish swimming in the broth.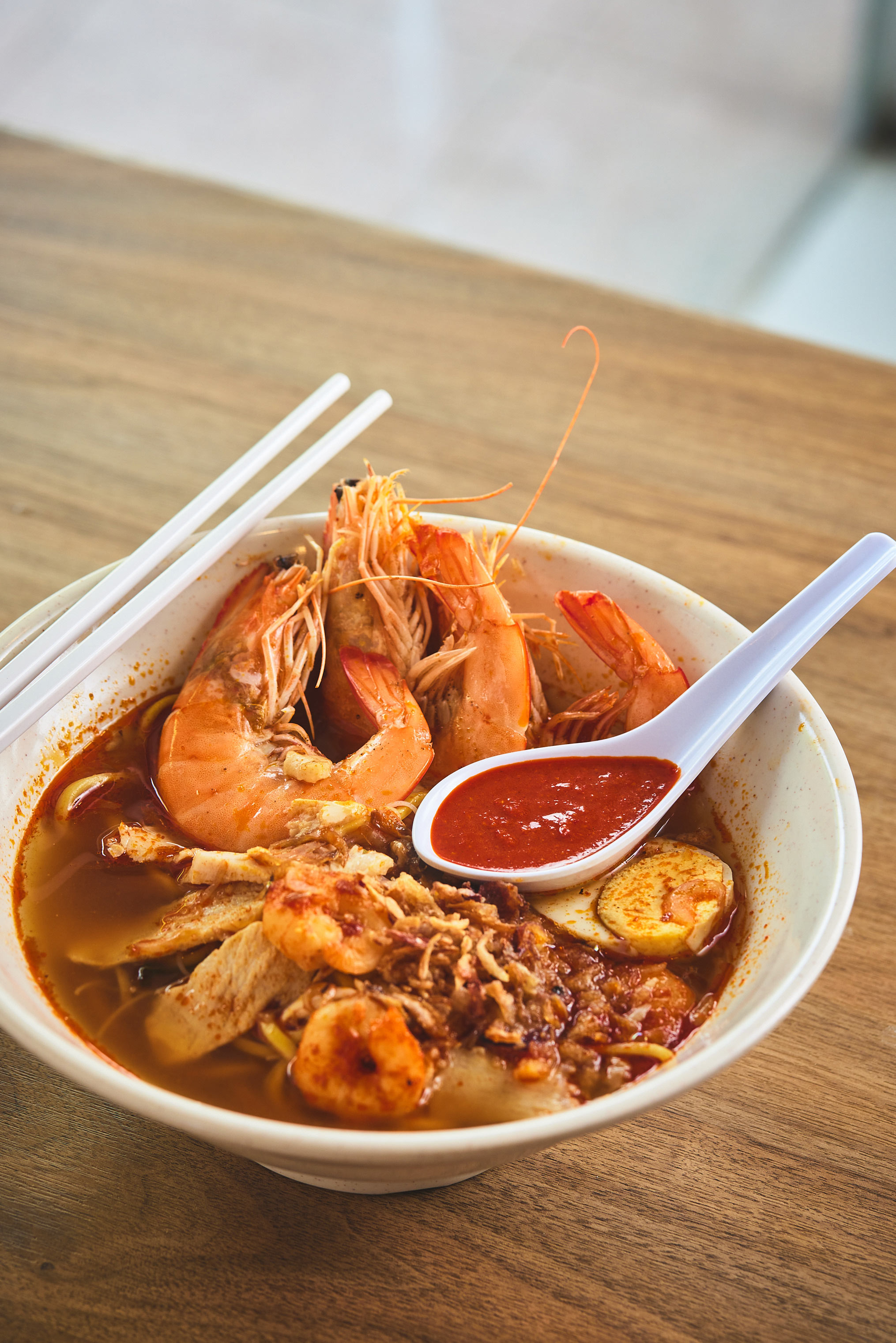 Penang XL Prawn Noodle, $12
Sadly, we're not fans of the spicy Penang-style prawn noodles here. The broth, consisting of pork bones and prawn shells simmered for around five hours, isn't particularly meaty, nor does the crustacean flavour shine through. The accompanying house-made chilli packs a feisty punch, but can't save the dish – instead of supplementing the broth with heat, it drowns out the weak pork and prawn flavours completely. 
Apart from lean pork, half a boiled egg, smallish shrimp and a heap of shallots, we get three large grey prawns with our 'XL' order. Though suitably briny and sweet, they're a little tough.
Bottom line
Fairly authentic Penang-style char kway teow, dark soy sauce notwithstanding. There's a sufficient hit of smoke and lard in the noodles, even if it's not quite as 'dirty' as an unabashedly lardy plate from George Town. Worth a try if you're in the area — but skip the middling laksa and prawn mee.
The details
Penang Taste is at Sultan's Kitchen #01-06/07, Sultan Plaza, 100 Jln Sultan, S199001. Tel: 8850-8605. Open daily 9am – 7pm. More info via Facebook and Instagram. Delivery via Foodpanda.
Photos: Alvin Teo
All photos cannot be reproduced without permission from 8days.sg