"People Ask If We Sell Grilled Cat Meat" — Cat-Themed BBQ Chain Owner Opens 1st S'pore Outlet With $8.80 Beef Donburi
The Chinese chain's restaurants, which are fully decked out in cat decor, have celeb fans like Ada Choi and TFBoys' Roy Wang.
A cat-themed barbecue restaurant is coming to Singapore, and no felines were harmed in the process.
Meow Barbecue
, which has over 30 outlets in its native China, set up its first overseas outlet at Bugis+. The casual eatery opens on Sept 24.
"People ask if we sell grilled cat meat"
The chain was founded in 2012 by Fang Daqing (pictured), 53, a cat lover who came up with his F&B concept after observing his cat's eating habits. "My family fed him mud fish with rice, and he would carefully separate his food and eat only the fish," he tells 8days.sg. "I realised that cats are very particular about food and that's why I wanted to base my restaurant on them."
As his restaurant is named Meow Barbecue, Daqing has met his fair share of curious customers. "People ask if we sell grilled cat meat. That scared me to death!" he jokes. He also had celeb customers like Ada Choi and Chinese boyband TFBoys' Roy Wang, who sparked a queue spanning four floors when he was spotted dining at a Beijing branch in 2018. "His fans were asking to order the same dishes that he ate, so we offered a set called 'The Same as Wang Yuan [Roy's Chinese name]'," says Daqing.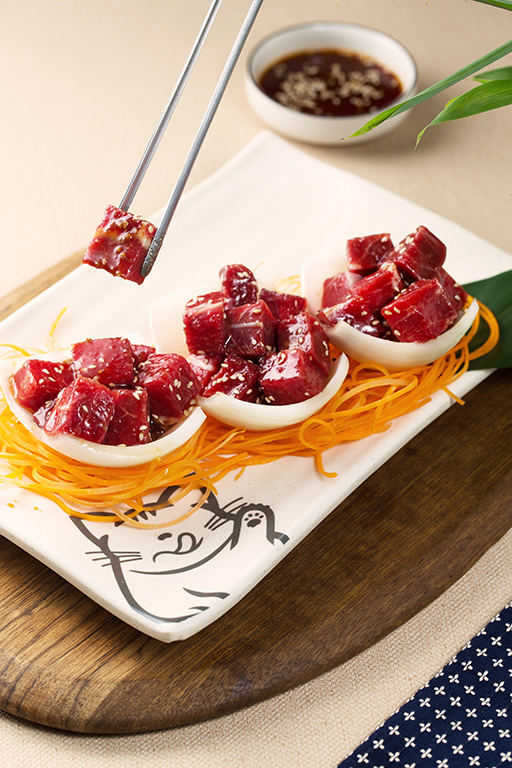 The concept
What you can get at the Singapore eatery are chicken, pork and grain-fed beef cuts that you grill yourself, such as the Meow Signature Oyster Blade Beef Cubes with Onion (from $10.80), a marbled cut from the cow's shoulder. There's also the Spicy Beef ($23.80) marinated with pickled chillies, and Chicken with Szechuan Peppers ($14.80) with green peppercorn.
Other more unusual dishes for barbecuing include
Iberico Pork Belly with Garlic ($19.80)
,
Chicken with Cheese Dip ($15.80)
and
Iberico Pork Collar in Pineapple Sauce ($22.80)
. A
Mixed Meat Platter ($66.80)
for two with beef, pork and chicken is also available. For those who have no time for grilling food, the restaurant also serves a quick-service
Beef Donburi ($8.80)
with ready-to-eat barbecued beef slices.
From Sept 24 to 30, the eatery is offering a 50 per cent discount on its Signature Spicy Beef and Signature Chicken with Cheese Dip, which will cost $11.90 and $7.90 respectively. Each table is limited to one order per dish, while stocks last.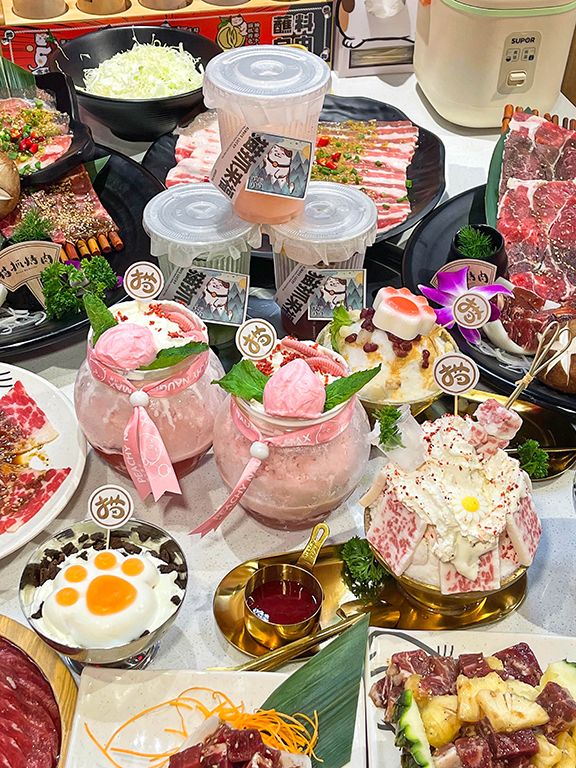 Cat-themed desserts
The Insta-worthy desserts are also cat-themed, like the Caramel Pudding ($6.80) and Oreo-flavoured Black Cat Snow Ice ($10.80) all topped with pudding shaped like a cat's paw.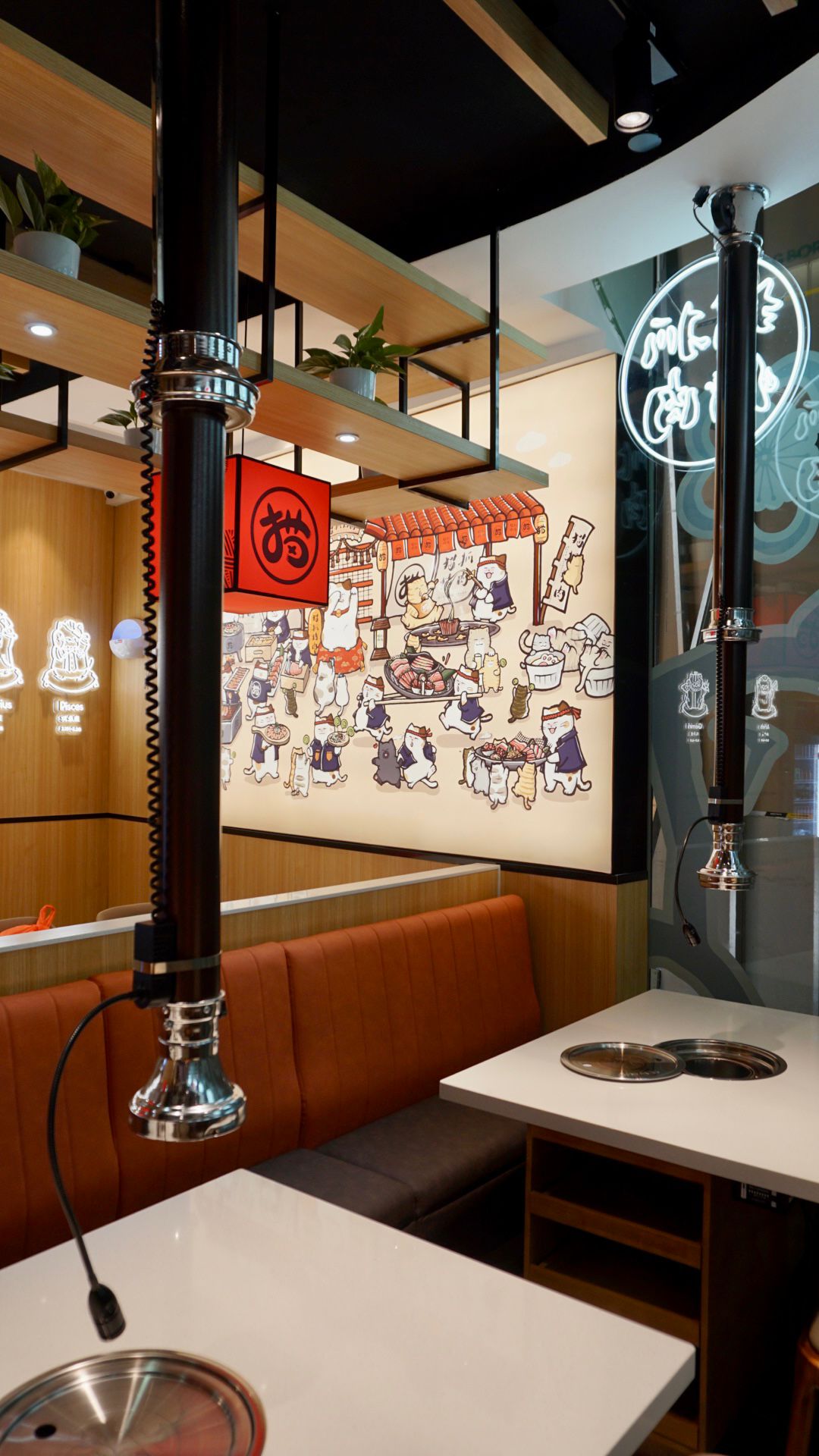 "Cat shrine" decor
Cat murals plaster the 90-seat restaurant's walls, while the plates and bowls used at Meow Barbecue all have kitties on 'em. Customers who sign up for the restaurant's membership can also get "cat-themed lucky charms and various trinkets".

Meow Barbecue is at Bugis+, #01-17 Bugis+, 201 Victoria St, S188067. Tel: 8038-4659. Open daily, Sun-Thu 11am-9.30pm, Fri & Sat 11am-1am. Facebook, Instagram

Photos: Meow Barbecue