Poly Grad Who Says She "Was A Bit Of A Bum" For 6 Years Finds Fulfilment As Hawker Selling Shaved Ice Desserts
After years of juggling part-time jobs, the 27-year-old has found purpose as a hawker with her stall Bing Duo Duo, which serves "Taiwanese-inspired" icy treats from $3.80.
There's plenty of good food at the buzzy stretch along Upper Serangoon Road if you're craving supper — Teochew porridge, nasi lemak and ice cream are just some of the treats on offer. Now, there's "Taiwanese-inspired" shaved ice from Bing Duo Duo ("ice more more" in mandarin), an eight-month-old coffeeshop stall run by bubbly Ng Yuen Wvei, 27, and her 50-year-old mum, who requested to be referred only by her surname Wong. 
No part of this story or photos can be reproduced without permission from
8days.sg
.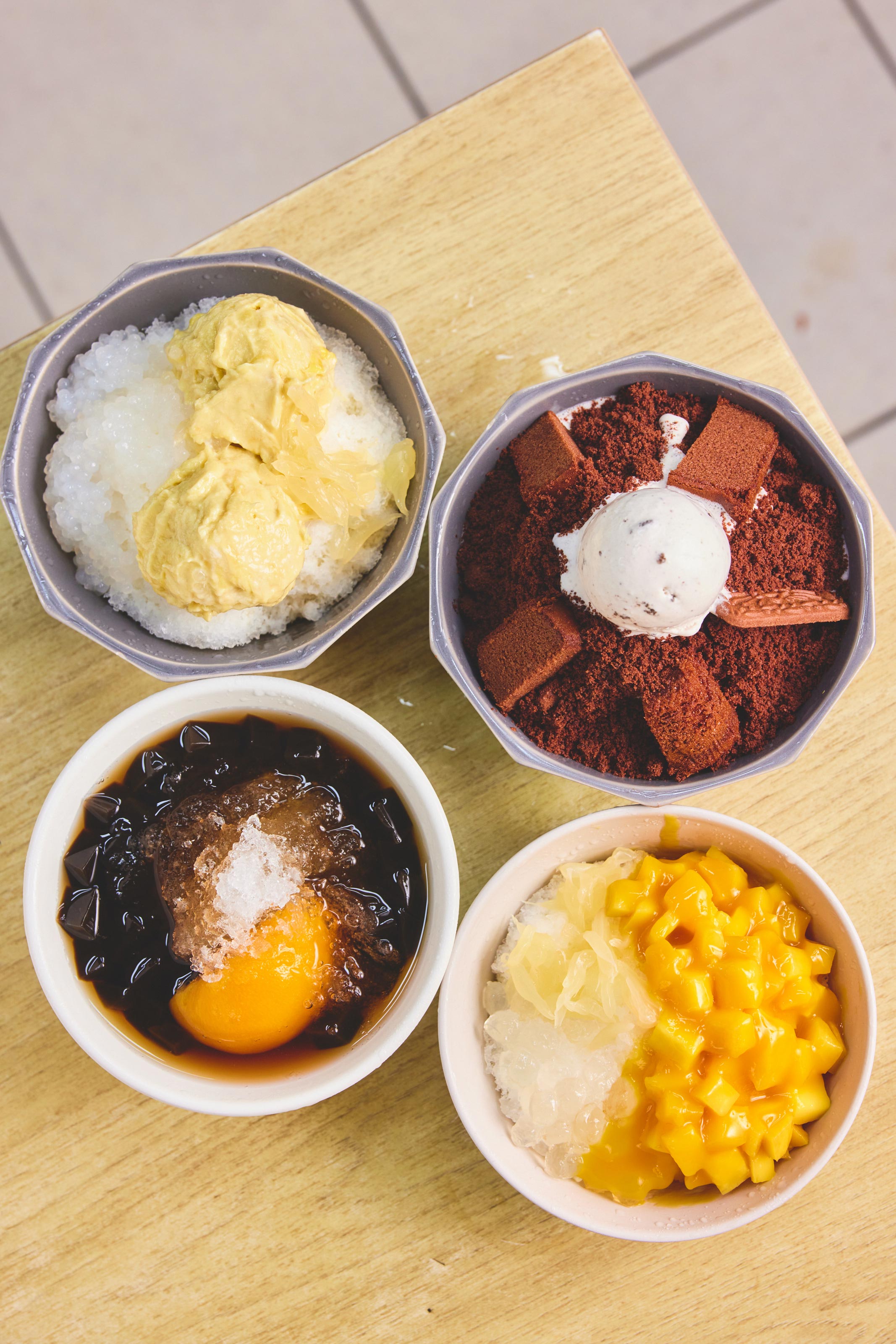 A cross between Taiwanese snow ice and… ice kachang?
Don't expect the flavoured shaved ice sheets characteristic of authentic Taiwanese snow ices from the duo, clad in matching Crocs – instead, they serve the treats with a base of finely-shaved ice a la local ice kachang, albeit pre-flavoured with milk.
Taiwanese shaved ice desserts are typically drizzled with condensed milk, and topped with a melange of ingredients like mango, strawberry and melon, as well as grass jelly, adzuki beans or chewy tapioca balls. Bing Duo Duo offers these toppings. It also serves not so traditional stuff like chocolate cake fingers and mao shan wang durian puree. After all, the millennial hawker tells us frankly: "I learnt everything from YouTube."
Spent six years as "a bit of a bum"
The Ngee Ann poly grad explains her motivation for becoming a hawker last year with great candour. "I chose the Advertising and Public Relations course, not because I liked it lah. It was one of the better courses I could get with my O-level scores (laughs)," she tells 8days.sg. "But once I graduated, when I went for job interviews, they'd always say that [such] jobs will [entail] long hours, with no overtime pay. They say that I have to live on the fulfillment [of a job well done] – to me, that's quite ridiculous lah."
So instead, she spent the following six years working on and off in part-time gigs, including helping out as a retail assistant at her parents' [now-defunct] modest shoe biz. One full-time job she had was as an insurance agent, earning "around $4 to $5K a month" – though she quit after seven months. "The income was good, but no matter how good it was, I wouldn't have stayed – I didn't like how we were taught to put ourselves and the company first [ahead of customers]," she explains.
The hawker adds pensively: "Honestly, I was a bit of a bum. I don't come from a well-to-do family, but my parents always gave me more than enough to live a not-bad life for six years until one day I told myself, 'I cannot keep living like this. I don't want to be a loser [who mooches off her parents].'"
Yuen Wvei ended up joining the hawker trade after a suggestion from her relatives – one of her older cousins manages the kopitiam that Bing Duo Duo now resides in, while another manages a number of stalls there. Even Yuen Wvei's dad, who closed his shoe biz after sales dwindled over the years, also works at the coffeeshop cooking Malaysian-style pan mee at another stall.
Why did she choose to become a full-time hawker after all these years? "Honestly, I don't like to listen to other people, and I'm more of a hands-on person. It feels different to have something of my own to work on – the hours are long, and sometimes you get small injuries [while working as a hawker], but I would rather do this than dress nicely and go to the office."
She adds that she's grateful for her parents' patience all these years: "I took longer than other people [to find a full-time job I like]. It's fulfilling to me to earn money and hopefully provide for them."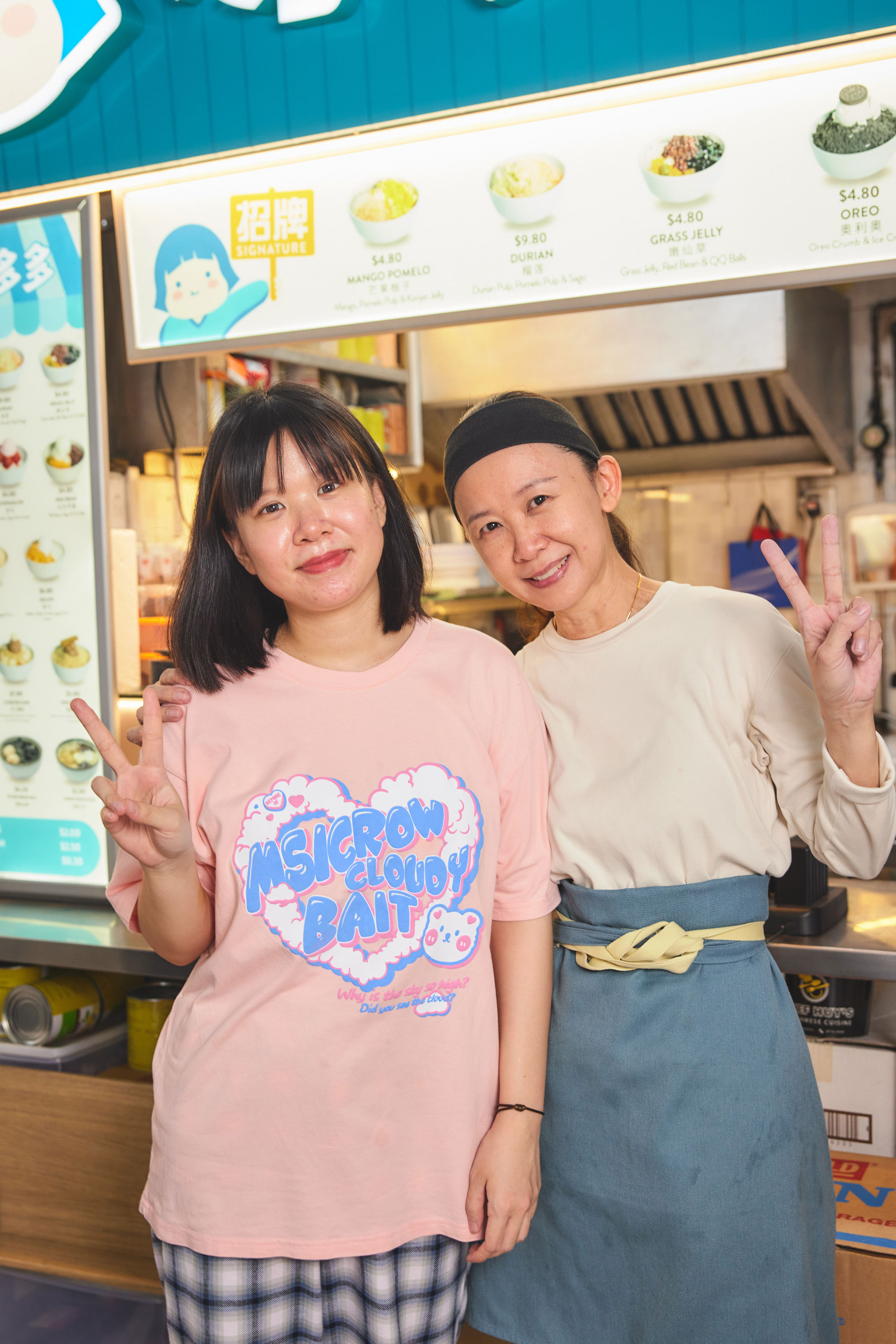 Support from parents
Says mum Wong of her daughter's decision, "Of course, as parents we hope that she'd go to university and get a good job. But all jobs can have a way to succeed — even as a hawker. She has the heart to do [the job] and she's doing it seriously, so I'm here to help (laughs)."
Together, they now sell around 150 bowls of dessert a night – enough to make a monthly profit, and recoup Yuen Wvei's $28K investment into the business. Is it 'cos she's getting a family rate on rent? "No lah, standard price. For [my cousin], business is business. They'll help me with advice and support, but I still need to pull my own weight," she explains.
They're making enough to draw an "okay" salary – "enough to live without struggling, but not super high", adds Yuen Wvei. She hopes to hire extra manpower so that they can extend their opening hours and expand the menu.
The menu
Desserts range from $3.80 to $9.80, with a total of 15 shaved ice flavours available including fruit-based options like melon or mango; or kid-friendly treats such as Oreo or chocolate cake. There's also grass jelly and cheng tng for diners who prefer "more traditional" local fare.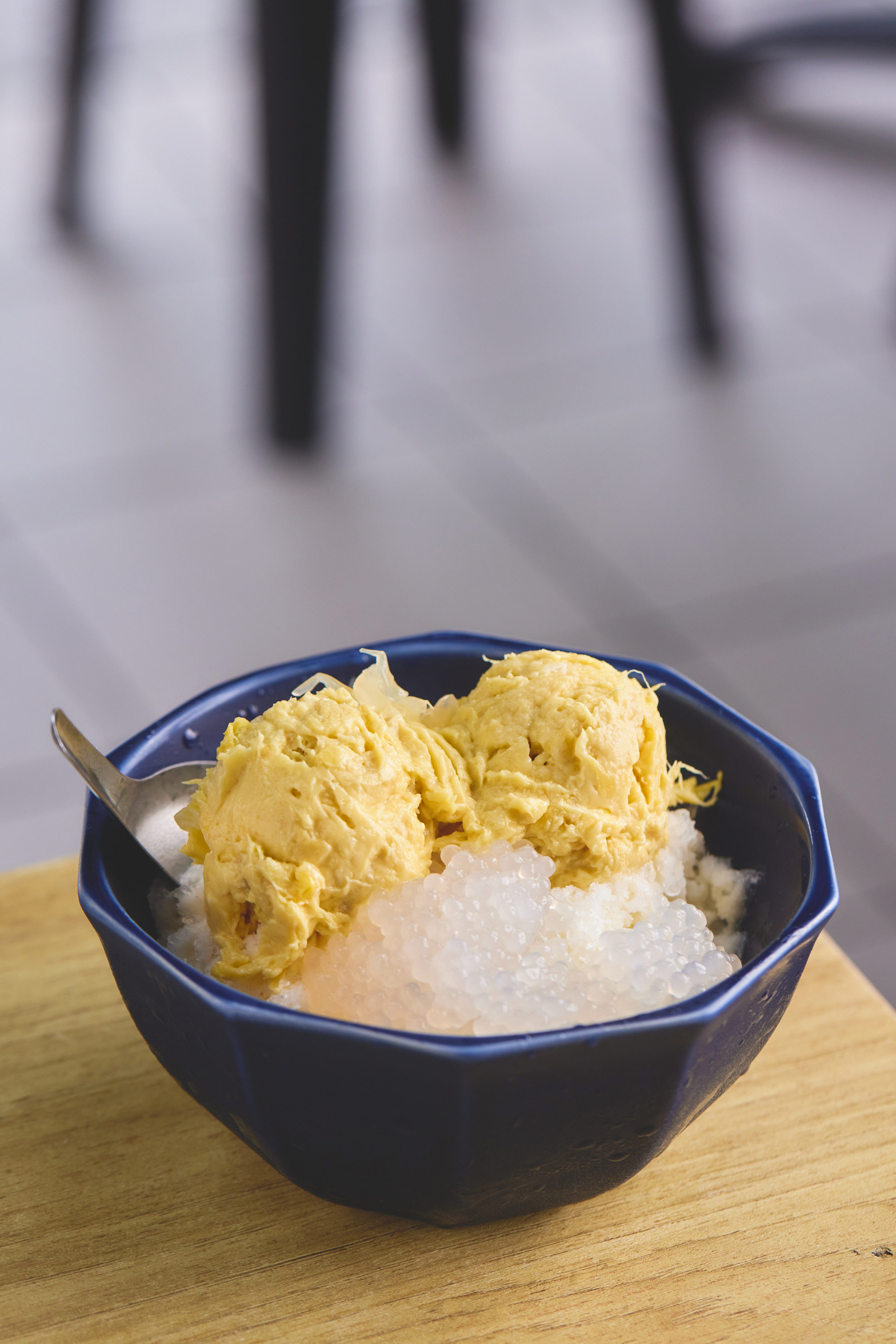 Durian, $9.80 (8 DAYS Pick!)
Don't be put off by Bing Duo Duo's rather flat-looking ice bowls – the mountain of shaved ice you'd typically get at Taiwanese or Korean dessert joints is actually hidden in the wide, massive bowl here, which we reckon is good for sharing among two to three. 
This best-seller comes with two sizable orbs of pungent mao shan wang durian puree, pomelo pulp and sago on a (hidden) mound of milk-flavoured shaved ice. Mix everything together, and you'll be duly rewarded with well-balanced icy mouthfuls of bittersweet, creamy durian tempered with an occasional pop from the sago and tangy pomelo pulp. Lashings of condensed milk over the mildly creamy ice base provide just enough sweetness to keep things sweet without veering into jelak territory – though we find the grainier texture of the shaved ice inferior to the smoother mouthfeel from authentic Taiwanese shaved ice sheets. It's super shiok otherwise, and a great option if you need something to cool off in this weather. 
Mango Pomelo, $4.80
Bing Duo Duo's other popular flavour is a riff on a Taiwanese shaved ice staple with diced Thai honey mango, pomelo bits and konjac jelly, all draped in sweet mango puree on that same milky ice base. Unfortunately, the diced mango in our dessert is a little unripe and slightly sour; Yuen Wvei informs us that she usually gravitates to "sweeter and nicer-smelling" Australian mangoes when getting the fruit from a nearby market, though those weren't available during our visit.
That aside, the dessert is enjoyable overall, as the sizable fruit chunks and bouncy konjac jelly make for toothsome bites, the tartness balanced out by a generous heap of super sweet mango puree.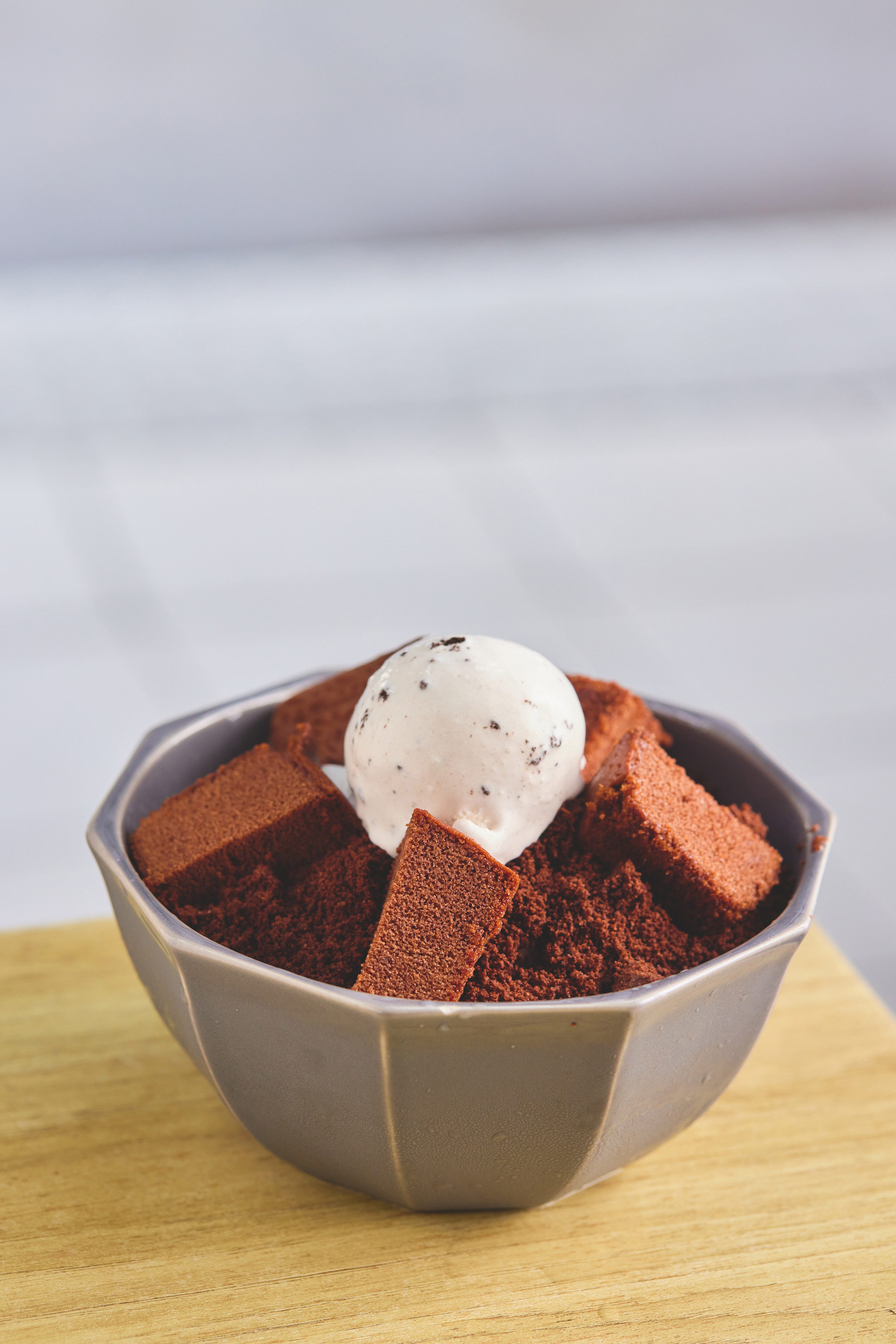 Chocolate Cake, $6.80
A kid-friendly option that features decently moist chocolate sponge cake fingers, a chocolate cookie and a scoop of cookies-and-cream ice cream. There's a layer of chocolate cake crumbs sprinkled over the shaved ice like brown snow. Though the dessert has a one-note flavour profile, the contrasting textures between crumbly, crunchy and cakey is fun to eat. It's not too sweet either, as Yuen Wvei adjusts the amount of condensed milk depending on the sugar level of the toppings. This is yummier than the jelak cheesecake option featuring a large wedge of cake plonked on ice (which we tried on a separate visit). Just eat this quickly, as cake crumbs swimming in half-melted slush isn't appetising.
Peach Grass Jelly, $4.20
One of two Singapore-style desserts Yuen Wvei's included for variety. A simple concoction of grass jelly chunks and canned peach, swimming in a sweet soup perfumed with pandan and red sugar (sugar blended with red dates and peppercorns traditionally used in Chinese desserts). Topped with plain shaved ice, the dessert is refreshing with a nice floral fragrance – largely from the pandan; there's no peppery notes – although it's on the blander side compared to the other desserts we sampled.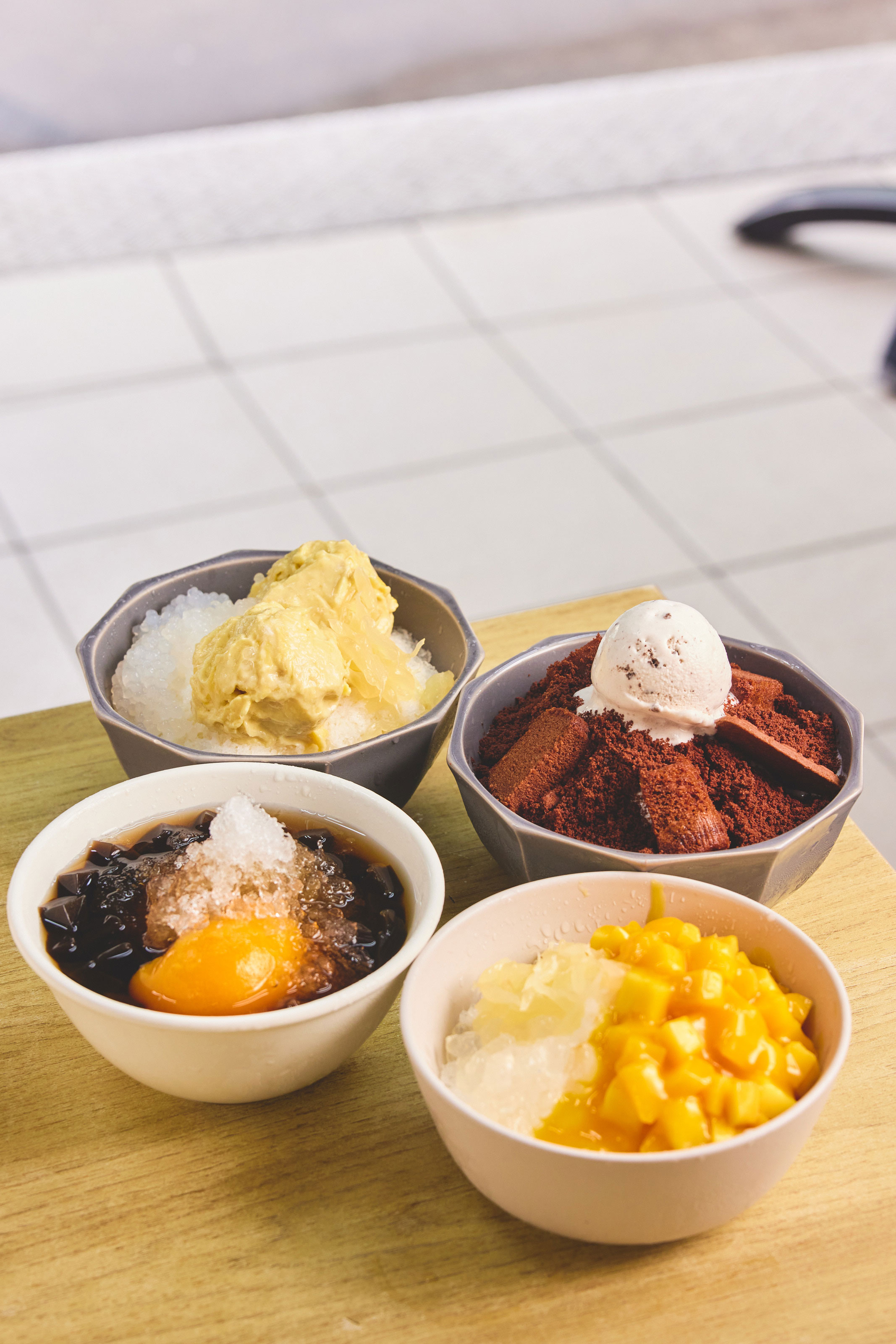 Bottom line
Think of Bing Duo Duo's offerings as Taiwanese-style ice kachang, and you won't be disappointed by the grainier shaved ice replacing silky sheets. That being said, the bowls are neatly presented, tasty and generously portioned for the price — a calorie-worthy way to beat the heat.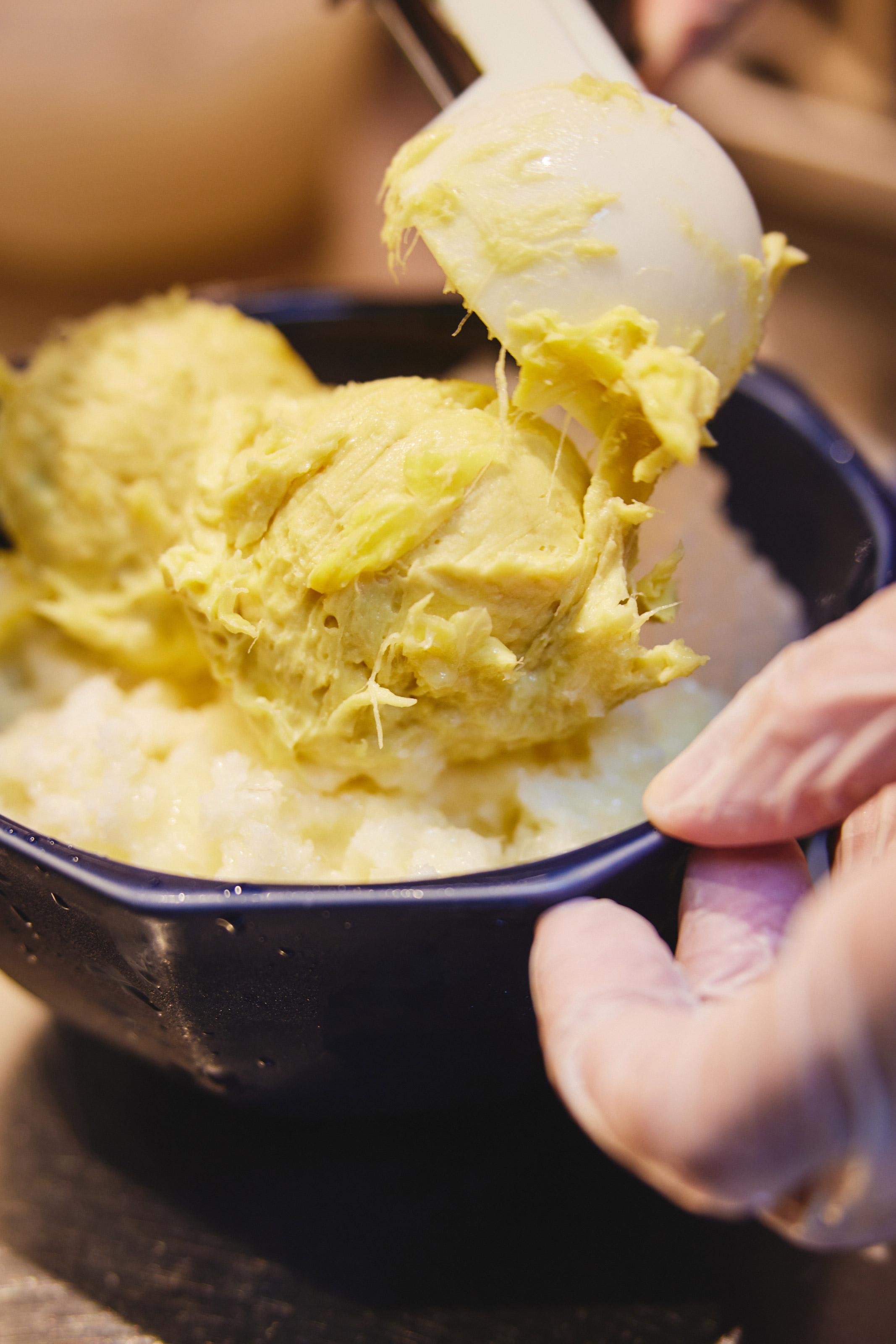 The details
Bing Duo Duo is at 941 Upp Serangoon Rd, S534709. Open daily except Tues 3pm – 11.30pm. More info via Instagram. 
Photos: Alvin Teo
No part of this story or photos can be reproduced without permission from 8days.sg.