Popular tonkotsu bak chor mee hawker couple opens fishball noodle stall in Bedok
The outlet serves fishball mee with a "lighter" tonkotsu-inspired soup that No. 25 Minced Meat Noodle is known for. "We can't possibly survive with just one stall, we won't earn enough money for the rest of our lives," say the young hawkers.
Lam Geng Han (who goes by Han), 27, and Chelsea Goh, 26, started their hawker journey last February with fusion bak chor mee stall, No. 25 Minced Meat Noodle. Located in Bukit Merah, the kopitiam stall offers the titular dish with a rich tonkotsu-inspired broth and shiok house-made chilli dressing.

A year later, the newlyweds are gearing up to launch a sister brand called Heng En Noodle Stall (a nod to the owners' Chinese names) in Bedok on June 7. Similar to their flagship stall, their new joint will boast Japanese influences as well.
No part of this story or photos can be reproduced without permission from 
8days.sg
.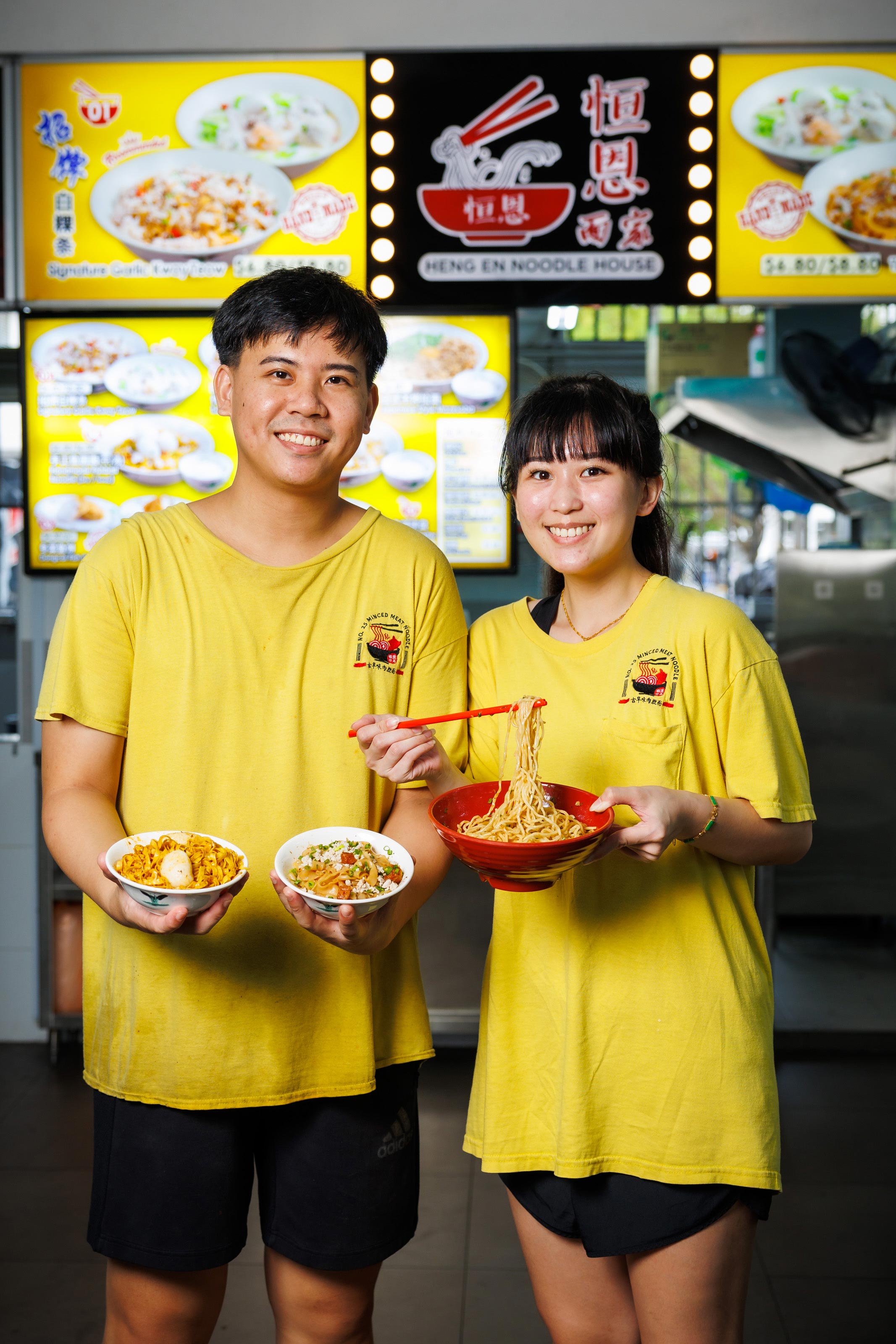 Fishball mee with tonkotsu-inspired soup
Speaking to 8days.sg, Han says the Bedok kopitiam outlet will offer a new take on fishball mee. "We tried to stand out from other bak chor mee stalls when we first opened No. 25. Now we want to do something different for fishball noodles too," he shares. 
A key distinction lies in its soup. Heng En will serve noodles with a tonkotsu-inspired broth, albeit a different version than what you get at Bukit Merah. "We created a lighter [pork-based] soup to complement the natural flavour of fishballs. There's also sweetness from cabbage, which isn't used in our bak chor mee broth. No. 25's soup is more porky and has stronger flavours from roasted ti po (dried sole fish) powder and garlic oil," explains the former Burger & Lobster junior sous chef.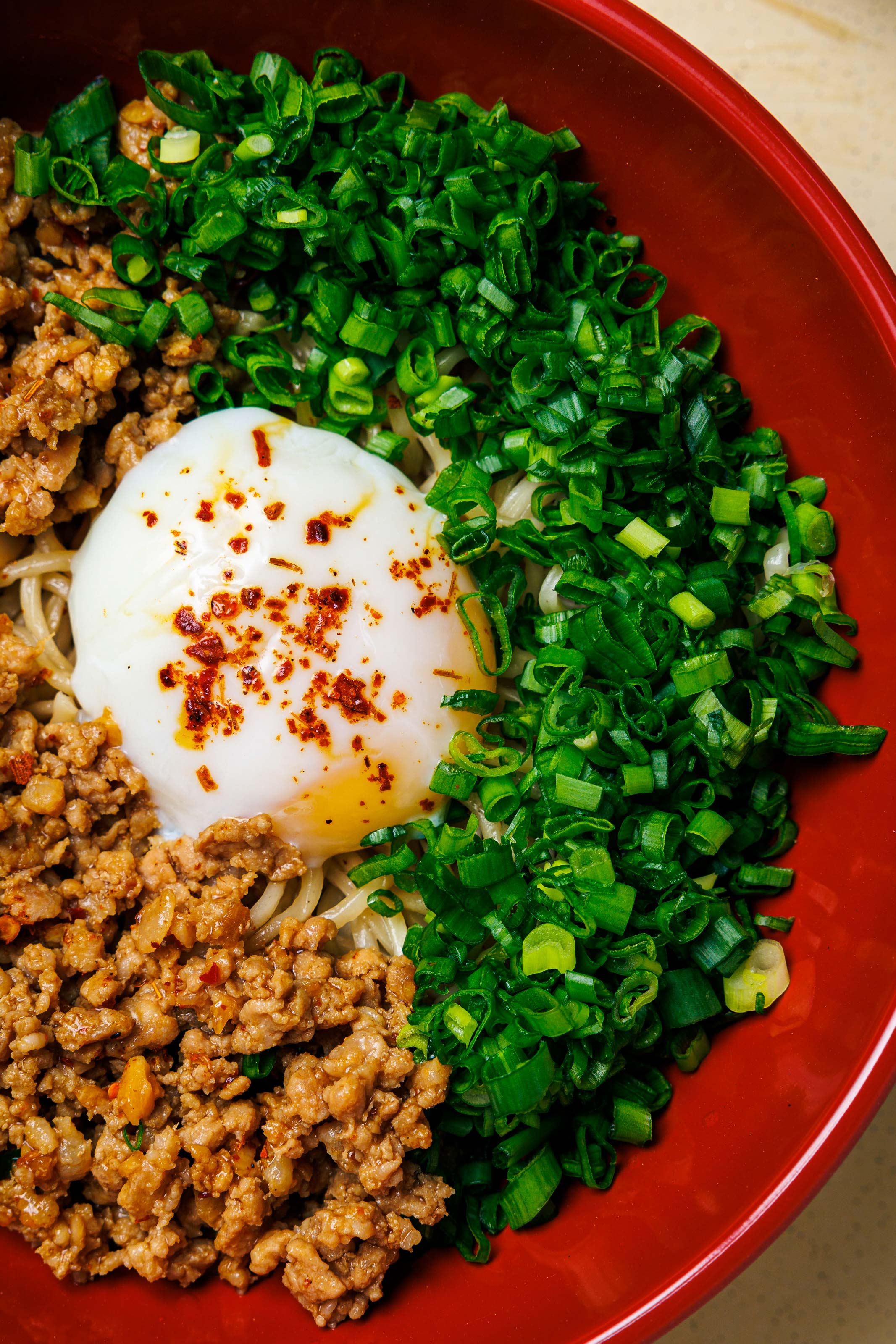 Japanese bak chor mee, anyone?
New specialities at Bedok include mazesoba (Japanese dry mixed noodles), which features "ramen-style wheat noodles" from a supplier, minced meat seasoned with Japanese chilli oil and soy sauce, onsen egg and spring onions.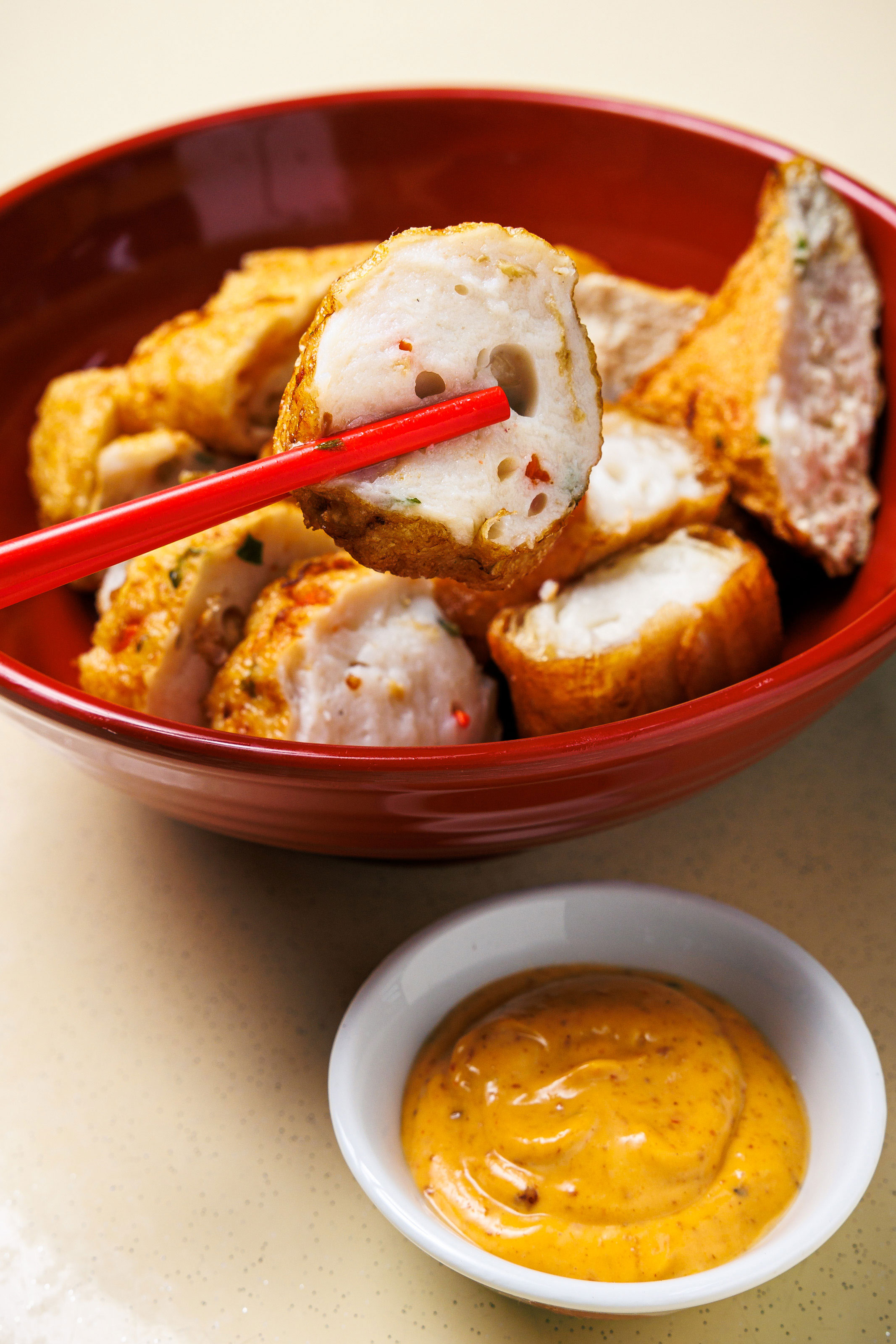 Handmade fish cakes a new addition 
You can order a variety of handmade fish cakes as sides here. The deep-fried snacks, like Fish Cake Tau Kwa ($4.30 for 2pcs) and Fish Cake You Tiao ($5.30 for 2pcs), are prepared daily from "pure yellowtail fish paste" by a supplier and served with house-made sambal mayo.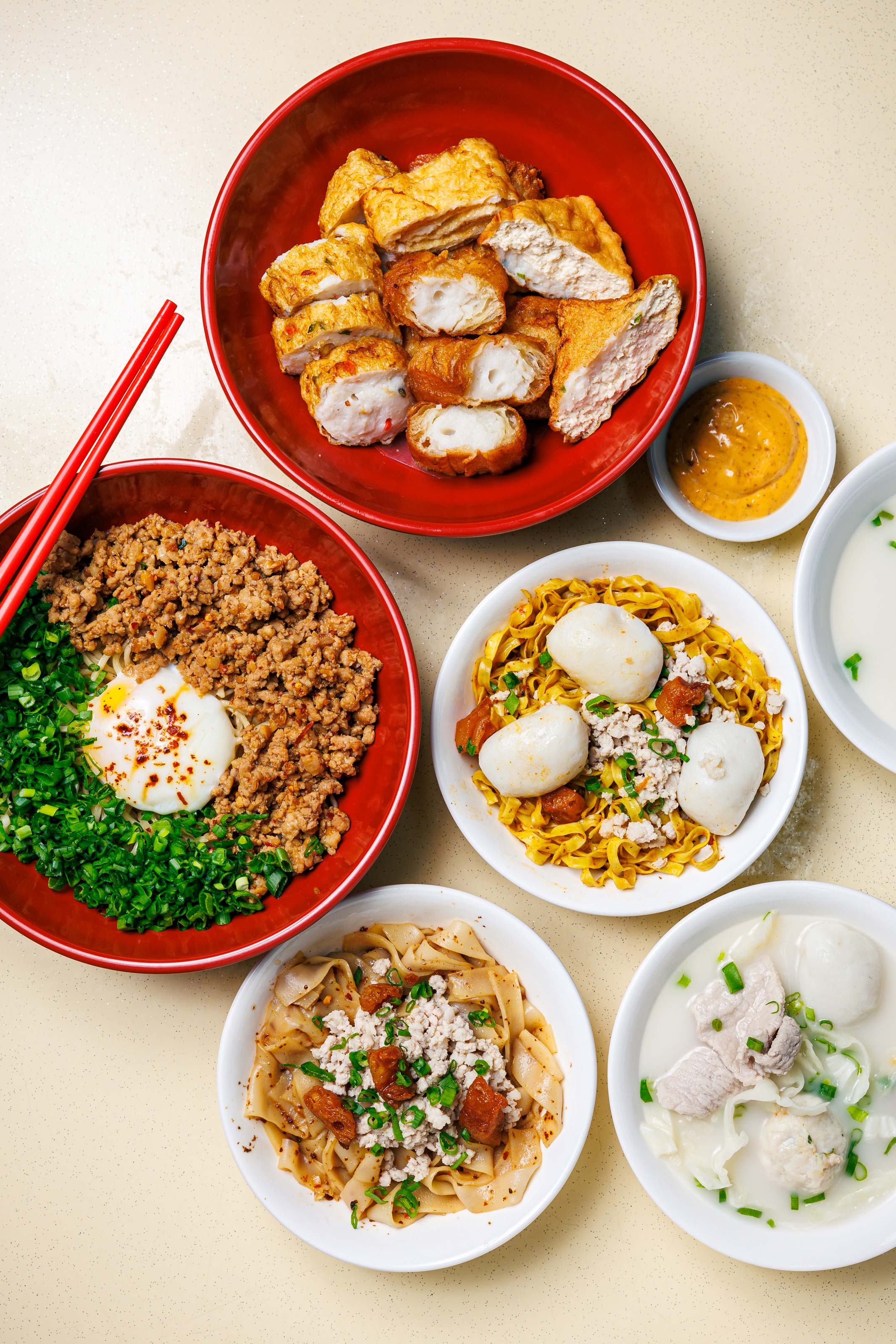 Same noodle bases, different toppings
Popular No. 25 signature items like Garlic Kway Teow and Minced Meat Noodle are available at Heng En too, but served with different toppings like fishballs instead of herh keow (fish dumpling) and pork liver.
Dressings for all their dry noodle dishes will be similar to the flagship stall. For instance, Heng En's fishball mee will feature the same house-made chilli sauce as No. 25's bak chor mee. "I'll be making the sauces for both stalls to ensure consistency in taste," assures Han.
Prices are different from the flagship
A standard bowl of dry bak chor mee starts at $5.50 at Bedok, compared to $4.50 at Bukit Merah – however, the latter does not come with soup, while all noodle orders at Heng En are served with its tonkotsu-inspired broth. Premium bowls here start at $6.80 and include more pieces of handmade fishballs from a supplier. This is cheaper than the $8 version at the flagship stall, which comes with fancier toppings like fried fish maw.
Why not expand No. 25 instead?
"We opened a second No. 25 branch at Punggol last year [in November] and struggled to maintain consistency. No matter how hard we try, the taste is a bit different," says Han. The couple hired two full-time cooks and an assistant to manage their second branch at One Punggol Hawker Centre, while they continued to helm their flagship stall. 
Both outlets prepare the tonkotsu-inspired broth separately each day. "Our soup is quite complicated as it has a lot of components… Even when I make it, it can taste different from day to day. So we decided not to expand No. 25 [any further] at the moment," he adds. The hawkers intend to close the Punggol outlet permanently once the lease is up "sometime this month" (they have yet to confirm an official closing date).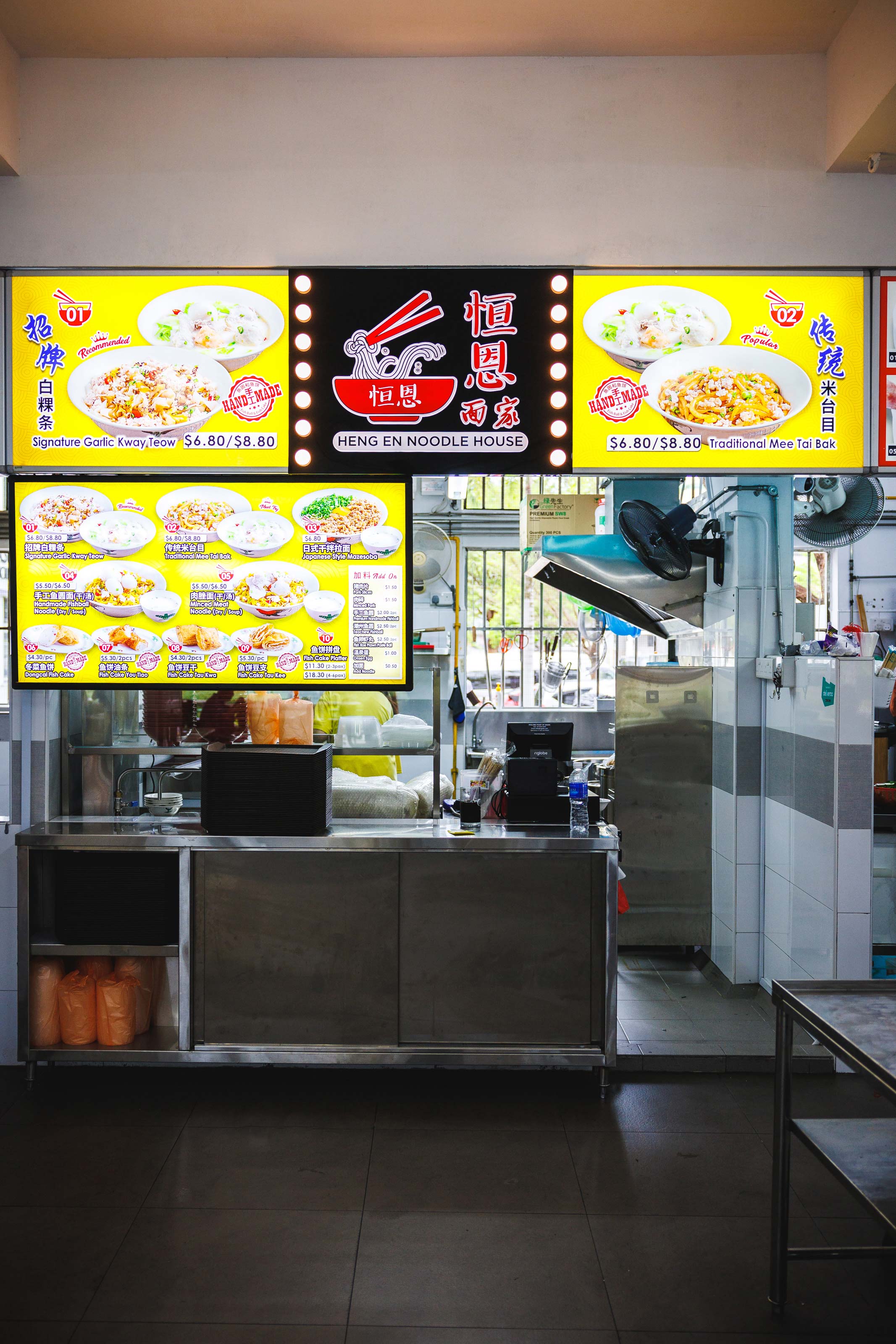 Hiring hiccups
Another reason for winding down their Punggol branch is due to manpower issues. The hawkers struggled with hiring staff as only Singaporeans and PRs are permitted to operate stalls managed by NEA [in hawker centres]. "It's why we looked for a kopitiam location [for Heng En], so we can have more flexibility in hiring," he shares.

Moving forward, a head cook who has been working at their Punggol stall will run the kitchen at Heng En, while Han and Chelsea remain at No. 25. Compared to a No. 25 branch, Han says he's more confident of maintaining the standards at Heng En thanks to a "simpler" tonkotsu-inspired broth.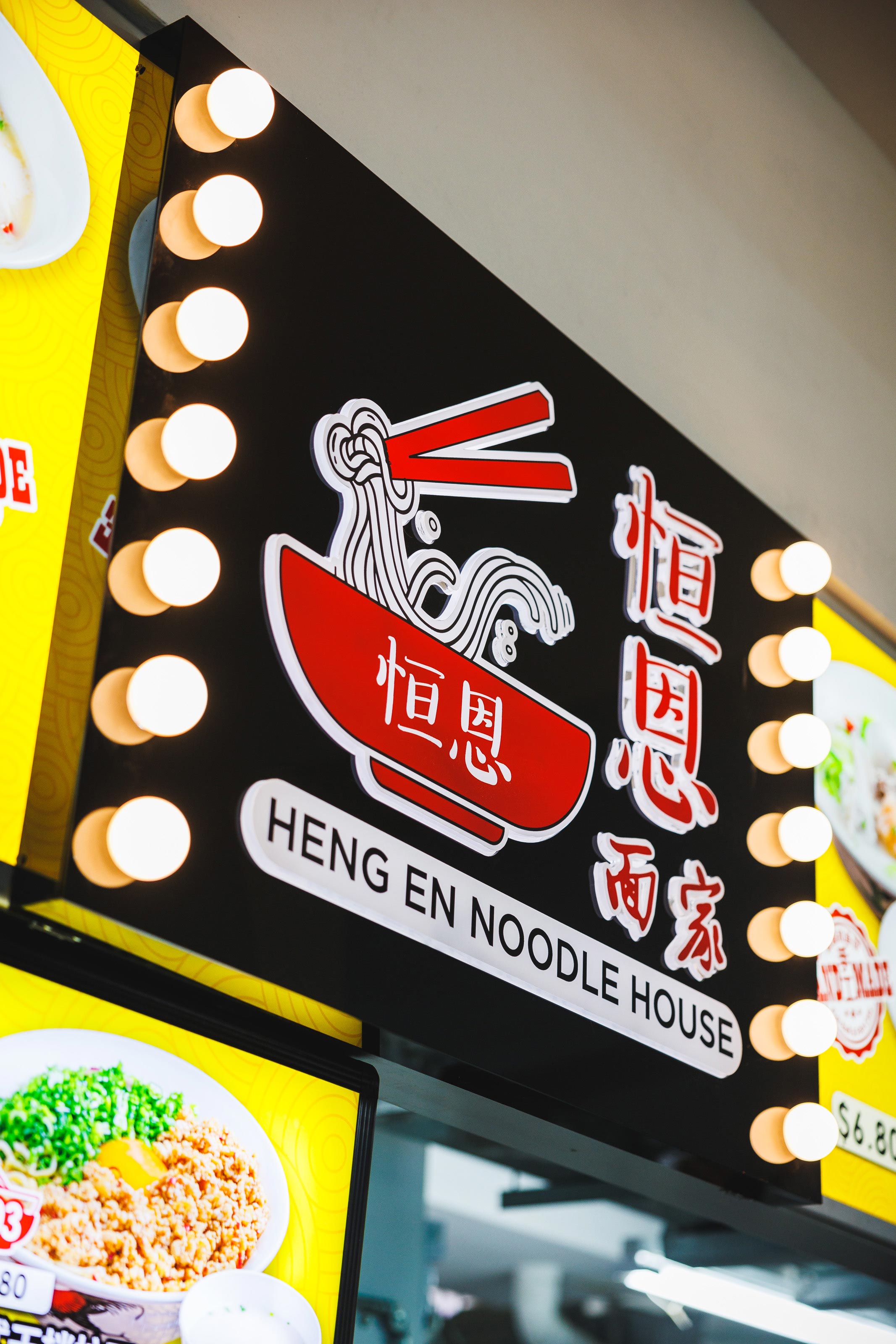 Positive about future as hawkers
"We're doing much better than what we expected. Sometimes we'll be in disbelief – eh we managed to survive until now!" quips Chelsea, who was an accountant before joining her hubby in the hawker biz. "Although the second stall didn't work out, we're still very positive about our future."
The hawkers say their flagship stall is "earning money", with average sales hovering around "200 portions" daily. However, their take-home pay is still significantly lower than what they used to earn as salaried workers (they declined to share the amount). 
"We can't possibly survive with just one stall… we won't earn enough money for the rest of our lives. We have to keep thinking of new ideas and ask ourselves how we can appeal to more people," shares Chelsea. "We're hoping [that Heng En will] achieve the same outcome as what we did in Bukit Merah."
Heng En Noodle House opens on June 7. Blk 204 Bedok North St 1 #01-435, S460204. Open daily except Mon, 9am-7pm. More info via Facebook & Instagram
Photos: Alvin Teo
No part of this story or photos can be reproduced without permission from 8days.sg.

8days.sg is now on #tiktok! Follow us on www.tiktok.com/@8dayseat.