Popular Vietnamese Sandwich Joint Banh Mi Thit Has A Spin-Off Beef Pho Restaurant, Prices From $6
Star Pho Le Beef Noodle Soup is located near the crowded sandwich spot in Geylang.
Fans of banh mi might have heard of Banh Mi Thit by Star Baguette on Geylang Road. The popular eatery, co-owned by Singaporean Lim Gee, 59 and his Vietnamese wife Jessie Le, 39, has drawn crowds with its delish Vietnamese sandwiches – crafted with baguettes that are freshly baked in-house – since opening in 2018. Four years on, and the brand has since expanded to four franchised outlets across the island.
The enterprising couple is now offering another well-loved Vietnamese dish: pho bo (beef noodle soup), from a 54-seater air-conditioned eatery (no service charge, no GST) a couple of doors down from Banh Mi Thit's original Geylang outlet. Star Pho Le Beef Noodle Soup quietly opened last December.
Jessie's cousin Nguyen Trong Han, 28, heads the kitchen at the new joint, which specialises in robust Saigon-style pho native to their birthplace, Ho Chi Minh City. 
No part of this story or photos can be reproduced without permission from 8days.sg.
Looking to expand since before pandemic
Though Han only joined the team in April after his work permit was approved, the camera-shy boss Lim tells us that his involvement stretched back to pre-pandemic days, when they were in the planning stage for Star Pho Le. "But then, [the world] kena Covid. So we held [our plans] until now," he explains.
Because of the pandemic, Han had to teach Jessie how to cook pho via video calls. Han started cooking professionally from the tender age of 14 at small eateries in Ho Chi Minh City. He later went on to graduate from a local culinary school after a two-year programme, before finding work at various F&B establishments, including a pho joint for about a year.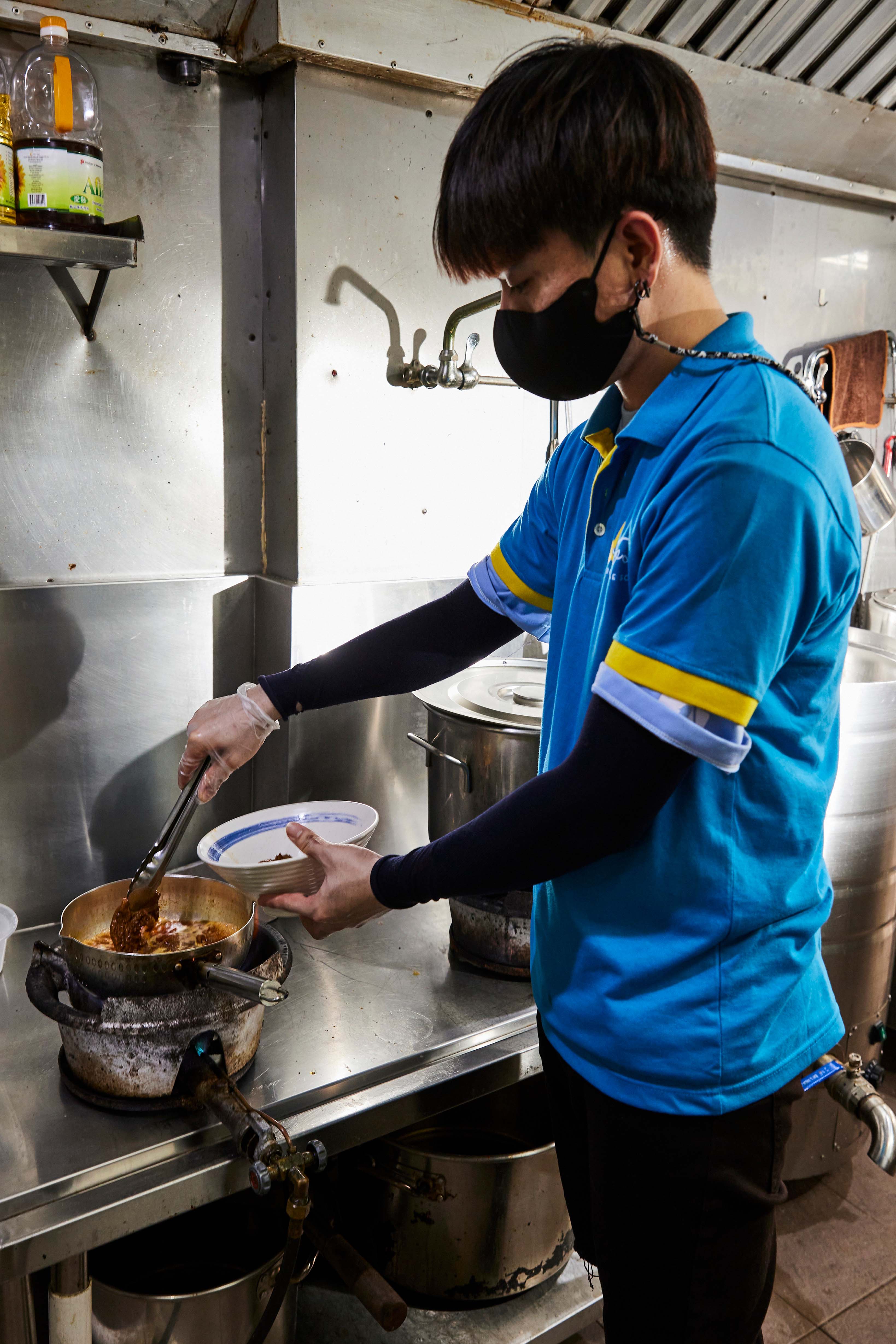 Lim estimates that business dropped by a good "10 to 15 percent" during the worst days of the pandemic – they weren't as badly affected as other eateries, he says, thanks to the grab-and-go nature of banh mi.
Things shifted back into gear at the end of 2021, when a seafood restaurant further down the road from their HQ banh mi joint closed shop. "By then, everything was beginning to get better. So we decided to take over the restaurant space," he says.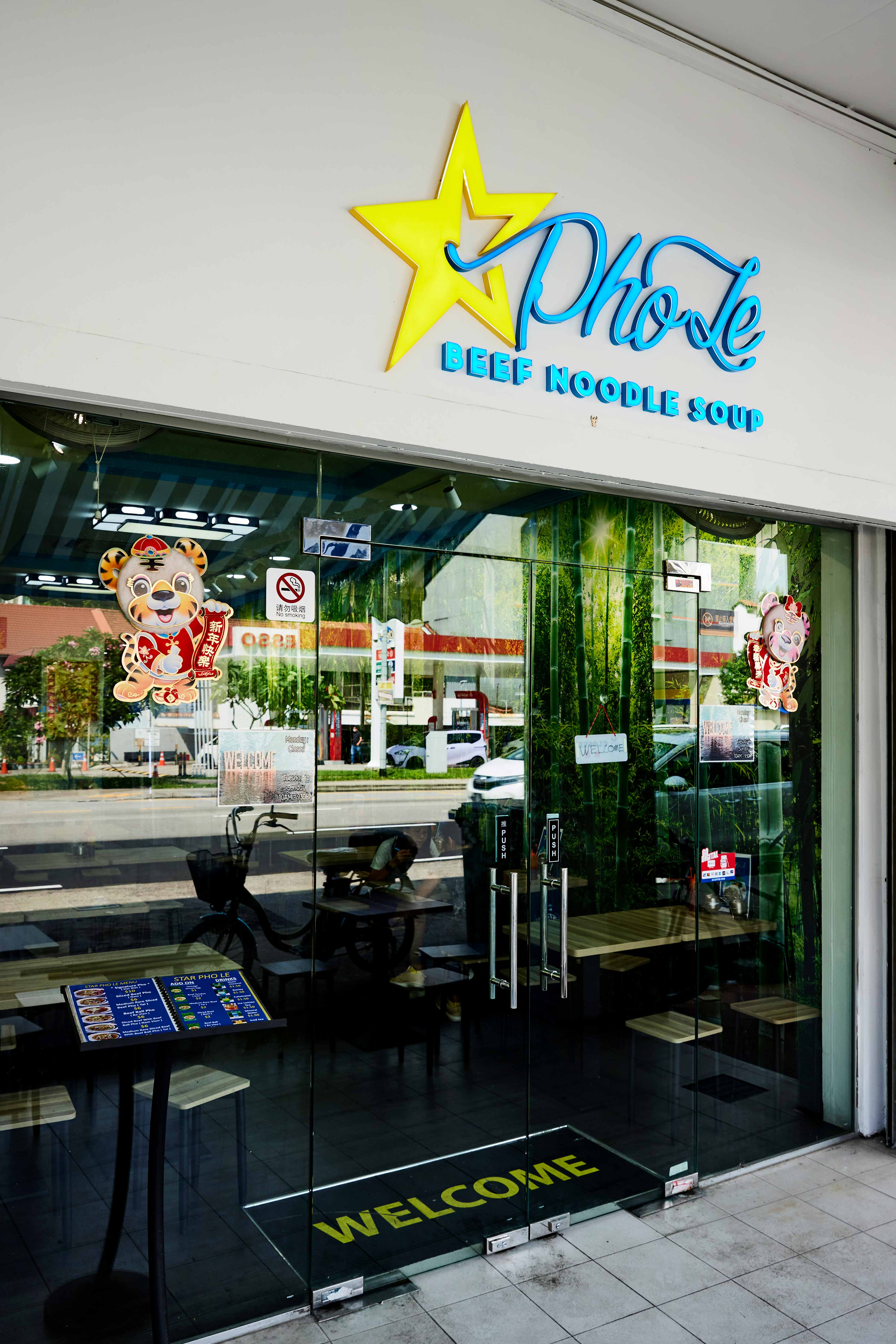 The look
The towkay spent around $150K renovating the restaurant, which is simply decorated with verdant wallpaper splashed with bamboo prints.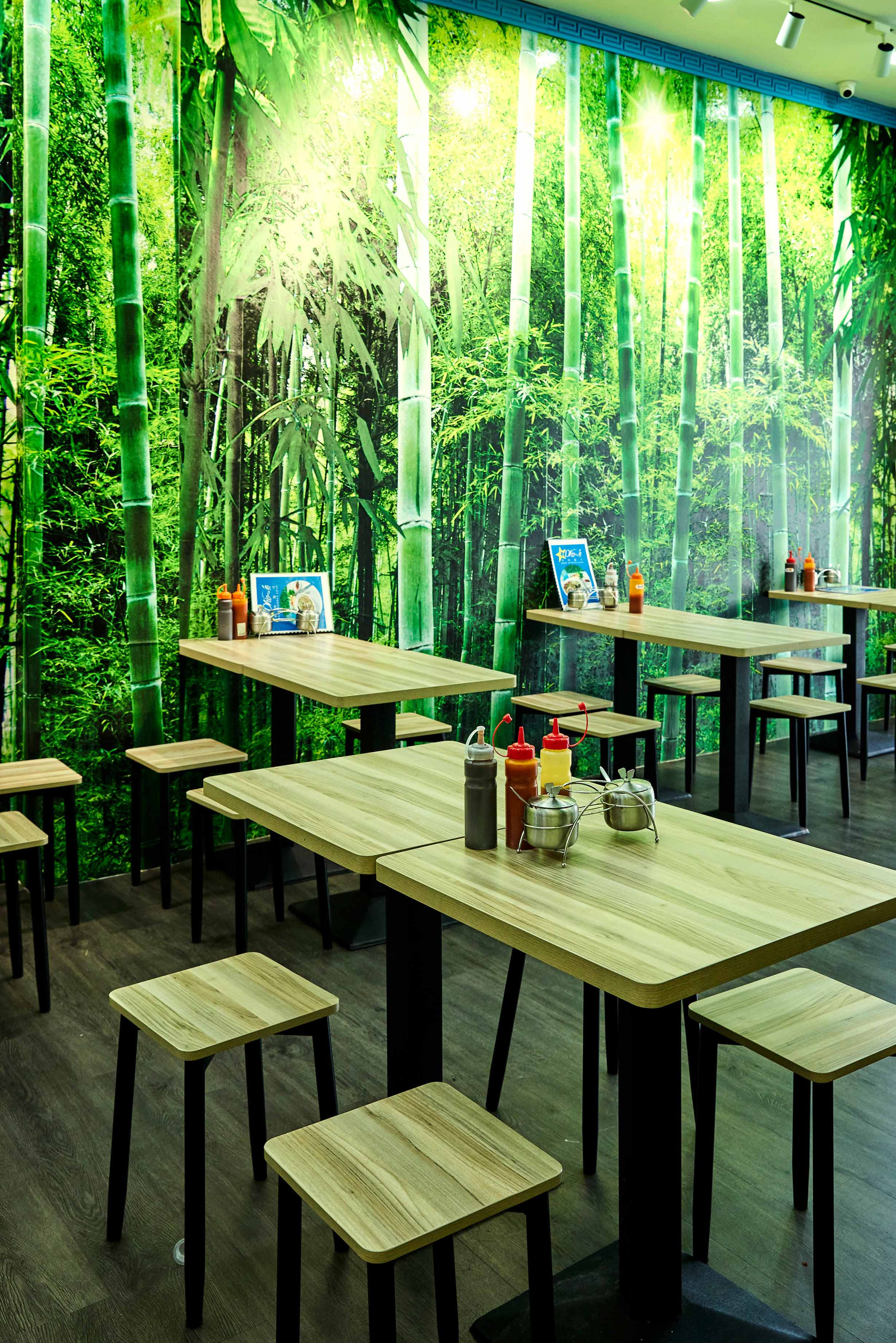 The decor is comfy, but no frills – there are also a couple of empty fish tanks, filled with water and prepped "for arowana, when I have the time [to buy some]", says Lim with a laugh.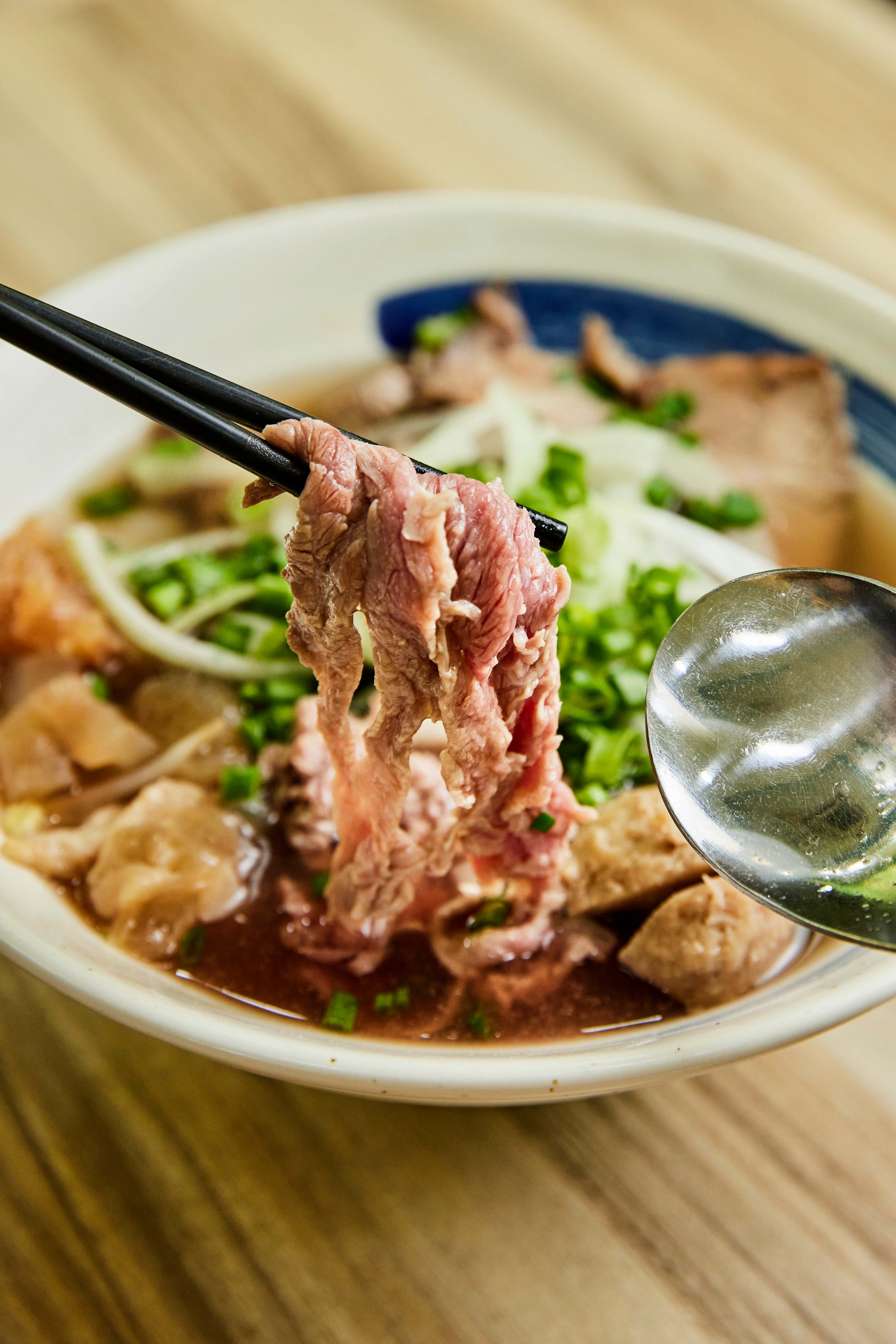 About 130 bowls sold daily
We ask if his pho joint has cannabilised some of his banh mi customers, and he shakes his head emphatically. "No lah! When people want to eat pho, they will look for pho. When they want to eat banh mi, they will look for that," he replies, reasoning that there'll be enough customers for both eateries since "the Geylang and Joo Chiat area have a lot of Vietnamese [people living there]".
Nor does he worry that shifting focus to his new venture would take too much time away from his original baby, Banh Mi Thit as "it's quite steady." "I only need to deliver bread and meat to the shops twice a day," says the towkay.
Star Pho Le has yet to turn a monthly profit since opening eight months ago, selling an average of 130 bowls daily prepped by Han and other Vietnamese-born cooks. But Lim is taking it in stride: "You can't expect a business to open and just make money like that. It takes time."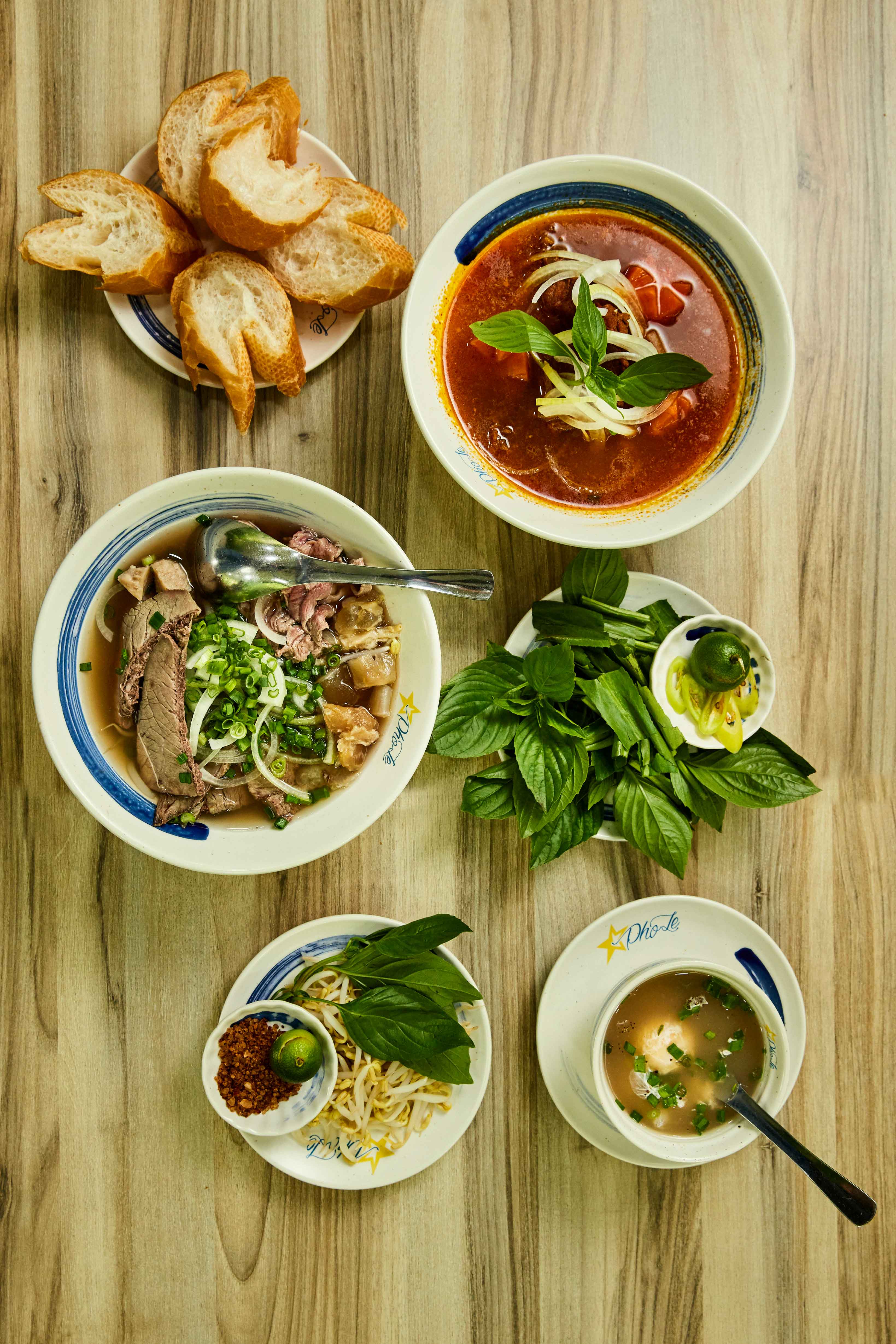 The menu
Star Pho Le serves the darker full-bodied broth popular in Ho Chi Minh City, with some adjustments to make it "Singapore-style". The biggest adjustment, shares Han, is the omission of MSG. Instead, he "extracts natural sweetness" from simmered beef bones and around "six spices" including cinnamon and star anise.
While pho bo (from $6 to $10, depending on the cut of beef) is the signature dish, they also sell Vietnamese beef stew paired with homemade baguette ($10). Just order at the counter, and the staff will deliver the food to your table.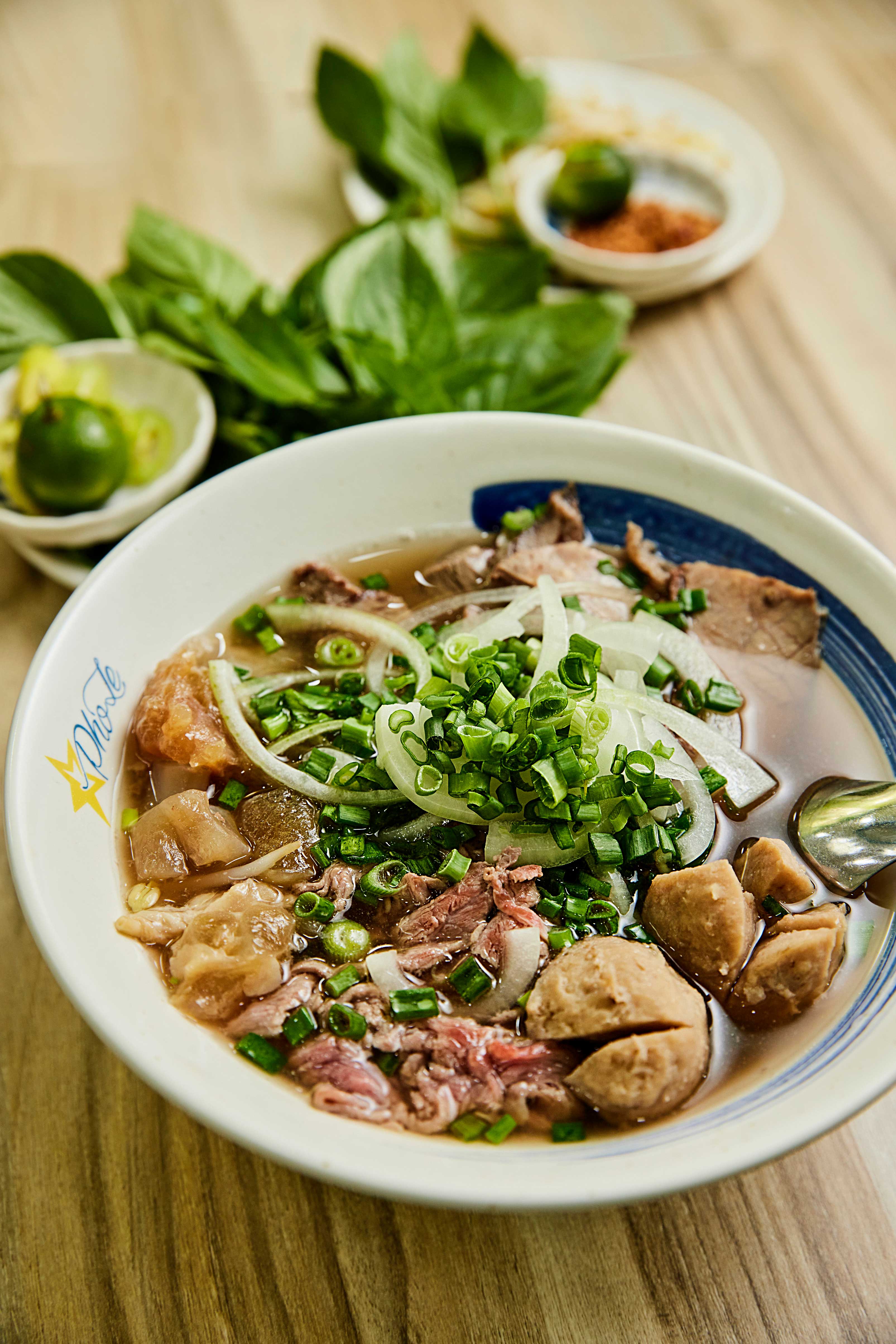 Signature Pho, $10
An ensemble of Star Pho Le's beef cuts – including brisket, tendon, rare lean beef and beef balls – top this bowl, which comes with thin rice noodles and the usual bean sprouts and onions.
The broth packs an herbaceous kick that melds nicely with the meaty sweetness from the beef marrow bones. It's not too salty either, so we don't feel particularly thirsty after polishing off half the bowl. Unfortunately, the meat it's served with is inconsistently cooked. While the tender lean beef slices are enjoyable and the meatballs nicely springy, the thick-cut brisket and tendon are tough and rather chewy. It's probably safer to get the humbler $6 option with just the better-cooked thinly-sliced beef and meatballs instead.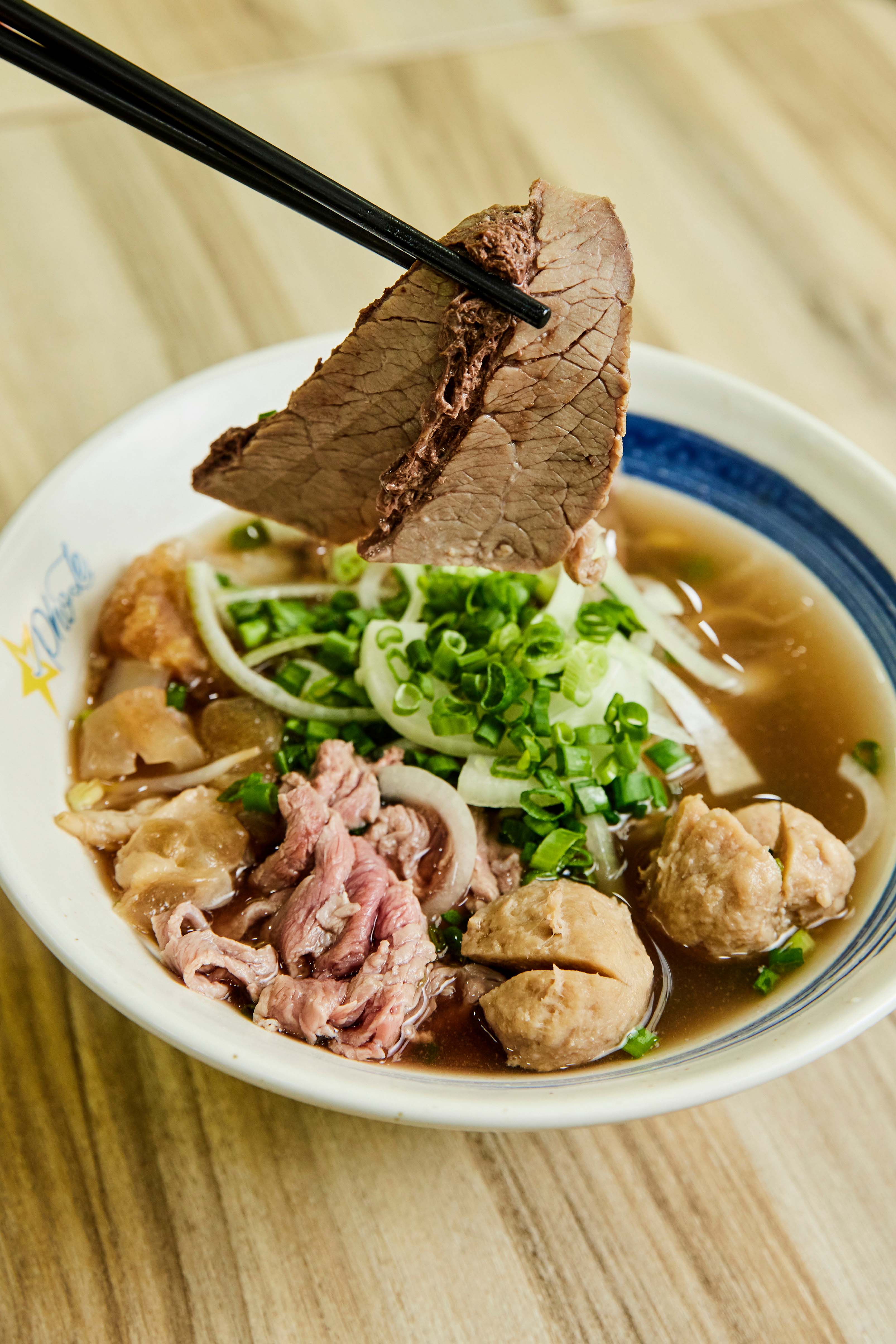 Each bowl comes with a heaping plateful of Thai basil leaves and numerous condiments: there's a spicy house-made chilli dip for slathering on beef, a lime wedge for extra zing and sliced Vietnamese green chillies (these are seriously spicy and left us with numb lips).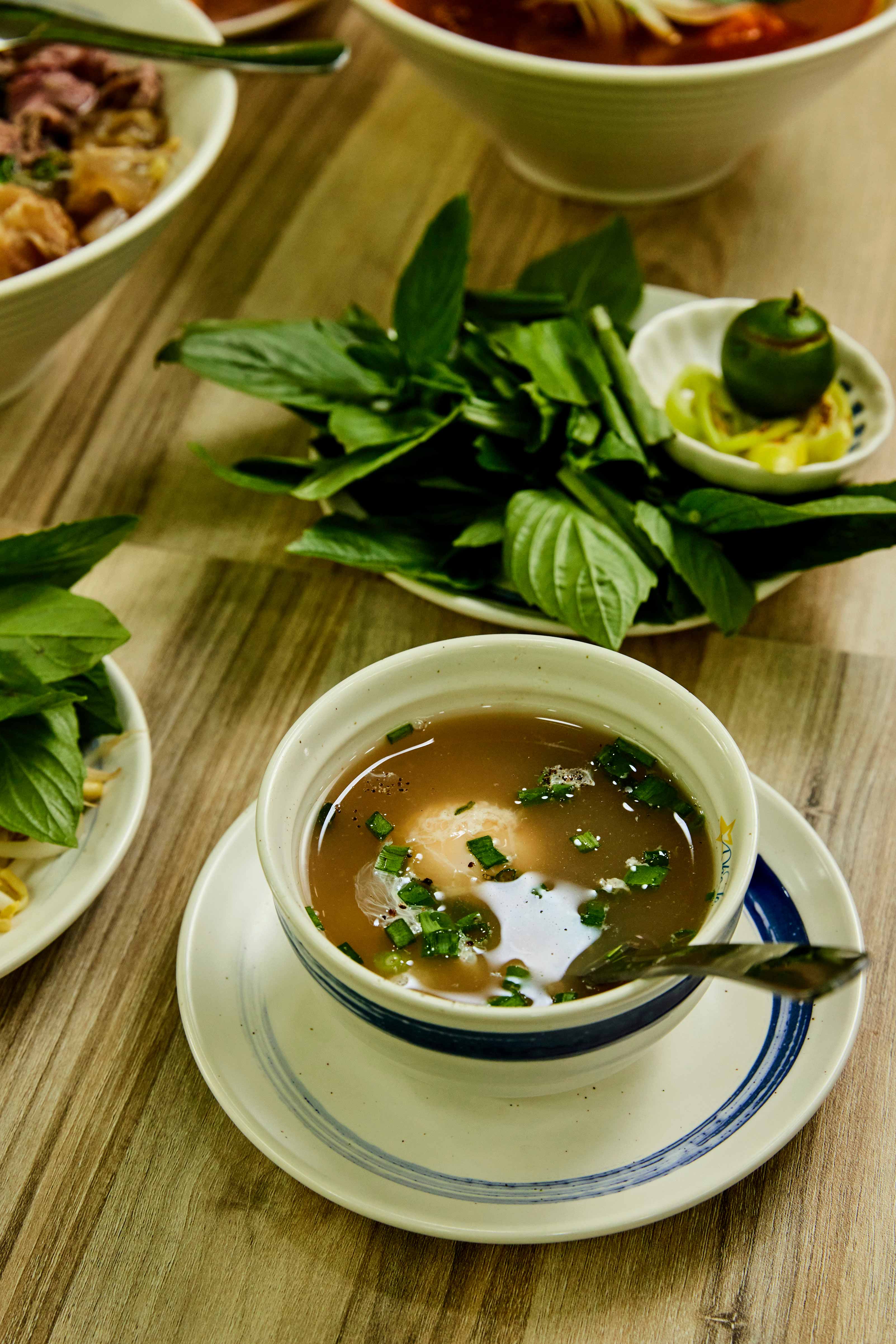 Onsen Egg, $1
You can also order a soft-boiled egg swimming in pho broth. Jessie explains that it is common practice to add an egg into your pho in Vietnam. "Some people eat it whole, others like to break the yolk and stir it in," she adds.
She advises us to go for the former, and we slurp piping hot, punchy broth with a slurry of runny egg yolk; a comforting and moreish snack. You can choose to have it in a separate smaller bowl of soup or plopped into your noodles.
Bo Kho Banh Mi, $10
Unlike thicker Western stews, this "Beef Stew Soup" has an orange-hued soup with the consistency of slightly greasy mee soto. It's laden with carrots, onions, deboned beef rib and served with sliced baguette (brought over from its sister brand's HQ).
While fairly perfumed with herbs like star anise and cinnamon, the sweetish soup lacks savoury oomph. The hefty beef chunks within again take too much work to munch on. The accompanying crunchy, airy baguette is delightful, but we'd rather have it as a sandwich at nearby Banh Mi Thit, smeared with pate and layered with ham.
Bottom line
Despite the culinary credentials of the young Ho Chi Minh City-born chef behind Star Pho Le Beef Noodle Soup, we think his bowls have room for improvement – especially where it comes to the inconsistent texture of the various beef cuts served here. If you pop by, the sliced rare lean beef and meatball option is probably a safer choice to go with the comforting soup. But if we're being honest — it can't beat the satisfaction of devouring a tasty banh mi from its sibling eatery Banh Mi Thit just down the road.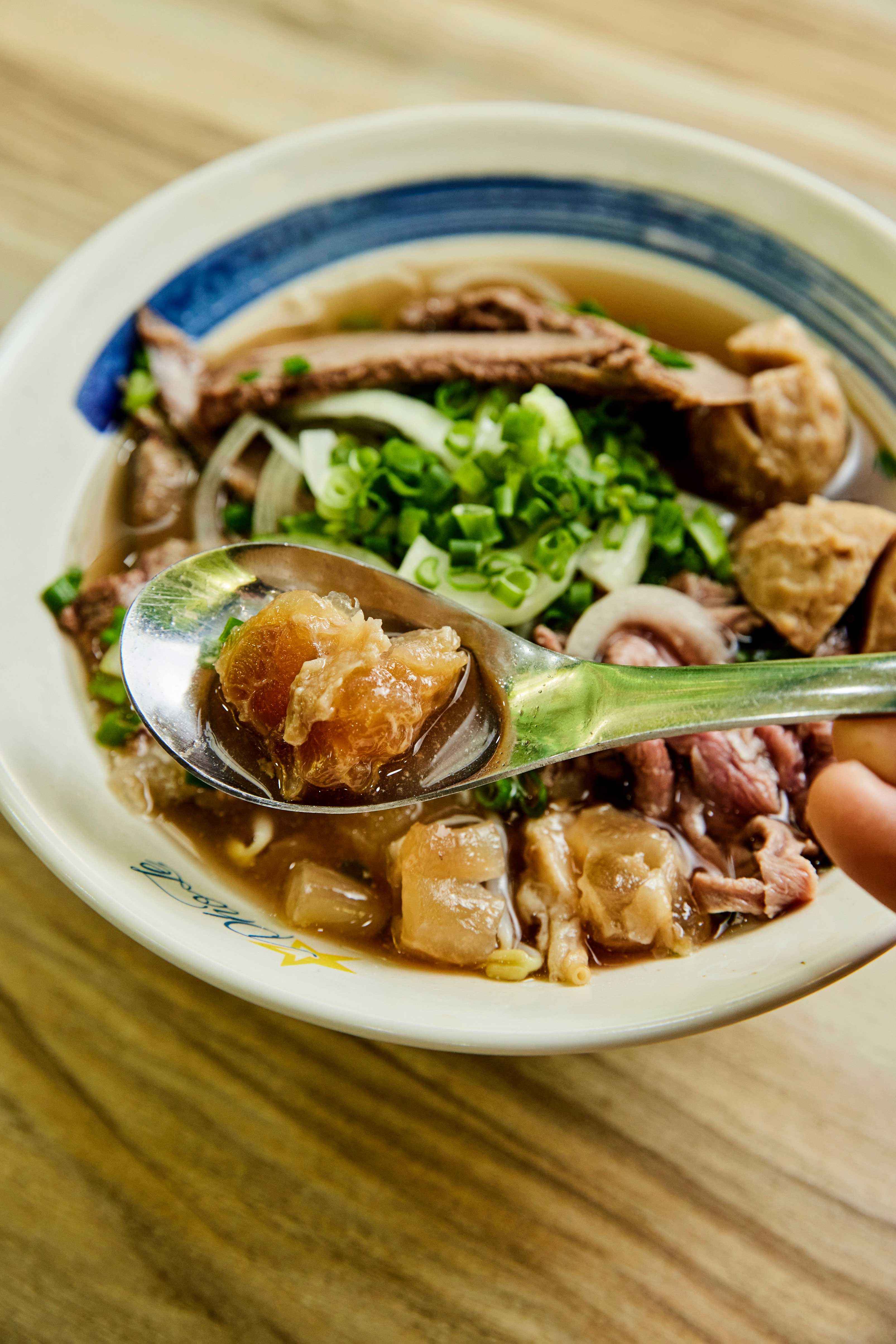 The details
Star Pho Le Beef Noodle Soup is at 671 Geylang Rd, S389598. Tel: 6979-8996. Open daily except Mon 10am – 9.30pm. More info via Facebook.
Photos: Aik Chen
No part of this story or photos can be reproduced without permission from 8days.sg.