Prawn mee with crispy hae bee hiam sambal so shiok, Chen Liping asked to tapow extra home
"She offered to pay me for the extra soup and chilli, but I declined. She had brought her own little container and asked her helper to tapow the chilli," says the hawker behind Ipoh Zai Prawn Noodles.
We've never heard of Ipoh prawn noodles till we saw a Facebook post raving about Ipoh Zai Prawn Noodles, a two-month-old stall at Tanjong Pagar Plaza Market & Food Centre, and its "handsome" towkay. Unique prawn mee cooked by a dishy hawker? We had no choice but to check it out. 
When we meet the boss, Ipoh-born chef-turned-hawker Ng Kie Cheong, 41, he tells us that Ipoh prawn noodles is similar to the Penang version, which is spicy and boasts a richer soup than hae mee found locally. The main difference, he says, is in the toppings. "Penang prawn mee is served with the standard toppings of fish cake, hard-boiled egg and beansprouts, while some places in Ipoh add different toppings like char siew," he shares. Is he handsome? Well, at certain angles, he bears a faint resemblance to Mediacorp host Bryan Wong.
No part of this story or photos can be reproduced without permission from 
8days.sg
.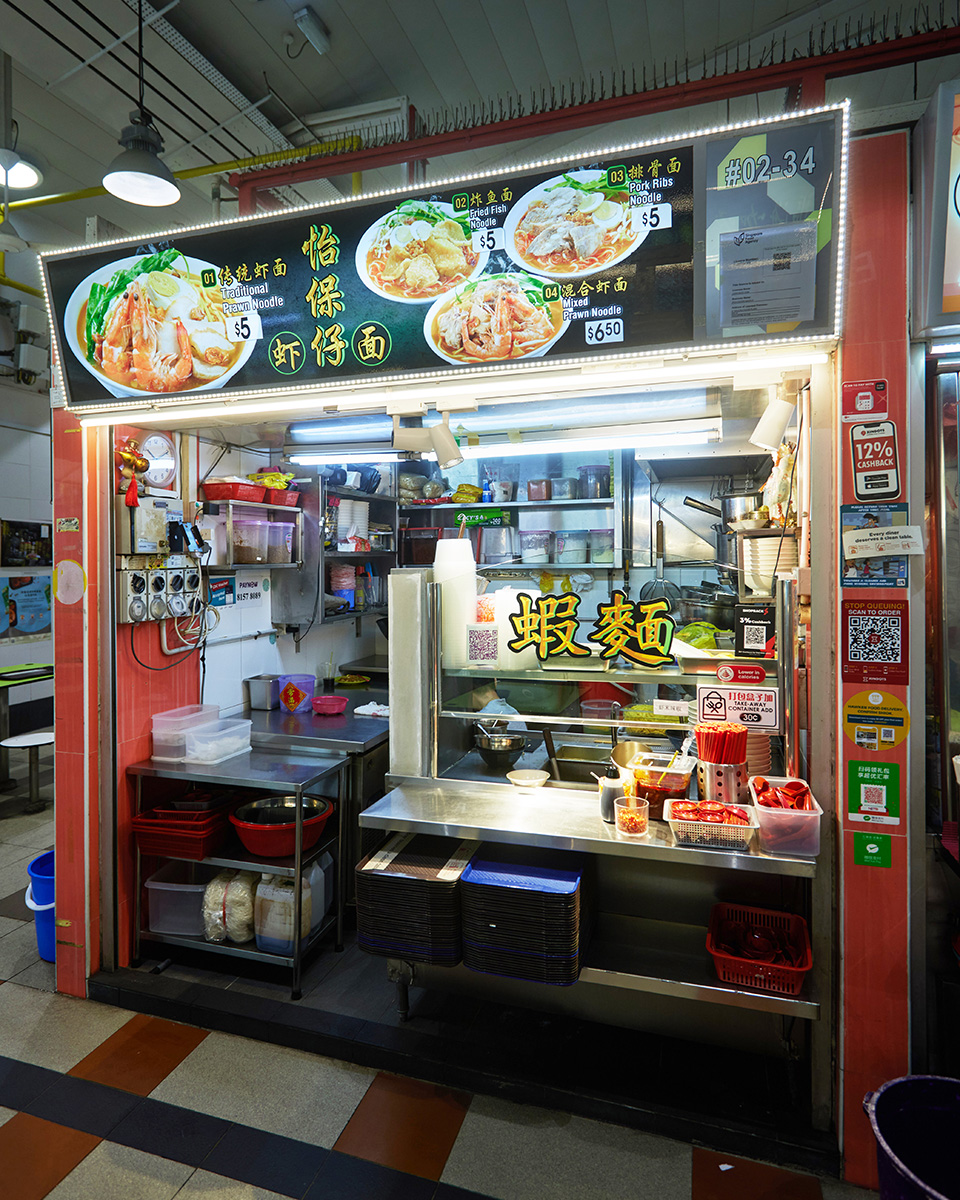 From roast meat to prawn mee
Since relocating to Singapore more than two decades ago, Kie Cheong has worked as a kitchen assistant and chef at various hawker stalls and restaurants. He declines to go into details, only saying he has worked as a roast meat chef in a couple of casual Chinese restaurants for 15 years. 
When the pandemic hit in 2020, he quit his job as a kitchen manager and returned to Ipoh. After he returned to Singapore later that year, he took on part-time gigs at various stalls and eateries before investing $15K to start his prawn noodle biz at Tanglin Halt Market in March 2022. Due to poor business, he relocated his stall to Tanjong Pagar this January. Interestingly, the Tanglin Halt stall he occupied was taken over by
Aw's Signature Minced Pork Noodle
, which we featured recently. 
Never made prawn mee prior to starting biz
Despite never cooking prawn noodles before, Kie Cheong decided to offer his take on the dish from his hometown. "I considered selling roast meat but it's tough for one person to manage all the work, so at the last minute, I changed [my signature dish] to prawn mee instead," Kie Cheong tells 8days.sg. 
"I like prawn mee but honestly, I rarely ate it back home 'cos unlike Ipoh hor fun or curry mee, it's not a specialty there. But since Singaporeans like prawn noodles, I decided to give it a try. Plus, you can hardly find Ipoh-style ones here," he reasons.
It took him three months to perfect the recipe. "When I was working part-time, I cooked pao fan at a hawker stall. The base for the soup is similar, so I got inspiration from there, then mixed in different ingredients to create my own style of prawn mee," he says.
The secret to his tasty prawn mee is in the chilli, which Chen Liping loves 
Kie Cheong adds his own twist to traditional prawn mee by topping it with fried dried baby shrimp that appears to be a humbler cousin of Japanese sakura ebi to enhance the soup's depth and flavour. "When I was working at a restaurant, I used to make sakura shrimp fried rice, so I got the idea from there," he shares. 
He also serves it with house-made crispy hae bee hiam chilli instead of the usual saucier
sambal. It's made by blending dried shrimp, onion, garlic and chilli padi, then frying the lot for at least an hour till dark red. The smoky, umami condiment has been such a hit with customers that many, including actress
Chen Liping
, who has visited the stall several times,
have asked to buy it.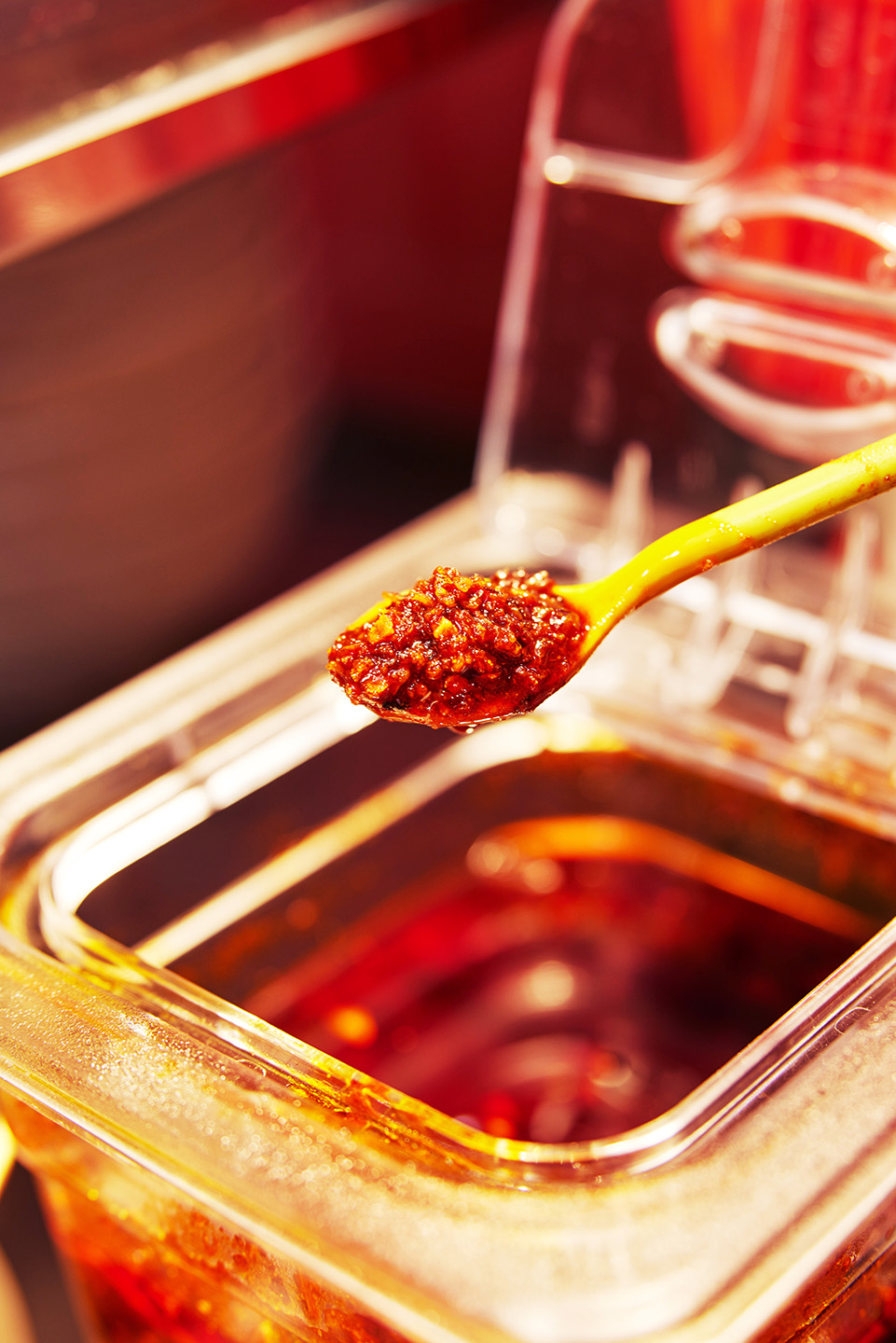 According to Kie Cheong, Liping would request for extra soup and chilli when she used to patronise his stall at Tanglin Halt. "She would eat the noodles there, then tapow a bowl for her mum. She offered to pay me for the extra soup and chilli, but I declined. She had brought her own little container and asked her helper to tapow the chilli. She told me I should sell my chilli, but it requires a lot of effort to make. I simply don't have the time," shares Kie Cheong.
"She's very friendly," he quips. When we ask if she has visited him at his new stall, he replies: "She probably doesn't know I moved here."
Liping, if you are reading this, please hit Kie Cheong up.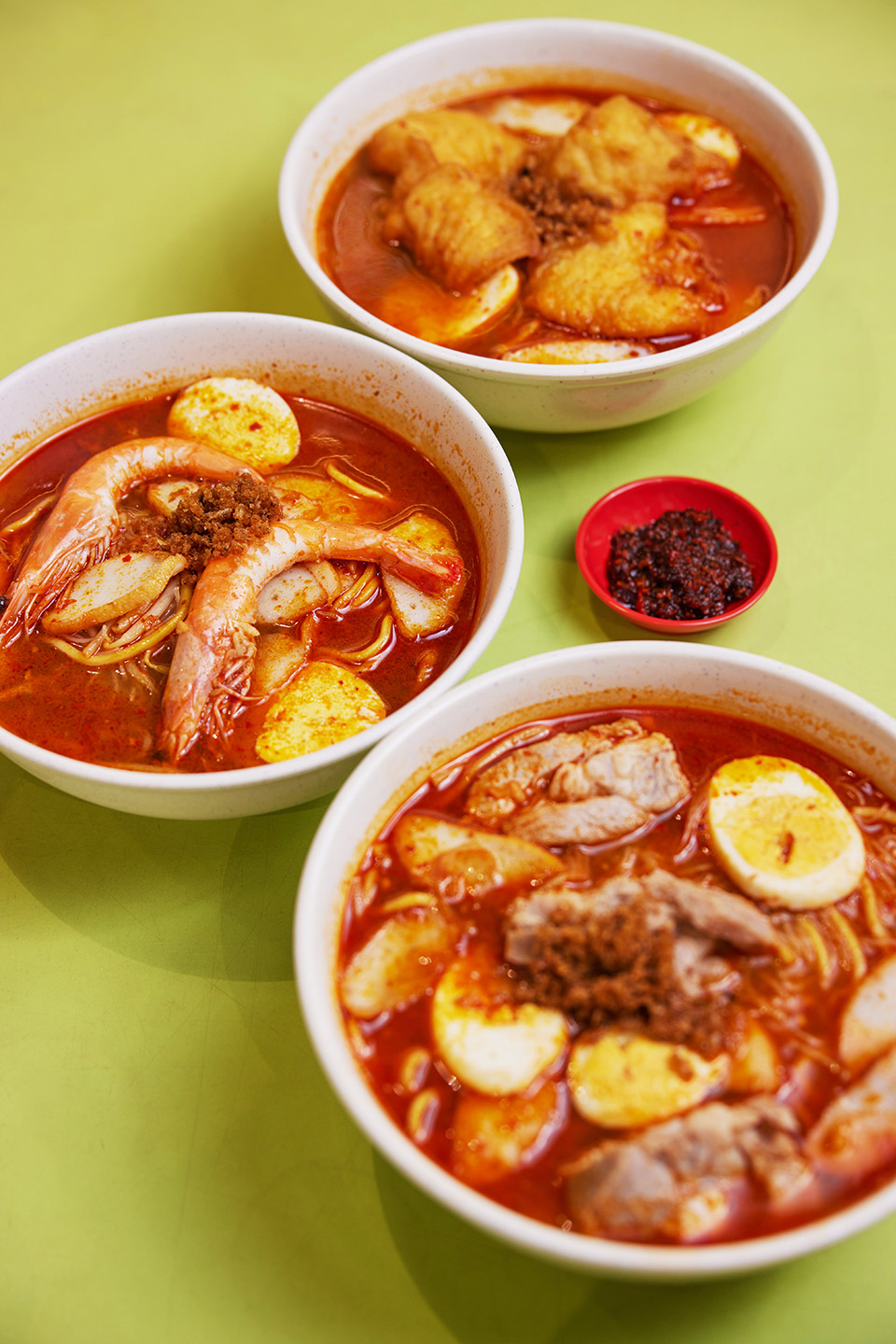 The menu
There are four items on the menu: traditional prawn noodles, fried fish noodles, pork rib noodles and mixed prawn noodles, all served with the same brightly coloured soup. They are all priced at $5, except the mixed prawn noodles ($6.50), which features prawns and pork ribs. You will not find dry prawn noodles on the menu as this is not offered in Ipoh and Penang, however, Kie Cheong will oblige if customers request for it.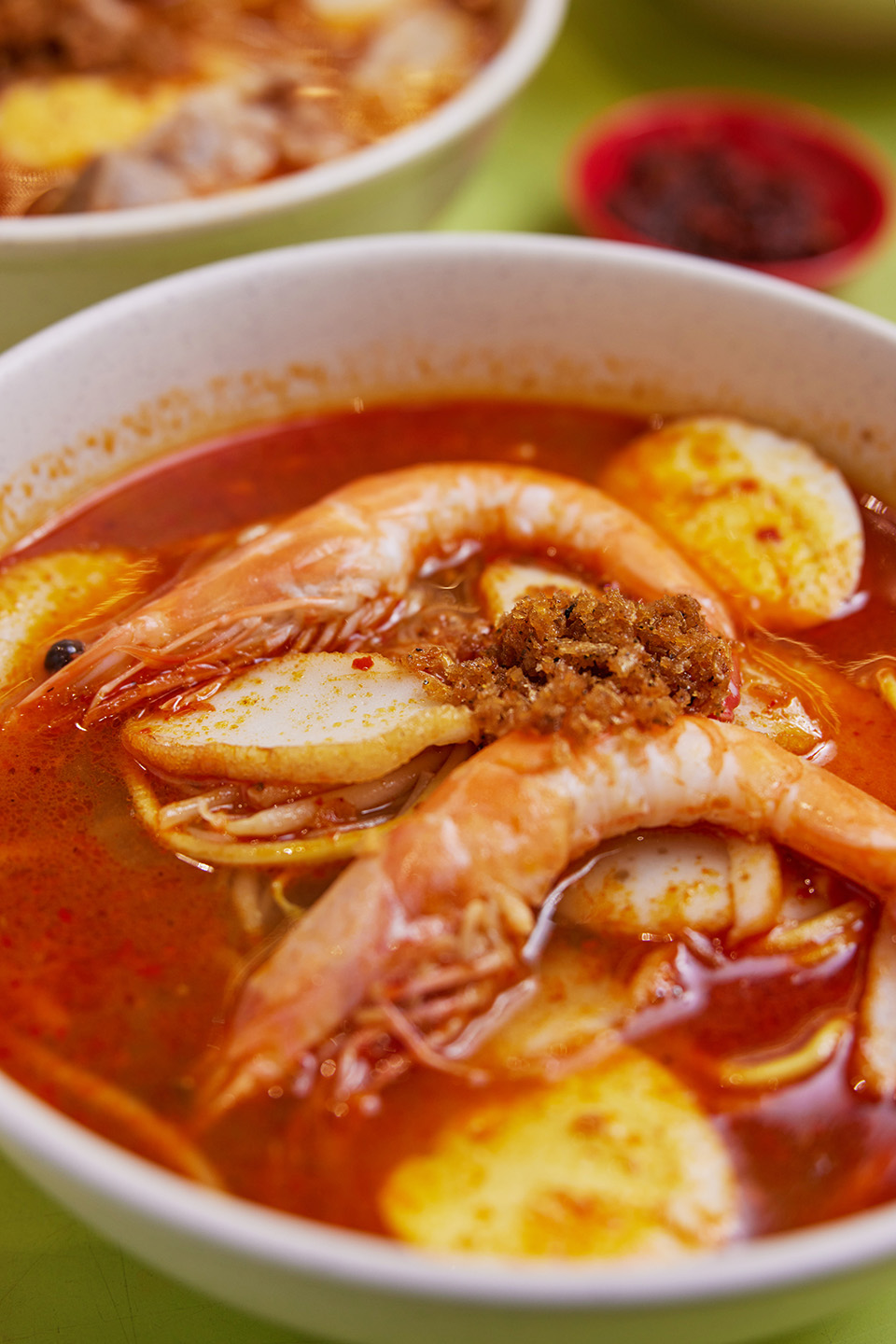 Traditional Prawn Noodles, $5 

(8 DAYS Pick!)
Now we know why Liping asks for extra soup and chilli. The bright orange prawn mee broth, made by simmering blended prawn heads and pork ribs, along with sambal chilli, for at least two hours, is rich and full-bodied with a pronounced brininess from the crustaceans. The dried baby shrimp topping is a brilliant addition. Not only does it amplify the umami of the dish, it also adds a nice crunch. 
But what really elevates the dish is the accompanying hae bee hiam chilli, which lends a smoky layer to the soup when stirred in. Absolutely divine. Our colleague, who came down for our morning photo shoot after a full breakfast, slurped his bowl dry.
For $5, you get two whole medium-sized prawns and the standard toppings of bean sprouts, sliced fish cake and hard-boiled egg. Kie Cheong uses pre-cooked frozen prawns as, according to him, they retain their crunchiness when blanched unlike fresh ones. "I tried using fresh prawns, but they become limp after you leave it out after pre-cooking. I don't like the texture, so I switched to frozen ones," he says. The prawns are pretty succulent. If he hadn't told us, we wouldn't be able to tell that they were frozen.
So yummy, we don't mind that there's nothing quite "Ipoh-style" about this bowl as it looks and tastes a lot like Penang prawn mee.
Pork Rib Noodles, $5
Instead of prawns, you get four meaty ribs with your noodles. Each piece of pork rib, nicely layered with fat and flesh, is tender and soaks up the flavours of the broth. If you'd like prawns alongside your meat, get the mixed prawn noodles ($6.50) which comes with two extra prawns.
Fried Fish Noodles, $5
The fried fish noodles are pretty good too. Kie Cheong uses chunky dory fillets, which are well-seasoned and still crispy to the bite.
Bottom line
Never mind that what's on offer here is practically Penang prawn mee despite being branded "Ipoh-style". The rich soup with a spicy, umami kick elevated with flourishes like hae bee sambal and crispy baby shrimp topping is too shiok to resist.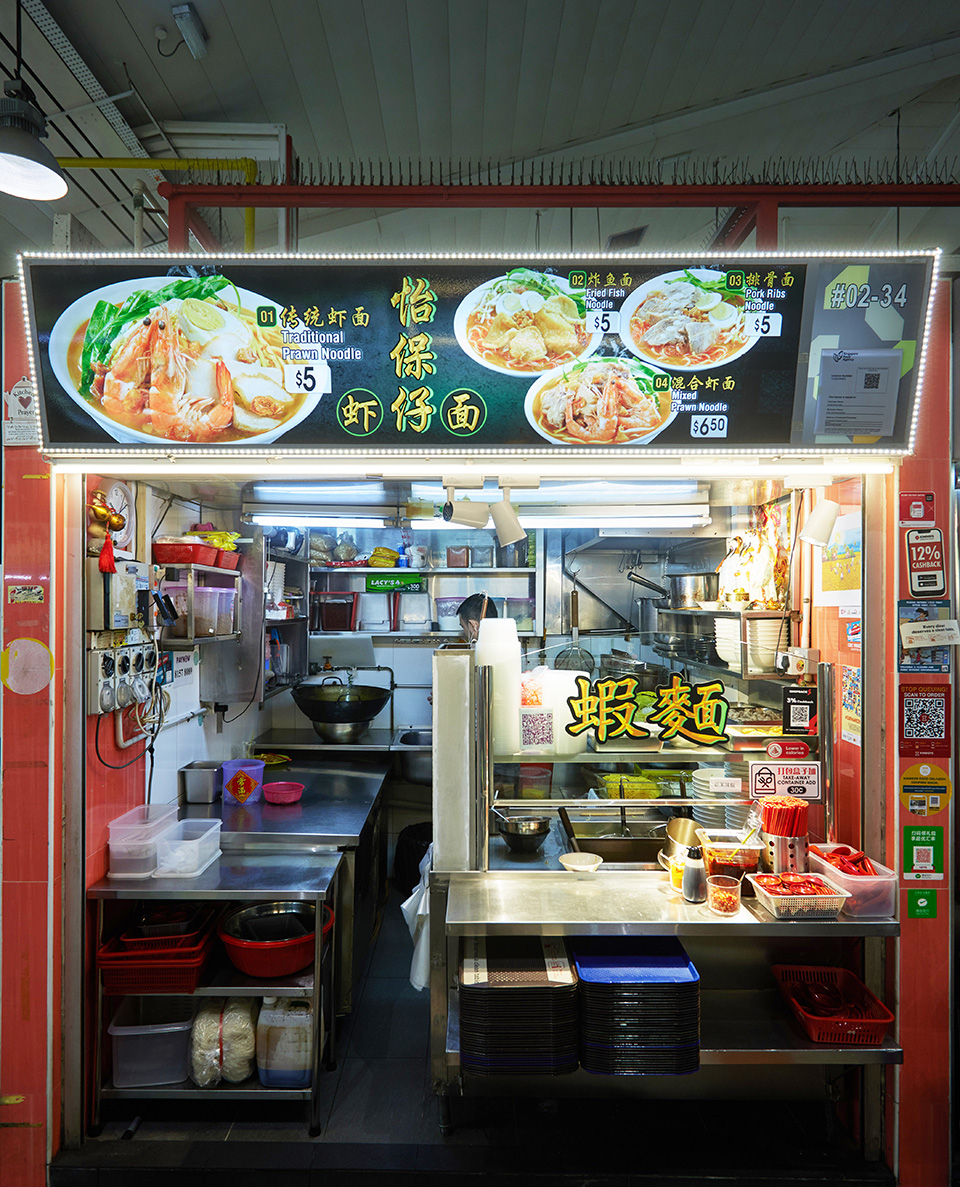 The details
Ipoh Zai Prawn Noodles is at #02-34, Tanjong Pagar Plaza Market & Food Centre, 6 Tanjong Pagar Plaza, S081006. Open daily 8am to 2.30pm. The stall will be closed from Mar 18 to 22, and Mar 25.
Photos: Kelvin Chia
No part of this story or photos can be reproduced without permission from 
8days.sg
.