Rebecca Lim And Chiou Huey Had To Film With Live Cockroaches For This Icky Scene In Mediacorp Drama Soul Doctor
And Rebecca was barefoot the whole time. 
Filming this particular scene in episode 12 of Mediacorp drama Soul Doctor probably felt more like an episode of Fear Factor for actresses Rebecca Lim, 35, and Chiou Huey, 32.

And it's all thanks to their tiny but mighty guest stars: cockroaches.
Seriously, we're recoiling in terror just by looking at this behind-the-scenes video Chiou Huey posted on her Instagram.
In the drama, Rebecca Lim's character, Jingyao, finds herself trapped in a garbage bin centre. Chiou Huey, who plays an otherworldly soul emissary, appears soon after Rebecca realises that she's locked in.
Getting up-close and personal...
And of course, when there's garbage, there's bound to be some sort of pest or insect around, right?
Though the scene where Becks and Chiou Huey had to 'evade' the cockroaches lasted less than a minute on screen, the two stars had to, um, traipse about with the insects crawling around them for way longer in real life.
Oh, and Rebecca was actually barefoot the entire time too.

Major props to her 'cos we swear we spied at least one cockroach scuttering dangerously close to Rebecca's feet.
Yikes
Things weren't any better for Chiou Huey either, even though she was in heels.
"I didn't know that there would be real cockroaches on set until the day I turned up for the shoot and my phobia turned real," Chiou Huey wrote. She added that she was so terrified, she thought she was "gonna faint".
While she didn't pass out in the end, it was later shown in the video that her legs turned to jelly, causing her to stumble and fall as she made her way out of the bin centre.
When your legs don't work like they used to before
Chiou Huey also revealed that Rebecca was super encouraging while they were filming that particular scene. 
"I'll always remember [Rebecca] holding my hand to support me and telling me that it's okay," she wrote.
Well, at least something good came out of that disgusting scene, right?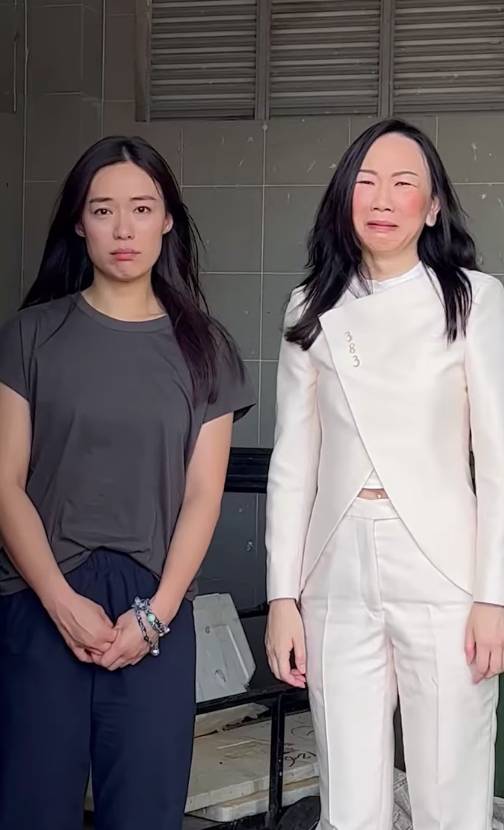 All worth it?
You can binge watch all 15 episodes of Soul Doctor on meWATCH here. The first episode is embedded below as well.
Photos: Chiou Huey/Instagram, meWATCH