Reimondo Congee Hawker Opens Supper Joint, Cheese Steak Roll & Crab Wonton Served Till 3am Daily
Following two hawker stalls offering "wok hei" seafood congee, Super Supper is the convict-turned-towkay's first restaurant serving Western-Asian fusion grub in Little India.
Since 8days.sg's feature on Raymond Tan's seafood porridge stall last February, things have been going well for the 34-year-old. Raymond now owns two hawker stalls under the Reimondo brand – the original outlet at Pasir Ris Central Hawker Centre and Reimondo Food Truck at Timbre+ One North at Ayer Rajah. Two weeks ago, Raymond opened his first standalone two-storey casual eatery, Super Supper, at a Desker Road shophouse in Little India. Raymond and his wife, Vivian, are co-owners for all three concepts.
Unlike his congee stalls, which hawk a unique wok hei-perfumed porridge, the entrepreneur tells us his latest venture has "no theme". Super Supper offers Western-Asian comfort fare such as sandwiches, chicken soup udon and fried nibbles like chicken wings and crab wonton. All the recipes were developed by Raymond, while a kitchen team of four executes the cooking under his supervision.

All photos cannot be reproduced without permission from 8days.sg
Convict-turned-millionaire tale boosted hawker biz
For those who aren't familiar with Raymond's background, here's a quick recap: As a troubled youth, Raymond served time for shoplifting, house-breaking and car theft before earning his first million with a car rental and repair biz in his 20s. He soon gambled away his fortune, worsening an already troubled marriage with Vivian.
Things improved after Raymond launched the first Reimondo hawker stall at Pasir Ris last February. Following our feature, Raymond's inspiring story was picked up by other media outlets, which helped to boost business. Last August, he opened a second stall at mod hawker Timbre+ One North, which offers an expanded menu including items like dry-tossed udon and seafood roll (a take on lobster roll).
Wants to hire troubled youths at new eatery
Motivated to give back to society, Raymond has been mentoring troubled youths through programmes organised by Prison Fellowship Singapore and Singapore Prison Service – which he cites as the inspiration for Super Supper.
"When [the story went viral], a lot of youths reached out to ask if I have a job for them. Hawker stalls have manpower limitations, so I said I'd try to recommend other jobs for them. They told me they were hoping to work with me – that's when I first had the idea of opening an establishment that can hire a bigger team," he shares. 
"We are not a social enterprise," he clarifies. "There's no formal structure here. It's just something that we hope to work towards in our own way." Currently, Raymond has hired about a dozen staff in total to work in shifts at the diner, which opens till 3am daily. During our visit, a youth that Raymond had mentored was in charge of preparing some of the dishes we tried.
He almost gave up on opening Super Supper
"We were very inexperienced. We never knew how much it would cost to install an exhaust system, or that it would cost us a few thousand to obtain permits for the heritage building we're in. We were taken aback by how much money was needed [for repairs and renovation] and wanted to give up," shares Raymond, who has invested "about $200k" to open Super Supper. About half the investment sum comes from Reimondo profits.
"We told our landlord that we did not know that so much cost would be involved and we might not have enough [to see it through]. We were willing to lose our deposit if we could pull out, but we were very lucky that our landlord was very sincere and willing to help. They asked about our issues and absorbed some of our cost for the new exhaust system – the rest was covered by a slight increase in our rental."
The typically jovial Raymond grows sombre as he ponders on the future of his new venture. "We're confident of our food, but first we need people to give us a chance and try our food. We've only had about 20 customers in the past weeks, so I'm a little worried."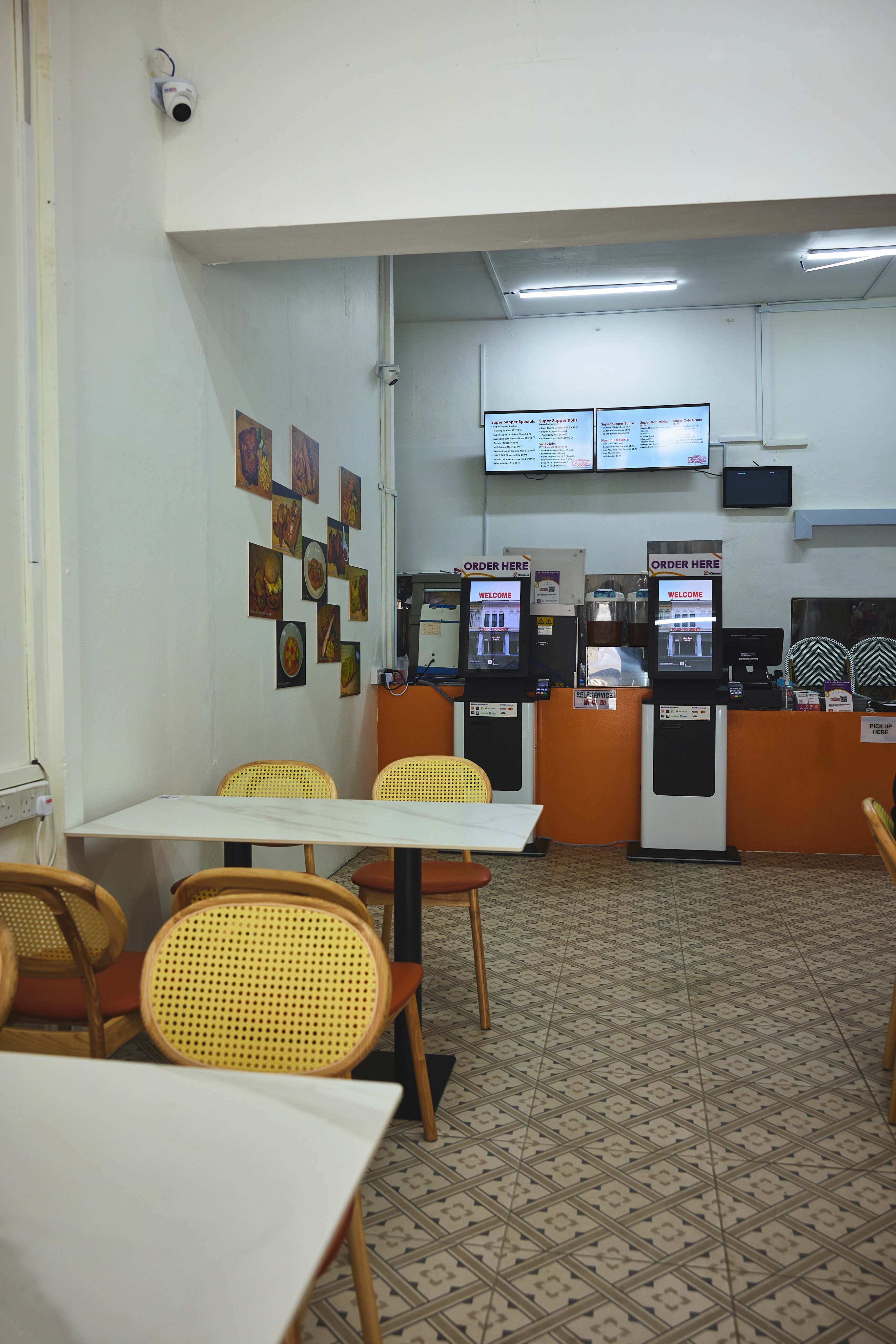 No-frills space
The air-conditioned 100-seater is bright, clean and inviting, albeit with minimal renovation. There's hardly any decor to speak of, apart from geometric tiles, rattan chairs and retro pendant lamps that feel right at home in the historic Little India shophouse. Walls are kept bare except for a few low-res food photos that remind us (endearingly) of a school canteen.
There are ample seats on both floors, and even a rooftop nook with high tables for those who like al fresco dining. Overall, the space feels more like an old-school coffeeshop than one of the hip cafes in the gentrified hood.
Not a cha chaan teng even though it kinda looks like one
Looking at Super Supper's retro Chinese-style logo, we initially thought the diner might be following the footsteps of the mod cha chaan teng trend. "We did think of that in the beginning, but over time we changed the menu as we wanted to provide something more unique," he says.
When asked to describe the food now, Raymond hesitates for a beat before landing on "Western-Asian fusion" with a "fast food concept" – the latter being evident from the two self-order kiosks situated in front of the eatery counter (don't worry, there's also a cashier if you wish to pay in cash), as well as the diner's use of disposable containers.
"Originally, we thought of expanding our porridge concept, but felt that it might not have good potential here. We knew we wanted to open till late and started to think of what kind of food will serve this area," he shares. Popular supper spots in the area include Swee Choon Tim Sum Restaurant and Authentic Mun Chee Kee King of Pig's Organ Soup.
The menu
Building on his growing passion for smoking meats (both Reimondo stalls offer smoked salmon), the menu includes house-smoked items like pork belly – featured in a sandwich and as a fried rice topping – and chicken thigh, used to make udon soup.
Mains range from sandwiches to udon and fried rice, while the snack selection includes fried crab wonton and crispy chicken wings. For beverages, there's a refreshing homemade lemon tea on top of the usual soft drinks, tea and coffee. 
Super Supper Smoked Pork Belly Roll, $9.90 (8 DAYS Pick!)
Sandwiched between a pillowy, slightly sweet local bread roll, the hefty slab of Brazilian pork belly is smoked for six hours with hickory and apple wood chunks, and then seared, to yield satisfying layers of tender meat and gelatinous fat. The richness is balanced by crunchy cucumber and a creamy, sharp swipe of wasabi mayo. Served on a bed of curly potato wedges, this is a simple but shiok meal.
Cheese Steak Roll, $10.90 (8 DAYS Pick!)
A riff on Philly cheese steak (a sandwich with thinly chopped steak, onion and cheese that originated from Philadelphia). Raymond's version comes with thicker cuts of New Zealand rib-eye – which provides a more satisfying bite – tucked between a soft local bread instead of the traditional hoagie bun, which is chewier. 
The beef is juicy, peppery and has a pleasant smoky char that mingles well with the sweet caramelised onion and gooey cheddar and mozzarella. For its price, this is an affordable alternative to your mid-range premium burger.
Comfort Chicken Soup with Sanuki Udon, $7.90
The broth is at once delicate and robust, augmented with smoked chicken thigh and a mirepoix base of celery, carrot and onion. On its own, the soup is already satisfying, but the chopped-up premium Sanuki udon (to be scooped up with a spoon, like Katong laksa) from the Kagawa prefecture in Japan adds a toothsome, heartier finish to the dish.
Didi's Fav Cheesy Rice, $9.90
Named after Raymond's seven-year-old son Vernon, this is a comforting main that will please grown-up palates too. A bed of tomato-flavoured fried rice sits beneath a creamy tomato omelette and melted mozzarella. An unexpected topping of chunky pork belly adds sophistication to this family-friendly dish.
Lao Po Blackened Wings, $7.90 for 7 pcs
A marinade featuring coca-cola and a "secret ingredient" suggested by Raymond's wife Vivian (whom the dish is named after) is what gives the fried chook its dark exterior. The crispy skin is savoury and has an unusual, punchy herbal aroma, while the meat beneath is juicy and succulent.
Super Supper Crab UFO, $7.90 for three pcs (8 DAYS Pick!)
An upgrade of the popular fried prawn wonton at Raymond's hawker stalls, this luxed-up version features a dollop of swimmer crab (from a can), ebiko, prawn and sotong paste stuffed between two large, round dumpling skins to create its namesake UFO shape. Delish.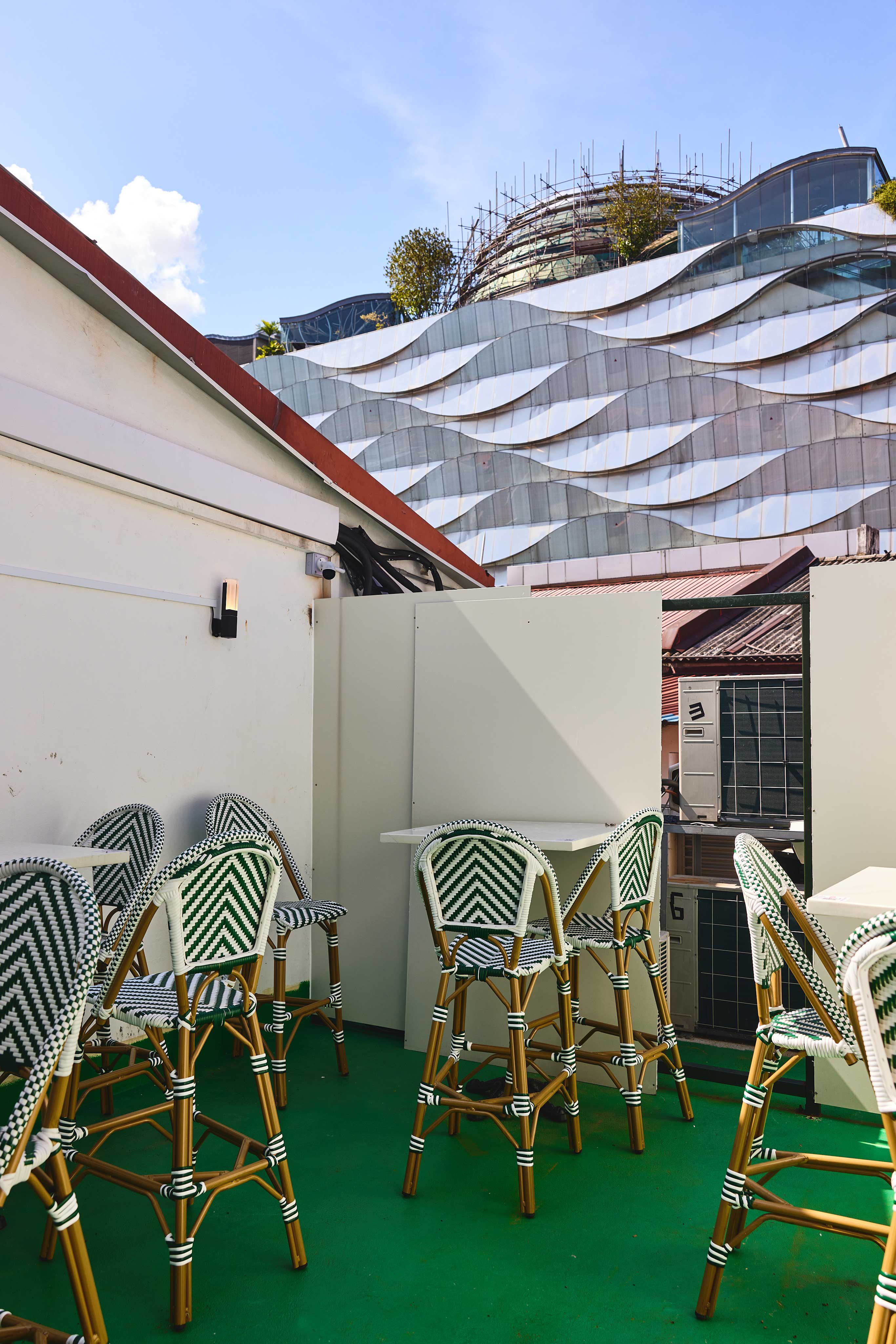 Bottom line
While the Reimondo hawker stalls have gained popularity for their distinct wok hei-tinged seafood congee, Super Supper's varied menu is a little confusing. Given its old-school Chinese branding and casual fusion menu, perhaps a modern cha chaan teng concept might have been an easier sell. But once you get over its rather vague theme, you'll find simple comfort food with inventive touches that are worth trying. Our favourites are the sandwiches – both the house-smoked pork belly and cheese steak ones are well-executed, flavourful and not too greasy.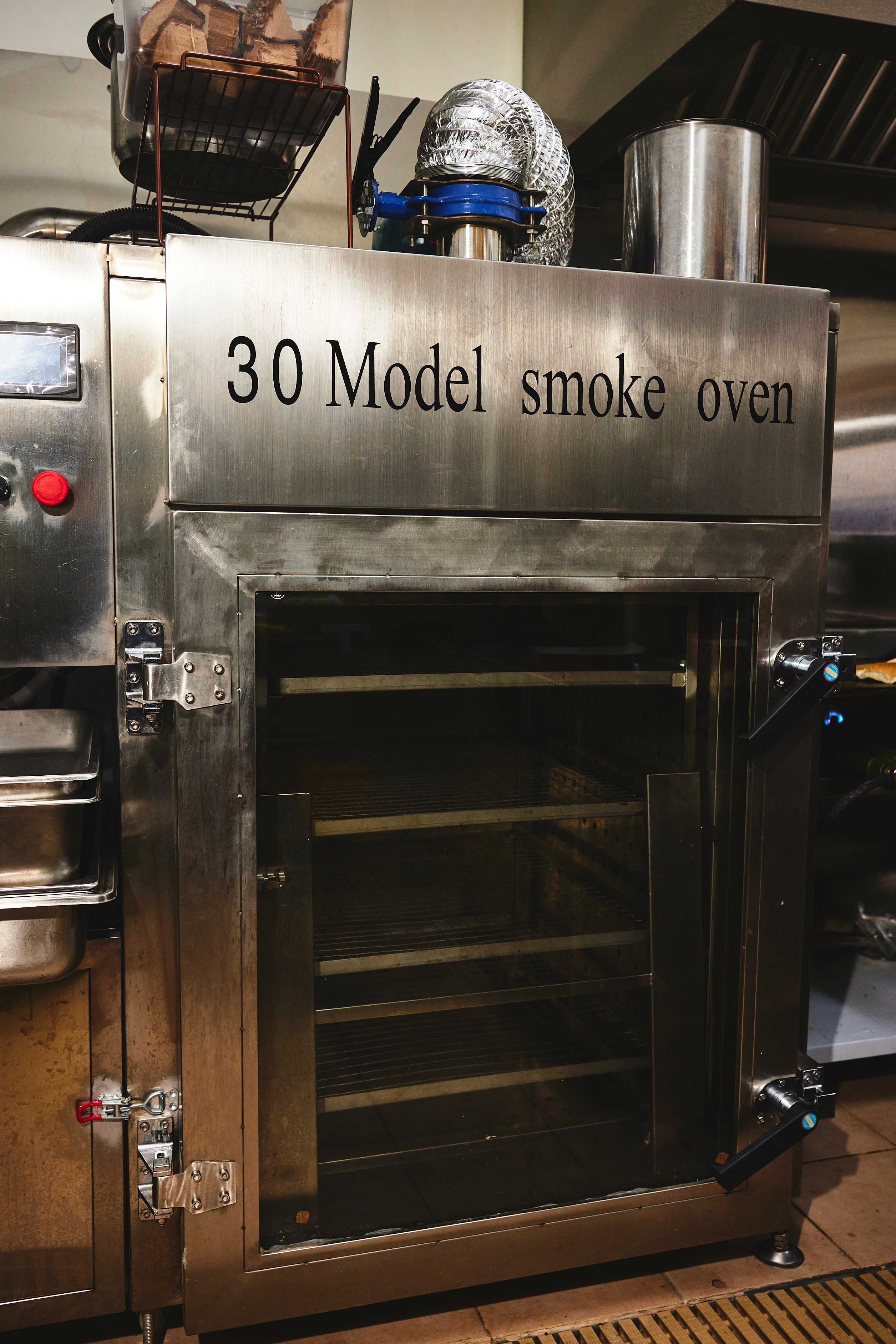 The details

 
Super Supper is at 103 Desker Rd, S209625. Open daily noon to 3am. Facebook. Instagram.
All photos cannot be reproduced without permission from 8days.sg
Photos: Alvin Teo