Restaurant-Quality Japanese-Style Fried Rice With Truffle & Steak At Hawker Stall In Bedok
Oji Egg Fried Rice, helmed by an ex-hotel executive chef, uses Japan-imported Koshihikari grains cooked in a Japanese wok that's "four times more expensive than average".
Clearly, Singaporeans can't get enough of fried rice – especially if the dish is cooked by fancy restaurant-chefs-turned-hawkers. Joining the line-up is Danny Huang, 40, who helmed hotel kitchens in Bali, Jakarta and Phnom Penh over the past decade before returning home to start Oji Egg Fried Rice.
"Ōji" means "prince" in Japanese, hence the concept offers Japanese-style fried rice with more premium toppings like US rib-eye and tiger prawn. The first outlet was launched in Parkway Parade's food court in October 2021, followed by a second branch at trendy hawker spot Bedok Marketplace last month. 8days.sg visited the new Bedok joint to check out the fast-expanding brand.
All photos cannot be reproduced without permission from 8days.sg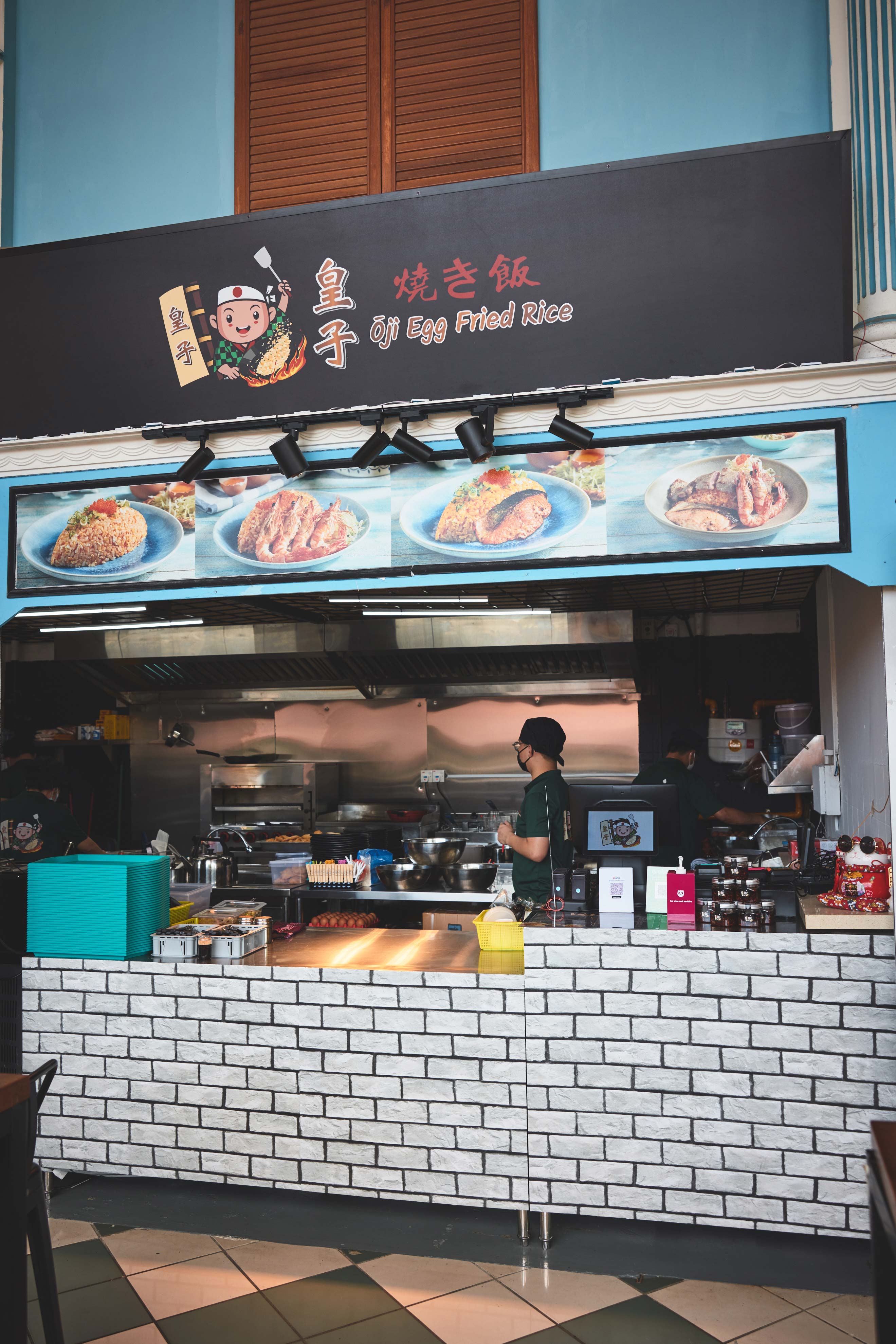 Spacious stall in a hip hawker centre
Oji Egg Fried Rice spans two units at the retro-chic hawker centre where stalls are designed to resemble old-school shophouses. Danny says the ample size was what drew him to the location. "The [food court stall] space at Parkway Parade is quite small and I wanted a [larger] space for production, somewhere that functions as a central kitchen as well as a second outlet."
The new Bedok branch also offers a bigger menu – exclusive items include mala fried rice and grilled pork chop served on a hotplate. Danny and his team of four assistants prepare all the marination of meat items at the Bedok stall daily before delivering them to the Parkway outlet.
Prices are slightly higher (about $1 more) at the Parkway stall due to a difference in rental cost at the food court there. Danny tells us they may "possibly open a third outlet this year."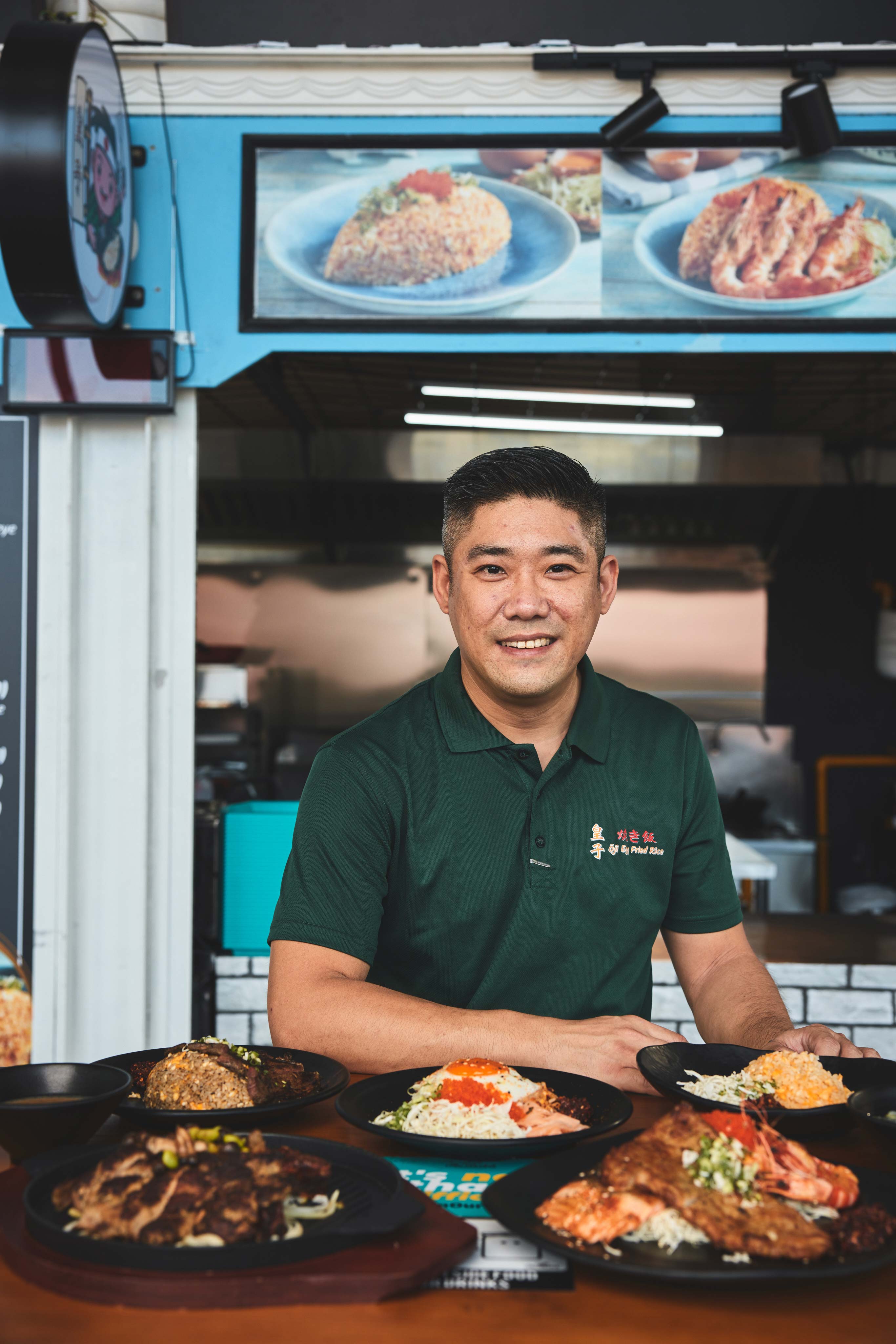 Encouraged by popularity of first Parkway outlet
"We sold out on the first day. It's competitive as the food court has over 20 stalls, with some big names [such as Wee Nam Kee Chicken Rice] and the good response gave me confidence that our concept will do well," he says.
Danny runs the business with the support of two friends, who are silent investors. "They found out about my plan [to open a stall] and wanted to chip in. I would've still gone ahead on my own but it would've taken more time to set up the second branch, so I'm thankful for their support." He declined to share the invested amount.
Don't head down expecting to enjoy a plate of fried rice by the experienced chef, though. Danny has four assistants at each stall, including two cooks who are in charge of preparing the main dish, while the 40-year-old handles orders and logistics. "I still stand in sometimes, like during their break time or when it gets really busy."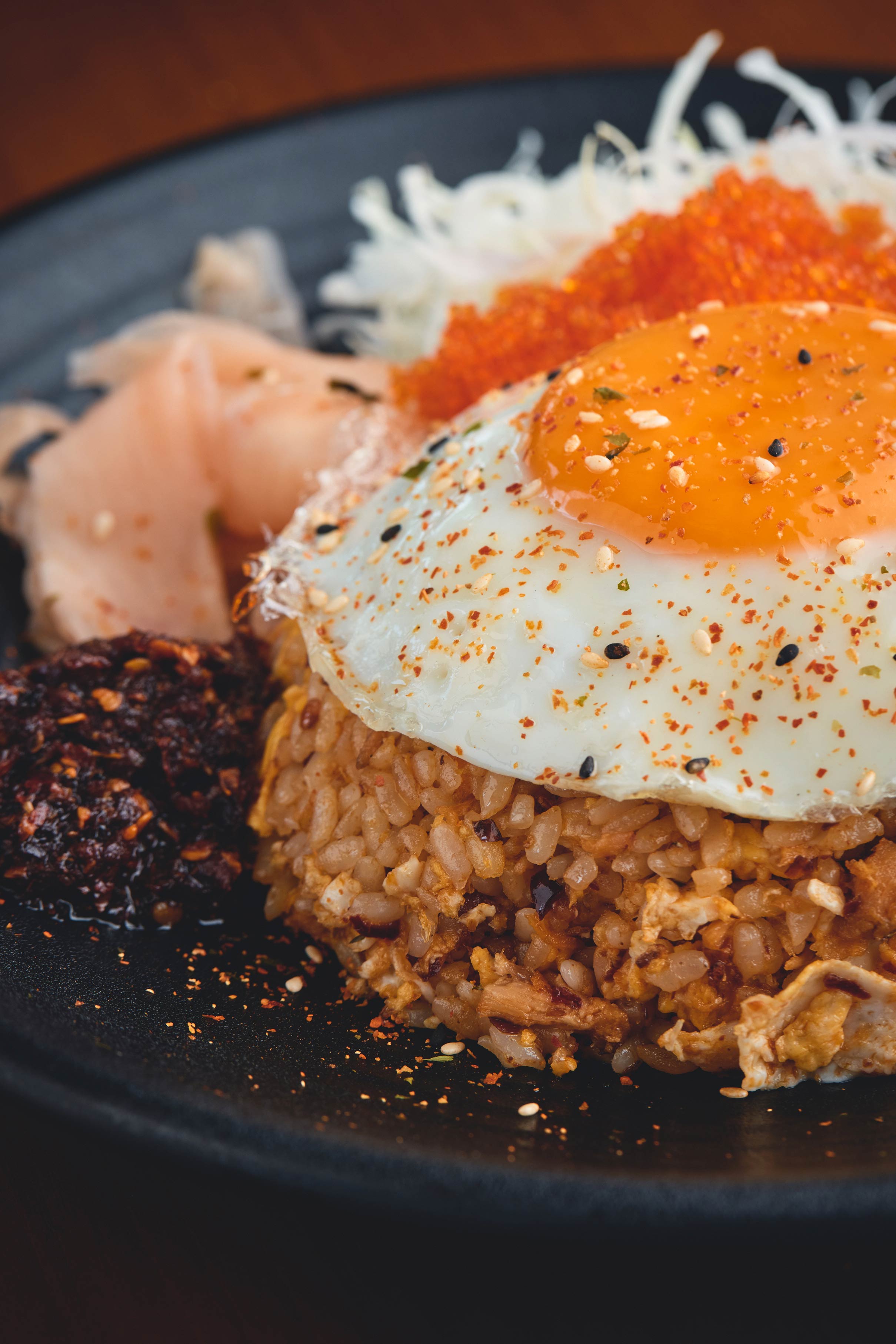 Owner has a fancy hotel background
For ten years, Danny worked overseas at various five-star hotels such as Rimba Jimbaran by Ayana in Bali. In 2013, he earned his first executive chef appointment at Klapa Resort, a luxurious beach property in Bali – not bad for a chef who does not have a formal culinary education.
"I have two uncles who used to run food businesses – one had a zi char stall, one sold claypot rice in Geylang [both have since sold their biz]. I grew up working part-time for them," he says. "My first job was as a kitchen helper at Tung Lok Group's [now-defunct] fusion restaurant, Club Asian, around 2004." He worked his way up to become an assistant chef at (now-defunct) My Humble House, also owned by Tung Lok, in 2006.
In 2012, he headed to Jakarta as an executive Chinese chef for Gran Meliá hotel. He spent the next eight years working for different hotels in Indonesia before moving to Phnom Penh in 2019 to become the executive chef and later, F&B director, of One Eleven Hotel.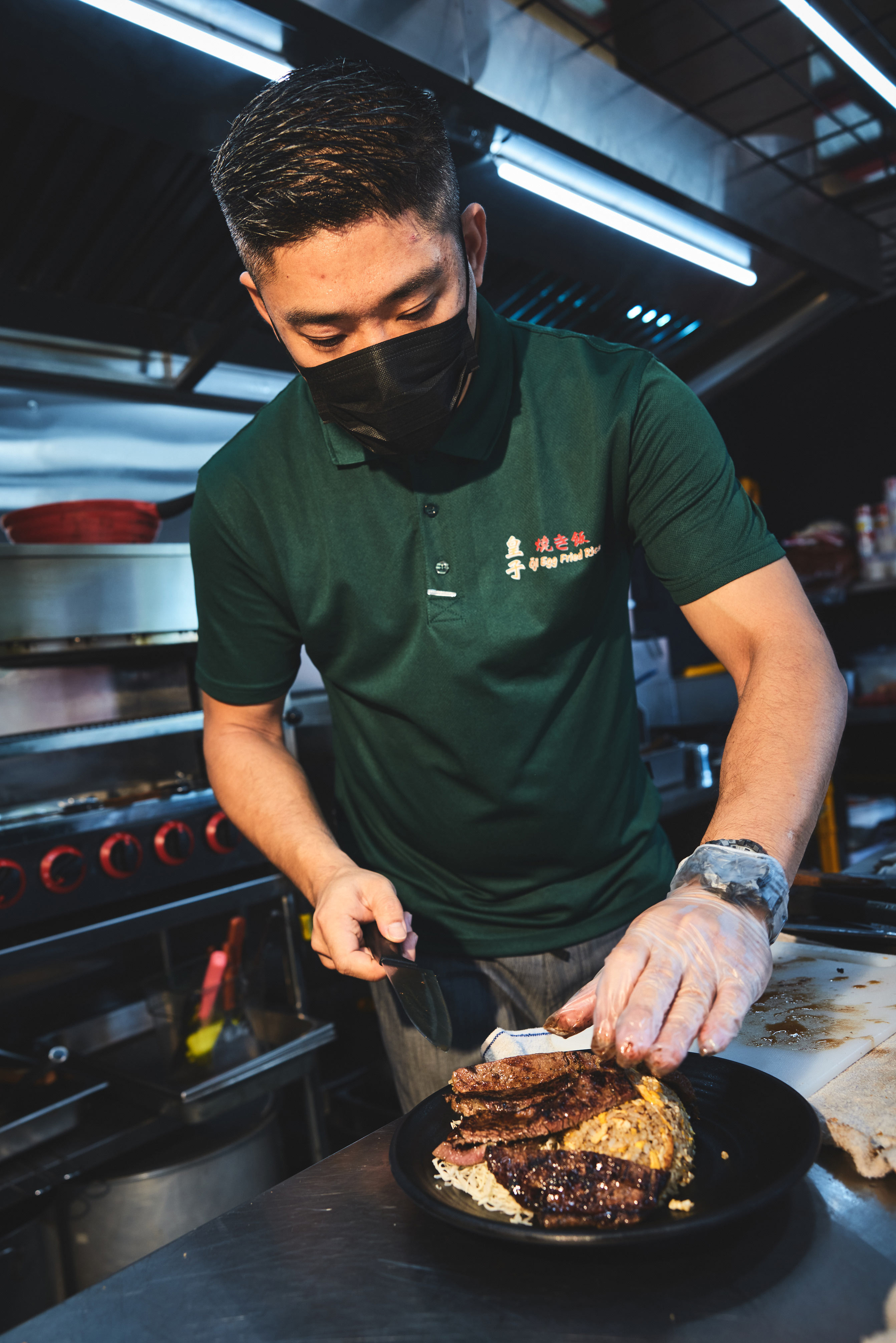 Started hawker stall after SG restaurant job didn't work out
Last March, he returned to Singapore to join a seafood restaurant group (he declined to share the name) as a brand executive chef. However, he quickly realised that it was not a good fit. "Maybe it's because I've been away from the Singapore restaurant scene for ten years, but I realised it wasn't the job that I really wanted." Danny left the job after four months.
He "almost joined a five-star hotel at Orchard Road", but felt that it was time to try something new. "After working for companies and hotels for twenty years, it was time to do my own thing especially since I'm back in Singapore after so long."
He was inspired by the fried rice trend and felt confident that he could beat the competition. "Fried rice is a basic dish, but it can be quite difficult to execute well. I went around to try different types of fried rice out there before creating my own version."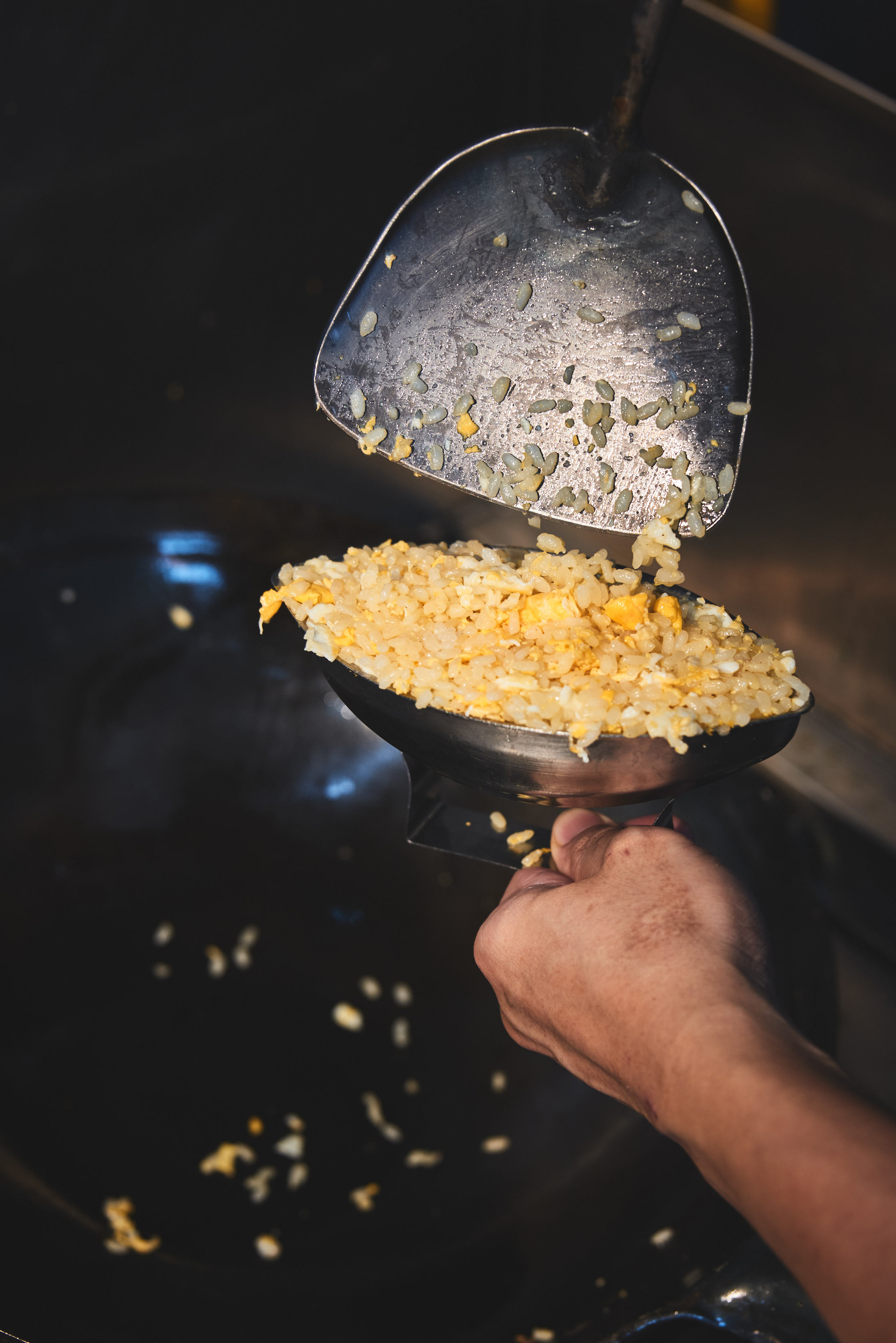 Focused on precision
Unsurprisingly, the former executive chef is a stickler for SOPs (standard operating procedures) – a term that Danny often mentions during our interview. Everything from individual portions of Japanese rice to the egg, oil and seasoning are weighed before they go into the wok. The temperature setting on the gas stove is also fixed at medium heat – the cook just needs to switch it on to fry the dish. Lastly, a steel mould neatly shapes the fried rice into a rugby-shaped mound before it's served.
"I believe that if I want the business to grow, consistency is the main thing. We must make sure the standards do not drop – we can only keep improving," he says.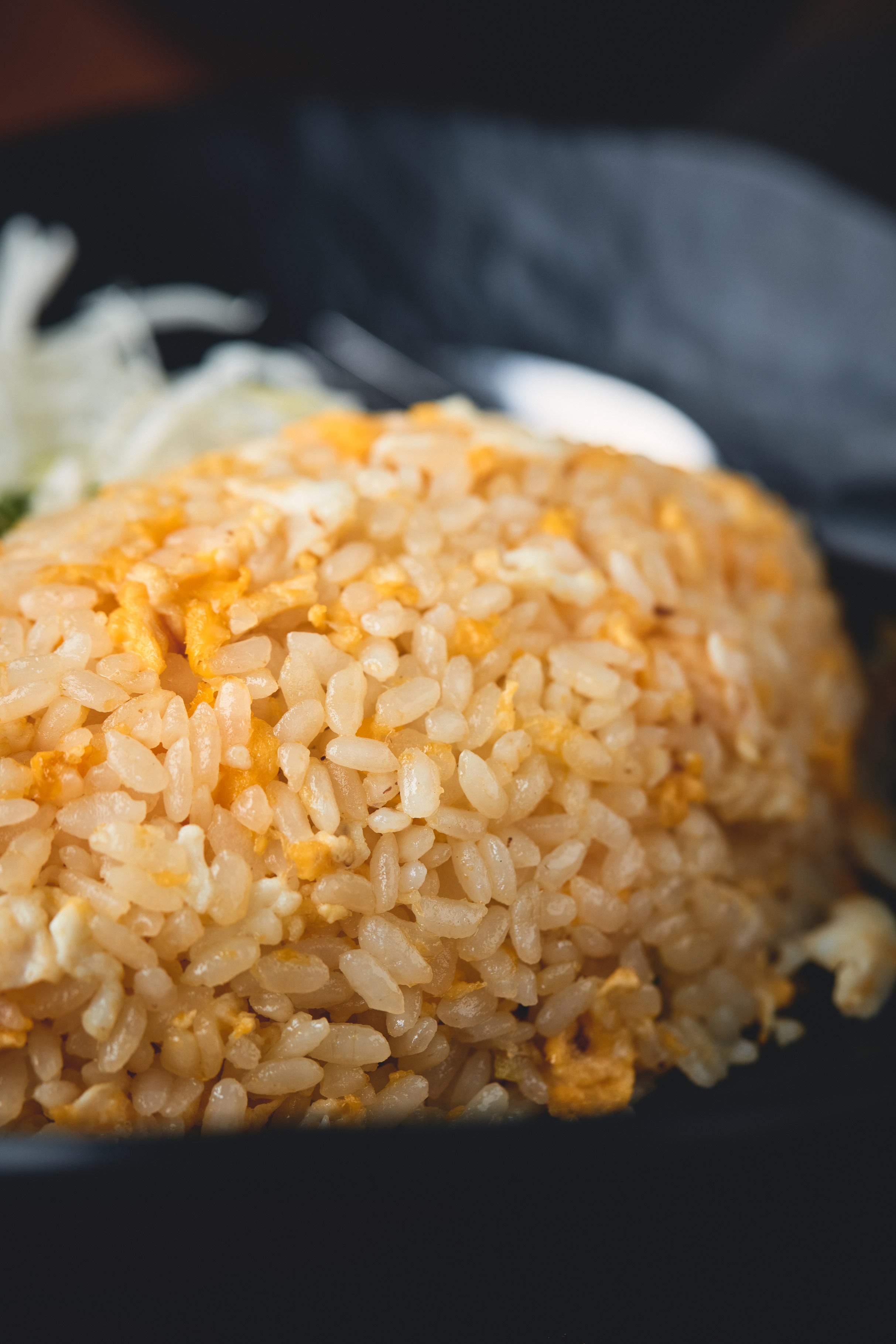 Why Japanese-style fried rice?
Danny decided to sell Japanese-style fried rice after recalling an impressive version he tried during a work trip to Kumamoto in Kyushu, Japan in 2015. "I remember thinking, why is their fried rice so nice? Then I broke it down – they use pearl rice, which has a nice texture. That's why I decided to go with the concept of Japanese fried rice."
He also uses various Japanese ingredients and seasonings for his menu items. Koshihikari, a premium short-grain Japanese rice, is the key ingredient here. "Our rice is specially ordered from a supplier, it's not available in supermarkets. I like how it holds moisture well, it doesn't become too dry even after you da bao." Marinades and sauces feature Japanese condiments like shoyu, mirin, miso and goma (Japanese sesame sauce).
Even the wok – which we're told is "four times more expensive than average" – is imported directly from Japan. "It's handmade and the steel is thicker, but heat is distributed more evenly," says Danny.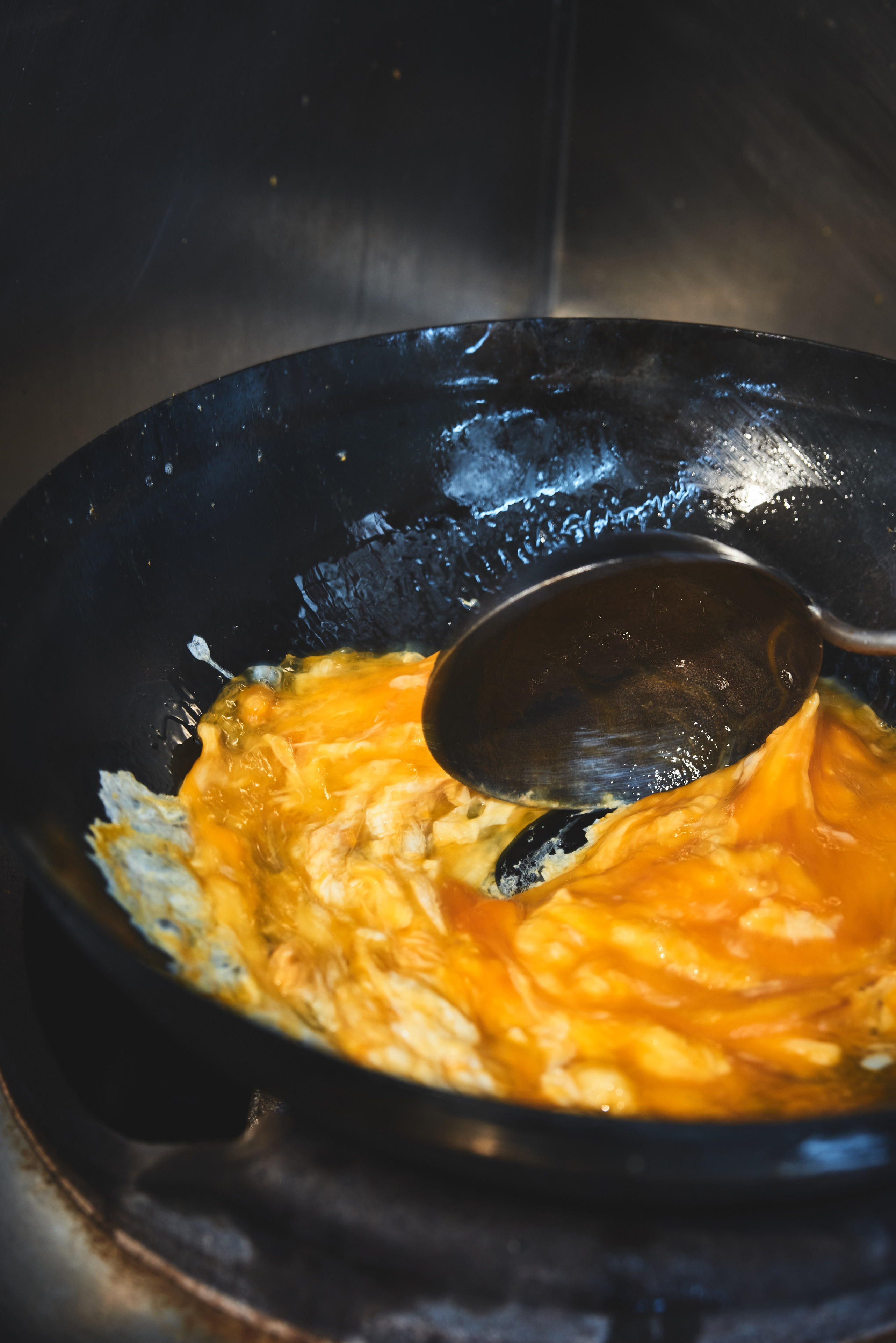 Golden ratio
The chef says another key element of his fried rice is the egg. "The dish must have 'dan xiang wei' (Chinese for fragrance of egg). That's why we only use corn-fed eggs. The yolks are more orange and have a better flavour." His recipe follows a generous 60-40 rice to egg ratio to achieve the desired aroma.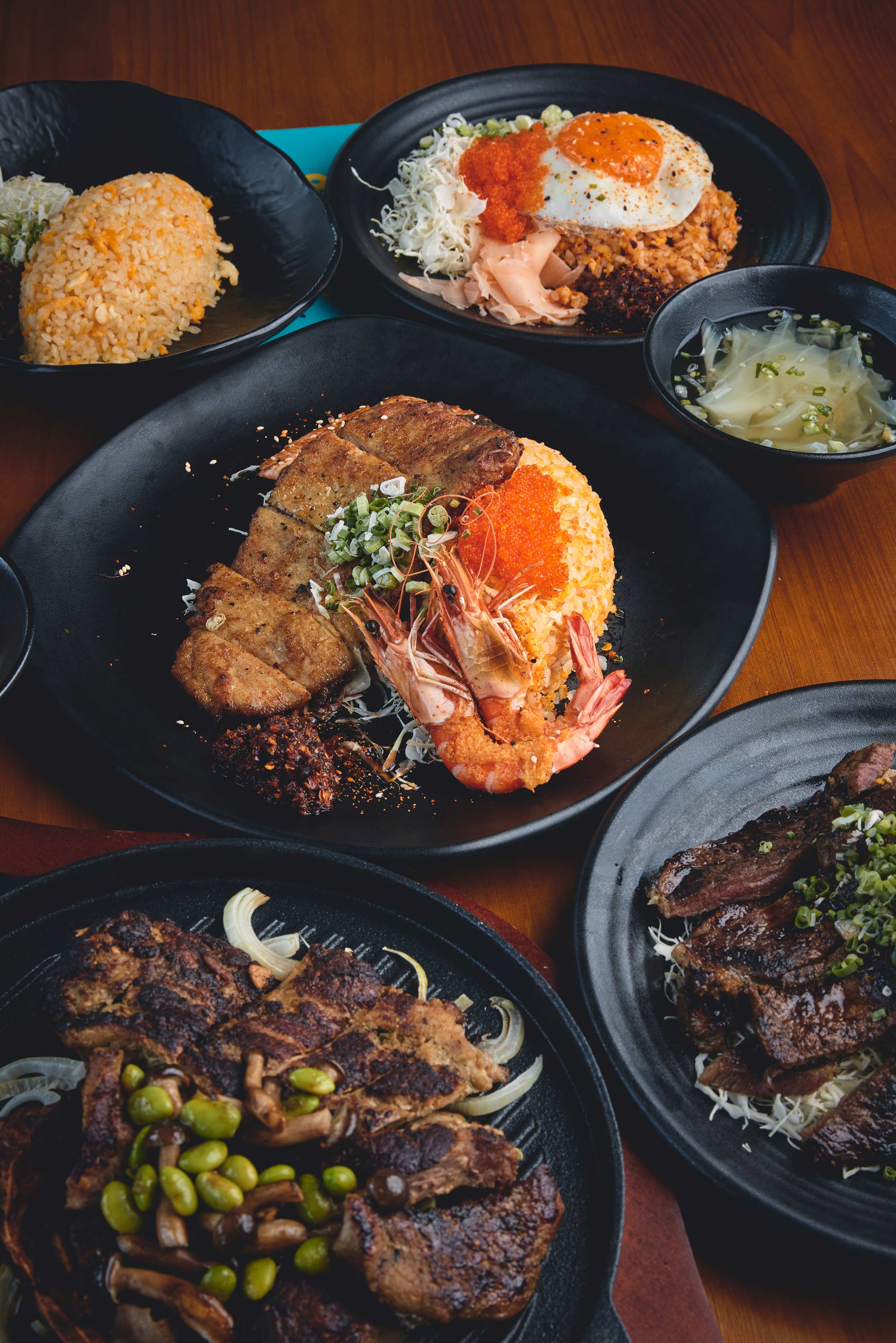 The menu
The menu offers three types of fried rice: egg, truffle and mala, to be mixed and matched with toppings like pork chop, ribeye, salmon and prawn. Prices on the menu are slightly confusing as they only refer to the signature plain egg fried rice – just note that it costs $1 extra to change it to the mala version, and $2.50 for truffle. There's also the atas OJI Premium Egg Fried Rice ($15.90), which comes with a choice of pork chop, mentaiko chicken or rib-eye, as well as an additional egg fried together with the rice. Every order comes with a complimentary bowl of miso cabbage soup.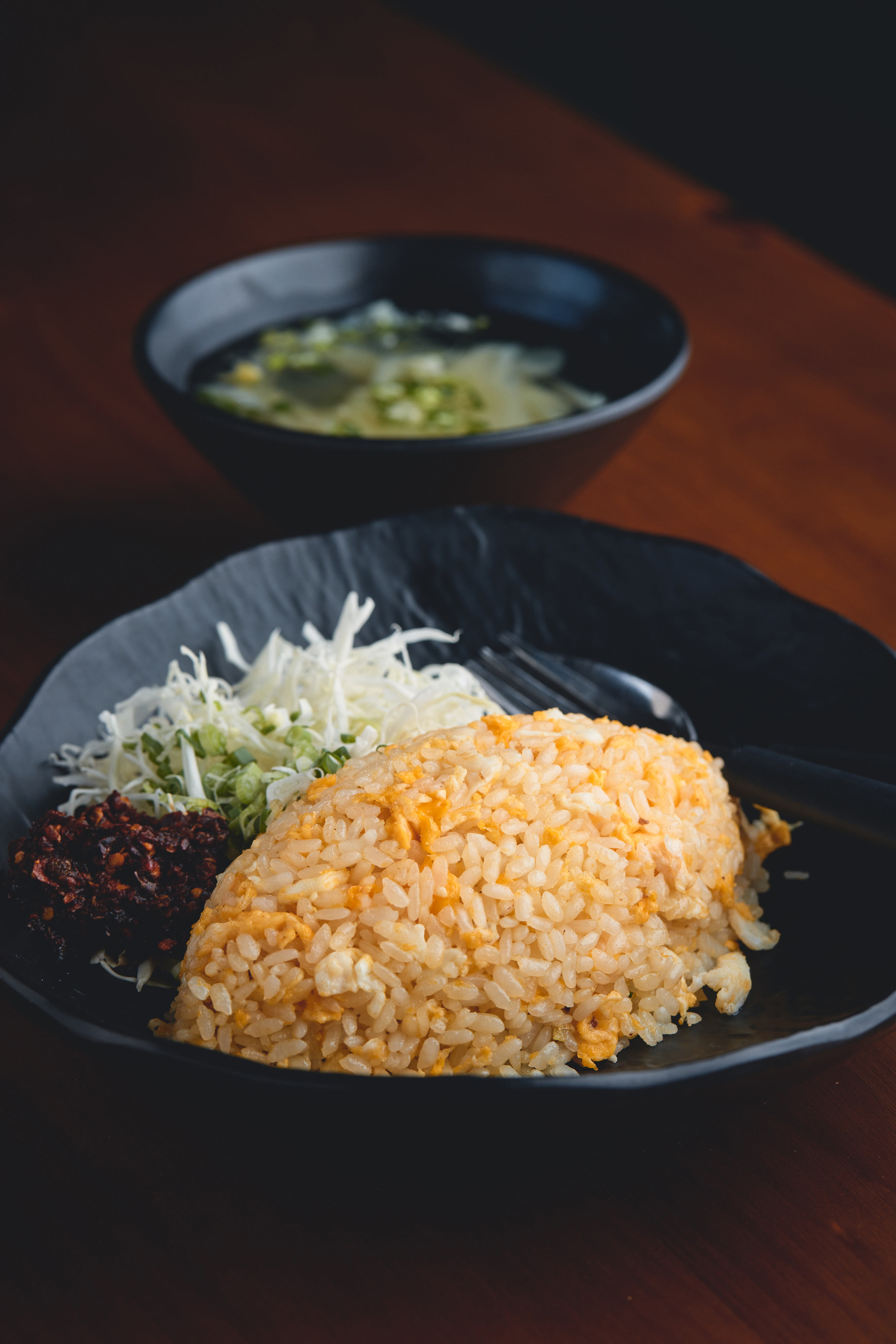 Plain Egg Fried Rice, $4; $6.90 with Pork Katsu Chop
Fluffy, well-separated grains gilded with a generous mixture of egg. Danny says his fried rice is not meant to feature wok hei, as he doesn't want to overcook the egg. Instead, we get to enjoy the tender bits of creamier than usual scrambled egg. The rice is moist, but retains a welcome hint of bite and is not too greasy. Without toppings or wok hei, the plain fried rice tasted a little bland – we recommend the $6.90 option with the pork chop instead. The house-made chilli sauce, which features Sichuan peppercorns, gave the dish a much-needed lift. Overall, we're impressed by the chewy texture of the grains but would recommend ordering it with toppings.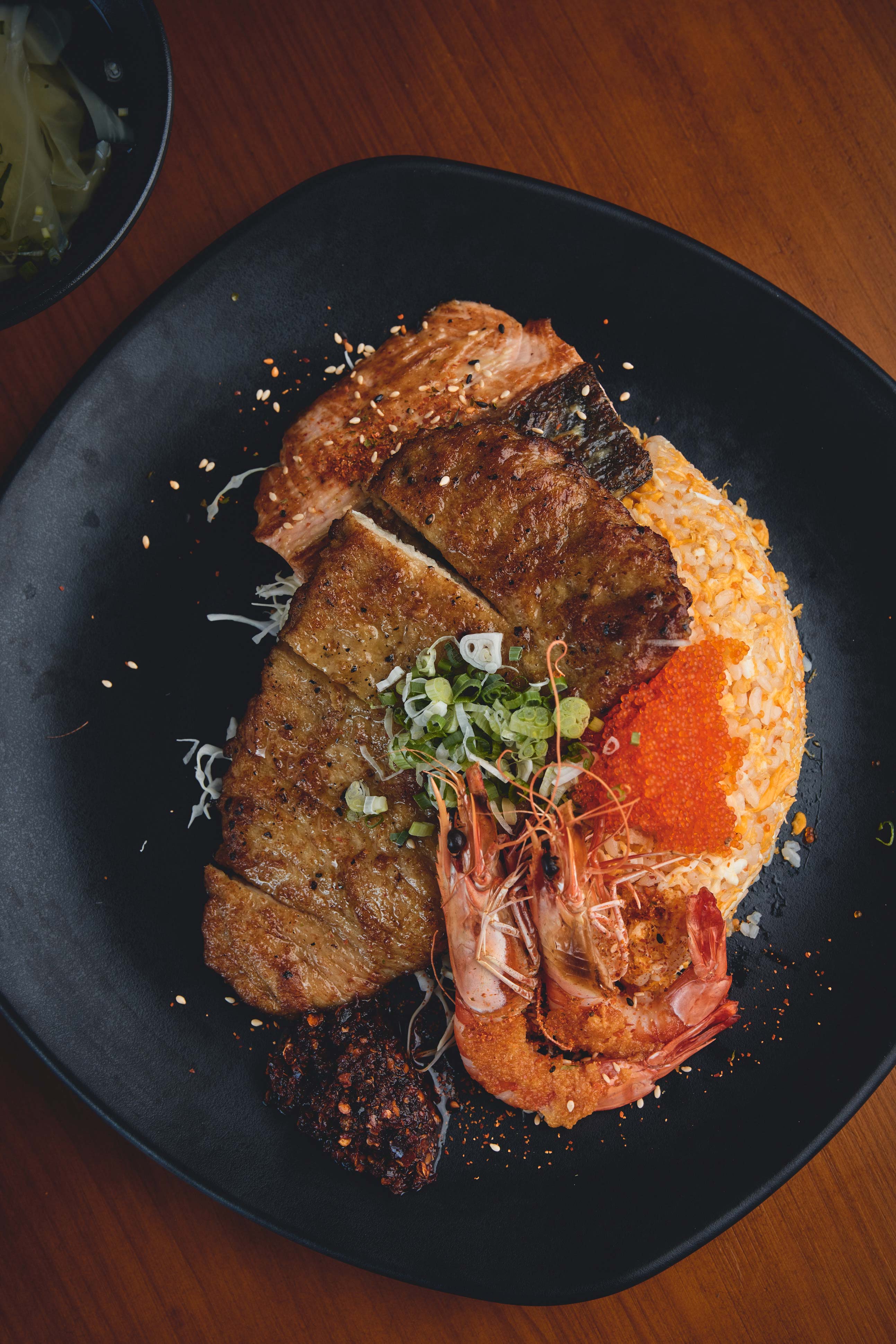 OJI Premium Egg Fried Rice with Pork Katsu Chop, $15.90 (8 DAYS Pick!)
With an additional egg cracked in, the rice here takes on an even more appetising golden hue compared to the regular version. There's also the occasional pop from the tobiko (flying fish roe) – some are cooked with the rice, while the heaping dollop of raw roe as garnish adds a lovely brininess to the dish.
The best-selling pork katsu is a misnomer as the meat is not coated with panko bread crumbs (the distinguishing trait of katsu) before heading into the deep-fryer. Instead, the pork chop is similar to what you get at Din Tai Fung. It is tasty, though — better than those from some of the DTF-style pork chop rice hawker stalls we've tried. The meat is tender and has a deep savouriness thanks to a robust marination. There's also a plush fillet of perfectly cooked salmon and two tiger prawns brushed with garlic butter to complete the indulgent "surf and turf" combo – we think the portion size (at least during our visit) makes it worth the price.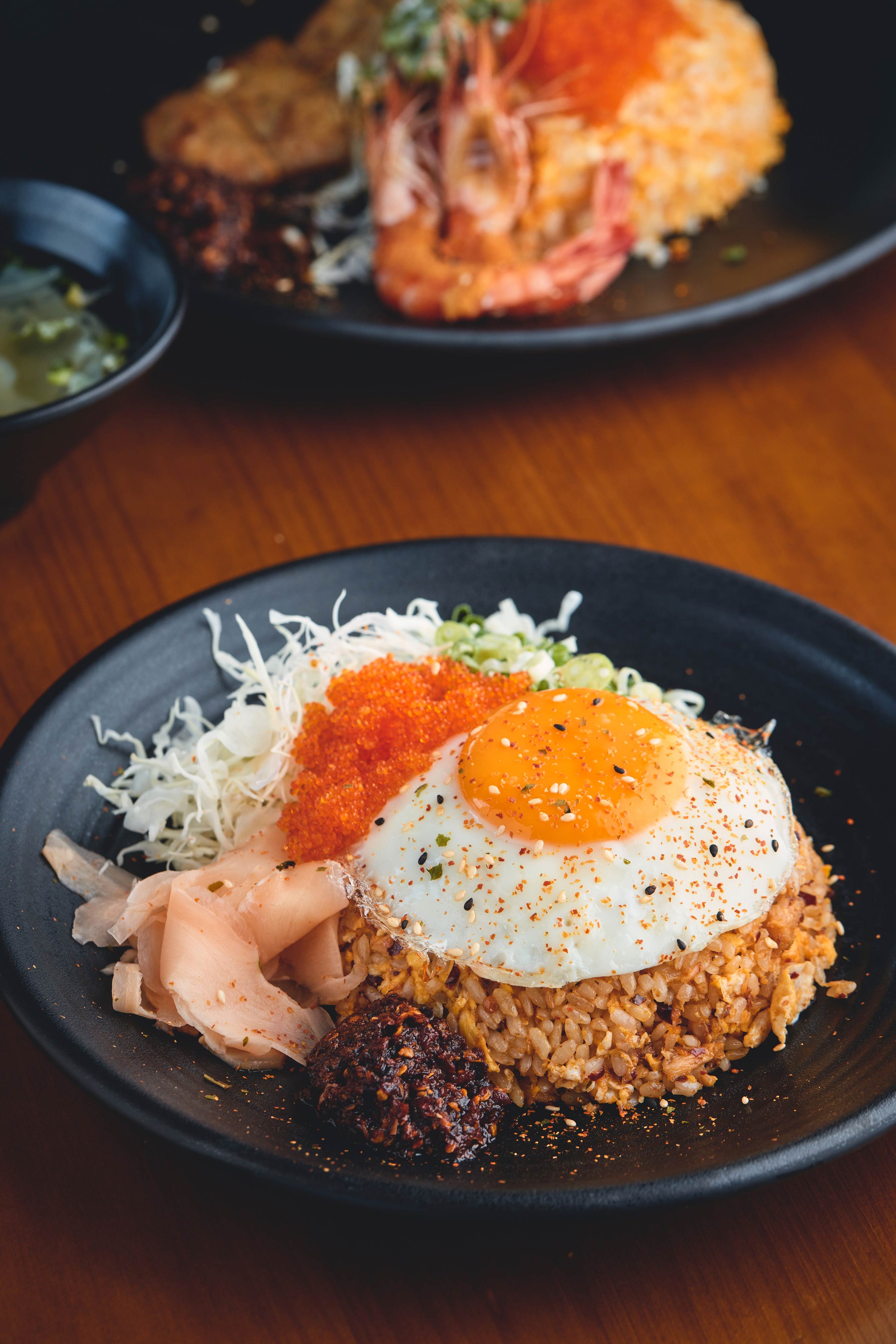 Signature Spicy 'Mala' Salmon Fried Rice, $8.90 (8 DAYS Pick!)
Danny tempers the usually numbingly hot mala sauce with a goma (sesame) paste to yield this mildly spicy and fragrant plate. Generously threaded with salmon bits (we could taste the fish in every bite) and topped with a sunny side up and a pickled ginger garnish, this is a simple but incredibly flavourful spin on classic comfort food.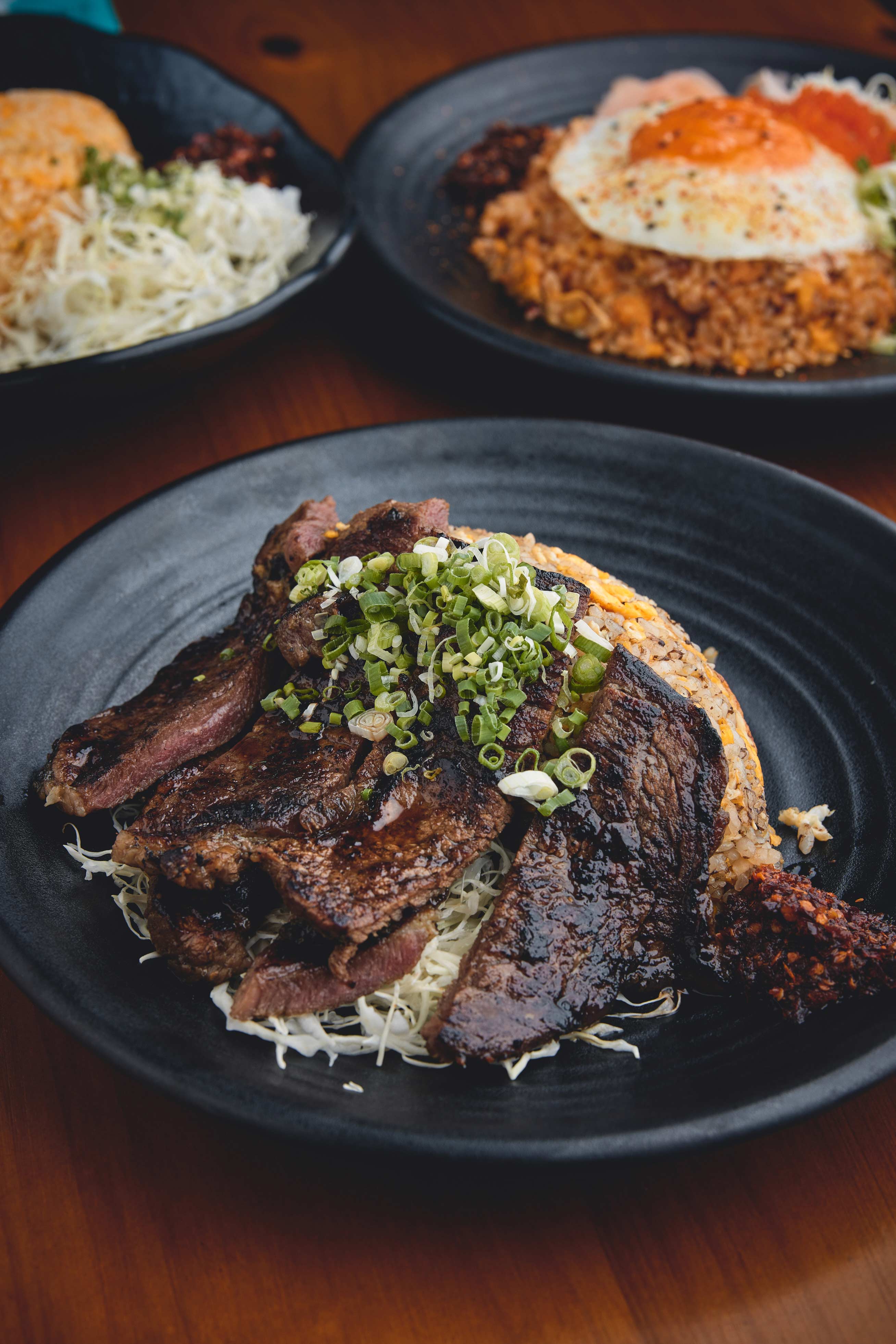 Peppery US Rib-Eye Truffle Egg Fried Rice, $12.40
This elevated take on fried rice uses Italian black truffle paté (that contains about 15 percent of real black truffle, according to Danny), which infuses the dish with bold, earthy flavours with none of the artificial notes found in some truffle oils. Topped with a feisty slab of tender grilled US rib-eye seasoned with lots of black pepper, this is a hearty dish great for those with bigger appetites.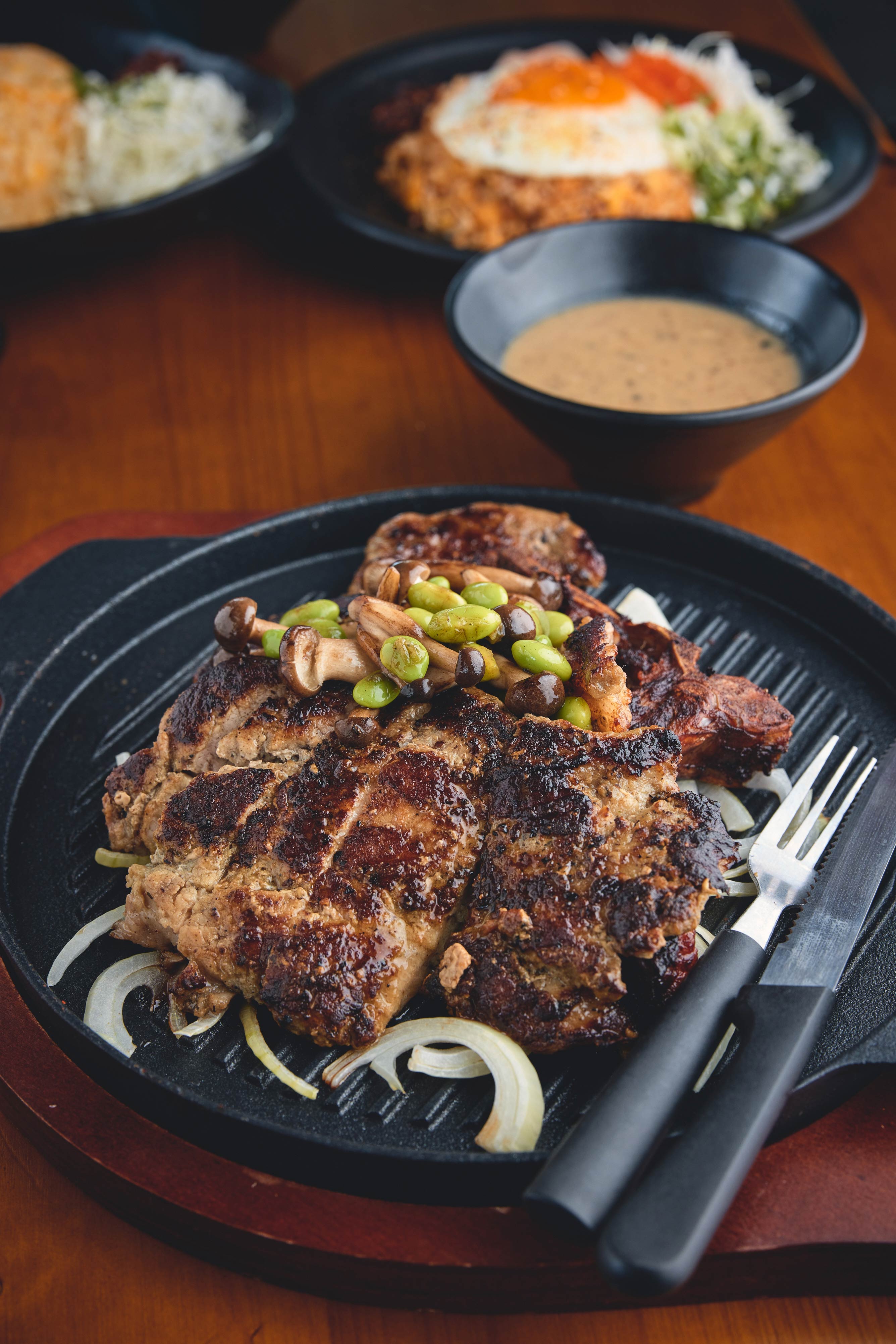 Grilled Shoyu Pork Chop on Hot Plate, $11.90
Impeccably seasoned pork chop tossed with edamame and mushroom, this savoury dish is great for pairing with a frosty beer. It comes with a creamy pepper mustard dip, though we hardly used it as the meat boasts enough flavour on its own.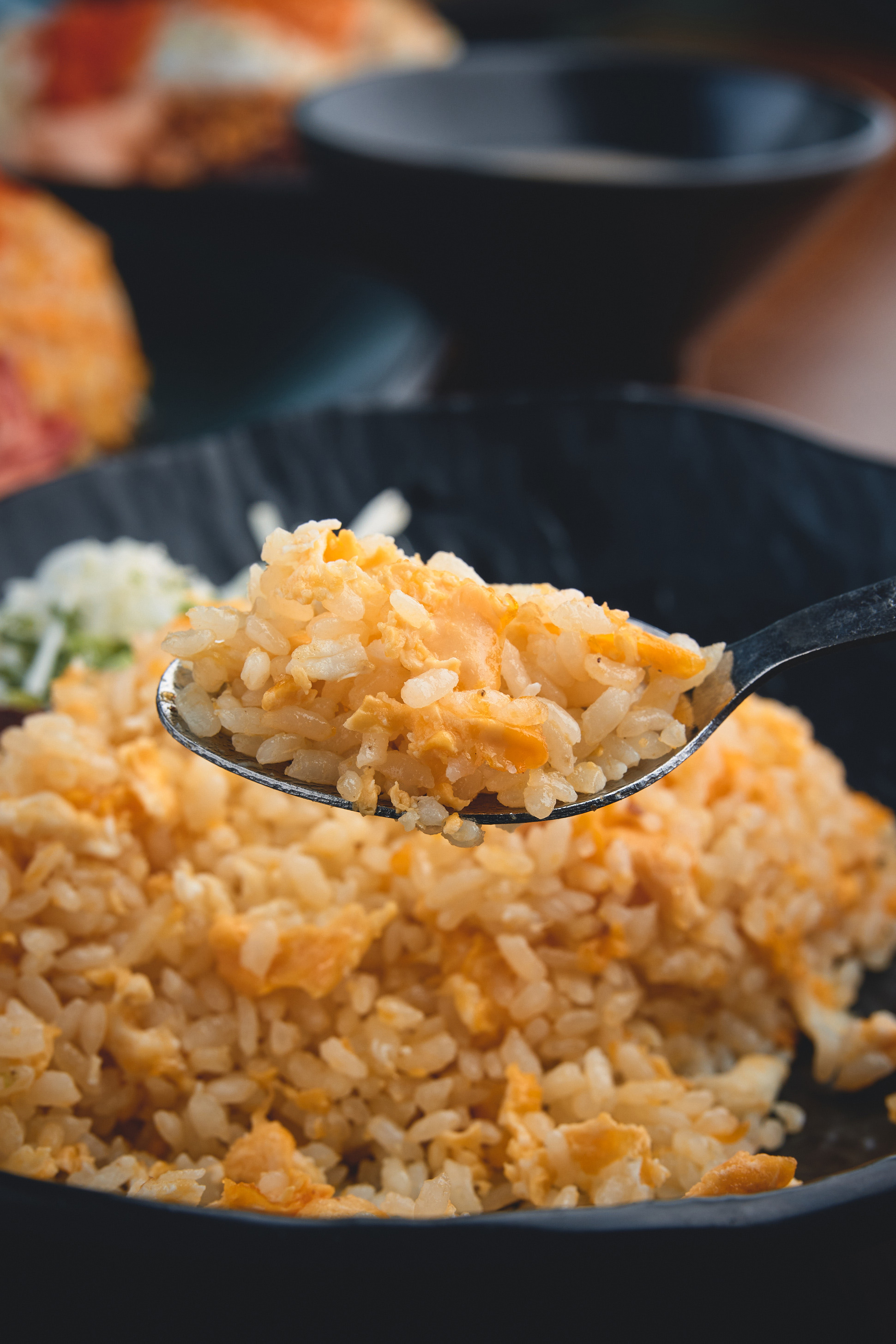 Bottom line
Despite its Japanese branding, we didn't find the food at Oji to be distinctly Japanese, aside from the use of superior Koshihikari rice and some garnishes. Nonetheless, it's a delicious take on classic fried rice, and a cut above the quality found in most other chef-turned-hawker-run fried rice stalls we've visited. The ungreasy well-textured grains, deftly cooked meat and seafood, and finer ingredients probably explain the slightly steeper prices here.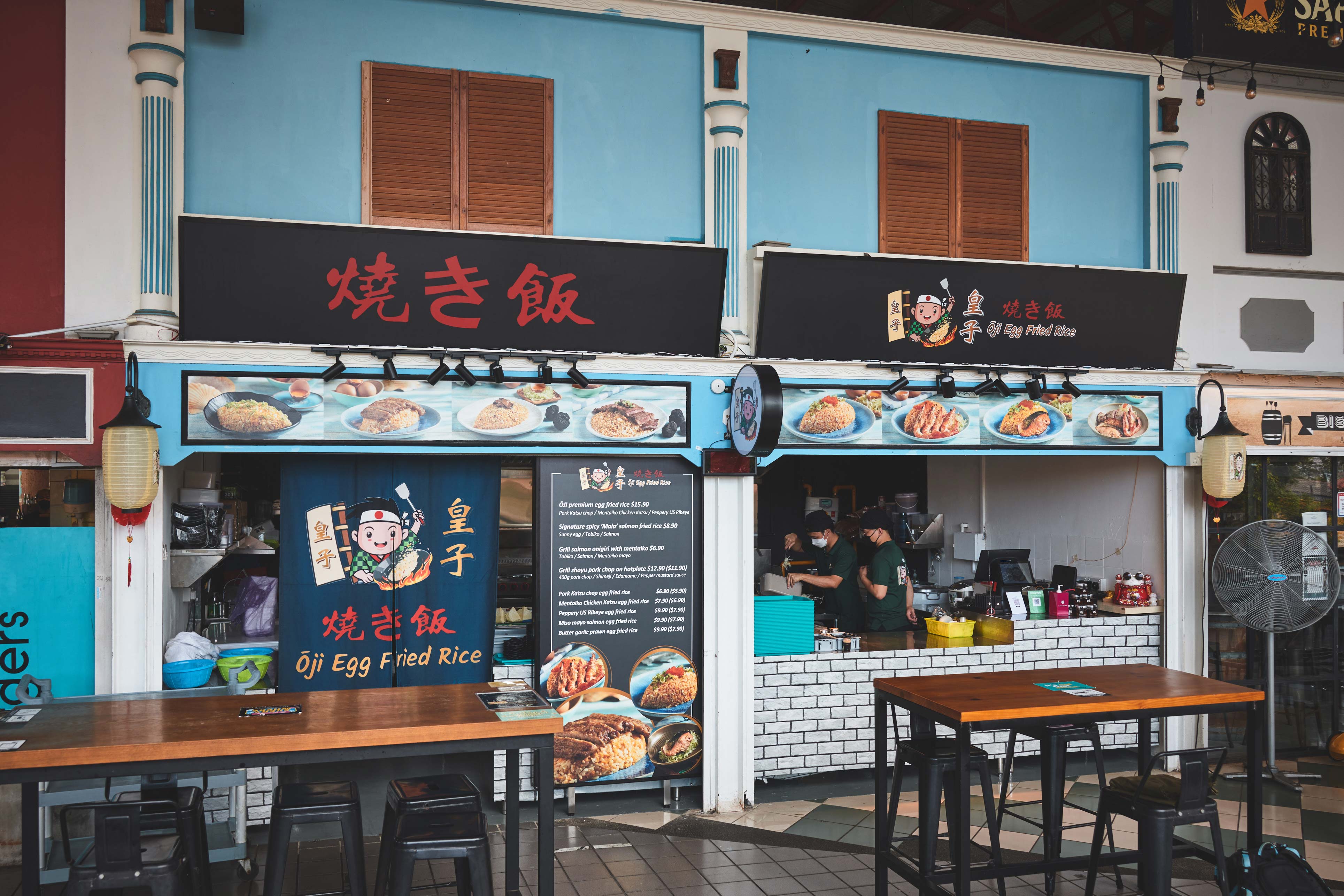 The details
Oji Egg Fried Rice's second outlet is at The Bedok Marketplace, 348 Bedok Rd, S469560. Open daily 10am - 9pm. Facebook Instagram
All photos cannot be reproduced without permission from 8days.sg
Photos: Alvin Teo