Russia Supermart On River Valley Rd Rebrands As Baltic Supermart, Indignant Netizens Protest
While the supermart used to stock mostly Russian food products, it now also offers more items from other countries in Eastern Europe.
When Russia invaded Ukraine earlier this year, some businesses associated with the former suffered collateral damage and were at the receiving end of plenty of negativity. One example is Russian dumpling restaurant Dumplings.ru at Maxwell Road, which reportedly received hate comments following Russia's invasion of Ukraine.
Meanwhile, Russia Supermart in River Valley faced its own set of issues: according to a report in March by BBC news, owner Jia Ruiying had difficulties getting goods from Eastern European suppliers once the war started.
The supermarket then changed its name to Baltic Supermart in April. What gives? 8days.sg finds out.
All photos cannot be reproduced without permission from 8days.sg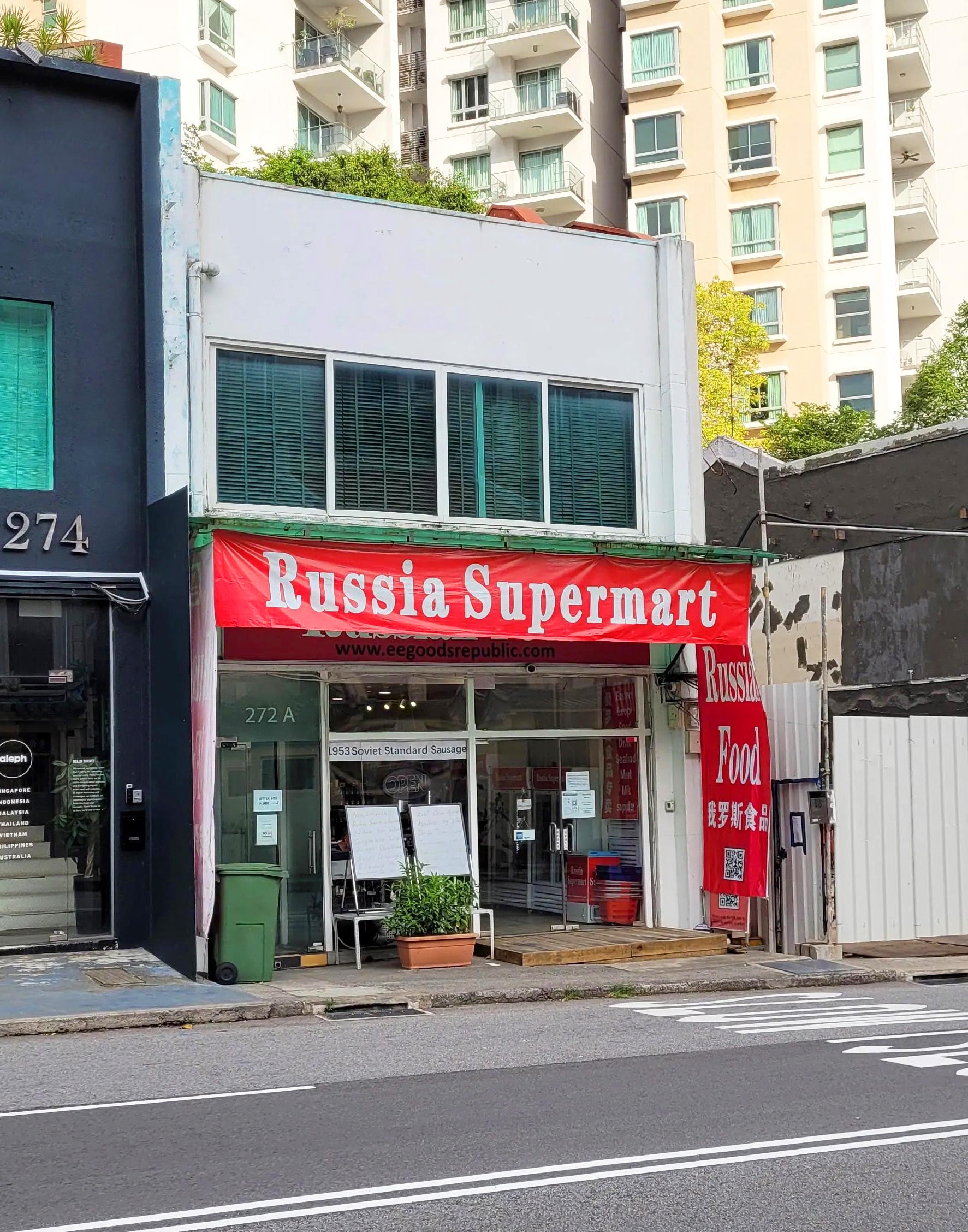 Russia Supermart has been operating since Feb 2021
First, some background info: the small supermarket has been operating at its River Valley Road premises since February 2021, after relocating from its old digs at Balestier Road. Back then, it was known simply as E-E Goods Pte Ltd.
According to the company's website, E-E Goods is a supplier of Eastern European food products in Southeast Asia, with sister companies in Russia, Belarus and China. Ruiying told BBC News that she came to Singapore two years ago to set up her store after having lived in Eastern Europe for more than half her life (including a stint at Belarus, and Russia, where she went to university).
Also stocked goods outside of Russia prior to the war
As its earlier moniker Russia Supermart implies, most of the products available at the supermarket were Russian imports, including caviar (pictured), canned food, smoked sausages, sweets and vodka.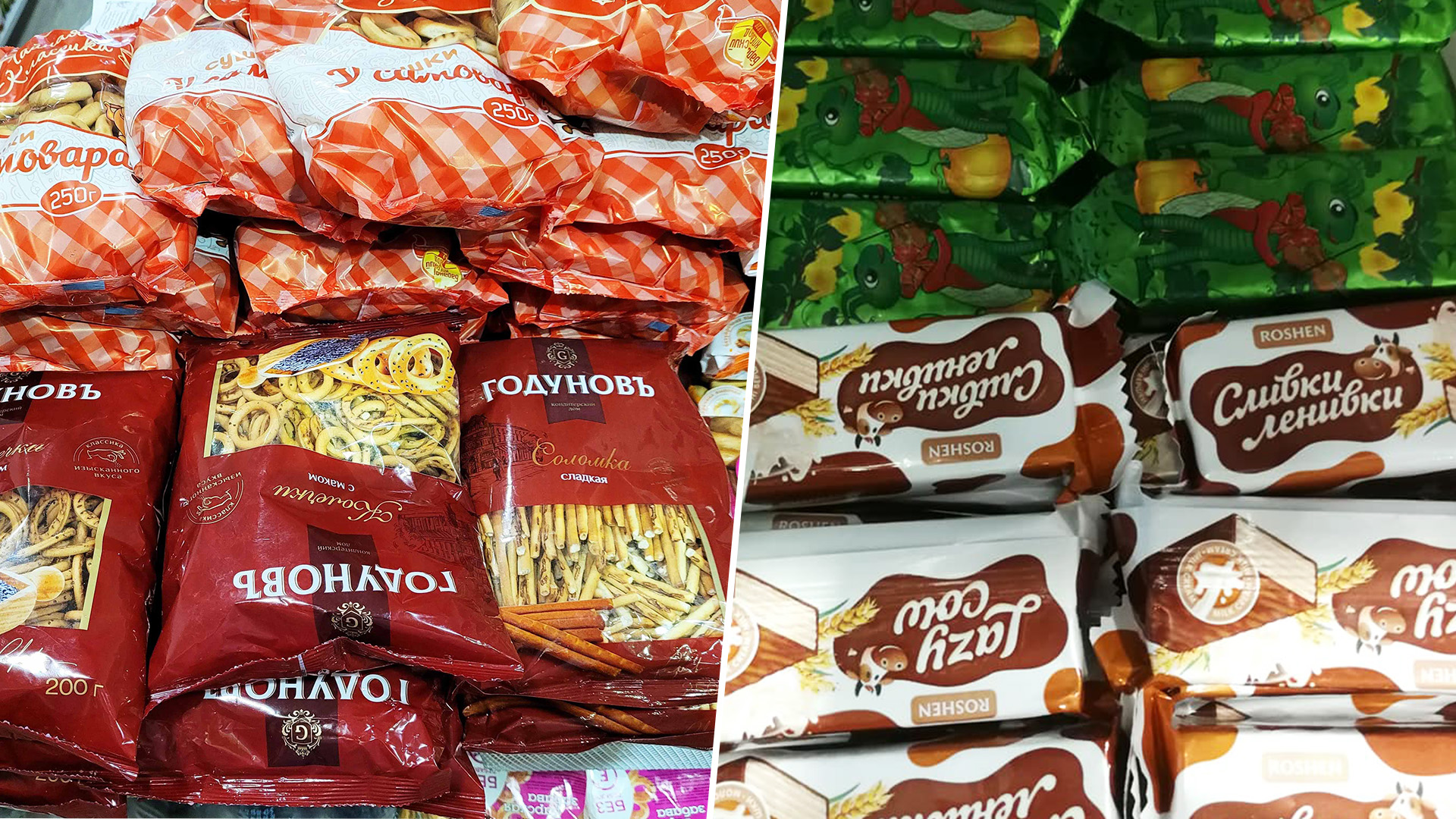 However, a quick look at the brand's Facebook page – reveals that they also used to stock selected items from other parts of Eastern Europe – largely from Ukraine and Belarus, but also Poland, Georgia, Lithuania and Latvia.
Photo: Florence Fong/8 Days
Why the name change?
The war put a dampener on supply chains from Russia and Ukraine, in particular. On April 12, Ruiying published a Facebook post announcing the name change: "Due to the recent outbreak of the Russian-Ukrainian conflict, we have expanded the supply of new goods to [other] countries. At present, the supermarket products have expanded a lot (sic), and the supplying countries include Belarus, Armenia, Kazakhstan, Russia, Ukraine, Poland and other countries."
"The company website has been changed to www.balticsupermart.com, and the store name has been changed to Balticsupermart (sic). You are welcome to continue to support us, and welcome to visit and purchase!" the post continued.
Her post received some hostile comments from netizens. Some were indignant about her choice of words. A netizen said: "Use proper terminology. Conflict its disagreement (sic) or argument between family, friends, etc. This is WAR!"
Others objected to the name change. One netizen said: "These countries are not Baltic. Don't confuse the consumers for your own convenience." The Baltic States, after all, is a term that commonly refers to the countries of Estonia, Latvia and Lithuania on the eastern shores of the Baltic Sea. Ruiying later replied, stating in Russian: "Goods from Russia, Belarus, Kazakhstan and Ukraine will be as before, but it will be from the Baltic States too."
Check out the stall's new signage above.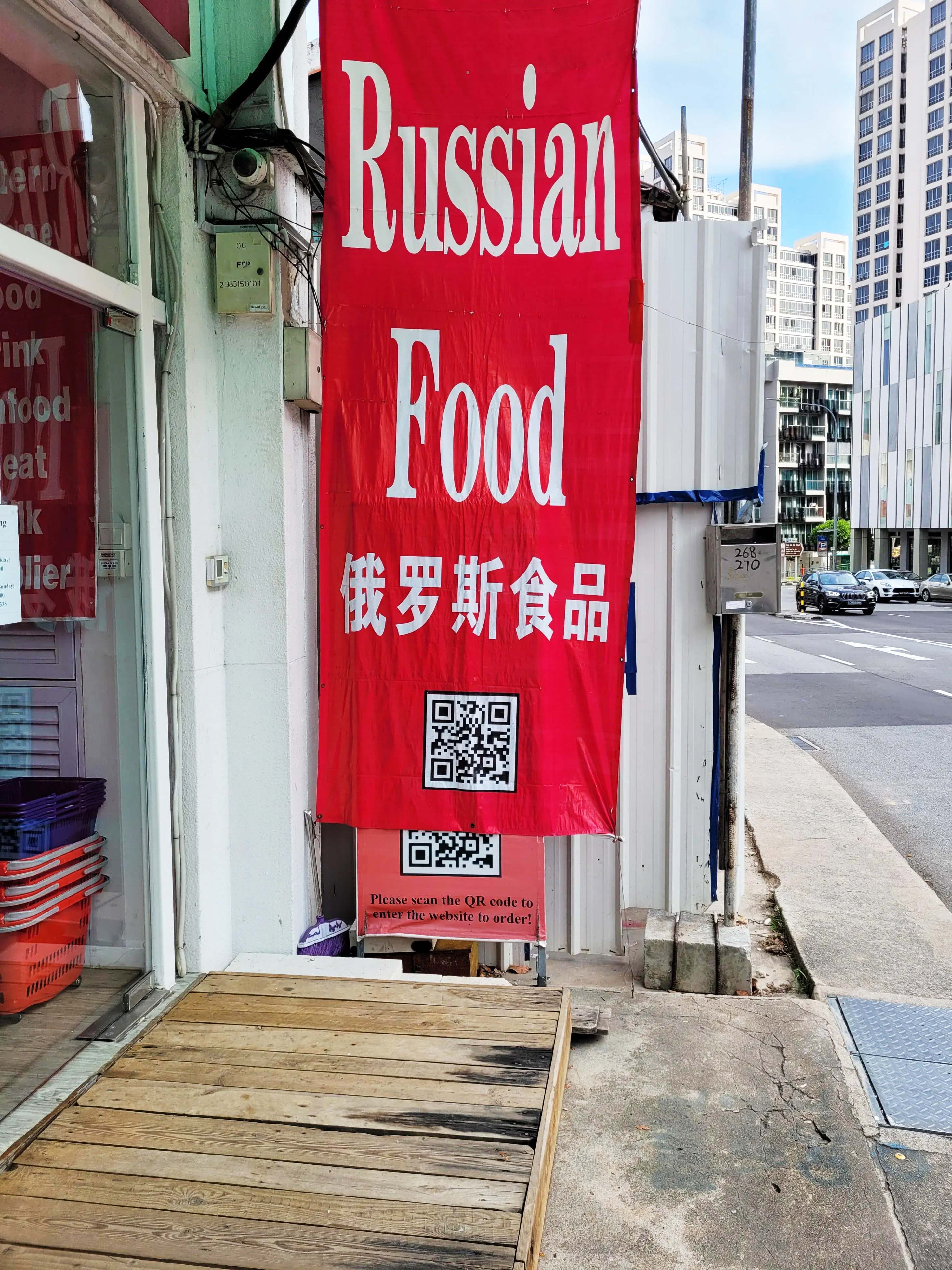 Note that they also changed a banner on the side that once read "Russian Food" to "East Europe Food".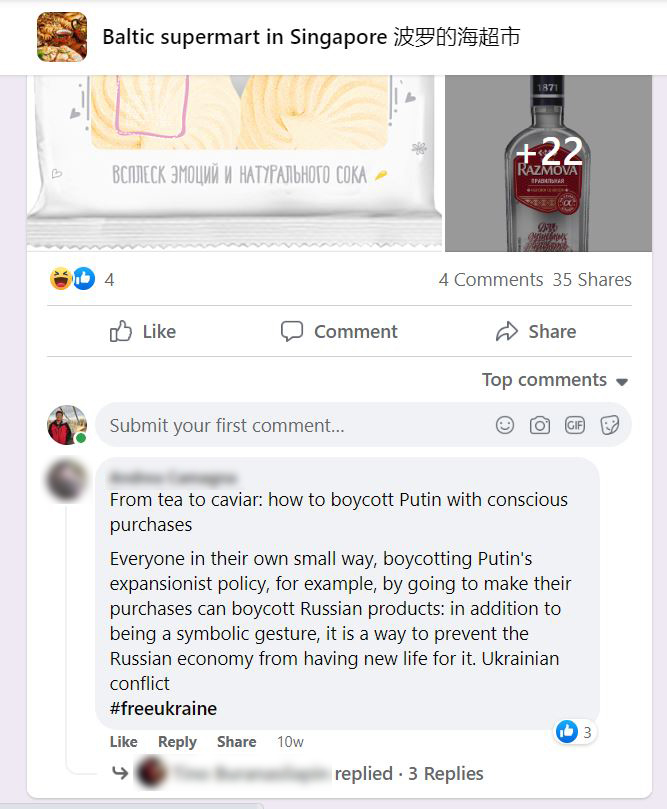 Was the rebranding due to anti-Russian sentiments?
We aren't sure. The reaction to the above post might indicate an undercurrent of resentment towards Baltic Supermart's previous name. We also spotted a couple of negative comments on some of the page's other posts, including this one (above) urging a boycott of Russian products. 
We were unable to reach Ruiying for comment at press time; when we called Baltic Supermart's number, we spoke to a man who declined to share his name, only stating in mandarin that he was the actual boss of Baltic Supermart, not Ruiying (whom he claims is a marketing manager there). He shares: "The Singaporean government condemned Russia['s invasion of Ukraine]. So we want to follow the government's approach, [and] also don't want to be [called] Russia Supermart anymore."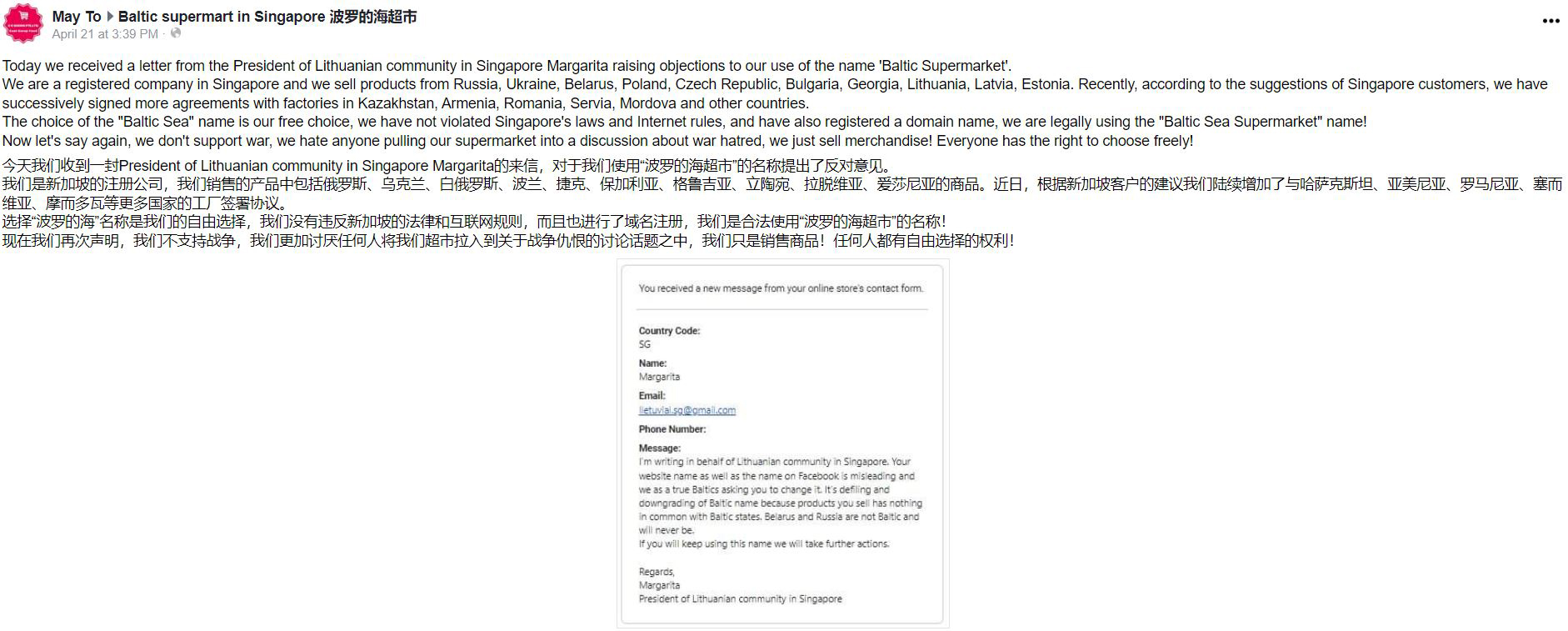 More ruffled feathers 
On April 21, the admin of the Baltic Supermart Facebook group posted a message they apparently received from one Margarita, who signed off as "president of Lithuanian committee in Singapore". She wrote: "I'm writing in behalf of Lithuanian community in Singapore (sic). Your website name as well as the name on Facebook is misleading and we as a true Baltics asking you to change it. It's defiling and downgrading of Baltic name because products you sell has nothing in common with Baltic states. Belarus and Russia are not Baltic and will never be. If you keep using this name we will take further actions." Ominous.
Baltic Supermart's admin replied on the post: "We are a registered company in Singapore and we sell products from Russia, Ukraine, Belarus, Poland, Czech Republic, Bulgaria, Georgia, Lithuania, Latvia, Estonia. Recently… we have successively signed more agreements with factories in Kazakhstan, Armenia, Romania, Servia, Mordova and other countries (sic)."
They continued, "The choice of the "Baltic Sea" name is our free choice, we have not violated Singapore's laws and Internet rules, and have also registered a domain name, we are legally using the "Baltic Sea Supermarket" name! Now let's say again, we don't support war, we hate anyone pulling our supermarket into a discussion about war hatred, we just sell merchandise! Everyone has the right to choose freely!"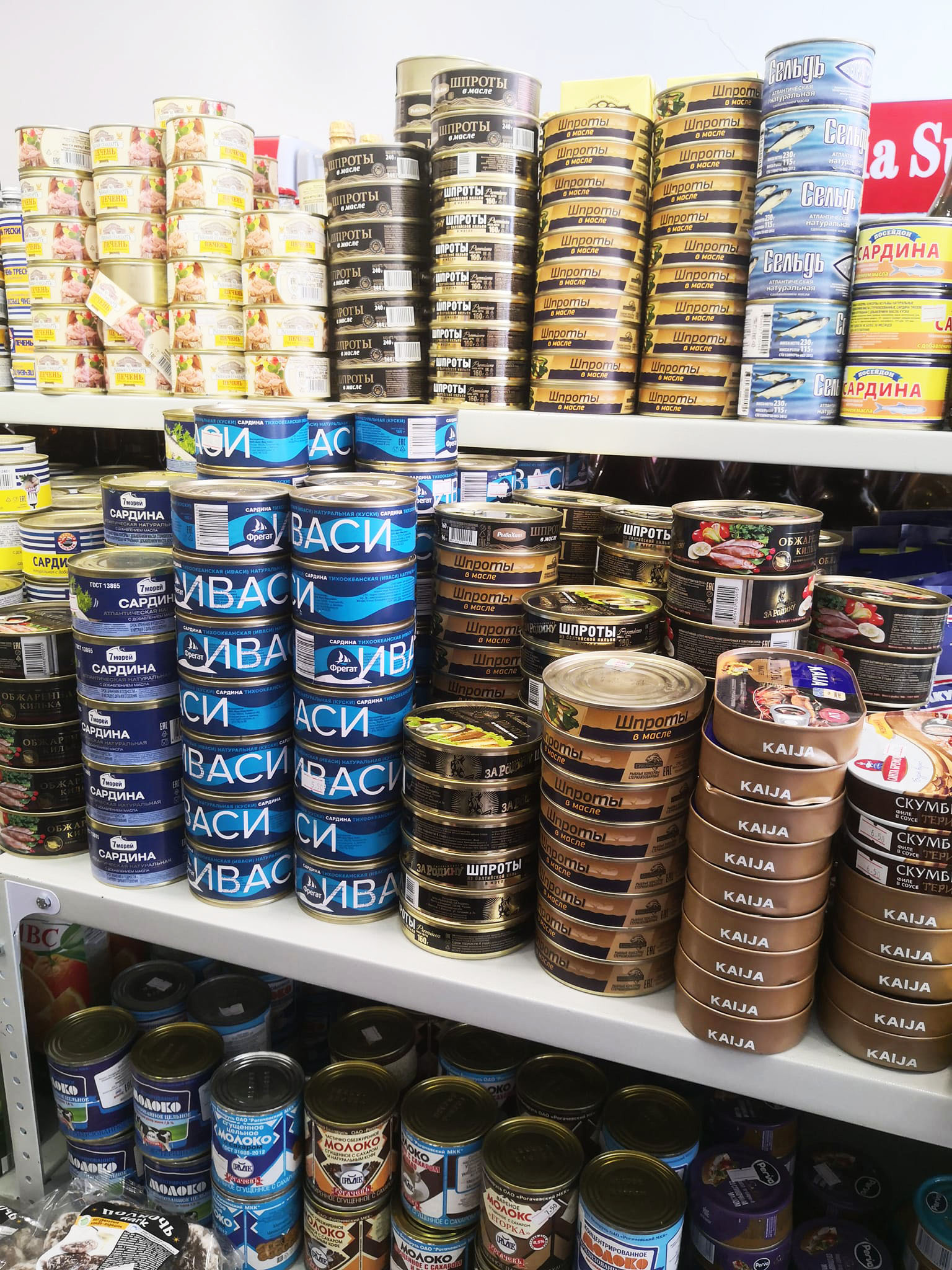 What Baltic products can you get at the Supermart now?
Quite the kerfuffle, considering that at the very least, some products from the Baltics have graced the store's shelves even before the name change. We guess this means that they'll likely have to stock more Baltic products in future – such as the Kaija brand of canned sprats (small fish similar to sardines) from Latvia. 
Perhaps a more generic name like Eastern European Supermart might have caused less of a commotion. 
Baltic Supermart is at 272 River Valley Rd, S238315. Tel: 8929-0336. Open weekdays 11.30am – 9pm; weekends noon – 10pm. More info via Facebook, Instagram or website.
Photos: Florence Fong, 8 Days/Baltic Supermart/Facebook, Jia Ruiying/Facebook
All photos cannot be reproduced without permission from 8days.sg