Satisfying Kway Chap For $2.50 At Under-The-Radar Hawker Stall In Tanjong Rhu
The price of Feng Ji Kway Chap's $2.50 set hasn't changed since the biz opened a decade ago. 8days.sg visits the stall undercover to sample the dish.
Most Singaporeans don't mind a queue, especially when there's a good deal involved. Despite having almost no media coverage in its ten years of business, Feng Ji Kway Chap stall draws consistent lines daily – it was up to ten-pax deep during our visit on a recent weekday morning. The stall is housed in old-timey Blk 4A Jalan Batu Hawker Centre at Tanjong Rhu within Kallang. The draw? Its cheapest kway chap set starts from just $2.50.
All photos cannot be reproduced without permission from 8days.sg
Opened by Perak-born hawker and his wife
Don't be intimidated by the stoic-faced man behind the counter. 41-year-old Wong Seng Hong, who alternates between chopping offal with a cleaver and tossing kway into boiling soup, is soft-spoken and rather personable.
Now a Singaporean citizen, the Perak native shares that he's been working in the F&B industry since he first came to Singapore aged 17, beginning with various kitchen jobs in coffee shops. His last gig before opening his own hawker stall saw him working for another kway chap hawker in a Geylang Lorong 17 kopitiam. "But when I was working for someone else, I wasn't really earning enough to support my wife and child," he tells us in mandarin. This motivated him to open Feng Ji Kway Chap in 2012.
He and his wife, Hong Choi Peng, 47, now get up at 2am daily to prepare their kway chap in time for the breakfast crowd (the stall is open from 6.30am to 11am only). "Once customers see that your lights are on, they'll start asking if they can order. Even if you tell them you're not ready, they'll try to order," Seng Hong tells us with a laugh. He does all the cooking, while his missus takes orders.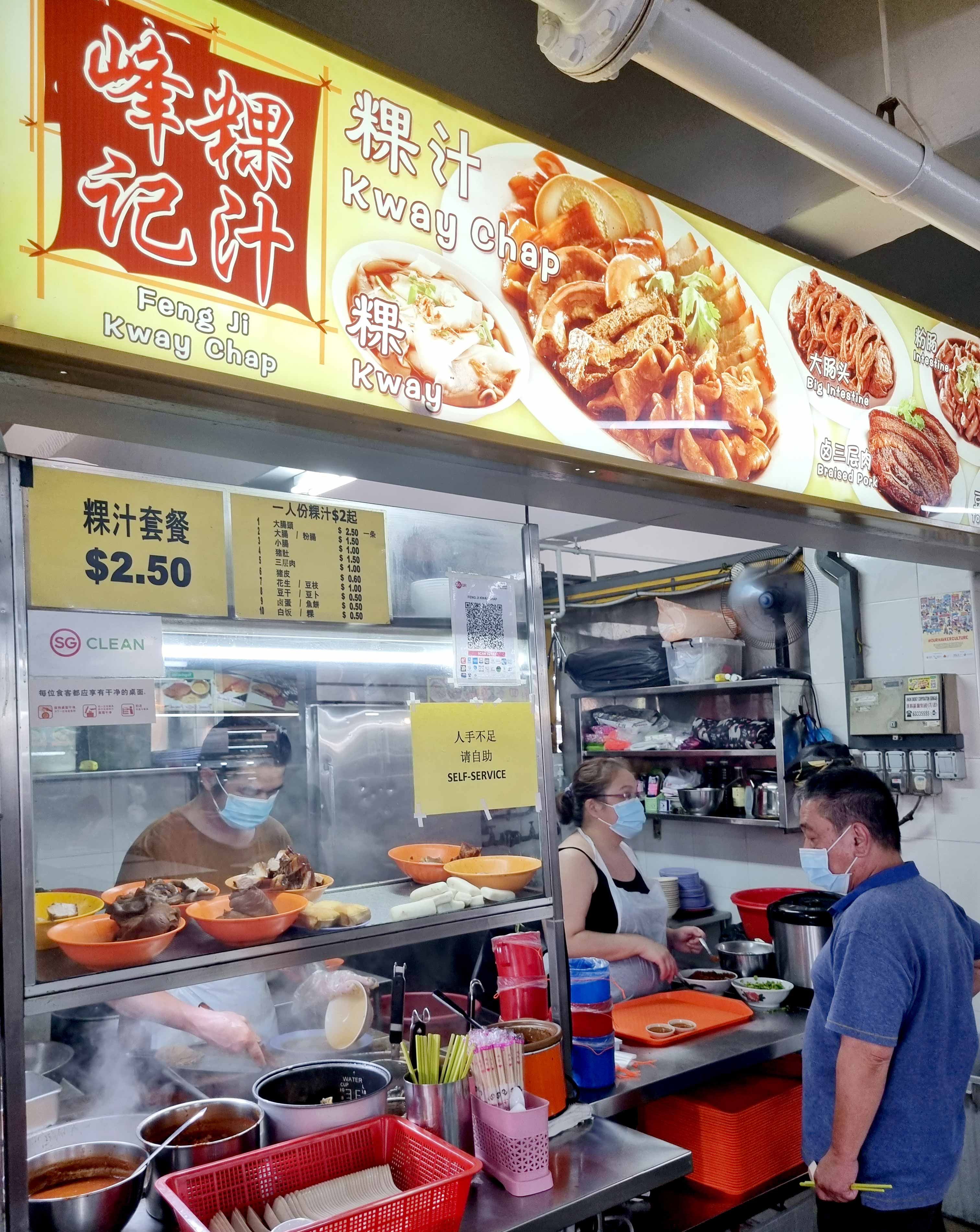 Cheap kway chap set for "students and older customers"
"We've been selling this $2.50 set from the first day till now," says Seng Hong, who goes on to explain that it's targeted at "students and older customers". "Number one, they can't eat so much. Number two, they also can't spend so much," he reasons. "It's also good for business lah – when new customers pass by my stall and they see the $2.50 price tag, they're more willing to order the small set to just give it a try. And if they like it, I'll have a new customer." 
He shares that the $2.50 sets only make up a "small portion" of his daily sales, as most customers tend to order more offal. As for how many bowls he sells in total, he replies offhandedly: "Never count. But we sell around nine packets of kway a day – each packet is 3kg."
How does he keep the price tag low with today's inflation? By reducing portion sizes? "It's never changed [over the years]. Because honestly, the portion for the $2.50 set isn't a lot, so I can't cut it down anymore. I just make less profits, but to me, selling it cheap is still okay as I can make money by selling more volume," he explains.
"Some items are going up faster than others. Like in the $2.50 set, there's pork, tau pok and egg. The price of pork and tau pok aren't rising very rapidly, so it [isn't so bad] when eggs went up in price," he explains.
"I don't have to make big money, just enough to live and feed my family lah. By selling it cheap, I can also sell out quickly, so I don't have to hang around until the evening just to make enough," he reasons. "My evening is free – if my daughter kacau (Malay for disturb) me to go out, I have time to spend with her (laughs)."
Keeps costs low by cleaning the offal himself
Unlike other hawkers who have been severely affected by massive price fluctuations (hawkers who rely heavily on chickens and eggs), Seng Hong shares that the cost of pig's innards haven't spiked much. "A batch of raw intestines went from around $4 to $4.50."
The biggest cost factor for kway chap hawkers, he says, is whether they get pig's innards pre-washed from suppliers. "It usually takes me about four to five hours to wash all the intestines [after I close shop for the day]," he says. "But I wash it all myself so that I can keep costs as low as I can."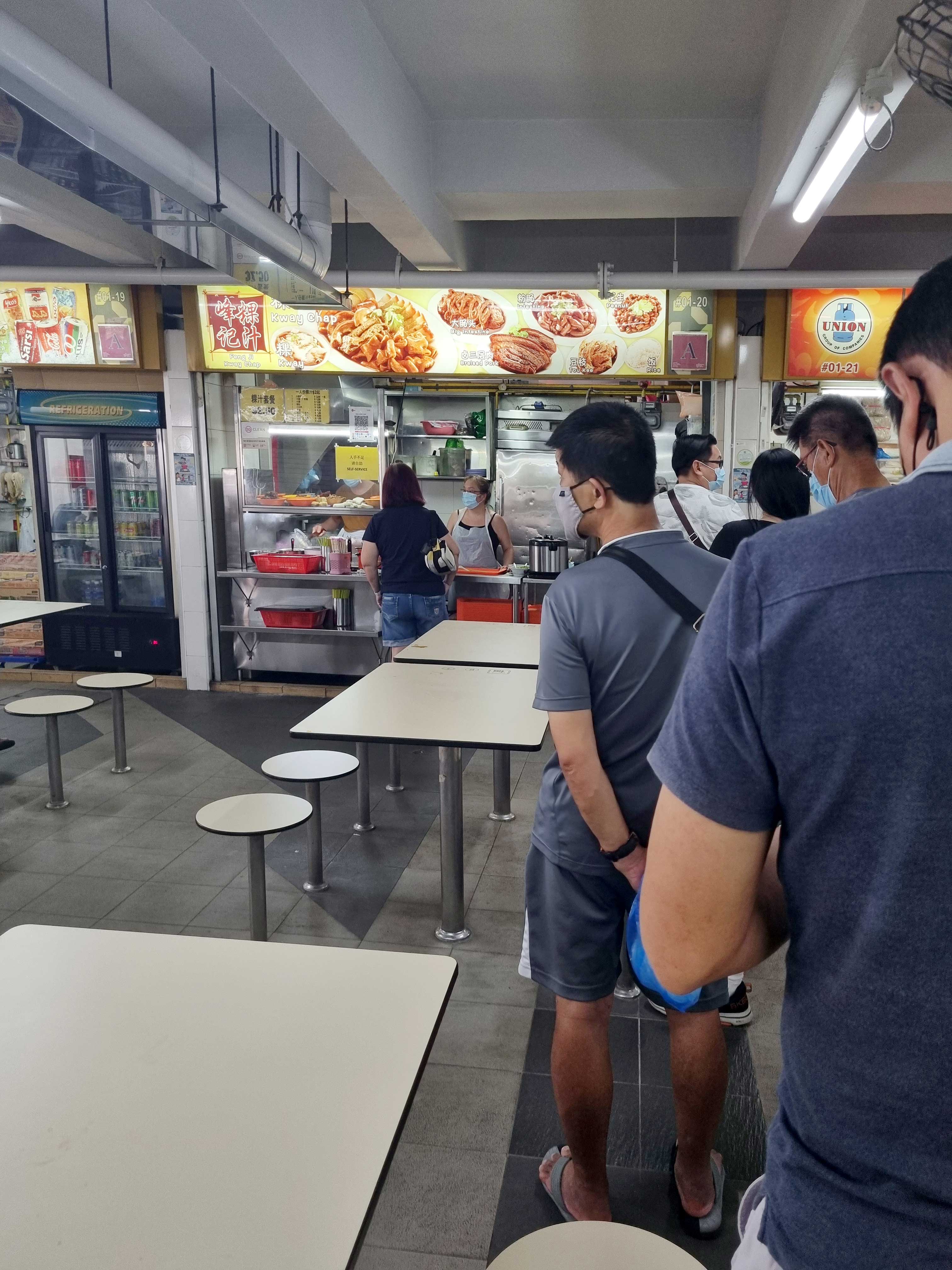 Be prepared to wait
There's a persistent queue at Feng Ji Kway Chap throughout our mid-morning visit. We estimate that the waiting time to get your bowl of flat rice noodles and pork innards can stretch up to half an hour (roughly how long we waited too).
Pro tip: Seng Hong says that the queue is shortest "before 8am" if you want to skip the wait. Try not to visit too close to their closing time at 11am too, as they sometimes sell out early. Today though, they stayed open for an extra 20 minutes before pulling down the shutters.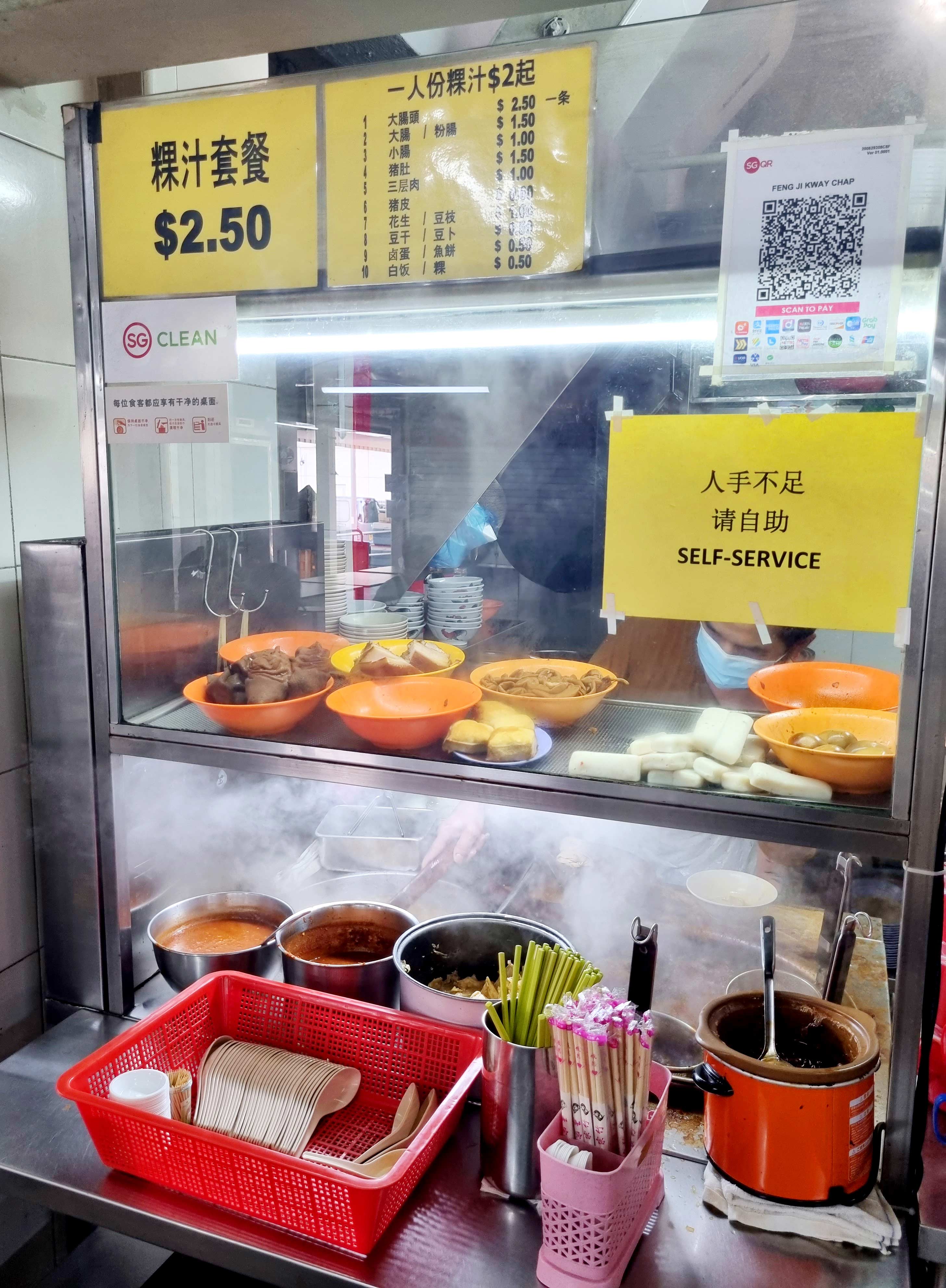 The menu
Aside from the standard $2.50 set, you can pick the ingredients you like and tell the hawkers how many folks are eating, and they'll portion and price it accordingly. Pork innards on offer include Small Intestine ($1), Large Intestine ($1.50) and Big Intestine (da chang tou, aka pig's rectum, $2.50). Other accompaniments like Fishcake ($0.50), Pork Belly ($1) and Pig's Skin ($0.60) are also sold, while a bowl of kway or rice will set you back $0.50.
Kway Chap Set, $2.50 (8 DAYS Pick!)
We order the cheapest set incognito in order to assess its quality. Our $2.50 buys us around six chunky slices of wobbly pork belly and a similar number of pinkie-sized small intestine nubs; along with some tau pok, a whole braised egg and a biggish bowl of soupy kway. More than fair value, given the rising cost of things nowadays. Moreover, everything is neatly and appetisingly plated, unlike some sloppy versions we've seen at other kway chap stalls.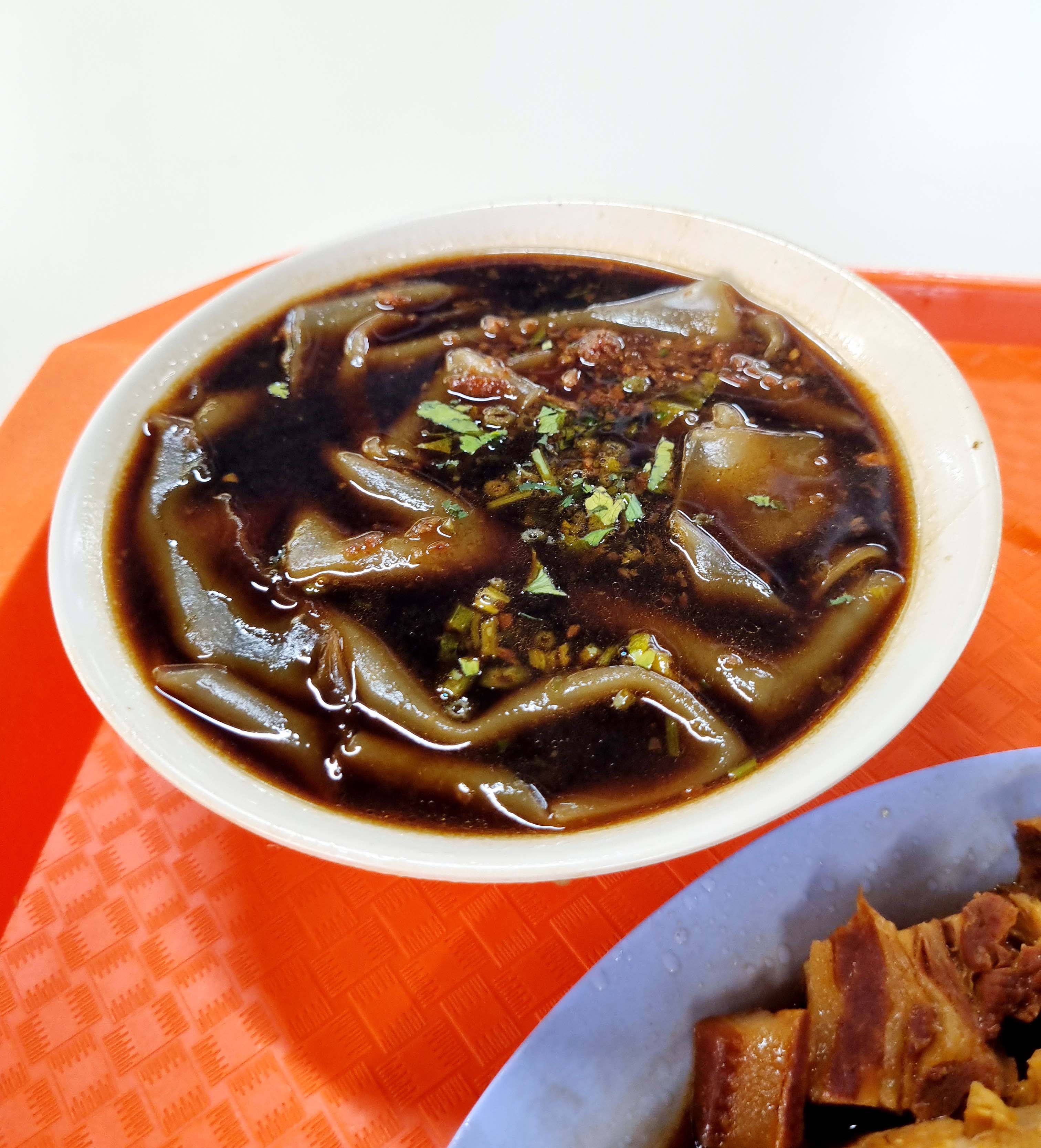 But the kway chap isn't just cheap. It's pretty darn tasty, too. The soft, slippery sheets swim in an immensely savoury, robust broth that stands up well to some of the more famous kway chap joints we've been to (including Michelin Bib Gourmand recipient To-Ricos Guo Shi at Old Airport Road Food Centre). We especially enjoy the aromatic hit from a heaping spoonful of deep-fried garlic and coriander.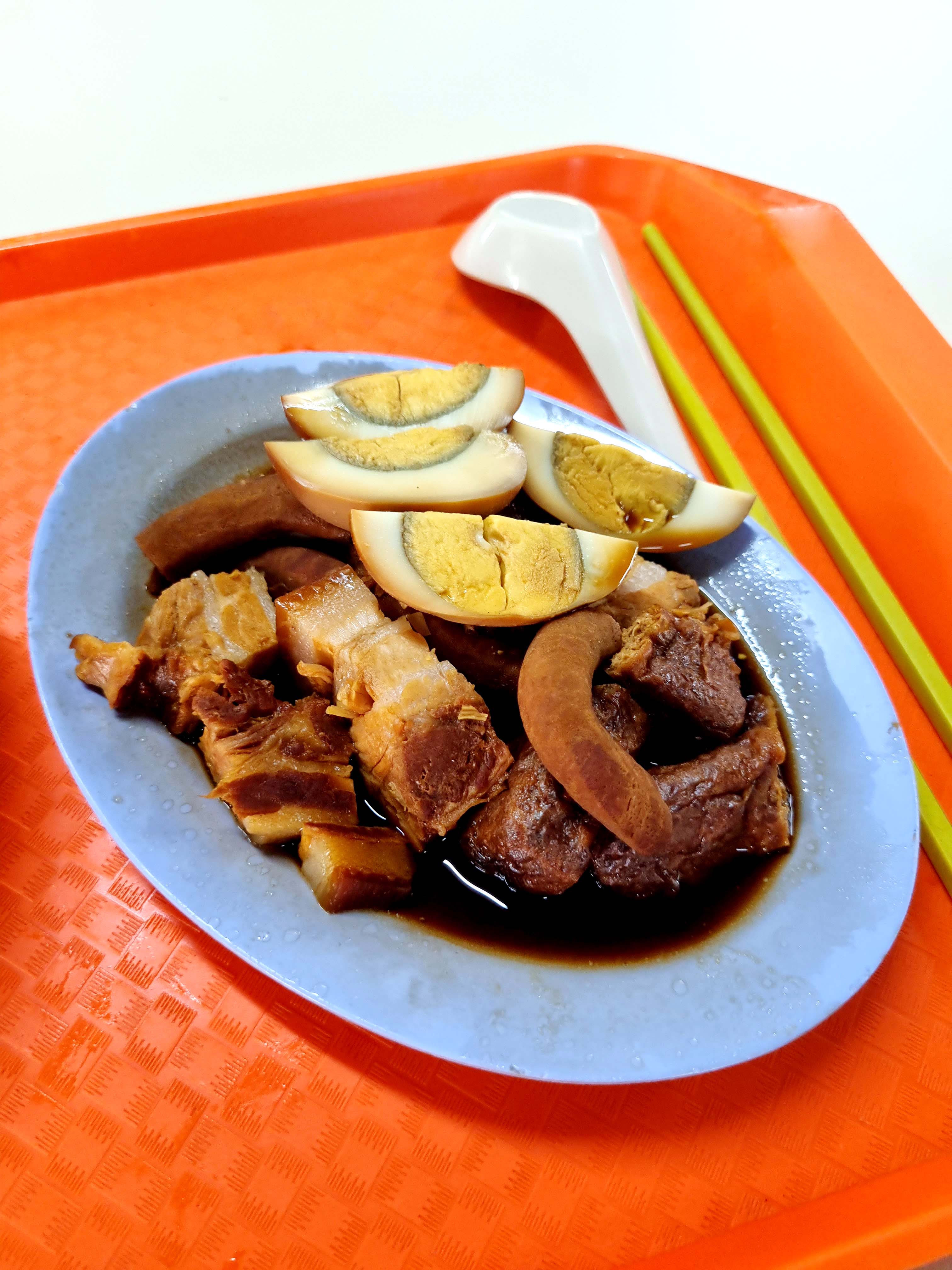 The accompaniments don't disappoint either. The small intestines are tender, a little chewy and completely funk-free; while the braised pork belly, fatty and tender, is just as delish. We scarcely need the usual tangy vinegar-based chilli dip that's served with the dish, though it's there if you want extra spice. 
The hawker tells us that the cheapest set is customisable depending on what ingredients you'd like. "As long as it's reasonable, can change lah. For example, egg change to fishcake can lah, but like egg change to da chang tou, of course can't la," chuckles the towkay.
We polished off everything on our plate. Good value for money — this affordable set filled our tummy adequately for breakfast. We'll be back to try more dishes.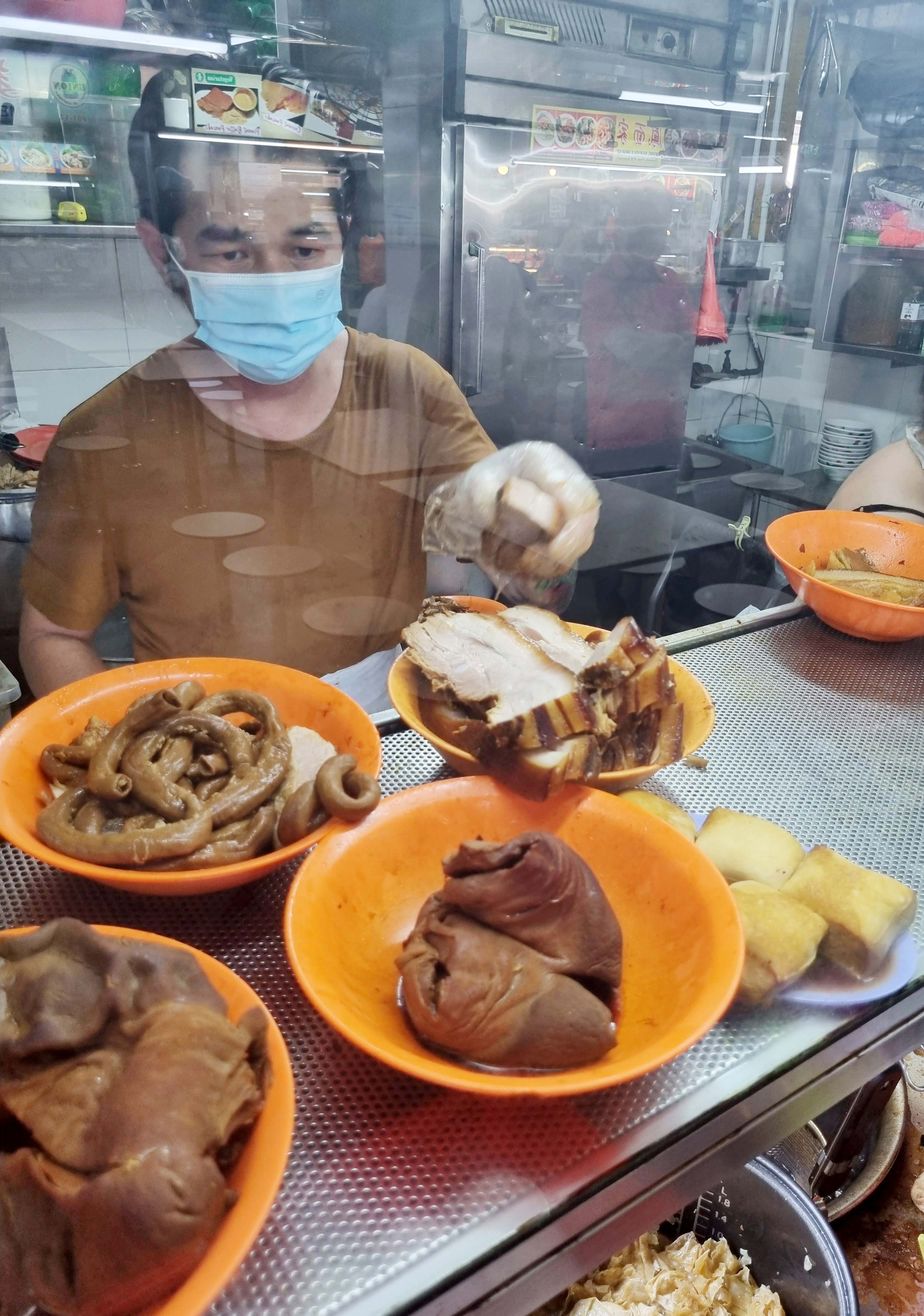 The details
Feng Ji Kway Chap is at #01-20 Blk 4A Jalan Batu Hawker Centre. Open daily except Fri 6.30am – 11am. 
Photos: Alvin Lim
All photos cannot be reproduced without permission from 8days.sg