Satisfying, Sloppy Hainanese Curry Rice With Chicken Collagen Gravy & Mala Curry Sauce
You get three sauces – mala or regular curry, lor bak and chicken collagen gravy – on your plate of rice at Kim's Curry Hainan. Its towkay says his mala curry is a "first in Singapore".
After two decades in the food catering and tingkat delivery biz, Clement Tiang, 49, has launched a Hainanese curry chain named Kim's Curry Hainan. Over the past three months, the chain opened three kopitiam branches in Admiralty, Bedok and Toa Payoh, offering Hainanese-style curry rice with standard fixings like fried pork chop, curry chicken and braised pork belly. What's unusual here: a unique mala-tinged curry and chicken collagen gravy on top of the usual curry-and-braised-sauce combo. We check out its newest branch, which opened last month at Toa Payoh Central.

No part of this story or photos can be reproduced without permission from 8days.sg.
Fresh and vibrant
With its eye-catching geometric counter and brightly-lit food display, the corner stall stands out from the other more traditional-looking joints at the bustling coffee shop. Fixed prices for curry rice sets are clearly displayed on the modern-looking menu board above the stall.
Unique sauces including "first in Singapore" mala curry
On top of the traditional curry and braised sauce, Kim's Curry Hainan offers two unusual sauces: a mildly spicy gravy that combines house-made mala sauce with regular curry (which Clement claims to be the "first in Singapore") and a clear gravy made from slow-cooking chicken and pork bones and thickened with "a bit of starch", which tastes like a stickier version of concentrated chicken stock.

"Our regular curry is not spicy at all, so we wanted to offer something spicy. Instead of just using chilli [paste], we experimented with adding [store bought] mala sauce to the curry and surprisingly, they work very well together. Then we started developing our own mala sauce to make the mala curry," says the entrepreneur. "For customers who don't want the spicy curry, I wanted to have something [to give the curry rice] more flavour so we created the collagen gravy [as an additional sauce]. It helps to balance the spiciness of the mala curry too."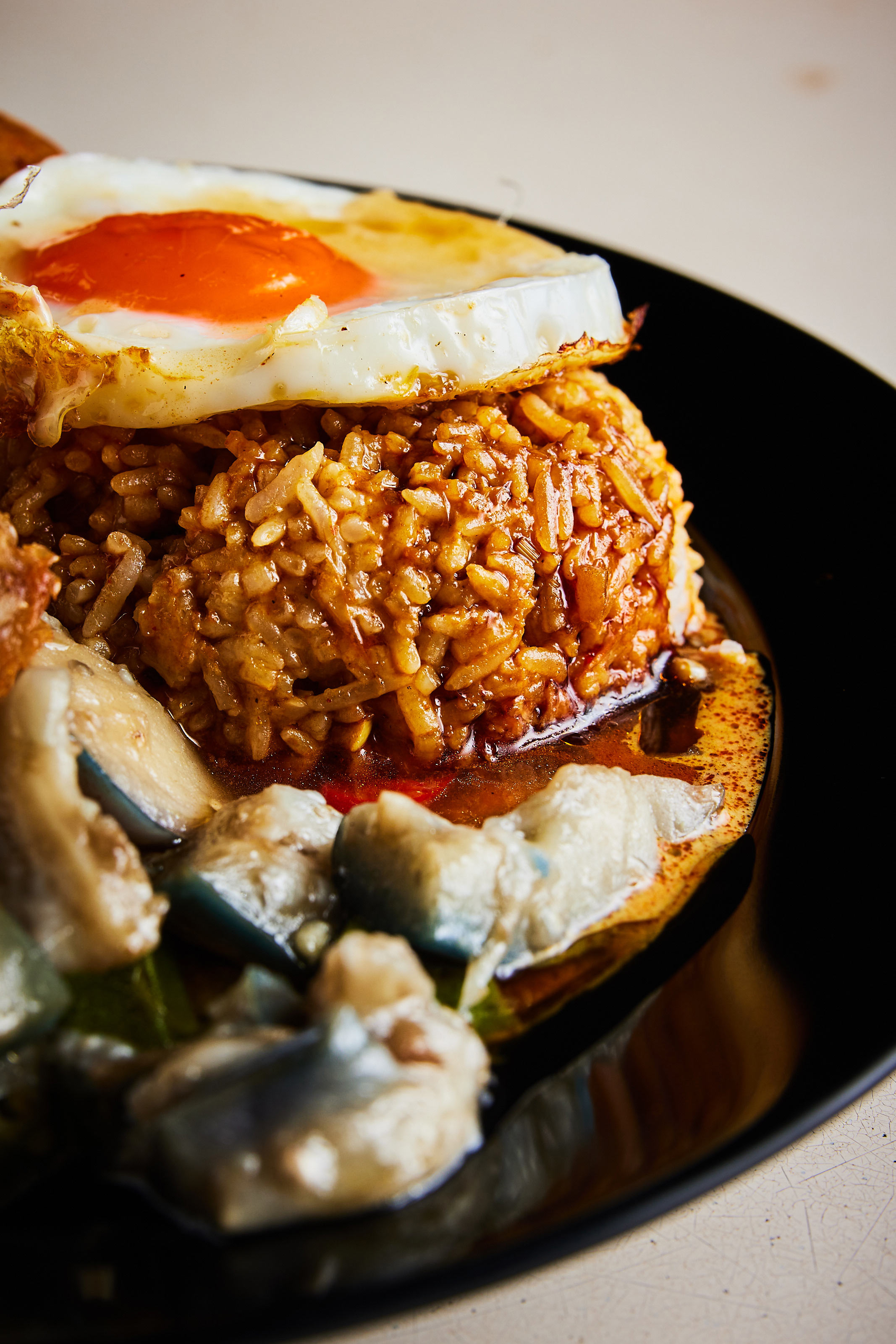 Background in catering biz
Since 1999, Clement and his mum have founded three different companies together, including Kim Paradise (named after his mum) which was launched in partnership with leading F&B caterer Neo Group in 2018. They sold their 30 per cent stake back to the group last year for an undisclosed sum and Neo Group still runs the business today. Kim Paradise's website states that it is "Singapore's largest tingkat supplier", serving mostly Chinese dishes.

After the sale, Clement and his mum founded another tingkat service company Kim Kitchenz in April this year. In fact, "about 80 per cent" of the food at Kim's Curry Hainan is prepared at the same 3,000 sqft central kitchen in Admiralty where Kim Kitchenz is based.

The entrepreneur decided to start a curry rice chain after observing that the tingkat service industry has become "quite stagnant." Increased competition was a concern as well. "Before the pandemic, there were maybe only 20 people doing home meal delivery. Now, there's over 100.  "We're [now] more focused on opening chains of outlets [like Kim's Curry Hainan] and offering healthier meals on our tingkat menus," he adds. 

Clement, who is Hockchew, says his curry rice is not traditionally Hainanese. "We use 'Hainan' in our brand name so people would know we're selling [scissor-cut] curry rice," says the SHATEC-trained owner who has cooked Western food at pubs in his younger days. The curry, which is based on a family recipe, has never been offered on their previous catering or tingkat menus as "it's too labour intensive".

Kim's Curry Hainan is co-owned by Clement, his mum and two partners – including a good friend and mentor of Clement. A head chef of the catering company, who has been working for Clement since the '90s, is in charge of training the chain's staff.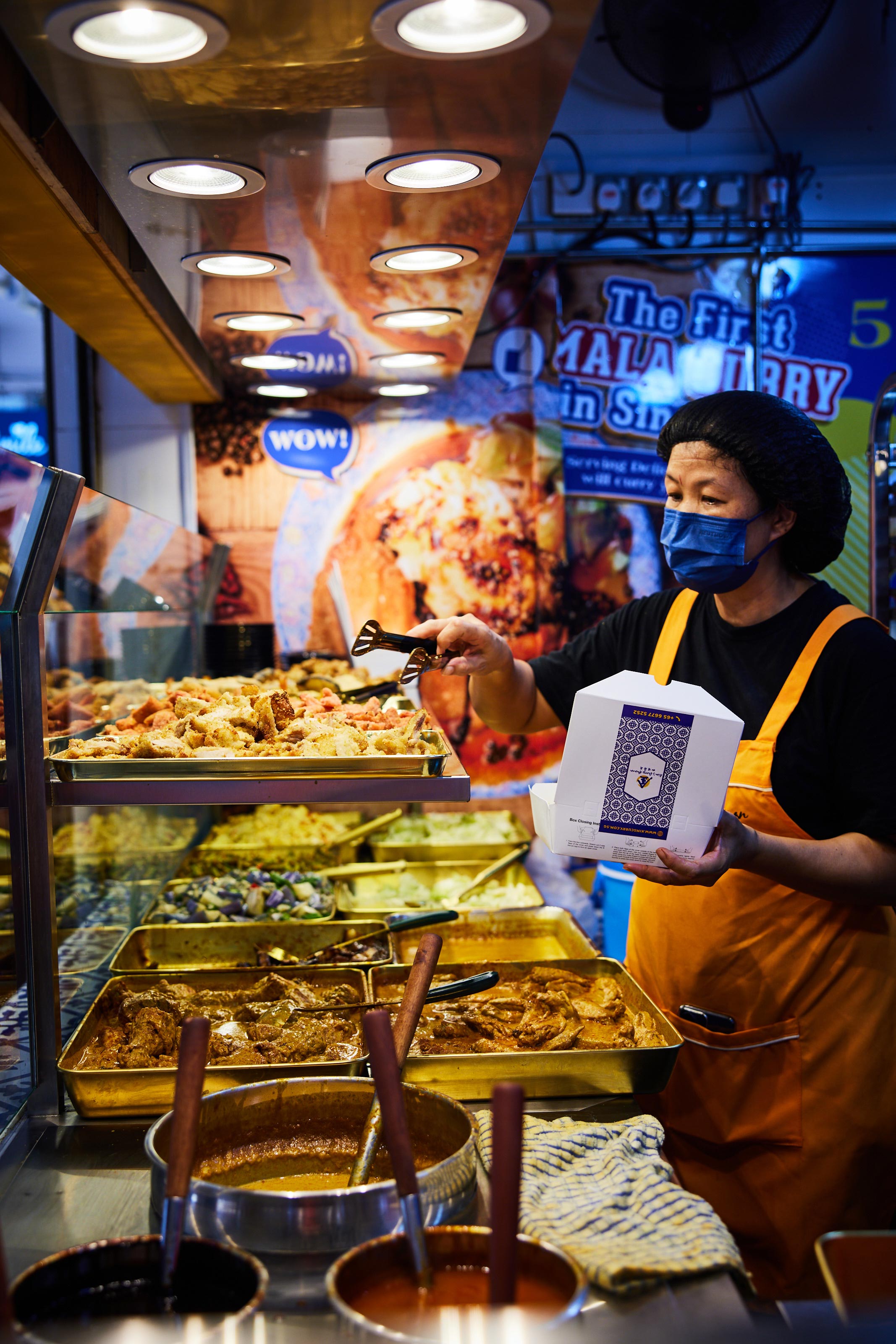 Plans to open three more outlets
The Rolex-wearing towkay scrapped his initial plan of opening 12 outlets in a year due to manpower issues. "We're still looking [to hire more staff] and we also want to look for good locations. Hopefully we can open two to three more outlets by early next year."

Business at the newest Toa Payoh branch, in particular, has been good. The stall draws a steady queue even on weekdays and sells about 300 plates of curry rice daily. Earlier this month, actor Terence Cao visited the chain's Bedok outlet. "He's a friend of mine and he loves curry rice. He surprised me with a visit on our soft launch and I believe we had some publicity [from his social media post]," shares Clement.
The menu
Choose from five sets:
Curry Chicken Wing ($3.50)
,
Crispy Chicken Chop ($4.50)
,
Crispy Pork Chop ($5.00)
,
Braised Pork Belly ($5.50)
and
Signature Kim's Curry Combo ($6.80)
, which comes with a curry drumstick,
hei zho
(crispy prawn roll) and two veg. All sets come with stir-fried cabbage and a sunny side up egg on top of rice that's doused in the gravy – or gravies – of your choice. You can also customise your curry rice with various side dishes like chicken wing and tempura prawn – prices for add-ons are displayed on the TV screen near the cashier.
Crispy Pork Chop Set, $5
When ordering, the staff will ladle all three sauces – mala or regular curry, lor bak and chicken collagen gravy – onto your plate unless you state otherwise. Gimmick aside, the mala curry was surprisingly tasty and harmonious – the mild heat from the house-made mala seasoning added a tantalising punch to the creamy, slightly sweet curry. We also like that the curry, while thick, was not overly starchy and mingled well with the braised soya-based sauce, which leans on the sweet side. The collagen gravy, drizzled on the egg, is clean-tasting and slightly savoury on its own, though we could not pick up its lighter flavours and sticky texture when mixed into the curry-drenched rice. The pork chop was adequately crunchy and not too greasy. The meat, however, was rather thin and lacked succulence, and its marination could be more robust. A simple jammy-yolked egg and fresh, sweet cabbage rounded off this hearty plate.
Signature Kim's Curry Combo, $6.80
This premium set comes with a tender chicken drumstick, hei zho, fried egg and veggies including stir-fried eggplant and okra. We opted for regular curry gravy here and were rewarded with its rich, aromatic notes that were less distinct in the spicier mala version. The hei zho (from a supplier) is crispy and boasts a tender stuffing with a robust five-spice seasoning. Though this massive plate (we could not finish it on our own) offers a good variety of toppings, we're quite happy to stick to the humbler sets, like curry chicken wing or braised pork belly (see below) to go with the sloppily sauced rice (which is the highlight, in our opinion).
Braised Pork Belly, $2 (8 DAYS Pick!)
Very tender and flavourful with a punchy five-spice seasoning. The meat comes in generous chunks and has a good fat-to-lean meat ratio – shiok. We'd definitely order this as the main topping of our curry rice set ($5.50) on the next visit.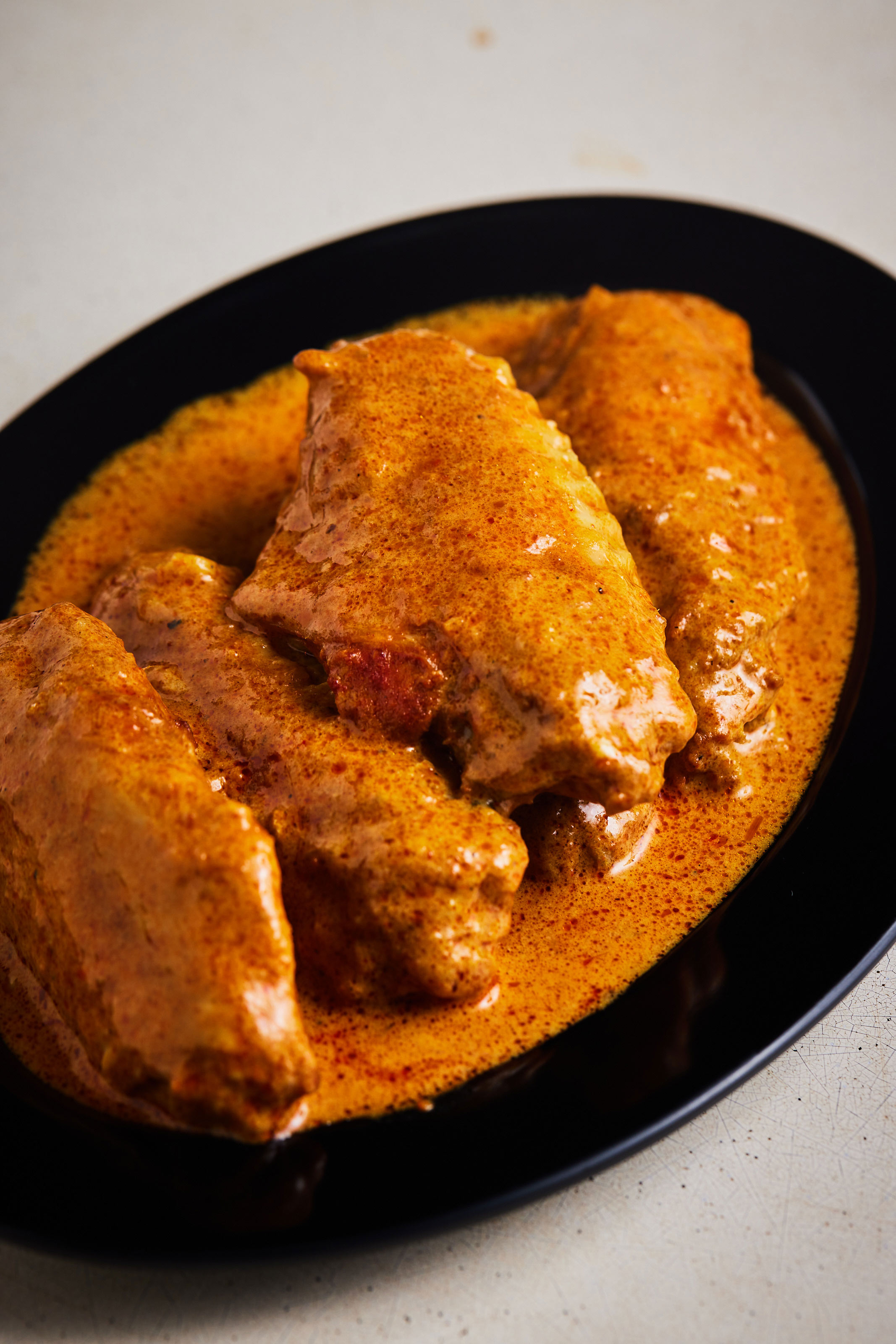 Chicken Wings, $2 for three pcs
Tasty wings in the same aromatic curry gravy that comes with your curry rice.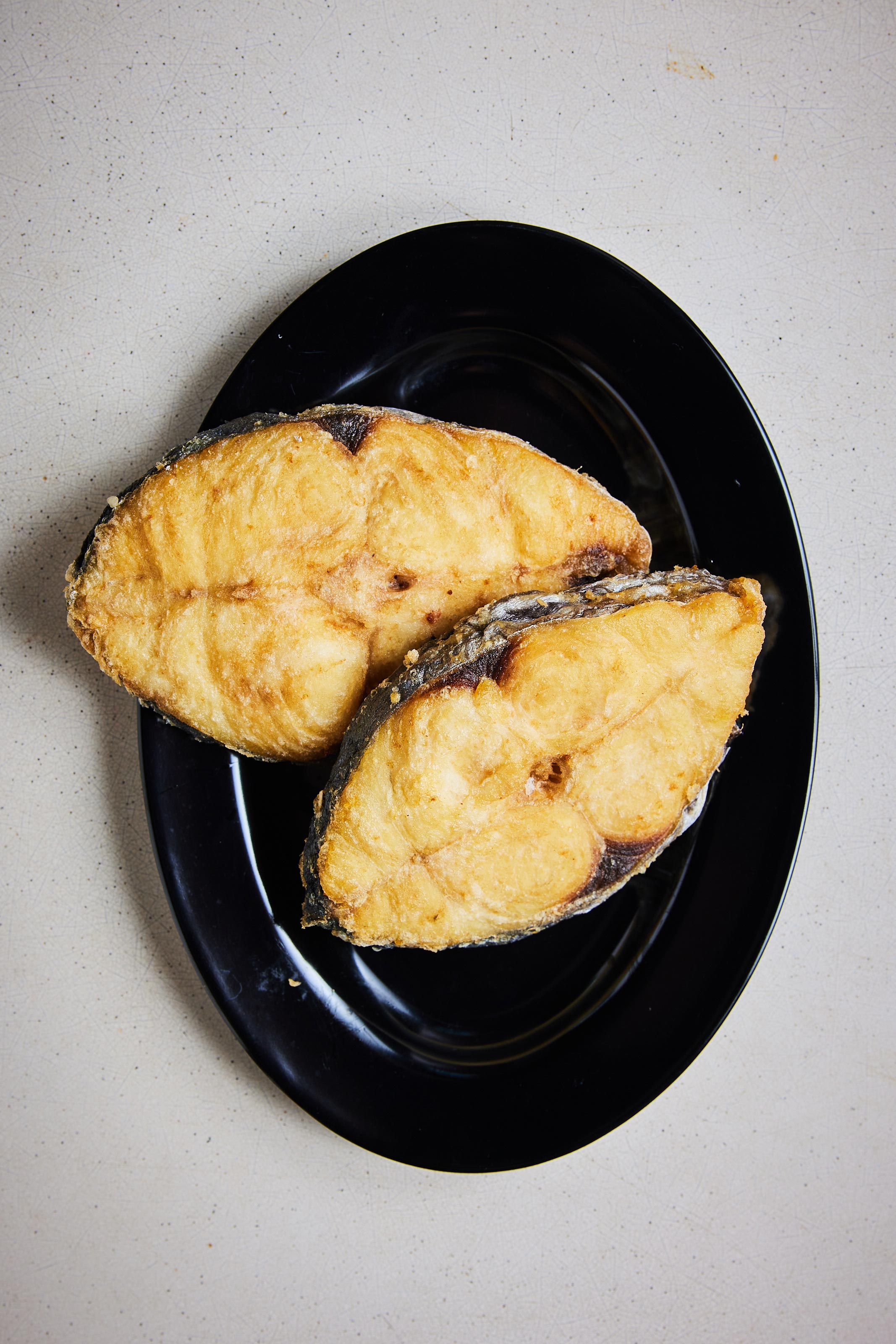 Batang Steak, $2 each
Crispy, well-seasoned batang fillet with tender, moist flakes on the inside. Pretty cheap for a thick slab of fish too.
Fried Japanese Ebi, $3 for three pcs
Light and crunchy, these fried prawns are a decent choice if you're looking for something crispy to add to your curry rice.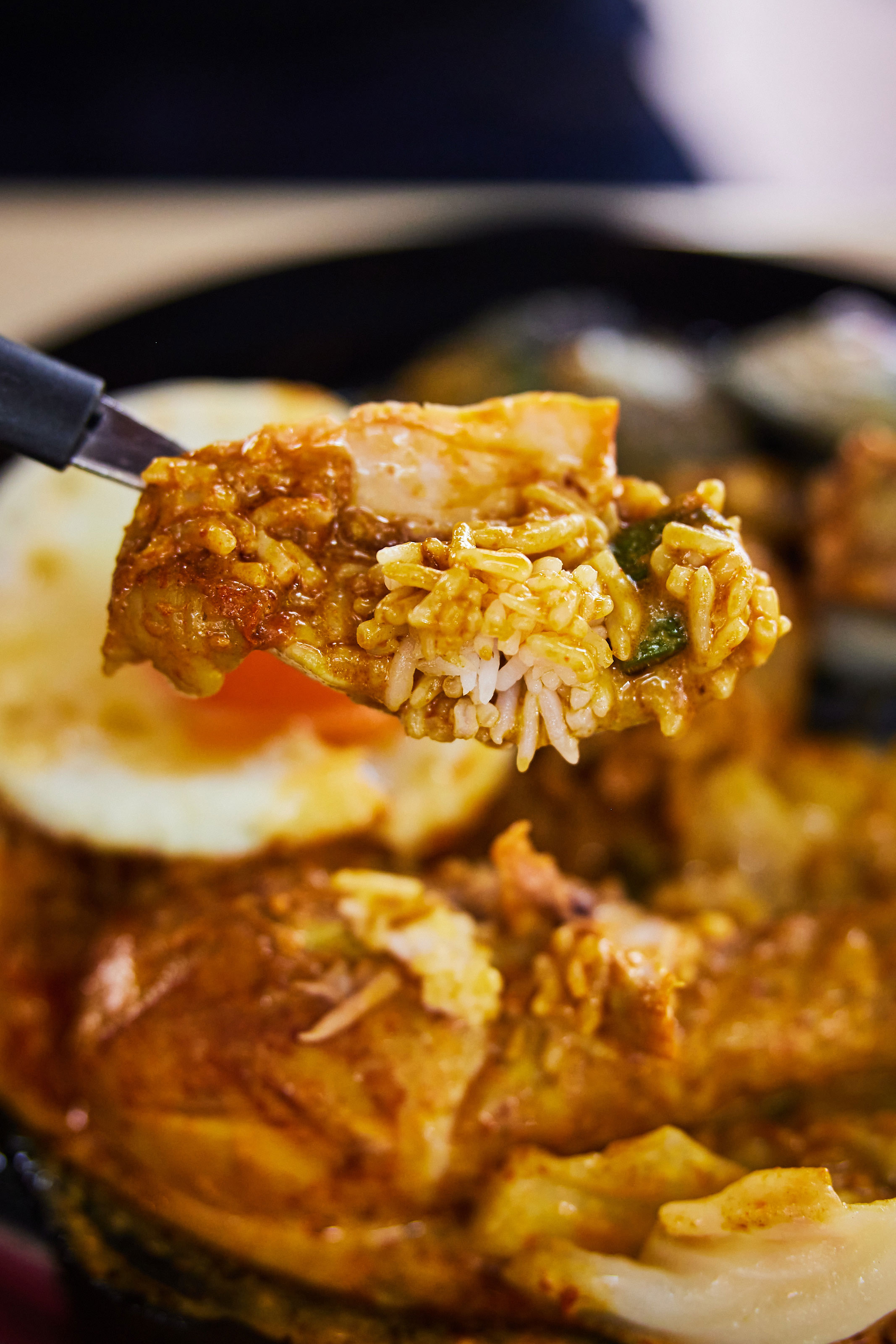 Bottom line
Kim's mala curry is a punchy take on Hainanese curry rice's staple sauce and is rather appetising with its aromatic Sichuan twist. The regular curry gravy is pretty shiok too – we enjoyed its thick, creamy texture and robust seasoning. We also like that it's not as starchy as the offerings from some other Hainanese curry rice stalls. Toppings-wise, we preferred the tastier curry chicken and braised pork belly over the hit-or-miss deep-fried dishes.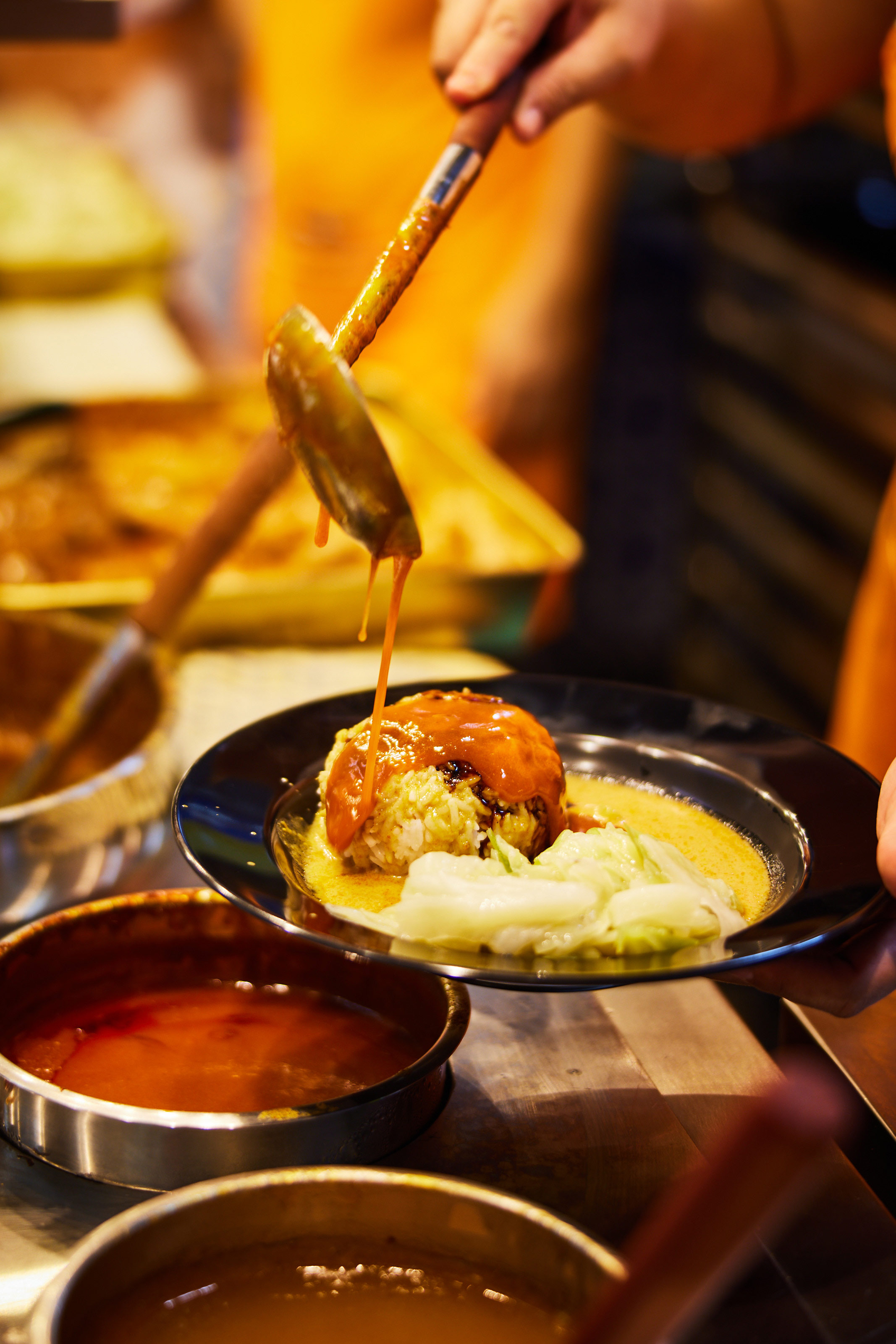 The details
Kim's Curry Hainan is at #01-402, J99 Eating House, 186 Toa Payoh Central, S310186. Open daily 10.30am - 8pm. Check out the other branches here. More info via Facebook & Instagram.

Photos: Alvin Teo

No part of this story or photos can be reproduced without permission from 8days.sg.