SBS Transit Train Controller Saves Money From Job To Open Wonton Mee Stall, Forced To Close After 3 Months
The hawker's coffeeshop was bought over by a new owner.
Sometimes life throws you a curveball, as hawker Alex Leong found out. The Malaysia-born, 34, had been operating his new stall Cheong Kee Wanton Mee out of an airy Ang Mo Kio kopitiam for only three months, when the coffeeshop got sold to a new owner. Seeing as he had to sign another lease with the new management, Alex decided to close his stall as he expected his rent to go up after the coffeeshop's revamp.
He is ceasing operations on Jul 13. "I put a lot of effort into designing the menu, stall layout, registering the business and looking for suppliers as I had no contacts or guidance. I had to start from zero," he recounts. Having sold an average of 150 bowls a day during his short hawker stint, he estimates that he still makes a profit overall – though "not much" – on his original $20k investment.
No part of this story or photos can be reproduced without permission from
8days.sg
.
Closure a blessing in disguise
But Alex maintains that he does not see his unforeseen closure as unlucky, or regret his decision to start a hawker stall. "The outcome of investing in a business is always uncertain," he points out. "I appreciate the experience as I have regular customers and made a lot of friends."
He also views the sudden change in coffeeshop ownership as a fortuitous opportunity to quit while he's ahead. While Alex says that operational costs were still "bearable" when he first started his stall, he had to grapple with suppliers changing prices and ingredient portions over the past few months. "The market is changing, and overall costs have surged. As a player in it, I'm taking this chance to get out before the fire rages," he shares.
After the stall's closure, he plans to take a month off before looking for another office job. "I have no plans to reopen yet as the market is not stable. But a hawker stall is still my first choice when I'm ready to start over again," he declares.
Fourth-generation hawker from Pahang
The F&B trade is not new to Alex, who is a fourth-generation hawker from Mentakab, Pahang. He offers the same style of noodles as his family in Malaysia, who runs a wonton mee eatery – egg noodles tossed in a lardy, dark soy sauce-based dressing, topped with dumplings and house-roasted char siew. Alex's family uses a 80-year-old wonton mee recipe, passed down from his great-grandmother who peddled the noodles from the back of a bicycle in the '40s.
Worked in SBS Transit for nine years
Before moving to Singapore, Alex also ran a hawker stall in his hometown selling Western food but closed it within a year due to a lack of manpower. "At that time, all the young people in my town were coming to Singapore to find work," he recalls. "So I closed my stall and came here too."
In 2013, he found a job as a customer service officer with SBS Transit and was later transferred to "the operations control centre as a rail traffic controller". There, he regulated "the flow of train services" for the North East Line for a further five years.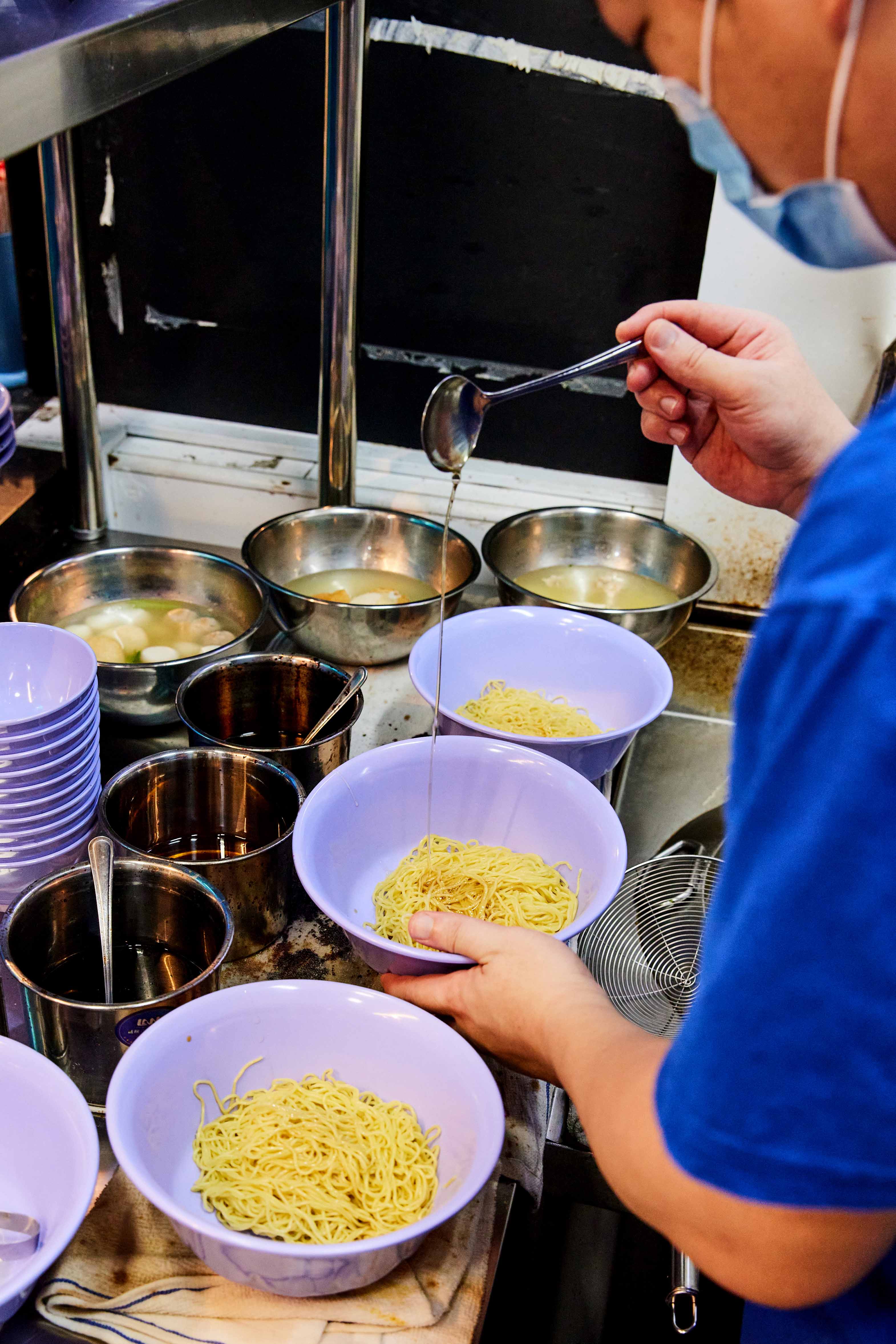 As for what it's like to be the man responsible for everyone's daily commute, Alex says with a laugh: "Very stressful." Even though much of the work was automated, he explains that he had to "react very quickly" when a train delay occurs.
Still, he says he's grateful for his time there as the job's "pretty good pay" helped him save up cash to fund his hawker dream. "If not for [SBS Transit], I can't make it to where I am now," he shares plainly. Other than a desire to "share my family's recipe with people here", Alex was also motivated to become his own boss as his current working hours meant that he could spend more time with his wife, who works shifts as a nurse.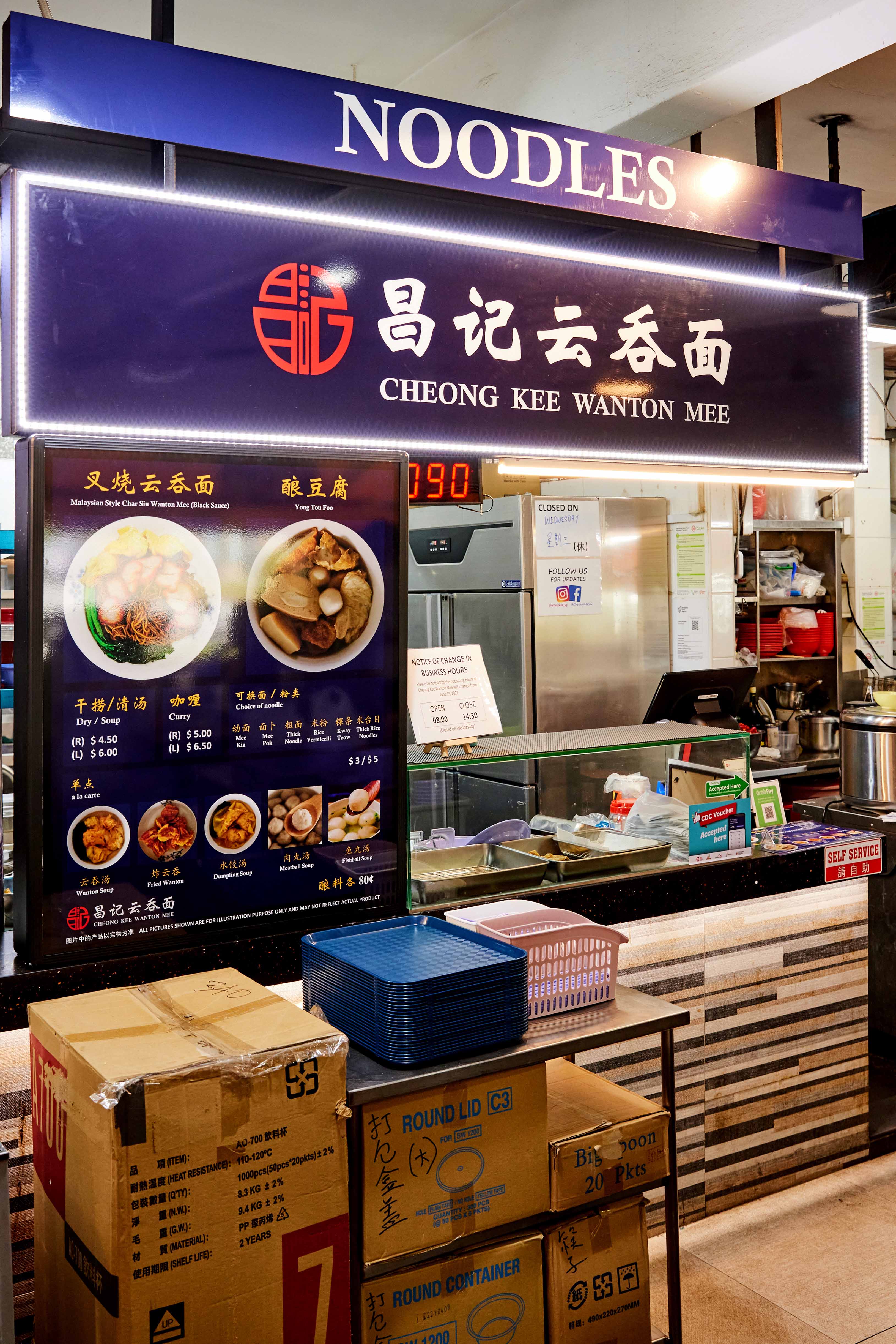 The menu
Malaysian-style wonton mee, redolent with lard and dark soy sauce, is obviously the highlight at Alex's hawker stall. But Alex also offers curry-drenched wonton noodles, which might seem like an odd pairing here though he says it's popular among Malaysians.
He also sells a soup version of wonton mee and curry noodles, along with some yong tau foo from a supplier for extra variety. He sells shui jiao too, though sadly those were sold out when we arrived, as were the deep-fried wontons.
Malaysian Style Char Siu Wanton Mee, $4.50
If you're like us and prefer your wonton mee loaded with lard, Cheong Kee Wanton Mee might not be the stall for you. The hawker is relatively restrained with both lard and dark soy sauce for his plate of al-dente Malaysian-style noodles, despite the glossy sheen (back home, his family's style of wonton mee is also clean-tasting). Instead, he makes up for the tamer flavour with a sprinkling of aromatic deep-fried shallots and savoury (if unorthodox) dry chilli crisp.
"Some Malaysians just eat wonton mee with pickled green chilli, but when I first started, everyone kept asking me, 'Where's the chilli?' So I had to give them something," Alex explains.
The accompaniments fare decently too: The wontons, stuffed with sesame oil-scented minced pork, are springy and juicy, though the pork bone broth they're swimming in is a little bland. We prefer those to the old-school reddish char siew that the hawker roasts himself every morning. The hind leg meat that he opts for yields lean slivers of pork – not tough, but a far cry from the decadent KL-style pork belly or bu jian tian char siew that's popular these days.
Malaysian Style Char Siu Wanton Mee with Curry, $4.50
Alex urges us to order this dish with kway teow, as the curry clings better to the flat rice noodles. As unusual as it sounds, the fragrant rempah and lemak curry sauce pair well with the dark soya sauce and lard combo. It's a pretty jelak bowl, though – we could do with a punchier, spicier curry that's less oily.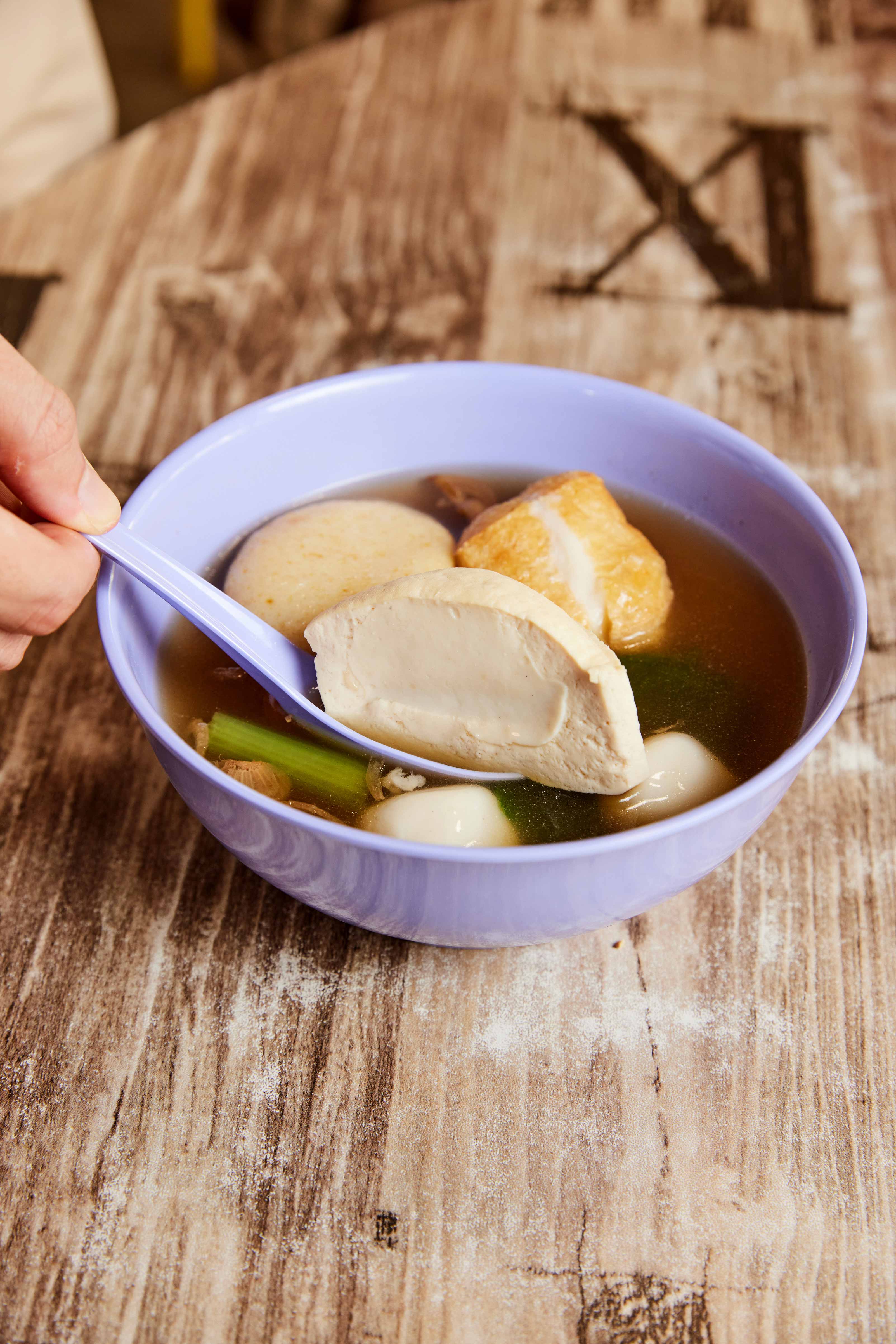 Yong Tau Foo, $4.50 for six items
If you don't fancy sinful curry, this bowl of fish paste-stuffed tofu, tau pok and fishcake makes a clean meal. But the stall's soup (which is also served with the wontons) isn't strong enough to carry the bowl, so we'd stick with the tastier regular wonton mee instead.
Bottom line
Compared to the lard-laden plates of Malaysian-style wonton mee we've had across the Causeway, Cheong Kee Wanton Mee's version is rather tame. If you want to drop by before the stall's closure on Jul 13, we suggest ordering the standard dry wonton mee and ask for extra lard.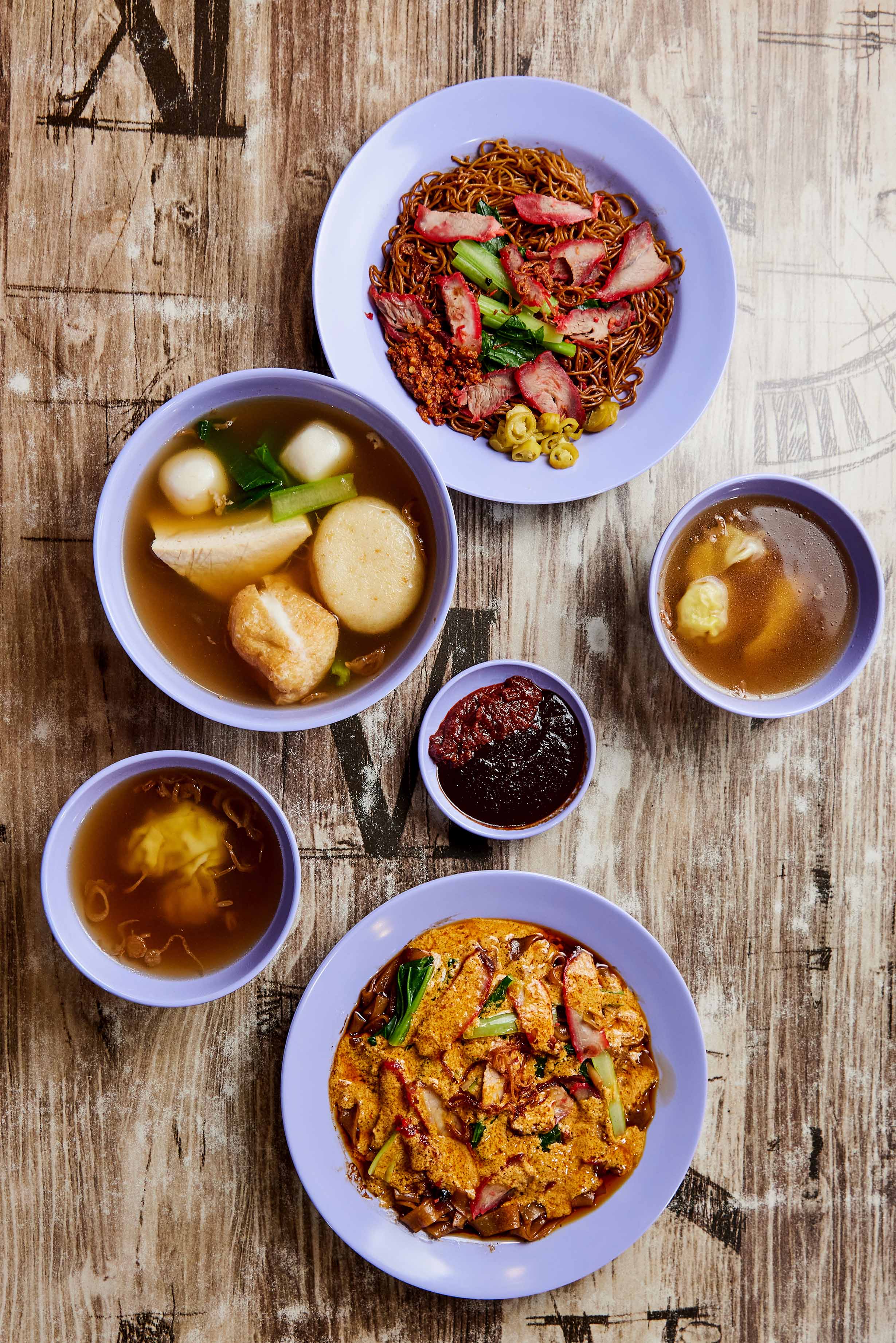 The details
Cheong Kee Wanton Mee's last day of operations is on July 12 at Blk 340 Ang Mo Kio St 32, S560340. Tel: 9248-4303. Open daily 8.30am – 2.30pm. More info via Facebook and Instagram. Delivery via Deliveroo and Grabfood.
Photos: Aik Chen
No part of this story or photos can be reproduced without permission from 8days.sg.