Foodie Friday: What The Stars Ate This Week (May 1-8)
All the photos that made us hungry this week.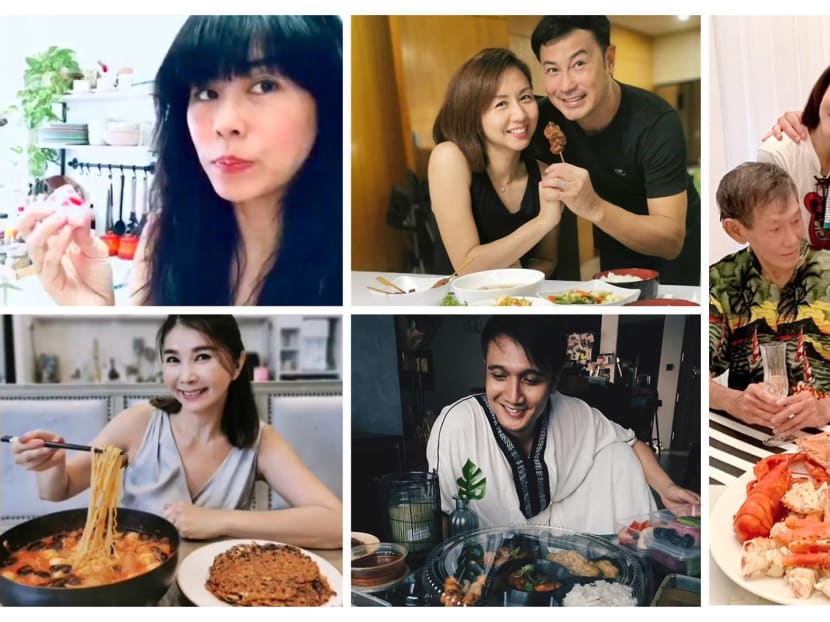 This week saw celeb couples Fann Wong and Christopher Lee, as well as Darren Lim and Evelyn Tan, celebrate Mother's Day in advance. Chris, in particular, really went all out to impress Fann's folks with a lavish home-cooked feast! As for Michelle Chia and Chen Xiuhuan, they've been busy experimenting in the kitchen and graciously sharing their recipes with fellow enthusiasts. Plus, you have to check out the Iftar goodies Fauzi Laily has been munching on...

What she ate: Korean food
Yummy factor: Xiuhuan transported her family to Korea for dinner with an impressive army stew and crispy kimchi pancake that were just Seoul yummy. K-style army stew usually features humble ingredients, but Xiuhuan has elevated hers with abalone. Fancy!
What he ate: Thai food
Yummy factor: Evelyn got to indulge in a hearty Mother's Day dinner from Tuk Wan Kitchen, and it sure looks like a spread — think steamed barramundi, barbecued meat skewers, wok-fried crayfish and more. It sure looks like Darren has spared no expense in showing his appreciation for Evelyn.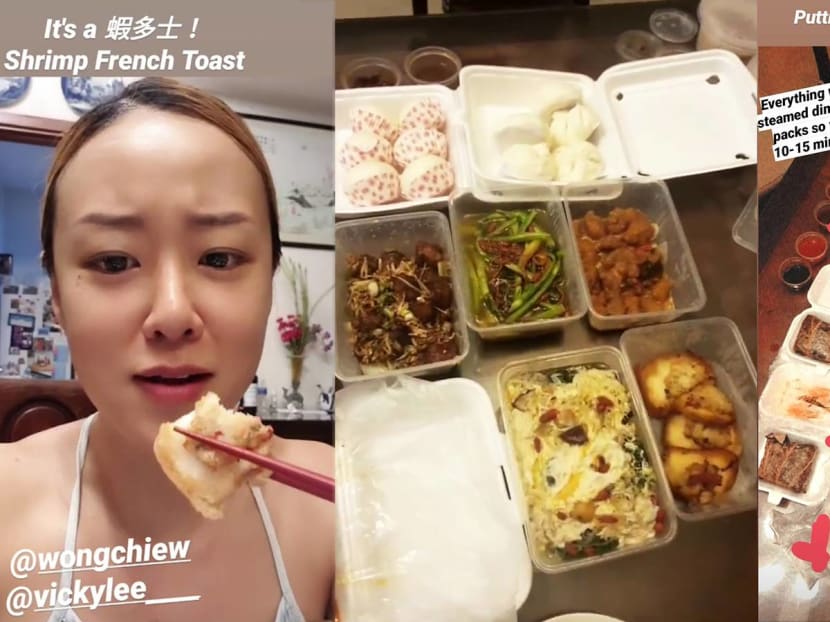 What she ate: Dim sum and zi char feast
Yummy factor: Roz loves her dim sum but we think she went a little overboard with her order from Wong Chiew Restaurant. And she tried each and every one of the dishes! Her favourite items include beancurd skin rolls, shrimp French toast, liu sha pau and salted egg chicken.
What she ate: Meat-free creations
Yummy factor: Felicia has joined World Vision Singapore's 30-hour famine challenge and part of the initiative encourages participants to go vegetarian for at least one meal. Here's Felicia's soupy take — ABC soup and red bean soup with lotus seeds, and we like how they're all one-pot recipes.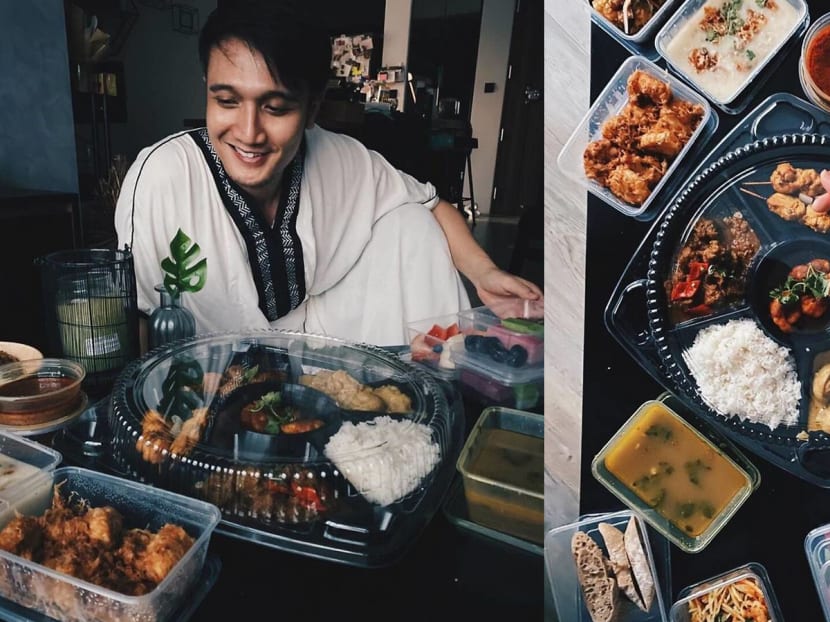 ​​​​​​​What he ate: Iftar delights
Yummy factor: Hilton Singapore sent a selection of their Iftar to-go dishes to Fauzie and the rich spread looked amazing. Think tauhu telur, nasi ambeng, chicken and mutton satay, colourful kueh kueh and more.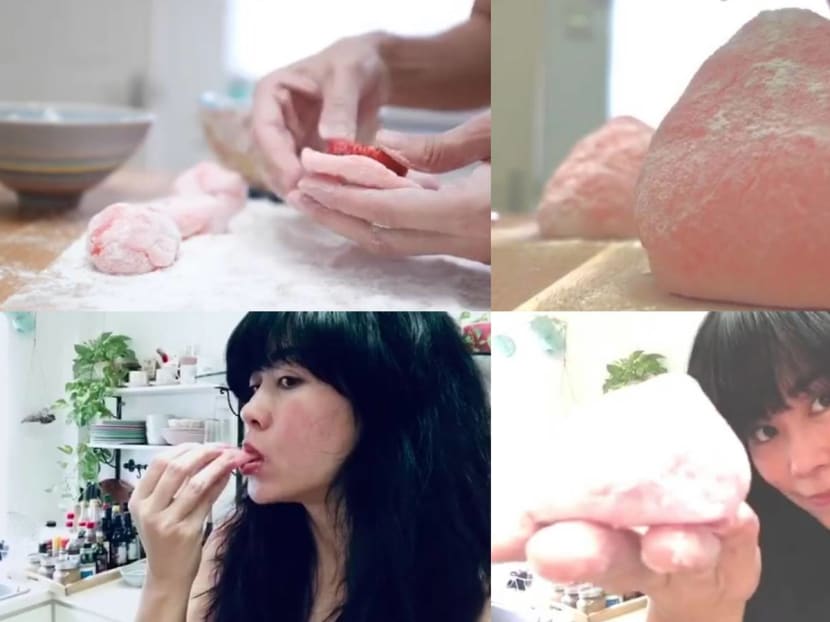 What she ate: Homemade strawberry mochi
Yummy factor: Michelle steamed her own mochi, filling them with fresh strawberries... and she couldn't help munching on the juicy fruit bits as she prepared her pink sweets. Also, isn't her kitchen absolute #homegoals?
What she ate: Kaya burnt cheesecake
Yummy factor: Thank goodness cakes are still available for takeaway and delivery — Carrie's kaya burnt cheesecake from GRUB is pretty much a slice of heaven these days. But if you want to challenge yourself by making your own, we've got just the recipe for you.
​​​​​​​What they ate: Seafood feast
Yummy factor: Props to Chris for preparing a seafood feast at home to celebrate Mother's Day with his in-laws! Whipping up dishes like fresh steamed abalones, a whole Alaskan king crab, pan-fried lobsters and Canadian oysters, he surely impressed them with his culinary repertoire. In fact, he was so proud of his steamed hybrid grouper that he proclaimed that it was "perfect"!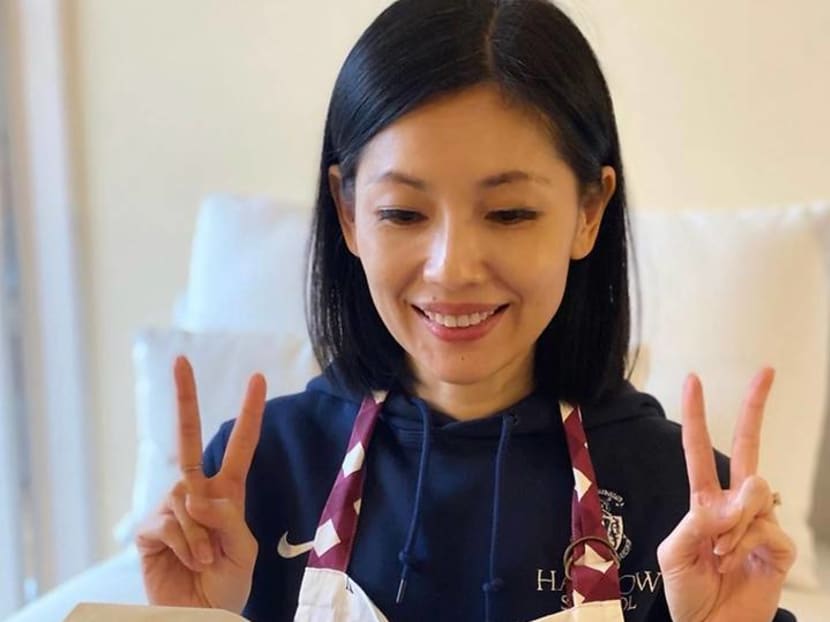 What she ate: Cinnamon chocolate pecan cookies
Yummy factor: Never mind that these goodies got burnt whilst baking. After all, burnt cheesecakes are all the rage now... Blackened cookies may just be the next big thing.
What she ate: Afternoon tea
Yummy factor: When you need a breather from the daily grind and kiddos like Biren, cakes and coffee from Lucid are always a welcome treat. Plus, how cute is the cloud-shaped confection? Aptly named Cloud Beta v0.1 and filled with strawberry basil jam, it's a crowd favourite.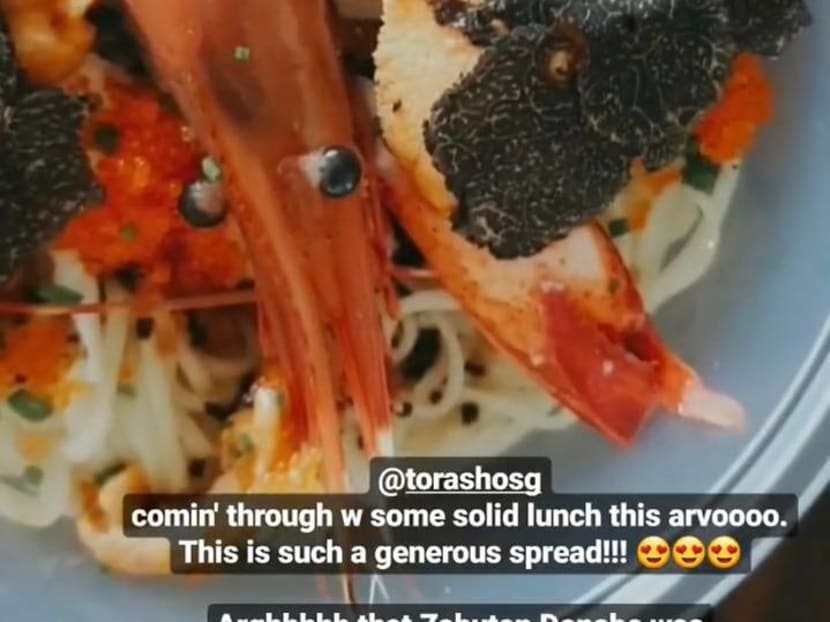 What she ate: Atas ramen
Yummy factor: Kimberly decided to treat herself to Torasho Ramen and Charcoal Bar's Cold Stupid Ramen and it came with chunks of lobster, king crab, creamy sea urchin, and more. So decadent! And if you're keen to do the same, the truffle-laden ramen goes for a whopping $68.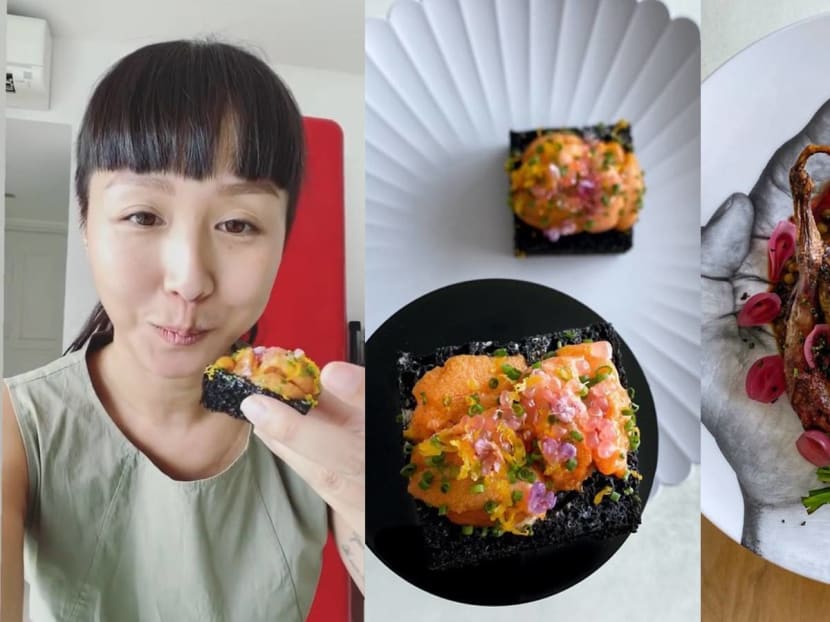 ​​​​​​​What she ate: Michelin-starred meal
Yummy factor: Staying home has certainly changed how things are done, especially in the world of F&B. Rozz decided to fold away her apron for a bit and indulge in a Michelin-starred takeaway meal from Odette instead. Although she had to put it together herself, the results were worth it — check out the succulent pigeon (on a gorgeous designer plate, no less) and other fancy eats!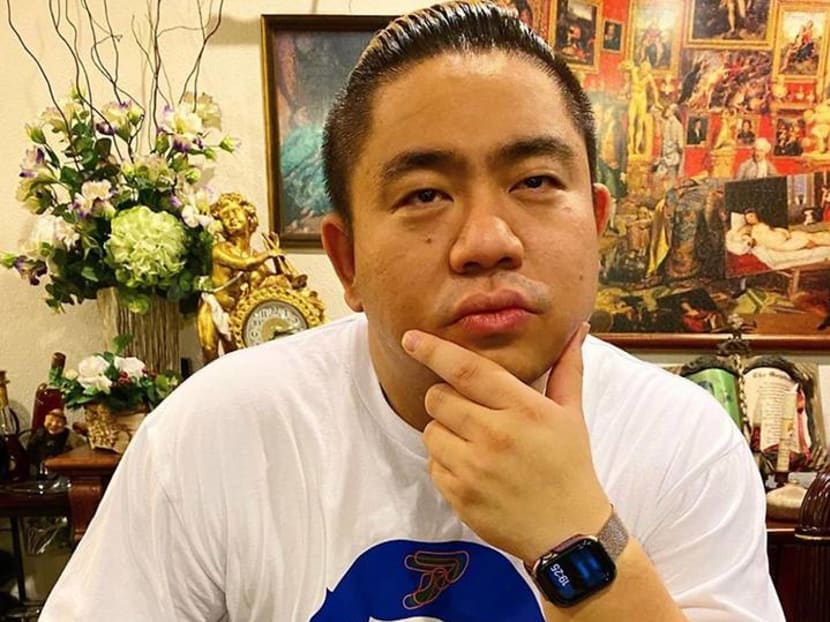 What he ate: Fried chicken
Yummy factor: Everyday things like fried chicken from KFC seem like a luxury during the circuit breaker, no? So of course Justin had to make the most out of it and order more — never mind if it's way too much chicken for one person.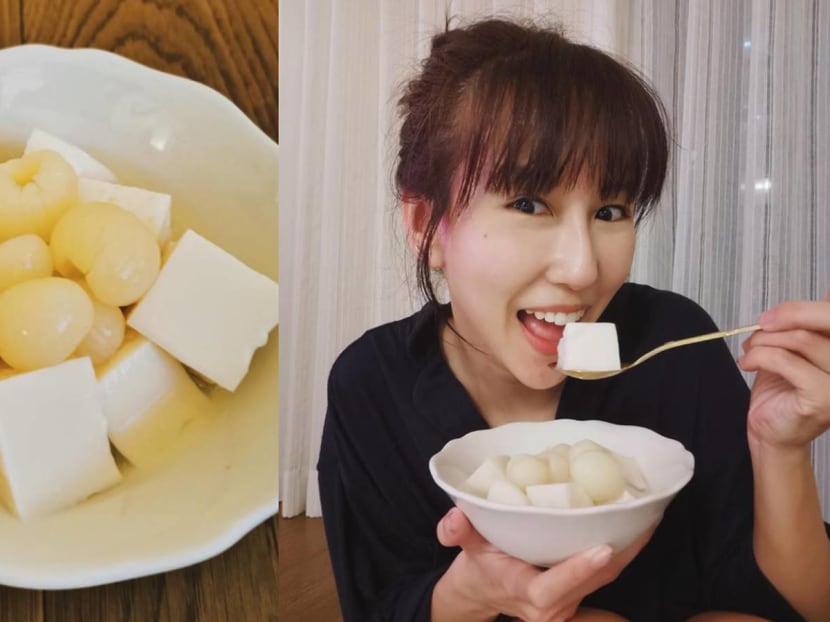 What she ate: Almond tofu with longan
Yummy factor: Despite the fact that her husband would throw up at the thought of this dessert, Kelly couldn't help but reach for seconds when it comes to almond tofu with longan. To each his (and her) own!
What she ate: Bak kut teh noodles
Yummy factor: Thanks to her mummy, Ya Hui got to tuck into a peppery bowl of bak kut teh noodles that's filled with lots of nutritious ingredients, including dried scallops, dates and goji berries.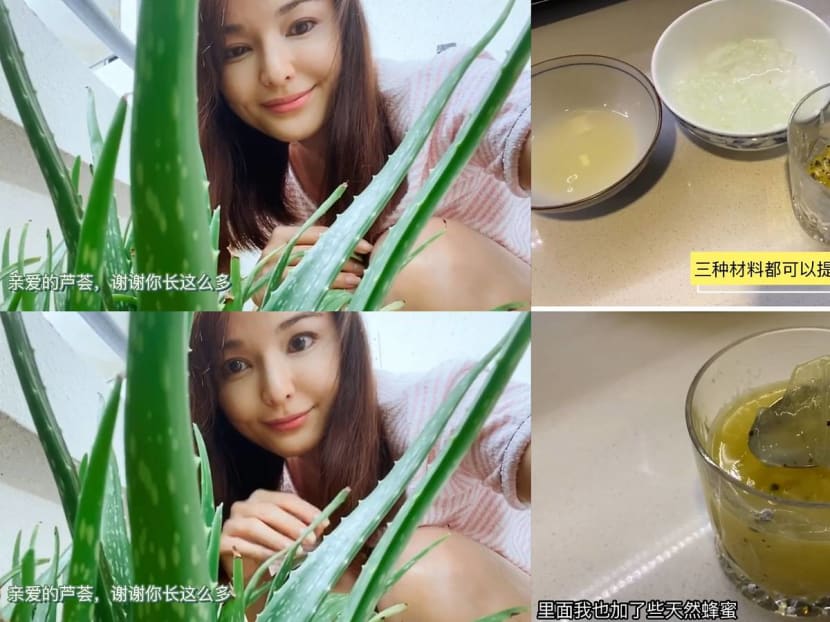 ​​​​​​​What she ate: Aloe vera juice
Yummy factor: If you're wondering what's keeping Apple looking fresh and glowy at home, her aloe vera beauty juice, which consists of passion fruit, lemon juice and a dash of honey, may very well be the answer. Plus: She harvests the antioxidant-rich ingredient from her thriving home garden.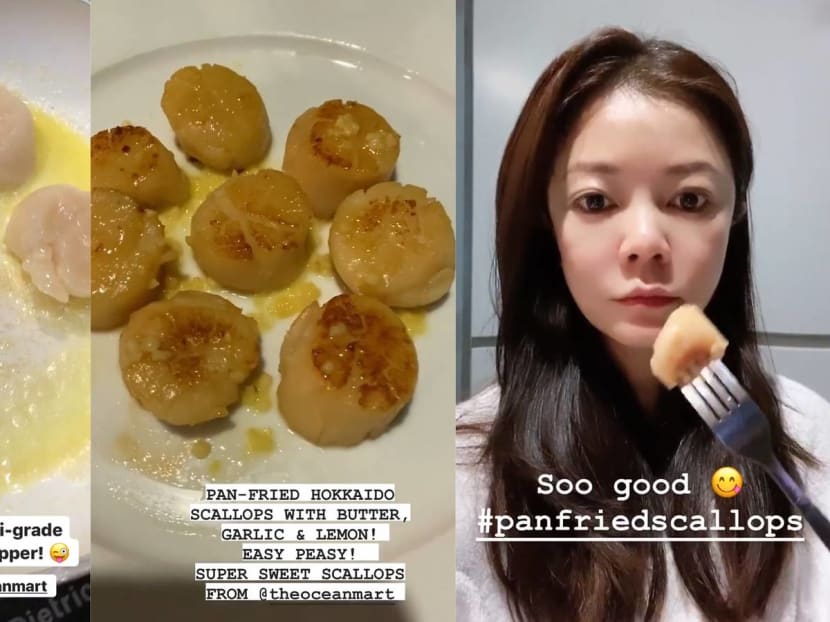 What she ate: Juicy scallops
Yummy factor: Michelle's been living it up whilst working from home — check out her pan-fried Hokkaido scallops with butter, garlic and lemon, and a glass of chilled champagne. Never mind that it's dinner for one — all the more scallops for her!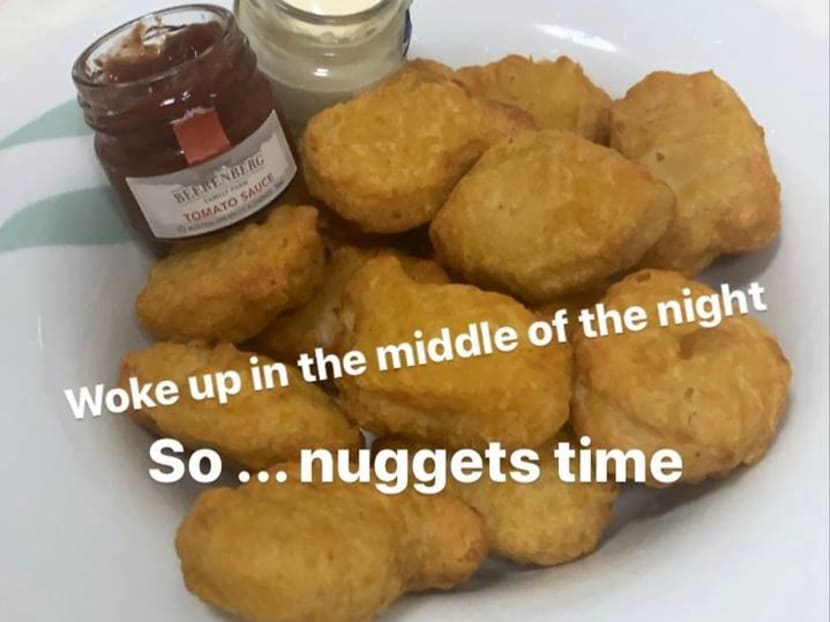 What he ate: Chicken nuggets
Yummy factor: If you were to wake up in the middle of the night and hear your own tummy rumbling... you'd cave in and fry yourself a dozen golden brown nuggets too (or call McDonald's delivery, but that's not an option during these circuit breaker times). Ian had his with a side of tomato ketchup and mayonnaise — yum!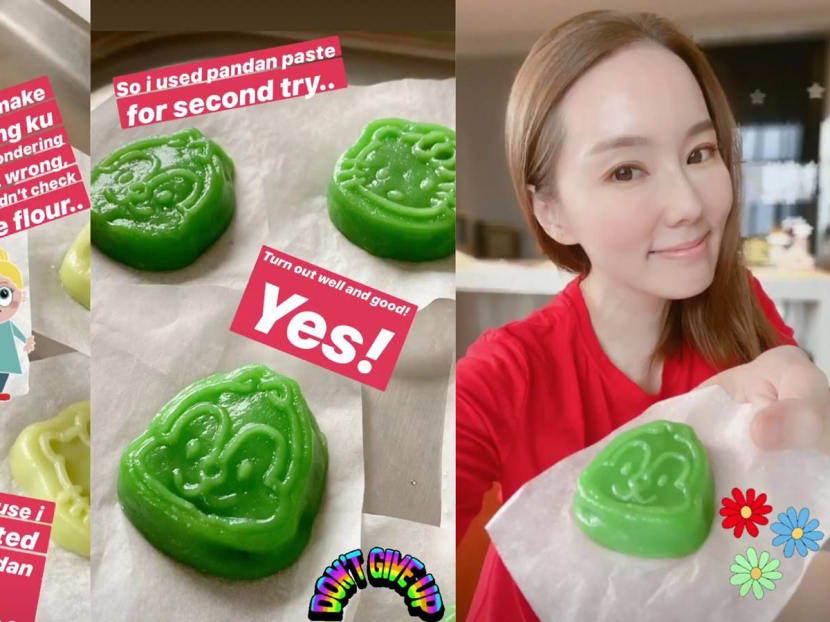 ​​​​​​​What she ate: Pandan ang ku kueh
Yummy factor: Although it wasn't easy for Yvonne to achieve the perfect pandan-flavoured ang ku kueh, at least she got the hue and texture right on her second try. Plus, aren't the cartoon- shaped treats just adorable?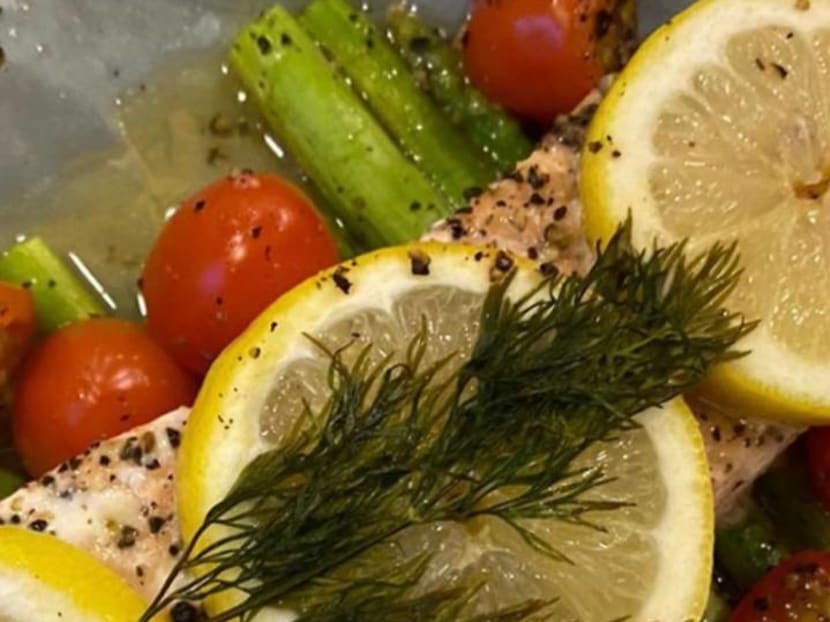 What he ate: Baked salmon
Yummy factor: If you're what you eat, Elvin must be an artistic masterpiece. He actually made an effort to plate his baked salmon to perfection — kudos to the attention to detail and the colourful garnishing.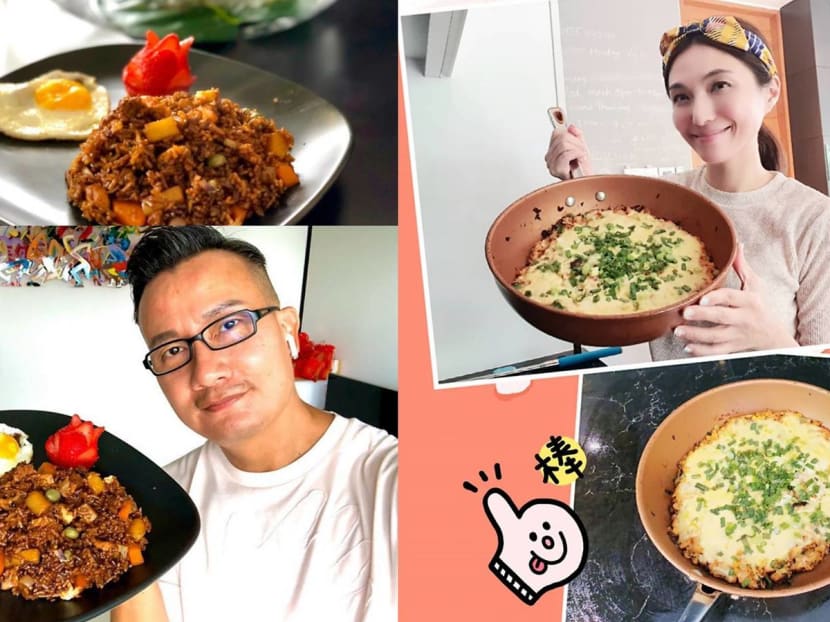 What they ate: Plenty of rice
Yummy factor: Do you prefer Vivian's kimchi fried rice with cheese (or try our version here), or Hanwei's stewed chicken rice? Either way, both are delicious and easy enough to recreate — check them out on #StayHomeCookOff on meWatch!