Foodie Friday: What The Stars Ate This Week (May 21-28)
​​​​​​​All the photos that made us hungry this week.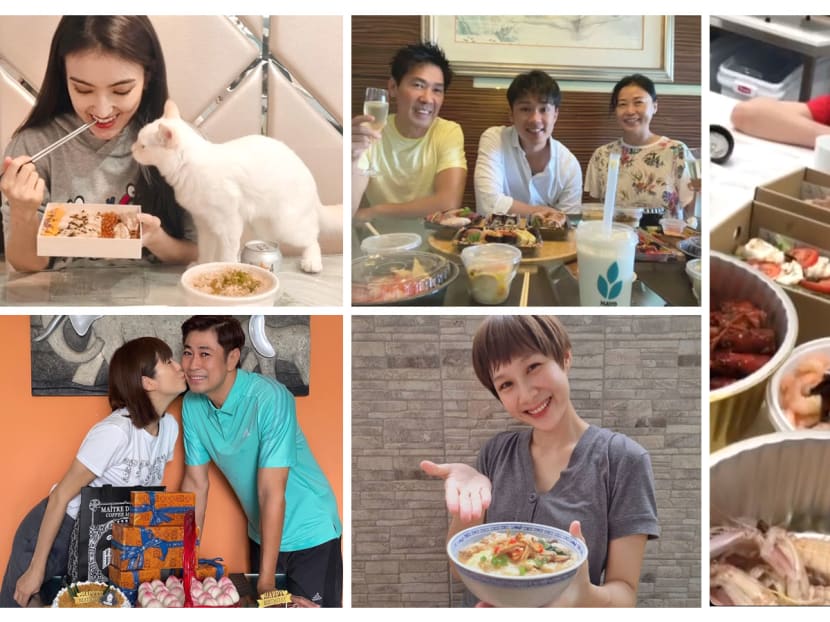 Staying home hasn't stopped foodie celebs from indulging in delectable eats this week. Hong Ling ordered in a luxurious bento dinner (and looks like her kitty wants some too), Chen Yixi celebrated his birthday with a Japanese feast, Ya Hui whipped up mee koon kueh from scratch, and Jeanette Aw, Pan Lingling and Huang Shinan got to indulge in delicious gifts sent with love. Read on for more.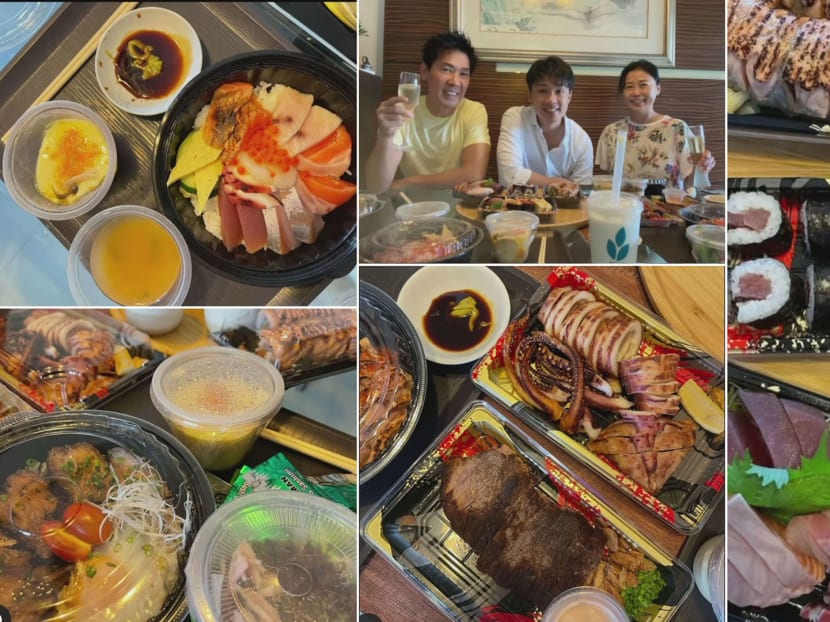 What they ate: Japanese eats
Yummy factor: Despite the heightened COVID-19 measures, Yixi still managed to celebrate his 30th birthday (May 23) with loved ones over video calls, as well as Japanese eats from En Sushi with parents Xiang Yun and Edmund. And with fresh sashimi, assorted sushi and grilled seafood and meats on the menu, staying home to celebrate ain't too bad after all.
What she ate: Pancake sandwiches
Yummy factor: Xiuhuan looks absolutely delighted to be surrounded by these fluffy souffle pancake sandwiches from Gram Cafe & Pancakes, which come in flavours like matcha and strawberry, as well as limited edition flavours inspired by biscuits — lotus biscoff, oreo and earl grey butter. Yum.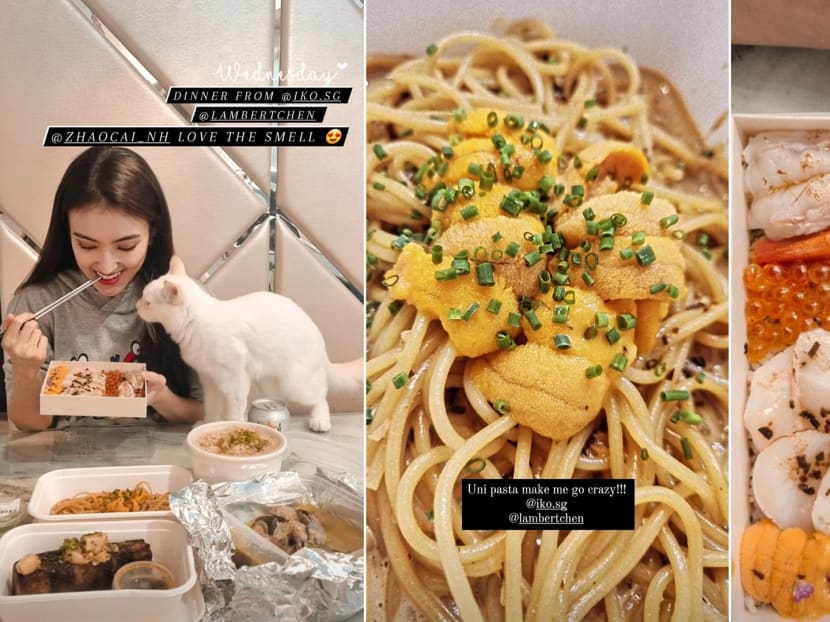 What she ate: Luxe bento box
Yummy factor: Hong Ling's $88 bento dinner from Iko Restaurant probably couldn't get any more luxurious. Atop a bed of truffle rice lies creamy bafun uni, scallops from Hokkaido, grilled prawns, and juicy ikura. And because uni is one of her fave things to eat, Hong Ling also ordered herself an uni pasta for good measure.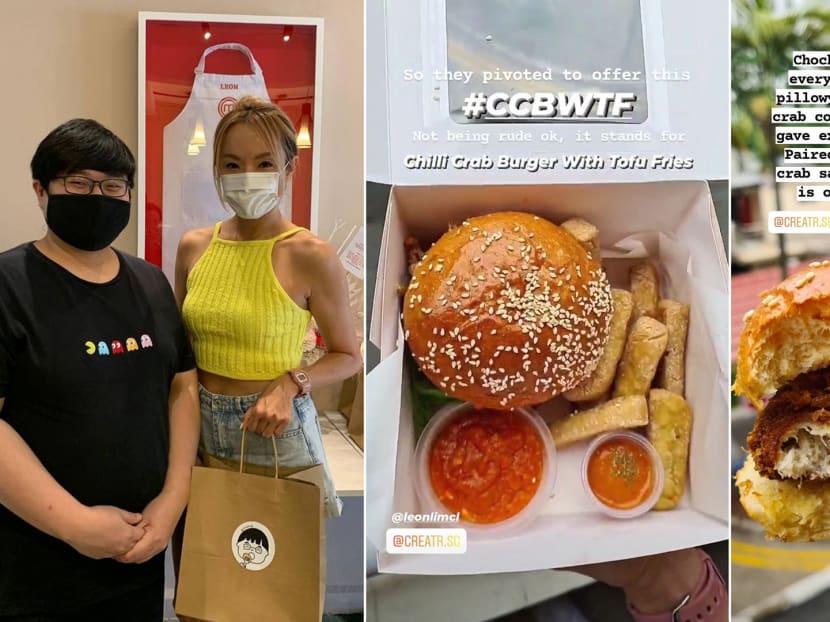 What she ate: Chilli crab burger
Yummy factor: Supporting local has never looked more delicious. Jade's chilli crab burger with tofu fries from Creatr — a new cafe by MasterChef Singapore runner-up Leon Lim — was chock-full of crab meat and sandwiched between fluffy brioche buns and chilli crab sauce. He even added fried egg floss added crunch.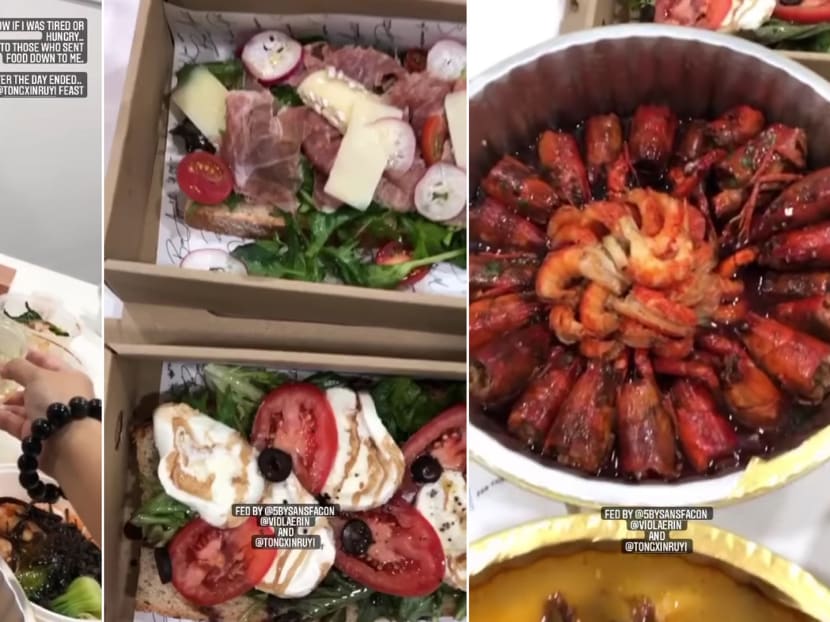 What she ate: Dinner sent with love
Yummy factor: Not only did several of Jeanette's friends send congratulatory flowers to her newly-opened patisserie, Once Upon A Time, many also sent love packages in the form of delicious nosh. We spy wanton mee, xiao long xia from Tong Xin Ru Yi, burrata cheese from 5 by Sans Façon, and more. Safe to say, they certainly came in handy in the evening, when Jeanette finally had time to eat after entertaining so many of her guests.
What she ate: High tea
Yummy factor: Having loved high tea sessions as a kid, Cheryl thoroughly enjoyed introducing her daughter Emma to the experience with the Rose Veranda high tea takeaway set from Shangri-La Singapore. And from the looks of it, Emma is loving the bite-sized treats, especially the decadent sandwiches.
What she ate: Assam fish head curry
Yummy factor: Lingling's hubby Huang Shinan, who celebrated his birthday last Sunday (May 23), has been receiving lots of yummy goodies, longevity buns and cakes from loved ones. We've got our eye on the feast he received from restaurant Gu Ma Jia — check out that assam fish head curry which came with huge loaves of bread and housemade belacan condiments.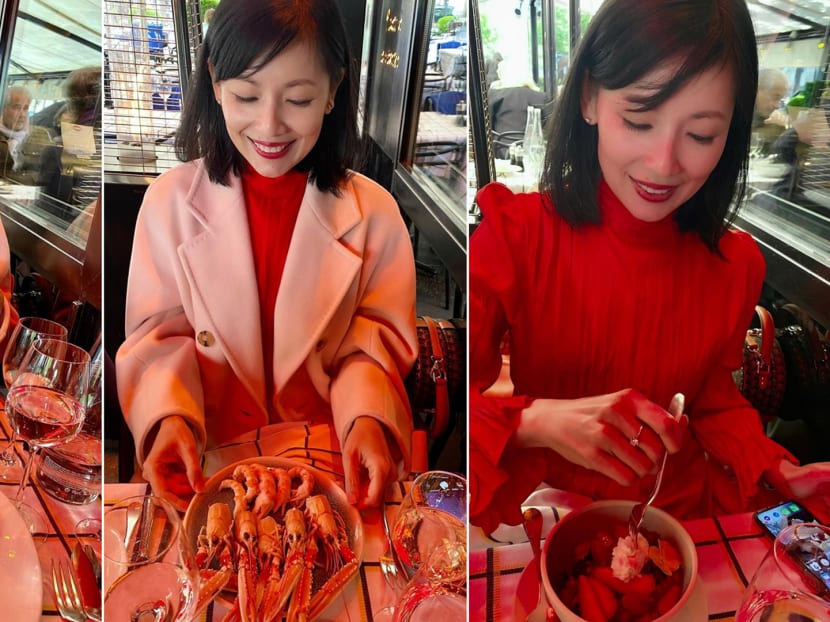 What she ate: Grilled fish
Yummy factor: It's been a while since Sharon, who is based in Paris, has been able to dine out. But now that restrictions have eased, she couldn't be happier to visit Marius et Janette for seafood. And aside from the grilled fish and prawns she ordered, of course dessert had to be in the picture.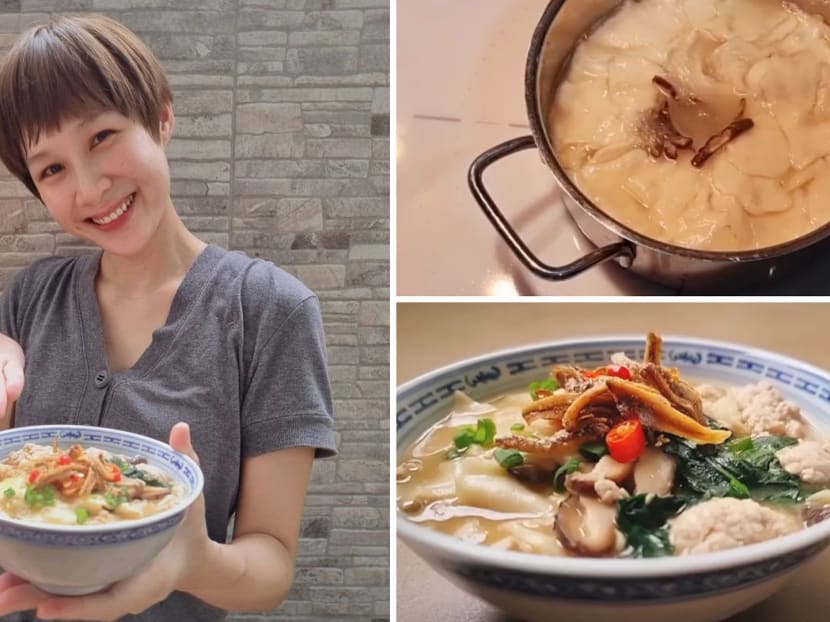 What she ate: Homemade mee hoon kueh
Yummy factor: Ya Hui has been staying home and cooking and this week, she made her own mee hoon kueh from scratch using a friend's grandma's recipe. Never mind that she made a mess and got flour all over the kitchen, Ya Hui nailed the texture of the kueh and we bet the soup, which was made with soya beans, ikan bilis, pan-fried dried shrimp, and chicken bones tasted flavourful.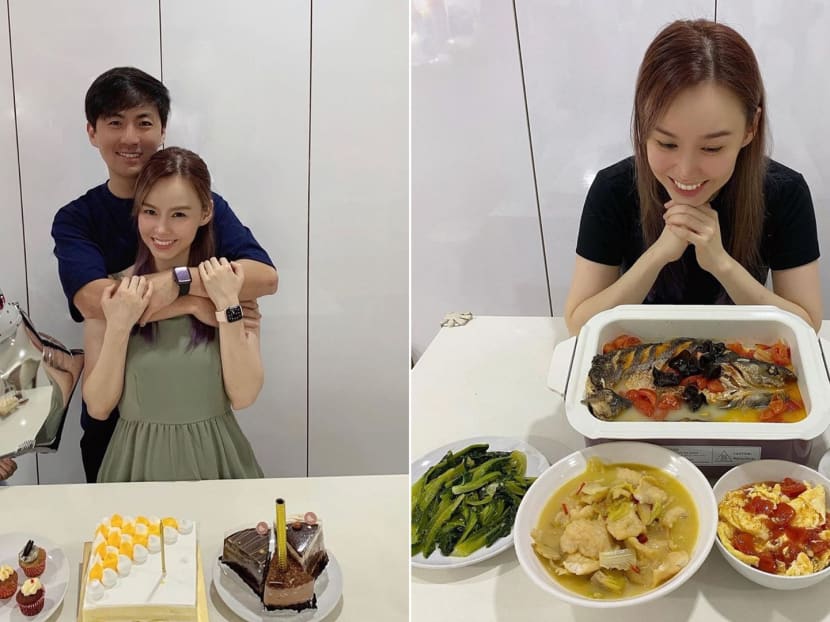 What she ate: Homecooked meal
Yummy factor: From a generous bowl of nourishing pig's stomach soup to achar, chicken stew, and even homemade slimming tea, Michelle and Pornsak were spotted enjoying their yummy homemade meal with celebrity hairstylist Addy Lee.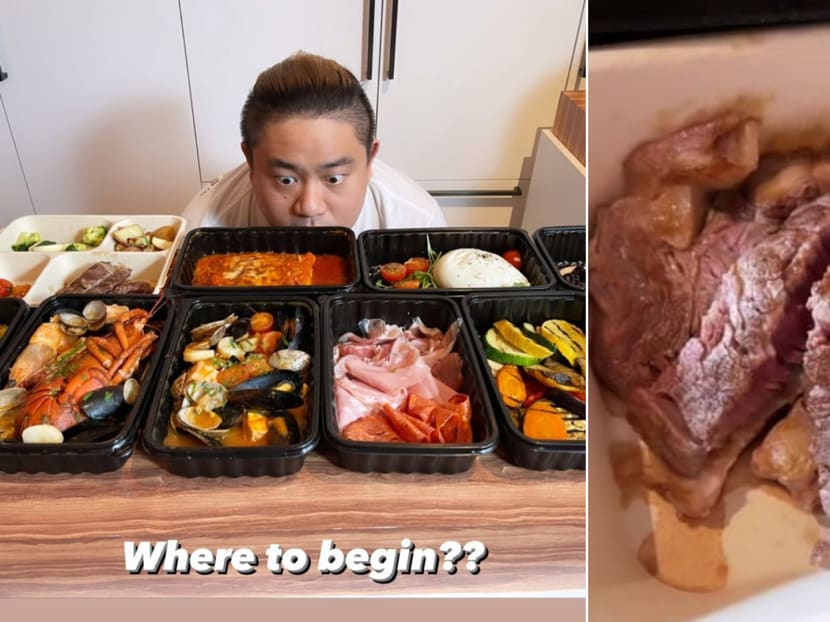 ​​​​​​​What he ate: Feast for one
Yummy factor: Check out the spread from Shangri-La Singapore that Justin devoured singlehandedly at home. The Waterfall Set comprises tantalising menu items like burrata cheese, spicy salami, seafood stew, and a most tempting-looking tagliatelle with Italian sausages and truffle sauce.
What she ate: Comfort food
Yummy factor: Hazelle visited siblings Tay Ying and Calvert Tay's crib, where they caught up over a sumptuous spread from Supply & Demand — think comfort food like pasta, pizzas, fried chicken and fries. And of course, nothing like a little booze (especially when it features Hazelle's nickname, Hazy) to wash it all down.
What she ate: Jeanette Aw's bakes
Yummy factor: Patricia was one of the lucky few that got to try the bakes from Jeanette Aw's patisserie (they are sold out for the month of June), Once Upon A Time, and was full of praise for them. In her mini mukbang session on Instagram Live, Patricia tucked into the Blueberry Burst, a blueberry and lemon pound cake that was crumbly and moist, as well as the buttery financiers — and she especially adored the pineapple version.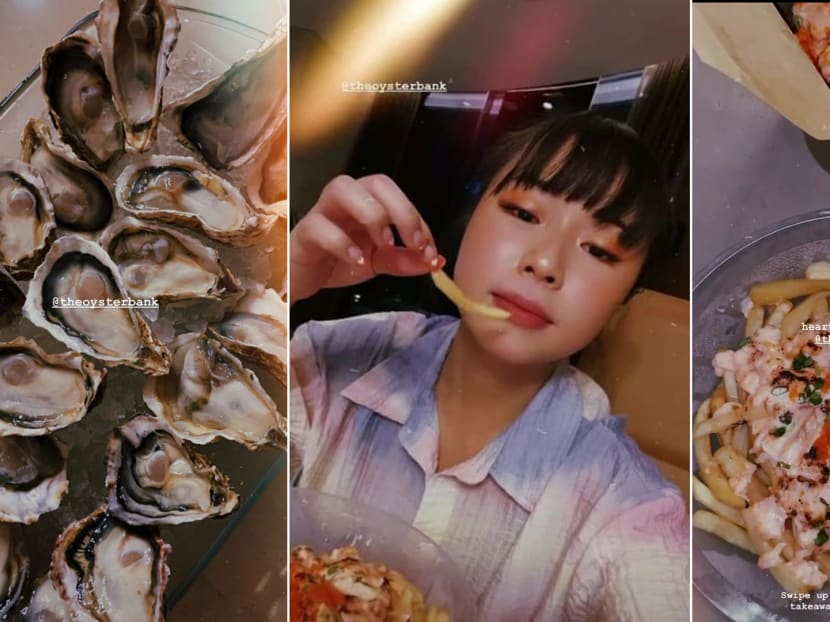 What she ate: Fresh oysters
Yummy factor: Thanks to The Oyster Bank, Germaine got to have an umami-filled dinner — think freshly-shucked oysters waiting to be slurped up with a touch of tabasco, as well as decadent mentaiko fries. What a treat.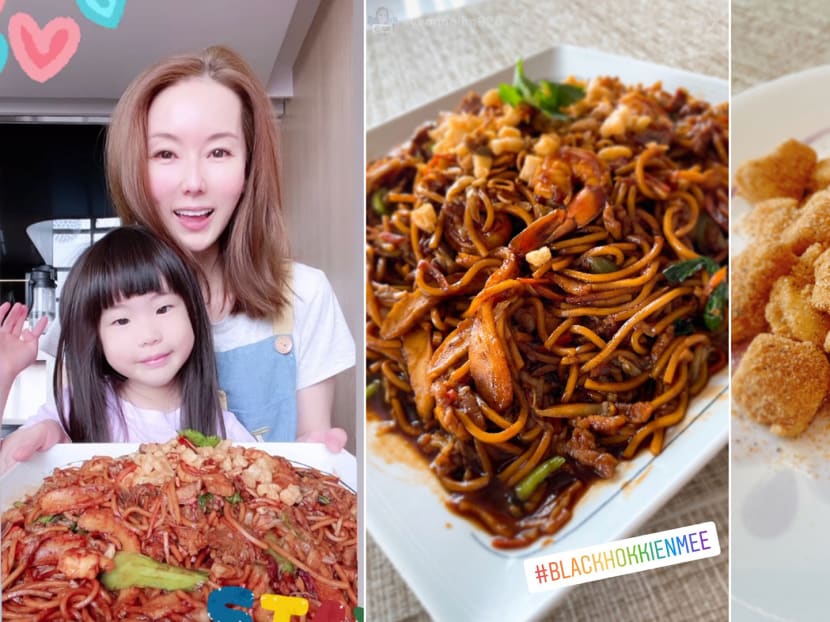 What she ate: Hokkien mee
Yummy factor: This week, Yvonne put on her apron and got to work frying some KL-style Hokkien mee with dark soy sauce, and she was really generous with the ingredients. The mua chee she had looked pretty legit too, coated with sugar and ground nuts. We wonder if she made that herself.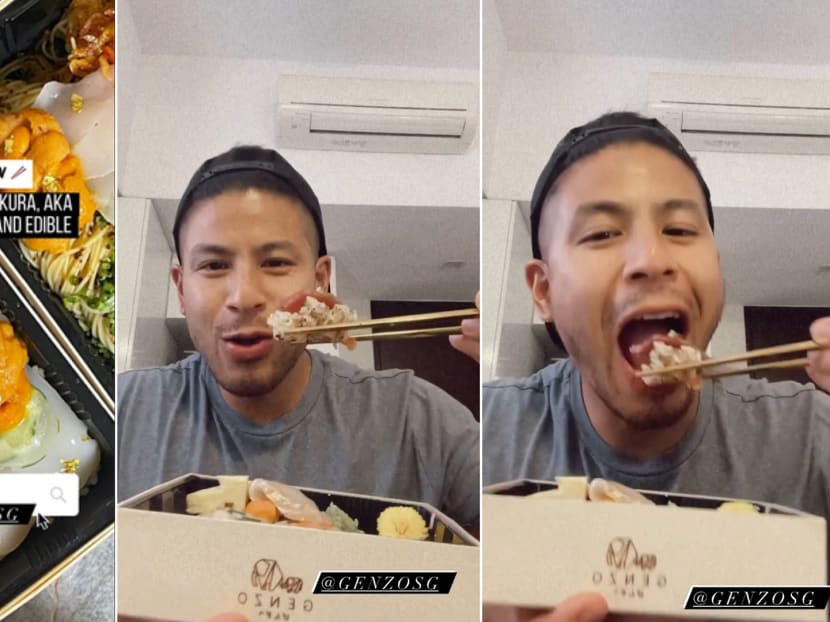 ​​​​​​​What he ate: Chirashi don
Yummy factor: We're loving Alan's colourful chirashi don from Japanese resto Genzo — not only did it include a delicate mound of A-grade uni, it was also topped with shaved truffle and edible gold flakes. And even though his meal was delivered, the sashimi looked just as fresh as it would have been served immediately in the restaurant itself.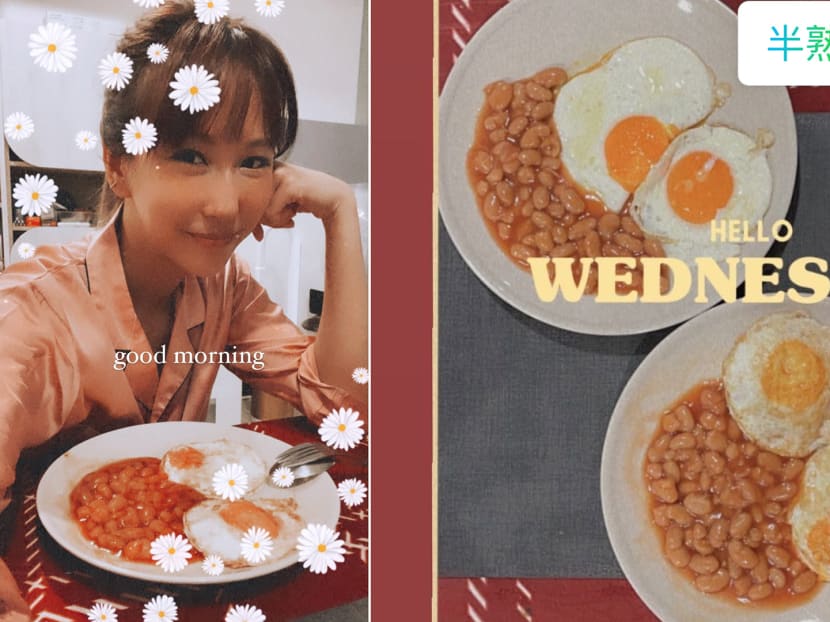 What she ate: Homemade breakfast
Yummy factor: Kelly whipped up a childhood favourite — sunny side up eggs with baked beans — for breakfast. And for the classic dish, she even made sure to fry the eggs the way her husband likes them — with an oozy egg yolk. As for Kelly, she prefers hers thoroughly cooked.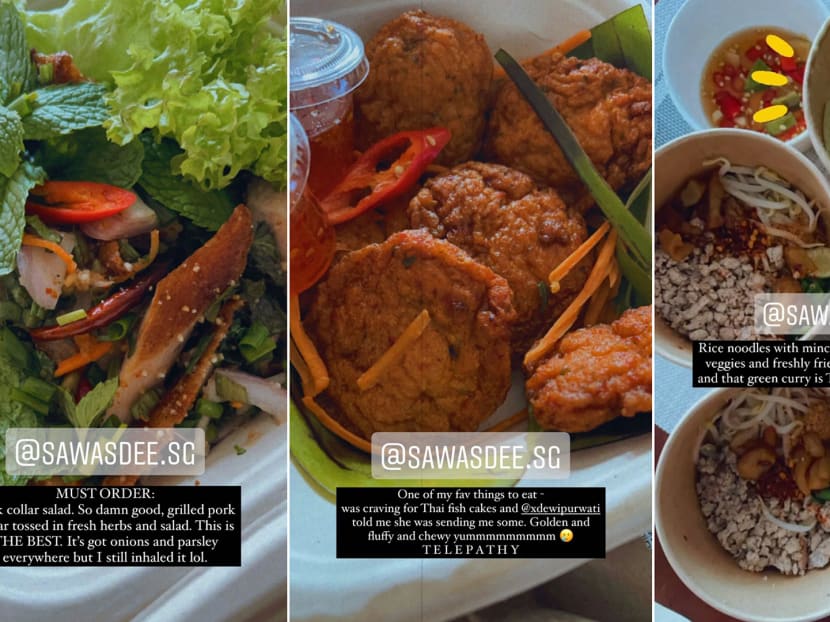 ​​​​​​​What she ate: Thai food
Yummy factor: With dishes like rice noodles with minced meat and fresh greens to fried Thai fish cakes and rich green curry, Kimberly couldn't get enough of her lunch, and we can see why. Her favourite? That shiok pork collar salad.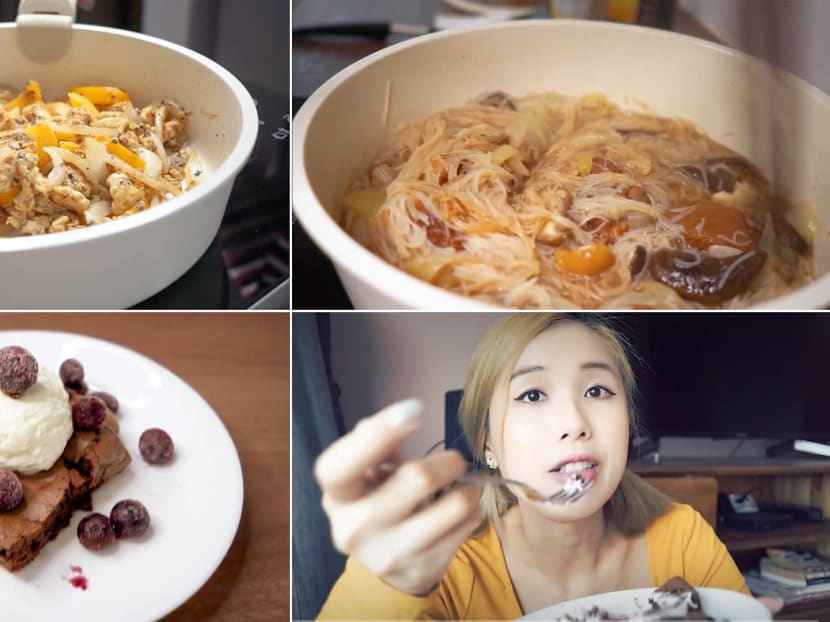 What she ate: Home-cooked meals
Yummy factor: The 933 DJ has been embracing slow living and cooking a lot more. This week, she tried making pig's trotter bee hoon and onion omelette, and even baked some chocolate brownies to enjoy with them frozen Greek yoghurt. And from what we see, all three recipes are worth keeping.
What she ate: Fried beehoon
Yummy factor: Considering how it's been a long time since Ferlyn had a hearty breakfast of fried beehoon, it's no wonder she savoured hers with relish while refuelling for the long work day ahead.