Gavin Teo Had To Pee While Asking Chen Yixin To Be His Girlfriend 'Cos He Was Too Nervous; She Got Back To Him 2 Days Later
In their first interview together as a couple, Yixin and Gavin also reveal what her dad Edmund Chen really thinks about their relationship.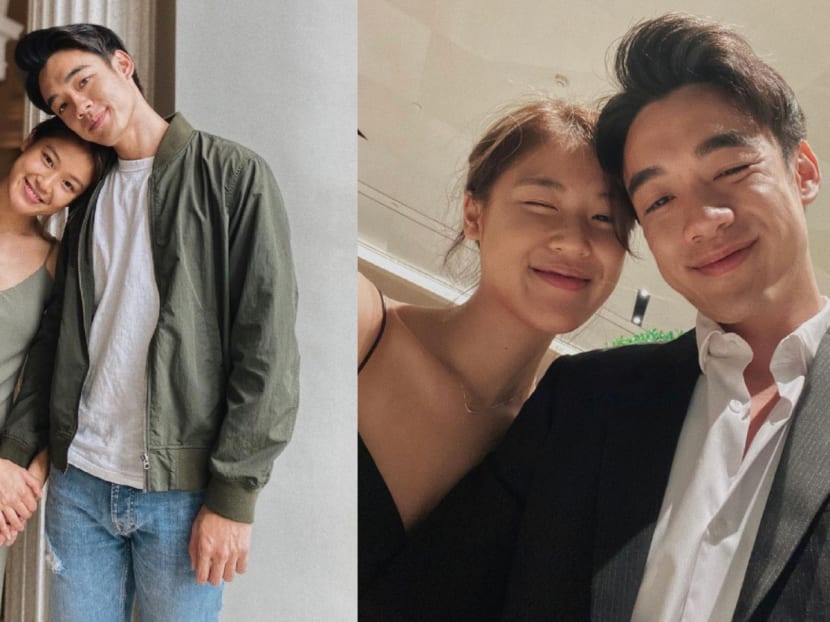 When we texted actress Chen Yixin to find out if she was dating her Teenage Textbook co-star Gavin Teo back in March, the 21-year-old actress — and daughter of Xiang Yun and Edmund Chen — quickly replied to confirm the news, but was otherwise hesitant to reveal more about their relationship.
Things have certainly changed since then.

The young lovebirds were more than happy to spill all the juicy, aww-inducing, and sometimes hilarious deets of how they got together in a phone interview with 8days.sg on Wednesday (Aug 4), which, by the way, was the very first time they spoke to the press as a couple.
But before we get to that, here's a little announcement: Yixin and Gavin, 26, are set to perform at the Gardens by the Bay and Mediacorp National Day Concert 2021 next Monday (Aug 9).
They will be doing a cover of Taiwanese singer Crowd Lu's 'You Complete Me', which they picked for its "amazing" melody and "extremely sweet" lyrics.
This collaboration is something that Gavin has always wanted to do with Yixin 'cos, as he bashfully put it, "Singing is what attracted me to her in the first place."
Yixin burst out laughing at her beau's cheesy — but also really cute — declaration, before adding that music is their "love language".
"Most of our free time is spent jamming, making music, and introducing new songs to one another, so having to do it for work was really fun 'cos we weren't wasting time and were actually being productive!" she laughed.
Music also played a major part in bringing them together.

Yixin and Gavin first met on the set of Fresh Takes! short film Rhythm of Youth in 2019, but it wasn't exactly love at first sight... although Gavin did reveal that he had checked out Yixin's IG before that and found her "quite pretty and artistic", but also "unapproachable".

Oops.
However, the latter impression was quickly shattered within a day or two of getting to know her.

"She's so friendly and humble, she has a great sense of humour, and she lights up every room she enters 'cos she has a very unique personality," he gushed.
However, it was Yixin's singing that really got him hooked.

"She has this very dreamy, silky, and soothing voice. I also found out that she can dance very well, and all that added up just got me really interested in her," said Gavin, prompting his girlfriend to quip with mock indignation, "Not my personality meh? Wah lau."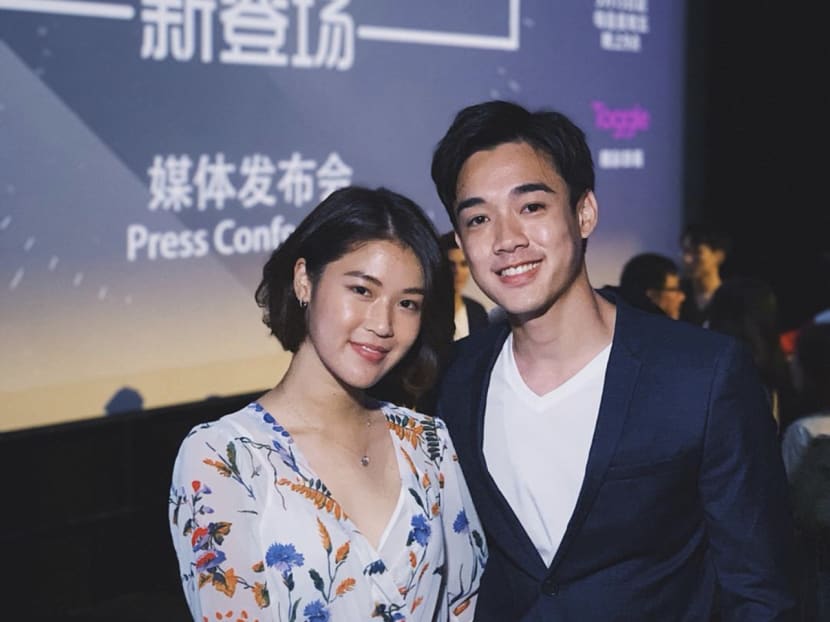 As for Yixin, she was completely oblivious towards Gavin's feelings for her… all the way up until the day he finally confessed.
"We didn't really talk much on [the set of Rhythm of Youth], and I would go straight home after work 'cos my dad was very strict," said Yixin. "Then one day, we were hanging out with two other co-stars and started talking about music, and we hit it off as soon as we found out that we both really like Ed Sheeran."
While they continued to hang out more often and Yixin enjoyed Gavin's company, she felt it was platonic and "didn't really think much about it".
"I didn't really have a lot of experience with love, so I would only know that someone is interested in me if he spelled it out for me," she explained. "So I completely assumed that [Gavin] thought of me as just a friend or even a bro."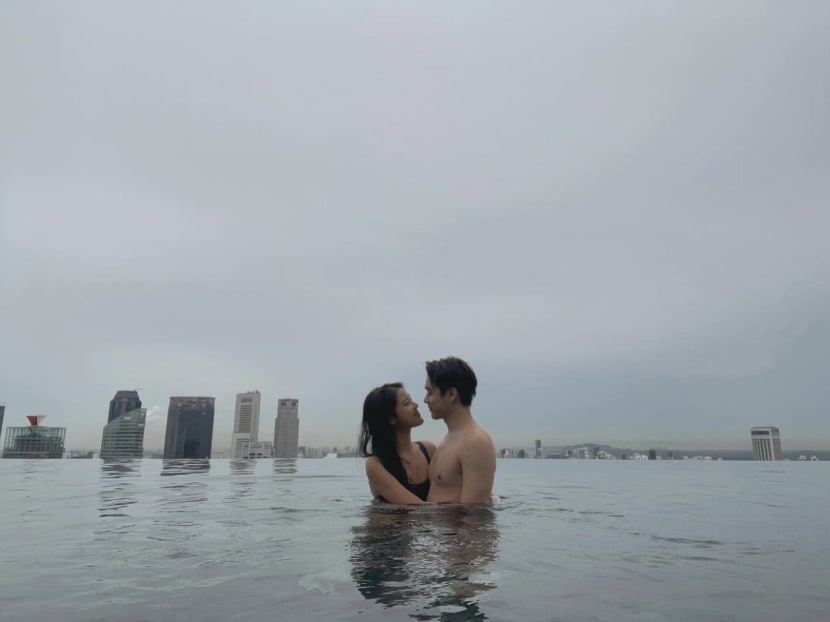 Gavin eventually mustered up the courage to confess his feelings to Yixin after a period of going out and bonding over their love of horror movies. But according to Yixin, the poor chap was so nervous that he needed to take a toilet break in the middle of their conversation.
"I had to drink a lot of beer to get myself into the mood to confess, and when you drink a lot of beer, it makes you wanna go to the toilet," Gavin explained, as Yixin burst out laughing in the background.
"It was a surprise to me!" she said. "I was damn shocked. I didn't say yes or no 'cos I didn't know what to do, and I kinda replied to his confession like two days later."
"I couldn't sleep leh," Gavin sighed.
During those two days, Yixin asked her girlfriends for advice as she mulled it over.

"I wasn't sure if I liked him as a friend or something more, but I had a lot of fun with him and looked forward to our conversations and meetups, and I didn't feel that way for other guys, so I thought it might be different and didn't mind taking a gamble on it."
After sleeping on it for two days, she finally told Gavin, "Fine, let's do it."
Since Gavin already knew Xiang Yun and Yixin's older brother Yixi from working with them on drama My One in a Million, his first official meet-the-family session with them went very well.
But he still had to face, in Gavin's own words, "the final boss challenge": Meeting her father Edmund.
It didn't really help that Yixin kept 'warning' him about her dad's famously protective nature, but to Gavin's surprise (and relief), Edmund was "very nice" to him from the start.
Yixin also took the opportunity to clarify a recent interview that Edmund did, where her dad admitted that he "couldn't come to terms with" his little girl having a boyfriend.
"Honestly, I think he meant it as a joke and it was blown out of proportion," she chuckled. "He's been very supportive of our relationship, and very loving and welcoming towards Gavin. There's no animosity like how he described. I think that was just the actor in him being dramatic. (Laughs)"
Gavin concurred, saying that Edmund has never once made him feel like he couldn't be accepted. In fact, when Gavin's mother passed away a few months ago, Edmund personally made a trip down to his house to ask if there was anything he could do to help.
"I feel like [her parents] really treat me like their own son and I appreciate that," he said.
Catch the Gardens by the Bay and Mediacorp National Day Concert 2021 on August 9, 8pm on Ch 5, meWATCH, and Mediacorp Entertainment YouTube.
The VOD clips and digital content extensions will be available from August 9 to September 13 on meWATCH and Mediacorp Entertainment YouTube.
For more info, click here.
Photos: Chen Yixin/Instagram, Gavin Teo/Instagram, Xiang Yun/Instagram