Insta-Buzz: What The Stars Were Up To This Week
Here are some of our favourite snaps from the past week.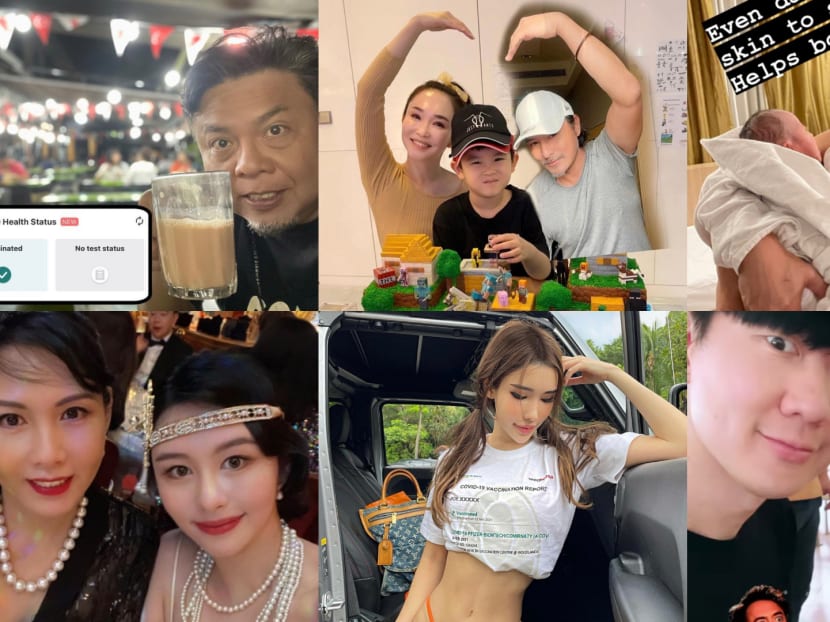 It was a week full of celebrations thanks to National Day, a bunch of birthdays, and the fact that fully vaccinated people can now dine out (yay!), but there were also a couple of sad and bittersweet moments.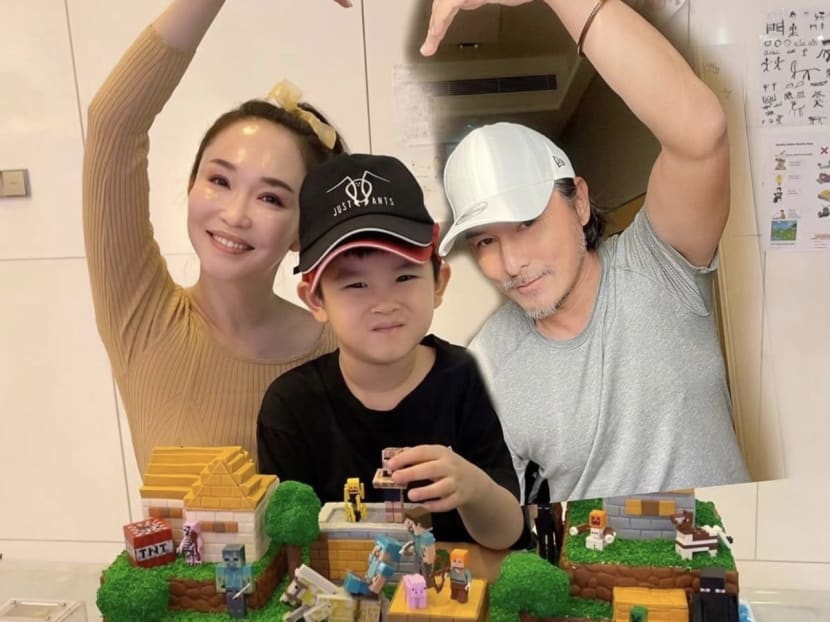 Zed, who is arguably the country's most famous National Day baby, turned seven on Monday and, as usual, his famous parents went all out to give their precious boy an awesome celebration (well, as awesome as the pandemic would allow, at least).
However, there was something — or rather, someone — missing this year, and that was dad Christopher himself, who is currently in Taiwan for work.
Still, that didn't mean he was gonna get left out of the family photo… so he was Photoshopped in next to Zed and Fann. Hey, where there's a will, there's a... Chris.
Photo: Christopher Lee/Instagram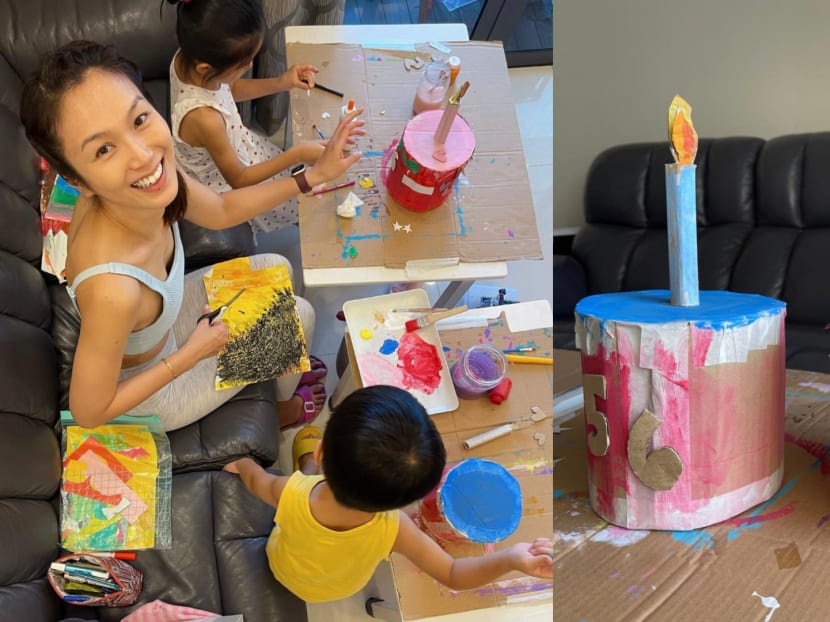 It may be too early to tell if the actress' kids have inherited her baking talents, but they certainly have her creative side.
To celebrate National Day aka Singapore's birthday this year, Joanne and her children turned the living room into an arts and crafts studio to make cakes out of cardboard. This was apparently inspired by her daughter, who turned six on August 7 and was still in a "birthday mood".
Photos: Joanne Peh/Instagram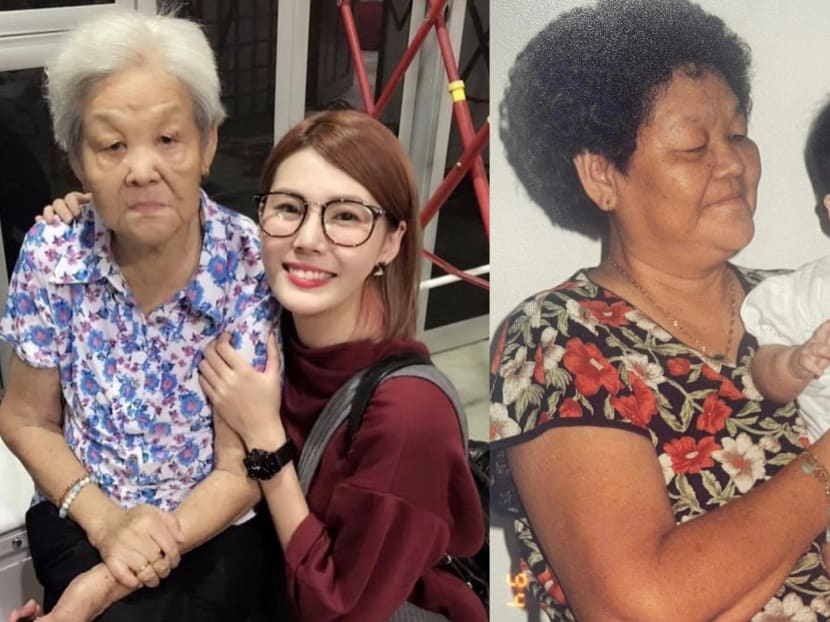 Sadly, this National Day wasn't a joyful affair for everyone.
On Tuesday, Carrie revealed that her grandmother had passed away the day before, and to make matters even more heart-breaking, she was unable to see her "for the very last time" as her grandma is in Malaysia, while Carrie is in Singapore. In fact, it had been two years since their last meeting due to the pandemic.
"The most painful regret in life is to not be able to bid a proper farewell," Carrie wrote in her tribute. Our condolences to her and her family.
Photos: Carrie Wong/Instagram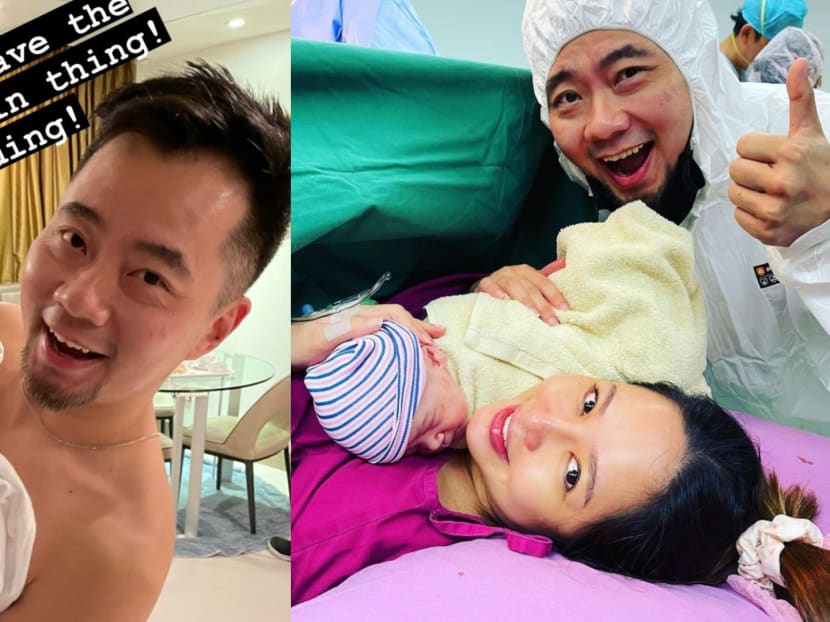 Say hello to baby Andre, the first child for former radio DJ and his art teacher wife Fay Tan, who was safely delivered on Friday despite there being "complications that made [Daniel's] heart almost stop".
Fortunately, both mother and son are well, and Daniel has been posting tons of super sweet pics and updates on his socials, all of which were met by a flurry of congratulatory messages from friends, followers, and even his ex-wife Jaime Teo.
Photos: Daniel Ong/Instagram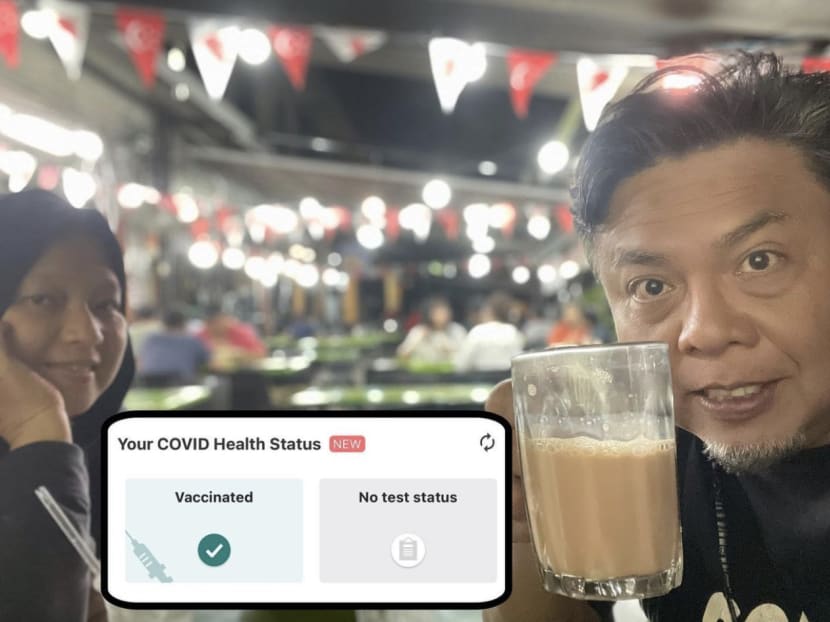 Those who are fully vaccinated — and by that we mean it's been at least two weeks since their second shot — were finally allowed to dine in at eateries earlier this week.
Suhaimi wasted no time in flexing that green tick on his TraceTogether app along with a wefie with his wife getting "caffeinated" and "MeeGorengated" together at a coffee shop. Hey, if you've got it, flaunt it.
Photo: Suhaimi Yusof/Instagram
Jade is no stranger to attention-grabbing sexy outfits that flaunt her killer bod, but this one also flaunts her vaccination status.
"Tired of taking out your vaccine certificate everywhere? My shirt is proof I use 101% of my brain," she wrote.
Photo: Jade Rasif/Instagram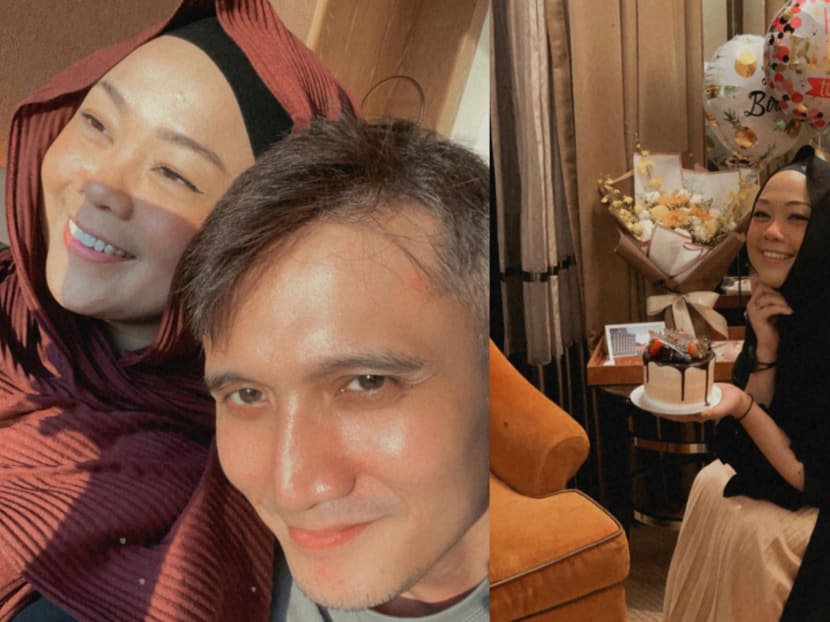 Did you know that the actor and his wife Nurul Huda have known each other since Primary One? They then met again in their early 20s and tied the knot in 2013. Now does that sound like something straight out of a romantic drama or what?
On Tuesday, which was Nurul's birthday, Fauzie described her as "effortlessly beautiful" and someone "who always puts others first, with the most kindest and loving heart (sic)", vowing that he is "forever by [her] side". Aww!
Photos: Fauzie Laily/Instagram
Wow, have you ever seen such a fierce mother-and-son combo?
19-year-old Harrison Yu, who is the son of Annie and her ex-husband Harlem Yu, is now a singer — just like his parents — and has been busy taking part in various photoshoots, including one with his (very youthful-looking, we might add) mum, who's 53.
Photos: Harrison Yu/Instagram
He may be one of the biggest stars in Mandopop with a massive bank account to boot, but just like any other Singaporean (especially one who is based overseas and deprived of the Lion City's local fare), JJ loves a good cai png.
On Thursday, he shared a few clips of himself having his "first meal OUT in 4 months (sic)" at a humble hawker centre, which is one of the only places he can dine in for now since he's not fully vaccinated yet. Wonder what else he's been up to since returning home?
Photos: JJ Lin/Instagram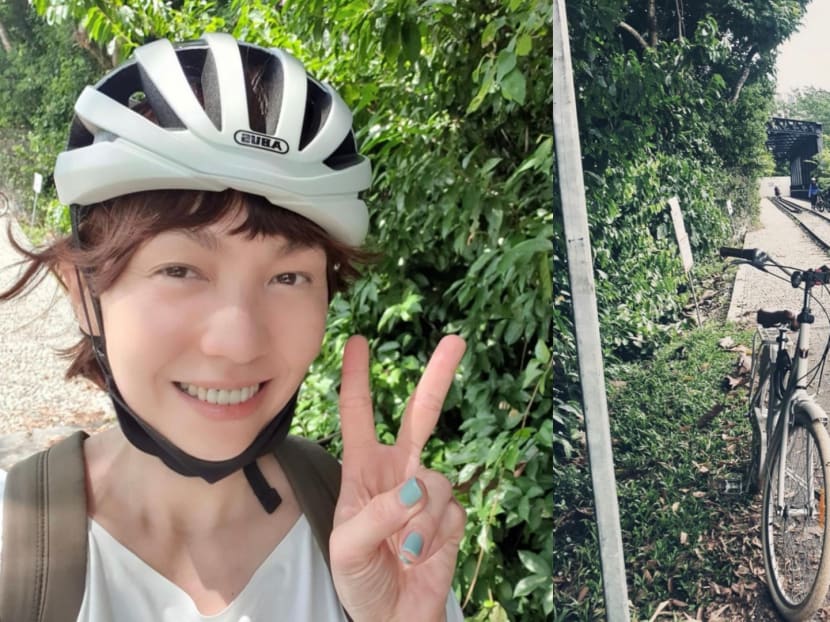 Kit's been sharing loads of snippets of her life ever since launching her own Instagram account (finally!) earlier this month, and one of her recent posts about "[picking] up cycling again after more than 15 years" was quite a bittersweet one.
"I bought this vintage bike with my very good friend more than a year ago," she wrote. "She has left me forever last Oct, but when I'm on this bike, I can still feel how carefree we once were together. (sic)"
We're sure her late pal would be happy to see the bike being put to good use.
Photos: Kit Chan/Instagram
It looks like Rui En's "don't mess with me" ice queen vibe runs in the family, as seen from this badass photo of her grandma that was taken in 1974.
She also pointed out their similar resting "Momo" faces (guess that's her euphemism for the B-word) and their tendency to sit with one leg up à la some typical kopitiam uncle.
"Until today I sit like that at home when eating," she admitted. "Sometimes in atas restaurants I need to remind myself to control the leg. I'll frequent any restaurant in which I can sit like this without judgement."
Photos: Rui En/Instagram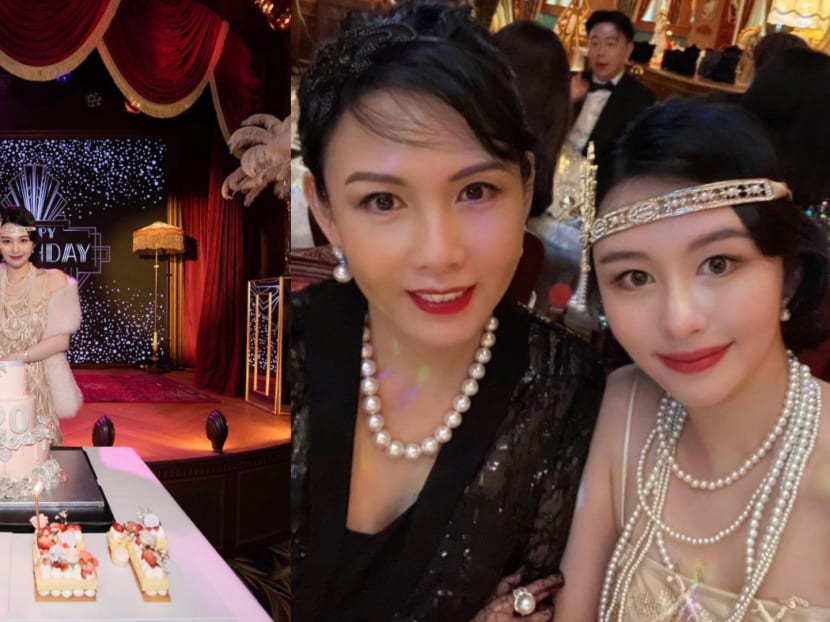 The former screen goddess' eldest daughter Sham Yuet celebrated her 20th birthday with a "Roaring 20s" themed party (how apt) on Friday, looking gorgeous in a flapper outfit and layers of pearls.
Sharing a bunch of photos from the event including one with her famous mum, Sham Yuet revealed that instead of asking for presents from people, she decided to accept donations to a food charity, allowing her to donate 4,500 meals to families affected by drought in Madagascar. Now how awesome is that?
Photos: Sham Yuet/Instagram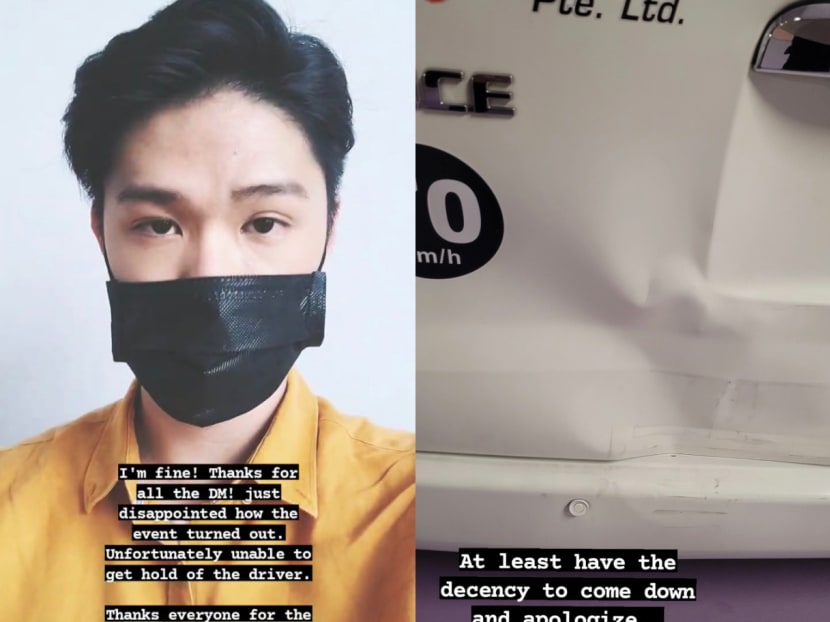 Tsk tsk, some people really don't deserve their driver's licence.
On Wednesday, Xiang Yun and Edmund Chen's son Yixi revealed that he was on his way to work when a "bugger" in a Toyota van rear-ended the vehicle he was in before speeding away without bothering to stop and check on things.
The accident left a dent in the back of Yixi's van, but fortunately, the actor is fine and has since lodged a police report. Be safe on the road, everyone!
Photos: Chen Yixi/Instagram
According to the Crazy Rich Asians and Snake Eyes star, this was his little girl Lyla's "first time on Daddy's shoulders", and it looks like she was having an absolute blast. Also, check out that Italian view!
Photo: Henry Golding/Instagram