Sharon Au On Life, Love And Why Sending Late Night Texts And Emails Got Her Into Trouble In Paris
The former Mediacorp star and Singapore's unofficial ambassador to France, who is in town for her winter break and to launch her online French culinary academy, tells us all about life in Paris in this sprawling interview.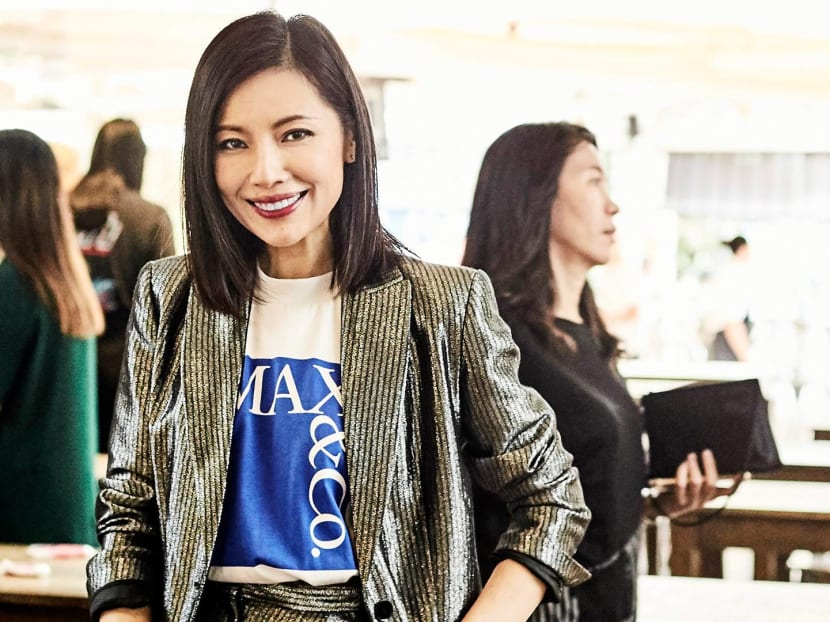 Everyone knows Sharon Au. I am with her in a random building in the CBD ready to go for our shoot at Lau Pa Sat when a woman enters the lift that we're in. "Oh, Sharon?! What are you doing here!" she suddenly says to the former Mediacorp host, who reaches in for a hug like that woman's a long-lost classmate. Turns out, she really was a classmate of Sharon's from St Nicholas Girls' School. Or was it Hwa Chong Junior College? Here's the thing: the shoot was done way back in August so my memory of the events that transpired is a tad rusty. But our point is: The world maybe small, but it's even smaller when you're Sharon Au.

Sharon, who uprooted and moved to Paris a year and a half ago, is back in town for summer — again this was back in August — and to celebrate turning 44 and 8days.sg is catching up with her over lunch. She tells us that she misses local food so we decided to do a shoot in the most quintessential of hawker centres, Lau Pa Sat. In retrospect, it was a horrible idea. We got to the location just as lunch hour was beginning and since it's a weekday in the CBD... it basically means chaos.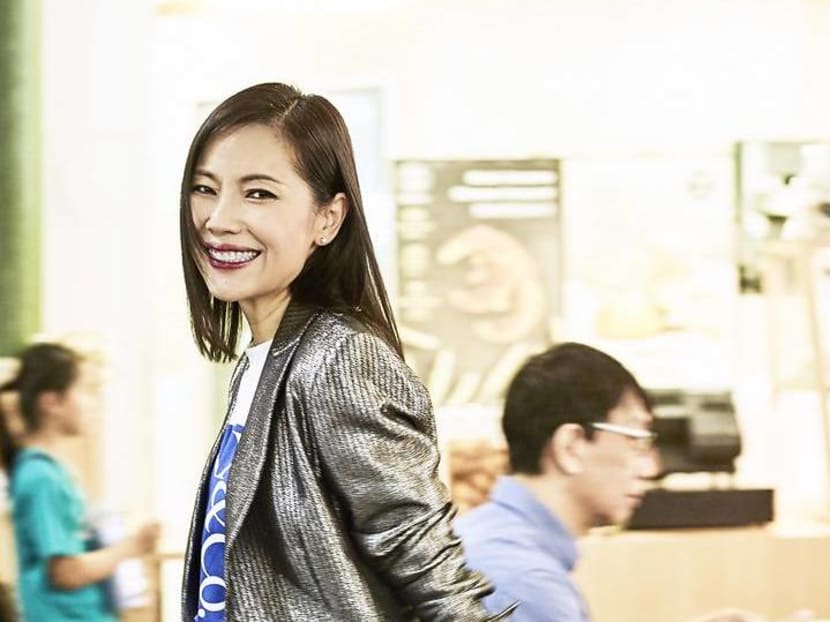 But Sharon, who is no stranger to working a crowd, flits from table to table like a politician before election time as our photog snaps away. It helps that the lunch crowd knows her and are suitably star-struck. Some whisper her name to their friends when she walks past while others wave at her like she's their long-lost classmate. (P/S: This time she wasn't.)

It's hard to believe that Sharon Au was only on TV for 10 years. She dropped out of showbiz in 2005 to study at Tokyo's Waseda University on a Mediacorp scholarship. After graduating in 2011, she returned to Mediacorp, where she would go on to climb the corporate ladder for seven years, first as the driving force behind fashion portal stylexstyle and then as the publisher of Elle Singapore. So if you think about it, she's been out of the spotlight for far longer than she has been in it.

Though it sure didn't seem that way at Lau Pa Sat. It's because Sharon Au is one of those stars — Ivy Lee and Xie Shaoguang come to mind too — who are so ingrained in our consciousness that it feels like she never left public life even though she has long moved on.

Fast forward four months and it's now December. Sharon is back home for her month-and-a-half-long winter holiday. It's really more of a working holiday. She's been busy setting up her new business, Ti Yan Academy, which is an online school that, according to Sharon, "teaches you the finer qualities of the French way of life". And 8days.sg is at the Dempsey Cookhouse & Bar for its launch today. Also in attendance is the French ambassador, who Sharon says, had told her that she's the "best ambassador for France" and that all his staff are her "ardent fans" on IG. Told ya everyone knows Sharon.

That's not all. Sharon is also acting in a play for the Esplanade Huayi Chinese Festival of Arts, which will run on January 31 and February 1 next year. [P/S: She's flying back to Paris on February 2.] "I know what you're thinking, [I'm] very busy right?" she says, adding that she's been sleeping two hours a day since she got back. I'm working both French and Singapore working hours, she says. Maybe there's something about being in Singapore that makes Sharon dive right back into her workaholic ways.

Her life in Paris, in comparison, is far less hectic. In July, I was on holiday in Paris and had met Sharon for drinks at a café in Trocadero. It was in the middle of the dreadful heatwave that had Europe in a chokehold. But its scorching presence was no match for Sharon, who had arrived on a trottinette (the fancy French term for e-scooter) like a cool summer breeze. She was on her lunch break and her office — she works at a venture capital firm where she deals with educational technology — is just round the corner. Also a stone's throw away is her apartment, which she shares with her kitten Murphy, and if you follow Sharon on IG, would know that it boasts a breathtaking view of the Eiffel Tower.

It was a Friday afternoon and she wasn't due back in the office. And so the two of us just sat outdoors sipping on our aperol spritzes, watching the day go by. And you wonder why she loves it there so much.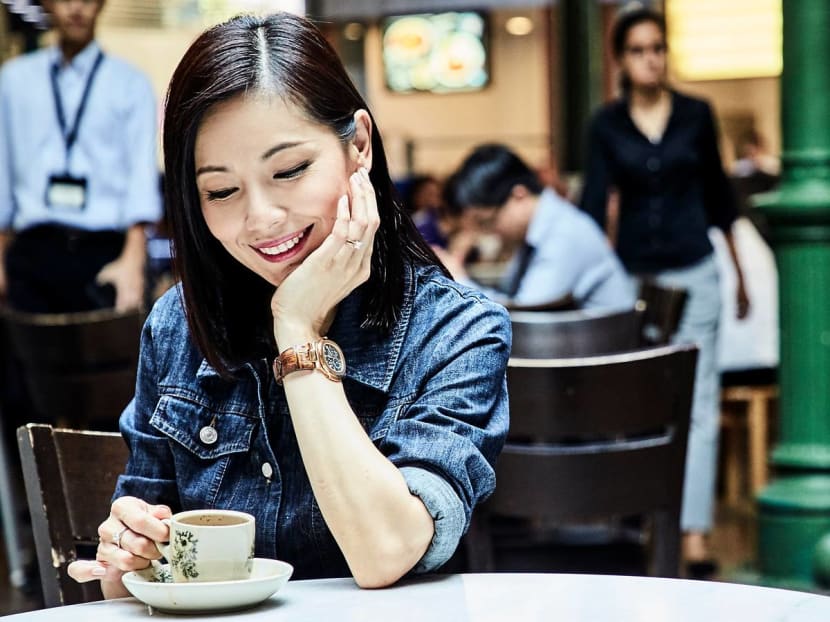 8 DAYS: Has living in Paris been what you expected?
SHARON AU: Yes, yes! It didn't disappoint. I had wanted to see if [life there] was an illusion, if it's really that romantic. And now that I've started working there, it adds a different layer [to the city].
How so?
'Cos you're not just there bumming around. I had spent six months there prior to my move and for that period, I really did nothing. I just walked around and ate. But now that I'm a working resident, I feel more like a Parisian 'cos you live like them.
And it helps that you speak French.
Definitely. My French has improved by leaps and bounds. Actually my colleagues are amused by my accent. They say I sound like a Brit trying to speak French (laughs). The French are so proud of their language so it's not just about learning how to speak it but how to speak it properly.
How do people react when you tell people that you live in Paris now?
It's always, "So lucky!" I realise it's everyone's dream city to live in at some point.
Are there people who still think you're in Singapore?
Oh no. People know I live in Paris and they'll say, "Eh you're back!" when they see me in Singapore. In contrast, when I was living in Japan for seven years, people didn't realise I had left. They thought I was still acting in Mediacorp. So social media really helps.
You told me that you don't mind hosting again.
Yes. It's all about being ready. The last time, I wasn't ready. The last time, I made such a big, bold move by giving up fame to move to Japan. I had just about gotten used to life as a normal person, and then you are forced to come back to resume work so your body and mind is not there. But this time is different. I have left for so long and I worked in corporate for Mediacorp for seven years too. I've gotten used to being a part of the industry again. I'm more comfortable now lah.
In Singapore, a person can never be un-famous.
For [celebrities from] my era, yes. 'Cos we were embedded in people's minds.
And you were on screen for just 10 years.
And those 10 years were the golden years. You would see me on TV from Monday to Sunday either in a variety show or a drama. I remember there was a period when you switch on the TV at 8pm and it was always me hosting something.
So you've been off-screen longer than you've been on screen.
Yes, I've been away for 14 years.
Yet everyone still treats you like a star.
Yeah I guess people still find me very relatable.
How does that feel?
I love it! I think we never stopped wanting to be famous. But last time, it was invasive 'cos you are not mentally equipped to deal with fame. Or maybe 'cos we weren't as prepared. Now we are all armed with our own weapons. In the past, we were passive and too young to handle criticism. Now, people can criticise me until the cows come home and I can laugh about it and then react on Instagram (laughs).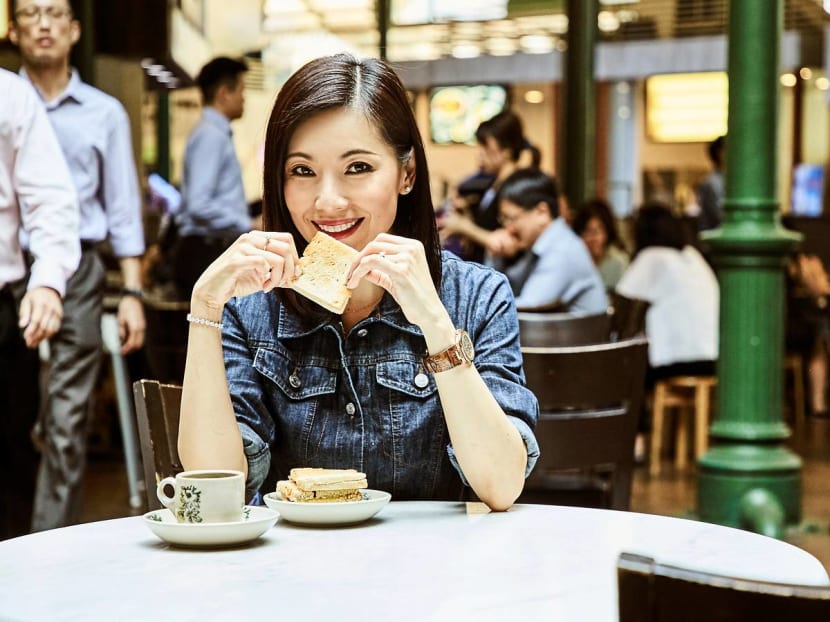 What do you do when you miss Singapore?
Text my mum and friends. And keep asking them to send me food pictures. I would be like, "What are you eating now? Bak chor mee? Send me a pic please. It helps really. And I make them video themselves eating.
Like Mukbang?
(Laughs) Yes, it helps!
Do you cook?
No, but I buy a lot of prima mix (laughs).
Are there good Singaporean restaurants in Paris?
Zero. I wanted to open a restaurant there, to collaborate with the Singaporeans I know there. But in the end we had to scrape the idea 'cos the labour law in France is very, very serious. You want to hire but you cannot fire. So there's a saying in France: If you open any F&B outlet, you expect a lawsuit every day.
But what if they're awful employees?
You still cannot [fire them]. Or you have to have very good proof and a lawyer. So it's not a good business to be in. I really did think of it. I was in the process of collaborating with the owner of the Vibes café. We found a place, had negotiated the rental and had done most of the initial prep but as we proceeded, we realised that the labour law is very disadvantageous. Especially if you're a foreigner. So I just have to cook my own prima chicken rice mix. (laughs).

How is the Singapore community in Paris like?
There isn't any! I only know two Singaporeans. One of them was with me in St Nicholas and Hwa Chong and the other is a shoemaker, who sometimes cooks nasi lemak for us (laughs). I'm sure there are many Singaporeans [in Paris] but there isn't a community. Oh, I also the Singapore ambassador and his wife and they'll invite me to their residence to eat.
You mentioned that most of your friends there are Taiwanese. How come?
'Cos my best, best friend from university is Taiwanese! She moved to Paris after we graduated from Waseda. That's eight years ago so she's my go-to person and through her, I know the entire Taiwanese community. Taiwanese are very different. They like to be in the community. Singaporeans are more independent, I think? The Taiwanese even have a Facebook page where they'll share things like where there will be a strike or where to rent a place, or whose dog is up for adoption. But I'm not on it 'cos I'm not Taiwanese!
Do they know that you were on TV last time?
They found out eventually 'cos sometimes when we're out and we bump into Singaporeans, who will want to take pics with me. Then my friends will ask why and I would lie and say, "Oh, Singaporeans are like that. If we bump into a fellow Singaporean on the street, we will take photos with one another. It's 'cos our population is very small and we all know each other. (Guffaws).
Did they believe you?
Yeah they did (laughs).
What is one thing Paris lacks that Singapore has?
Maybe safety? But from day one you already know Paris isn't as safe. So you make a lot of calculated changes to your life. For example, I left all my jewellery in Singapore. All my nice bags are in Singapore. My watches as well.
But what if you want to wear a nice watch out?
I have one nice watch with me in Paris. If I want to wear that, I'll make sure that it's a day when I'm hopping in and out of Ubers. You don't roam the streets, you don't take the Metro, you don't scoot around in your trottinettes. That one sure die. Halfway through, all your jewellery gone (laughs).
Don't French people wear nice jewellery?
They probably have bodyguards with them. Before I moved to Paris, I was there twice for three months each time. And during the first of the three months, I still wore my diamond ring out. My French friend would tell me, Sharon, turn [the ring] around [so the diamond is not visible]. They also said they've never seen someone with so many diamonds walking around in broad daylight in Paris and not be afraid to have her hands and ears chopped off (laughs). So you change your lifestyle. I never wear heels in Paris 'cos you always need to be on a scooter. So yeah, all my nice things are in Singapore. But it's not like I don't dress nice there, but rather, you learn how to dress chic as a replacement for luxury goods.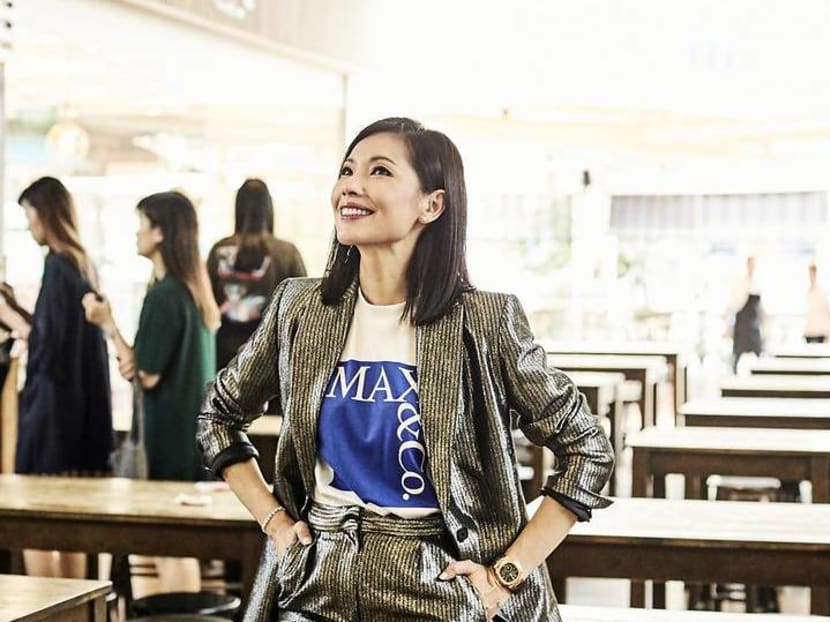 What does Paris have that Singapore doesn't?
The arts. People like to associate art with soul and it's not that Singapore has no soul but our art is really not the priority. That is something I wish can be improved. When you make art a way of life… it's in their DNA in Paris. The way people make decisions about their lives, the choices they make. It changes everything from the root. That's something that I really enjoy, the artistic freedom I experience there.
Do you worry about terrorist attacks?
I do. That's why you live very differently. Your sense of urgency and alertness is more heightened. You are very observant about who is around, we rarely look at our phones lah. You just have to open your eyes more. When I walk on the streets, I really do look around. But not to the extent where you become paranoid.
Has anything bad happened to you before?
Back in 2001, I was robbed before by four teenagers. I was alone at that time 'cos you know feeling like a superstar, carrying Hermes and all (laughs). I asked for it. It was 3pm and I was walking in the train station after buying Ladurée macarons. I was at the platform when the guys surrounded me. And I even apologised to them 'cos I thought I was in their way. They acted that way. But they were surrounding me to pick my bag. I only realised that after the train door closed and they waved my wallet at me from the outside. It was a brand new purple Prada wallet, which was a Christmas gift, and there was a lot of cash inside. So now I don't carry a lot of cash on me. I have max five euros on me each time. Everything else I pay by card.
You are planning to move back eventually right?
Yes I will have to 'cos my mum is getting old. So I have to do all these very adventurous things before she gets old.
Your contract with your company is for four years so should we expect you back in Singapore then?
No. 'Cos my next aim is to live in Copenhagen. I made a business trip this year and it is now my favourite city... more so than Paris. Currently I can't do it 'cos it's too expensive so I have to hope for job opportunities. As long as you keep your options open and not be afraid of new cities, you just have to wish hard enough. I believe in the law of attraction. Think hard enough and the right person will come and make the right connection.

So how's corporate life in Paris?
(Laughs) It's very different 'cos of the work culture. French people are very productive. They do everything within working hours. You cannot send an email after working hours. They will take a screenshot, send it to HR and they can sue you. It's against their labour law. It's taken very seriously. It happened to me 'cos I sent an email at 8pm. 8pm leh! That's nothing in Singapore! The next day HR called me in. I was very surprised and I said, "Oh, you all take the law very seriously." (Laughs)
Were you offended that a colleague turned you in?
No 'cos I was affecting their work culture. I should be respectful of their culture.
But shouldn't they have at least told you, "Hey, this is isn't how we do things here" before reporting you?
But I had been briefed. It was in the handbook. I knew about the law. I just didn't think it would be obeyed 'cos never in my consciousness can you not send emails after 8pm.
Well, they don't have to read the email.
Cannot! 'Cos it's the principle behind it. It's very serious to them 'cos it creates like a mental burden to your colleagues. They're like having dinner by the river and then you send one email (laughs). So I learnt not to send emails after 8pm but then after that, there was a time when I send a text at 11pm. To me, the text was urgent 'cos it was pertaining to a meeting that was happening first thing in the morning. I was very careful. But it still got screenshot and sent to HR and I was hauled in again. They didn't penalise me again but they were very exasperated. They couldn't understand why I didn't get it. "Can't you just come to work the next day and say what you need to say?! Oh, you must also leave the office at 6pm. I kena complained once 'cos I stayed behind (laughs).
Why couldn't you stay behind?
For safety… and it's a way of life! They want you to go out, have dinner, feed your cat, or watch a movie.
It's not about spoiling the market?
It's about respecting their culture.
So they work really hard during working hours and play when it's time to play?
Yes. Also, the myth that they take three hours lunches is really a myth. Don't have lah. Wait long long. Lunch is a Deliveroo affair. You order either a salad or a sandwich and you eat in front of your laptop or during a meeting. So lunch is just 10 minutes. Please clarify that myth (laughs).
What if something is really urgent and you just have to reach your colleague?
There's nothing so urgent unless someone is dying. So after those two HR inquiries, when I'm home after work and have nothing to do, I'll write all my emails and save it in my outbox. And then at 7.30am the next morning, I would send them all out. And people would roll their eyes. They would joke and say, "See, first email is definitely from Sharon. You can tell she drafted it the night before." It was awkward but it showed that I was making an effort to change. But that was my first phase [of changing]. Now I am in phase two. I really switch off. I go to work at 8.30am and I address the issues. The outcome of that? Lesser emails. You realise that the person is just two steps away and you can walk over and settle it instead off writing an email. There's also lesser hostility 'cos no matter how many emojis you add to an email, it's still emotionless. I started to see the positive points of this working style. A huge part of corporate culture is sending emails to protect your ass. You just want to CC the whole world to prove that you did things and a lot of time is wasted in doing such things.
You intend to bring this working culture back to Singapore?
Yes! If I head a unit 'cos you need to be in a leadership role to effect change. But I think I will probably be sacked (laughs).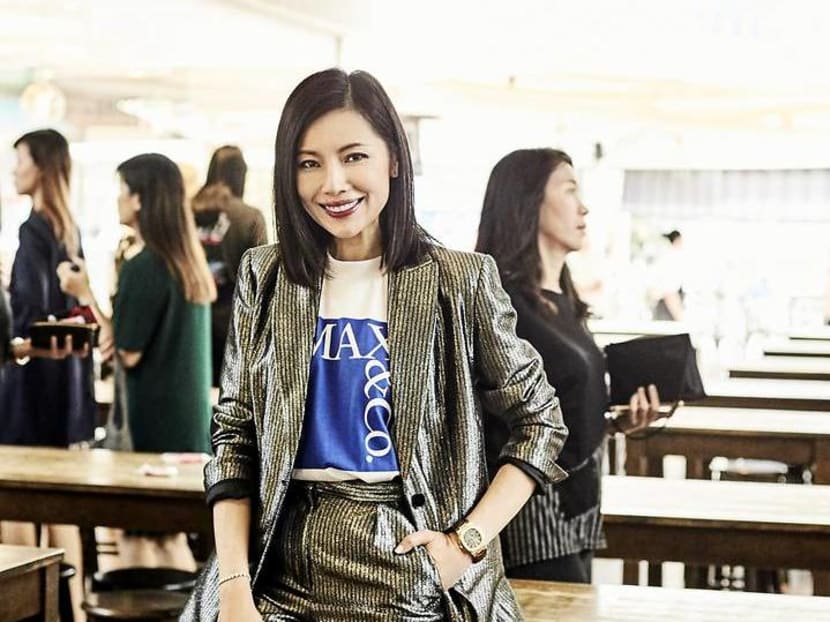 What does love mean to you now?
I still believe in love. But I'm at the age where I don't feel very attractive to the opposite sex. Last time when you go out, you'll still find people who see you as girlfriend material. So that relieves a lot of baggage. Now I seek solace in intense friendships. And I'm very open to conversations with people that I can mutually connect with on a certain wavelength. Once you have this mindset, it doesn't matter if the person is male or female, it doesn't matter if the person is young or old. Now it's all about connection. So it's very different. But of course sexually, it doesn't exist lah. So that part is a little sad.
A few years ago, you mentioned that you got married.
Yeah there was someone very close but I wasn't married. I've clarified that I lied about being married 'cos I was just too pressured by people asking me if I'm married or if I'm lesbian. So I lied. And it worked. Once you put on a ring, which you bought for yourself, and you give a statement, then it's finished. But before I left for Paris, I clarified this to a reporter. I said I have to come clean 'cos he asked me, "How can you leave? Your husband how?" So I said I lied.
Do you want kids?
Yes, so this is a regret. And there's a transference of emotions to my god-children. They are actually very embarrassed when I call them my sons (laughs) They go to boarding school in London so I'm in closer proximity to them than their parents, who are in Singapore. I'm there for everything. Like meeting their teachers. My godson got very unhappy 'cos I flirted with his headmaster. (Laughs)
When did you start wanting kids?
I've always wanted to have kids. I've never not wanted kids... I've always wanted to get married and have children. But it didn't work out for me.
What about adoption?
Yes, but I'm in no capacity to adopt. So I've told myself that maybe I can't be a mum in this lifetime.
Do you recommend people to YOLO like you do?
Yes at some point. In fact, I think it's a must.
But what if you have commitments?
Sure. But at some point you have to find [the time.]
But there has to be an age limit right?
Actually... why? You can still YOLO at 60. I've seen women in France who just relocated to Paris at a very old age. So I see different people making such a move at different stages of their life. Of course, it's good to do it earlier in your life but not too young 'cos when you're too young, you will be easily overwhelmed. It doesn't serve the purpose. It helps to have some work experience and you would have to go through some stuff already then it gives it more dimension. I've visited Paris so many times. But when I was young, it was just about running around and checking off all the must-do things. But at this stage of my life, I truly appreciate it.

PHOTOS: AIK CHEN
STYLING: KARIN TAN
HAIR: NIGEL WOO/ PASSION HAIR SALON
MAKE-UP: ANDY LEE

To find out more about Sharon's Ti Yan Academy, go to https://tiyan-academy.com/