Sharon Au Was Warned By Her Quarantine Hotel Concierge Not To Light Candles In Her Room 'Cos She Would Set Off The Fire Alarm
The former Mediacorp host, who is back from Paris to see her mum, also says her room has so many flowers, it reminds her of her The LKY Musical dressing room.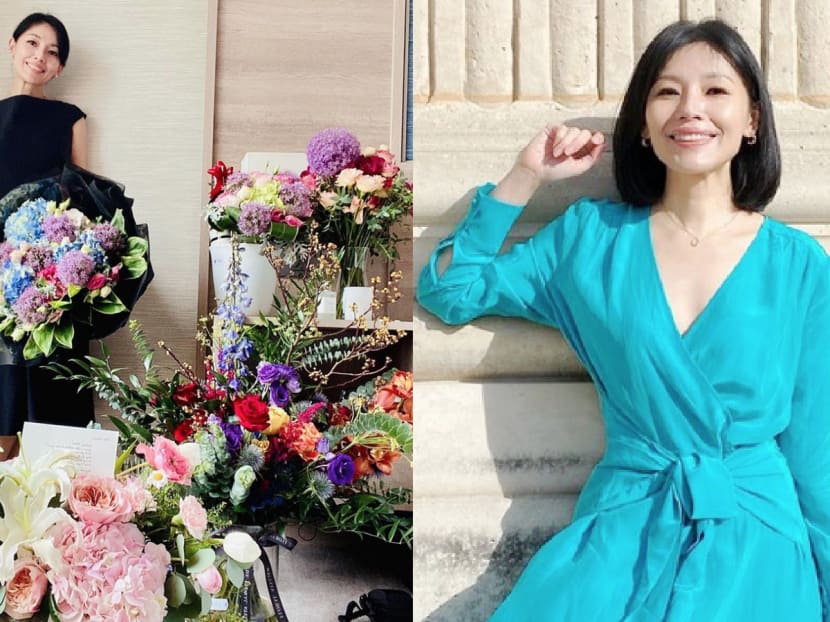 Paris-based
Sharon Au
is
back in Singapore
... not for good but for her annual trip home. In case you forgot, she was back last July to vote in #GE2020. How's that for time flies?
The 45-year-old is now almost halfway through her 21 days of quarantine, which she is serving at the Royal Plaza On Scotts. And if you follow Sharon on Instagram, you would know that the well-connected former Mediacorp host has been receiving a ton of care packages, flowers and
even bras (thanks Zoe Tay!
) from her many friends.
So how has Sharon, who works as an investment director at a private equity firm, been spending her days holed up in a hotel room? Updates on her IG show her practicing the guitar and violin while surrounded by bouquets of flowers, which she calls her garden of love.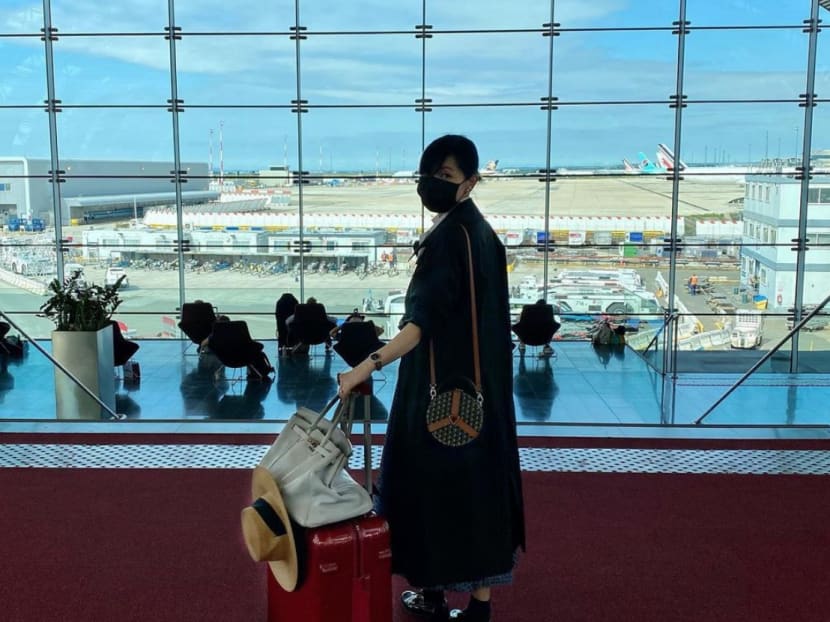 8 DAYS: Welcome home! What have you been up to in quarantine?
SHARON AU: Work, mostly! (laughs) It's 6pm now but I'm on my lunch break since I'm working on Parisian time. I start work at 2.30pm local time and knock off at midnight, but it's okay because I'm still obviously jet lagged, so it's actually quite natural for the body.
You mentioned on your IG that you felt apologetic to your mum for making her "wait so long" for your return. What happened there?
When the news about the additional seven days [of quarantine] was first announced, I was caught off guard. It changed my plans and I almost didn't want to come back.
I discussed it with my mum and told her that I thought it was wiser to wait until the [quarantine period] went back to 14 days, or when we don't have to quarantine any more. Time is really precious and it was very daunting [to have to be quarantined for an additional week].
But that didn't stop you in the end.
I realised that we can't predict when we will ever go back to the time when we don't have to quarantine [ourselves when traveling]. We're not sure if there will be more mutations and variants or if they'll ever cut [the quarantine period] to 14 days again. It was possible that I would have to wait forever before I could come back.
My mum really wasn't insistent [on me returning], and I know that she would be okay if I decided not to. But I could hear from her voice that she has been a little bored and feeling down. Ever since Singapore cut [the number of visitors per day] down to two people, it wasn't possible for her to have her little mahjong sessions that kept her active.
To be honest, I was still thinking about not coming back even on the night before I left Paris. It's so easy to cancel your flight as everyone understands your plight. (Laughs)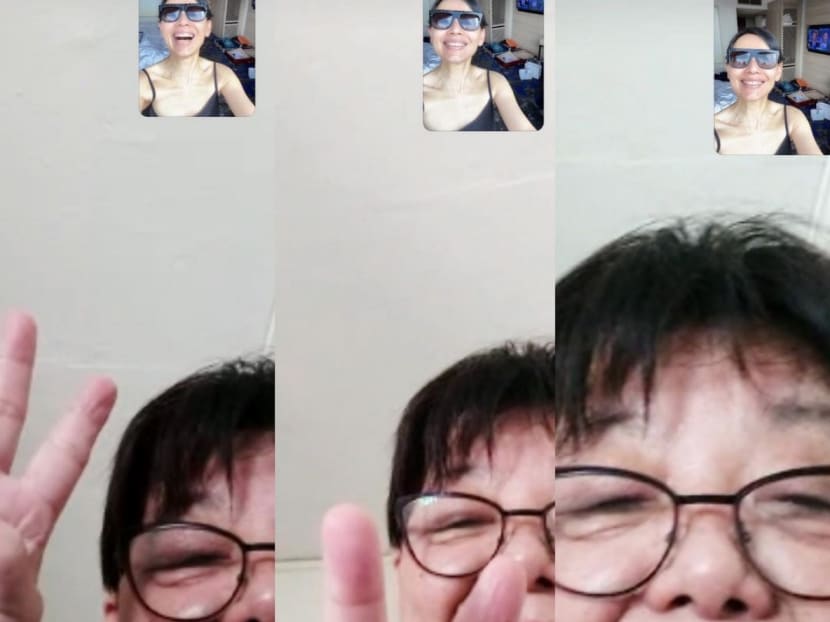 How's quarantine life been treating you so far?
Whenever you feel like the walls are closing in, just laugh at the situation that you're in. I'm just learning how to play musical instruments, so I just play and entertain myself. I only post the perfect videos [on IG] but what you don't see is the 50 videos before that which are just hilarious. (Laughs) I just keep laughing at myself. It's so entertaining, I don't have to turn on the TV.
When you first started your quarantine, you wrote on IG that you hoped the room would be filled with flowers. Since then, you've been receiving bouquets every day.
My hotel room looks exactly like my dressing room in the MasterCard Theatre when I did The LKY Musical. It's the same size, and filled with flowers and wine — I have about 13 bottles in front of me right now. I really feel like I have to step out of my room for my performance at any time (laughs).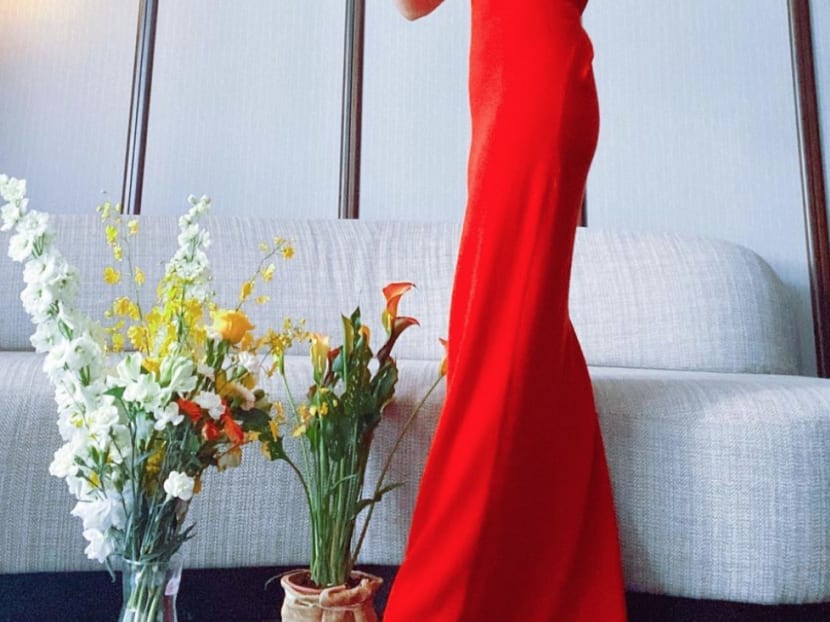 So apart from the flowers, what other things in the room helps brighten your mood?
I have candles too. My friends sent them to me, but I can't light them. When the concierge sent them up, I received a phone call: We noticed that you were sent candles. Ms Au, you know you can't light them, right? You might set off the fire alarm . (Chuckles)
I told them that I'm aware of that and I asked them if I could light a candle when I'm taking a bath. They said no because there's also a smoke detector in the toilet. So now I just display them in my room, which is fine 'cos I don't want there to be a fire or the water sprinklers to come on suddenly.
What are your post-quarantine plans like?
I have nothing planned — it all depends on my mother. I told myself not to plan anything since she's my priority. Unless she's playing mahjong and wants me out of the house because I'm hovering around too much, then maybe I'll go out. But even then, I don't know where to go. (Laughs)
Yes! I wrote an email to MOH and told them that I had received my first jab in Paris, and that I had to to come back to Singapore for personal reasons. I asked if I could get my [second jab] in Singapore, and the reply was very favourable. It would be possible as long as [the pharmaceutical company that produced first dose that I received] was also approved for use in Singapore. Since it was Pfizer, there was no issue.
The only complication is whether they would be able to certify me with a [vaccine] passport. It's a little complex because you would have the record of having both your jabs that would be linked to your passport. But these are just details and I'll sort them out later. For me, it's the peace of mind that I'm fully vaccinated. It's also socially responsible to be vaccinated before traveling.
And I've already booked my appointment. I'll come out of quarantine on Jun 28, which is a Monday, and on Friday, I'll go to a polyclinic for my second jab. Yay!
Photos: Sharon Au's Instagram